Homemade Easter Rice Krispie Treats are cute as a button! The perfect kitchen project to do with kids, these treats are colorful, tasty and so easy.
For another fun twist, try these Easter Rice Krispie Treat Nests. So cute and easy to make! The perfect dessert to pair with a classic carrot cake this holiday.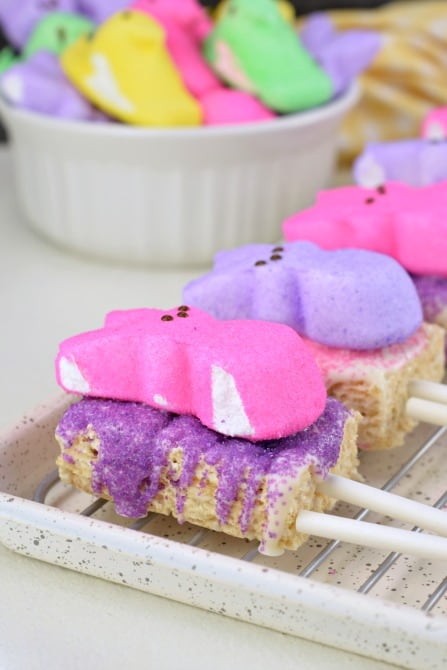 Perfect Holiday Treat
My love for Rice Krispie Treats is well documented by now. Even now, as a grown woman, I'd choose a Rice Krispy Treat over just about any other dessert if given the opportunity.
I've got a sticky marshmallow treat for every occasion from Halloween Spider Rice Krispie Treats and Turkey Rice Krispie Treats to Mummy Rice Krispie Treats. These Easter Rice Krispie Treats are the latest in the line up!
With a little melted white chocolate and a few colorful Marshmallow peeps, plain Rice Krispie Treats are transformed into adorable springtime delights. If you're looking for an out of the ordinary snack for a school party or a kid-friendly Easter Sunday dessert, this is it.
They're hardly any more effort than making regular rice krispies AND you can make them even easier by using the packaged rice krispie treats as a base.
Marshmallow Peeps
Peeps can be a divisive Easter candy, I know. It seems you either love them or hate them. Even if you're not the biggest fan of them on their own, on top of a Rice Krispie Treat they are PERFECT!
The soft fluffy peep tastes good with the crunch of the rice cereal underneath it. And I love the extra marshmallow flavor.
The real appeal of these homemade Easter desserts is their appearance: bright colors and adorable bunny shapes are hard to resist this time of year.
I also love how east it is for kids to help out making these. When the kids are off for spring break, you can entertain them with this recipe project. . .and have a delicious snack to share at the end.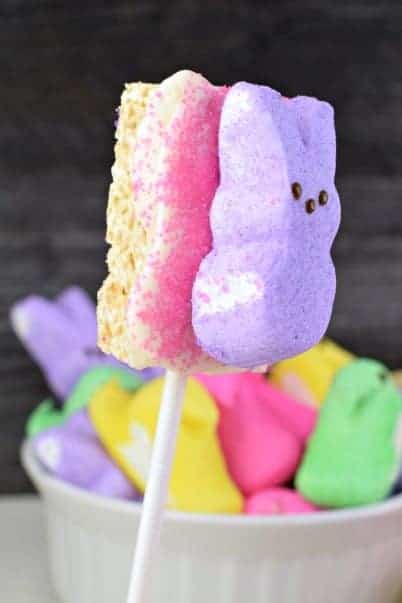 How to Make this Easter dessert
Here's what you need:
Ghirardelli White Chocolate melting wafers
Marshmallow PEEPS
Sprinkles, colored sugar
STEP 1. Make the Rice Krispie Treats
If you're using homemade treats, let them set fully in the pan before you proceed to the next step. You can also use packaged treats here. Unwrap the individual treats and set aside.
STEP 2. Melt the white chocolate
Place the chocolate wafers in a glass bowl and microwave according the the package directions.
STEP 3. Dunk!
This is the fun part. Dunk one side of each rice krispie treat in the melted white chocolate (spreading evenly with an offset spatula if needed) and sprinkled with colored sanding sugar (or any pastel sprinkles) immediately. Place on parchment paper.
STEP 4. Add the Peeps
Attach one bunny PEEP to each treat with another dollop of melted white chocolate. Place back on the parchment paper and let sit until the chocolate is set. Enjoy
Variation: Treats on a Stick
When I made these, I used lollipop sticks for dunking the treats and serving. They look so pretty and festive arranged in a bouquet shape or lined up on a platter, plus kids love eating them this way.
To make these with lollipop sticks insert the sticks into the treats after cutting them into squares. Dip the end of each stick into a dab of melted white chocolate to help the sticks stay in place.
Tips and Tricks
I use the bunny shaped peeps for this recipe. The chick shaped ones are a little too wide for this method. To make these for another holiday, you could sub other shapes like hearts for Valentine's Day or Snowmen for winter!
To keep the melted chocolate mess minimal, use a spoon or fork to scrape the excess chocolate off of each treat after dunking.
These treats should be stored tightly covered at room temperature to keep the peeps from drying out. They're best eaten within a couple of days after making.
Get creative. Use a variety of colored peeps and sprinkles or pick your favorite! Kids love mixing and matching different color combos on these treats.
Ghirardelli White chocolate melting wafers make the melted chocolate smooth and easy to work with. If you can't find them, substituting white chocolate chips or a white chocolate bar (broken into pieces before melting).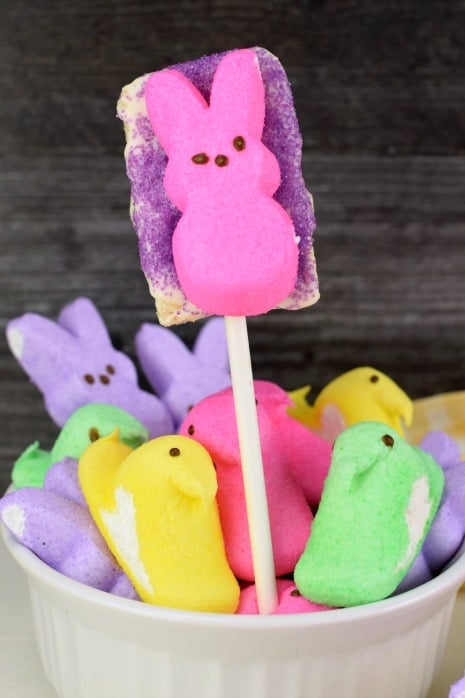 Recipe FAQs
Can I freeze these treats?
I do not recommend freezing any of my rice krispie treats recipes. While some have had success freezing krispy treats, I find the freezing process changes the texture.
I don't like peeps. What can I use instead of marshmallow peeps?
If you don't like peeps, try this Easter Rice Krispie Treat Nests recipe. It uses chocolate eggs for a deliciously festive Easter dessert!
Can I make these without the sticks?
Yes, you can skip the sticks and serve these as a handheld treat. The sticks make them easier to serve and perfect for tucking into an Easter basket!
What can I use instead of melting wafers?
If you can't find white chocolate wafers, look for vanilla candy coating (which is similar). In a pinch, white chocolate chips or a white chocolate candy bar will work too.
Easter Dessert Recipes
I'm so excited for all the delicious and fun treats I have on my list for this year's spring potlucks and Easter basket treats.
This Easter Flower Candy Recipe is one of my all time favorites. I also enjoy whipping up a batch of two of Copy Cat Reese's Peanut Butter Eggs every year!
You've come to the right place. There are so many sweet ways to put a new spin on these classic childhood treats! Here are a few more of my favorites:
When it comes to desserts made with marshmallows and puffed rice cereal, no one's a bigger expert than this girl!
Put a colorful and tasty twist on an old classic with these Rice Krispie Treats this Easter!