These Easy, Gourmet Caramel and Chocolate Rice Krispie Treats are so fun to make AND eat! Perfect for birthdays, bake sales, and even a fun snack the kids can help make!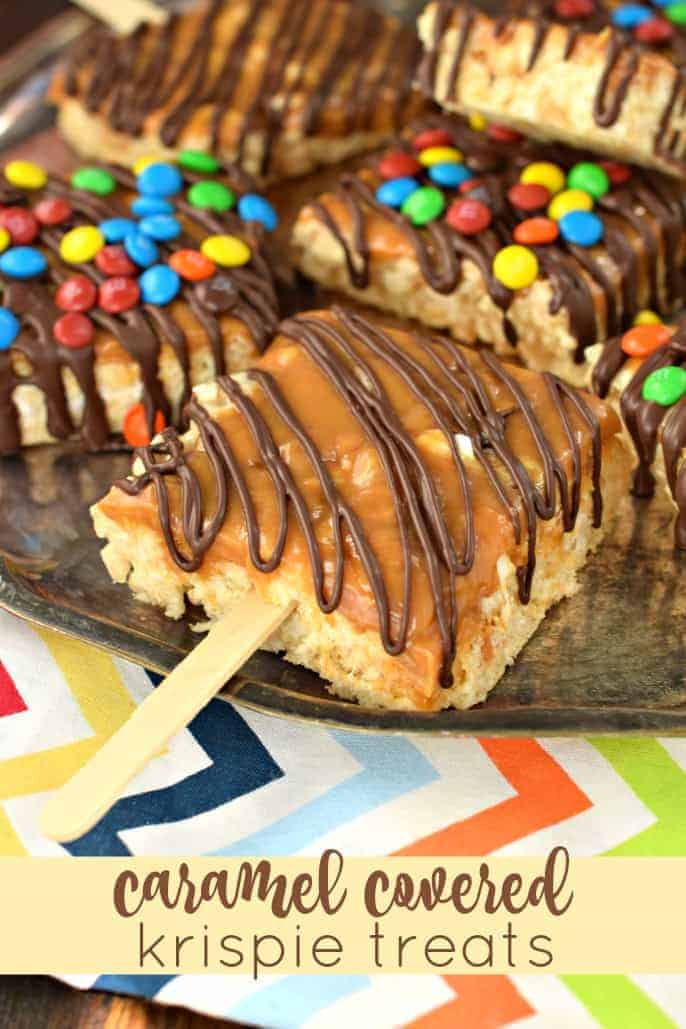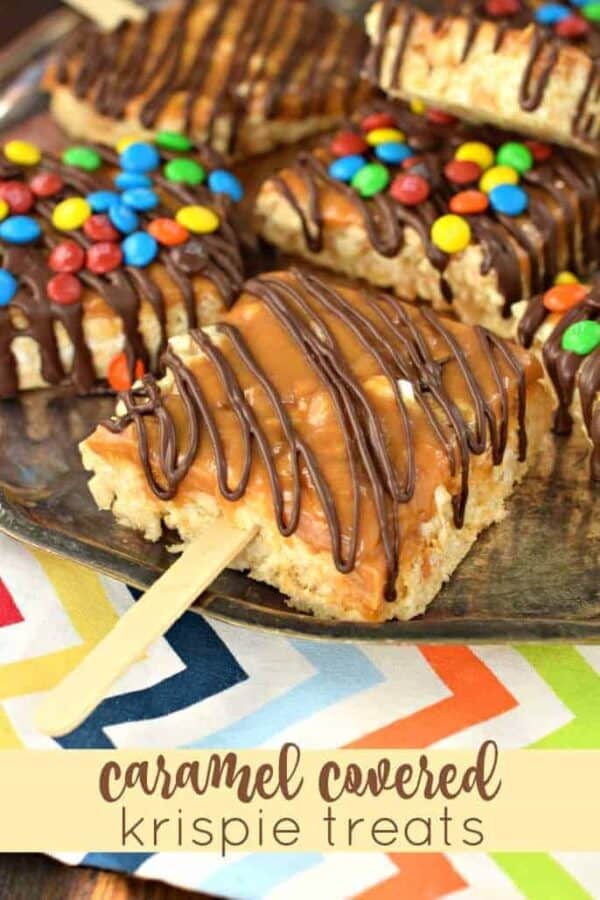 Gourmet Rice Krispie Treats
Classic Rice Krispie Treats make me happy just as they are. Fluffy marshmallow-filled sticky sweet bars aren't just a childhood favorite for me–they are my all time favorite dessert bar.
I have over 20 variations here (and counting) and have perfected how to make rice krispie treats!
For today's Caramel Krispie Treats, I went with a kid-friendly gourmet spin. These look and taste like something you'd find at a specialty confectionary store or bakery, but even better!
Delicious Rice Krispies base, buttery caramel and milk chocolate drizzled on top. . . .what more do you need?
Oh, yeah–Mini M&Ms! A few colorful candies sprinkled over the treats add color and even more chocolaty goodness. Eat them like a traditional bar or on a popsicle stick for a festive flourish.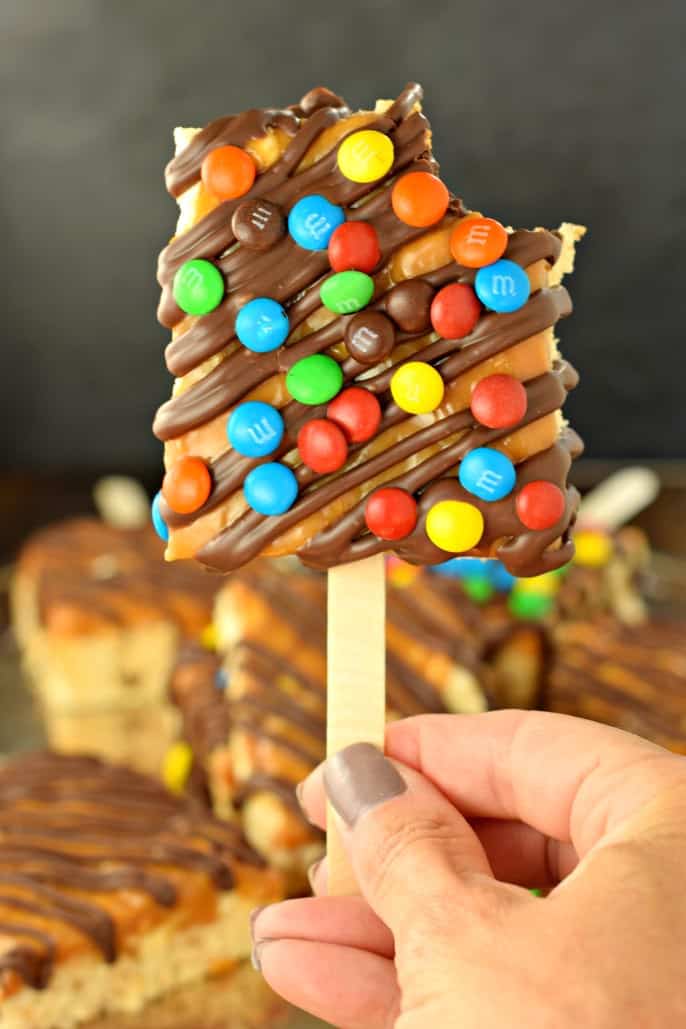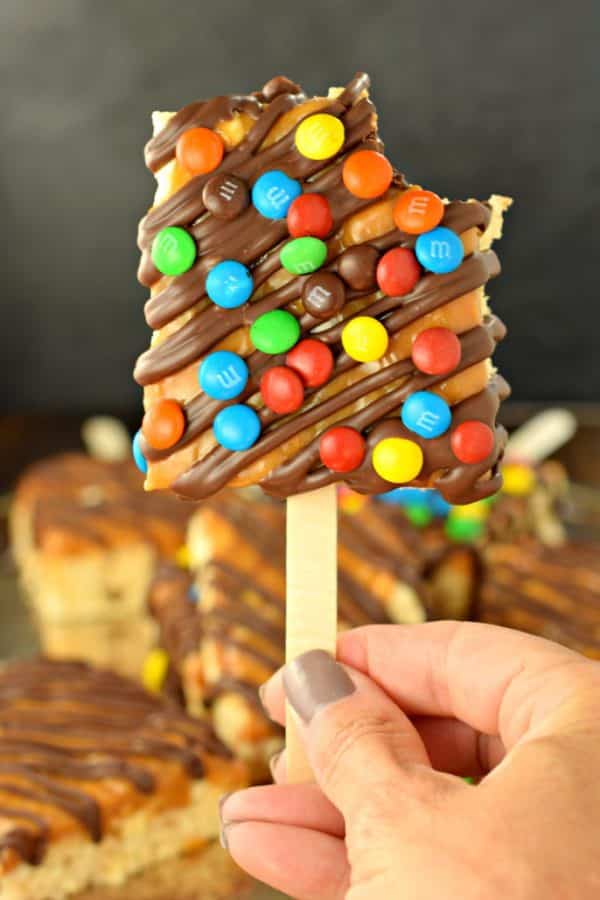 Ingredient Notes
Miniature marshmallows – These melt easier and quicker than full sized. You can also sub regular marshmallows chopped into bite sized pieces.
Caramel bits – Kraft baking bits are easy to find and they melt beautifully.
Dark chocolate – Ghirardhelli dark chocolate wafers have the best texture for melting and drizzling on the bars.
M&Ms baking bits – You can also sub M&Ms minis (the ones in a tube) if you can't find the baking bits, or leave the M&Ms garnish off entirely.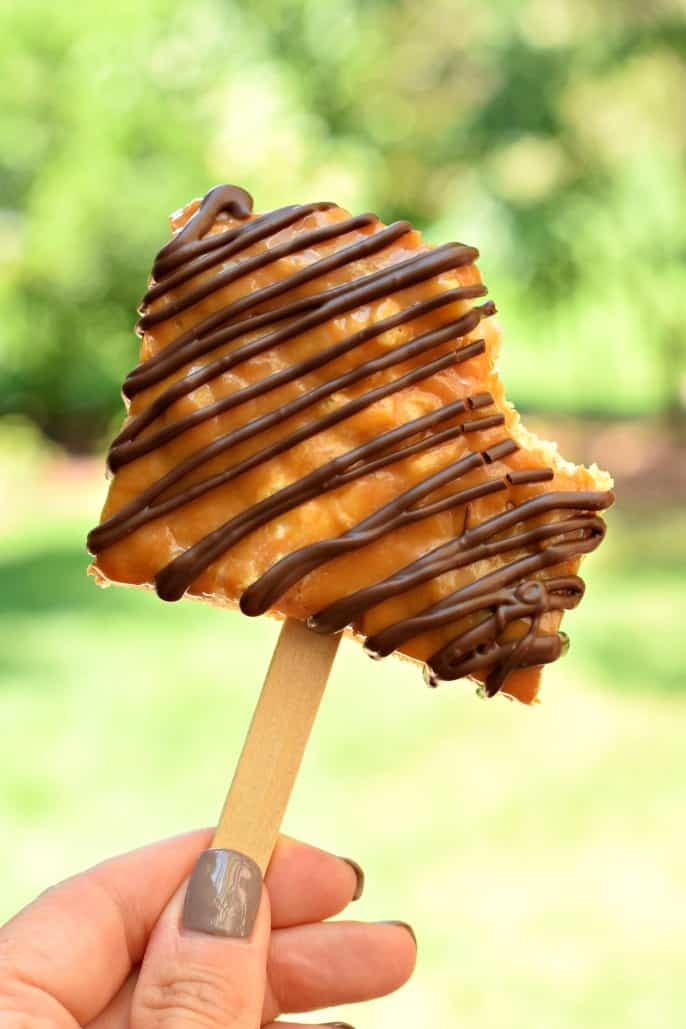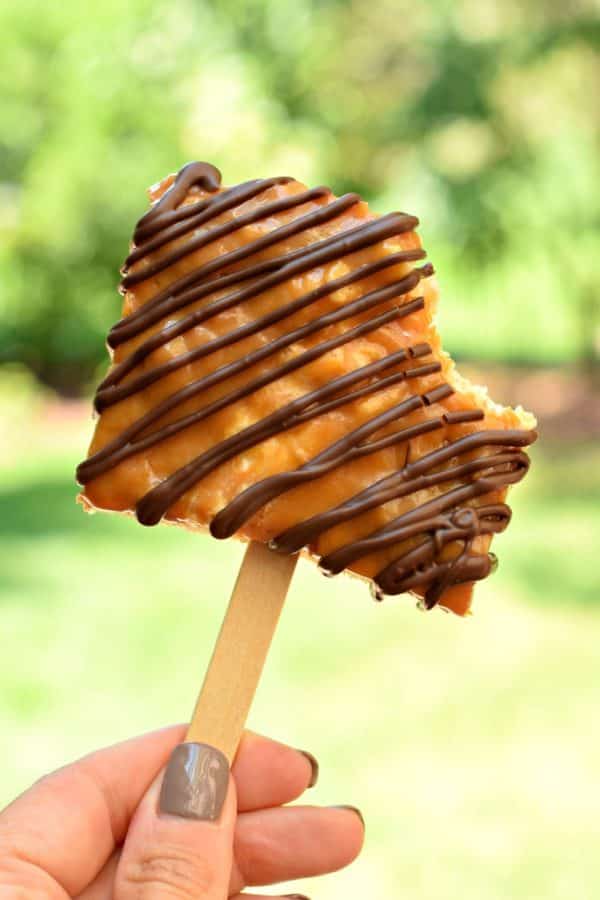 Step by Step Instructions
STEP 1. Make the rice krispie treats
I made my Perfect Rice Krispie Treats recipe and added a little extra to fit in a larger 15 x 10 pan. Once the Krispies mixture is ready, press it gently into the pan spreading it evenly.
STEP 2. Caramel topping
In a microwave safe bowl, melt the caramel bits with the heavy cream. Spread over the Rice Krispies in the pan and then let the treats set for about 2 hours at room temperature.
STEP 3. Chocolate drizzle
Cut the treats into large squares and set on a sheet of parchment paper. Insert a popsicle stick (if using) into the bottom of each treat.
Drizzle the melted chocolate over each square in whatever pattern you like. Sprinkle with the M&Ms or baking bits and let set for at least 15 minutes.
Enjoy!
Recipe FAQs
Why are my gourmet caramel Rice Krispie Treats hard?
The most likely reason is that you used too much pressure when pressing the treat mixture into the pan. Use a very light touch–the harder your press, the harder and denser the finished treats will be!
How should you store these?
Store Caramel Rice Krispie Treats covered or in an airtight container at room temperature for up to 2 weeks.
What sized pan should I use to make Rice Krispie Treats?
I use a 15 x 1 x 1 inch baking sheet for these.
Tips & Tricks
To keep the treats from sticking to your fingers when spreading them in the pan, moisten your fingers with a little bit of water first.
Display or store the treats in a single layer to preserve the look of the chocolate and M&Ms.
When melting the caramel with the heavy cream, be sure to stir them together every 30 seconds or so. This helps everything combine and melt evenly without scalding.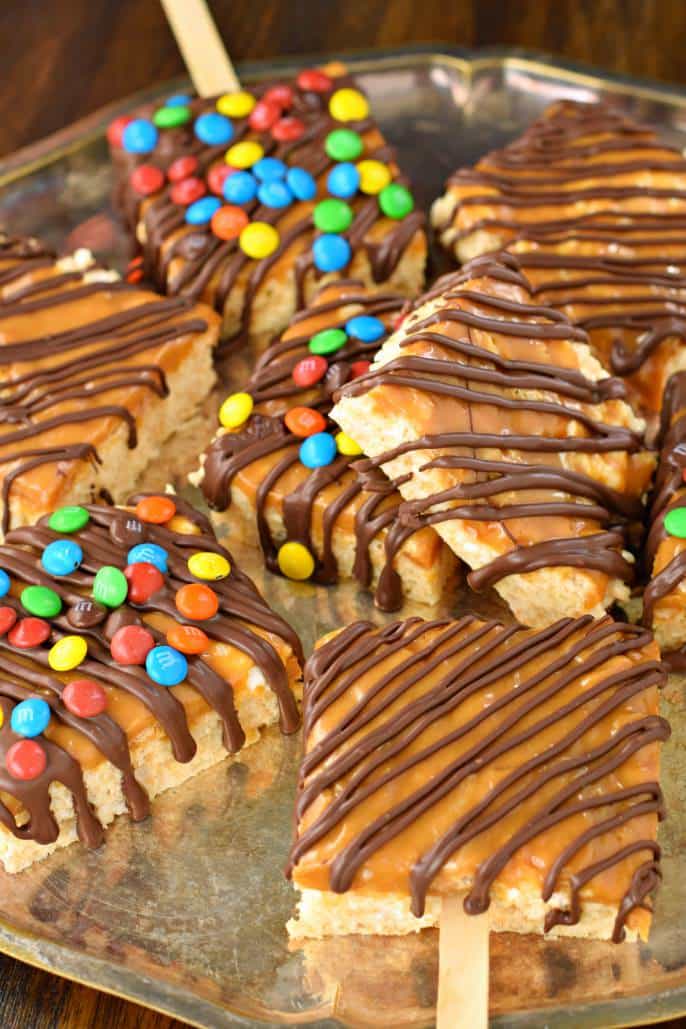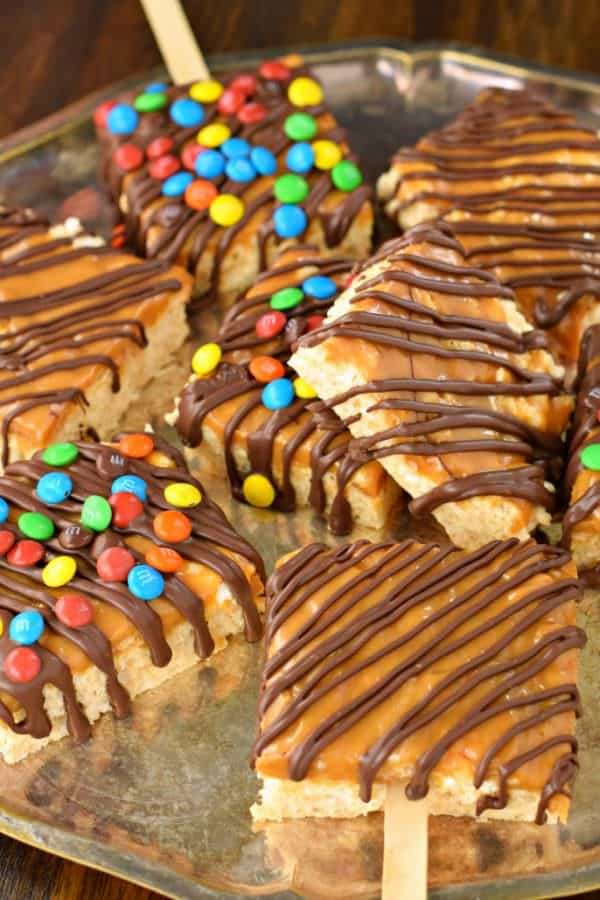 Gourmet Caramel Rice Krispie Treats taste as amazing as they look! Make these for a party, a bake sale or your next family dessert.