I've created THE ULTIMATE Rice Krispie Treat Flavor Guide. Everything you need to know about How to Make Rice Krispie Treats with all the fun flavors and styles!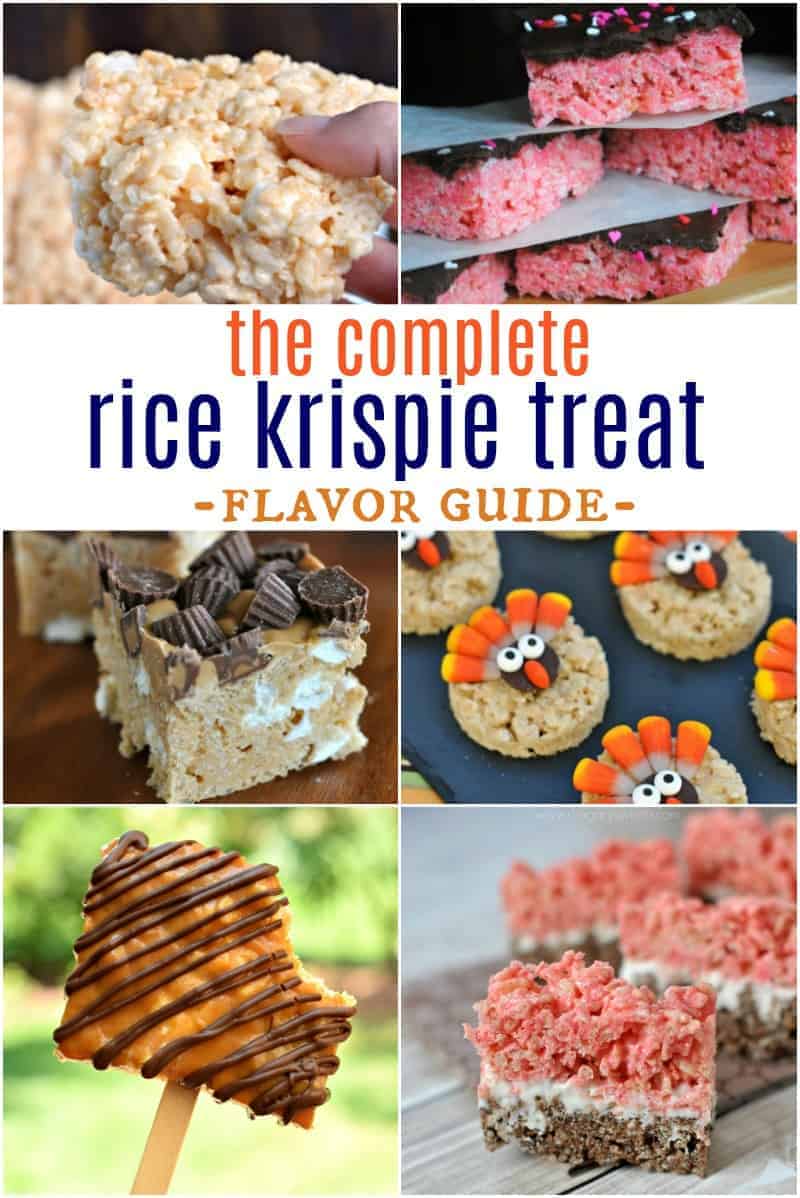 All the Rice Krispie Treats
You guys know how much I love candy, cake and brownies. But the real way to my heart is through an ooey-gooey rice krispie treat.
Once or twice (or maybe more) I've been known to eat an entire pan of rice krispie treats before my kids got home from school. I don't really recommend doing this –I've made myself sick from doing it, but I just have no willpower when it comes to rice krispie treats!
I have made dozens of types and flavors of rice krispie treats over the years, so I decided to compile what I think of as the Ultimate Rice Krispie Treat Guide for you.
Let's talk about how to make rice krispie treats and how to change the flavors for the seasons!
How to Make Perfect Rice Krispie Treats
Seems pretty straightforward, right? After all, they're probably one of the first things most kids learn to make with their parents.
But I have 6 tips for making and enjoying the PERFECT Rice Krispie Treats. They're small tweaks that make a big difference between hard, brick-like bars and soft, ooey gooey rice krispie treat perfection.
TIP 1: Line the baking dish with parchment paper. This way you don't have to worry about extra butter on your fingertips, or the other extreme of your bars sticking to the pan!
If you make sure there is extra parchment paper coming up the sides, you can even use it like a sling to lift them out of the pan.
TIP 2: Use fresh marshmallows. Seriously, they make a difference. Don't grab that bag that's been in your pantry for months and months thinking it will be okay since you are melting them. It won't be okay.
TIP 3: Add my secret ingredient: VANILLA EXTRACT. Not imitation vanilla, but PURE VANILLA extract. It makes a difference in creating the illusion that you're using homemade marshmallows.
TIP 4: Toss in some extra whole mini marshmallows with your cereal. This adds a whole dimension of chewiness!
TIP 5: DO NOT (I repeat) DO NOT press these bars into your pan firmly. Using your fingertips, GENTLY press them in just until they are spread out. The harder you pack them in, the harder they are when it's time to eat them!
Remember, we're going for soft and chewy treats, not rice krispie bricks!
If the treats are sticking to your fingers when you're trying to press them in the pan, run your hands under cold water. Shake off the excess water, and while your hands are wet, press them gently. Works like a charm!
TIP 6: Store in an airtight container for two days. It's the perfect amount of time for them to stay soft and chewy. But if they last that long, I'd be shocked!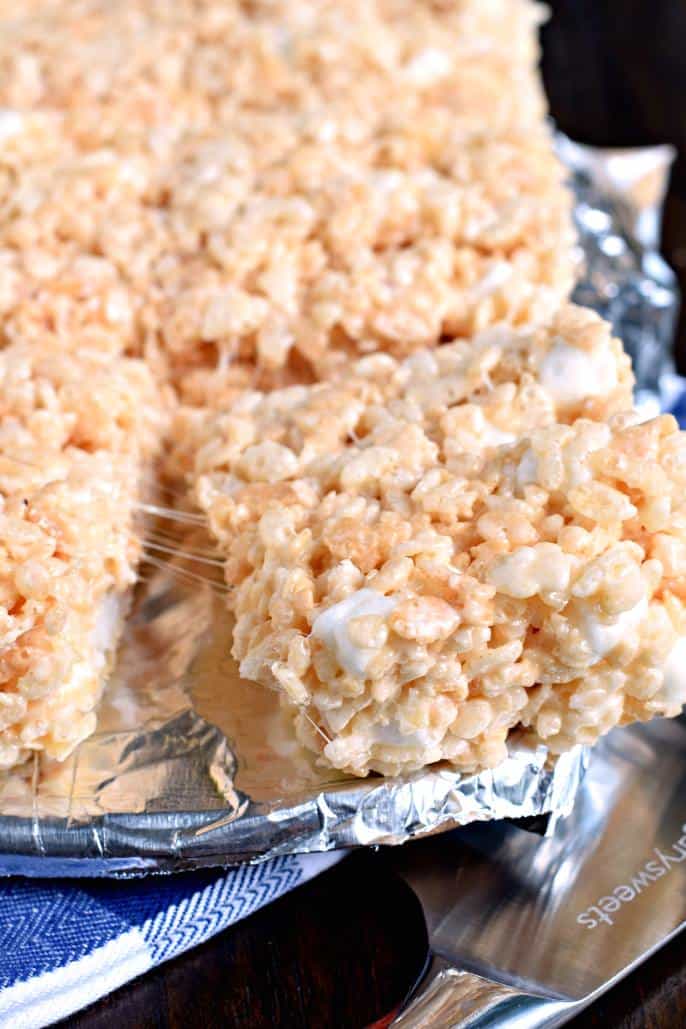 Scroll down to get my Perfect Rice Krispie Treats recipe! Now let's talk customization…
Customization and Flavor Fun
As much as I enjoy a classic rice krispie treat, I think it's really fun to change up the flavors for different seasons and celebrations.
I have 5 easy and fun ways to customize your rice krispie treats.
By using one or more of these tricks, you can make almost any flavor you like!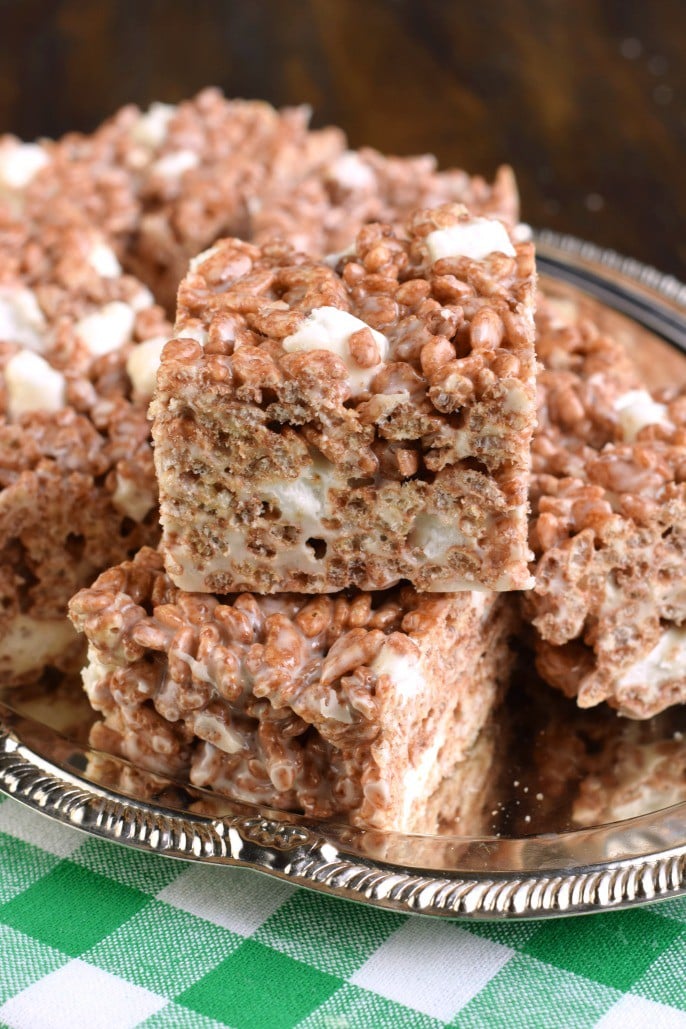 Use different cereal
I know, they're called rice krispie treats for a reason. But you can replace some or all of the rice krispies for a totally different texture and flavor!
Try using Cheerios, Corn Flakes, Golden Grahams, Fruit Loops or even Chex, just to name a few.
You can even make Cocoa Krispie Treats to have a chocolate flavored twist!
Make a fun batch of Lucky Charms Treats for St.Patricks Day!
Flavored marshmallows
Did you know that they make all sorts of flavored marshmallows?
That's right, you don't have to just use vanilla marshmallows! Flavors ranging from strawberry and peppermint to pumpkin spice and gingerbread can make fun additions to your rice krispie treats.
Use them in place of the melted marshmallows or in place of the whole marshmallows mixed in with the cereal.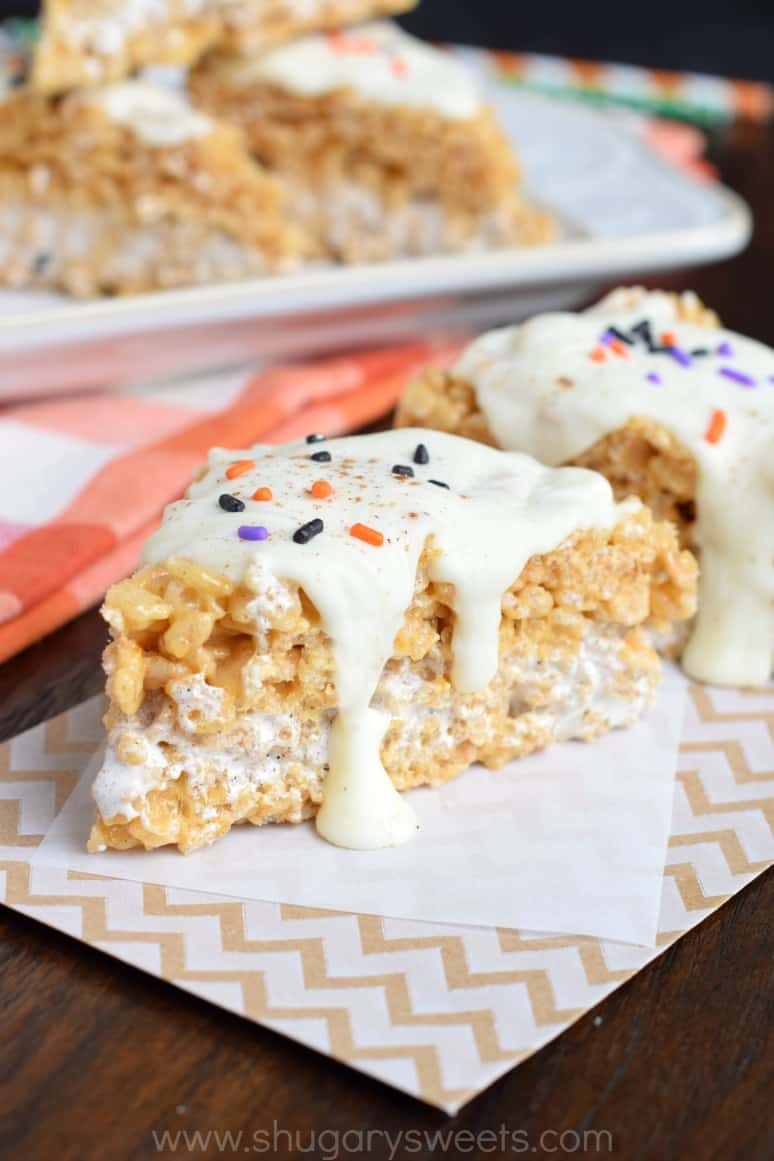 Add instant pudding mix or JELL-O
I really love using instant pudding or gelatin to add flavor and color to all sorts of recipes. You can do the same for rice krispie treats!
Just mix in the powdered pudding mix or gelatin with your melted marshmallow mixture before folding in the cereal. Voila! Flavored rice krispie treats with very little effort.
I love using banana cream pudding mix for Banana Rice Krispie Treats, pistachio pudding mix for Pistachio Rice Krispie Treats with Dark Chocolate, cherry gelatin for Cherry Rice Krispie Treats with Dark Chocolate, or pumpkin spice pudding mix for Pumpkin Spice Rice Krispie Treats.
Stir in some fun mix-ins
There are all kinds of things you can stir into rice krispie treats to add fun flavor and texture.
Anything from candy and spices to nut butter or biscoff spread is fair game!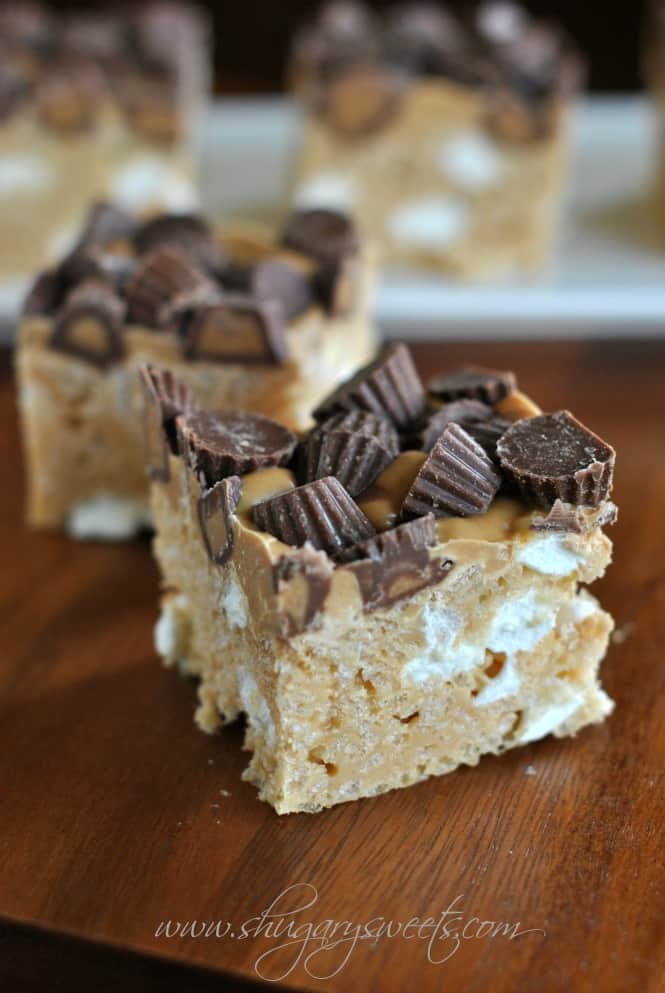 I like to add creamy biscoff spread to make Biscoff Rice Krispie Treats, mini peanut butter cups to make Fluffernutter Rice Krispie Treats, peanut butter and mini chocolate chips for Avalanche Krispie Bars, and espresso powder, pure pumpkin and pumpkin pie spice for Pumpkin Spice Latte Rice Krispie Treats.
Get creative with decorations
The best part of rice krispie treats is that you can decorate them for any season or celebration!
Try cutting them into fun shapes with cookie cutters (spray the cutter with no-stick spray first) or decorating the tops with chocolate, candy melts, or even frosting. And don't forget sprinkles!
I love using candy melts, mini marshmallows and candy eyeballs to make my Mint Chocolate Chip Rice Krispie Treats look like Frankenstein's monster for Halloween. Or some spooky Spiders as a fun easy Halloween treats. You can even make these cute Mummy Rice Krispie Treats!
Cut treats into circles and decorate with chocolate wafers, candy corn and candy eyes to make Turkey Rice Krispie Treats. Don't forget to try our pumpkin pie rice krispie treats next!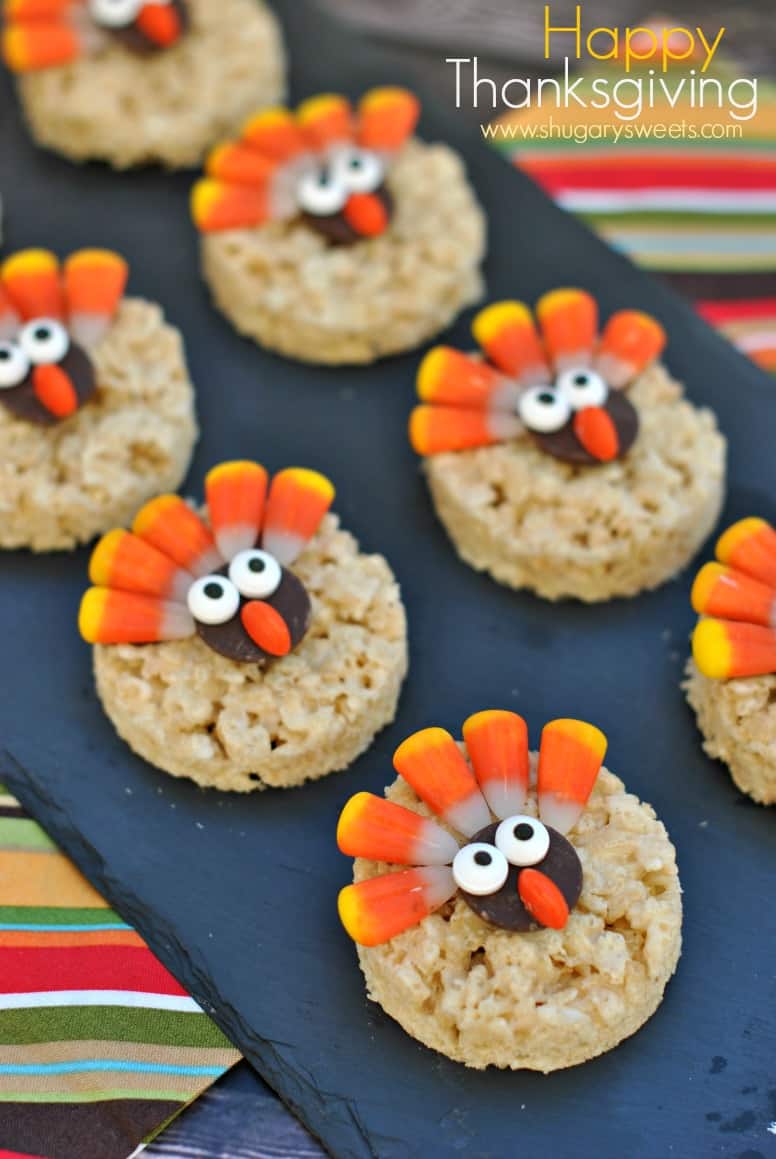 Slice treats into triangles and decorate with melted white chocolate and rainbow chips to make Christmas trees or melted milk chocolate, pretzel pieces, red hots and candy eyes to make reindeer like I did with my Holiday Scotcheroos.
For Easter you can make these adorable Easter Rice Krispie Treat nests. Pipe in some chocolate buttercream and chocolate eggs for a fun holiday treat.
Whether you love the traditional rice krispie treat or have a craving for something a little different, there are so many ways to make this classic treat perfect for you and your family.
What flavor will you make first??
PS. Don't forget to make a batch of scotcheroos next!
More How To Guides: