Holiday Scotcheroos
This season, make a batch of these Holiday Scotcheroos for a fun and festive dessert!
Be sure to sign up for my email…new recipes in your inbox!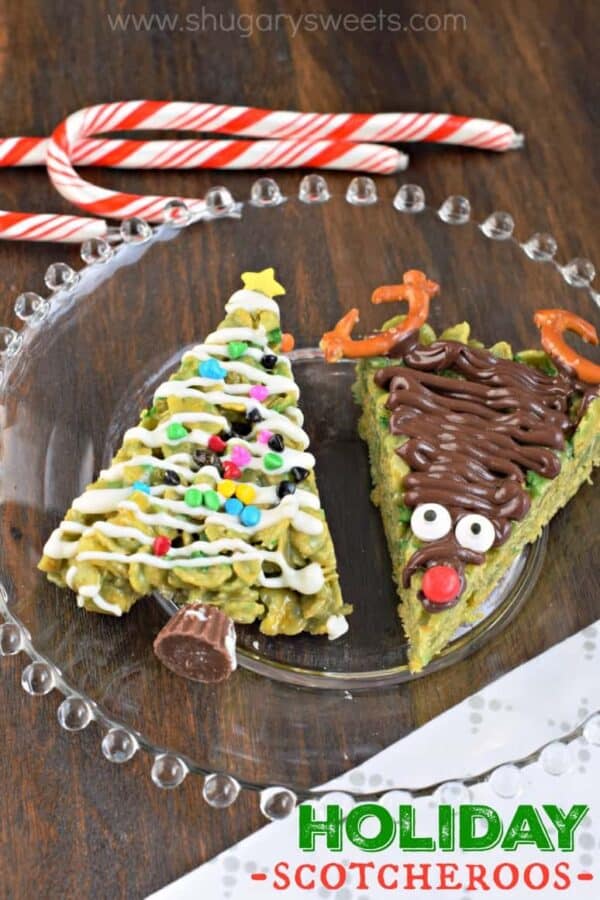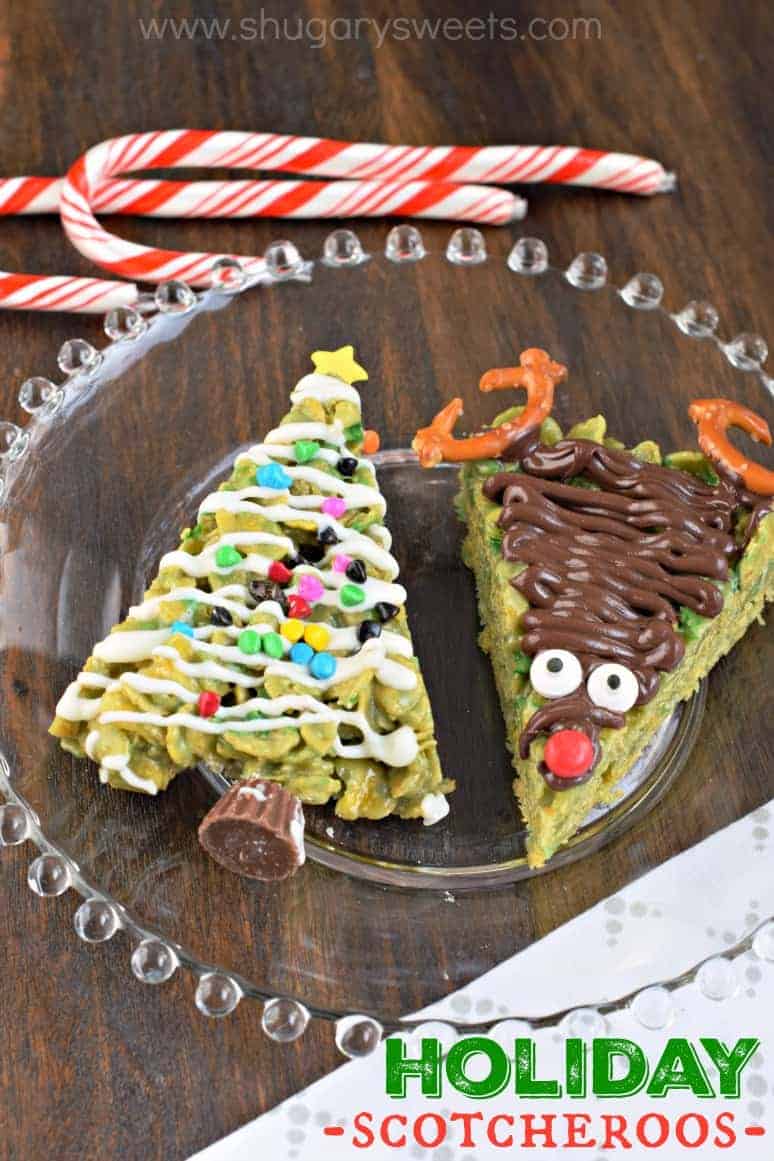 **Today's post is part of an ongoing partnership in the Bake a Little Extra Blog Ambassador sponsored by Karo® Syrup**
I'm not usually very good at making my food FUN. I mean, I can whip up some incredible tasting treats…but to go the extra distance to make it cute and fun? Not usually my style.
However, Christmas time has me under a spell, and I tend to LOVE making cute sweet treats! Like today's recipe for Holiday Scotcheroos.
Sure, you can just press these in a pan, cut, and enjoy. And I fully expect to do this when it's NOT the holiday season (because these taste amazing).
OR, you can make something fun, with very little extra work.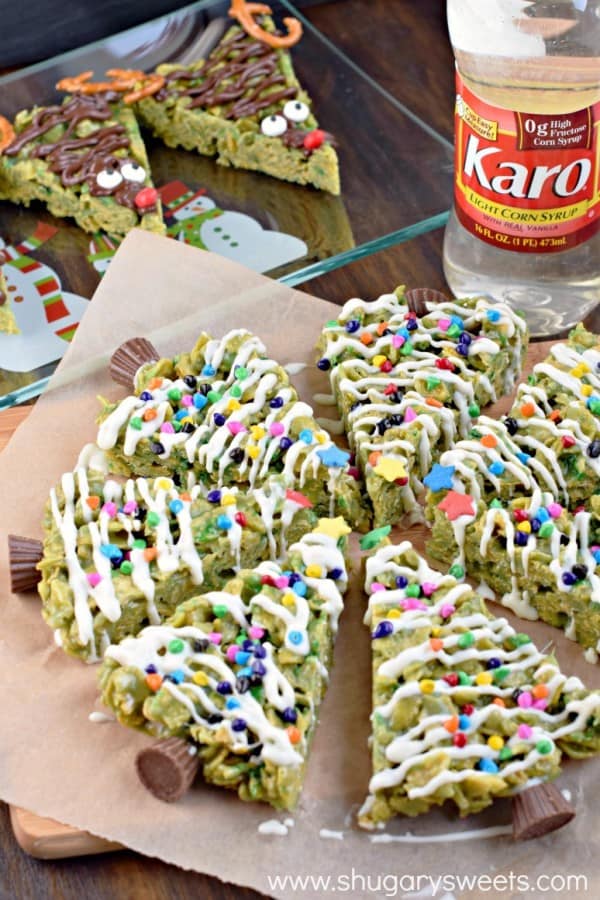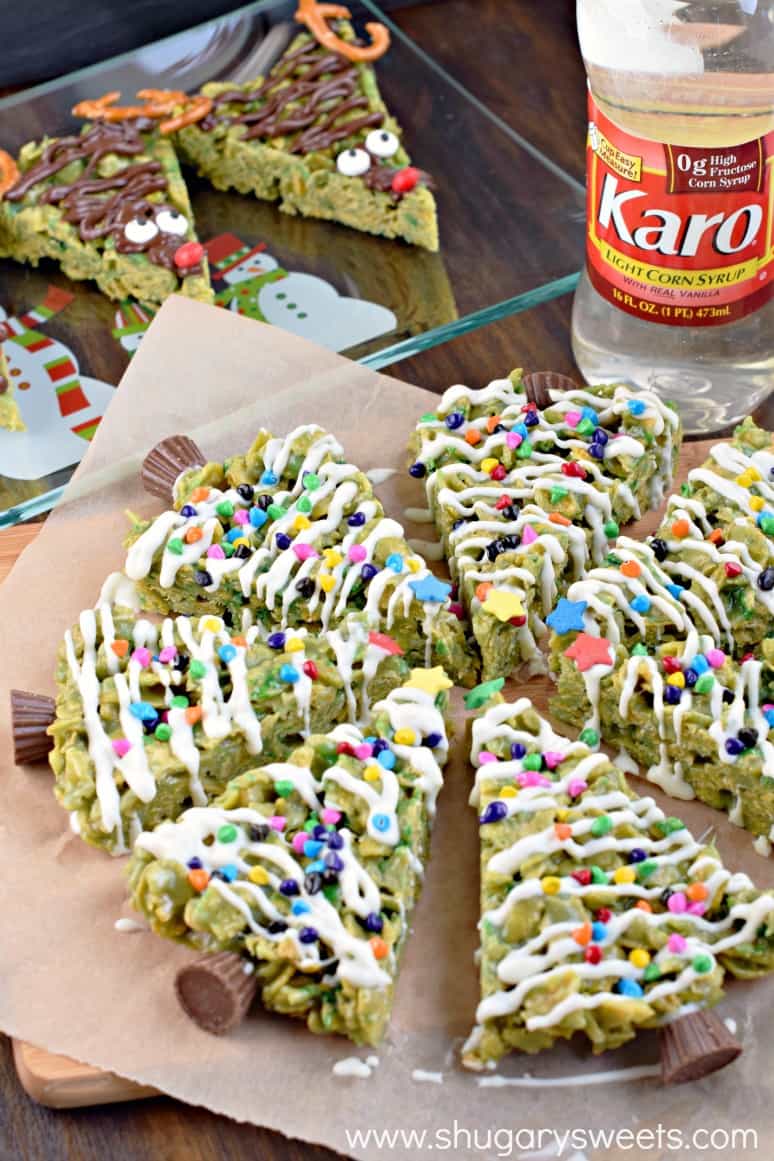 It's no secret I love krispie treats here on my blog. So when Karo® Syrup sent me this recipe for Christmas Tree Scotcheroos, I was excited to say the least!
Until I opened my pantry and realized my love for krispie treats has used up all my crispy rice cereal. HOWEVER, I didn't let that stop me! Oh no. I grabbed a box of corn flake cereal to use as a substitute. I was positive it would work as my aunt has always made delicious, chewy wreaths for the holidays using corn flake cereal and Karo® Syrup.
And how, you may ask, do they get so chewy? The Karo® Syrup adds a chewy texture while giving the perfect amount of sweetness needed for the peanut butter and white chocolate to stand out in these Scotcheroos!
Each batch of Holiday Scotcheroos makes two 9-inch round baking pans that get cut into 8 triangles (for a total of 16 wedges of scotcheroos).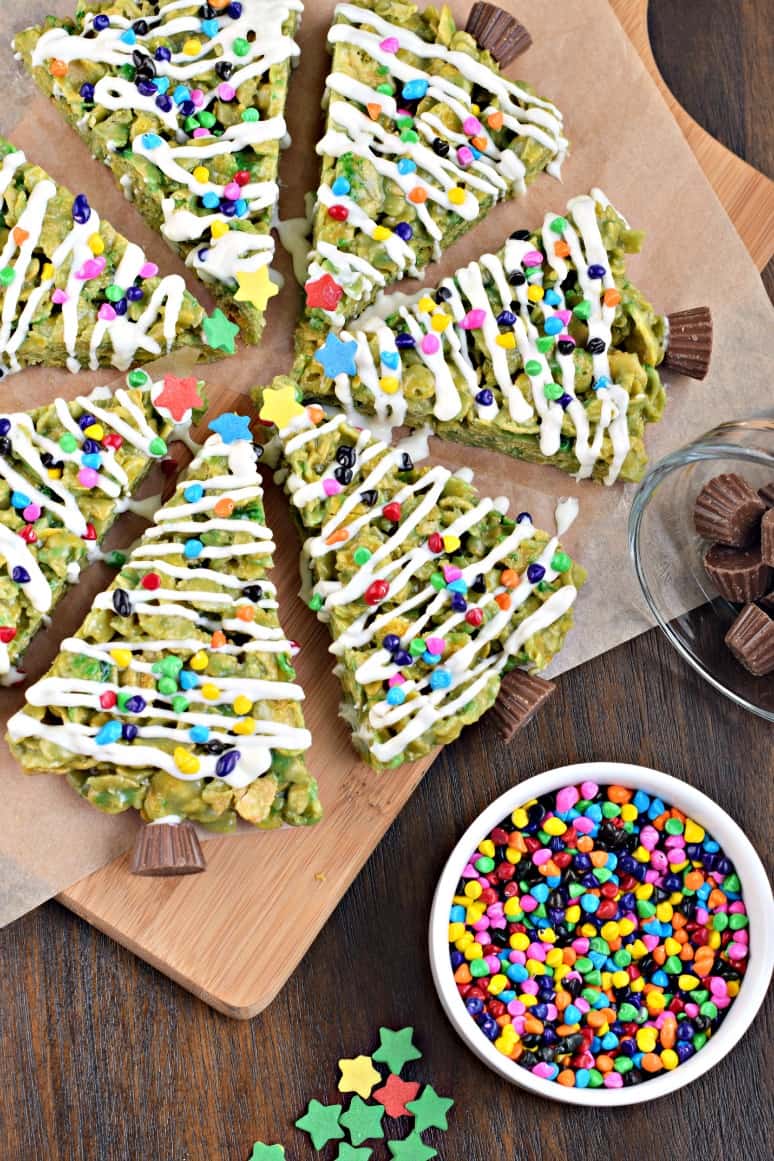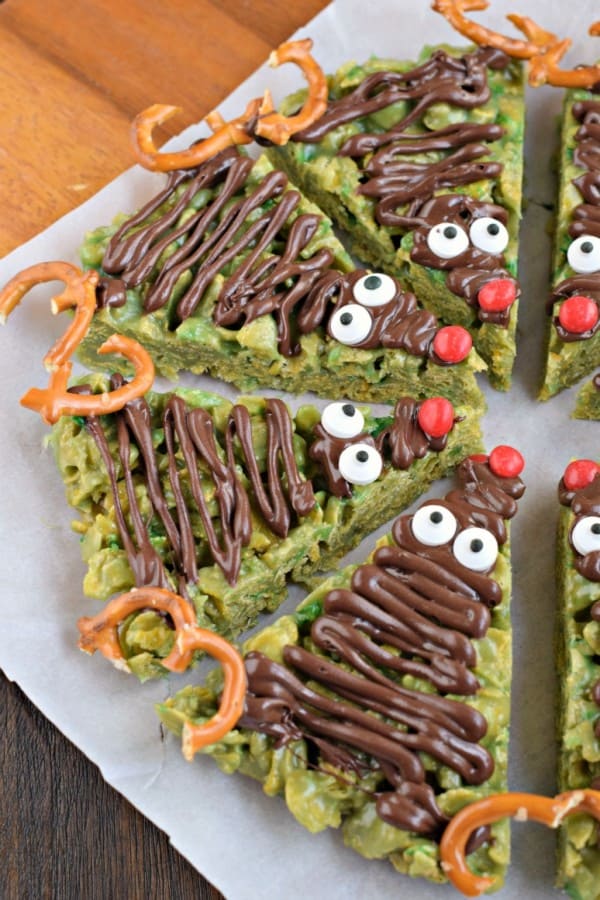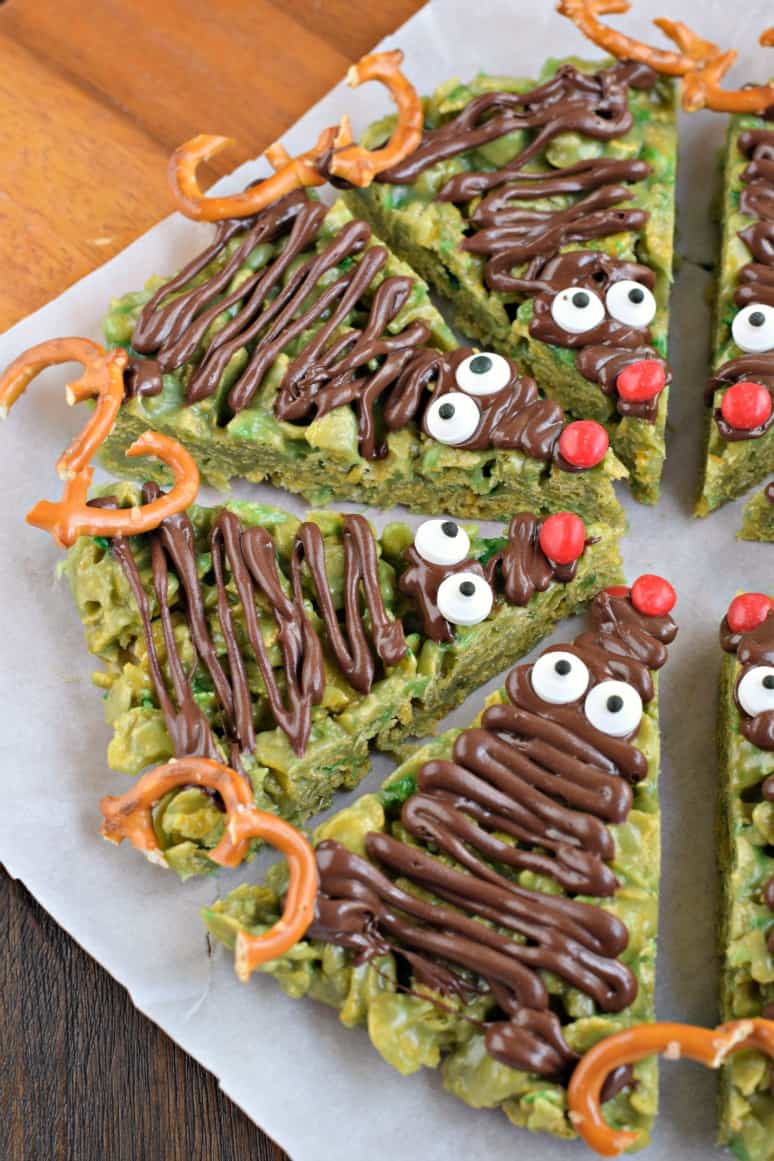 After cutting my first pan to make the Christmas Tree version, I wanted to try something fun (yes, ME, fun!). I took the second pan of scotcheroos, cut them into wedges, only this time made some adorable reindeer!
These would be such a fun treat to make with children for the holidays, or bring to a Christmas party! Baking is a great way to show much you care for someone, so bake a little extra this holiday!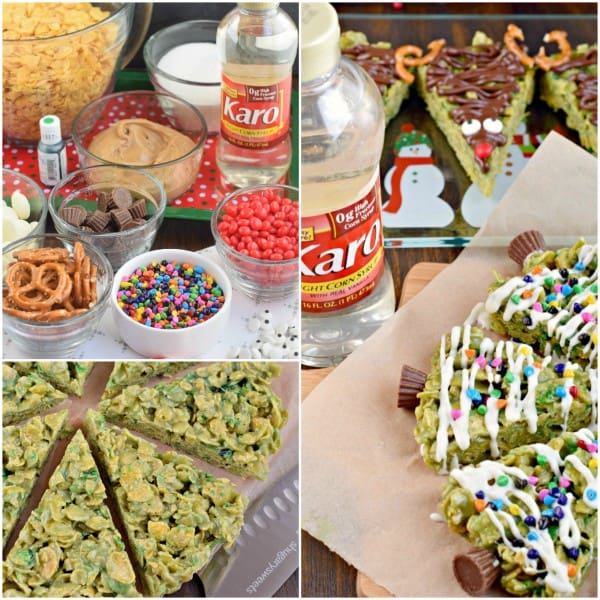 Let's break it down with some easy tips and tricks:
First, line your 8 or 9-inch round baking pans with parchment paper. This will make the treats easy to lift out of the pan after they have set.
Make sure you add your green food coloring to the peanut butter mixture BEFORE adding your cereal, for a smooth color. If you want to omit the green food coloring all together, that's an option too (or only color half the mixture for the trees! The Reindeer might even be cuter that way. But, for ease of work and keeping this as a simple family baking project, I opted to color BOTH pans of treats green!
For the Christmas tree, gather all your toppings before beginning to decorate. The melted white chocolate hardens fairly fast. I put it in a small sandwich sized plastic bag and snip off the corner. Then drizzle over the cut trees. Add your rainbow chips or sprinkles immediately. If you can't find star shaped sprinkles, you can use a candy coated chocolate or a cinnamon red hot.
For the finishing touch on the Christmas tree, add a dollop of melted white chocolate to the top of a mini peanut butter cup and press firmly to the bottom of the tree (to create the stump).
For the Reindeer, once you've cut your triangles, melt your chocolate. You can either spread the chocolate onto the tops with a knife, or add the chocolate to a small sandwich bag with the corner snipped off (which is what I did) and drizzle the chocolate on to completely cover the top of the scotcheroos.
Break your small twist pretzels and add them for antlers. Add a cinnamon nose and candy eyes to complete the look.
Store your holiday scotcheroos in an airtight container to maintain freshness!
Connect with Karo® Syrup for more recipe ideas:
website | facebook | pinterest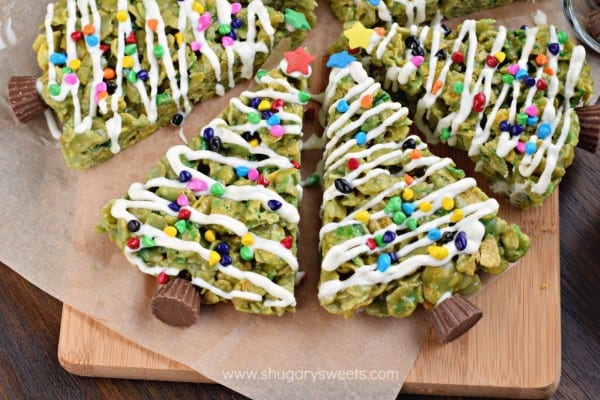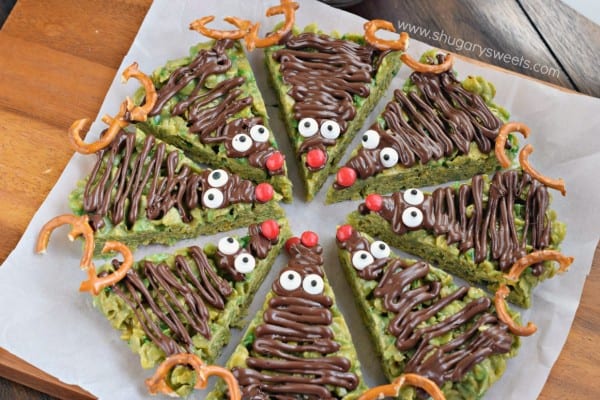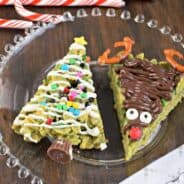 Holiday Scotcheroos
Yield: 16 triangles
Prep Time:20 minutes
Cook Time:5 minutes
Ingredients:
For the Scotcheroos:
1 cup Karo® Light Corn Syrup
1 cup granulated sugar
1 cup creamy peanut butter
1 drop green gel food coloring
5 1/2 cups corn flakes cereal
For the Christmas Trees:
1/2 cup white chocolate, melted
8 mini peanut butter cups
1/4 cup rainbow chips (or sprinkles)
8 star sprinkles (or red hots)
For the Reindeer:
3/4 cup semi-sweet chocolate morsels, melted
8 cinnamon red hots
16 small twist pretzels
16 candy eyes
Directions:
Line two 8 or 9-inch round baking pans with parchment paper. Set aside.
In a large saucepan, combine corn syrup with sugar. Heat over medium heat, stirring constantly until sugar dissolves. Bring mixture to a boil. Boil for 1 minute then remove from heat.
Stir in peanut butter and food coloring until smooth. Add cereal and fold gently until evenly coated.
Pour mixture into prepared baking pans. Pat gently with back of wooden spoon. Allow cool and set about 30 minutes.
Remove from pans by lifting the parchment paper. Place on cutting board and cut each circle into 8 triangles. Separate slightly so there is a space between each triangle.
For the Christmas trees, add melted white chocolate to a sandwich sized plastic bag. Snip off the corner and drizzle over one pan of scotcheroos. Add rainbow chips and star to trees. Using the melted white chocolate, add a drop to the top of a peanut butter cup and press into the bottom of the tree for the trunk.
For the Reindeer, add melted chocolate to a sandwich sized plastic bag. Snip off the corner and drizzle generously over the second pan of scotcheroos, coating the top completely. Break each pretzel and add as antlers. Add the cinnamon red hot for the nose and candy eyes!
Allow chocolate to set, about 10 minutes. Store in airtight container for several days to maintain freshness.
MAKING THIS RECIPE? Share it with me on Instagram using the hashtag #ShugarySweets so I can see what you're cooking up in the kitchen!

 **I am working with ACH as a Baking Ambassador! While I have been compensated for this recipe post, all opinions about the product are 100% my own!**