Soft and chewy, this Peanut Butter Blossoms cookie recipe is THE BEST. They'll disappear quickly, so be sure to snag one for yourself!
If you love chocolate and peanut butter together, we're obsessed with this easy Chocolate Peanut Butter Lasagna Recipe. No baking means no hot oven needed!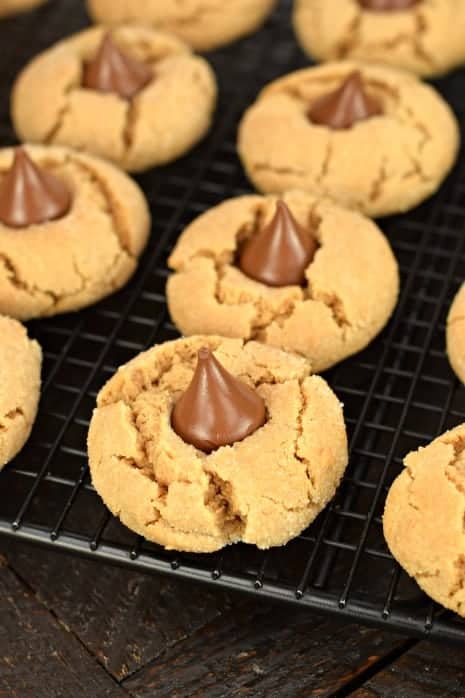 Why this Recipe is Best
Nothing sparks more joy or nostalgia than a plate of these delicious Peanut Butter Blossom cookies.
Without a doubt, a plate of these peanut butter cookies will disappear quickly, whether you bake a batch for the holidays or a weeknight dessert.
I know many people think Peanut Butter Blossoms are a staple for Christmas, but my family enjoys these treats at ALL holidays. Actually, we make them year round.
What's not to love?
One bowl cookie recipe!
No need to chill the dough for this peanut butter cookie
Roll the cookies in granulate sugar for extra crunch
Use colored sugars for a festive touch!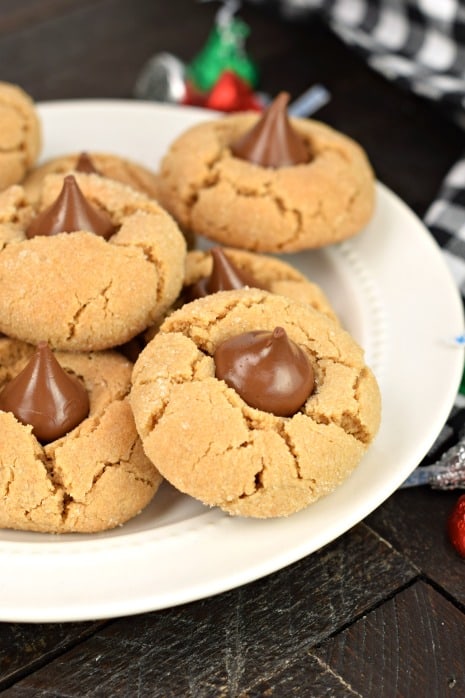 Ingredients Notes
Peanut Butter. The star of this recipe is the nutty, peanut butter flavor. Choose a regular, creamy peanut butter not a natural version.
The natural peanut butters contain oils that will result in a different texture.
Sugars. Using a combination of granulated sugar and brown sugar results in a soft and chewy cookie texture!
Flour. All-purpose flour is used in today's cookie recipe. Learn how to measure flour properly so you don't get a dense cookie.
Shortening. I know you're going to ask if you can use butter. Yes. You can. However shortening will result in a delicious cookie and texture. Using butter will require you to refrigerate and chill the dough before baking.
Hershey Kiss. The "other" best part of peanut butter blossoms. When warm, it just melts in your mouth. After cooling, it's the sweet reward in the center of the cookie.
PRO TIP: Change up the flavor of Hershey Kiss for a new flavor cookie. I highly recommend putting the caramel kisses in the center!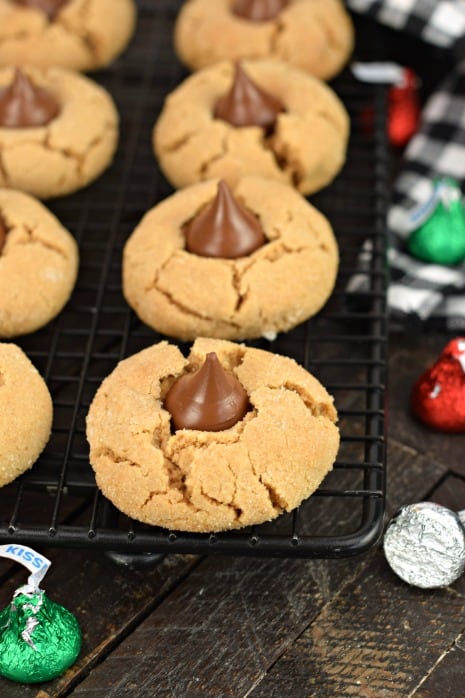 Easy Instructions
Mix. Combine shortening and peanut butter in a large bowl. Add sugars and beat until fluffy. Add egg, milk, and vanilla. Fold in flour, baking soda, and kosher salt until blended.
Roll. Shape the dough into balls using a 2 Tbsp cookie scoop. Scoop the dough, roll in hands to a ball, then roll in granulated sugar.
Bake. Bake cookies in a 375 degree F oven for 12-14 minutes, until lightly browned. Cookies may appear slightly under cooked, that's OKAY.
Press. Unwrap Hershey kisses and immediately press into cookie when taken out of the oven. Allow to cool on wire rack. ENJOY.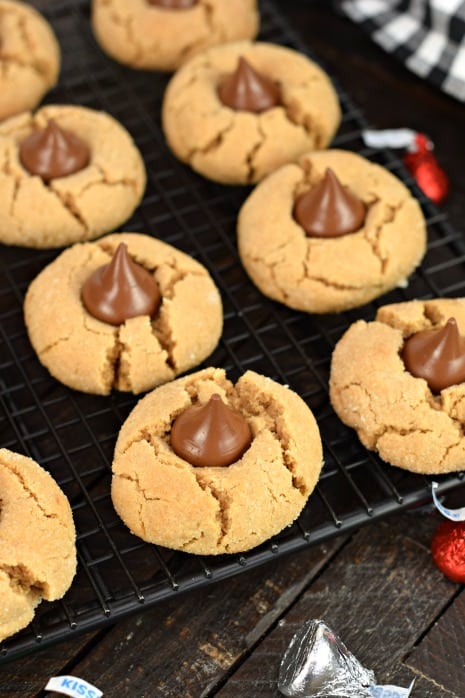 Recipe FAQs
Why are my peanut butter blossoms dry?
Don't overbake your peanut butter blossoms or you could have a dry, crumbly mess. Take them out BEFORE they begin to brown.
Why do my peanut butter blossom cookies go flat?
Skipping the shortening in these peanut butter blossoms could result in flat cookies. If using all butter, refrigerate the dough for an hour before baking.
Can I use a peanut butter cup instead of Hershey kiss in my peanut butter blossom cookies?
Absolutely. Peanut butter cups are a great substitute in peanut butter blossom cookies.
Can you Freeze Peanut Butter Blossoms
Yes!
You can freeze these cookies before OR after baking.
Before baking. To freeze cookie dough, roll and shape cookies and freeze in a single layer in a freezer safe bag. Do NOT roll in granulated sugar before baking.
Freeze raw cookie dough for up to 3 months. Thaw in refrigerator, roll in granulated sugar, then bake according to recipe directions.
After baking. To freeze leftover cookies, slide cooled cookies into a ziploc freezer safe bag or airtight container. Freeze for up to 3 months.
Thaw at room temperature and enjoy.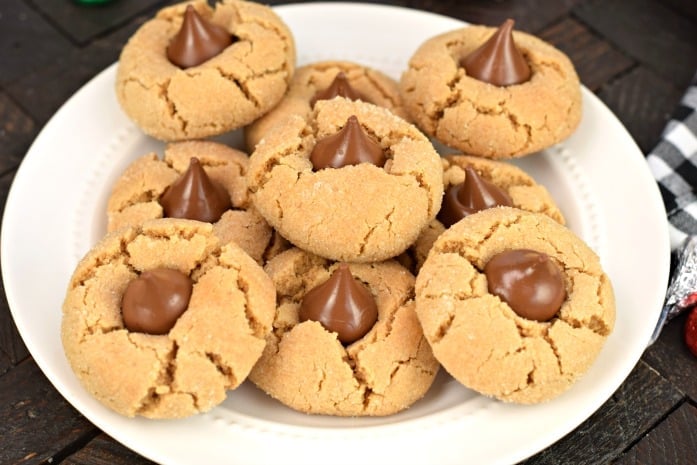 Soft and chewy, this Peanut Butter Blossoms cookie recipe is THE BEST. They'll disappear quickly, so be sure to snag one for yourself!