Red Velvet Crinkle Cookies are chewy, moist, and full of rich chocolate flavor. And with the striking crinkle effect, these unique cookies are sure to stand out among all the rest!
Readers love our easy red velvet cupcakes (topped with cream cheese frosting)! But our red velvet cake balls top the list of favorites around here!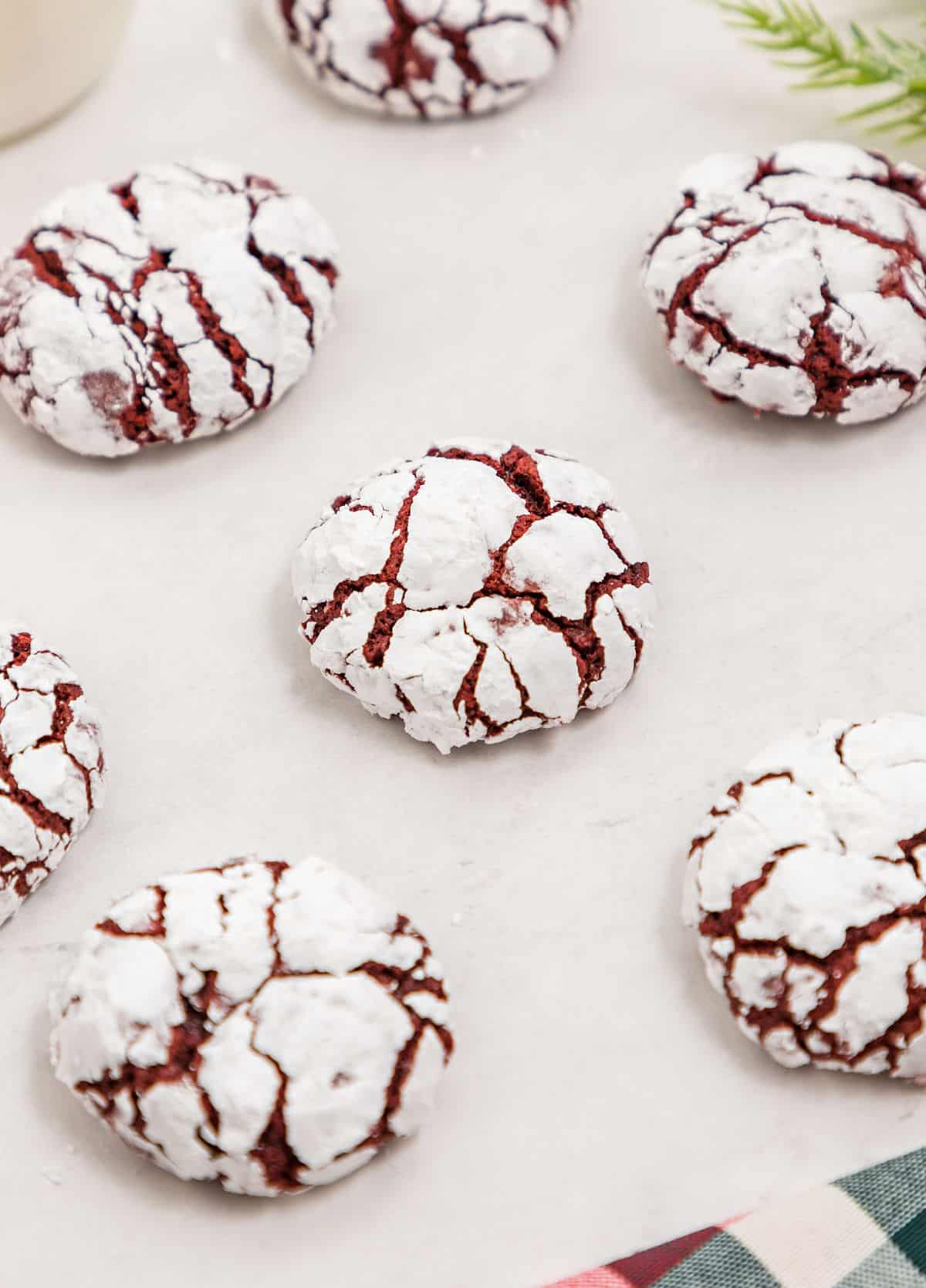 Why these Cookies are Best
Crinkle cookies are a holiday favorite for us. And if you love making them, be sure to try our chocolate mint crinkle cookies too!
Today's must-try recipe captures the classic red velvet cake flavor in cookie form.
The stunning crinkle effect is achieved by coating raw dough in powdered sugar. As the cookies spread in the oven, the deep red hue is revealed in stark contrast to the bright white sugar.
A mixture of white and brown sugar creates the perfect soft yet chewy texture.
Faster and simpler than other decorative cookies but just as impressive.
This chilled cookie recipe means you can make the dough ahead of time and bake it whenever you're ready.
We're big fans of red velvet around here. From our easy red velvet biscotti to our red velvet cake mix cookies, there's something for everyone to love!
Ingredient Notes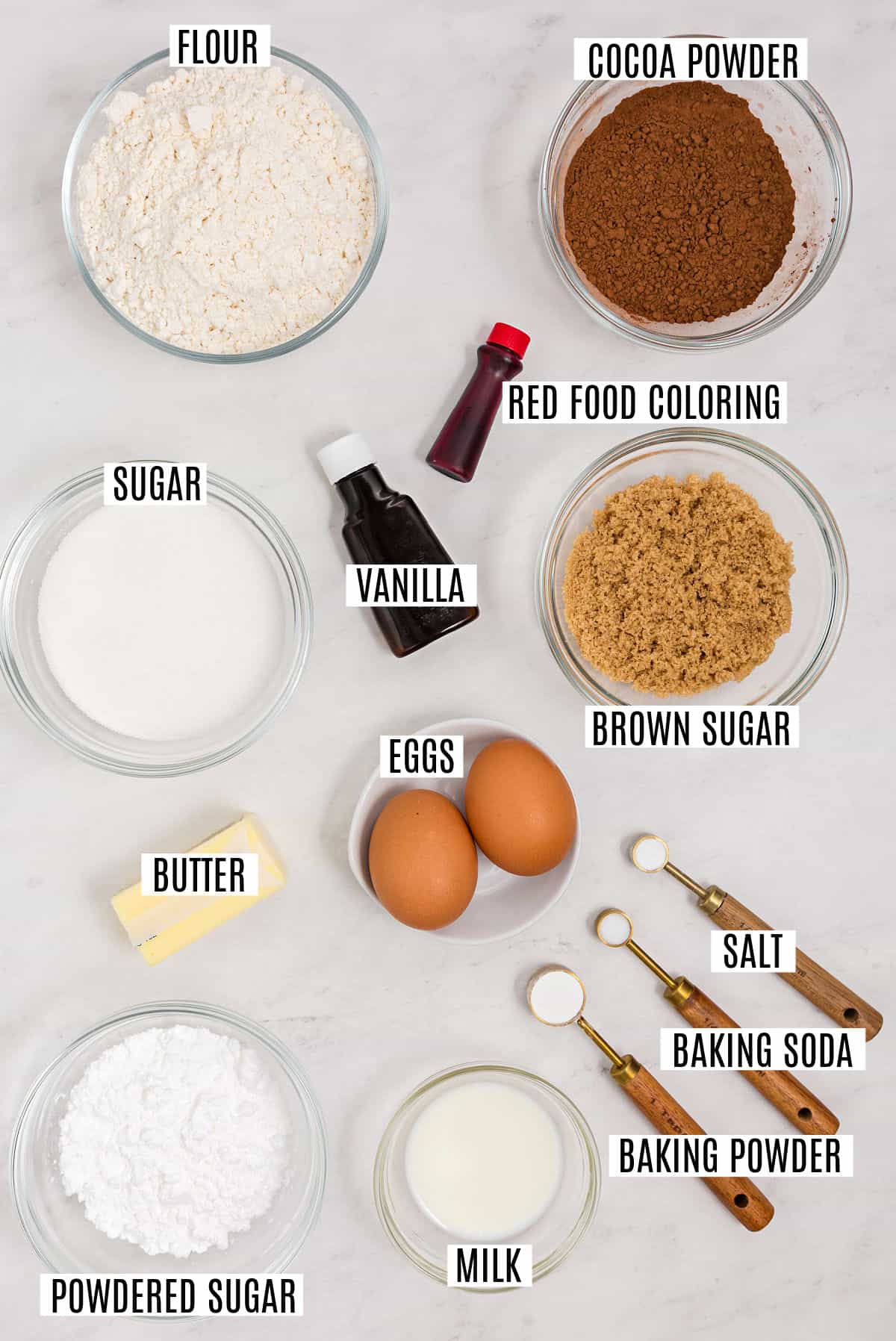 All-Purpose Flour– use our tips on how to measure flour properly.
Unsweetened Cocoa Powder
Baking Powder
Baking Soda
Salt – Use kosher salt instead of iodized table salt for a cleaner, more subtle flavor.
Melted Butter – Reach for unsalted butter if you can. If not, skip the additional salt in the recipe.
Granulated Sugar
Light Brown Sugar
An Egg + An Egg White– creates the perfect chewy texture.
Milk – I use whole milk, but any dairy milk will do.
Food Coloring – Gel food coloring will give you a more vibrant and intense color without the risk of altering the consistency like liquid food dye.
Powdered Sugar
PRO TIP- We love making our own homemade vanilla extract, but if using store bought, be sure it's pure extract, not imitation (for best flavor).
Easy Instructions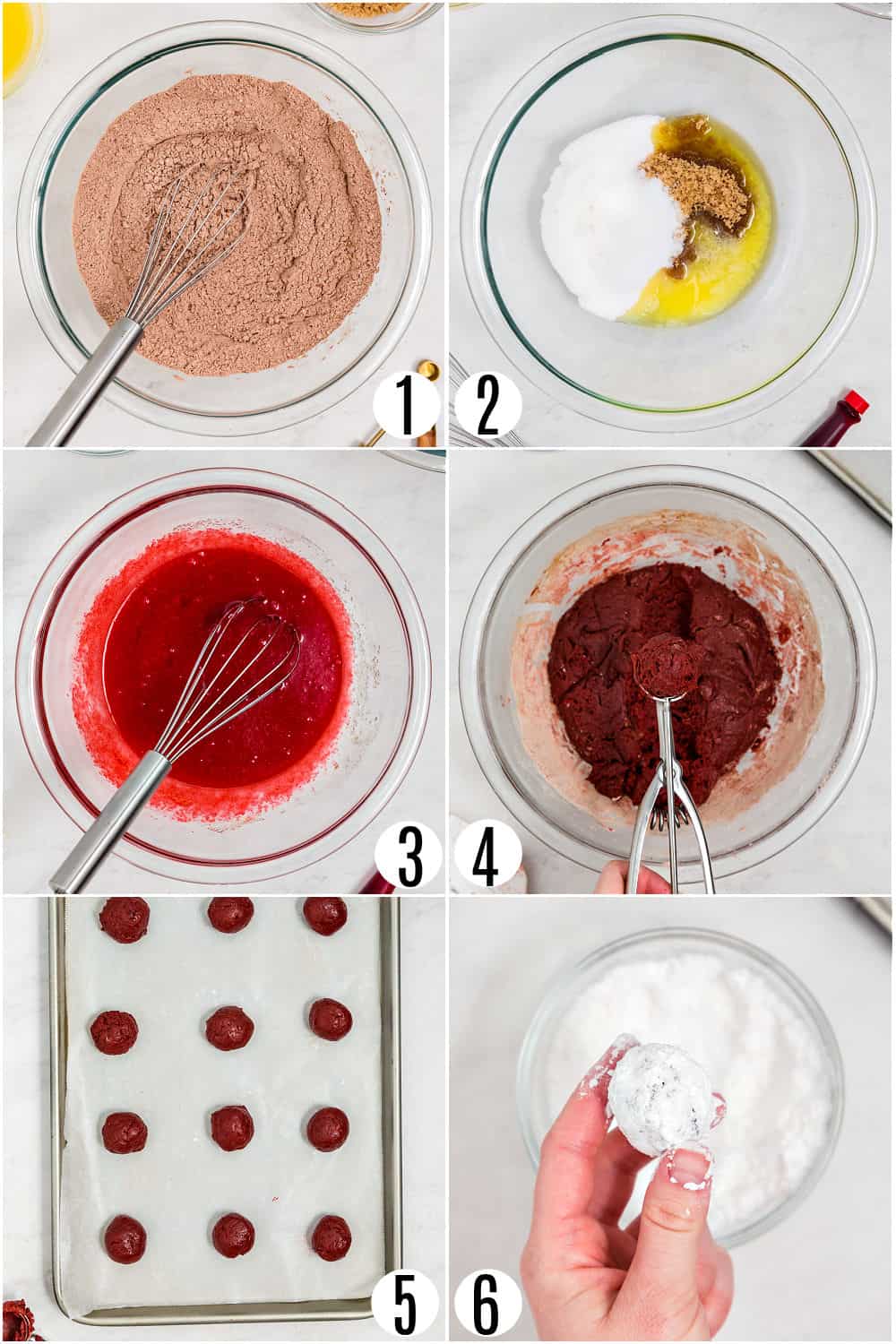 Mix Dry Ingredients – Combine the flour, cocoa powder, baking powder, baking soda, and salt. Pre-mixing the dry ingredients ensures even distribution throughout the dough. Plus, there's less of a chance of overworking the flour.
Beat Butter & Sugars – With a stand or hand mixer, beat the room-temperature melted butter with the white and brown sugar.
Combine With Wet Ingredients & Food Dye – Add a whole egg, an egg white, milk, and vanilla to the butter and sugar mixture. Mix until completely smooth. Next, incorporate the red gel food coloring until you reach your desired hue.
Incorporate Dry Ingredients & Chill – Introduce the dry ingredients to the batter, and mix until the dough comes together. Don't over-mix. Cover the bowl with cling film and chill in the fridge for at least 30 minutes.
Divide Dough & Coat – Take 1-2 tablespoons of dough at a time, and roll it in a shallow dish of powdered sugar until coated. Then, place each cookie 2 inches apart on a parchment-lined cookie sheet.
Bake & Cool – Bake the cookies in a 350°F oven for 8-10 minutes until the tops achieve the signature crinkle effect. Finally, remove them from the oven and allow the cookies to cool on the pan for 5 minutes before transferring them to a wire rack to finish cooling.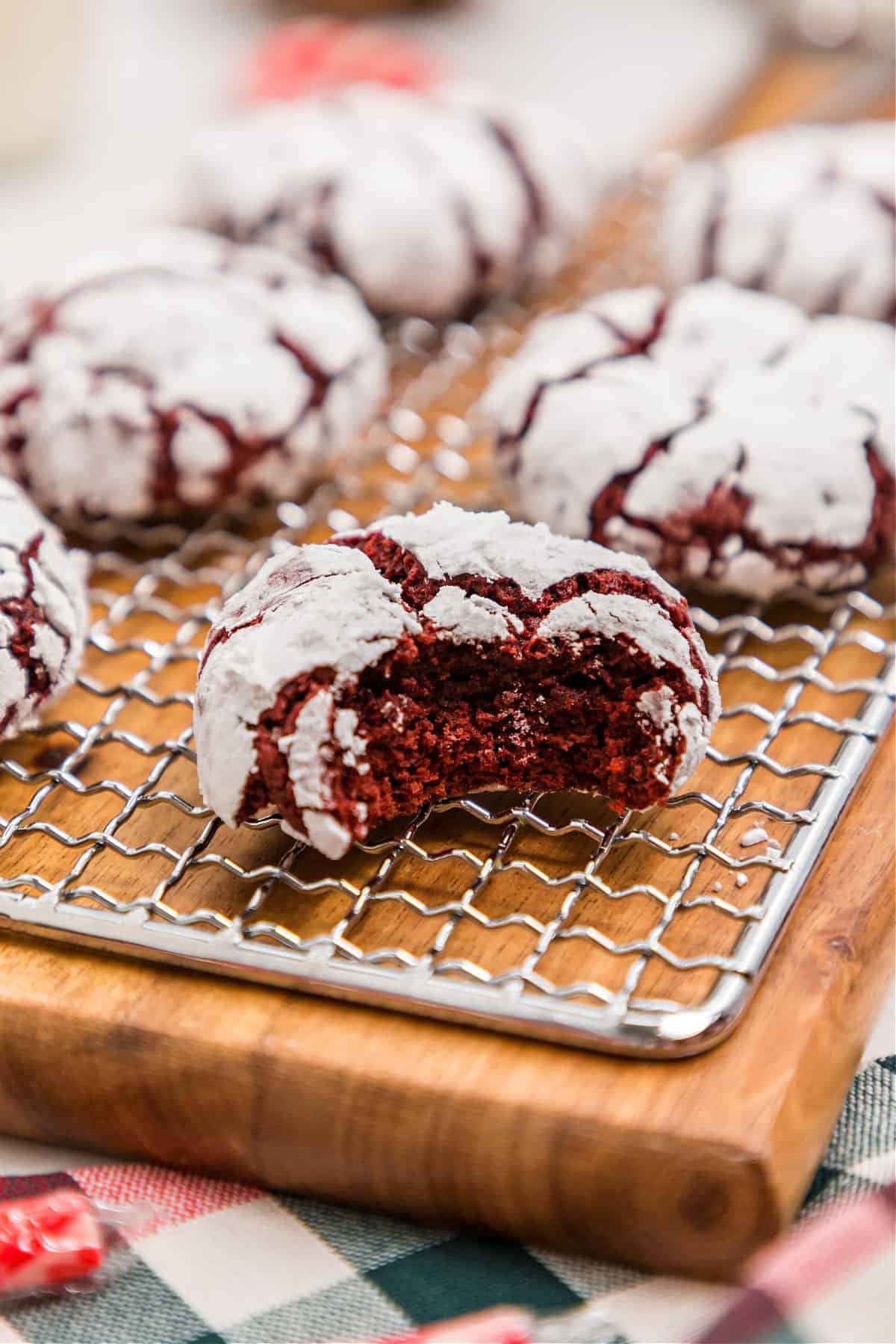 Tips and Tricks
The color of the dough will fade as it bakes. So when coloring the dough, push the red gel color a bit further than you would normally.
Once you add the flour to the dough, be careful not to over-mix. You don't want to overdevelop the gluten, or the texture will change. Stir until just combined.
Keep some cookie dough on hand to bake up in a pinch by freezing the cookie dough. Then, thaw, roll the dough in powdered sugar, and bake as usual.
By swapping out the gel food coloring, you can easily transform this recipe into Blue Velvet or Pink Velvet. You can't beat a tray of rainbow crinkle cookies for a birthday party or other celebration.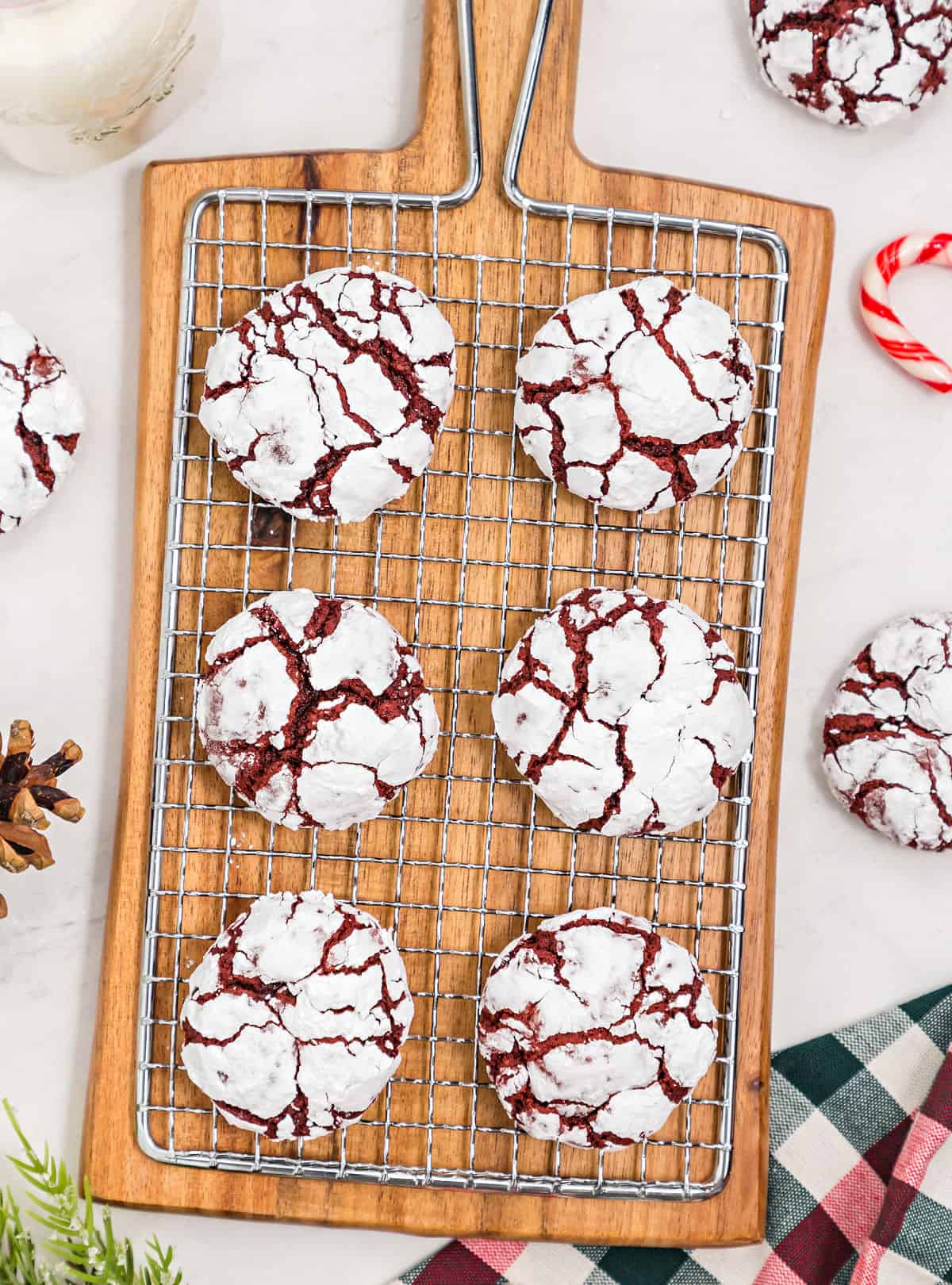 Recipe FAQs
Why aren't my cookies crinkling?
Crinkle cookies rely on a hot oven and enough leavener to rise and "crack." Make sure your oven is pre-heated before baking and that your baking powder (or baking soda) isn't expired! To check, pour boiling water over some of your baking powder, and vinegar over the baking soda, to make sure they bubble and fizz.
How should I store Red Velvet Crinkle Cookies?
Store baked and cooled cookies at room temperature in an airtight container. They'll keep for up to 5 days.
Can I freeze the baked cookies?
Store the cookies in an airtight container or resealable freezer bag. They'll last in the freezer for up to 3 months.
Is this a recipe I can make ahead of time?
Once you make the cookie dough, you can keep it covered in the fridge for up to 3 days before baking, Or you can freeze the cookie dough for up to 3 months.
More Easy Holiday Desserts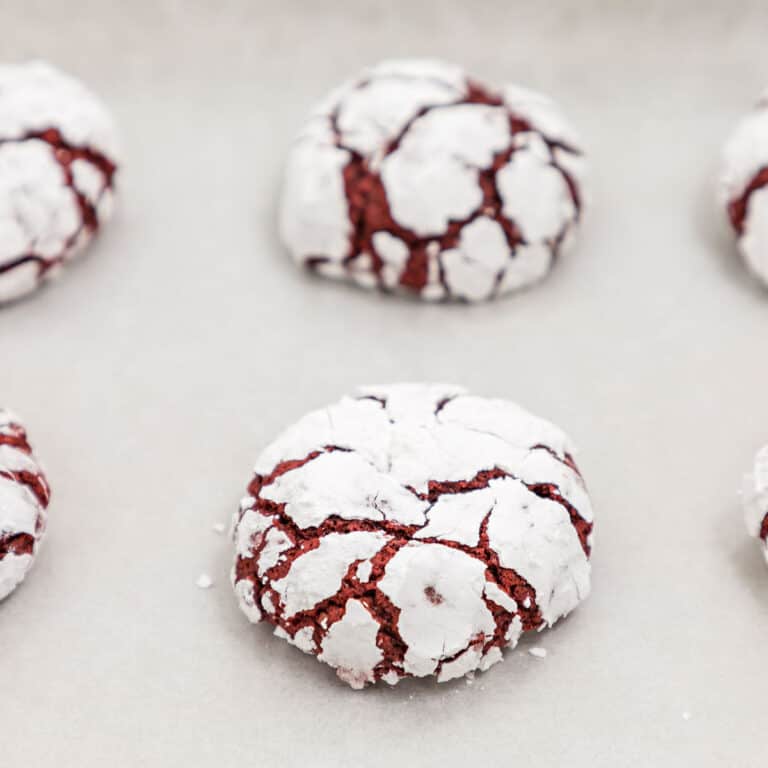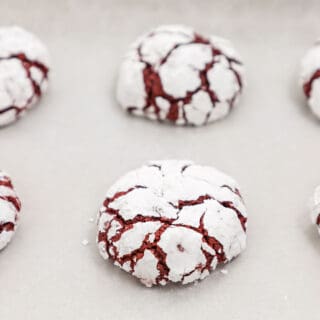 Red Velvet Crinkle Cookies
Red Velvet Crinkle Cookies are chewy, moist, and full of rich chocolate flavor. And with the striking crinkle effect, these unique cookies are sure to stand out among all the rest!
Ingredients
2

cups

all-purpose flour

½

cup

unsweetened cocoa powder

1

teaspoon

baking powder

¼

teaspoon

baking soda

¼

teaspoon

kosher salt

¼

cup

unsalted butter

melted

¾

cup

granulated sugar

¼

cup

light brown sugar

packed

1

large egg

1

large egg white

1

Tablespoon

whole milk

2

teaspoons

vanilla extract

½

teaspoon

red gel food coloring

½

cup

powdered sugar
Instructions
In a mixing bowl, whisk together the flour, cocoa powder, baking powder, baking soda, and kosher salt. Set aside.

In a large mixing bowl, beat the melted butter with sugars until blended. Add in egg, egg white, milk, and vanilla. Mix until smooth, then add red food coloring. (Use more or less to achieve desired color, just note the color fades as it bakes)

To the mixing bowl, add in flour mixture, just until combined. Do not over mix.

Cover with plastic wrap and chill cookie dough for 30 minutes.

Preheat oven to 350 degrees F. Line a cookie sheet with parchment paper and set aside.

Add powdered sugar to a shallow bowl. Set aside.

Roll 1 -2 Tablespoons chilled cookie dough into the powdered sugar, generously coating the cookie dough. Place on baking sheet about 2-inches apart.

Bake for 8-10 minutes, until tops are crinkled. Remove and cool on pan for 5 minutes, then cool on wire rack completely.
Notes
Gel food coloring achieves a more vibrant color than regular liquid food coloring.
Store cookies in airtight container at room temperature for up to 5 days.
Freeze cookies in airtight container (or ziploc freezer bags) for up to 3 months. You can also freeze the cookie dough for up to 3 months, before rolling in powdered sugar. After thawing dough, roll in powdered sugar and bake.
Nutrition
Serving:
1
cookie
,
Calories:
110
kcal
,
Carbohydrates:
20
g
,
Protein:
2
g
,
Fat:
3
g
,
Saturated Fat:
1
g
,
Polyunsaturated Fat:
1
g
,
Cholesterol:
21
mg
,
Sodium:
54
mg
,
Fiber:
1
g
,
Sugar:
10
g