Fannie May Fudge
Rich, decadent, copycat Fannie May Fudge. It's the perfect chocolate fudge recipe for any time of year, no candy thermometer needed!
Be sure to sign up for my email…new recipes in your inbox!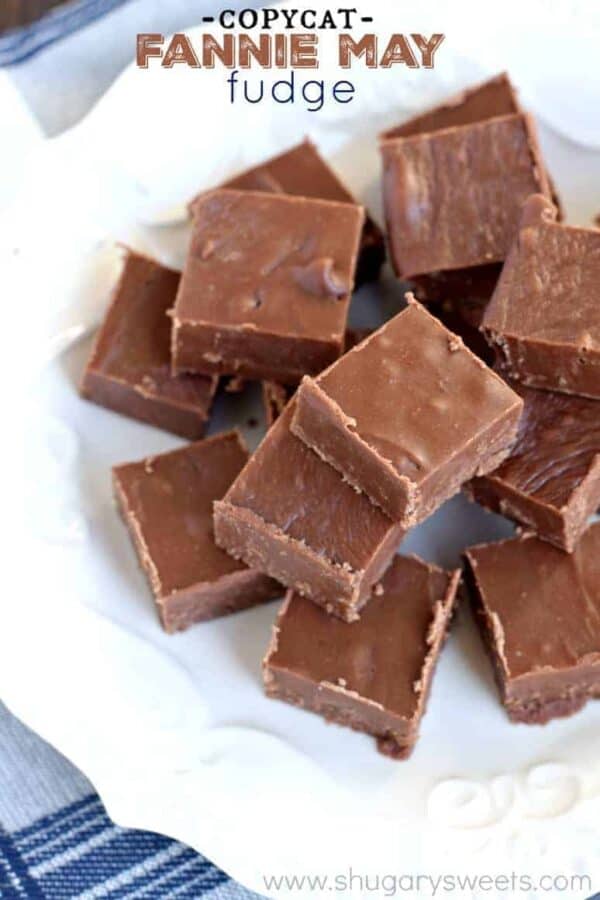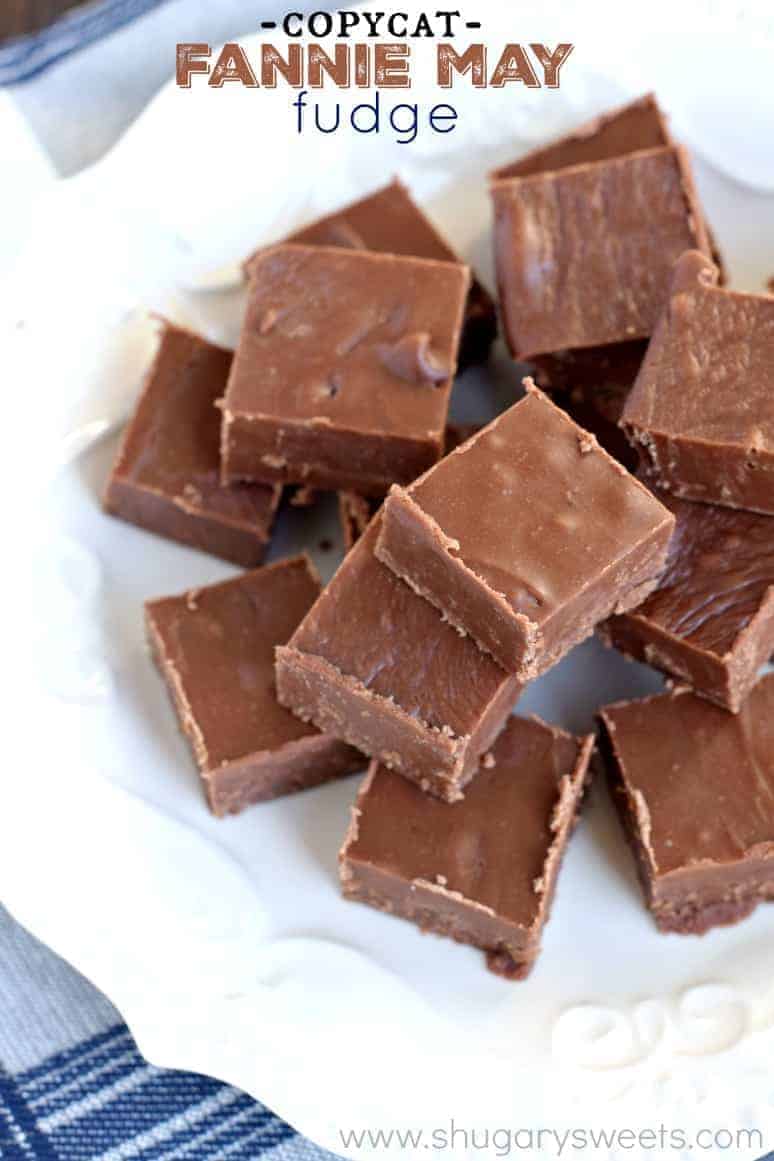 My mom has been making this Fannie May Fudge for as long as I can remember.
It's different from most of my other fudge recipes! However, I've used it as a base for this Salted Caramel Mocha Fudge, Macadamia Nut fudge, and this Chocolate Cookie Dough Fudge.
I do that. I share variations of my original recipes, then realize I've never shared the original. But no worries, it's here now.
All 5 lbs of this glorious fudge.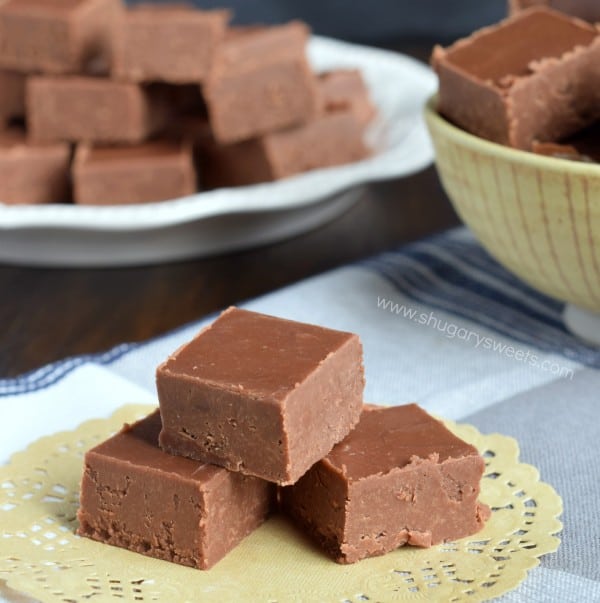 Yes, you read that correctly. This makes approximately 5 lbs of fudge! I pour it into a large 15 x 10 x 1-inch baking sheet that's lined with parchment paper. Once it's chilled and firm, I will remove it from the pan and cut it into approximately 4 large rectangles. I store these rectangles wrapped in parchment paper and in an airtight ziploc bag in my freezer. I usually make this fudge mid-December and store it in my refrigerator in these "packs."
Then, when I'm making up a cookie or candy plate for a party, hostess gift, friend, etc, I will cut just the amount of fudge needed.
By not cutting the fudge into bite sized pieces immediately, it will maintain it's freshness longer (straight through the holidays)! When cutting it into pieces, they tend to dry out quicker…so use within a few days if you're chopping them up for gifts!
Connect with Shugary Sweets! Be sure to follow me on my social media, so you never miss a post!
Facebook | Twitter | Google+ | Pinterest | instagram | Bloglovin'
Sign up to receive an email in your inbox for each new recipe: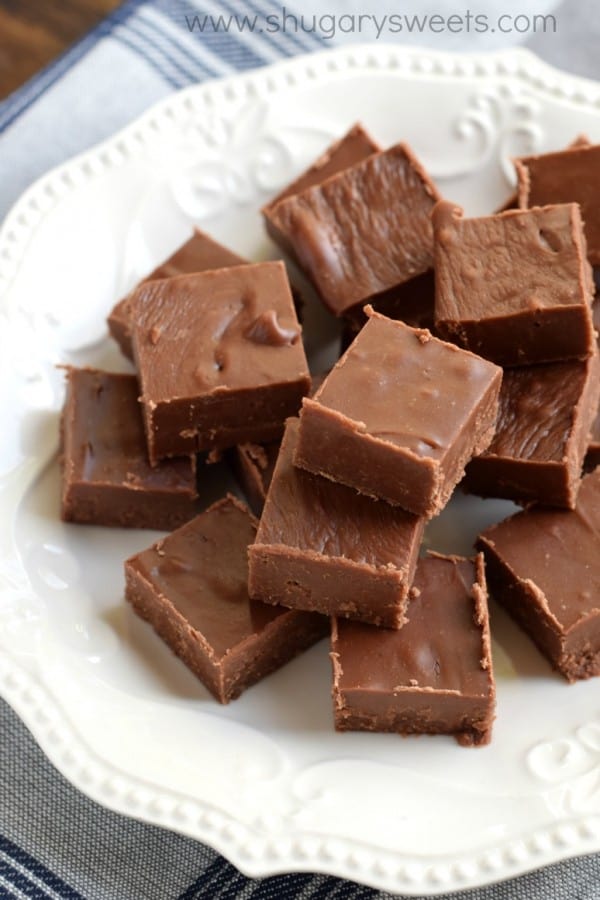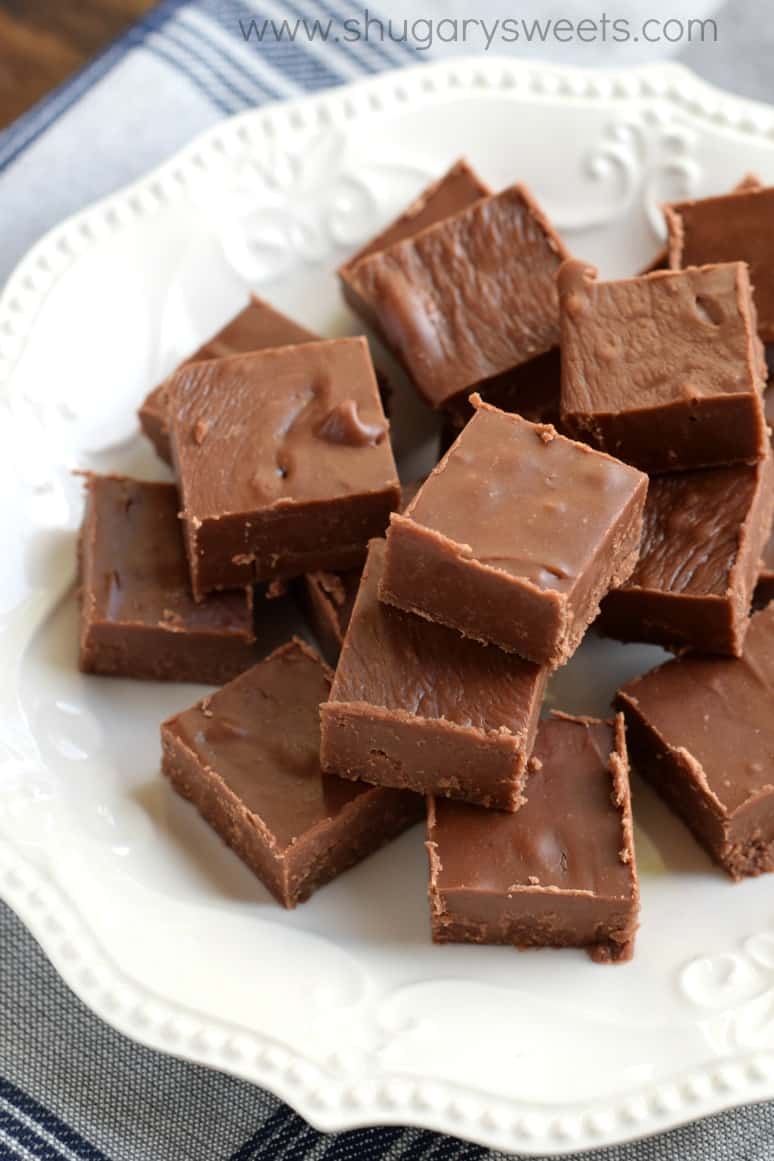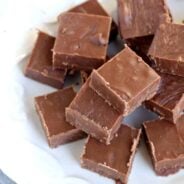 Fannie May Fudge
Yield: 5 lbs
Prep Time: 15 minutes, plus 3 hours refrigeration time
Cook Time: 12 minutes
Ingredients:
4 cups granulated sugar
1 cup milk (I use skim)
1 cup unsalted butter
25 regular sized marshmallows (not minis)
1 package (12 oz) milk chocolate morsels
1 package (12oz) semi-sweet chocolate morsels
2 oz unsweetened baking chocolate
1 tsp vanilla extract
Directions:
Line a 15 x 10 x 1-inch baking sheet with parchment paper. Set aside.
In a large mixing bowl, add marshmallows, chocolate morsels, unsweetened chocolate, and vanilla extract. Set aside.
In a large saucepan, combine sugar, milk and butter. Over medium high heat, bring mixture to a boil while stirring constantly. Once boiling, boil for a full two minutes.
Pour hot mixture over marshmallow and chocolate and beat with whisk attachment until melted and smooth (may take several minutes).
Pour into prepared baking sheet and refrigerate for about 3 hours (or overnight). Remove from refrigerator and cut into 4 large rectangles. Wrap in parchment paper and store in airtight container until ready to use.
When ready to use, cut into bite sized pieces and enjoy.
MAKING THIS RECIPE? Share it with me on Instagram using the hashtag #ShugarySweets so I can see what you're cooking up in the kitchen!
Need ideas for what else to make for those cookie and candy plates? Here are a few of my favorites….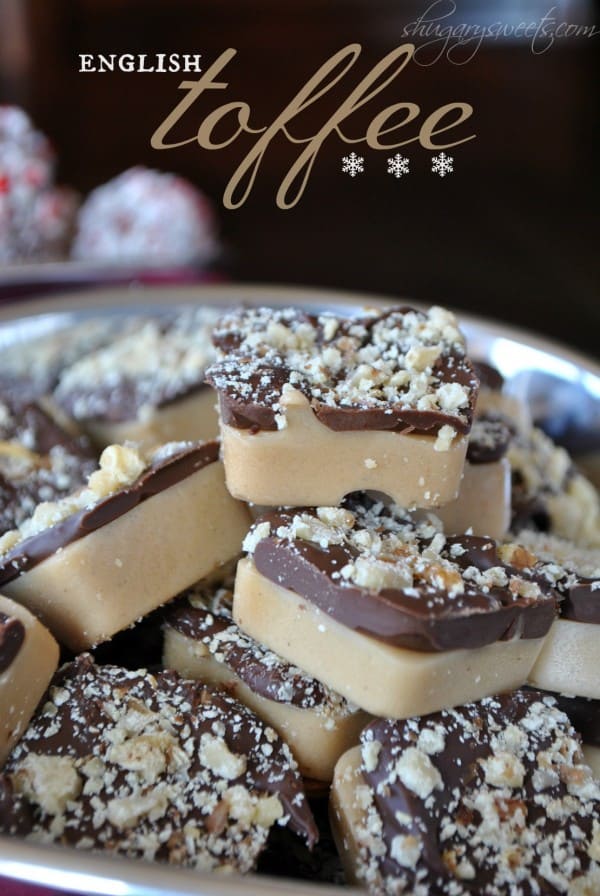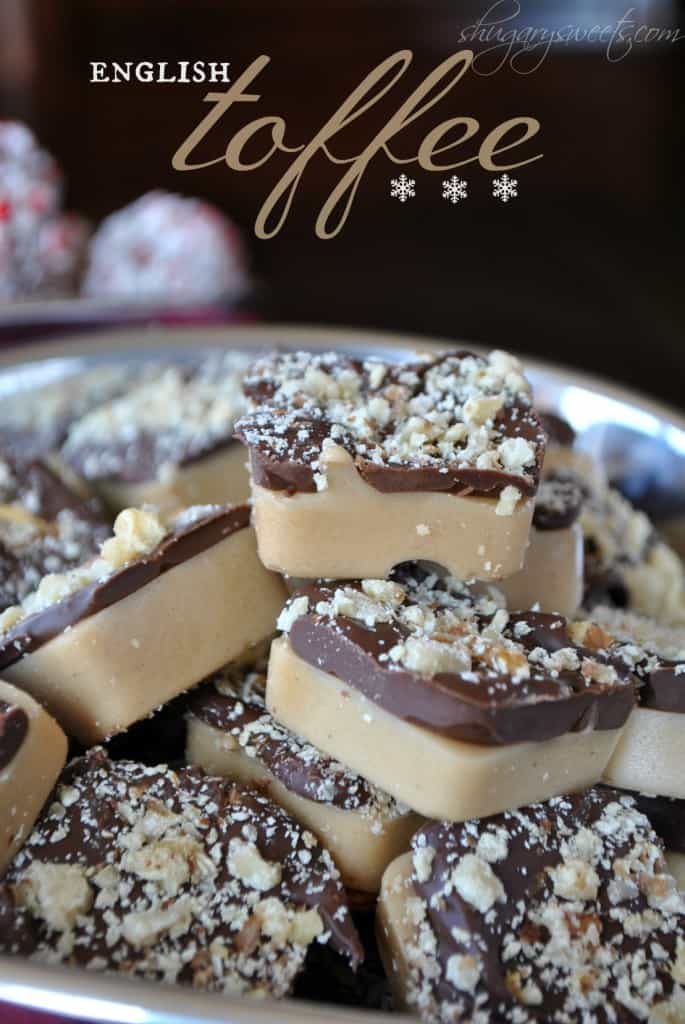 English Toffee: I kid you not when I tell you that my husband and I make over a dozen batches every holiday! GREAT GIFTS!!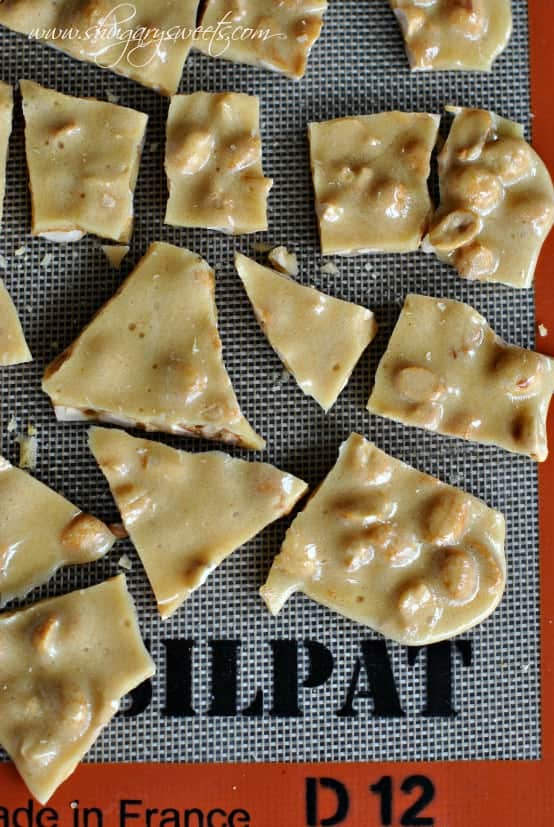 Microwave Peanut Brittle. Made in 10 minutes! What's not to love about that?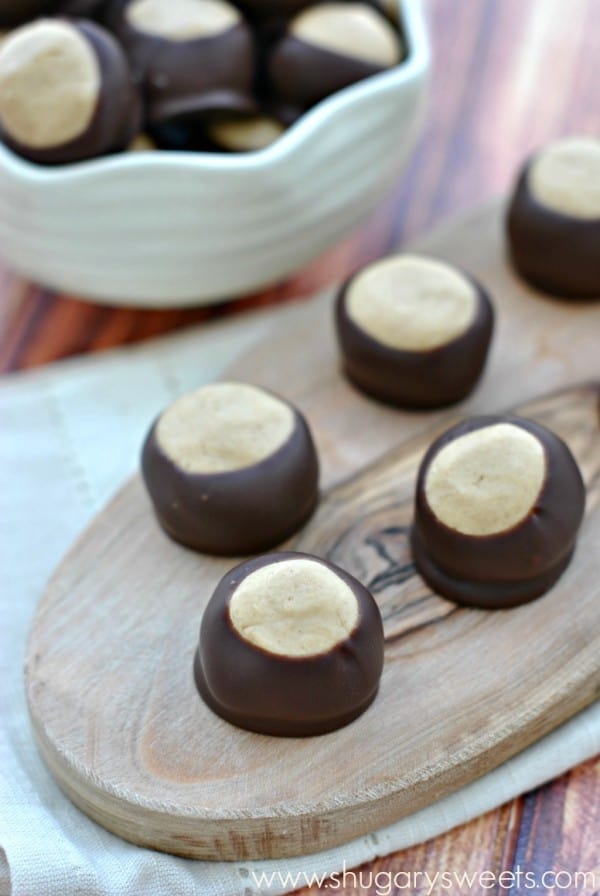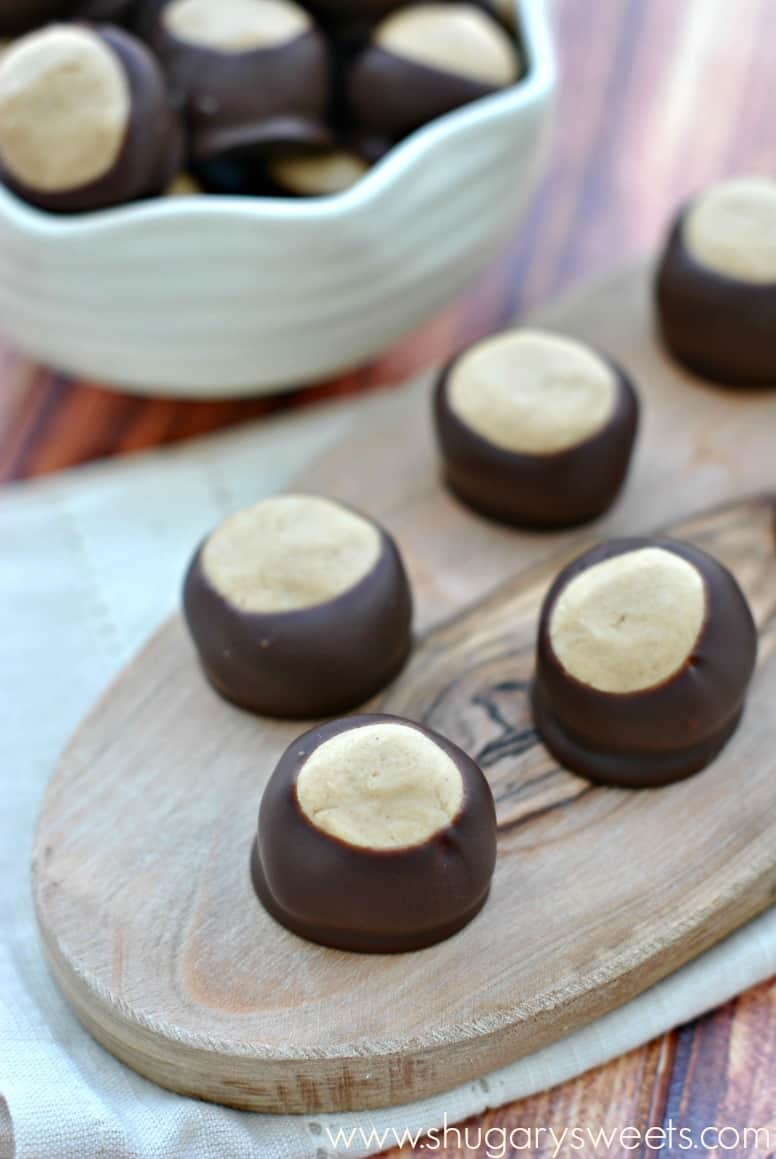 Peanut Butter Buckeyes: it's not the holidays without these tasty peanut butter and chocolate treats!

**There may be affiliate links in this post! By clicking on them, or purchasing recommended items I may receive a small compensation. However, I only recommend products I love! Thank you for supporting Shugary Sweets! See my disclosure policy for more info**