Love coffee and biscotti? This Red Velvet Biscotti with the hint of chocolate is perfection. Pair it with your favorite blend of freshly brewed coffee for a sweet pick-me-up! We spread on some cream cheese icing and sprinkled with chocolate chips!
Love red velvet cake? Our readers love this classic red velvet cupcake recipe topped with cream cheese frosting! Or give our easy red velvet cookies a try too.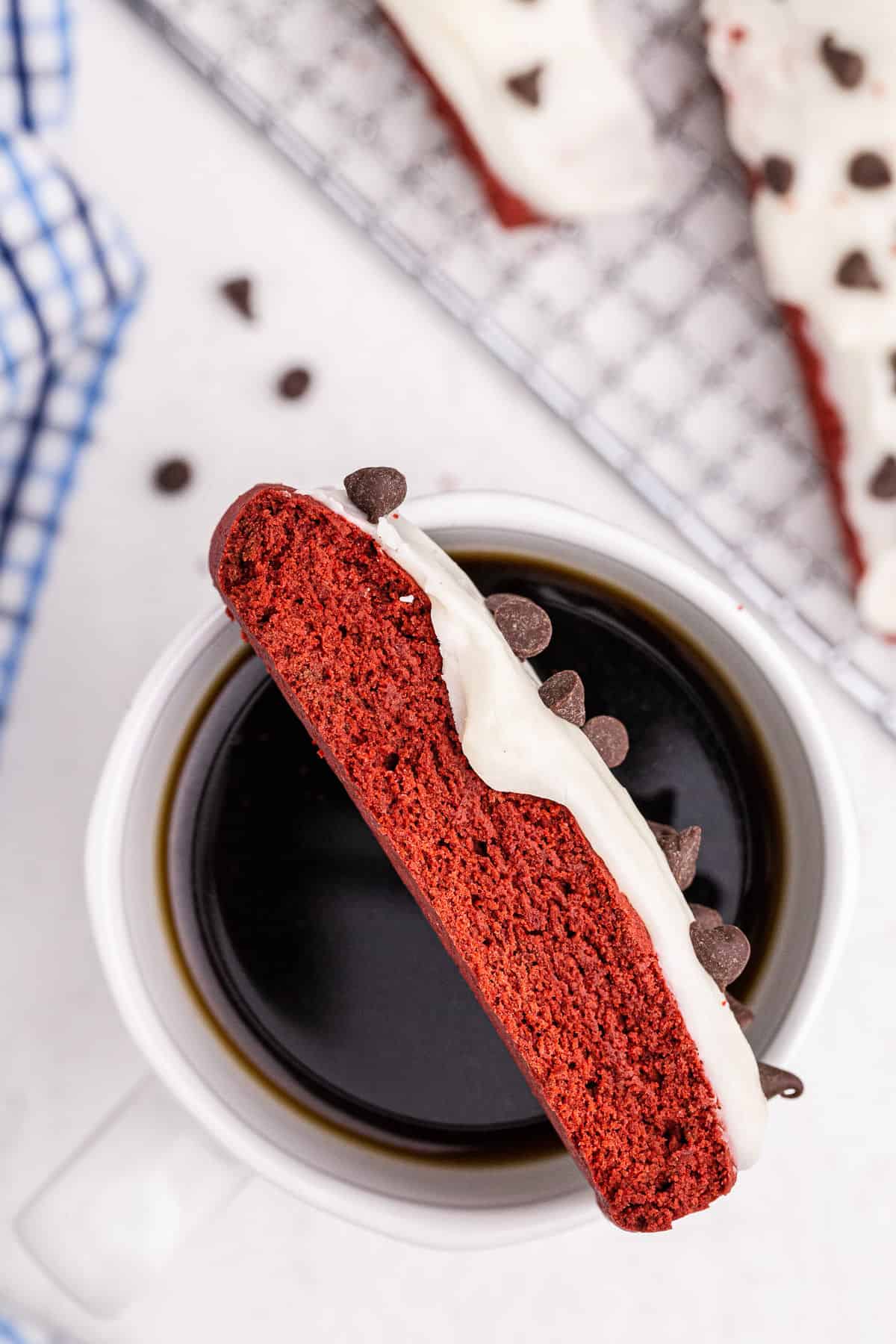 Why This Recipe Works
Once you learn how to make biscotti there's no going back. The biscotti that come in big tubs at the grocery store just can't compare to the fresh baked homemade versions!
This Red Velvet Biscotti recipe is a new family favorite. The color makes it well suited for Christmas and Valentine's Day but it really never goes out of season.
Signature red velvet color.
Twice baked for perfect biscotti crunch.
Covered with cream cheese glaze.
Delicious gift idea for coffee lovers!
If you love today's red velvet recipe, be sure to try our red velvet cheesecake brownies next. Or whip up a batch of our favorite red velvet crinkle cookies.
Ingredient Notes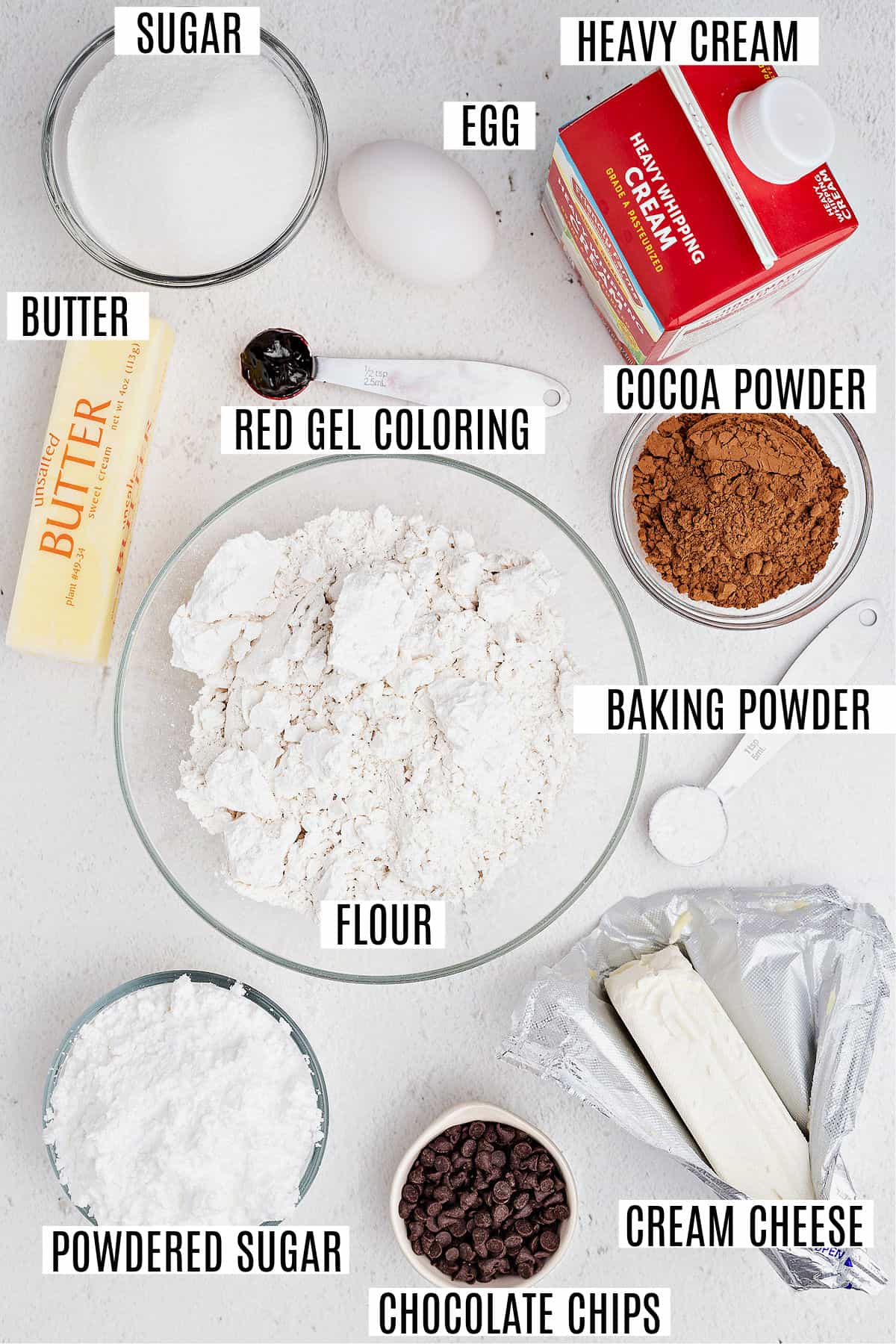 Unsalted butter – Butter gives these biscotti a deliciously rich flavor. Let it soften at room temperature before using so it's easier to incorporate into the dough.
Unsweetened cocoa powder – Red Velvet flavor is actually chocolate flavor in disguise! Using just a few spoonfuls, gives your biscotti a satisfying hint of cocoa flavor.
Red gel food coloring – You can't have red velvet without the "red" part! I find red gel paste is the best way to get that gorgeous scarlet hue without needing a full bottle of food coloring like some recipes.
Cream Cheese – Softened cream cheese creates the base for the glaze that completes this frosting. Be sure to use the bricks of cream cheese, not the tub!
Mini chocolate chips – I couldn't resist adding a few morsels of chocolate to glazed biscotti. Can you blame me?
Easy Instructions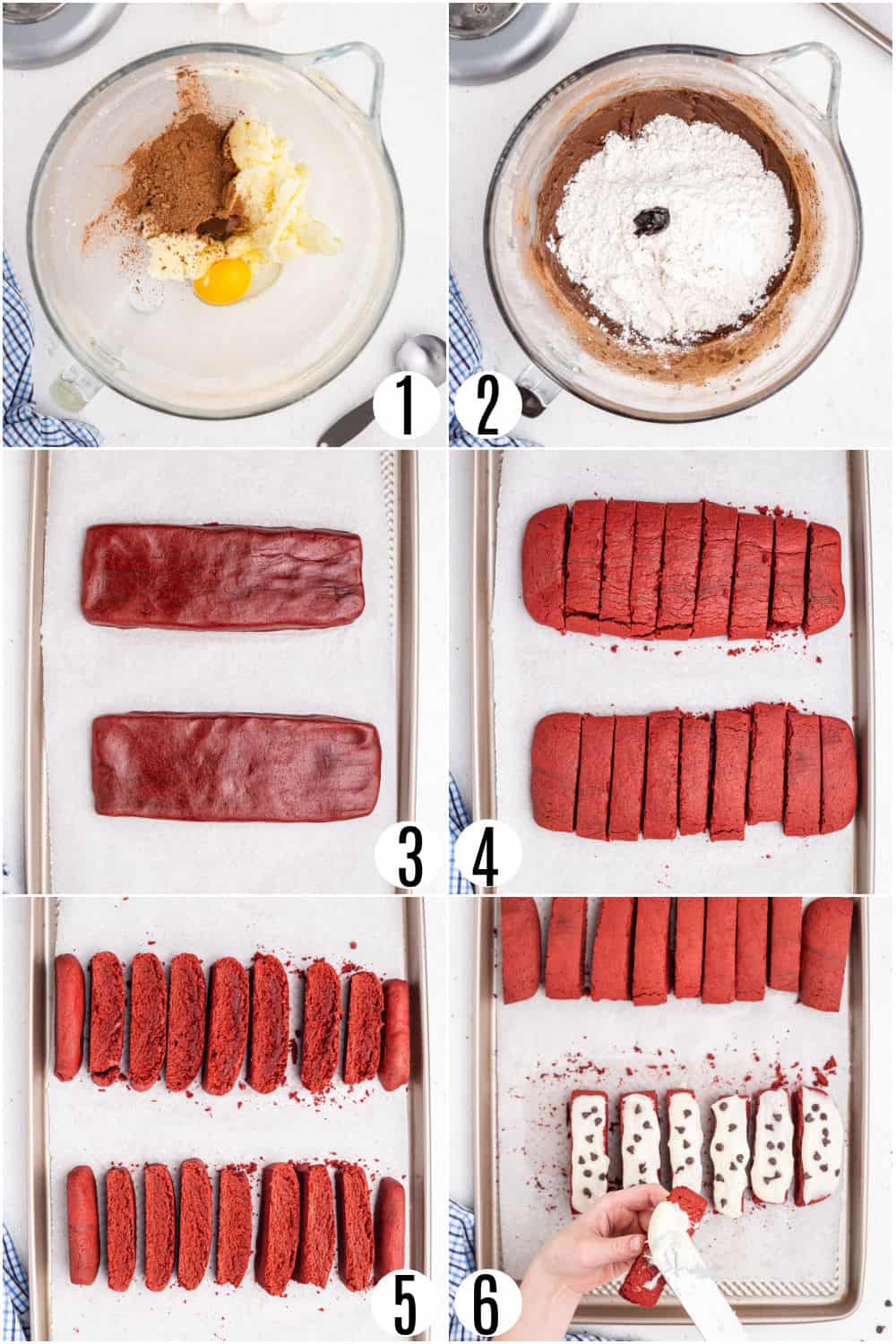 Make the biscotti dough: Begin by beating butter with sugar. Add the remaining ingredients, including the food coloring, to form a thick red dough.
Shape and bake once: Now divide the dough into two equal halves. Shape each half into a rectangle and bake for 25 minutes.
Slice and bake again: Slice each rectangle of partially baked dough into 9 slices. Flip them on their side and bake for another 20 minutes, flipping one more time half way through baking.
Cream cheese glaze: Whisk together the glaze ingredients. Spread a generous layer on to the tops of the cooled biscotti. Sprinkle with chocolate chips to give them that extra special touch!
Tips and Tricks
Store Red Velvet Biscotti in an airtight container in a cool, dry place. They'll keep well for about 1 week.
Not a fan of cream cheese frosting? These would be delicious drizzled or dipped in melted white chocolate, like I did with my Cranberry Pistachio Biscotti.
Homemade biscotti is the perfect gift idea! Wrap them up with a ribbon and place them in a gift bag along with a collectable coffee mug.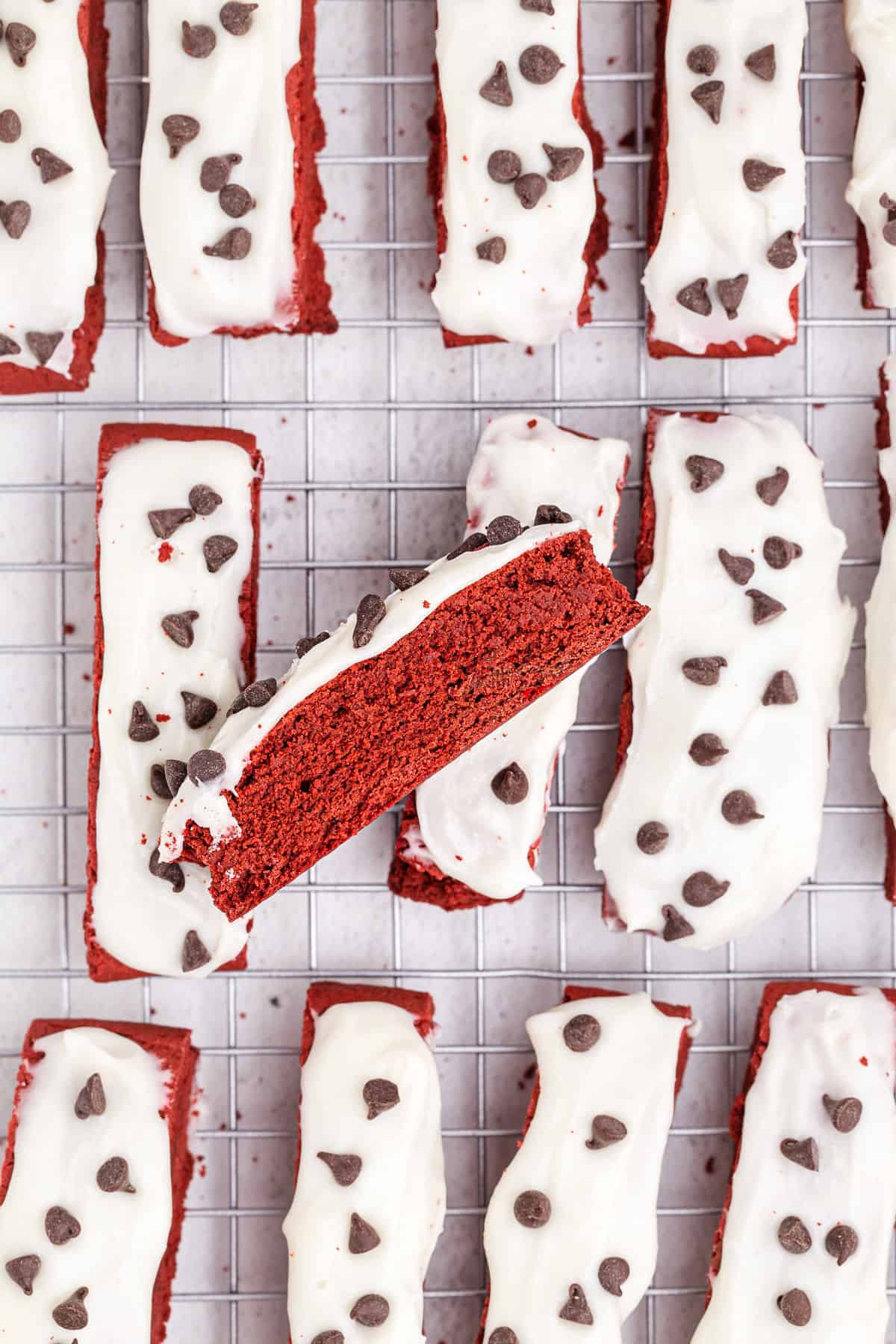 Recipe FAQs
How thick should the biscotti dough be before baking?
I shape my biscotti dough into rectangles about a half an inch in thickness before baking.
How can I make these biscotti smaller or larger?
You can slice your biscotti however small or large you want. Just make sure to keep the thickness of the dough consistent so you don't have to adjust the baking time.
Can I freeze homemade biscotti?
Biscotti doesn't freeze well because it loses its crispy, toasty texture after thawing. You CAN freeze the dough for this recipe though! Prepare the red velvet biscotti dough and shape into logs as directed. Before baking, wrap the logs of dough in foil then place them in a freezer bag. When you're ready for homemade biscotti, add frozen logs to the baking sheet. No need to thaw. Just add another couple of minutes to the baking time in the recipe.
Coffee tastes better when its served with homemade Red Velvet Biscotti! These beautiful cookies are crunchy, sweet and perfect for dunking into your coffee all year long.