Red Velvet Biscotti
Have a love for coffee and biscotti? This Red Velvet Biscotti with the hint of chocolate is perfect. Plus, who else feels the need to prolong the holiday treat-eating season?
Love this recipe? Sign up for Shugary Sweets email subscription and never miss out again!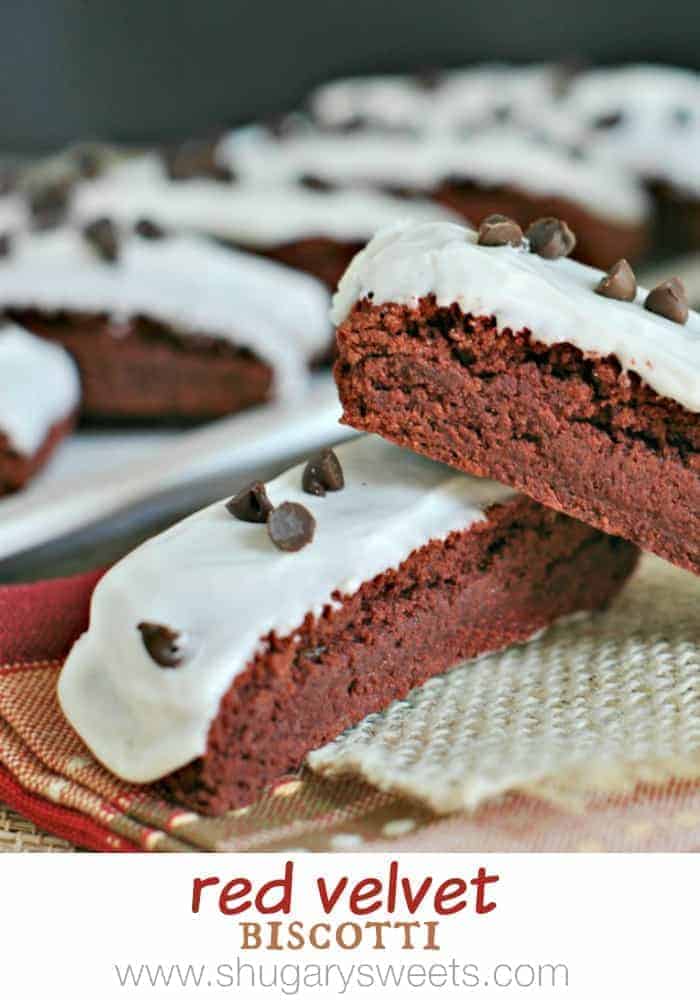 Yes. There is a holiday treats-eating season. It's called Thanksgiving-New Years. It's the reason health clubs see a huge rise in new members January 1.
At some point during the holidays I tend to drop my workouts and say "oh well, I'll start back up January 1."
I do good most of the year exercising and eating healthy (ish). But when the kitchen is filled with fudge, and cookies, and this biscotti, well…my will power dies.
I cave.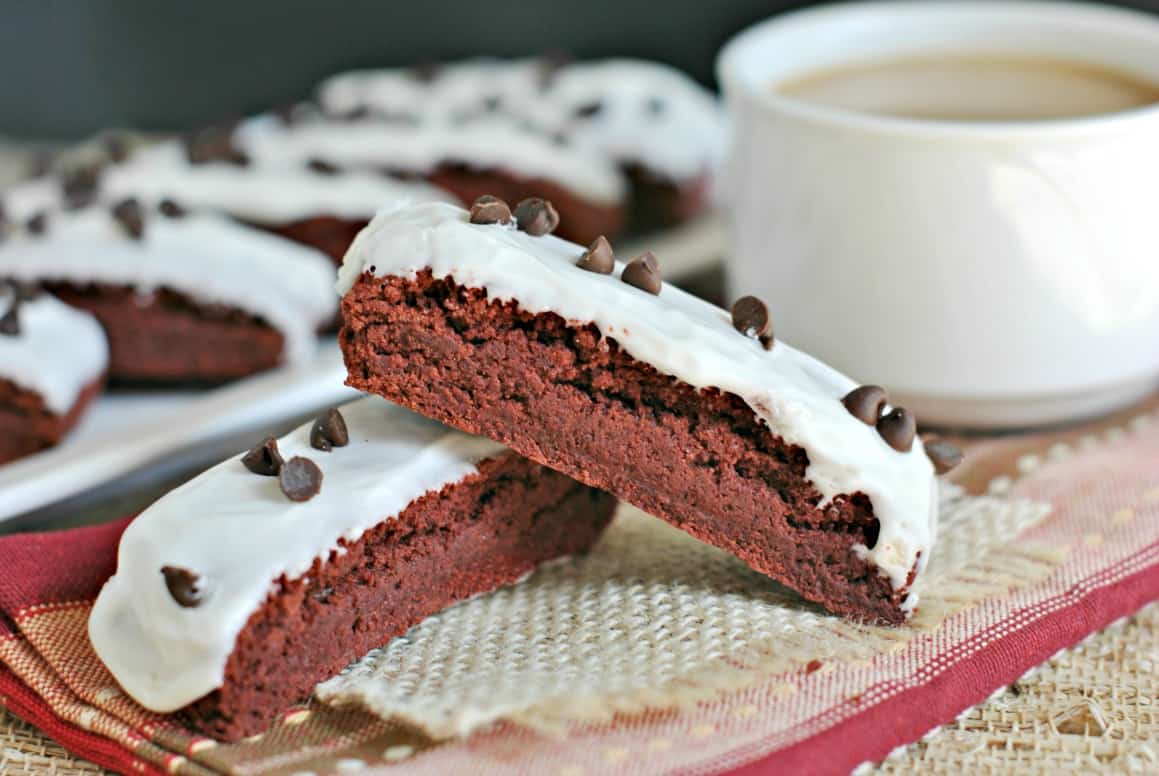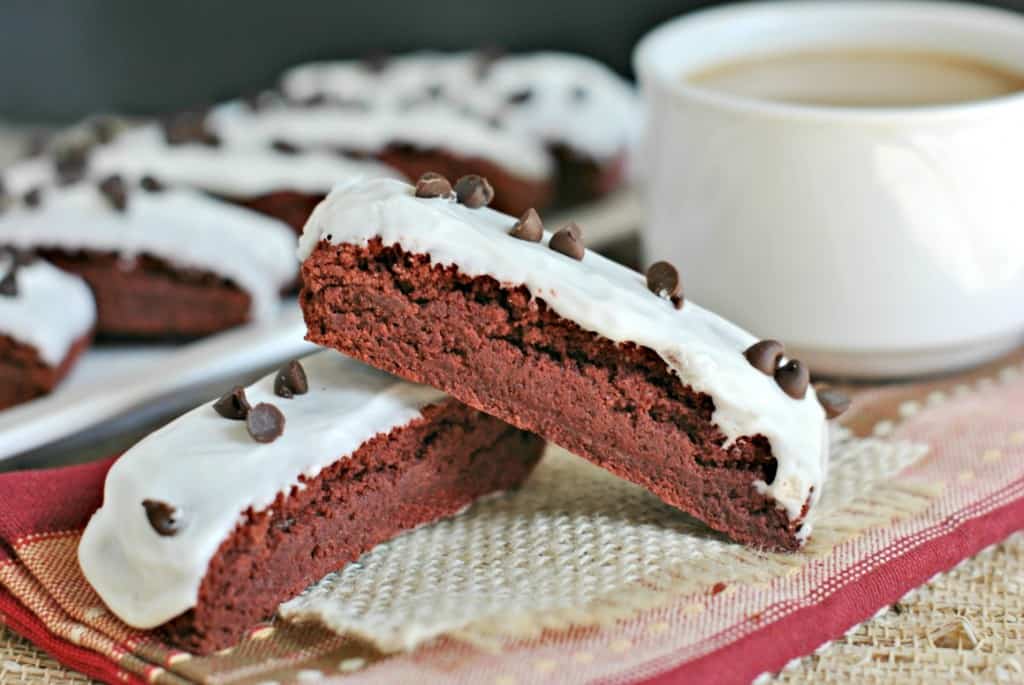 But, caving for this Red Velvet Biscotti is NOT a bad thing! The base is made with cocoa powder and a touch of red food coloring (not a whole bottle like some recipes). I prefer to use the americolor
gel paste to color my frostings and more! I find that it gives it a richer color, and you use much less than the "drops."
I also made the glaze with cream cheese. Oh my gosh, the richness of these biscotti are out of this world amazing. And the nice thing about biscotti? It's easy to give as a gift.
Wrap some up in treat bag with twine or ribbon. Give it as a gift with a coffee mug and sweet tag. (do you need my shipping address? haha)
ENJOY!
Connect with Shugary Sweets! Be sure to follow me on my social media, so you never miss a post!
Facebook | Twitter | Google+ | Pinterest | instagram | Bloglovin'
Sign Up to receive an email in your inbox for each new recipe:
Yield: 18 small biscotti
Red Velvet Biscotti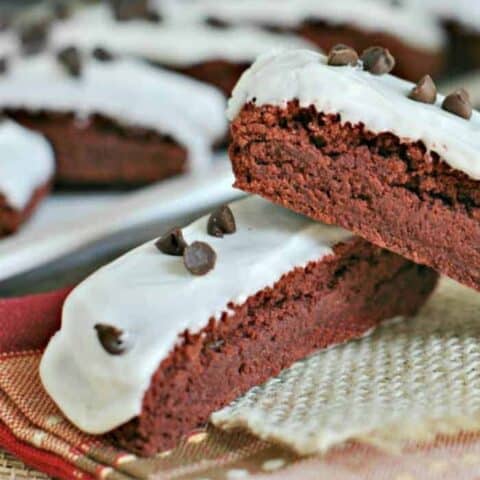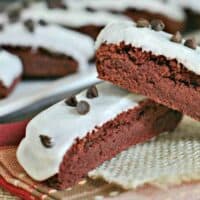 Ingredients
For the biscotti:
6 Tbsp unsalted butter, softened
¾ cup granulated sugar
¼ cup unsweetened cocoa powder
1 large egg
3 Tbsp BAILEYS Red Velvet Cupcake Coffee Creamer (or heavy cream)
2 cup all-purpose flour
1 tsp baking powder
½ tsp red gel food coloring
For the glaze:
1 cup powdered sugar
2 oz cream cheese, softened
1 Tbsp BAILEYS Red Velvet Cupcake Coffee Creamer (or heavy cream)
¼ cup mini chocolate chips
Instructions
In a large mixing bowl, beat butter with granulated sugar. Add cocoa powder and egg to the mixture, beat until combined. Add in the creamer, and mix until fully blended. Add flour, baking powder, and food coloring and mix until combined.
Line a 15inch x 10inch x 1inch baking sheet with parchment paper. Divide dough in half. With hands, pat dough into 9inch x 2 ½ inch rectangles. You will have TWO rectangles. Bake in a 350 degree oven for 25 minutes. Remove biscotti from oven. Slice each rectangle of dough into 9 even slices. Tip each slice onto one side and return to oven. Bake for 10 minutes. Remove from oven and flip biscotti to opposite side. Bake an additional 10 minutes. Remove from oven and cool completely.
In a small bowl, whisk together the powdered sugar, cream cheese and creamer until smooth. Spread a generous amount of glaze onto each slice of biscotti. Add mini chocolate chips, if desired. Allow glaze to set, about 15 minutes. Store in airtight container for up to one week. ENJOY.
Love Red Velvet? Here are a couple favorites: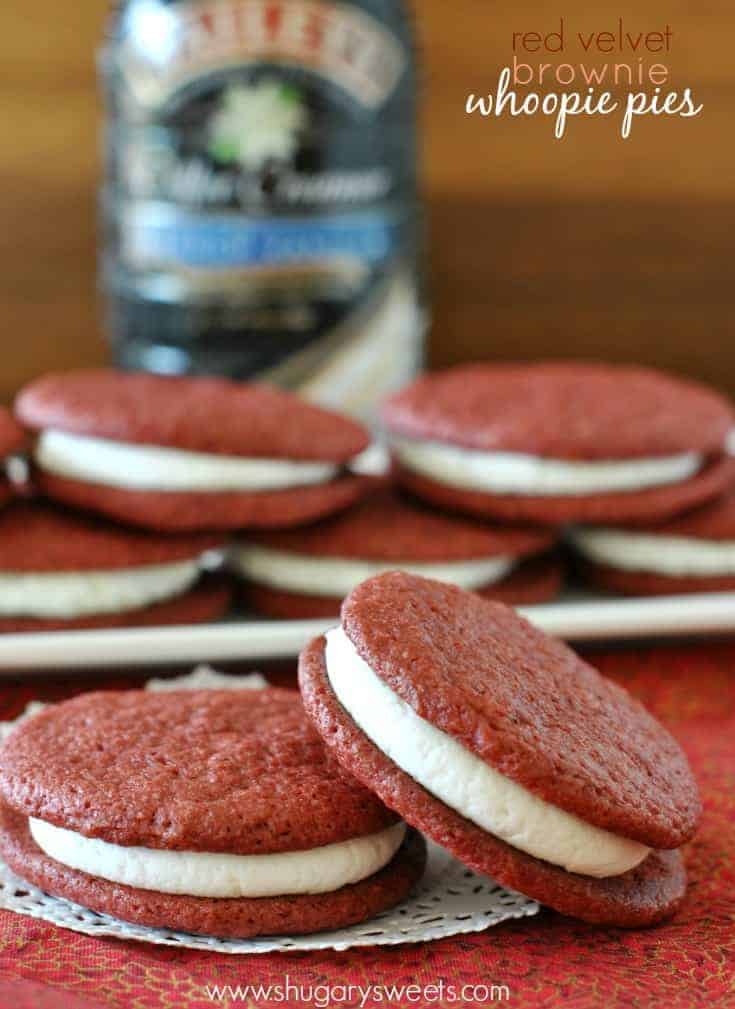 Red Velvet Brownie Whoopie Pies: delicious chewy red velvet brownies with a cream cheese filling!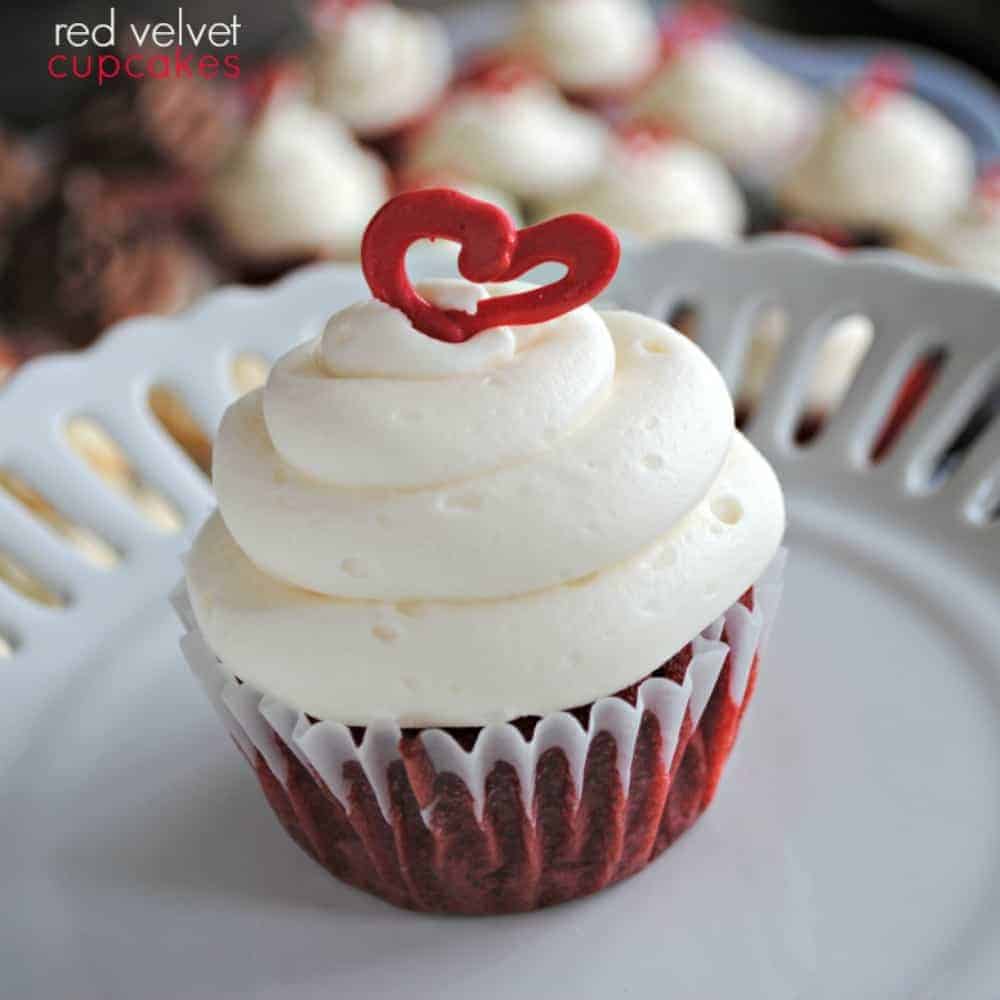 Classic Red Velvet Cupcakes with a sweet Cream Cheese Frosting!