As beautiful as they are delicious, Red Velvet Cupcakes are my favorite way to enjoy Red Velvet Cake. Soft, moist, and easy to make, you'll want them for Valentine's Day, Fourth of July or anytime of year!
If you love cupcakes, our Skinny Pineapple Cupcakes are always a hit. Packed with flavor, not calories! Or give our decadent Tiramisu Cupcakes a try for dessert tonight!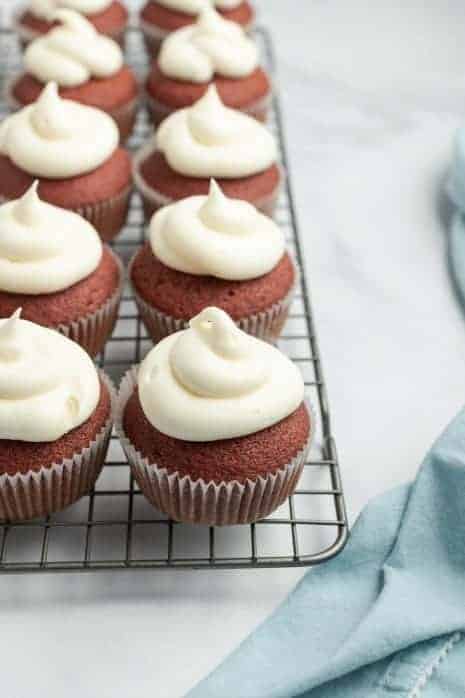 Why this Recipe Works
What flavor is red velvet? Red Velvet Cupcakes are essentially chocolate cupcakes that get their flavor and deep scarlet color from cocoa powder and a few drops of red food coloring.
I've seen some recipes that use beetroot or other natural colorants too, but here I kept things simple and just used a small amount of the red coloring I had on hand in my cupboard.
The flavor is phenomenal–but you know what my favorite thing about Red Velvet Cupcakes is? The texture.
These cupcakes live up to the "velvet" in their name. Every bite is moist and almost silky smooth. No dried out crumbly cupcakes here!
Ingredient Notes
To create delicious red velvet cupcakes you need a few key ingredients (scroll all the way to recipe card for measurements).
Buttermilk & Oil- To create cupcakes with the perfect amount of moisture, we use vegetable oil and our buttermilk substitute.
Vinegar- white vinegar is needed to activate and enhance the red color of these cupcakes.
Flour- We use all-purpose flour for todays cupcake recipe. We found cake flour to be too light to hold up to the coloring and buttermilk.
Cocoa Powder- Provides a slight flavor, but also helps give these cupcakes their rich red hue!
Step by Step Instructions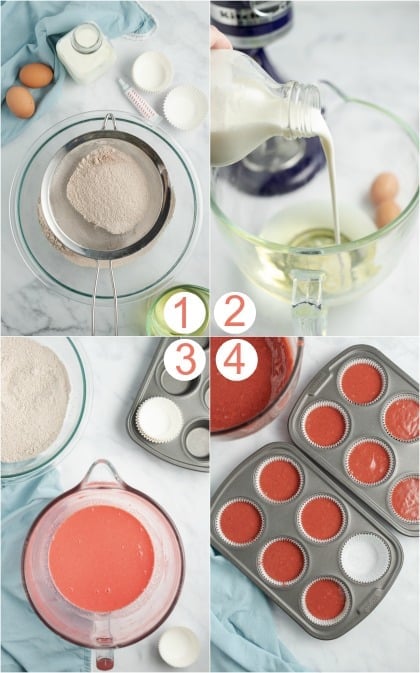 Whisk together the dry ingredients. Sift together flour, cocoa powder, sugar, baking soda and salt.
Combine wet ingredients. In a mixer, blend oil, milk, eggs, vanilla extract, vinegar and food coloring until combined. Slowly add in the dry ingredients, combining as you go.
Add to cupcake liners. Pour batter into a muffin tin lined with cupcake liners. We use a large cookie scoop to do this step!
Bake at 350 F for 18 minutes. Let cool completely before frosting.
Cream Cheese Frosting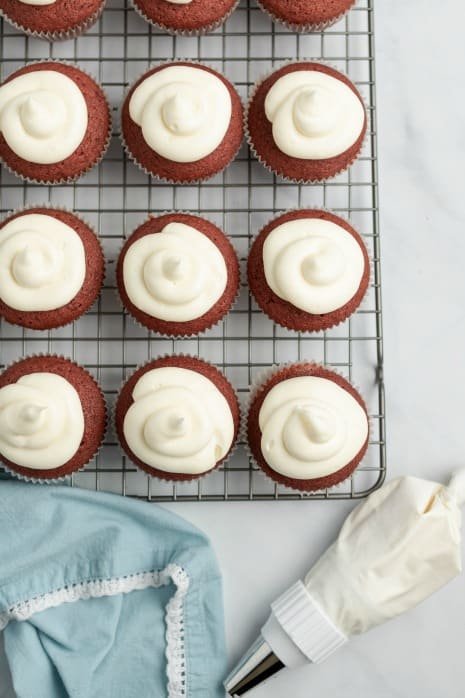 Making cream cheese frosting for red velvet cupcakes couldn't be easier.
Whip together cream cheese with powdered sugar, butter and vanilla extract. Use a little bit of milk to thin out the frosting to desired consistency.
This kind of icing is my favorite for topping on so many desserts, not just cupcakes. If you like it on these, you might also want to the frosting on my Gingerbread Cookie Bars.
A moist and lightly chocolate-y cupcake paired with rich cream cheese frosting is my idea of the perfect food. So go ahead. Take a bite. It looks yummy, right?
Cupcake Baking Tips
Want to make sure your RED VELVET CUPCAKES turn out as pretty and tasty as possible? Check out these tips and tricks:
Make sure to SIFT your dry ingredients first! I know, I know. I usually skip this step too. But I promise it makes a world of difference for these cupcakes. They're supposed to be

velvety–

and getting rid of any lumps of flour or cocoa powder is essential to achieve that texture. Just trust me on this one and sift away. It only takes an extra minute or two!

Use gel food coloring in this recipe. It is more concentrated than the liquid versions so you get that deep red color without needing to dump a ton of food dye into your cupcakes. Bonus: it's way more cost effective!
After mixing the wet ingredients together, add the dry ingredients very slowly. If you add them too quickly you'll be forced to mix the batter more. Over mixing the batter results in a tougher cupcake. Add more food coloring to reach desired color.
Don't overfill your muffin tins! You want to fill them just about ⅔ of the way to the top. I use a ladle or measuring cup for controlling how much batter goes into each cup. When in doubt, be modest with your pour. You can always add more if you under fill.
Don't have any buttermilk? It's easy to make your own at home for this recipe: try my homemade buttermilk substitute.

Craving Cookies? Try our easy, 4 ingredient Red Velvet Cake Mix Cookie recipe!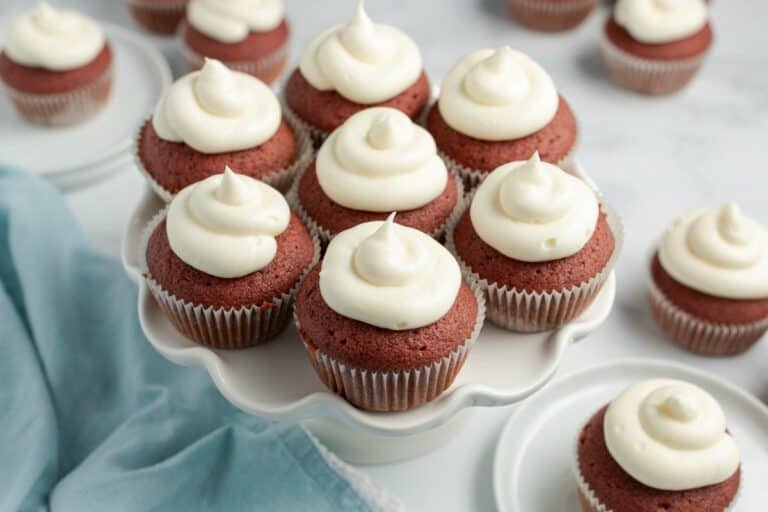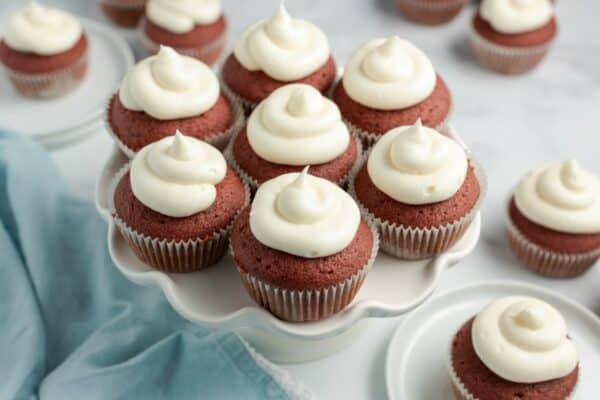 Easy, beautiful Red Velvet Cupcakes are moist and delicious. Topped with perfect Cream Cheese Frosting.