White chocolate covered pretzels with red and blue sprinkles make adorable 4th of July desserts! These Red White and Blue Flag Pretzels are delicious AND cute!
Whip up a batch of these easy Patriotic Krispie Treats for a sweet treat. Or give our fun and festive Flag Cake a try this holiday.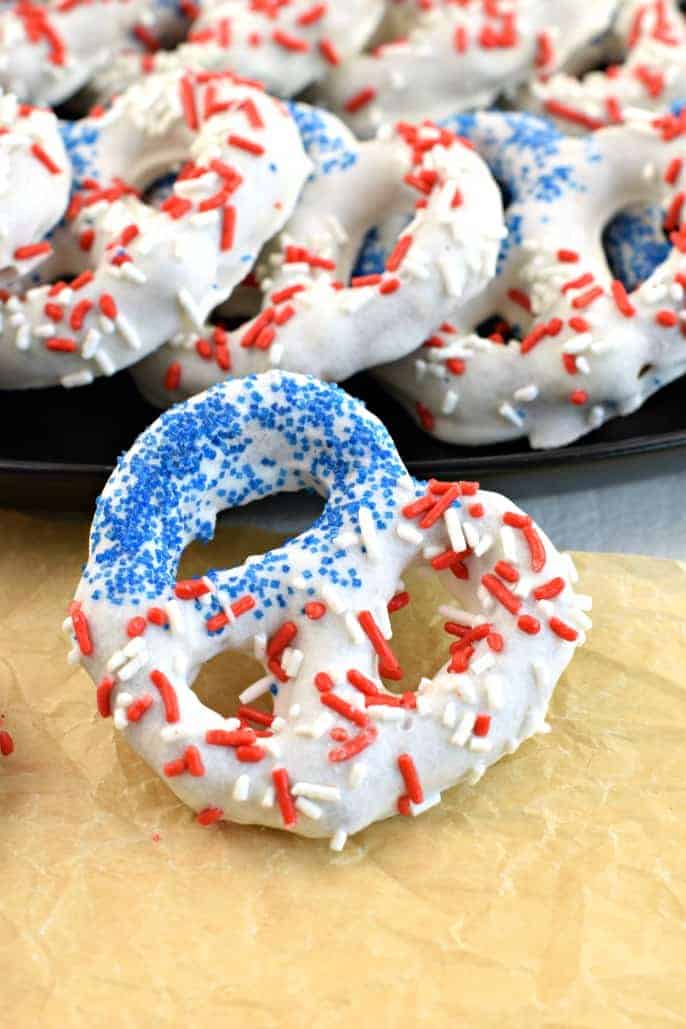 Why this Recipe Works
I'm so psyched to share this recipe for Patriotic Pretzels today!
Once upon a time the Fourth of July was my favorite holiday. I loved it more than Christmas, more than my birthday.
Why? I was obsessed with flags. Anytime my family drove anywhere, I'd press my nose to the window trying to spot any and every American flag I could.
Seeing Old Glory waving in the wind gave me the biggest kick. (You can imagine how excited I was to find out about Flag Day!)
I also loved all the flag inspired decorations and red, white and blue everywhere on 4th of July. Not to mention the fireworks, the picnics and parades.
While my enthusiasm for flags has tempered with age, I still look forward to making red, white and blue Fourth of July desserts every summer!
These patriotic pretzels are a fun way to celebrate. They'd be a great snack for an Independence Day party or gathering.
Can I also suggest making a few batches of these to give as a token of appreciation to a veteran in your life? A delicious and cute treat puts a smile on anyone's face.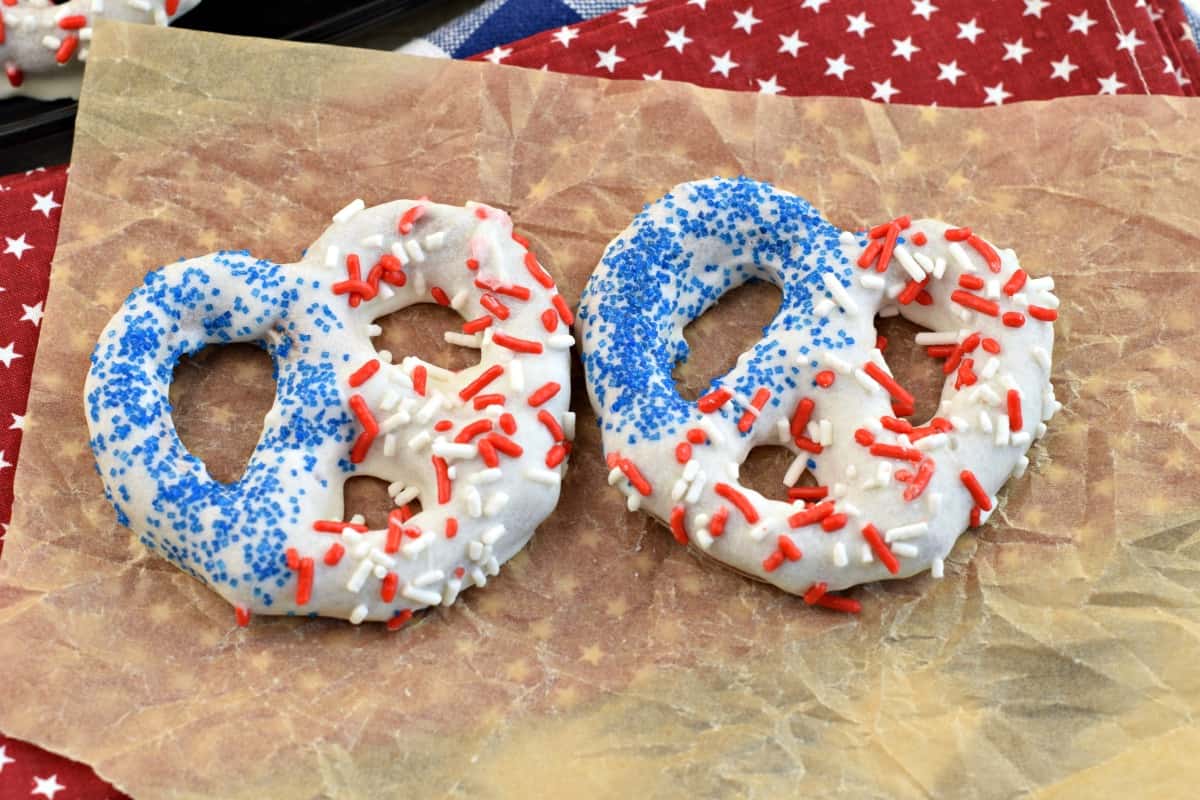 Ingredient Notes
This 4th of July dessert recipe is easy and kid-friendly. Your little ones will love helping you decorate them!
Here's what you need to make your own Red, White and Blue Pretzel treats:
Pretzels – I used Snyders old-time pretzel twist. Any standard size pretzel twist will do! Make sure they're just plain salted, not dusted with any funky flavors!
Candy coating – Vanilla or white chocolate
Sprinkles – Red, white, and blue to keep the patriotic theme! I used a combination of Jimmies and sugar sprinkles.
To make the patriotic pretzels:
STEP 1. Melt the candy coating in your microwave, stirring every 30 seconds until melted (this usually takes about 90 seconds).
STEP 2. Dip pretzel tops in white chocolate. Place on parchment paper.
STEP 3. Sprinkle immediately with colored sprinkles. Allow to set on wax paper (about 30 minutes).
How to Store Candy Dipped Pretzels
After the pretzels are set, transfer them immediately to a ziploc bag or airtight container for storage.
They taste best if eaten within one week or so, but we can never resist gobbling them all up within a few days.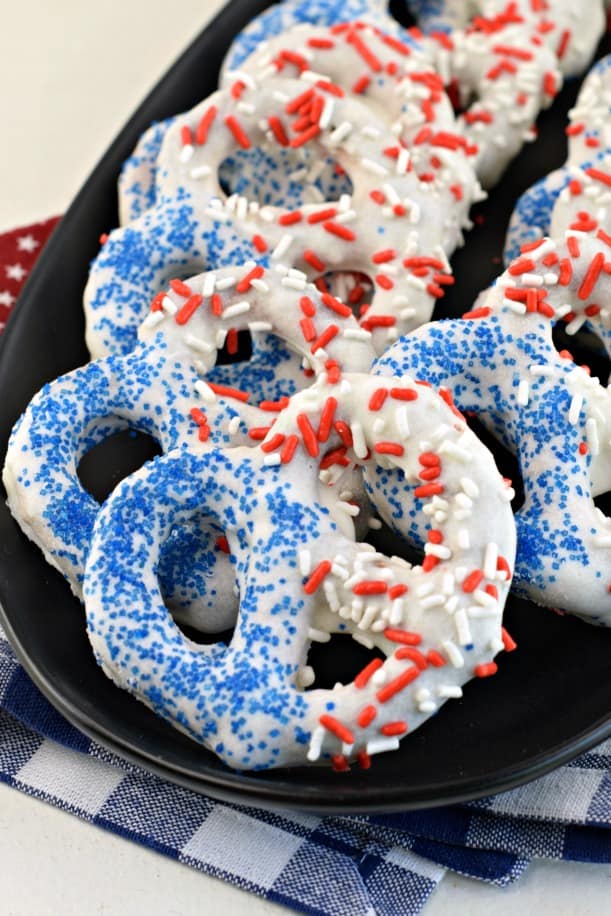 Tips for Decorating Pretzels
When it comes to decorating these patriotic pretzels, get as creative as you like. I like making a pattern based on the stars and stripes of the U.S.A. flag– I guess my love of flags remains.
To make this pattern, I sprinkled white and blue sugar sprinkles in the left quadrant of the pretzel and used red and white jimmies all over the rest. I think they look super cute this way, if I do say so myself!
There's no need to be so fussy about a precise pattern, though. They also look fun and pretty with the colors mixed up all over the pretzel.
If your kids are helping, let them have fun making up different patterns (or just going nuts with the sprinkles!).
Make clean up easier by placing an extra sheet of parchment or wax paper underneath your decorating station to catch stray melted candy drippings and sprinkles.
Then you can just toss it when you're done and not have a sticky counter top to scrub.