Change up that classic poke cake by making this Lemon Orange JELL-O poke cake! Such a light, refreshing dessert for any time of year!
Love easy jello recipes? Our strawberry jello pie is a fun, no bake treat packed with strawberry flavor! Or give our walking dessert recipes a try. So many fun options!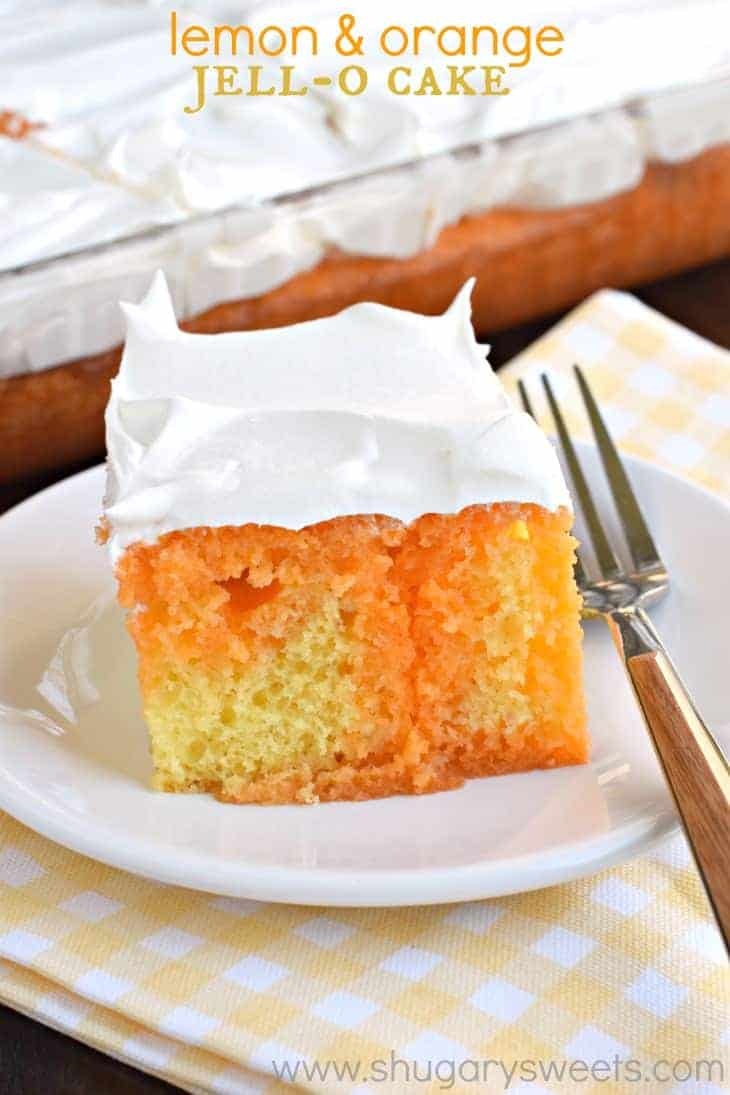 Why this Recipe is Best
Who doesn't love a delicious refreshing cake at the end of the day?
Growing up my grandma always made JELL-O poke cakes. If you've never had one, it's hard to describe.
What is a JELL-O Poke Cake?
Baked up a cake as directed in a 13×9 baking dish.
When it comes out of the oven you poke holes all over it.
Mix up your gelatin with hot water (don't add cold water) and pour it over the cake. Refrigerate your cake for and when you're ready to serve, cover it in Cool Whip.
The JELL-O gives the cake a spongy texture, packed with sweet flavor.
How to make a JELLO Poke Cake

Bake a Lemon Cake mix according to package directions, in a 9×13-inch baking dish. Cool completely.
Poke holes over cooled cake using a fork or wooden spoon handle. Be sure to get all the way to the edges!
In a small bowl, whisk the orange Jello gelatin with boiling water. Stir until sugar is dissolved (do not add cold water). Pour gelatin all over the cake, slowly, allowing it to fill the holes in the cake.
Cover with plastic wrap and refrigerate cake for at least 4 hours, or overnight.
Top with Cool Whip whipped topping, or homemade whipped cream before serving. ENJOY chilled. You could even add some mandarin oranges to the top!
Jello Poke Cake flavors
With as many flavor cake mixes….and gelatins on the market…which would you choose?
Today's recipe was made using a Lemon Cake mix and a box of orange gelatin. I LOVED the citrus flavor of this cake. You could even do TWO gelatins. I wish I had some lime JELL-O on hand, I totally would have added that to the cake too!
You may have seen my Jello Cheesecake trifle from years ago…that uses red/blue Jello for 4th of July!
PRO TIP: Top your Jello Poke Cake with fresh fruit for a delicious addition.
This Orange Poke Cake is packed with flavor and would make a lovely Mother's Day dessert!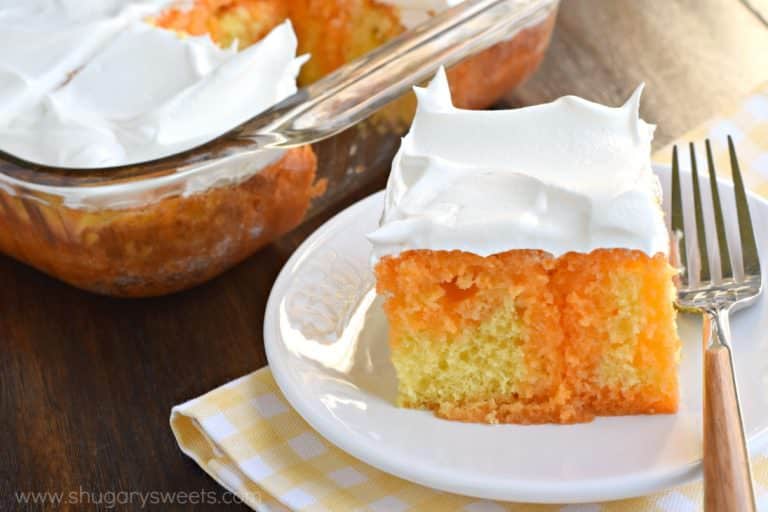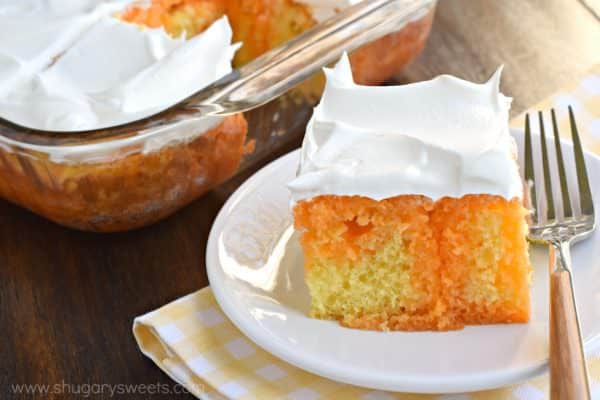 Tips for Poke Cakes
White Cakes work best for most Jello flavors. Today's recipe used lemon cake which was perfect since I wanted a yellow tint to the cake. But if you're making colors for a specific holiday, I would choose to use a white cake mix.
You can use boxed cake mixes or from scratch cakes. Just be sure to bake them in a 13×9 and cool completely.
Using pudding mix gives this poke cake a whole new flavor profile. For instance, this Coconut Pudding Cake started with a French Vanilla cake mix and is topped with creamy coconut pudding.
Add pie filling or lemon curd to the top of your poke cake for more flavor and texture! This Lemon Poke Cake has a combination of lemon Jello and lemon curd. SO tasty!
Wipe your knife after each cut to ensure a beautiful clean slice of cake!
Can I make Poke Cupcakes?
Yes!
For cupcakes, bake according to your cake mix package directions for 24 cupcakes.
Immediately after baking, poke with a fork all over the top (going about 3/4 way deep).
Carefully spoon gelatin over the tops of the cupcakes. Refrigerate for 4 hours or overnight. Top with Cool Whip and enjoy!
These White Chocolate Cranberry Poke Cupcakes are always a favorite when I bring them to holidays!
How to Store Poke Cakes
Because of the gelatin in the cake, keep the cakes chilled in the refrigerator.
Cover cake with foil or plastic wrap to keep fresh.
Use within 3 days for best flavor!
More Poke Cake Recipes
Enjoy the fall Apple harvest with this flavorful Apple Pie Poke Cake. It's the perfect summer to fall transition recipe!
Enjoy this light, refreshing Coconut Cream Poke Cake after dinner tonight! Perfect to bring to a potluck or BBQ this year!
This Grasshopper Poke Cake is super easy and over the top delicious. Just a few ingredients and boxed cake mix and you'll be enjoying this for dessert today!
A delicious, easy summer cake recipe: Banana Split Poke Cake. Made with a white cake mix, banana pudding, fresh berries, pineapple and all the fixings. This will go fast at dessert, so make sure you get a big slice before it's gone!
Lemon Orange JELL-O Poke is an easy summer recipe bursting with citrus flavors!