A light and refreshing Strawberry JELL-O Poke cake. Sweet white cake is topped with strawberry gelatin, Cool whip and fresh strawberries for a delicious treat!
Poke cake recipes are so much fun to make. Try this Apple Pie Poke Cake next! Stock up on strawberries and make some chocolate covered strawberries to decorate your poke cake!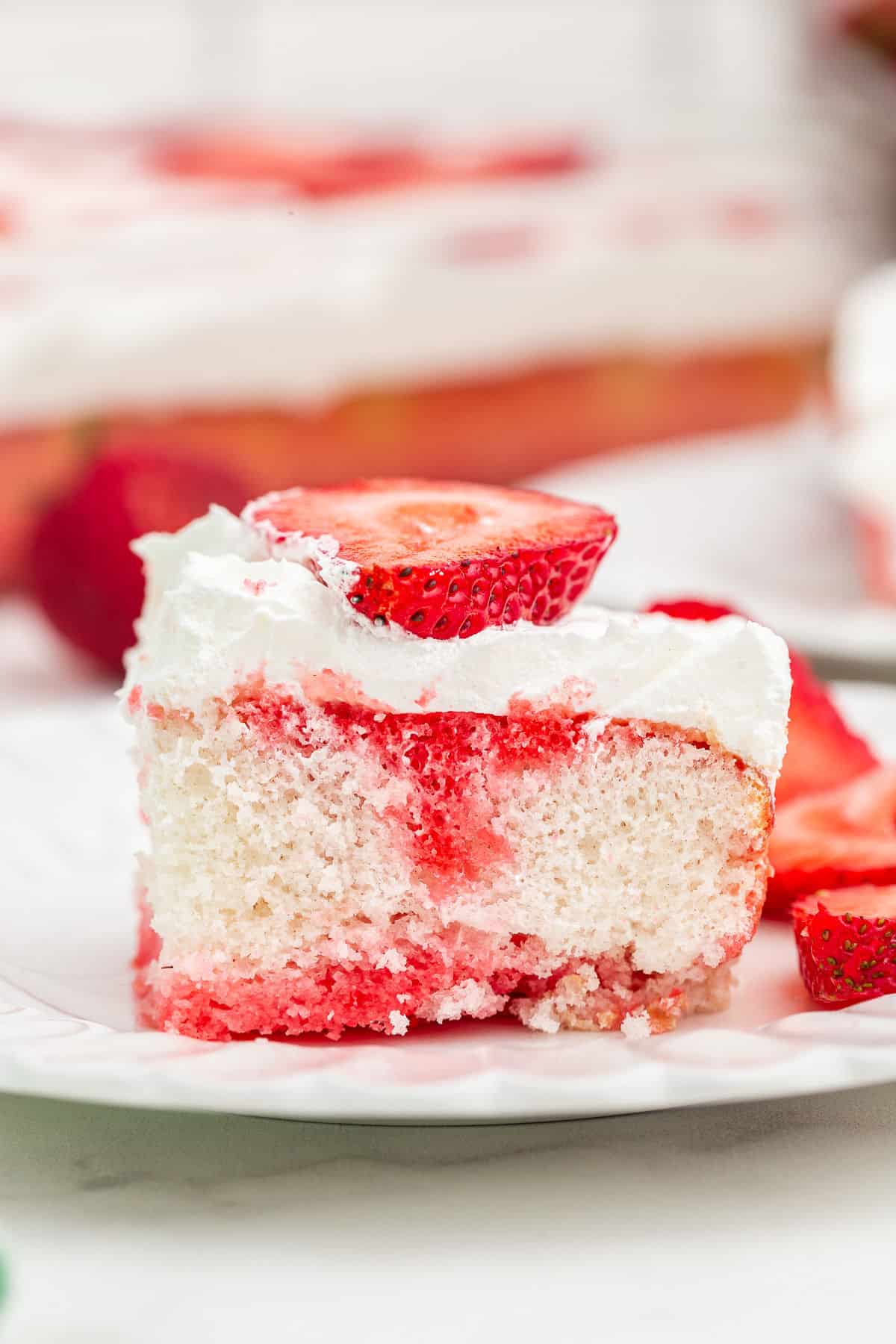 Two Types of Poke Cakes
PUDDING. The first kind of poke cake is made from a cooked and cooled cake topped with sweetened condensed milk, pudding, and all other sorts of glorious toppings. This creates a dense, very sweet (albeit delicious) cake.
Grasshopper Poke Cake | Coconut Cream Poke Cake
GELATIN. The second type of is you take a cooked and cooled cake and top it with JELL-O gelatin. It's lighter than the other variety and perfect when you are looking to cut calories, but still wanting to to enjoy something sweet.
Lemon Poke Cake | Orange JELL-O Poke Cake
Today's recipe is for a classic gelatin based poke cake.
Want an easier dessert? Be sure to try our strawberry jello pie next!
Ingredient Notes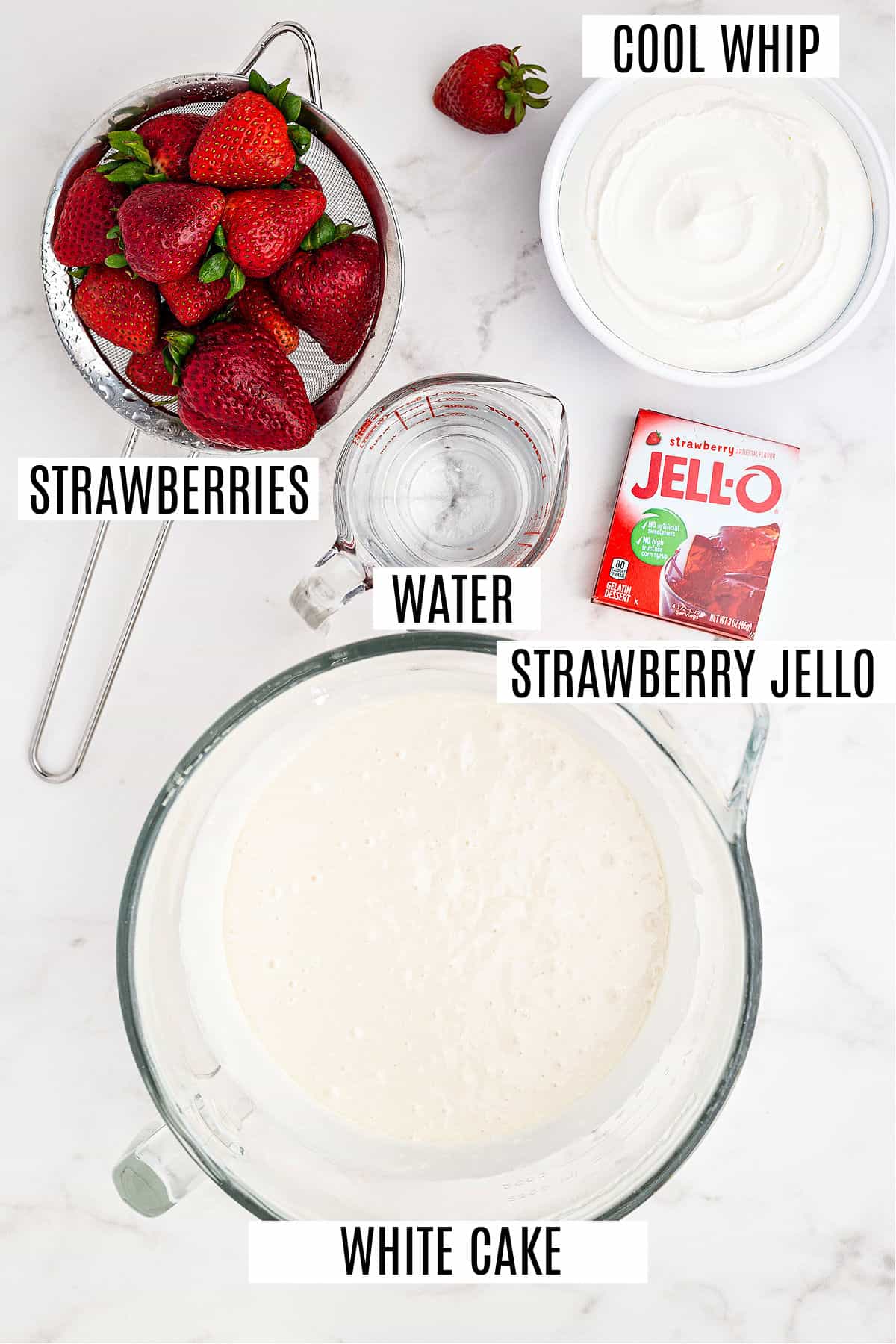 Cake. Choose a flavor and bake it as directed in a 13×9 baking dish. A glass dish is a great choice so you can see the colors!
I like to use a white cake mix, that way the gelatin has a chance to really shine through in color!
JELL-O. Choose your favorite flavor! Use one box. Use two boxes. Completely your choice! For today's recipe I just used strawberry gelatin.
After your cake has cooked and cooled, use a fork or the handle of a wooden spoon or even a meat thermometer to poke holes. The bigger the hole, the more defined color spots.
Refrigerate until the gelatin sets up and forms a spongy texture!
Cool Whip. Top it with some light cool whip for the final touch!
You could also use Homemade whipped cream if you prefer, instead of Cool Whip!
Fresh Strawberries. These add a delicious touch to your poke cake!
Easy Instructions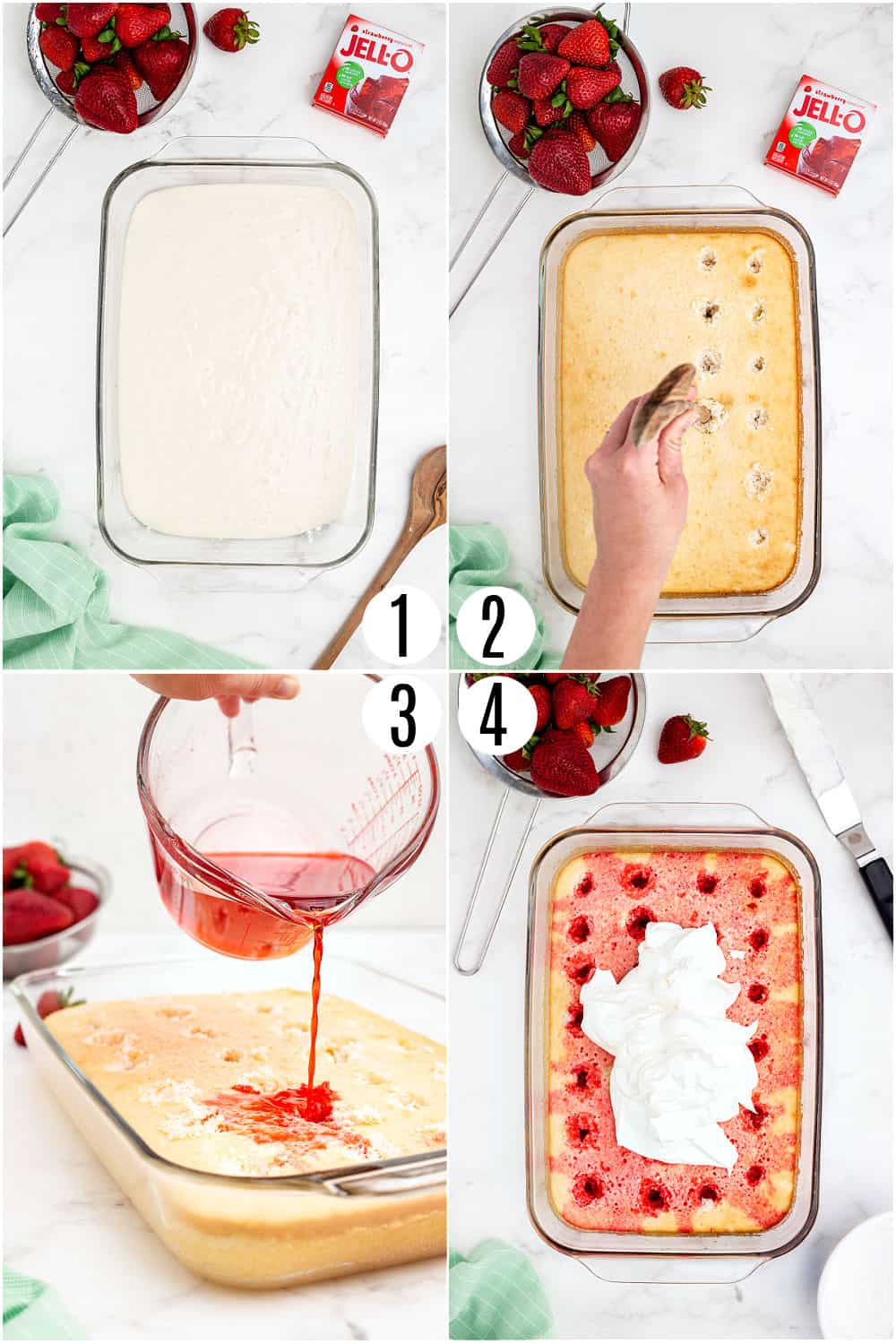 Bake Cake. Bake up your cake mix in a 9×13 pan according to the instructions on the box. A white cake is best to showcase the color. But a yellow cake will work too in a pinch.
Poke holes. Use a fork or a wooden spoon handle to poke holes all over the cooled cake.
Add JELL-O. Combine the strawberry gelatin mix with boiling water. Pour it slowly over the cake and into the holes you made.
Chill. Spoon cool whip over the top of the strawberry poke cake. Add fresh strawberry slices. Refrigerate the cake for at least four hours before serving.
Tips and Tricks
Refrigerate overnight. I like to bake the cake the day before and let it chill all night in the fridge. It tastes amazing cold!
Storing leftovers. Leftover Strawberry Poke Cake should be kept covered and stored in the fridge.
Garnish. Add sliced fresh strawberries for a fruity finish.
Got extra Jello? Try our broken glass jello next for a fun treat. Use any combo of flavors/colors! Or give our layered strawberry lasagna recipe a try next.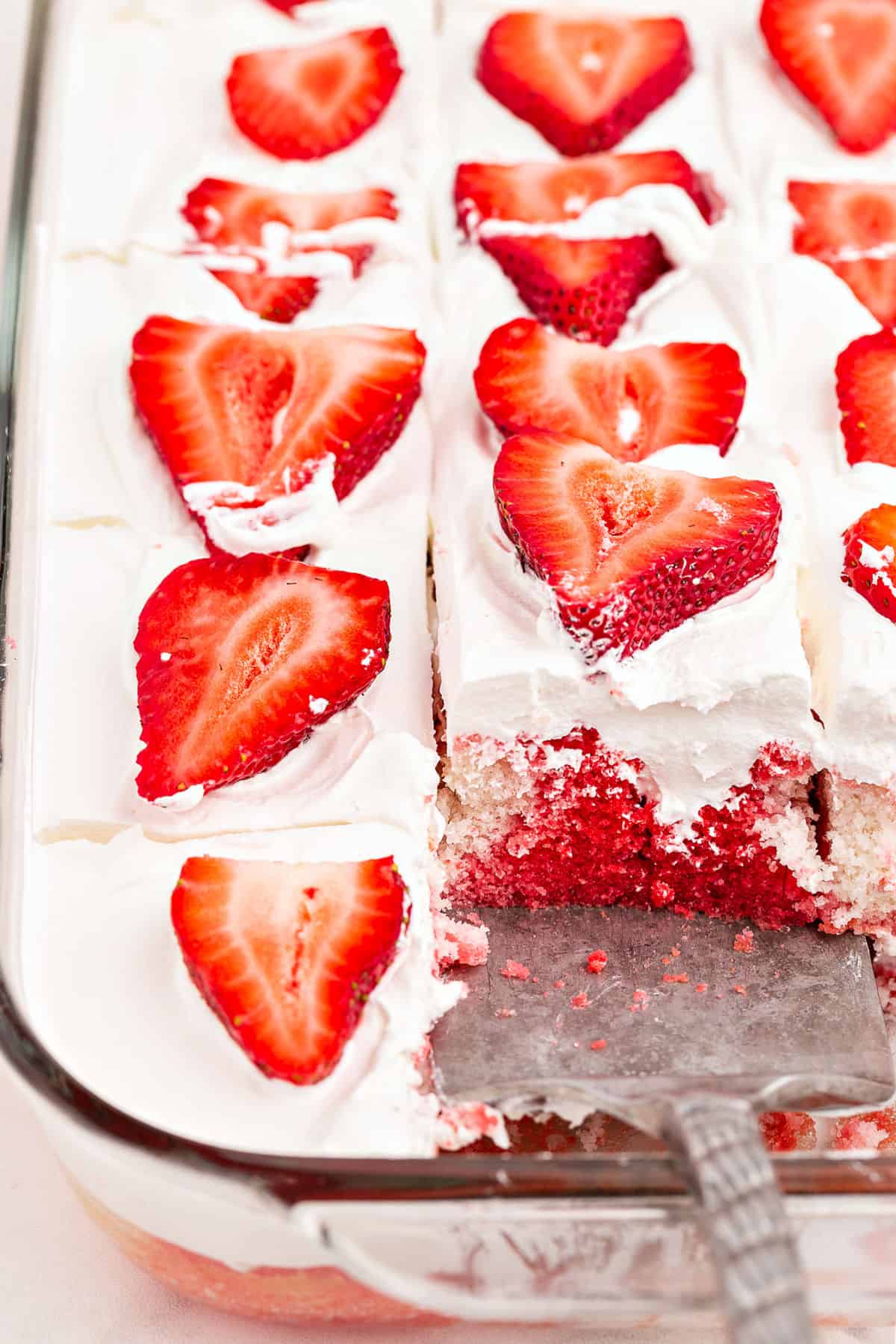 Recipe FAQs
Can I make this with a from-scratch cake instead of a mix?
Yes, you can use your favorite white or vanilla cake recipe for a 9 x 13 pan in place of the boxed cake mix if desired.
How deep do I need to poke the holes?
I poke them about an inch below the surface, but it doesn't matter too much. Just make sure to poke lots of them!
What do you use to poke holes in poke cake?
I use the tines of a fork or the point of a meat thermometer! The handle of a wooden spoon works perfectly too.
How do you serve poke cake?
I slice and serve my Strawberry Poke Cake straight from the pan. The JELL-O makes the bottom soft so it doesn't hold up well if you try to flip it out.
How long does poke cake keep in the fridge?
Covered, this poke cake is best enjoyed within 3 days.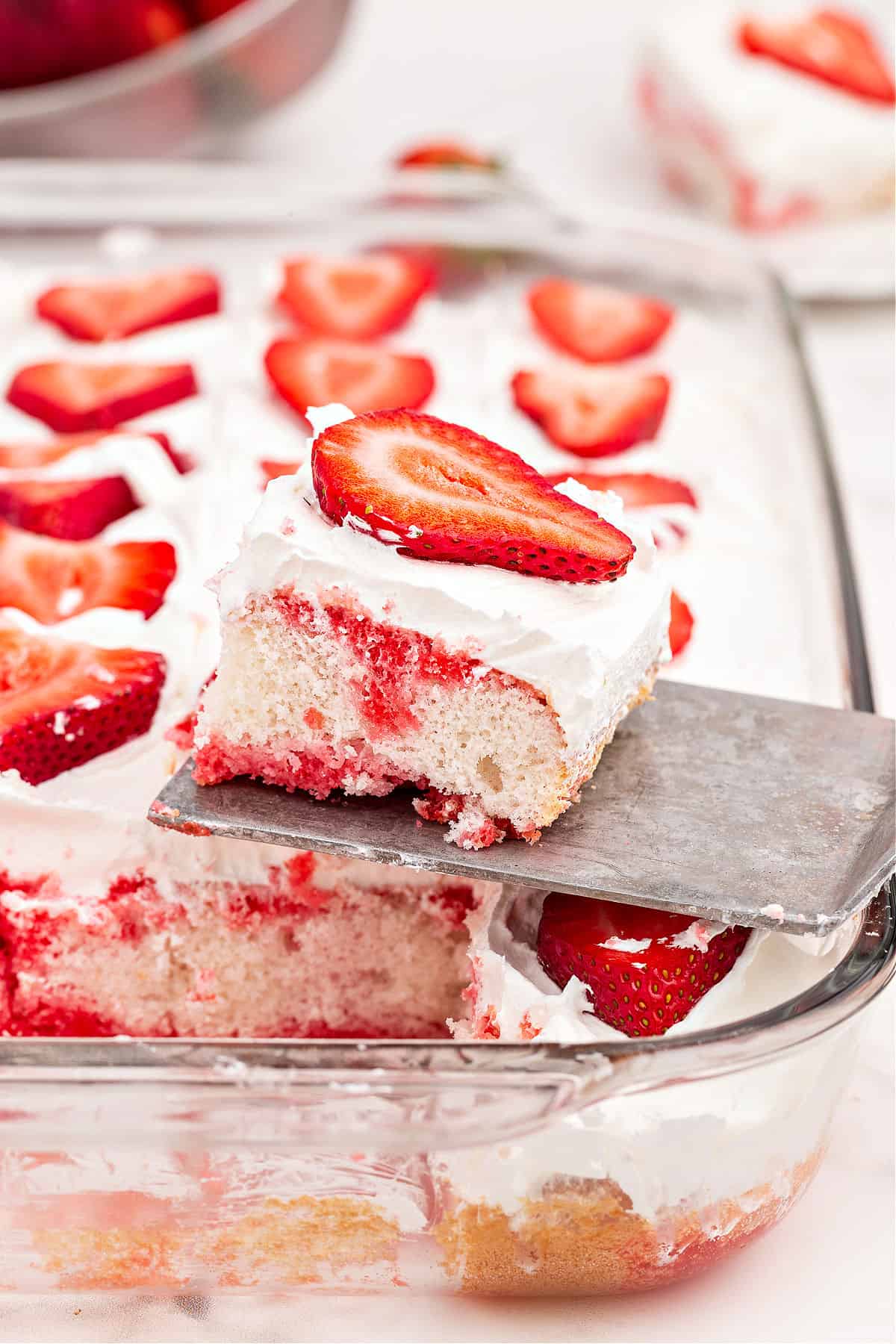 More Poke Cake Recipes
Love easy strawberry desserts? This classic Strawberry JELL-O Poke Cake is for you! The soft, moist cake is full of strawberry flavor and covered in cool whip frosting.