Broken Glass Jello has colorful cubes of Jell-o combined with a creamy gelatin mixture to create a beautiful design. An easy holiday dessert you can make ahead of time!
Love desserts made with Jello? Try this Jello Pie next! My Strawberry Pretzel Salad is another favorite for the holiday season.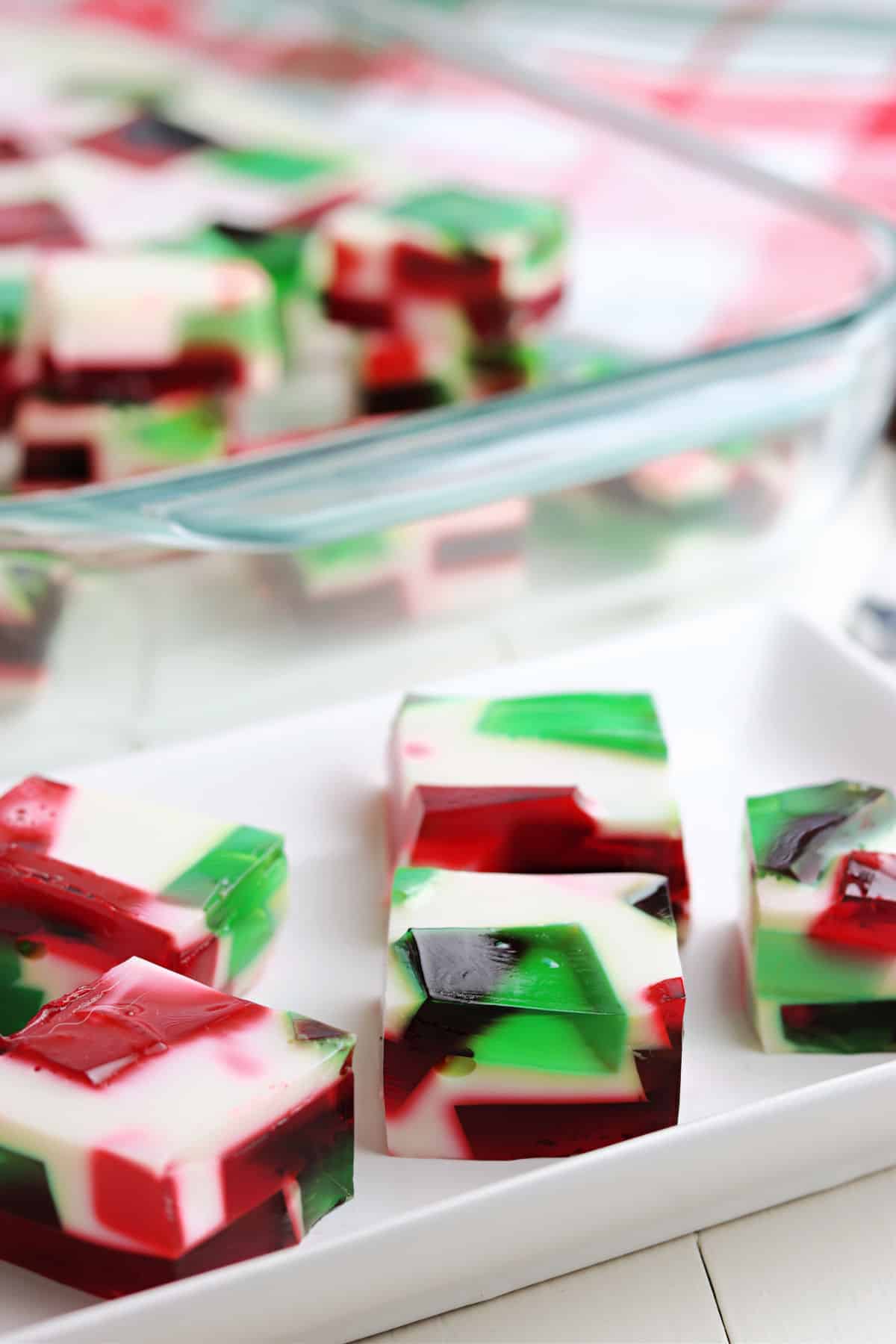 What is Broken Glass Jello
No, I haven't lost my mind. There is no actual broken glass in this Jello recipe.
Broken Glass Jello (aka stained glass Jello) is a dessert made with three different colors of gelatin arranged to look like shards of stained glass.
Cut into bars, Broken Glass Jello looks impressive and tastes delicious. You'll love the fruity Jello flavors paired with the cubes of sweet creamy gelatin.
And it's easier to make than you think!
PS. Try our stained glass cookies next. You know, if you love the "glass" haha!
Ingredient Notes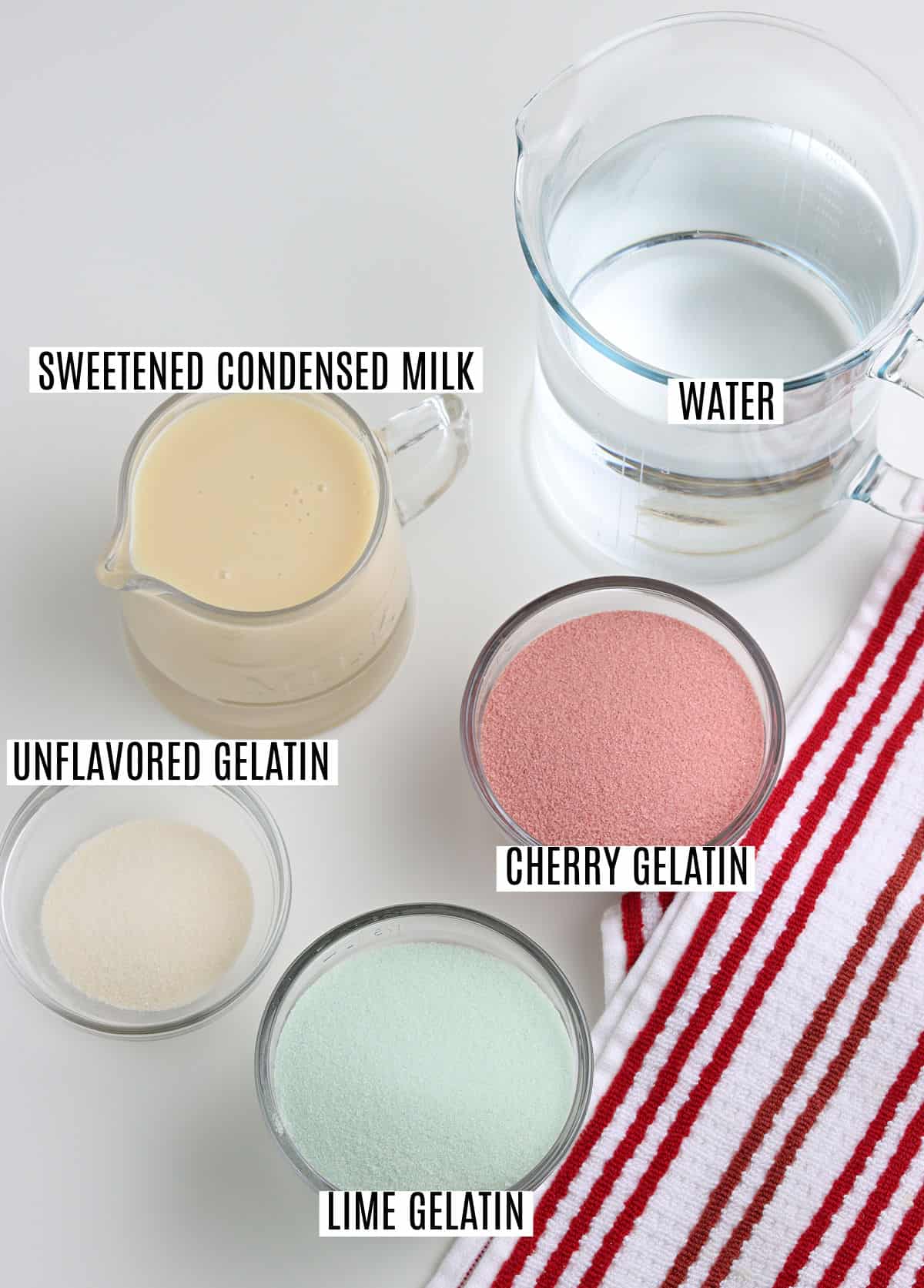 You only need five ingredients to make this recipe — and three of them are JELL-O!
Flavored gelatin – We used lime and cherry flavors to give this a holiday flair. You will need two boxes of each.
Unflavored gelatin
Sweetened condensed milk – Combined with the plain gelatin to make white Jello with a creamy flavor.
Water – You will use boiling water for flavored Jello and hot water for the plain Jello mixture.
Easy Assembly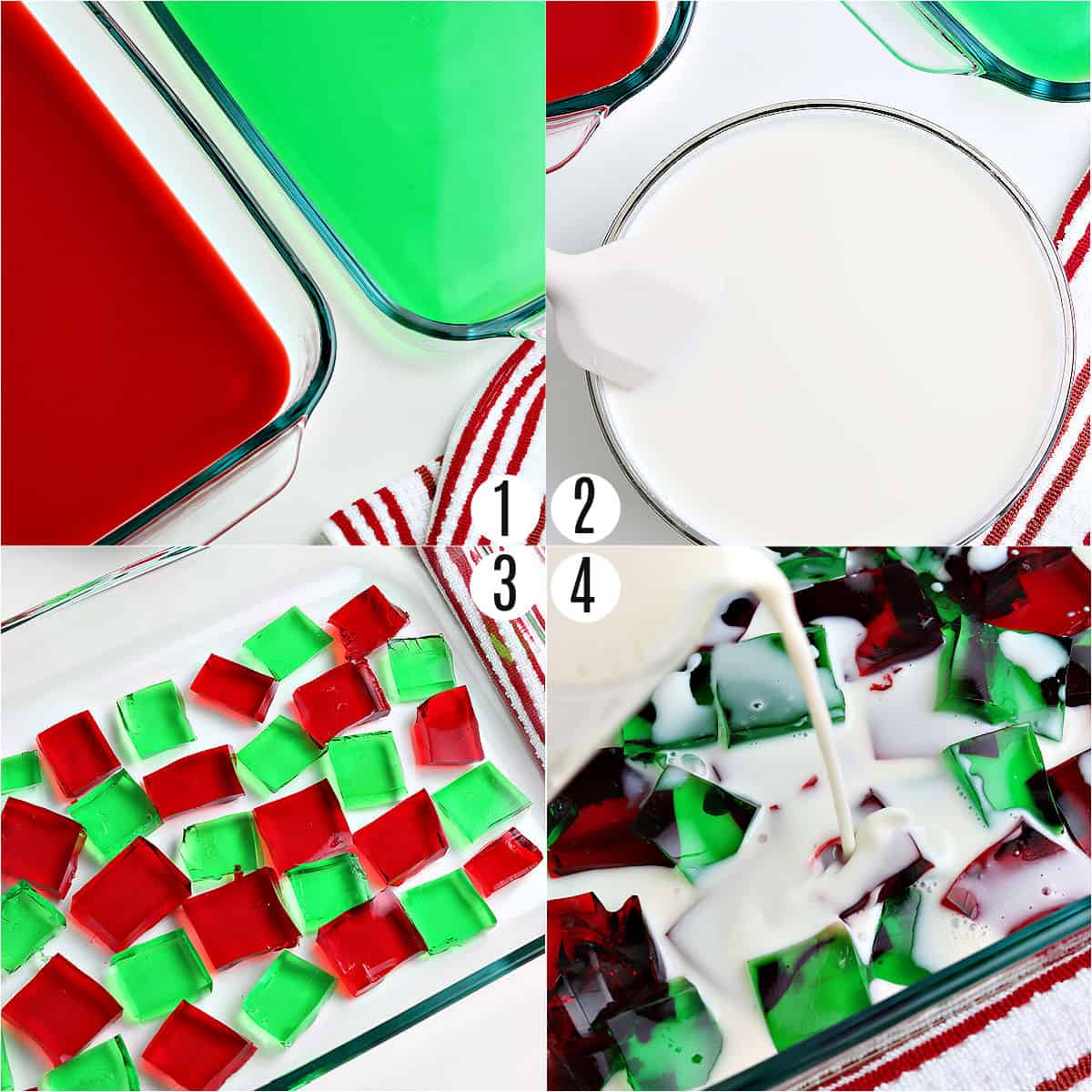 To make Broken Glass Jell-o, start by mixing your cherry and lime gelatin with boiling water in separate bowls. Pour each Jello mixture into separate 9 x 13 inch baking dishes.
Chill the Jello in the refrigerator for 1-2 hours, or until set.
Now, combine the unflavored gelatin with HOT water. Stir for a few minutes until all the powder is dissolved. Mix in the sweetened condensed milk and let the mixture cool for about 20 minutes.
In the mean time, cut each tray of prepared colorful Jello into bite sized cubes. Arrange the cubes along the bottom of a baking dish, alternating colors however you like.
Pour the cooled white gelatin mixture over the cubes of Jello.
Chill in the refrigerator for at least four hours. (I usually leave it over night.)
Once set, cut Broken Glass Jello into bars and enjoy!
Tips and Tricks
Spray your pans generously before adding the jello mixture. I use a butter flavored baking spray.
If you don't have three 13×9 pans, you can make each batch of JELL-O separately using one pan. This will take longer, so plan accordingly!
Store any uneaten Jello bars covered in the refrigerator.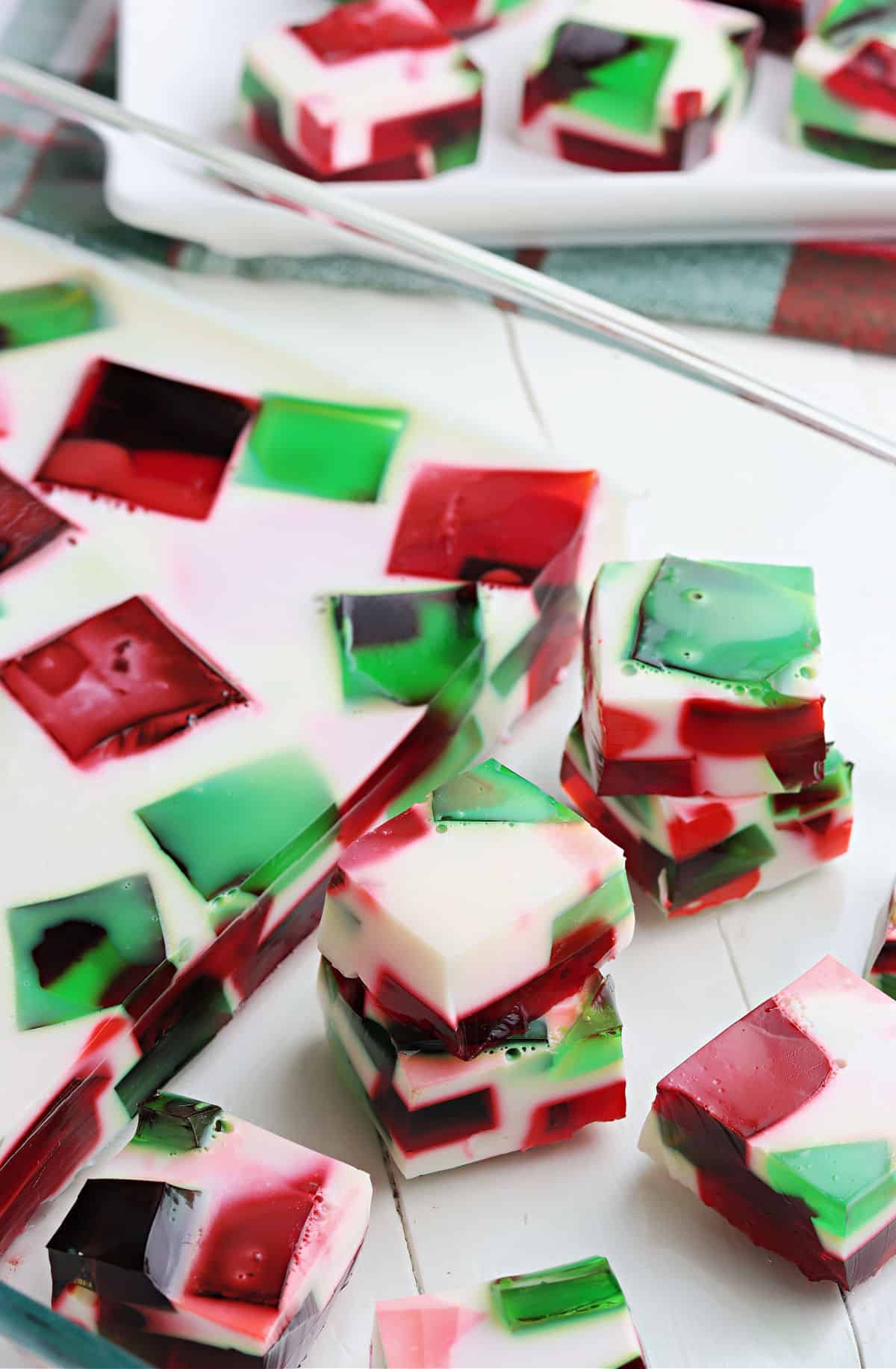 Recipe FAQs
Can I make this with different JELL-O flavors?
YES! This recipe can be used with any flavors and colors you like. That's one of the things I like most about broken glass jello; you can customize it for any holiday or event. And it looks so festive!
I don't have a 13×9 baking dish. What can I use instead?
This Jello recipe works with square pans, too.
You could also use a bundt pan for the final assembly! Just make sure to spray it well with baking spray first.
How many servings does this make?
This recipe yields about 24 servings, depending on how large you choose to cut the bars.
I don't need that much JELL-O! How can I make a smaller batch?
To make a small batch of broken glass jello, use just 1 box each of gelatin (instead of two). You will also need to halve the amount of sweetened condensed milk and unflavored gelatin you use.
More Holiday Recipes
You'll love this creative and easy Broken Glass JELL-O idea for the holidays or any time of year!