Classic Snickerdoodle Cookies. You'll love this easy cookie recipe with that timeless taste. It's what childhood is about!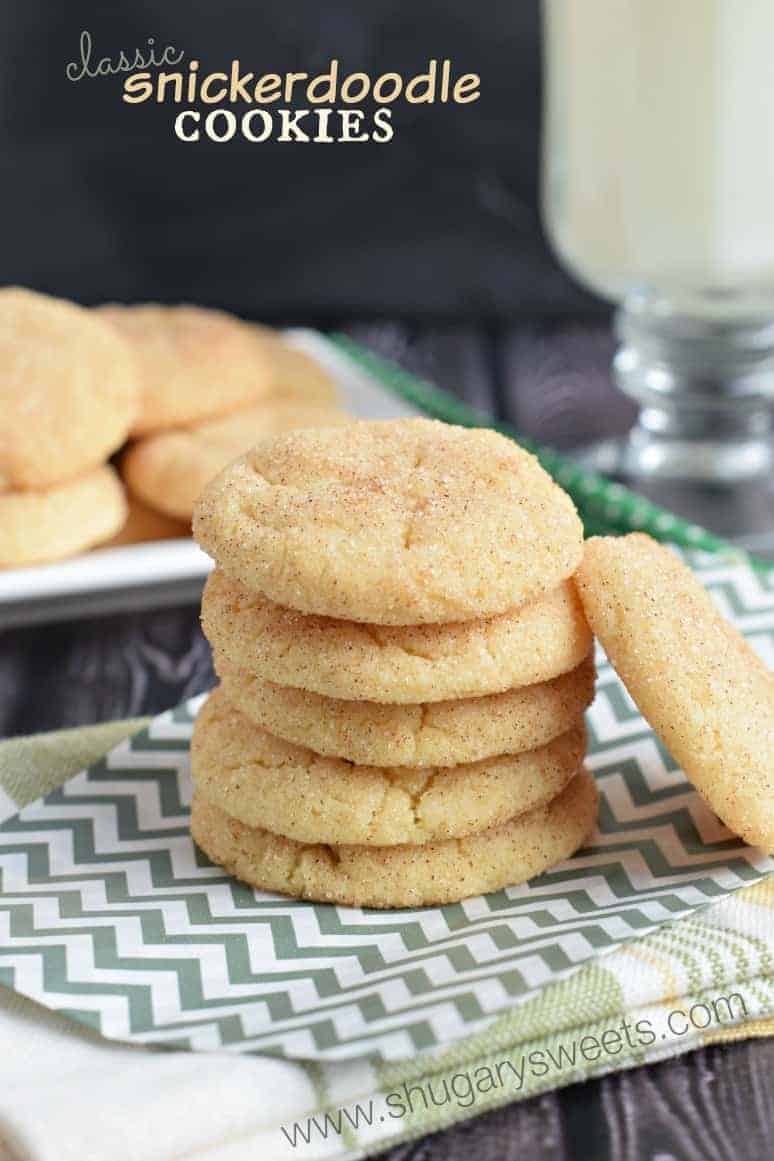 These Snickerdoodle Cookies come to you courtesy of rain and ice related cancellations. While many of our family and friends are getting snowed in (we miss you Chicago), we are off school and work because of rain.
Okay, fine, there is some ice too, but I would so rather have snow!
In any case, we found ourselves stuck at home with some dreary weather and extra time on our hands.
In honor of our "ice day",  we made some delicious snickerdoodles (with cinnamon sugar mix!).
They filled the kitchen with a delicious cinnamon smell as they were baking and tasted extra delicious with an ice cold glass of milk.
I really think sometimes the simplest cookies are the most pleasing! We liked them so much today that just a few hours later there are hardly any more leftover.
Thankfully, I planned ahead. As with most of my cookie recipes, I doubled this one.
One batch of the cookie dough got baked immediately for our afternoon treat.
The second batch went into the freezer so we can have more Snickerdoodles (or Snickerdoodle Cheesecake Bars) whenever the fancy strikes!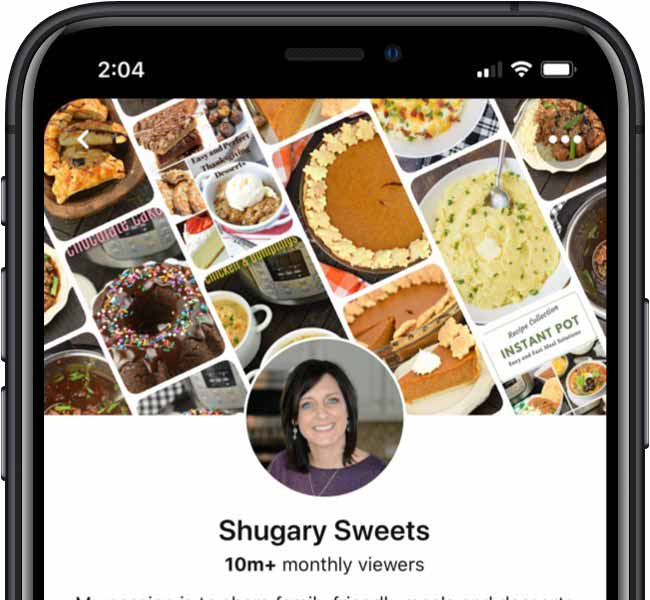 Cinnamon Sugar Cookie Recipe
Snickerdoodles remind me so much of childhood. A buttery cookie dusted with a hint of cinnamon, these have remained one of my favorite cookies.
I may not be a kid anymore but I LOVE Snickerdoodles and love to share them with my own kids.
Over the years I've also incorporated the cinnamon sugar element of Snickerdoodles into other treats, like Snickerdoodle Biscotti and Snickerdoodle Cookie Dough Truffles.
Still, I keep coming back to the traditional Snickerdoodles in all their beautiful simplicity. The recipe below is my go-to recipe that tastes just like the one I ate growing up.
This recipe is easy enough for kids to help with and produces delicious cinnamon sugar cookies each and every time. A good Snickerdoodle cookie is sweet but not rich.
If you're in need of a cookie recipe that's guaranteed to please just about everybody in the crowd, this is it.
Aside from all of that, the word "snickerdoodle" is just really fun to say. Go ahead, try it.
Snickerdoodles. You can't help but smile, right?
Snickerdoodle Cookie Recipe
These cookies start with a very simple dough.
After beating softened butter until nice and fluffy, you add eggs, sugar and vanilla, then flour, cream of tartar, and baking powder.
Note: The baking powder is key for achieving that chewy texture that spreads just enough! Do not try to substitute the baking powder with baking soda. The texture won't turn out right.
Now comes the most important part of making Snickerdoodles! The cinnamon sugar topping.
Before baking, you dip each ball of cookie dough into cinnamon sugar. When you pull them out of the oven, you'll have chewy buttery cookies with a crisp and slightly crinkly cinnamon exterior.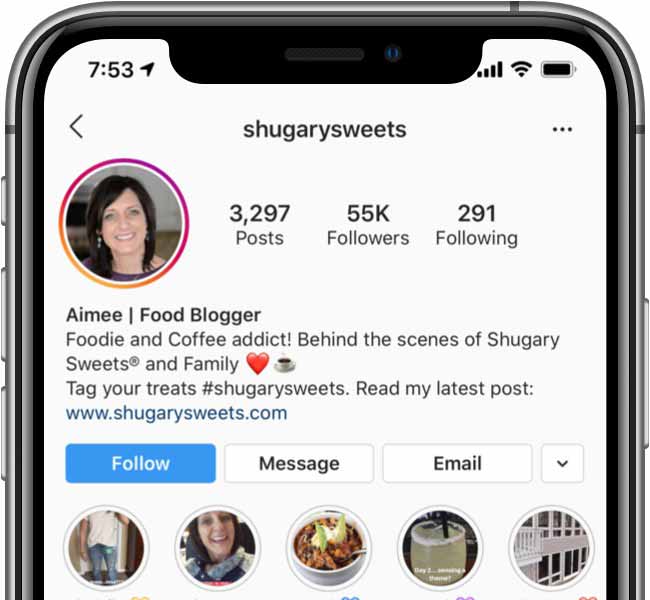 Freezing Cookies
Why buy frozen cookie dough when you can save yourself some money and prep your own?
We all have our priorities in life, right? Kids, family, friends . . . my priorities also happen to include freshly baked cookies.
Freezing cookie dough means I never have to worry I'll find myself cookie-less. It never hurts to have a freezer stocked full of cookie dough!
Every time I bake a batch of Snickerdoodles (or almost any drop cookie), I double the recipe. One batch goes in the oven right away. The other goes into the freezer so when I am low on time I can whip out my freezer bag of dough and have hot, fresh treats in 10 minutes!
To freeze these Snickerdoodle Cookies, divide the dough into balls using a small scoop, dip into the cinnamon sugar then place on a baking sheet. Stick the baking sheet in the freezer for 1 -2 hours, just until frozen. Immediately transfer the frozen cookie dough to an airtight container to avoid freezer burn!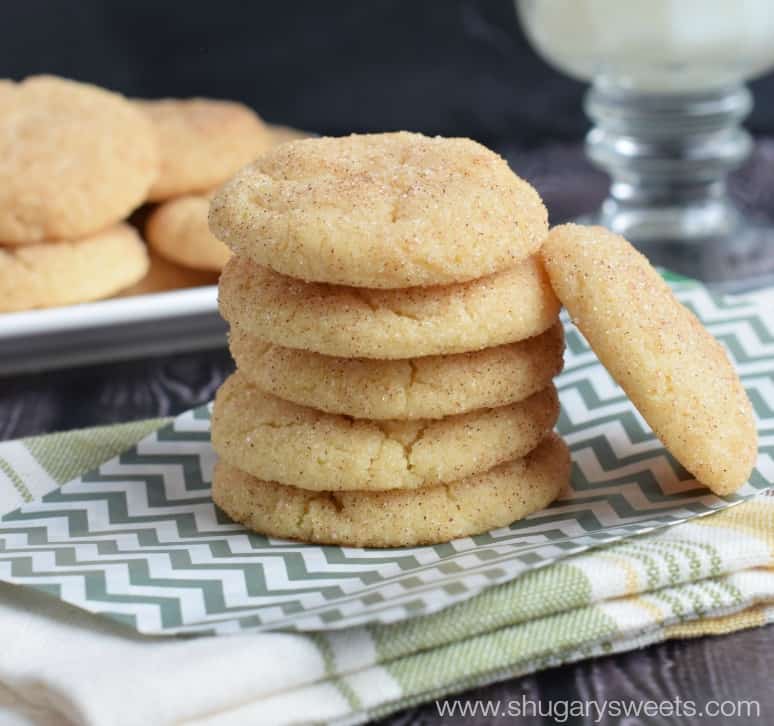 Alternatively, if you don't want the extra step, you can freeze them right in the plastic container. Just make the sure the container is large enough that the individual cookies aren't touching each other.
When you're ready to bake the cookies, you can transfer them right to a baking sheet and bake from frozen. Just add a couple of minutes to the baking time.
If you can't get enough Snickerdoodles, you should might also want to add these Soft and Chewy Vanilla Bean Snickerdoodles to your "must try" list next.
So go ahead and make a batch (or two) of cookies today! Share them with the family or keep them all to yourself. I won't tell.
Yield: 2-3 dozen cookies
Snickerdoodles
Classic Snickerdoodle Cookies. You'll love this easy cookie recipe with that timeless taste. It's what childhood is about!
Ingredients
1 cup unsalted butter, softened
2 cup granulated sugar
2 large eggs
1 tsp vanilla extract
1 tsp baking powder
1 1/2 tsp cream of tartar
1/2 tsp kosher salt
3 cups all purpose flour
½ cup sugar
2 tsp cinnamon
Instructions
Mix butter until fluffy. Add sugar, eggs, vanilla, baking powder, cream of tartar, and salt. Beat in flour until blended.
In separate bowl mix ¼ cup sugar with cinnamon.
Using small scoop, dip scooped cookie into cinnamon/sugar combo. Place on cookie sheet.
Bake in 350 degree oven for 12-14 minutes. Remove and cool on wire rack.
Recommended Products
As an Amazon Associate and member of other affiliate programs, I earn from qualifying purchases.
Nutrition Information:
Yield:
36
Serving Size:
1
Amount Per Serving:
Calories:

142
Total Fat:

5g
Saturated Fat:

3g
Trans Fat:

0g
Unsaturated Fat:

2g
Cholesterol:

24mg
Sodium:

64mg
Carbohydrates:

22g
Fiber:

0g
Sugar:

14g
Protein:

1g
*Nutrition facts are an estimate and not guaranteed to be accurate. Please see a registered dietitian for special diet advice.
Recipe originally published February 1, 2011. Photos updated November 2014.
This is the only Snickerdoodle Cookie recipe you will ever need! Perfect as an afternoon snack, a dessert or a lunchbox treat, Snickerdoodles are the classic childhood cookie.