If you're looking for that perfect Soft Batch Chocolate Chip Cookie recipe, this is it! Packed with chocolate flavor in a cookie that stays soft for DAYS! Find out the secret ingredients to these cookies!
Love cookies? Try our chocolate crinkles for a soft and chewy, fudgy cookie. Or give our classic snowball cookies a try soon.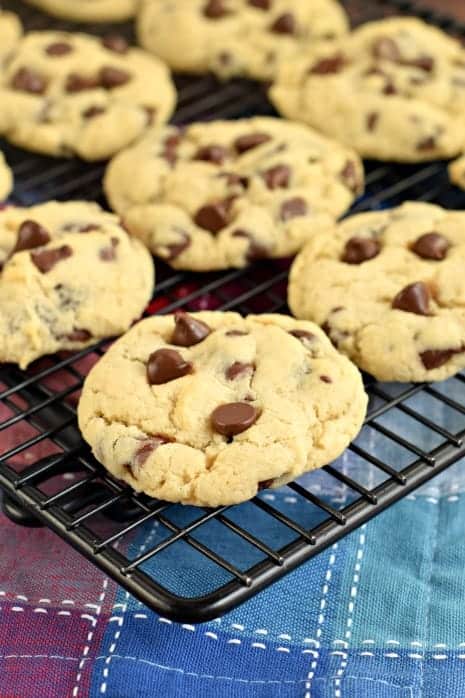 One quick peek at my cookie archives and you'll see this isn't my first chocolate chip cookie recipe on the blog.
Each recipe has it's own distinct characteristics.
Looking for a cookie with a crunchy outside, and chewy inside? You'll want to try my Perfect Chocolate Chip Cookie recipe.
This Chocolate Chip Cookie recipe has been dunked in extra chocolate for a decadent, delicious flavor!
So why is today's cookie unique? It's the extra softness that last for days.
Making it the perfect DUNKABLE cookie…whether you like to dunk in coffee or a cold glass of milk!
Ingredient Notes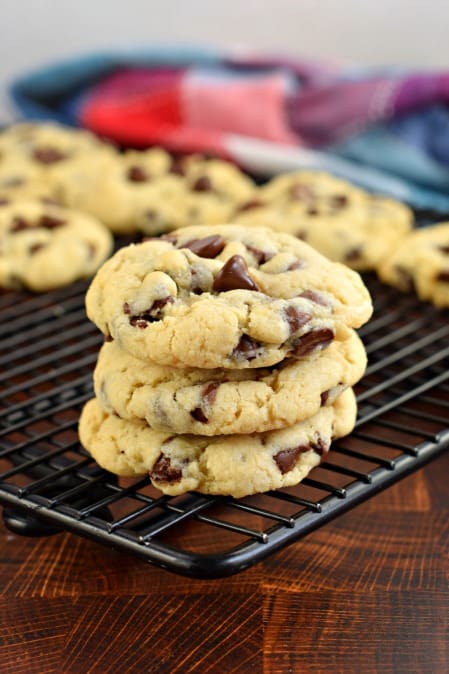 There are a few key ingredients that make these the Best SOFT BATCH cookie recipe.
Cream Cheese. Not only does the cream cheese add a subtle tang to these chocolate chip cookies, but it also works as a tenderizer. Keeps them soft and chewy without being cake-like.
Cornstarch. Not your usual ingredient in cookies, but adding just 2 tsp to the recipe keeps these cookies soft. It also results in a less "brown" color to the cookies, so expect a little paler cookie than normal.
Brown Sugar. Using half brown sugar and half granulated sugar is the perfect combo for a soft cookie with a chewy texture. Using ALL brown sugar will result in a more firm cookie with a chewy CENTER. I love the half and half results for today's recipe.
How to Make Soft Batch Cookies
Growing up I remember my mom occasionally buying a package of the soft batch Chips Ahoy instead of the regular. I remember them being such a treat, except I don't think my brothers liked them, so they didn't make an appearance all that often in our house.
I often wondered if maybe they were bought on accident…albeit a happy accident in my opinion.
Well now, I can make those soft and chewy cookies at home with this delicious recipe.
STEP 1. In a large bowl, blend the softened butter and cream cheese together until fully combined.
Add in both sugars and vanilla extract, mixing until well blended.
Slowly add in the flour, salt, baking soda, and cornstarch. Do NOT over mix.
Fold in the chocolate chips.
STEP 2. Place large round scoops of cookie dough onto a parchment paper lined baking sheet.
Bake in a 350 degree F, preheated oven for 10-12 minutes, just until the cookies being to lightly brown.
Allow the cookies to cool about 2 minutes ON the pan, as they begin to set, then move to a wire rack to cool completely.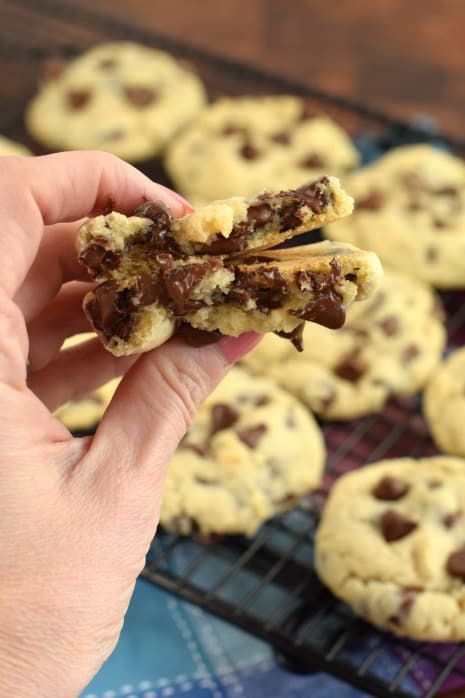 Tips and Tricks
Use cream cheese in the block style, not the spreadable kind. And make sure it's full fat (not light).
Start with room temperature butter and cream cheese. This will allow them to blend evenly.
DO NOT place cookie dough on hot baking sheet and let it sit. Bake immediately. Otherwise you will have FLAT cookies.
Bake just until lightly browned, then let sit for a couple minutes on the cookie sheet until set, before moving to wire rack to cool.
Use our guide on how to freeze cookie dough.
How to store Homemade Cookies
After the cookies have completely cooled, store in an airtight container (at room temperature) for up to one week.
These soft and chewy cookies will stay fresh for days!
You can also FREEZE these cookies!
Slide into a freezer safe ziploc (or airtight freezer safe container). Store for up to 30 days in the freezer.
Thaw at room temperature overnight. ENJOY.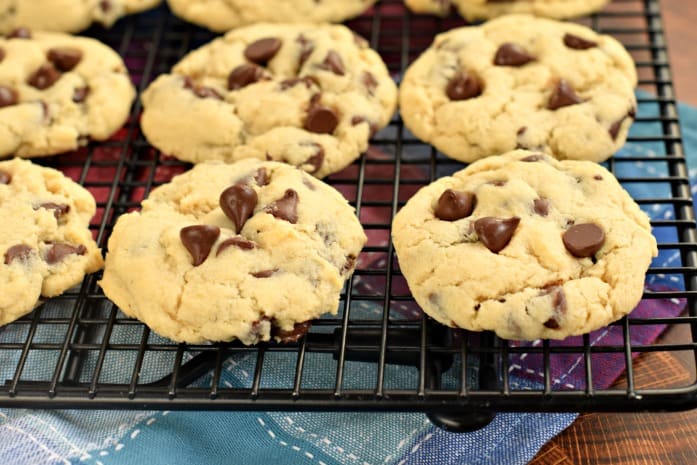 More Cookie Recipes
Packed with chocolate flavor in a cookie that stays soft for DAYS, find out the secret ingredients to these PERFECT Soft Batch Chocolate Chip cookies!