Double Chocolate Chip Cookies are the perfect chewy cookie recipe dunked in rich dark chocolate. Once you try them you'll realize this is the only way to make them!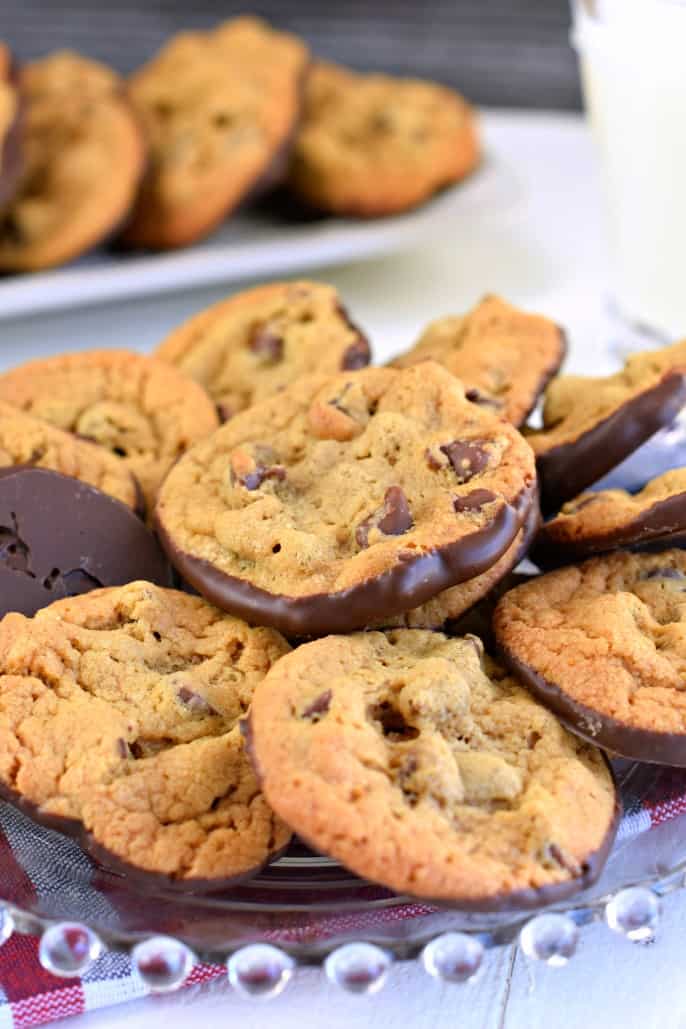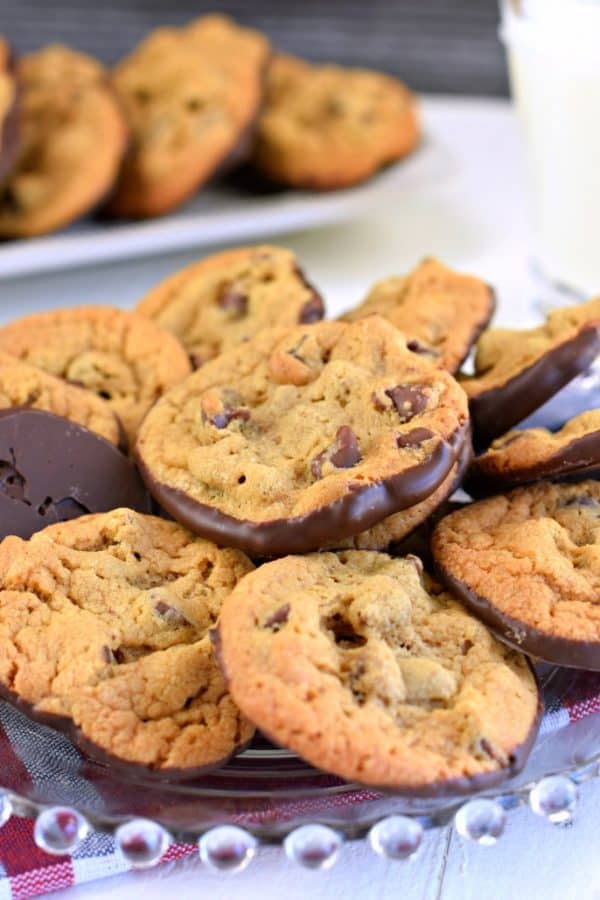 Click HERE to save recipe to Pinterest
There are two desserts that I crave regularly. Chocolate Chip Cookies and Rice Krispie Treats!
You may be wondering, what makes this chocolate chip cookie recipe THE BEST?
There are a number of things I look for when baking soft chocolate chip cookies.
Are they soft and chewy with a slightly crunchy exterior?
Does the dough have to be chilled (I say NO)!?
This is literally the perfect chocolate chip cookie recipe you'll ever need.
And you know what makes this cookie stand out? It's DIPPED in MORE chocolate!
DO NOT skip this extra step. It's worth it, I promise. Now let's get to the details.
How to make Double Chocolate Chip Cookies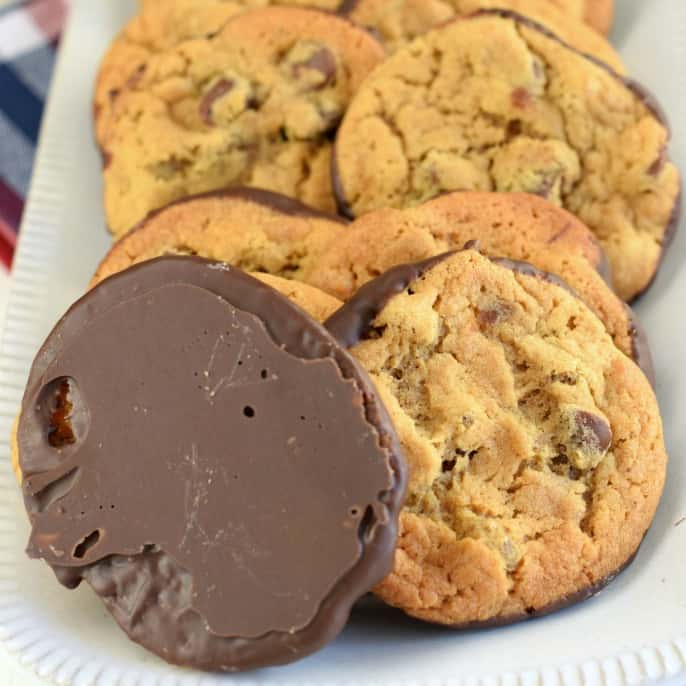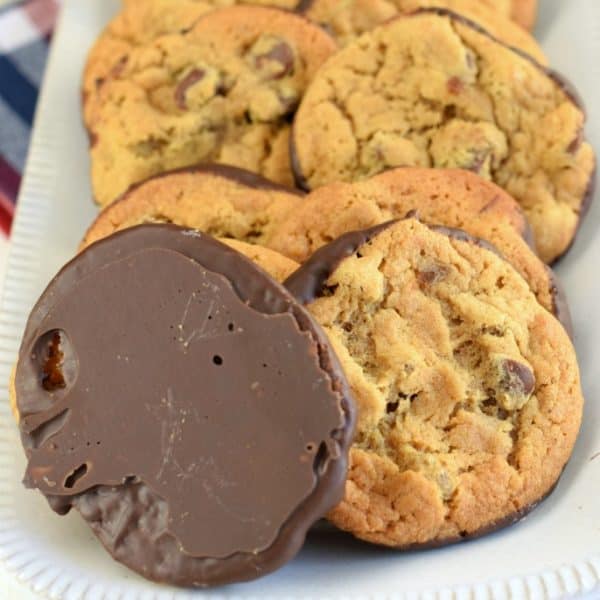 Step 1: Preheat oven to 375 degrees F. Line a baking sheet with parchment paper.
Step 2: In a mixing bowl combine butter flavored Crisco, brown sugar, milk, and vanilla extract. Beat until combined, then add eggs. Add flour, salt, and baking soda. Fold in chocolate chips.
Step 3: Scoop dough using a small cookie scoop. Bake for 8-11 minutes, until lightly browned. Remove and cool completely on wire rack.
Step 4: Melt chocolate in microwave safe bowl for one minute. Stir until smooth. Dip bottoms of each cooled cookie into melted chocolate. Place chocolate side down onto parchment paper until set (about 15 minutes).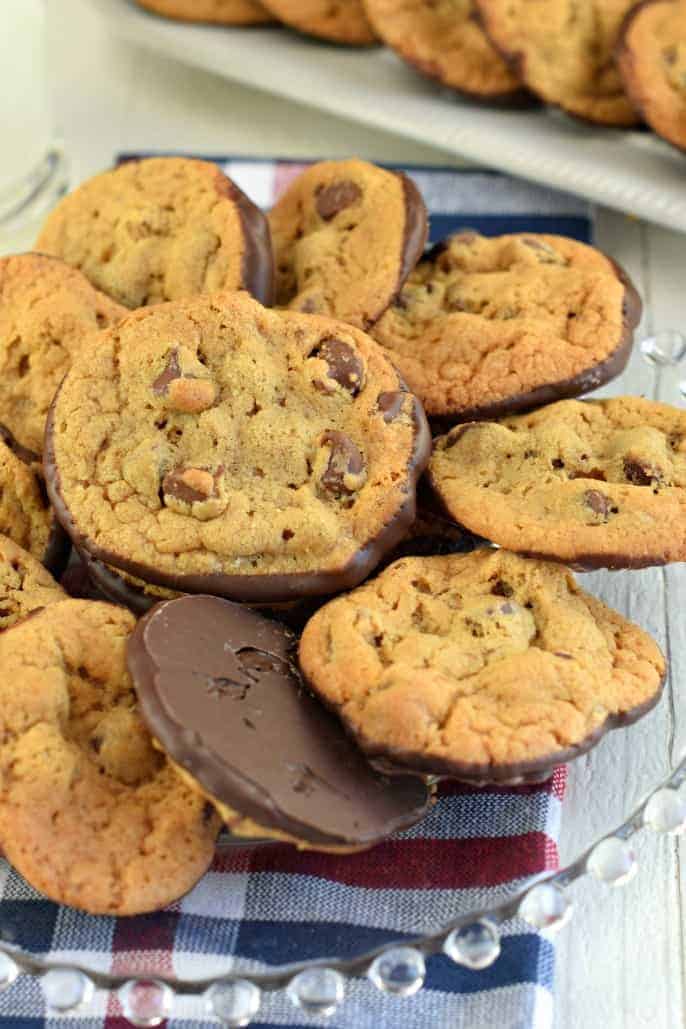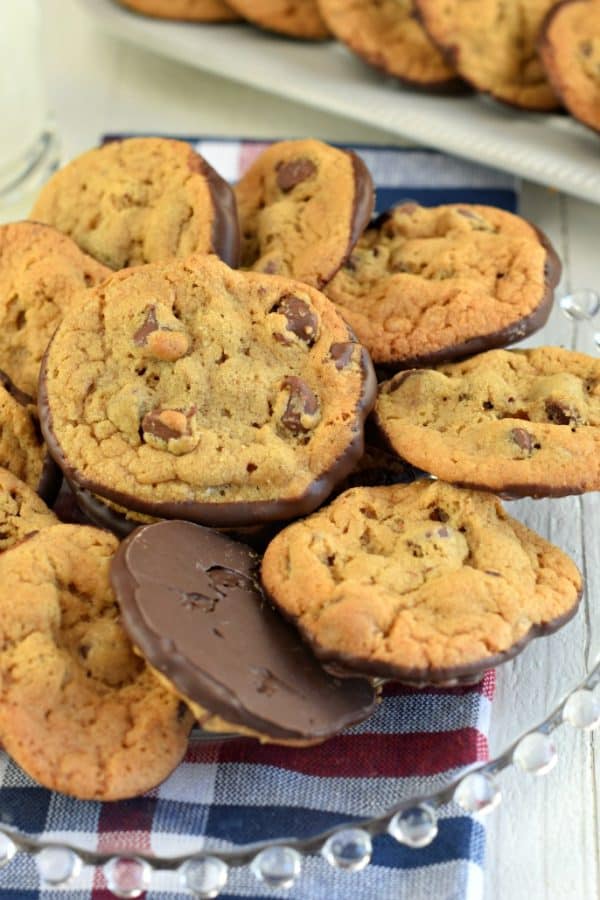 How to store Chocolate Chip Cookies
Chocolate Chip Cookies should be stored in an airtight container to keep them fresh. I find them best enjoyed within 5 days.
If your home is warm, keep these double chocolate cookies in the refrigerator to keep the chocolate from melting.
How to Freeze Chocolate Chip Cookies
You many be wondering, can you freeze cookies?
The answer is YES.
You can freeze them after baking and dunking in chocolate by placing them in an airtight, freezer safe container (or ziploc freezer bag).
Freeze cookies for up to 3 months.
Thaw cookies at room temperature overnight. ENJOY.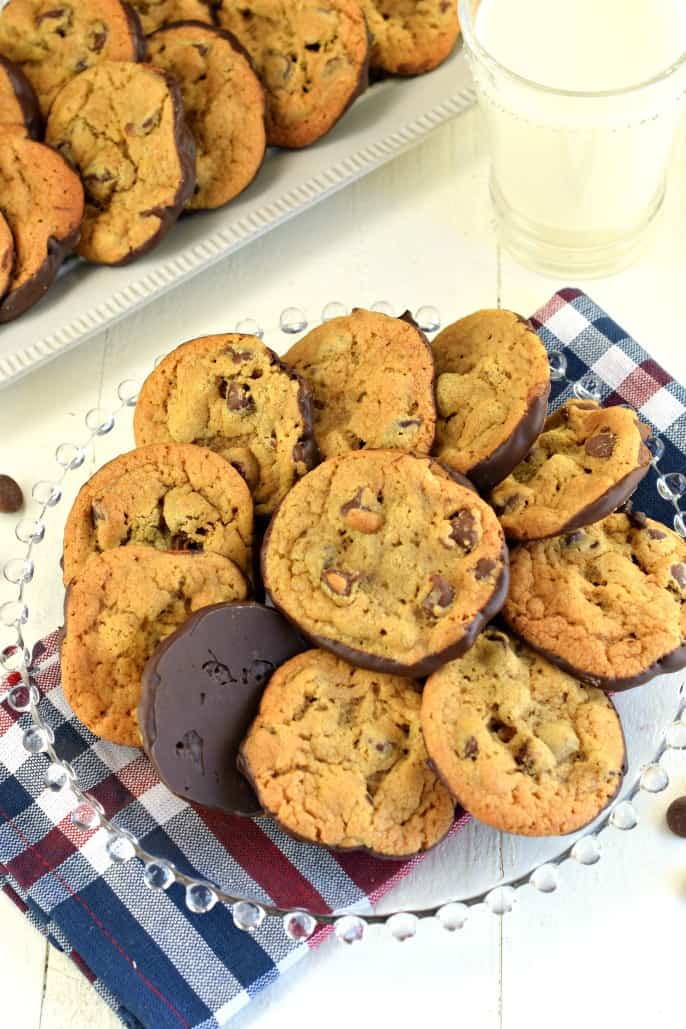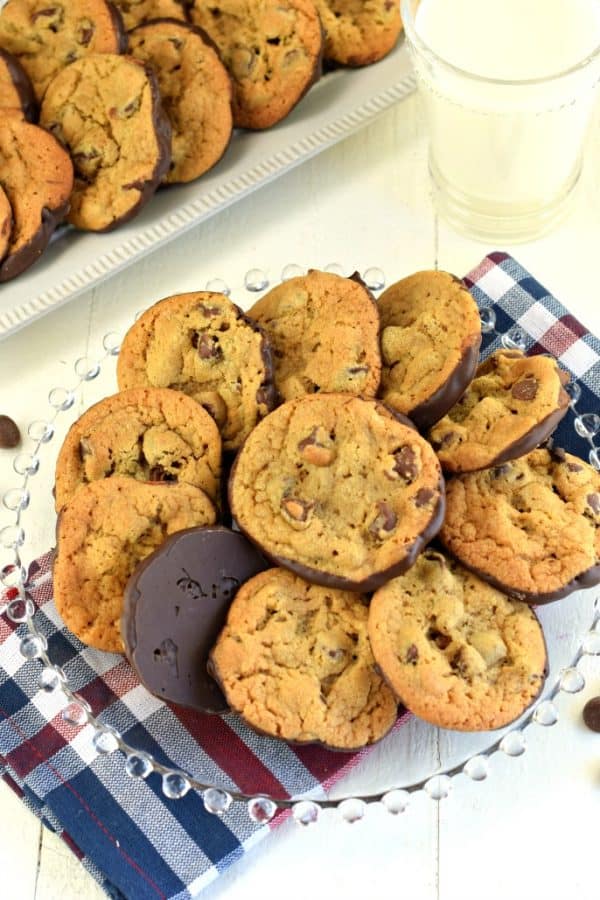 What kind of butter to use in chocolate chip cookies
For the perfect chewy center with slightly crunchy exterior, I choose to use butter flavored Crisco.
I find that it gives them the perfect texture, while keeping them chewy.
You could substitute the Crisco for UNSALTED Butter if you choose. Just know that you will most likely want to chill the dough if doing this option.
Otherwise your cookies will spread too much, leaving you with thin cookies.
Chilling the dough will help solidify the butter so that it doesn't spread too much. If using Crisco, this isn't an issue.
How to choose the perfect chocolate for cookies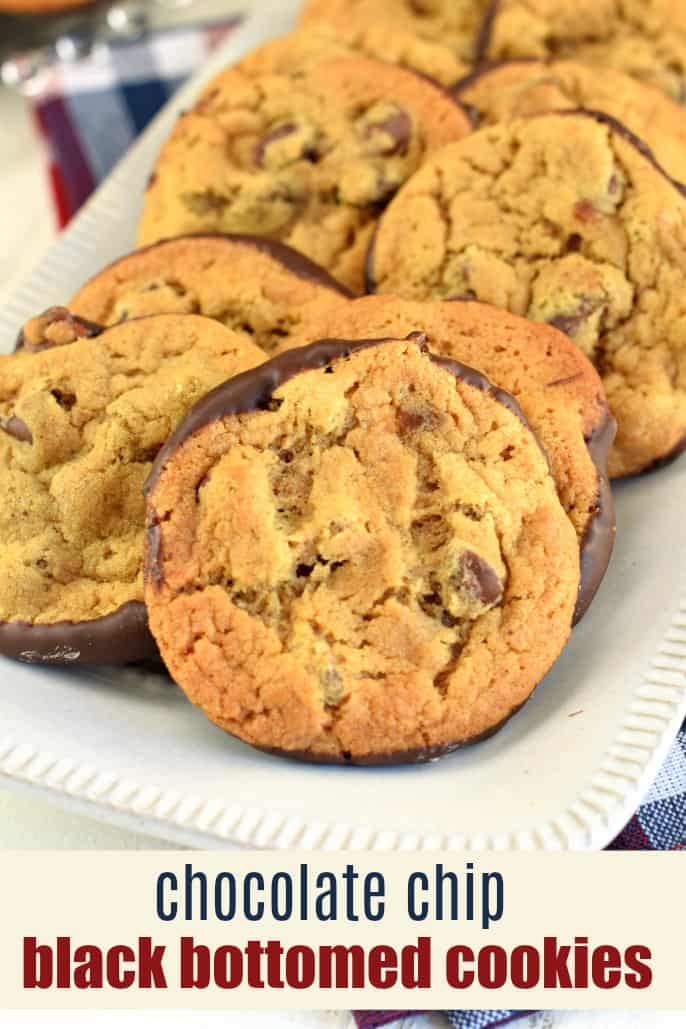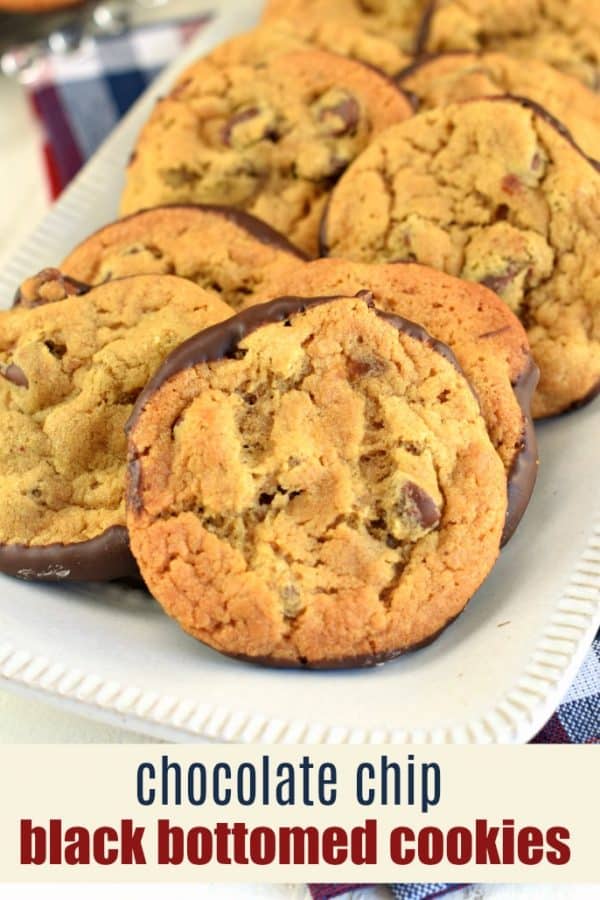 When it comes to chocolate chip cookies, I love using milk chocolate chips. My next option would be semi-sweet morsels.
This really comes down to a personal preference, so I say experiment the first time. Make half with one, half with the other!
As for the chocolate for dipping, I always choose Ghirardelli Dark Chocolate Wafers. I love how smooth it melts and the flavor is fantastic.
You could also find a chocolate bark, or melt milk chocolate chips.
Want to change up the flavor? Make them with white chocolate or peanut butter morsels.
Can I make Cookie Bars?
Yes! These M&M Cookie Bars or these Frosted Chocolate Chip Cookie Bars!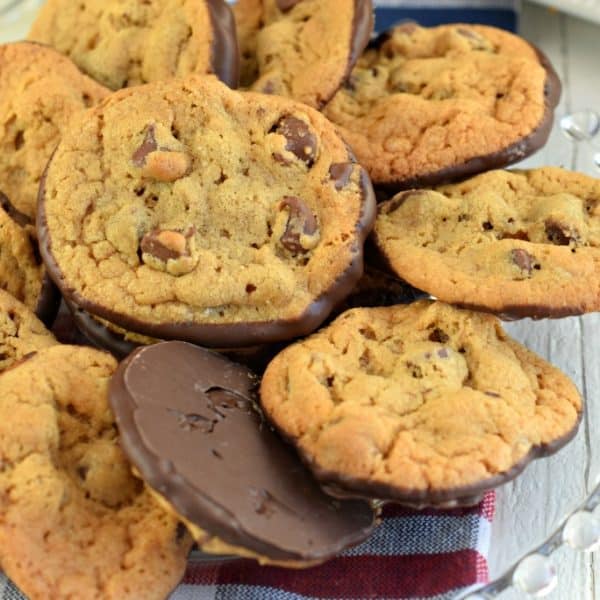 More Cookies