Thick, moist, and flavorful describe these delicious Gooey Butter Cookies. Made from scratch, but I've got a cake mix option if you're in a pinch!
We're big fans of cookies around here…I mean who isn't though. Some of our favorites are these thick carrot cake cookies and these iced oatmeal cookies!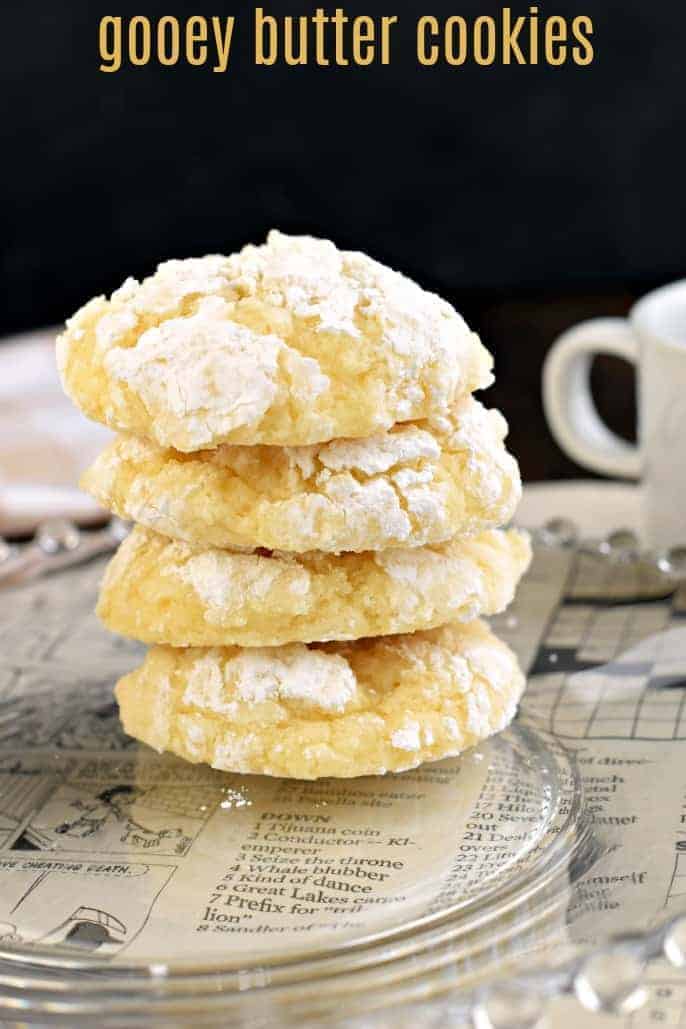 Why This Recipe Is Best
Have a you ever had a gooey butter cake? I've got this Gooey Chocolate Butter Cake recipe that is ridiculously delicious. And it just occurred to me I should totally do that as cookies.
I've also got this Gooey Lemon Cake Bars recipe, which I made a version of gooey lemon cookies too!
Today it's the classic with these Easy Gooey Butter Cookies!
These cookies bake up super thick and very moist.
Each cookies is rolled in powdered sugar for a delicious sweet coating.
The recipe makes 36 cookies, so it's great for serving friends and family. Warning though, they will go FAST!
Ingredient Notes
Unsalted Butter – We use unsalted butter in all of our recipes. If you only have salted butter, omit the added salt in the recipe.
Cream Cheese – Full fat cream cheese will give you the best results for these gooey butter cookies. Be sure to let it soften at room temperature for a few minutes first.
Almond Extract – This adds a slight almond flavor to the cookies. Use pure extract, not artificial flavoring, for best results.
Easy Instructions
STEP 1. Make the dough. Cream together butter, cream cheese and sugar. Add eggs and almond extract, followed by the dry ingredients. Beat until all ingredients are combined. Chill the dough for at least 30 minutes.
STEP 2. Roll the cookies. Scoop out about 2 tablespoons of chilled dough. Use your hands to roll each ball of dough in powdered sugar until evenly coated.
STEP 3. Bake then cool. Place the rolled cookies on a parchment paper lined baking sheet. Bake at 350 for 11-13 minutes. Let cool completely on a wire rack.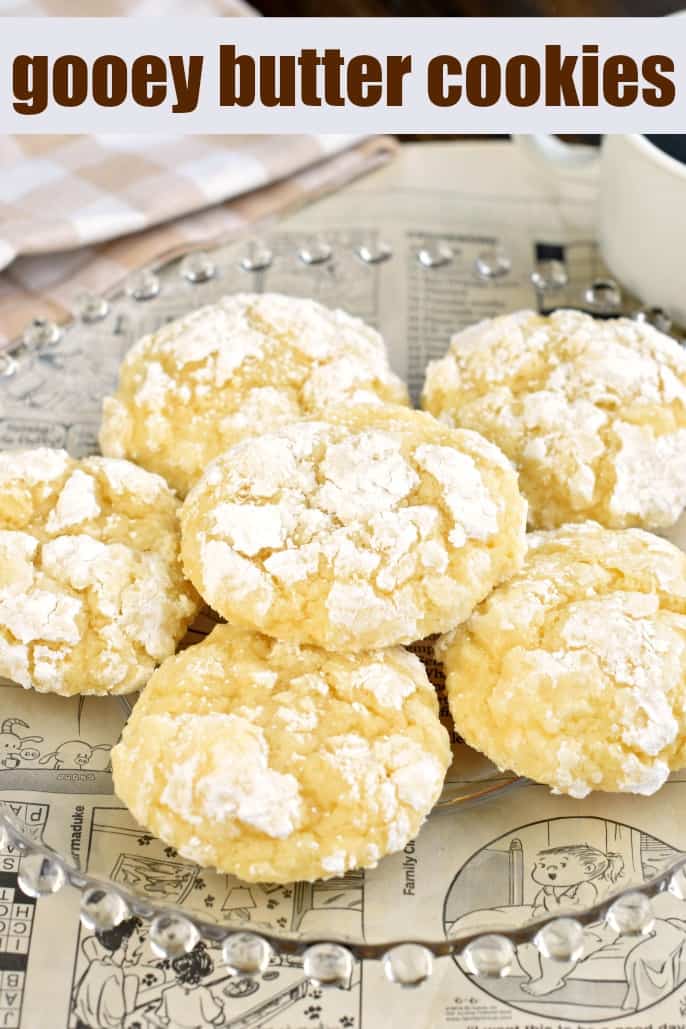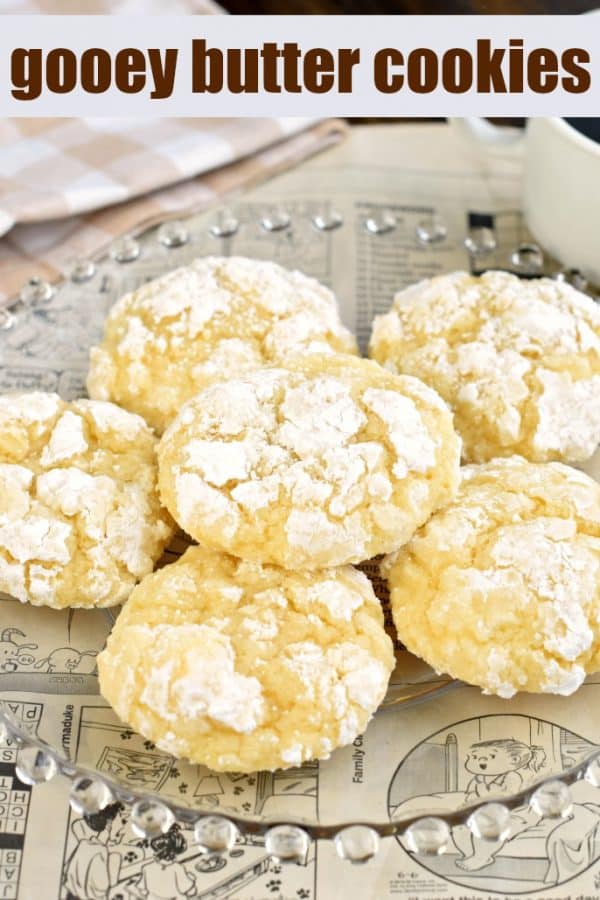 Tips and Tricks
Allow the butter and cream cheese to soften at room temperature before you start making the dough.
Be sure to chill the dough! It's hard to be patient, but this is a must. It helps solidify the butter to a chilled state, which allows the gooey butter cookies to stay thick and fluffed.
Sticky hands? Dip your fingers in powdered sugar before working with the dough. This keeps the dough from getting stuck to your hands as you go.
Line the baking sheet with parchment paper. This helps the cookies slide right off and allows for easy clean up after the cookies are baked!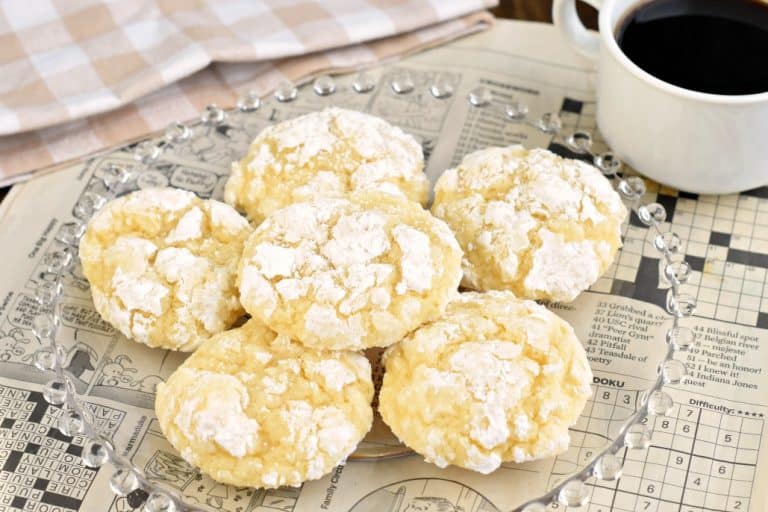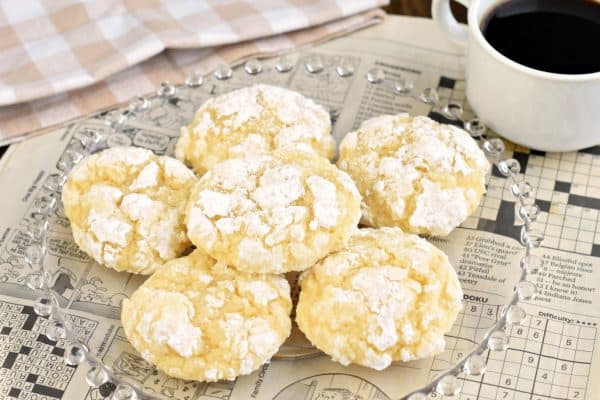 Recipe FAQs
How do I make these cookies with a cake mix?
Beat the unsalted butter and cream cheese together. Then beat in one egg and the almond extract. Add the cake mix and beat until combined. Chill the dough and proceed with the recipe below as directed.
Is powdered sugar the same as confectioner's sugar?
Yes, they are the same. It's labeled as one or the other, depending on the brand.
How do I store Gooey Butter Cookies?
Store these cookies at room temperature in an airtight container. This will keep them soft and fresh for about a week!
Can I freeze these cookies?
Yes! You can freeze gooey butter cookies by letting them cool completely, then transferring them to a freezer-safe airtight container (or ziploc freezer bag). Freeze for up to 3 months.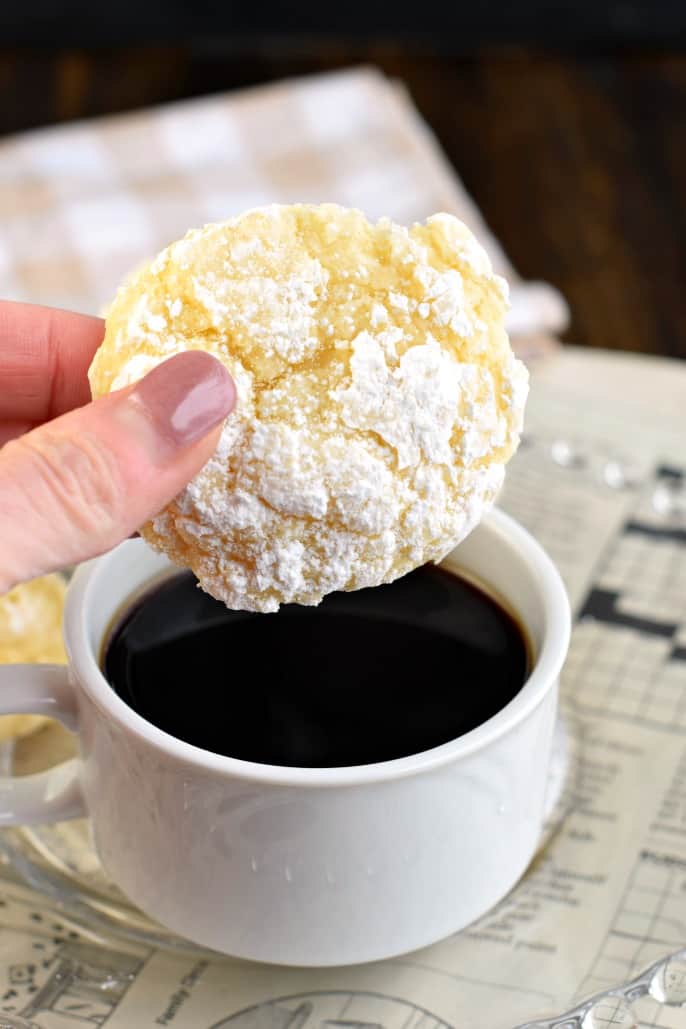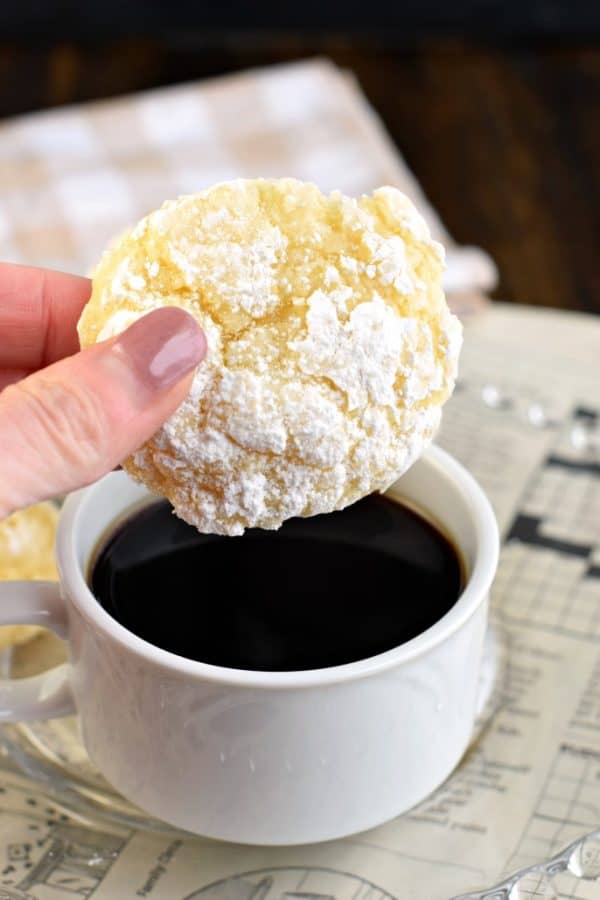 More Easy Desserts