Gooey Lemon Cake Bars
Turn your favorite Gooey Butter Cake into a Lemon dessert! Gooey Lemon Cake Bars will make you quite happy, and nobody has to know you started with a mix!
Be sure to sign up for my email…new recipes in your inbox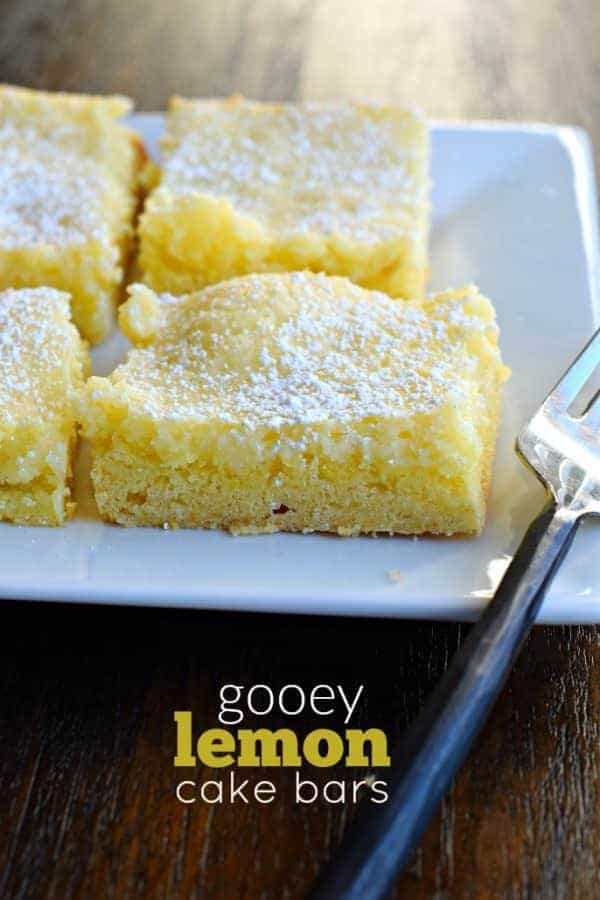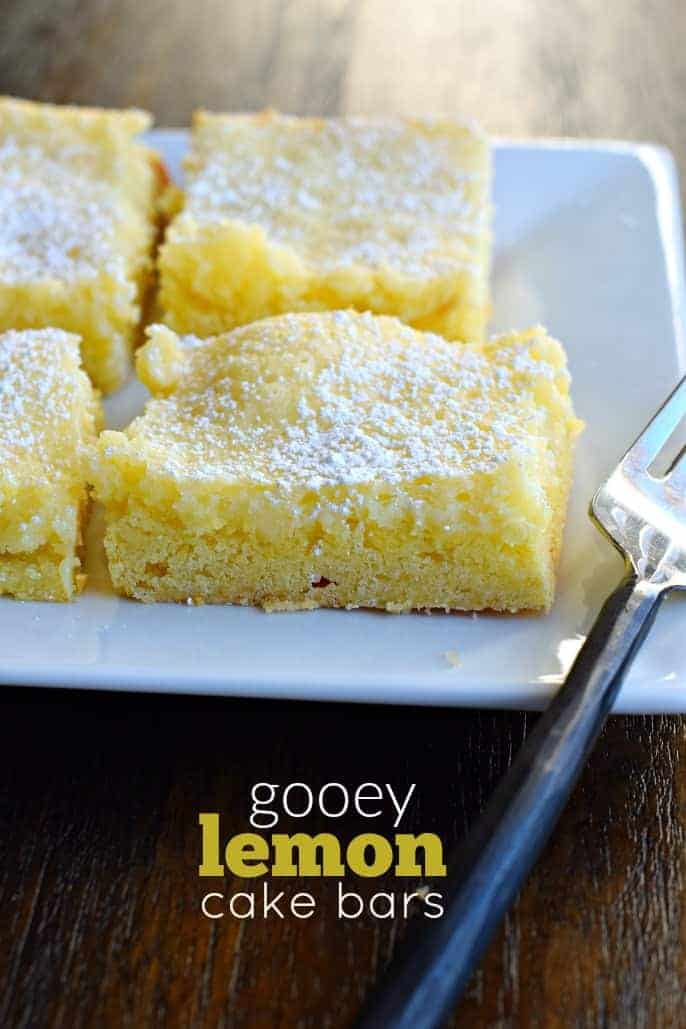 Click HERE to save recipe to Pinterest!
Once upon a time there was a cute food blogger named Aimee.
She LOVED lemon desserts.
The end.
This post was previously published in May 2013. As I'm still a lover of all things lemon, I thought you'd all enjoy this updated version, complete with a food video too!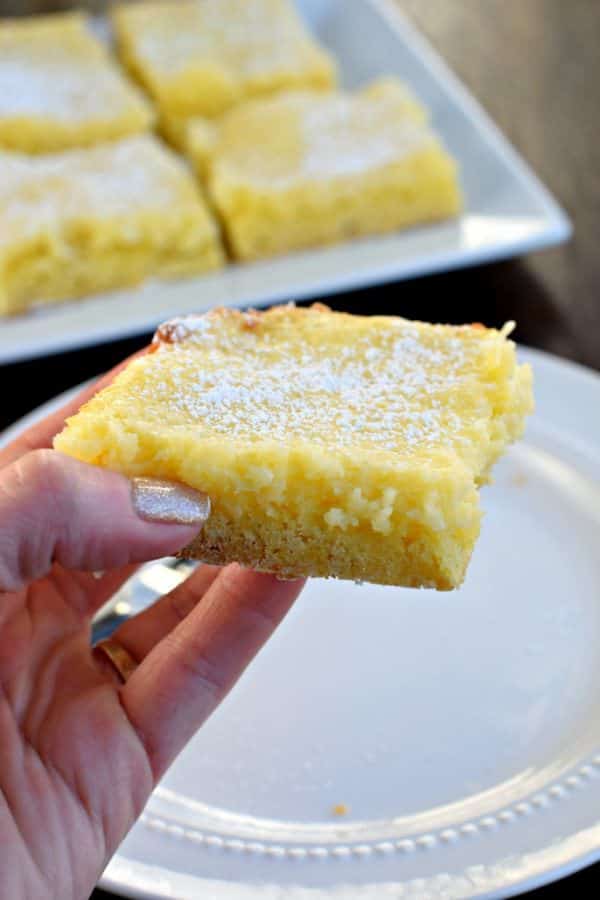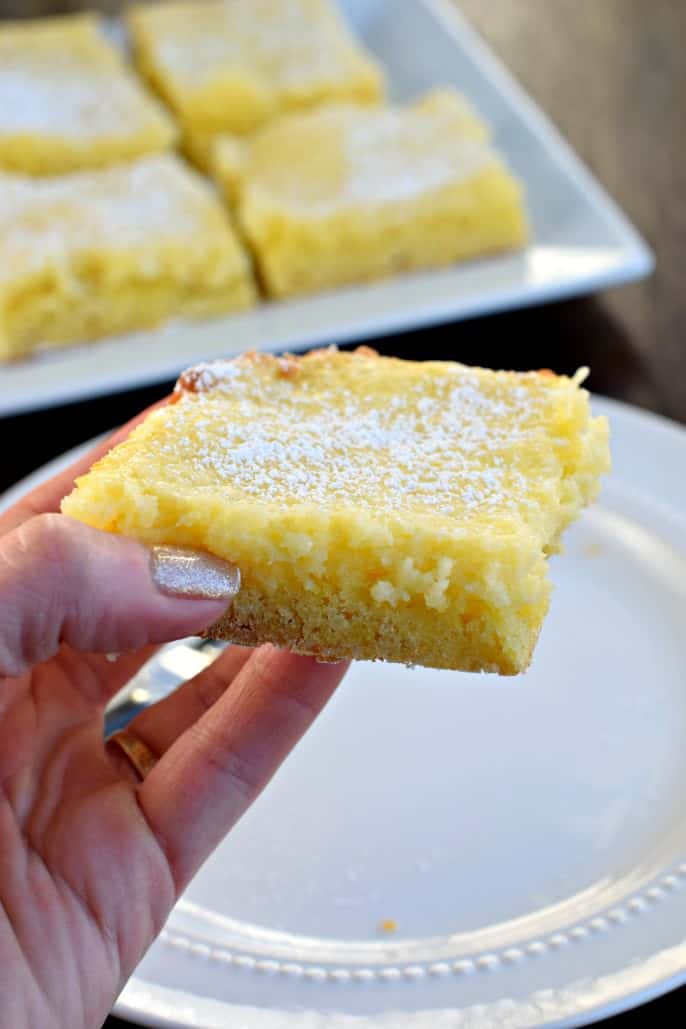 Seriously, there is not much else to say about this recipe. I am in love with all things lemon! These lemon bars are made simple by using a cake mix (gasp!!!). I know, I don't use a mix often, but back off. It's summer.
Almost summer. Which means absolutely nothing except I wanted an excuse as to why I used a mix. Oh yeah, I used a mix on this because that's what the recipe calls for!
I based these lemon bars off of THIS cake recipe. By just changing it slightly they become a whole new dessert. You can make these even prettier by adding some fresh raspberries or strawberries on top as a garnish.
But they don't need any help in making them tastier. These cake bars are divine. Try them yourself.
How to make Gooey Lemon Cake Bars:
Start with your favorite cake mix! I use Duncan Hines Lemon Cake mix….but choose YOUR favorite.
Add softened butter and egg to cake mix, and press this into the bottom of your 13×9 baking dish. This will create the crust.
Beat your filling until light and fluffy and spread it over the top of the cake mix crust. BAKE for about 30-35 minutes. Do not overcook.
Once you've removed the Lemon Bars from the oven, cool on wire rack. When cool, place bars in refrigerator for at least 4 hours (this is a must!!). Top with powdered sugar and enjoy cold!
If you love these sweet Lemon Bars, then you may also enjoy: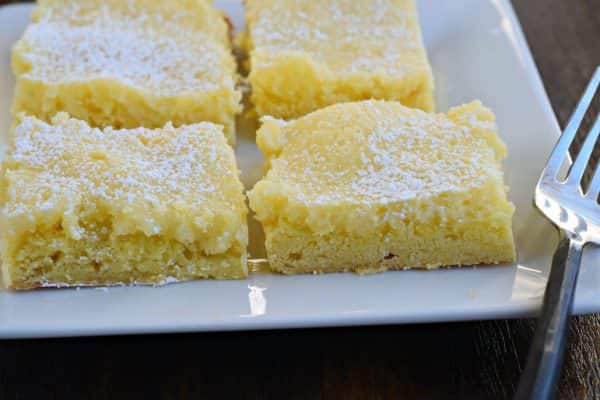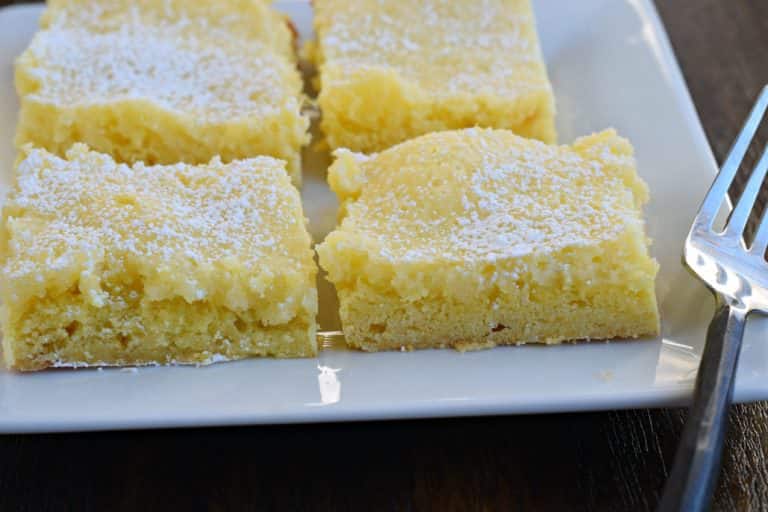 I created a fun little group on facebook and I'd love for you to join in! It's a place where you can share YOUR favorite recipes, ask questions, and see what's new with Shugary Sweets (so that you never miss a new recipe)! If you'd like to check it out, you can request to join HERE.
Connect with Shugary Sweets! Be sure to follow me on my social media, so you never miss a post!
Facebook | Twitter | Google+ | Pinterest | instagram
Sign up to receive an email in your inbox for each new recipe:
Gooey Lemon Cake Bars recipe and video: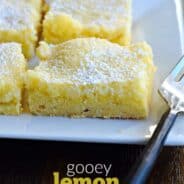 Gooey Lemon Bars
Yield: 16 servings
Prep Time: 4 hours
Cook Time: 30 minutes
Turn your favorite Gooey Butter Cake into a Lemon dessert! Lemon Cake Bars will make you quite happy, and nobody has to know you started with a mix!
Ingredients:
For the crust:
1 box (18.25oz) Lemon Cake Mix (I used Duncan Hines)
1/2 cup unsalted butter, softened
1 egg
For the filling:
8 oz cream cheese, softened
2 cup powdered sugar
1 tsp vanilla extract
2 eggs
Directions:
In a large mixing bowl, combine cake mix, butter and egg. Press into the bottom of a 13x9 baking dish. Combine cream cheese, sugar, vanilla eggs in a mixer. Beat until fluffy. Pour over crust. Bake in a 350 degree oven for 30-35 minutes (I underbake mine a little to get that definitive separation in layers). Remove from oven and cool completely.
Refrigerate for 4 hours (or overnight) for best flavor. ENJOY.
MAKING THIS RECIPE? Share it with me on Instagram using the hashtag #ShugarySweets so I can see what you're cooking up in the kitchen!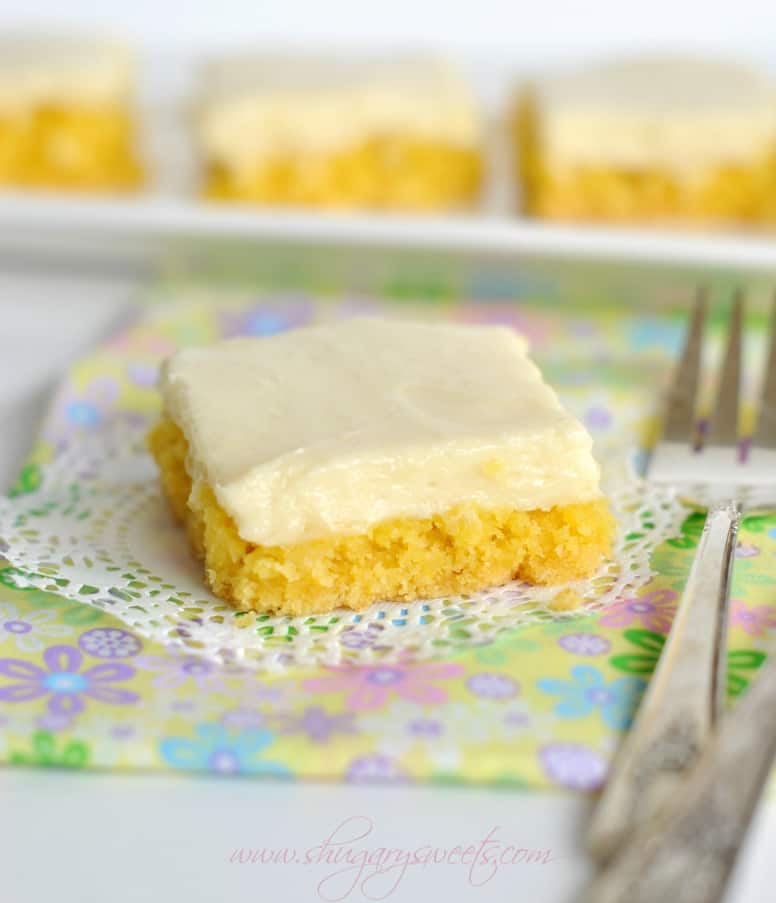 See the recipe Gooey Lemon Cake Bars on YouTube