Deliciously easy Lemon Poke Cake! Made with boxed cake and lemon gelatin, this poke cake gets even better when you add homemade lemon curd. It's the dreamy creamy citrus dessert of your dreams.
We love poke cakes. Strawberry JELL-O Poke Cake first won my heart as a child. Now this lemon version is giving it a run for its money!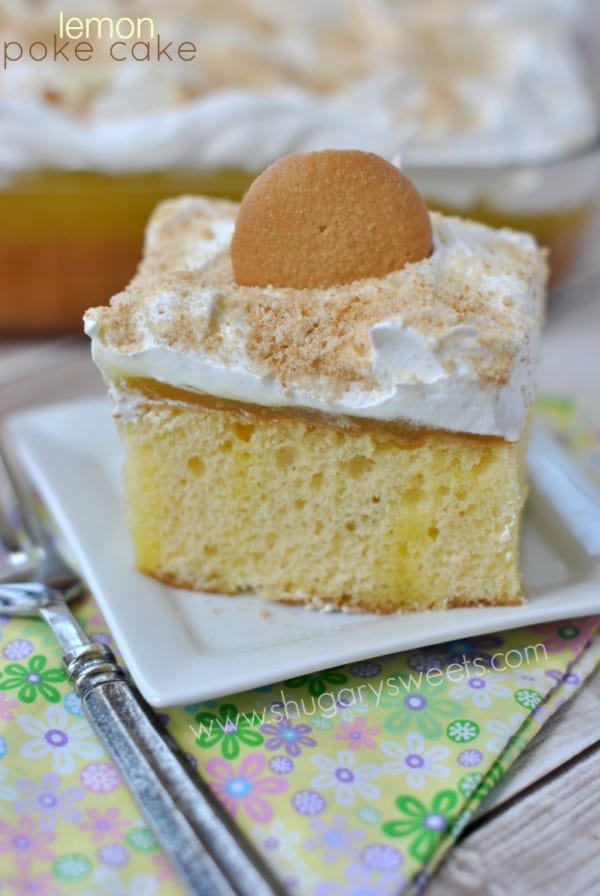 Why this Recipe Works
Making a poke cake is seriously one of the easiest things to bake for dessert. And they are perfect for bringing to potlucks, bbq's, and summer picnics! Everyone loves them!
If you're asking yourself, "what is a poke cake" let me tell you this, there are many answers to that question. Depending on who you ask!
Poke cakes are typically made using a boxed cake mix and a 13×9 baking dish. While the cake is warm out of the oven, you can do SEVERAL things:
Growing up, my family always chose the last option. Adding gelatin. It's a perfect spring/summer treat!
Ingredient Notes
Yellow cake mix. You'll also need any ingredients necessary to bake the cake according to package directions (oil, eggs, etc).
Lemon JELL-O. You will use the powdered mix right from the package for this lemon poke cake recipe.
Lemon Curd. I use my Easy Homemade Lemon Curd Recipe. Substitute store bought lemon curd if preferred.
Easy Instructions
STEP 1. Prepare the yellow cake mix.
Bake according to package instructions in a 13 x 9 baking dish.
STEP 2. Poke
Poke holes all over the top of the cake immediately after baking. You can use a wooden skewer, wooden spoon handle or a meat thermometer for this step.
STEP 3. Add JELL-O
Combine the gelatin mix with boiling water. Pour it over the top of the cake.
STEP 4. Chill and serve
Refrigerate the lemon poke cake for at least 4 hours. Before serving, spread lemon curd over the top. Top with cool whip and crushed Nilla wafers. Enjoy!
Tips and Tricks
Lemon Curd Substitute. Lemon pudding makes a great alternative to the curd for topping the cake. Whisk a box of lemon pudding mix with 2 cups of milk and pour it over the cake before chilling.
Cake mix flavors. White cake mix is delicious with this poke cake recipe too. Or for an extra strong lemon flavor, use a lemon cake mix instead!
Nilla wafer topping. Reserve a few whole Nilla wafer cookies to garnish the top of each slice of lemon poke cake.
Does poke cake need to be refrigerated?
Poke Cakes should be chilled before serving and stored in the refrigerator until ready to eat. It keeps well in the fridge for 2 to 3 days.
What can I use instead of Nilla wafers?
If you don't have Nilla wafers available where you live, any kind light and crispy wafer cookie can be used. You can also leave off the cookie topping. You'll still have a delicious lemon JELL-O cake!
Is Poke cake supposed to be runny?
Before chilling this lemon poke cake it will look very wet. As it chills, the JELL-O sets up in the holes of the cake just like it would in a bowl. That's why you need several hours to let the cake set up in the fridge before serving.
Grab a box of JELL-O and whip up an easy crowd pleasing dessert with this Lemon Poke Cake Recipe. We know you'll love it!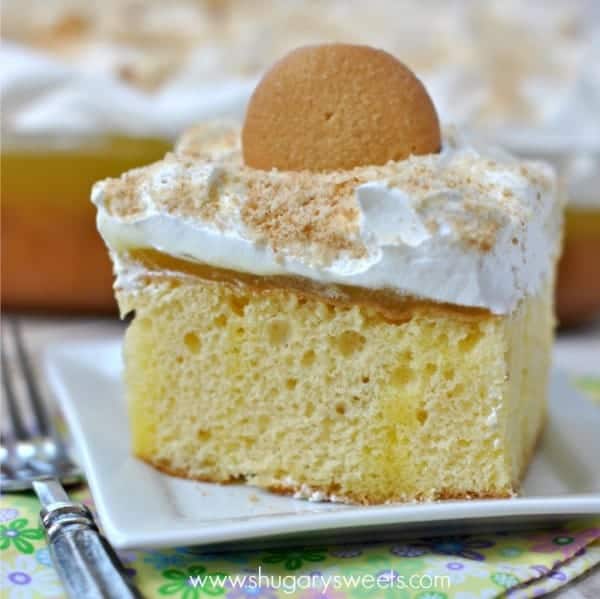 MORE Lemon Desserts