Lemon Biscotti is a crunchy sweet homemade treat with a citrus twist! Coffee time is even better with a plate of homemade biscotti. Dip in white chocolate for a perfect finishing touch.
My obsession with biscotti making doesn't seem to be going away any time soon! Have you tried these Coconut Biscotti yet? Or give our classic snickerdoodle biscotti recipe a try soon.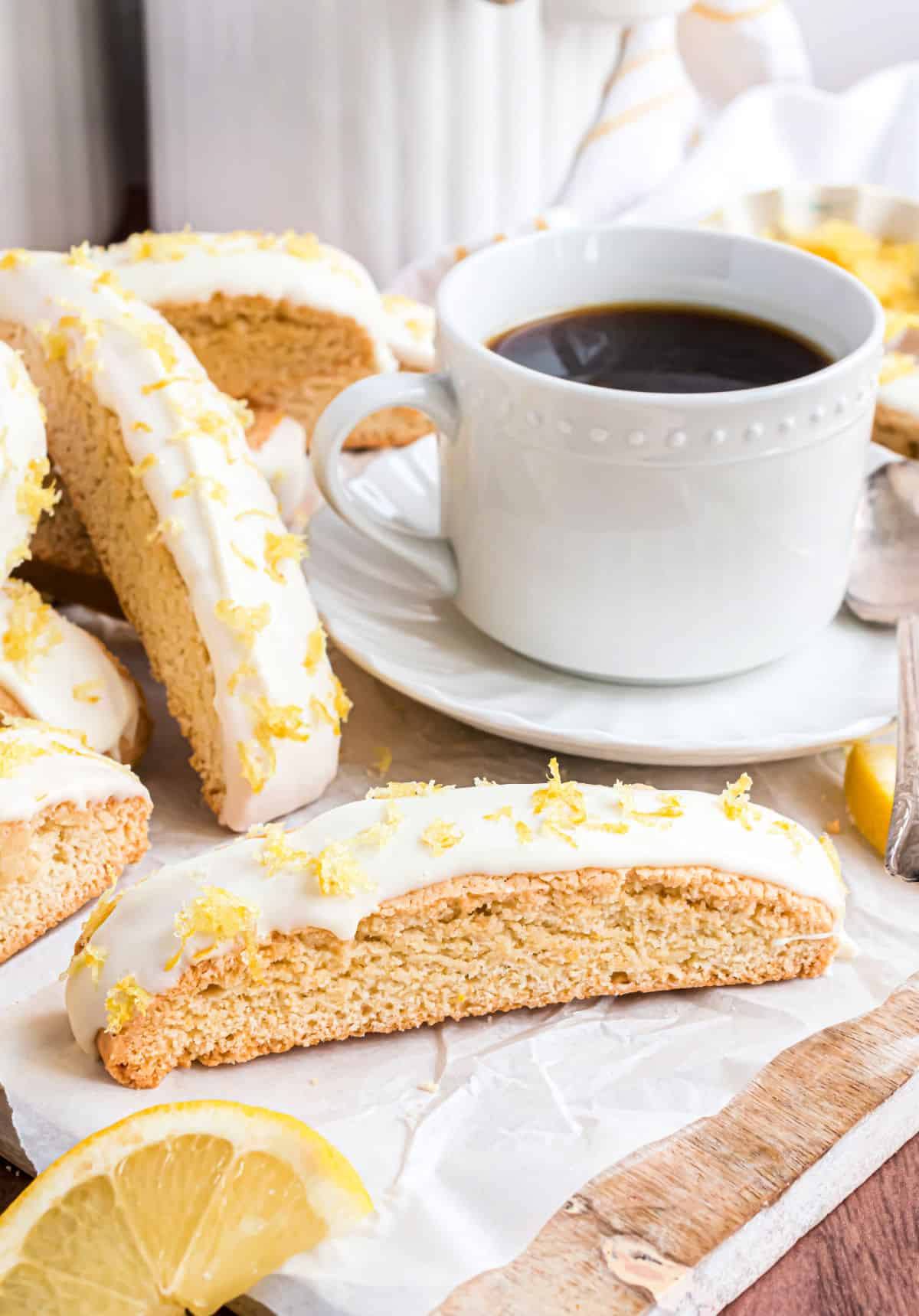 What is Biscotti
Biscotti are oblong crunchy biscuits with Italian origins.
I call them cookies because they're slightly sweet (and often made sweeter with sugared toppings). But they're really more of a cross between a biscuit and cookie.
Twice baked with a toasty exterior and crispy crumb, Biscotti are usually served with coffee for dunking! That means you can call them a breakfast food.
After making Pumpkin Spiced Biscotti, I dove head first into all kinds of flavors. I even made Red Velvet Biscotti!
These are absolutely perfect: crunchy, lemony, with just the right amount of sweetness! You'll love these homemade biscotti for breakfast, dessert or an afternoon treat.
If you love these easy cookies, try our Italian ricotta cookies next. Or for another lemon twist, our lemon ricotta cookies are fantastic. You also can't go wrong with this Italian linzer cookie recipe!
Ingredient Notes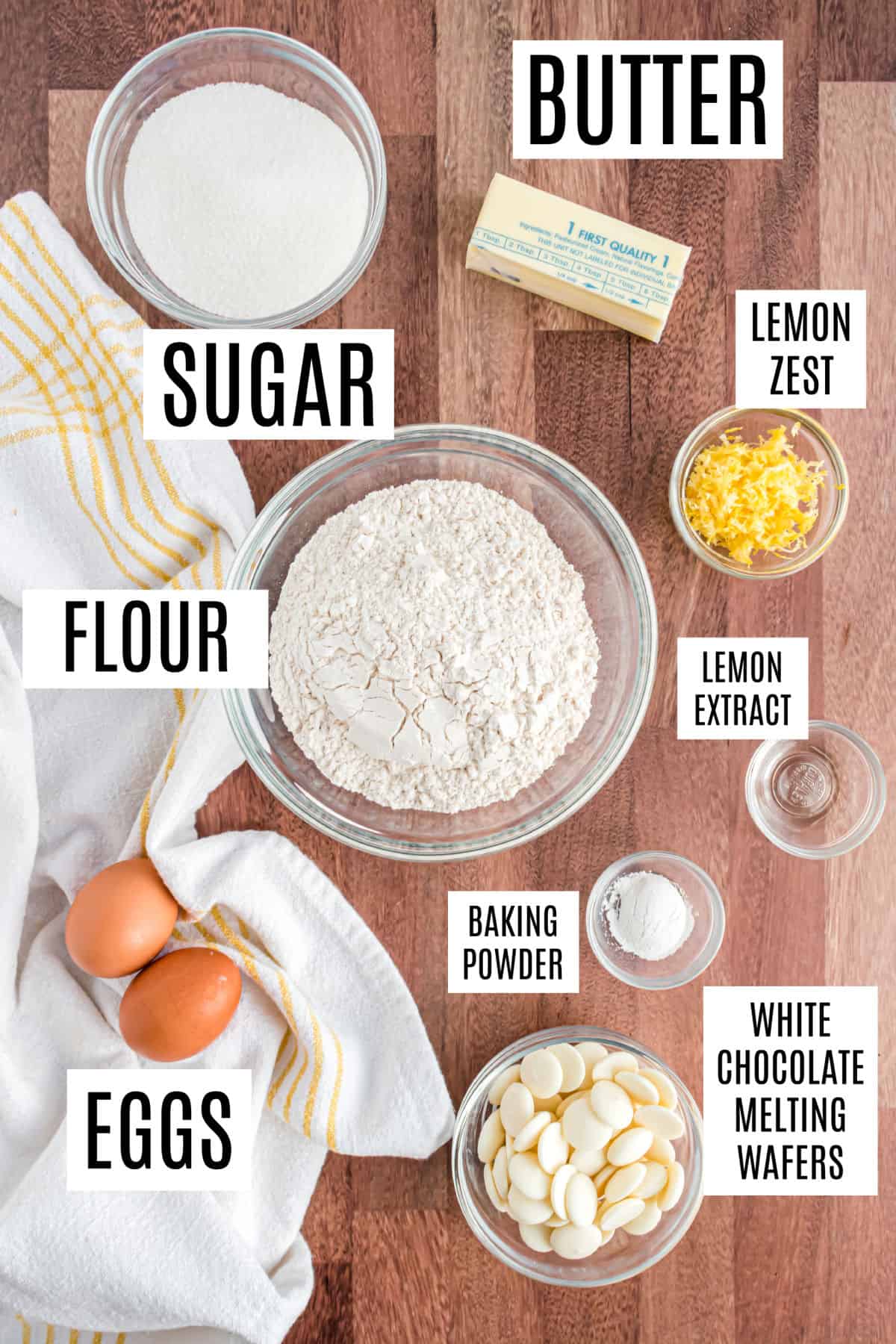 Butter- we use unsalted butter for most of our baking. This allows us to control any salt added. Be sure to use our tips and tricks on how to soften butter quickly.
Lemon extract. This form of super concentrated lemon is key for giving the biscotti their lemon flavor without adding too much moisture to the dough.
Lemon zest. Remove the zest from the whole lemon using a microplane grater or handheld zesting tool. Use our guide on how to zest a lemon.
White chocolate melting wafers. I use Ghirardelli brand.
Easy Instructions
Make the dough. Beat butter and sugar, then add eggs, zest and lemon extract. Mix in flour and baking powder until a dough comes together.
Shape and Bake. Place dough on parchment lined baking sheet and press into a long rectangle. Bake for 25 minutes then remove and cool the dough for 10 minutes.
Slice and bake again. Cut the baked rectangle into 1 inch slices. Turn each onto its side and bake for another 16 minutes, flipping the lemon biscotti half way through baking.
Add topping. After the biscotti have cooled completely dip the tops into melted white chocolate. Sprinkle immediately with lemon zest and granulated sugar. Let set for a few minutes to let the chocolate harden.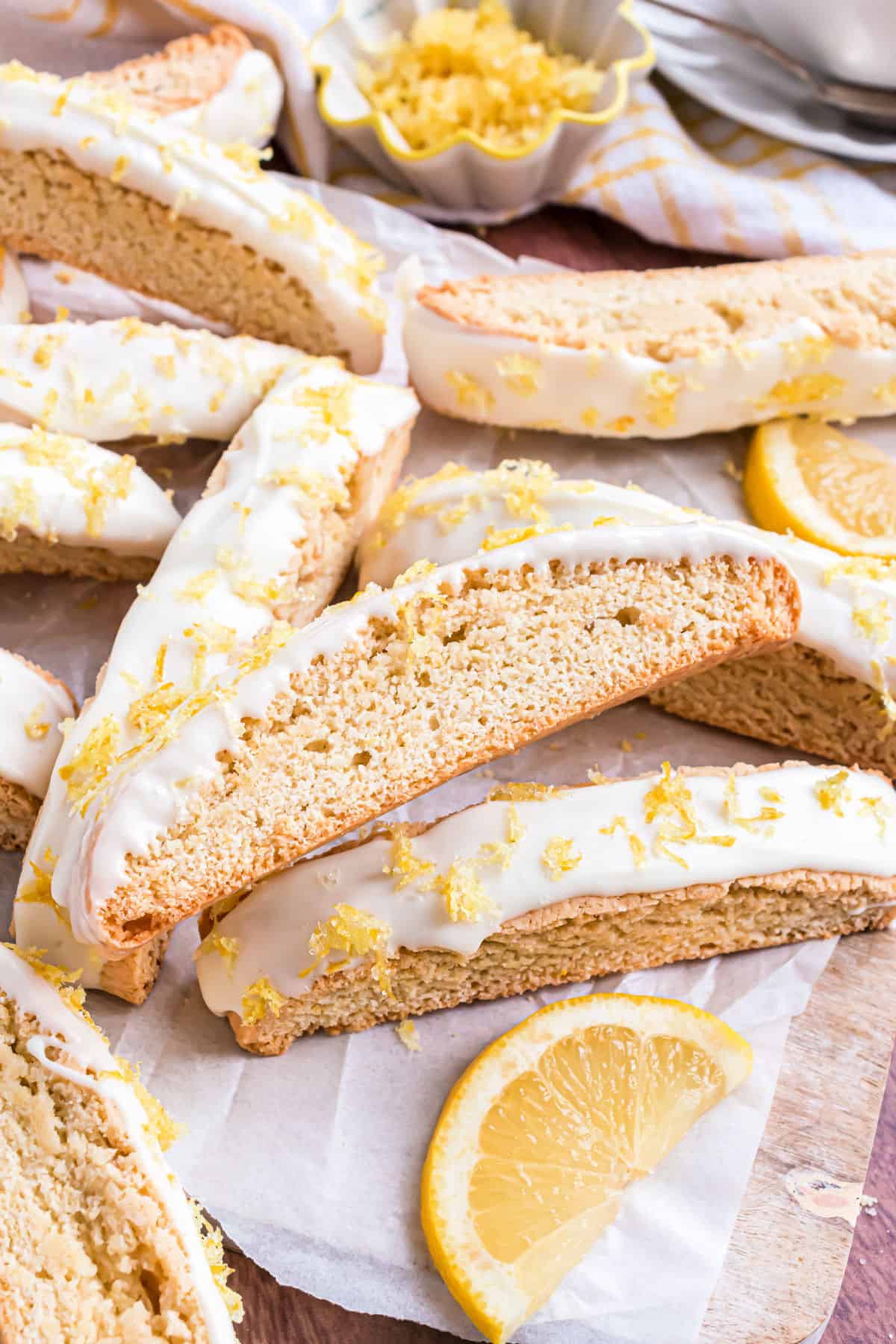 Tips and Tricks
The biscotti will look soft when you first take them out of the oven. Don't worry–this is expected! They'll get harder and crunchier as they cool.
Use a serrated sharp knife when cutting biscotti. So much easier than a smooth blade and creates a perfect cut.
Drizzle the melted white chocolate over the biscotti instead of dipping if you prefer. Both ways look beautiful.
Store homemade lemon biscotti in an airtight container or ziploc bag. They will keep for about 10 days.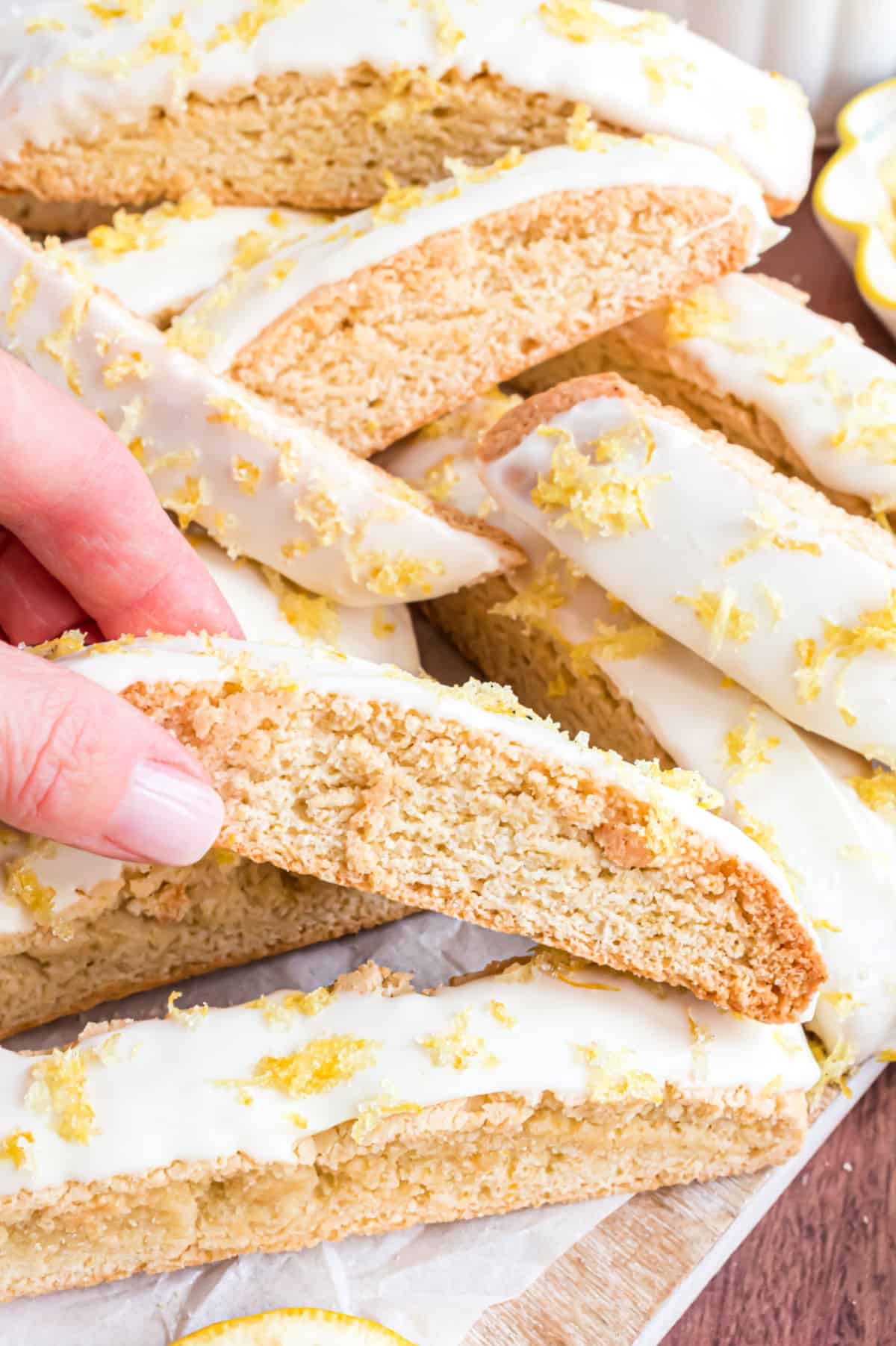 Recipe FAQs
Can you freeze biscotti?
Yes, you can freeze both biscotti dough and the baked biscotti. Freezing biscotti after baking will result in a biscuit that's less crunchy. To help them crisp up again after thawing, you can heat them in the oven for a few minutes before serving.
Will white chocolate chips work as a substitute for the melting wafers?
White chocolate morsels can be melted in place of the wafers, however the topping will be harder when it sets. It'll still taste delicious though, so go ahead and use white chocolate morsels if that's what you have.
Can I use lemon juice instead of lemon extract?
No, lemon juice will not give you the same results. Extract is highly concentrated making the lemon flavor strong even when you use just a tiny amount!
To add the same flavor with lemon juice would require much more juice and completely disrupt the levels of moisture in the recipe. Stick with the extract. It's worth it!
More Lemon Desserts
The only thing better than coffee is what you eat with it. Give this Lemon Biscotti recipe a try next time you need an impressive treat to share with your friends. Crunchy, sweet and delicious!