Make your coffee break even better with these Pumpkin Biscotti. Full of autumn spices and topped with a white chocolate icing, this is a fall treat that is perfect for breakfast or dessert!
Love pumpkin in the morning? Be sure to whip up a batch of our favorite pumpkin scones or pumpkin donuts today. Paired with a cup of pumpkin cream cold brew, you're ready for fall!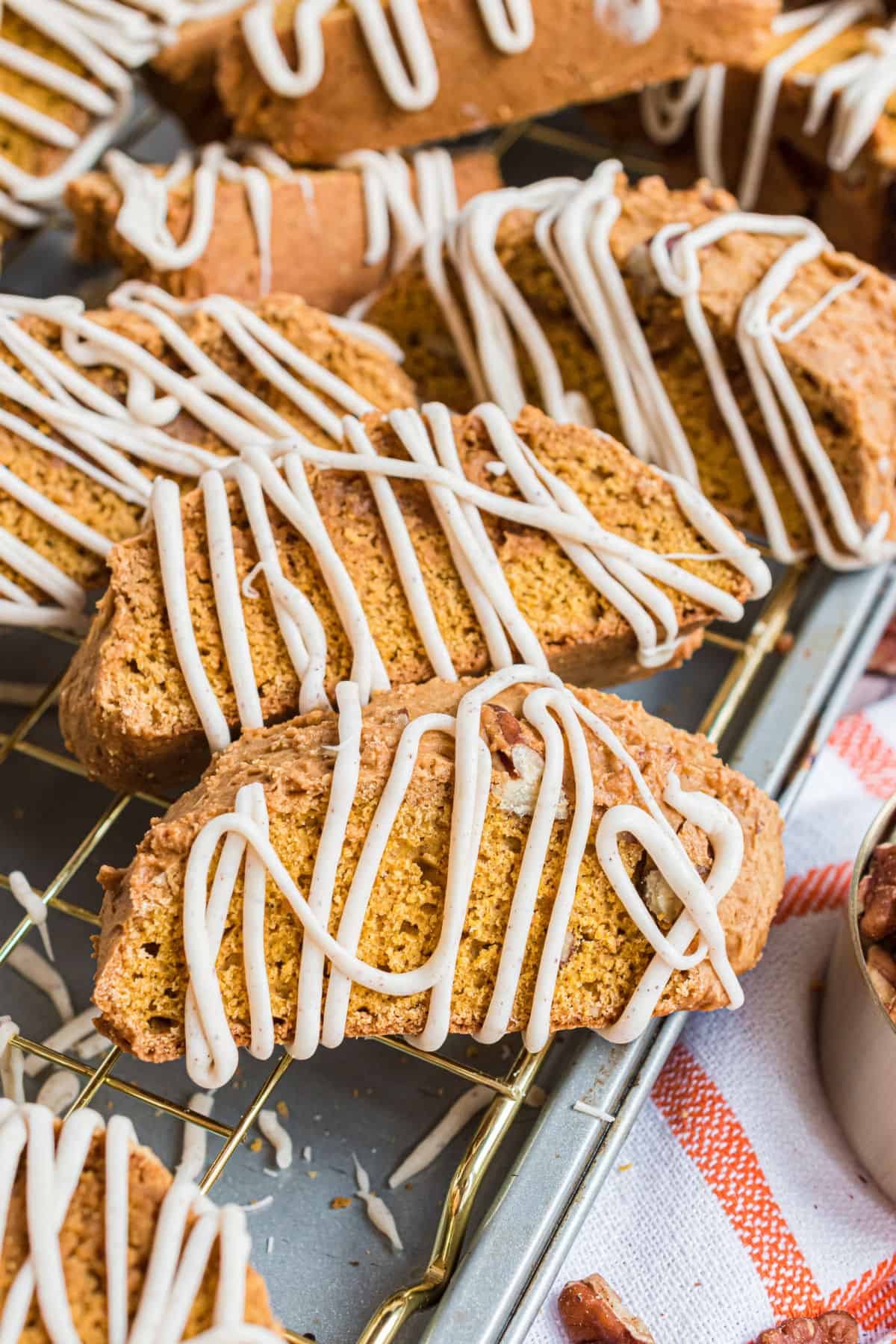 Why this Recipe Works
You know the only thing better than coffee? It's what you eat WITH your coffee!
Biscotti and coffee were made for each other. The hard crunchy cookie is delicious on its own but when you dip it in a hot cup of coffee it's absolutely magical.
I've been making homemade biscotti for a while now (remember this Snickerdoodle biscotti??), so it was only natural that I'd need a pumpkin spice version for fall.
Cookies for breakfast anyone?
Ingredient Notes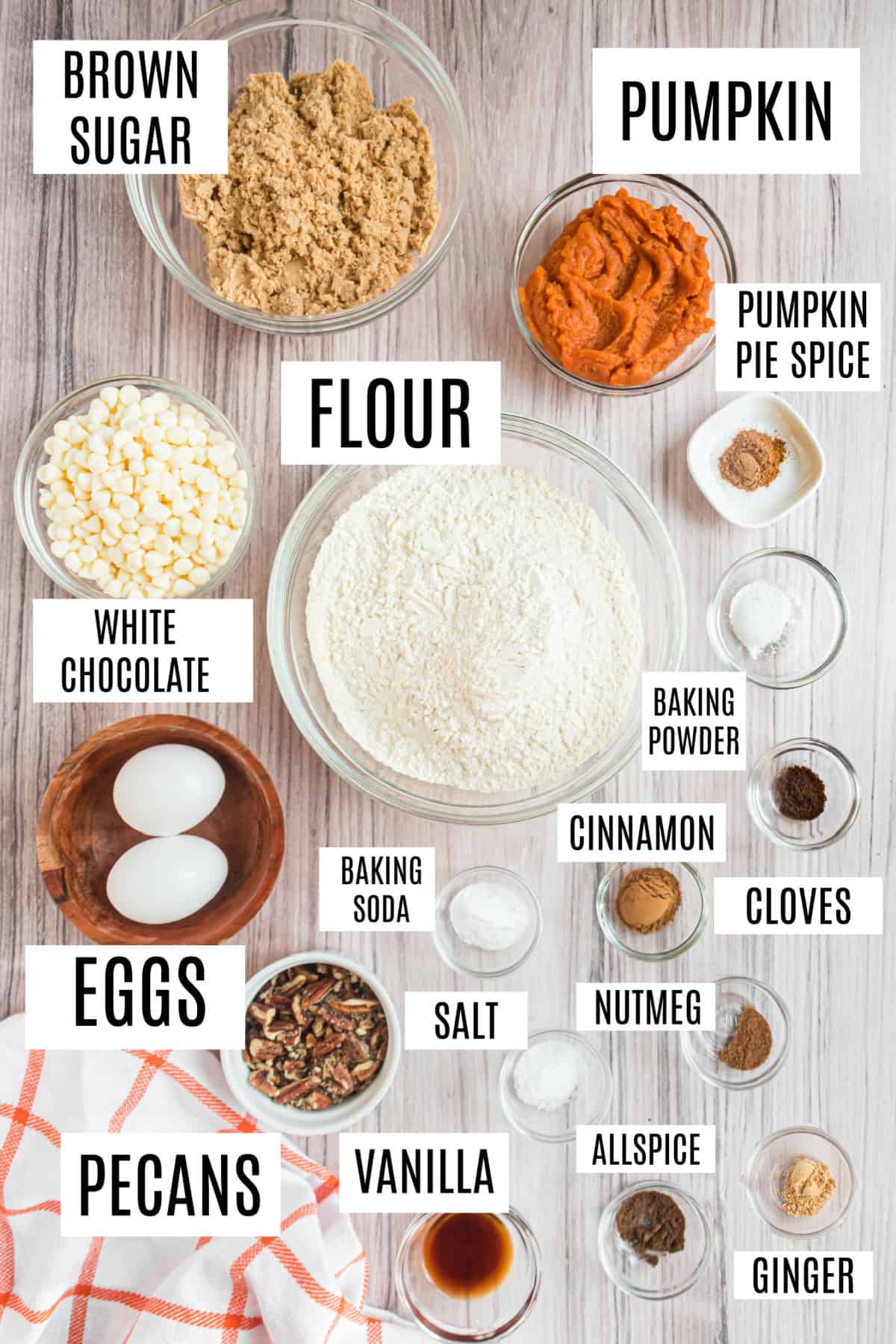 You'll find the usual cookie baking ingredients are needed for biscotti.
How to Make Biscotti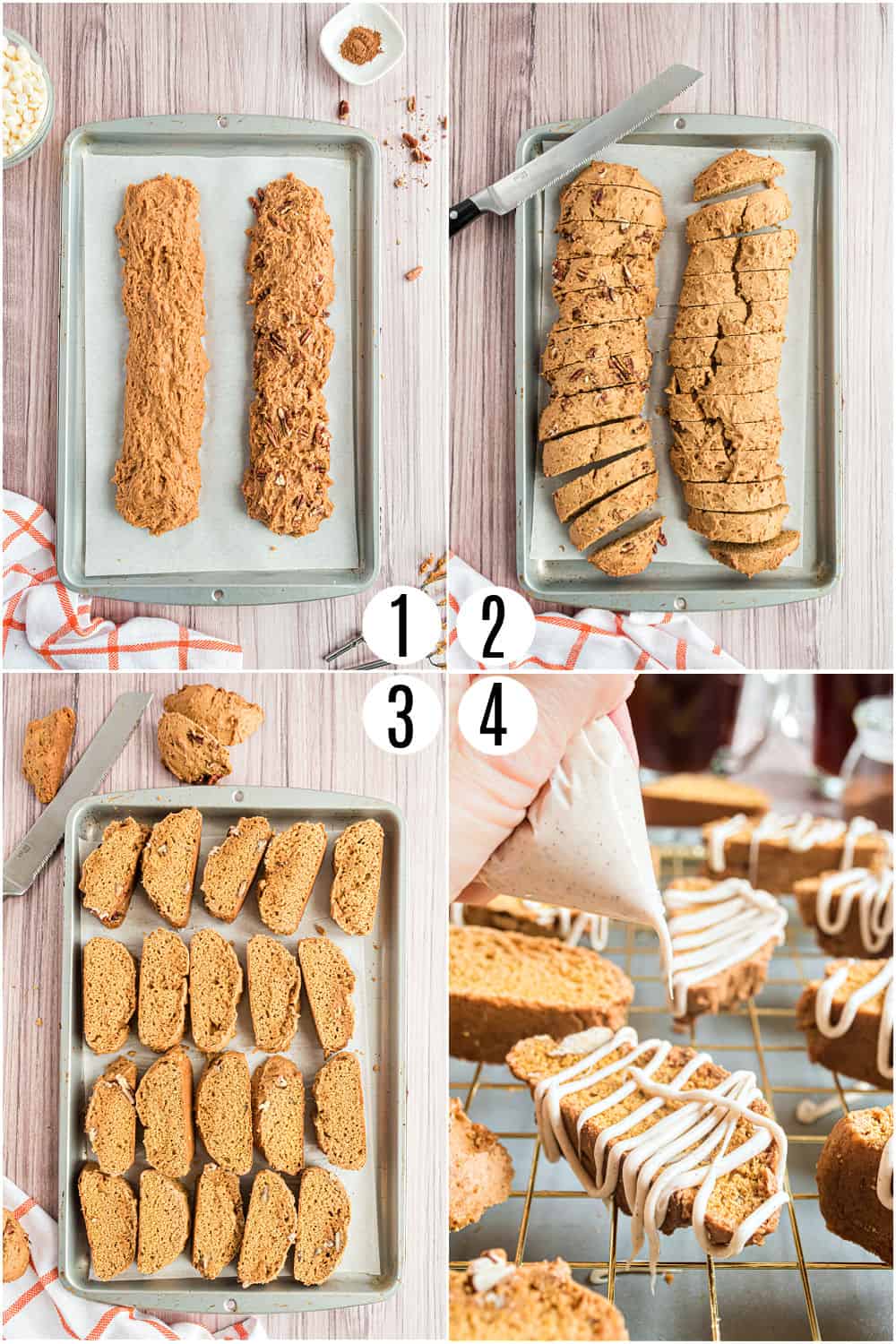 Making biscotti is a multi step process but once you do it once or twice it hardly feels like any more effort than the average rolled out cookie or biscuit.
STEP 1. Make the biscotti dough
In a mixer, combine eggs with canned pumpkin and vanilla extract. Beat until creamy then add the spices and other dry ingredients until the crumbly dough becomes smooth.
Divide dough in half and add chopped nuts to the dough (or half the dough if you want to make some nut free).
STEP 2. First bake
Use your hands to form two 12 inch long logs (about 2-3 inches wide) from your two halves of dough. Bake in a 350 degree oven for 25-30 minutes. Remove the biscotti logs from the oven and turn it down to 300 degrees.
Allow biscotti to cool for about 15 minutes.
STEP 3. Slice
Using a serated knife, slice the biscotti into 1 inch thick slices. Lay each slice on it's side and return to the oven for an additional 10 minutes.
Remove from the oven, flip sides, and bake an additional 10 minutes. Then remove from oven and let the biscotti cool before dipping in frosting, if desired.
White Chocolate Biscotti Frosting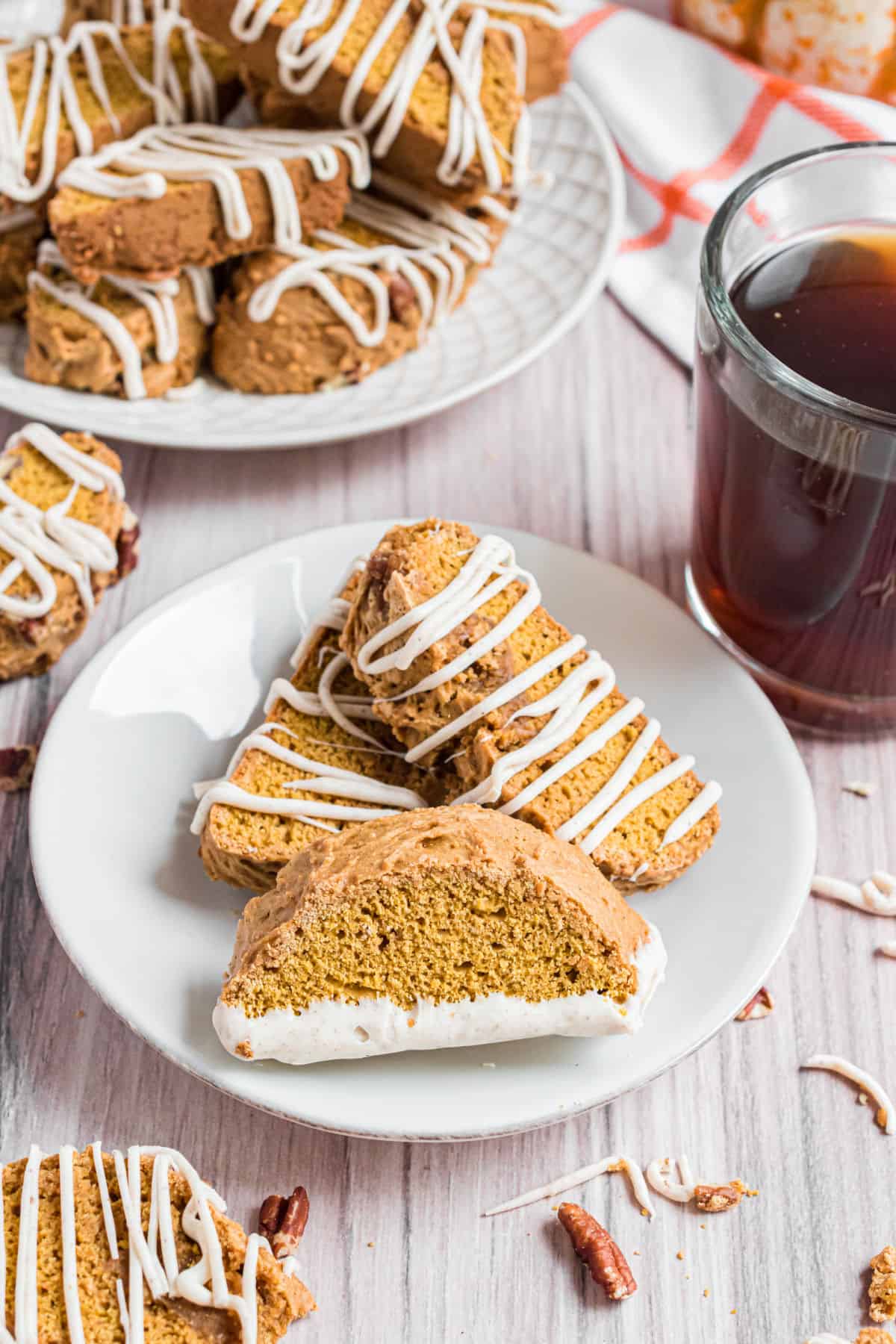 This frosting adds the perfect sweet creamy finish to the toasty biscotti! Pumpkin pie spices in the icing bring a touch more spice to the treat that reminds me of a pumpkin spice latte.
To make it, you just melt white chocolate morsels (or I prefer the Ghirardelli white chocolate melting wafers) with a pinch of pie spices in the microwave then stir to combine everything together.
I've frosted my biscotti in two ways:
You can dip the bottom side of each cookie into the chocolate and let he chocolate set for an hour.
Or, if you prefer, put chocolate in a ziploc bag, snip the corner, and drizzle over the top of the biscotti. Allow to set about an hour. Enjoy!
Tips & Tricks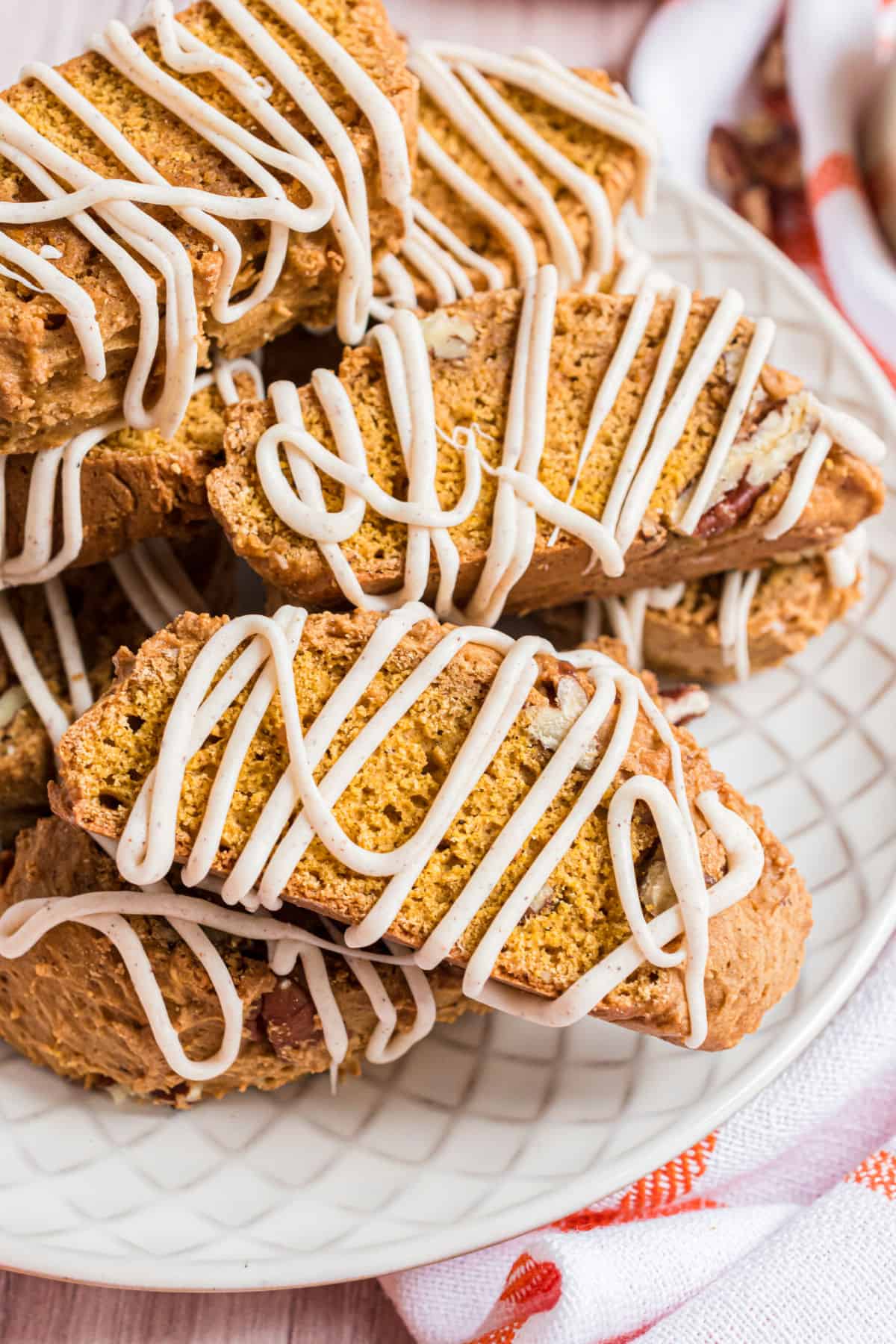 Recipe FAQs
How long does biscotti stay fresh?
Pumpkin Biscotti keeps well in an airtight container or ziploc bag at room temperature for about two weeks.
Can you freeze biscotti?
Biscotti loses some of it's crispiness when thawed. To get the crunch factor back, toast thawed biscotti for a few minuts in an oven at 250 degrees F. (Only do this without the white chocolate icing).
Coffee addict that I am, I always enjoy my Pumpkin Spiced Biscotti with a cup of coffee. They're also delicious with tea or a glass of milk! Whatever your beverage of choice, I know you're going to love these biscotti!