Welcome Fall with a loaf of Chocolate Chip Pumpkin Bread fresh from the oven! This copycat Starbucks bread recipe is filled with real pumpkin, autumn spices and a sprinkle of chocolate chips and pecans for a sweet finish.
If you love today's bread, be sure to try my favorite Chocolate Chip Zucchini Bread and Chocolate Chip Banana Bread recipe.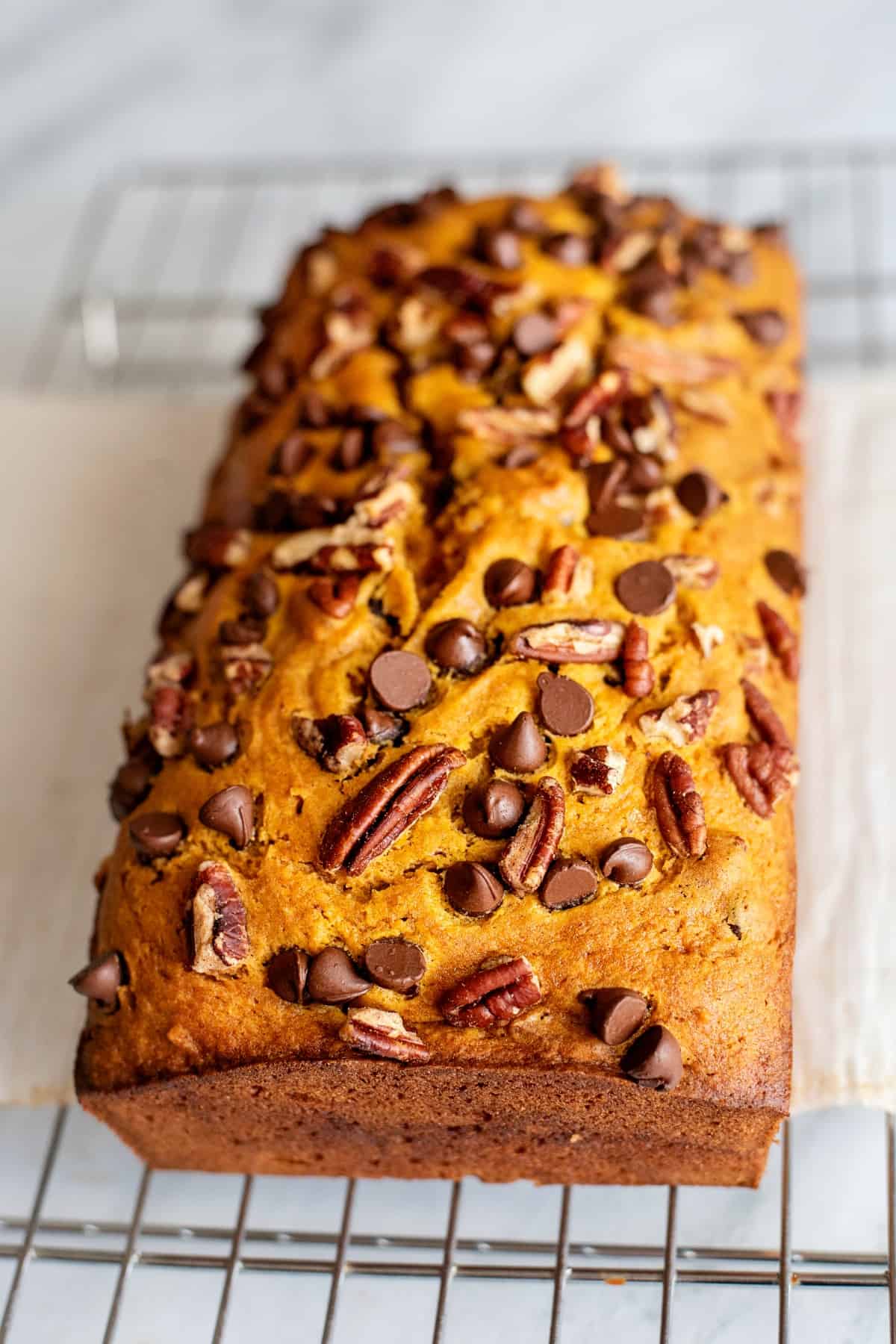 Favorite Pumpkin Bread
You know Autumn has arrived not by the first falling brown leaf but by the menu changes at Starbucks. (Or is it just me who relies on the new latte specials to remind me to put up the fall decorations?)
One of the surest signs it's time for fall baking season is when Starbucks puts its pumpkin bread back in the pastry case! The reddish-orange slices of pumpkin loaf topped with glaze call to me every time I stop by for a latte.
Oh-so moist, packed with pumpkin flavor and kissed with cinnamon and nutmeg, this bread tastes great for breakfast, a midday snack or a dessert. It's perfect for sharing with friends, or for keeping all to yourself on those crisp fall days.
Pumpkin Chocolate Chip Bread
Oh, and I added chocolate, too. You're welcome.
Pumpkin and chocolate are a highly underrated combination! The sweet morsels of chocolate add the ideal balance to the bitterness of the pumpkin and the zip of fall spices. Plus . . . you know, chocolate. You can never have enough chocolate in your life.
This is evidenced by my deep abiding love for Pumpkin Chocolate Chip Cookie Dough Truffles and Pumpkin Chocolate Chip Cheesecake Bars, both of which are on my list to make again this season, too.
Also Chocolate Pumpkin Cake.
For a plain pumpkin loaf, you can leave the chocolate chips and pecans out and still have one delicious bread. White chocolate morsels are quite tasty paired with pumpkin, too!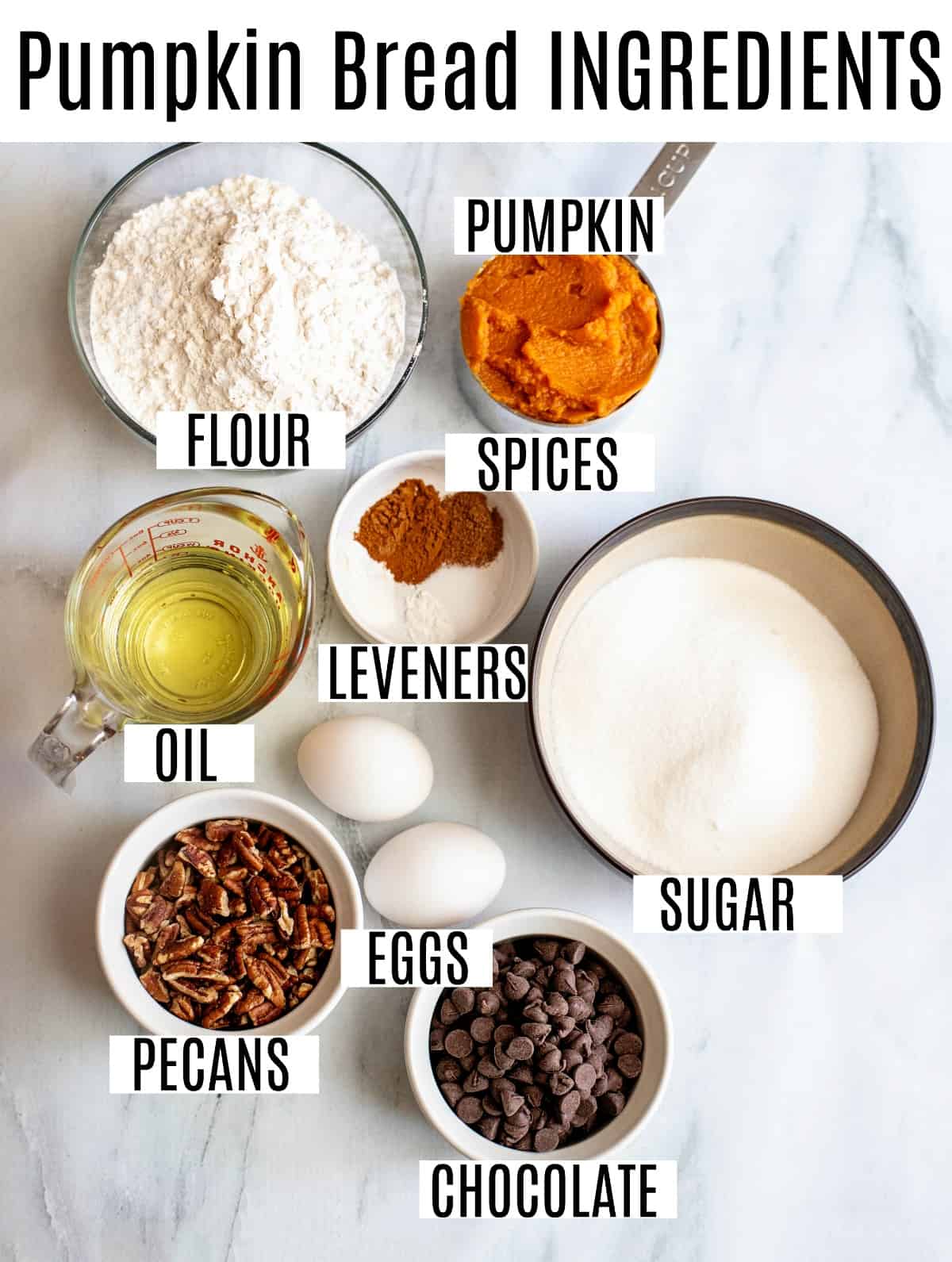 How to Store
Wrap up leftover pumpkin bread tightly with plastic wrap or in an airtight container. It will keep at room temperature for several days.
Pumpkin Bread holds up great in the freezer! Make two loaves and freeze one to have on hand for surprise visits from friends or that last minute school event you forgot you promised to bake for.
I like to claim I'm freezing the bread for practical reasons when, in all honesty, it's mostly because I love when this happens: you eat the fresh loaf of pumpkin bread and you're sad because it's gone. Then, you open your freezer and remember you have a whole second loaf to enjoy!
It's the little things, friends.
How to freeze: Make sure the bread is fully cooled, then wrap in foil and place the whole thing in a freezer safe ziploc bag. Pumpkin Bread keeps well in the freezer for about 3 months.
Individual portions: Instead of freezing the loaf as a whole, cut it into individual slices first. Then you can freeze in single portions to grab whenever the need for pumpkin chocolate chip bread overwhelms you.
Great for lunchboxes and quick on-the-go breakfasts, too! Add a cup of coffee and you'll be in autumn heaven.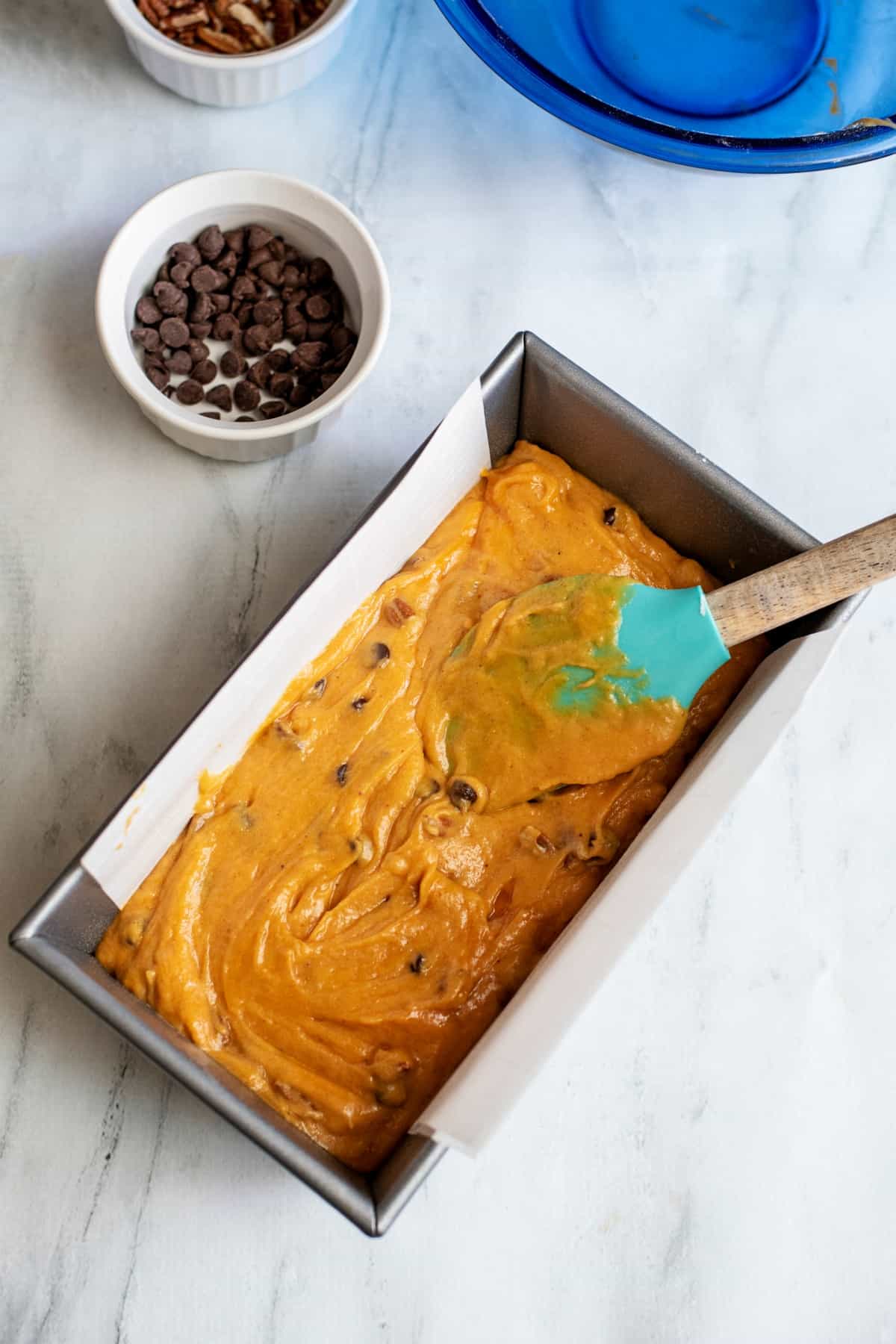 More Tips & Tricks
Make sure to use plain canned pumpkin puree in the recipe (NOT pumpkin pie mix).
Mix dry ingredients with the wet until just combined. Over mixing will result in tough dense bread.
You can also make this recipe as muffins or mini muffins: Grease or spray a muffin tin with baking spray then ladle the batter into the tins, filling about 3/4 of the way to the top. Bake regular sized muffins for 20 – 25 minutes or until a toothpick inserted in the center comes out clean.
Copycat Starbucks Recipes
If pumpkin is one of my obsessions, then creating copycat Starbucks recipes is another. After you try this bread, you'll also want to give my other recreations of their classic fall drinks and treats a try.
Pumpkin Cream Cold brew coffee is a real treat. And thanks to my copycat recipe you can enjoy this all year long!
Pumpkin Scones served with coffee and tea are a hit with everyone, scone lover or otherwise. You'll love Cranberry Bliss Bars when the holiday season arrives–or before, if you just can't wait.
Starbucks Lemon Loaf is also a favorite in our house.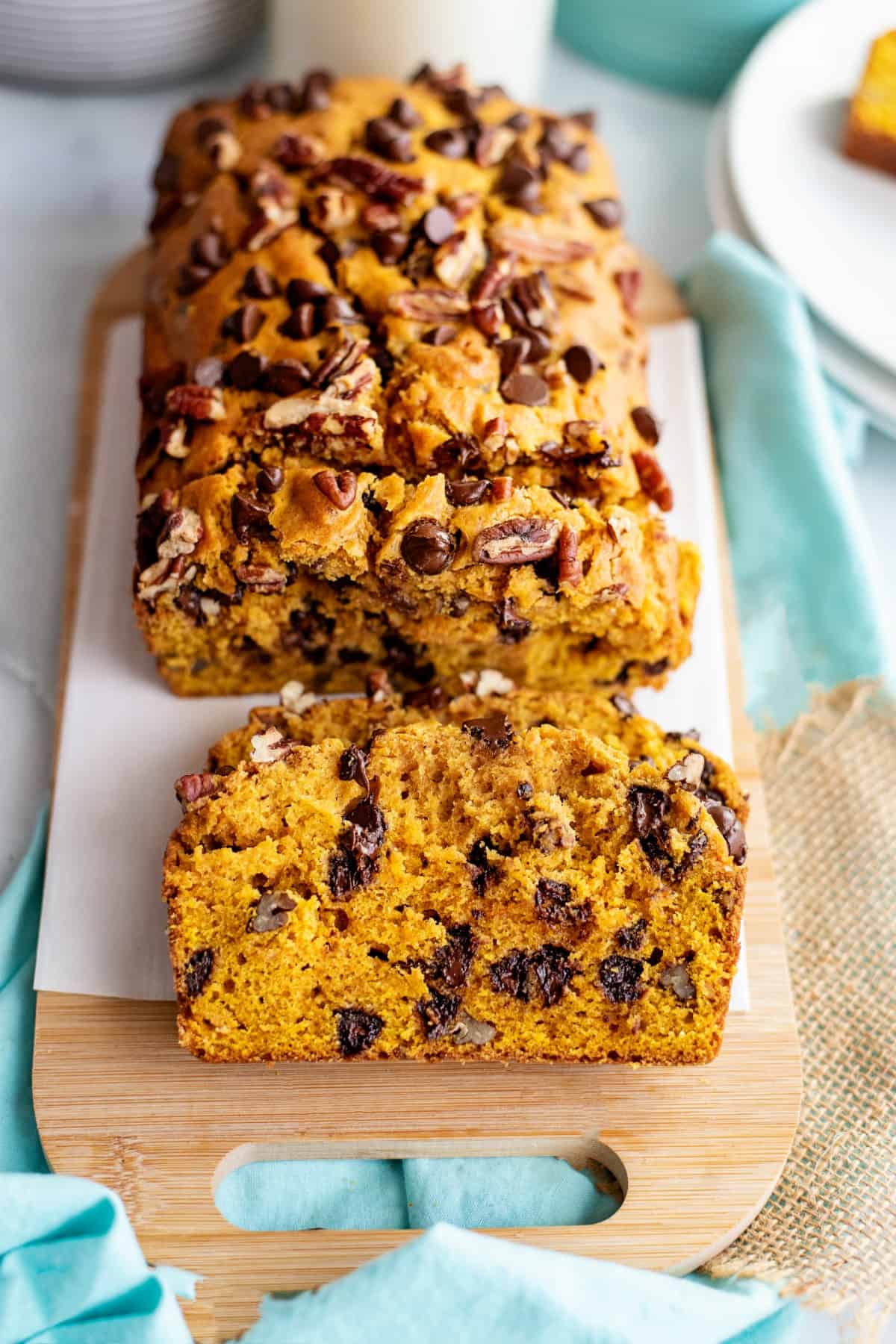 Recipe FAQs
Can I use pumpkin pie spice in place of other spices?
Yes for sure! Swap out the cinnamon and nutmeg for pumpkin pie spice instead.
How do you know when pumpkin bread is done?
To test if your bread is fully cooked, use a toothpick. Insert it into the center of the loaf, and if it comes out clean with only a few crumbs, the bread is ready to come out of the oven.
Does pumpkin bread need to be refrigerated after baking?
No! Store pumpkin bread in airtight container (I like to wrap in foil or place in a ziploc bag) at room temperature.
More Pumpkin Recipes
If you only make one pumpkin recipe this season, make it this moist, sweet and lightly spiced Pumpkin Bread! With a copycat Starbucks bread at home, you'll save time and money without missing out on your seasonal favorites!