Pumpkin Chocolate Chip Cheesecake Bars
The most delicious layered cookie bars you'll eat this year! Graham cracker crust topped with a creamy pumpkin cheesecake and chocolate chip cookie dough. Baked to perfection, these Pumpkin Chocolate Chip Cheesecake Bars NEED to be on your dessert table.
Be sure to sign up for my email…new recipes in your inbox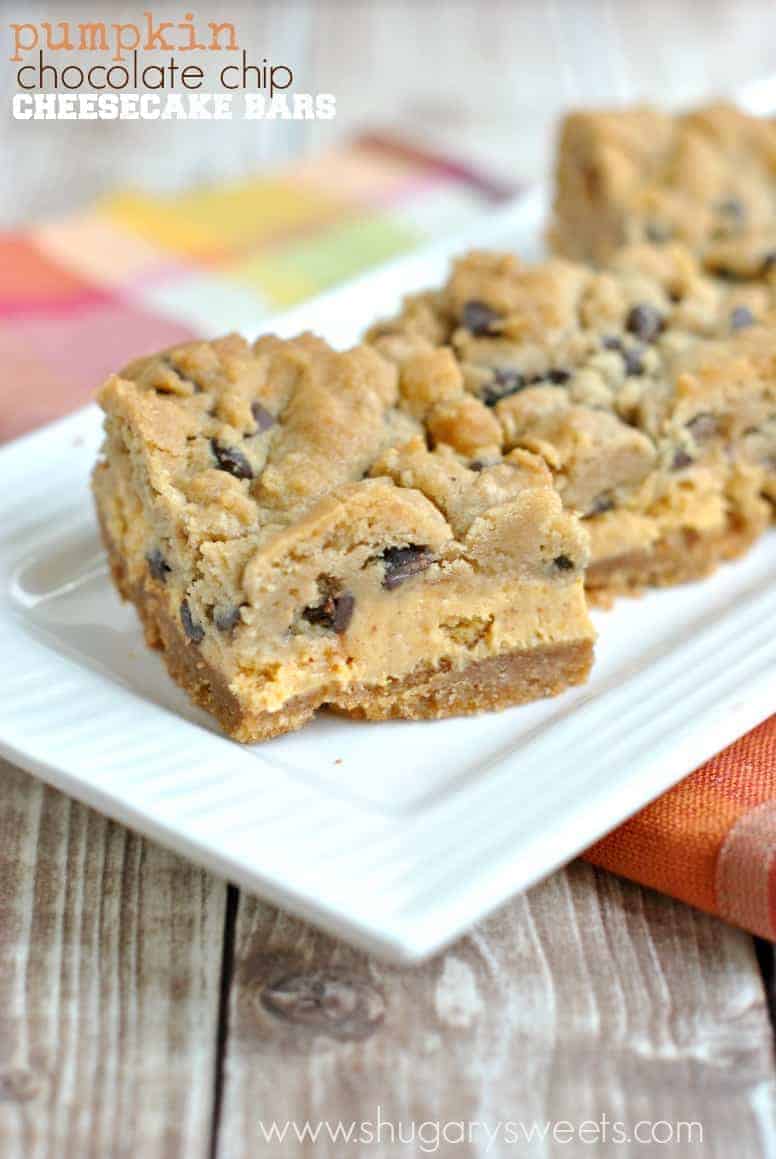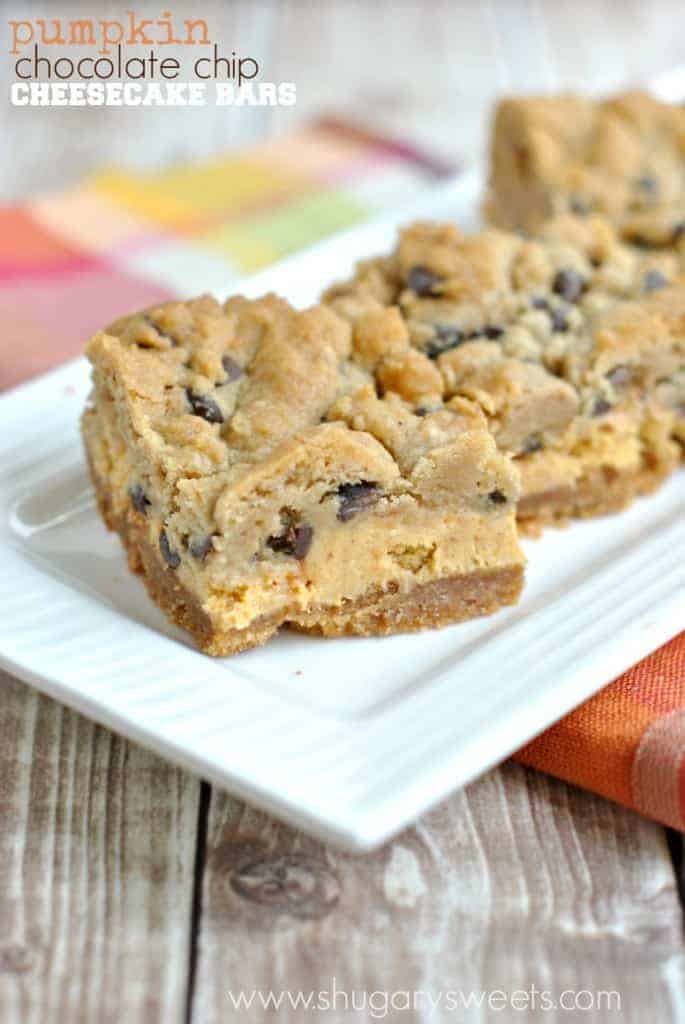 So last week I told you about my pumpkin baking woes. This week, my kitchen was on fire! Okay, maybe not the right analogy. My kitchen was rocking the pumpkin, and it all turned out delicious! I've got five new pumpkin recipes (with more in the works) ready to share this month!
As a food blogger, I'm always wondering when is the "right" time to share recipes for the next season or holiday. You hate to be like Target and have Christmas stuff out in August. But, you don't want to wait too long to share your favorite Easter treats because people plan their menus early (and so much of what we do as food bloggers relies on social media to help our photos/posts spread).
So, this year, I waited until after Labor Day to start sharing pumpkin on the blog. Don't get me wrong, I've been tweeting, instagramming and facebooking pumpkin photos for weeks now! But here on my site, today's recipe is the first pumpkin recipe of the season.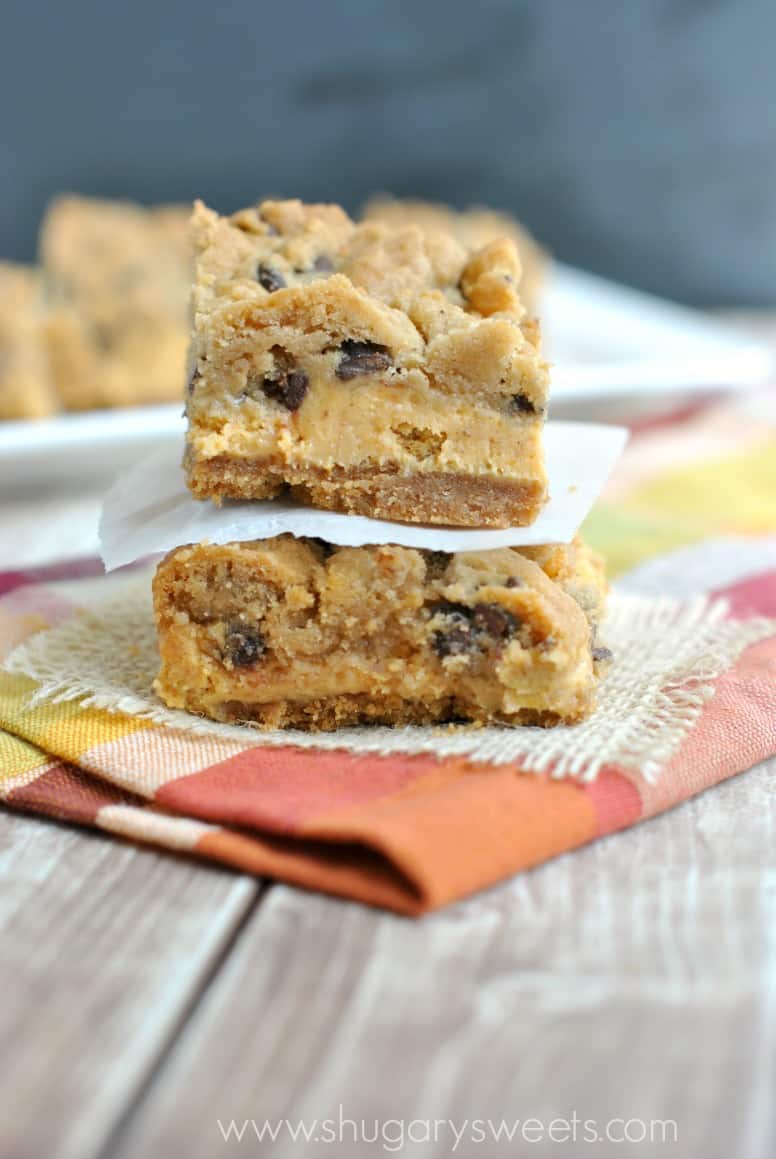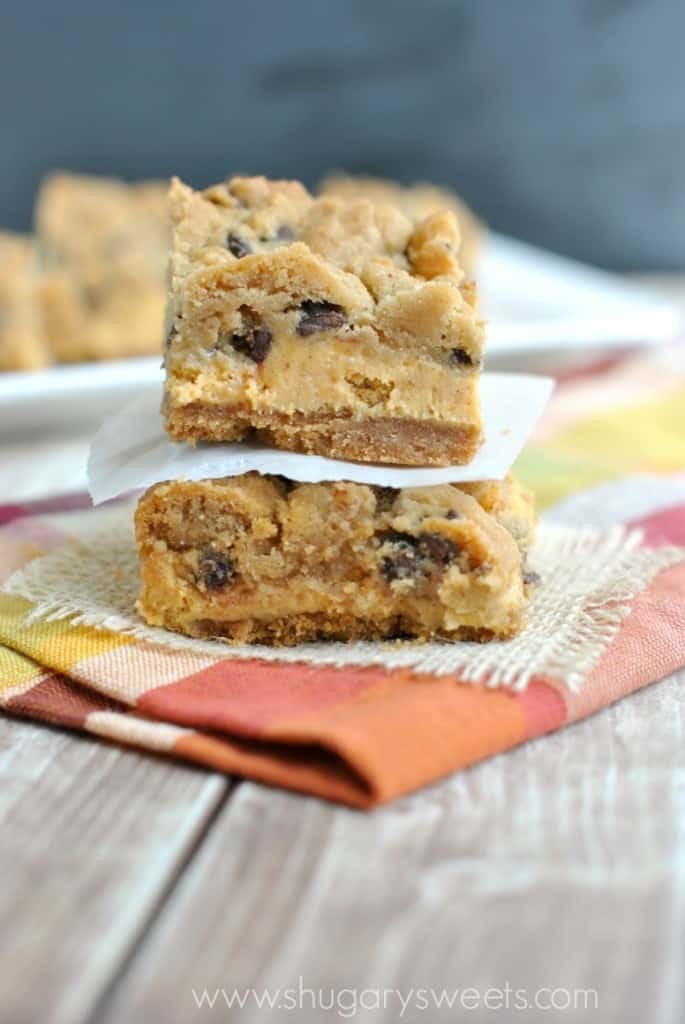 And it's a doozy. If doozy is a good thing, that is.
I wanted to make a batch of these Pumpkin Chocolate Chip Cheesecake Bars last year, but never got around to it (the season ended before I had the chance). So instead, I made this spring version with pastel candies. In that version I also used a homemade cookie recipe.
Today. I cheated. I used a family size roll of Pillsbury Chocolate Chip Cookie Dough. And you better not even think about judging me, because one bite of these cookie bars and you'd never know I cheated. The middle cheesecake filling is sweet and creamy like cheesecake should be! It also has a delicious pumpkin flavor with all the great spices that pair so nicely with pumpkin pie. And of course, these bars are not complete without the crunch of the graham cracker layer holding it all together.
ENJOY!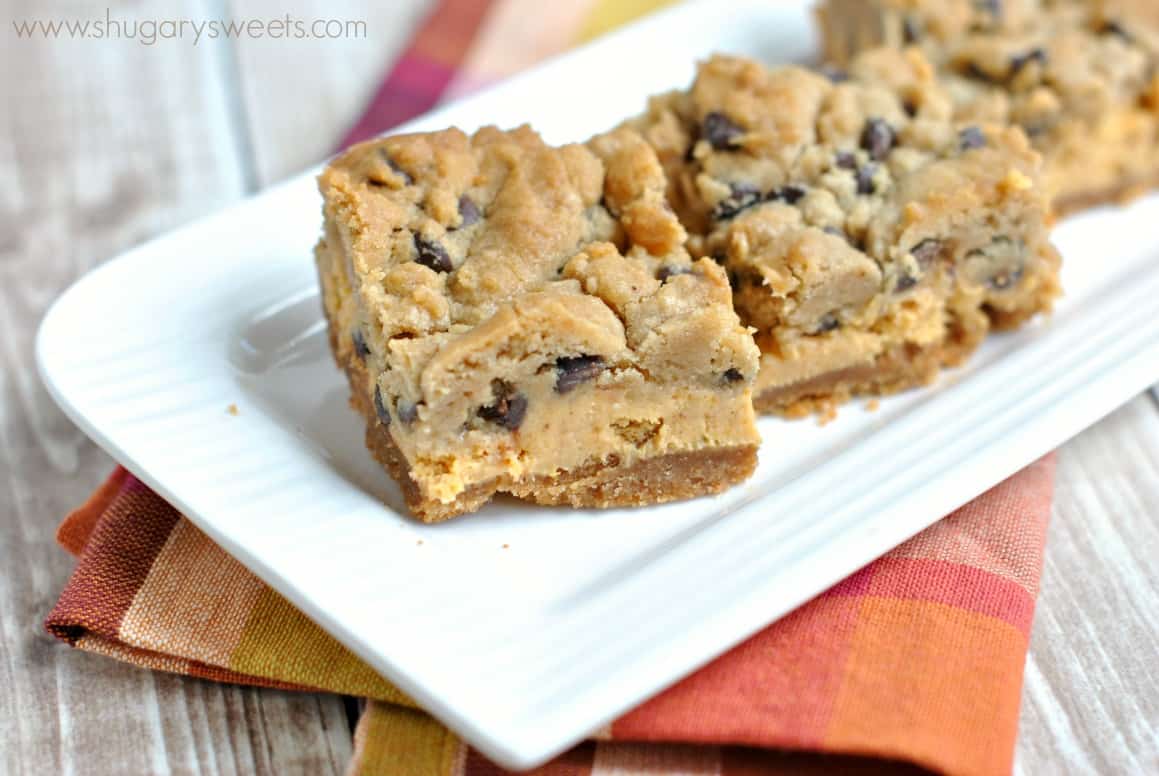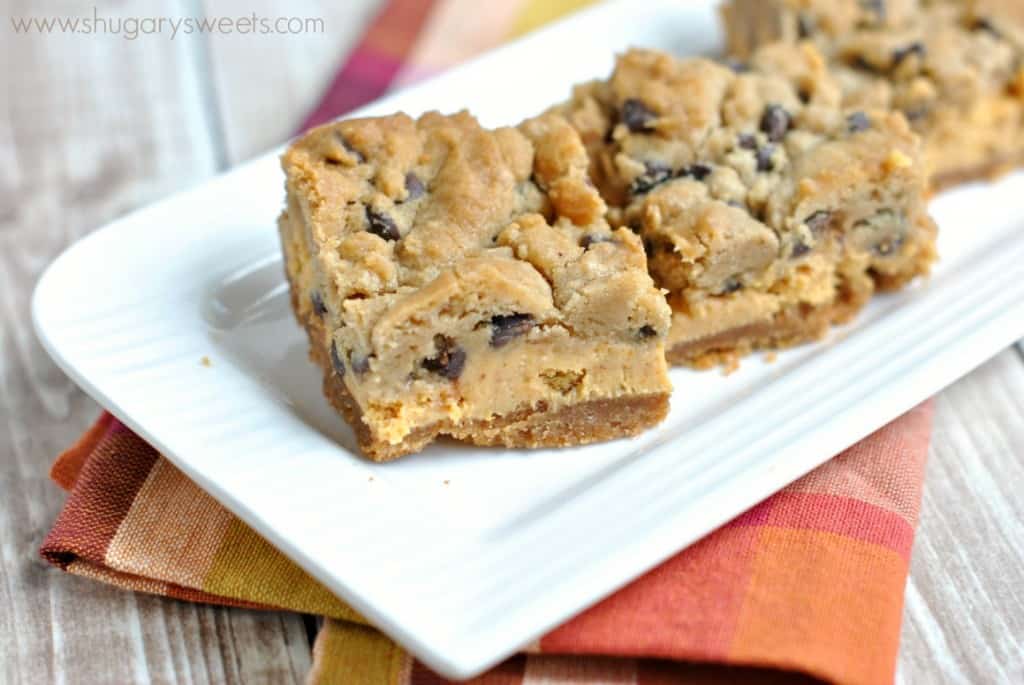 Connect with Shugary Sweets! Be sure to follow me on my social media, so you never miss a post!
Facebook | Twitter | Google+ | Pinterest | instagram | Bloglovin'
Yield: 24 bars
Pumpkin Chocolate Chip Cheesecake Bars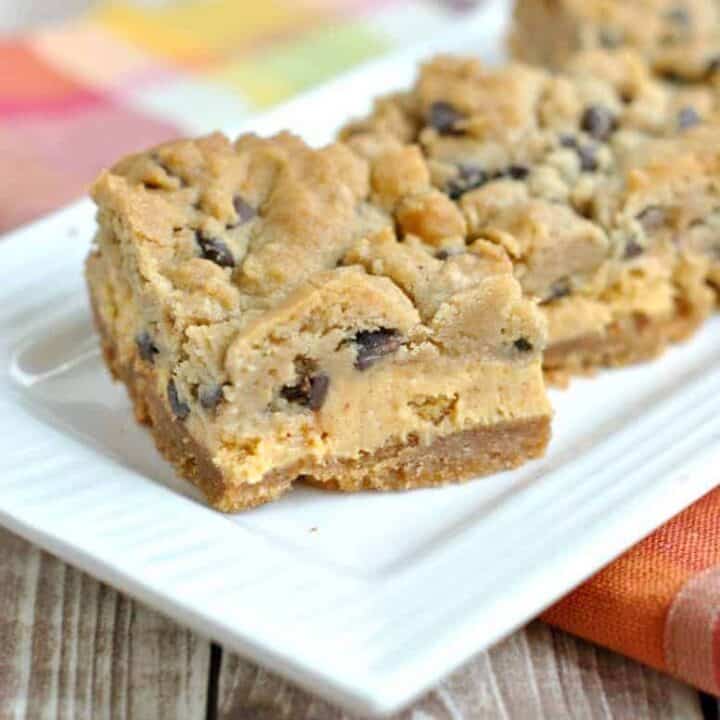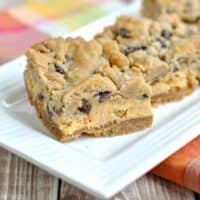 Ingredients
For the crust:
2 1/2 cup graham cracker crumbs (about 18 full size crackers)
1/4 cup granulated sugar
1/2 cup unsalted butter, melted
For the cheesecake:
2 package (8oz each) cream cheese, softened
3/4 cup granulated sugar
1 cup pumpkin (canned, NOT pumpkin pie filling)
1 tsp cinnamon
1/4 tsp ground cloves
1/4 tsp ground nutmeg
For the cookie dough:
1 package (30oz) refrigerated Pillsbury Chocolate Chip Cookie Dough
Instructions
For the crust, pulse graham crackers in a food processor until fine crumbs. Add sugar and melted butter, pulse until blended.
Line a 13x9 baking dish with parchment paper. Press crumbs into bottom of pan until evenly pressed.
In a large mixing bowl, beat cheesecake layer ingredients for 3-5 minutes until blended and smooth. Pour over crust layer.
Either make your own cookie dough using this recipe for the cookie layer. Or (

CHEAT ALERT!!!

) use the refrigerated cookie dough and crumble the dough over the cheesecake layer.
Bake in a 350 degree oven for about 30-35 minutes, center may still seem wiggly, it's okay.
Cool pan completely, then refrigerate for 3-4 hours (or overnight). Once completely chilled, cut into bars and enjoy.
Store cookie bars in refrigerator for up to 4 days. Or, freeze in an airtight container until later.
 Are you loving Pumpkin recipes? Be sure to check out my Pinterest Board: The Great Pumpkin!
Follow Shugary Sweets's board The Great Pumpkin on Pinterest.
Here are some of MY favorite Pumpkin recipes, although it was so hard to choose!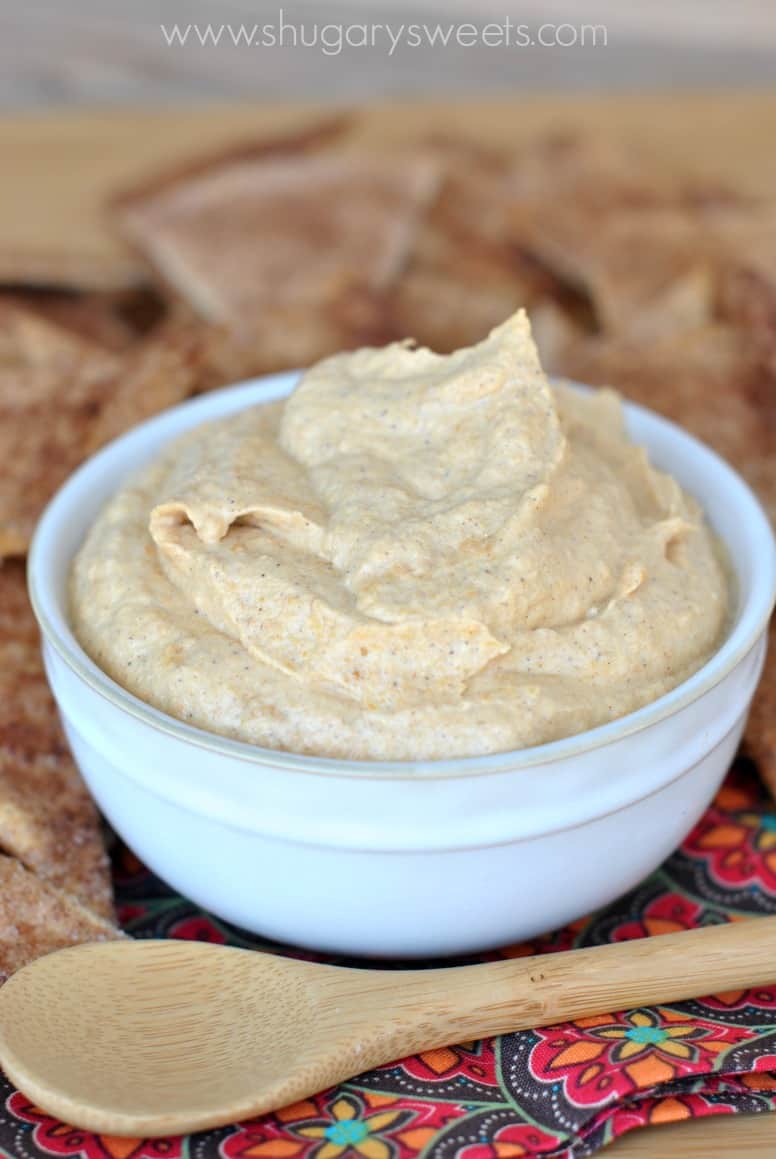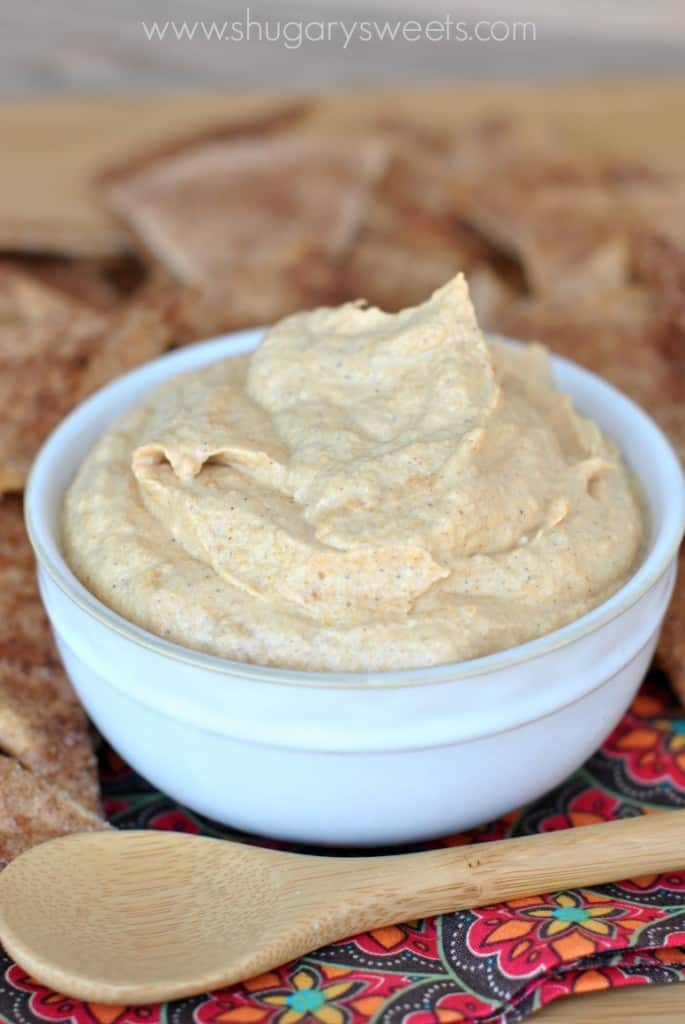 Pumpkin Pie Dip: a delicious creamy dip, perfect for cinnamon chips or apples!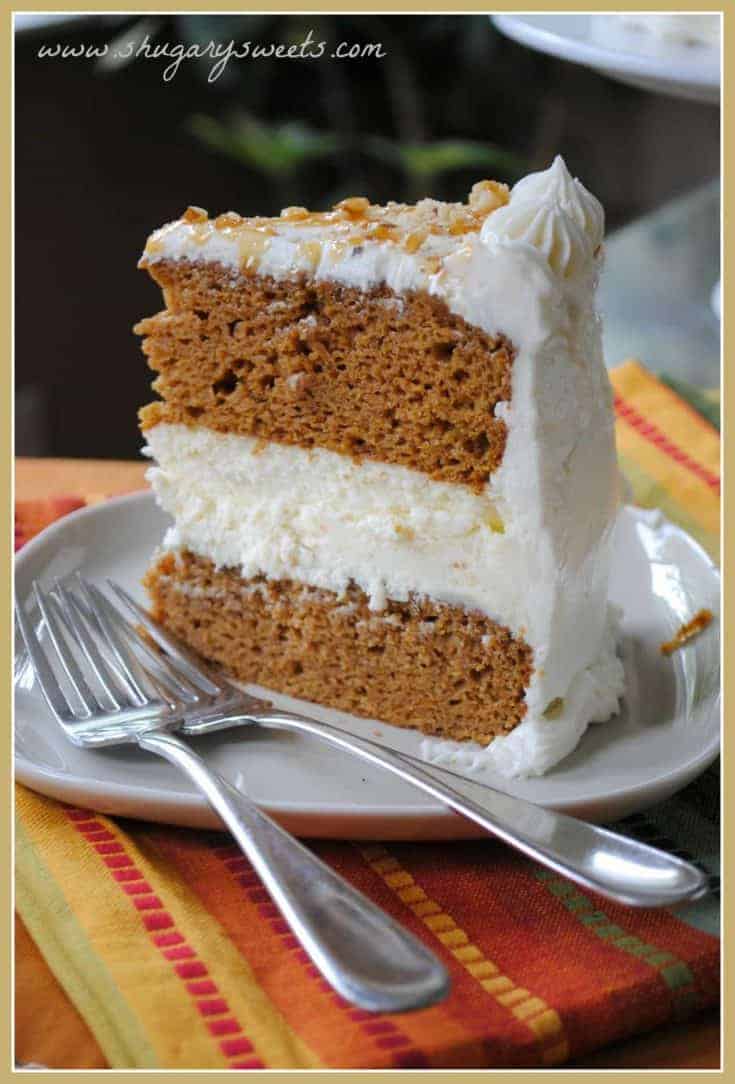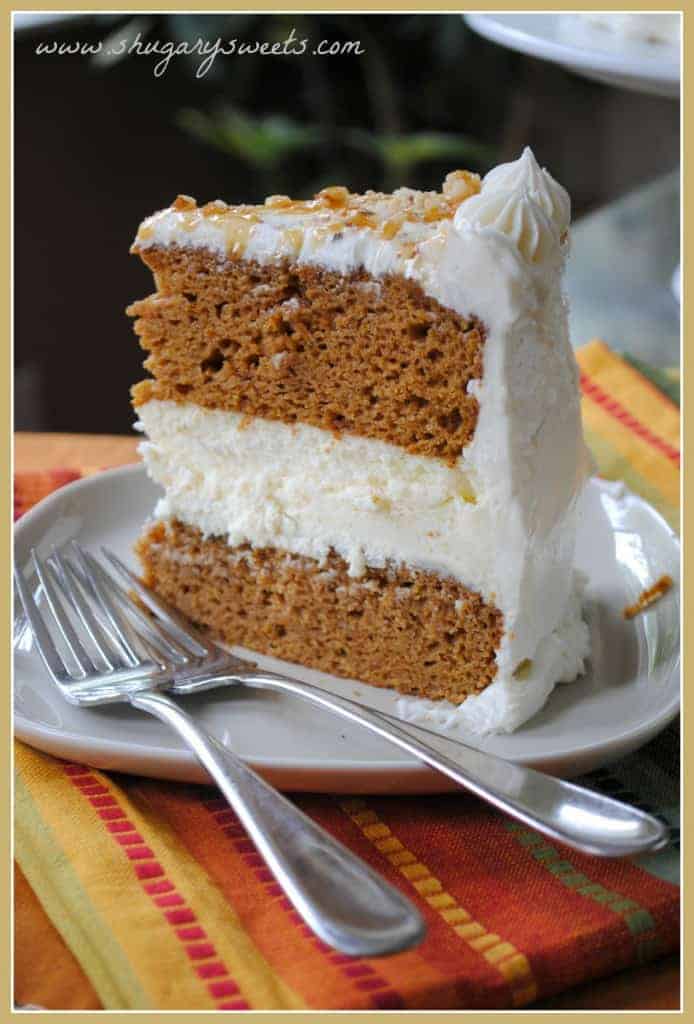 Pumpkin Cheesecake Cake: two layers of pumpkin cake with a creamy cheesecake layer between. Covered in cream cheese frosting!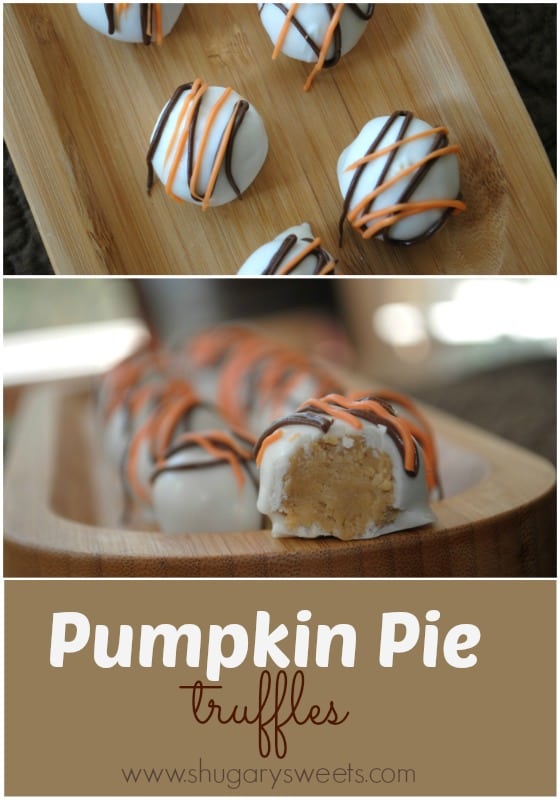 Pumpkin Pie Truffles: delicious bite sized candy that tastes like your favorite holiday pie!