The best Pumpkin Cheesecake Bars recipe is here, packed with flavor and easy to make! You'll love the moist pumpkin cake with sweet cheesecake piped throughout! The perfect fall dessert.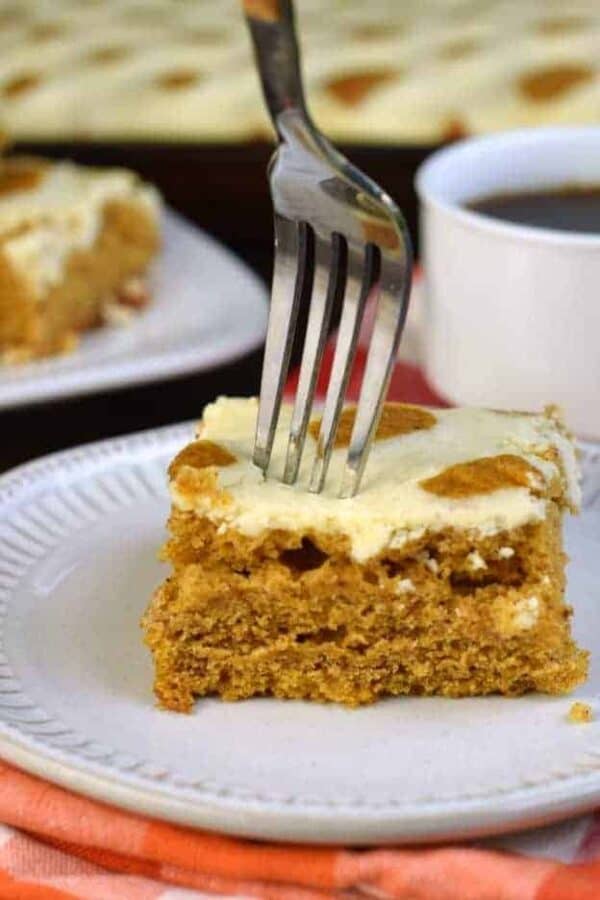 Click HERE to save recipe to Pinterest
It's no secret that I love all things pumpkin. I mean, one look into my Pumpkin archives and you'll find a little bit of everything. From sweet Pumpkin Cookie Dough Truffles to savory Pumpkin Chili (and everything in between).
A few years ago I made these Butter Pecan Frosted Pumpkin Bars. They are legit. The pumpkin cake is soft and moist and packed with flavor, and the frosting is so amazing! You've got to try them.
I love combining pumpkin with cheesecake. I think they go hand in hand. Like this Pumpkin Cheesecake Cake? It's one of my most popular cake recipes (and pumpkin recipes) on the website. People make it every holiday and it gets rave reviews!
Today's recipes is a Pumpkin Swirled Cheesecake Bars treat. Okay, so maybe it's not quite SWIRLED. I thought it would be fun to pipe on some diagonal lines onto the top of my cake. I guess I didn't expect them to expand so much that the orange barely peeks through!
It's okay though, they still are wonderful. And you can totally swirl it if you prefer. Or top these Pumpkin Cheesecake Bars with some creamy frosting!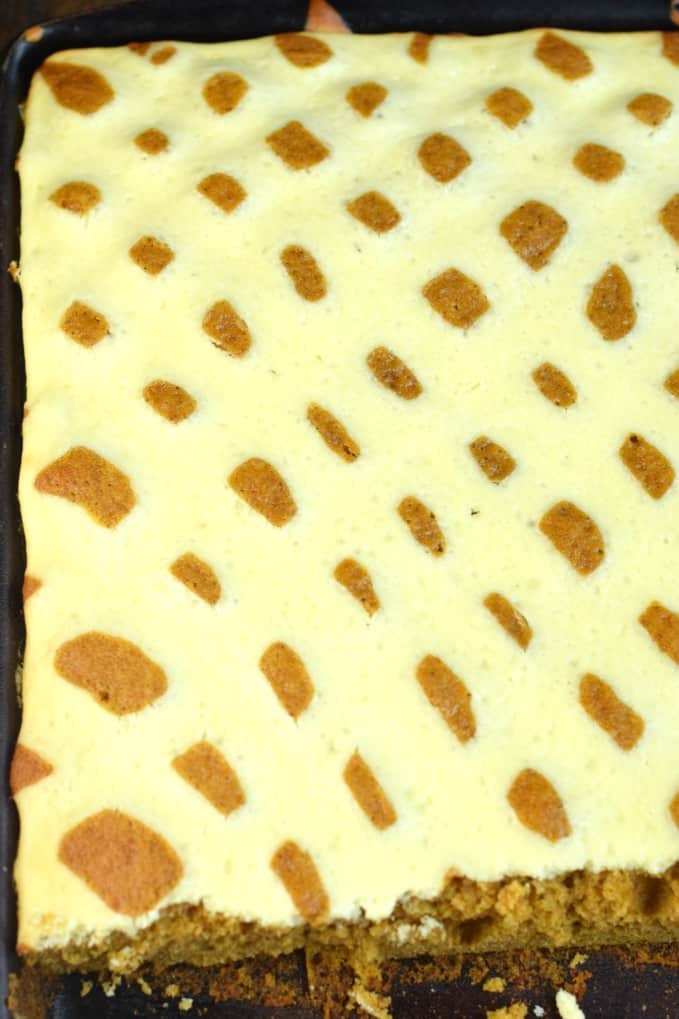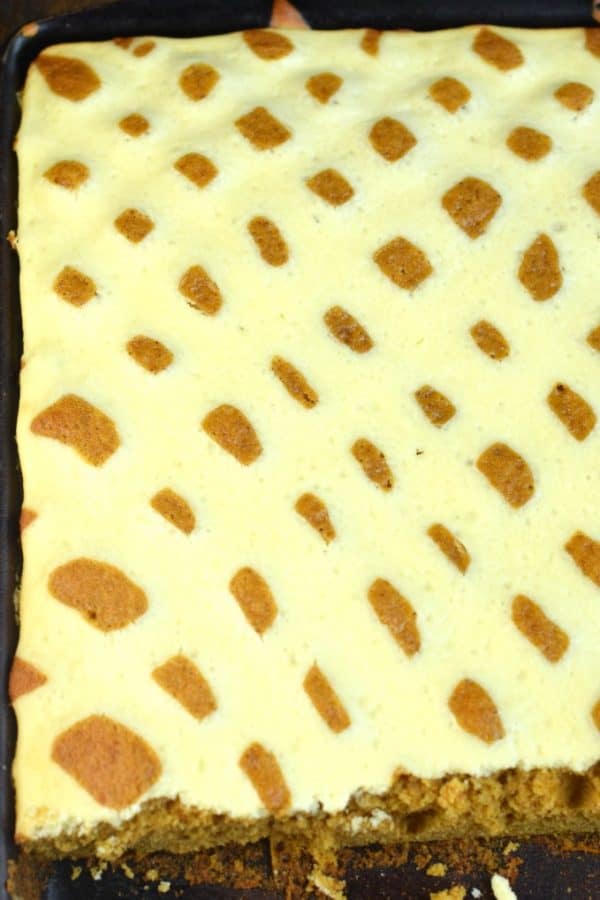 How to make Pumpkin Cheesecake Bars
First, grease your baking sheet generously with baking spray or Crisco (lard) and flour. Preheat oven to 350 degrees F.
Next up, beat your eggs, pumpkin, sugar, and melted butter until smoooth. Add the remaining ingredients for your pumpkin bars and beat until fully combined (about 2-3 minutes). Pour this batter into your greased baking sheet.
For the cheesecake swirl, beat cream cheese, sugar, flour, vanilla, and eggs until smooth, about 3-4 minutes. Spoon into a large ziploc bag, snip off the corner, and pipe onto the top of your pumpkin batter. Either make diagonal lines (like I did), or pipe thick lines and use a knife to swirl the cheesecake into the batter.
Bake for 25-30 minutes. Remove and cool. Slice and ENJOY! Refrigerate once cooled.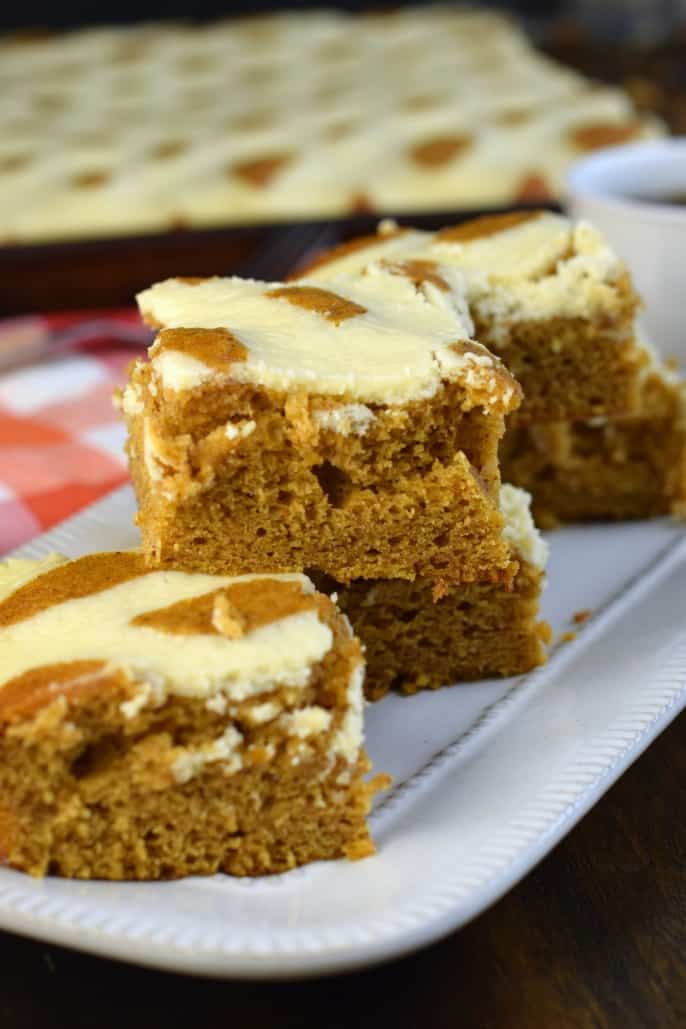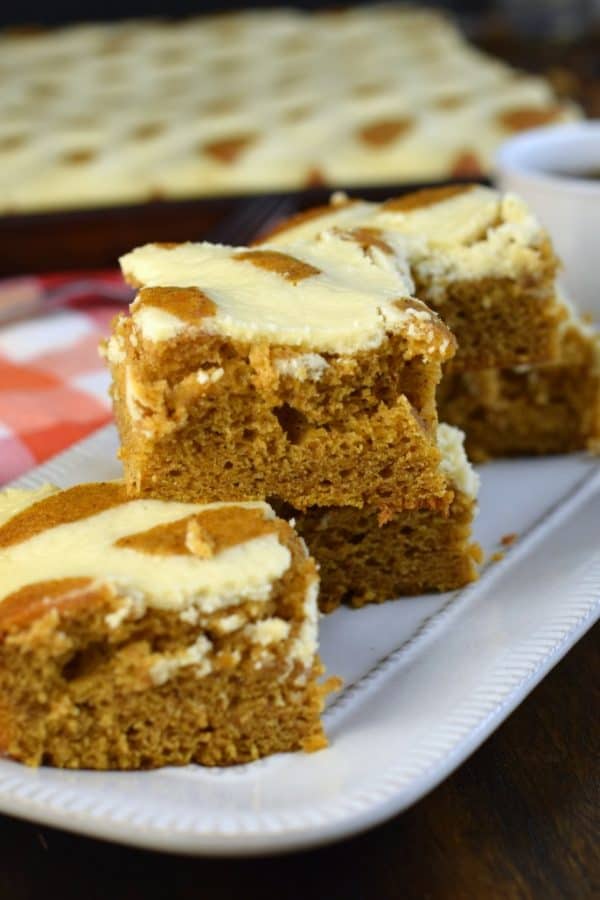 You can freeze Pumpkin Cheesecake Bars
Once your bars are cooled, slice and place into a large freezer safe ziploc bag, or a freezer safe airtight container. Place your slices in single layers (if stacking, place parchment paper between layers).
Freeze for up to 3 months. To thaw, place container in refrigerator overnight. ENJOY!
These Easy Pumpkin Cheesecake Bars are going to be a hit at your next holiday party!
Looking for more pumpkin recipes? Here are some of my favorites:

Pumpkin Cheesecake Recipes
The most delicious layered cookie bars you'll eat this year! Graham cracker crust topped with a creamy pumpkin cheesecake and chocolate chip cookie dough. Baked to perfection, these Pumpkin Chocolate Chip Cheesecake Bars NEED to be on your dessert table.
How about a No Bake Pumpkin Cheesecake recipe? This easy, no bake pumpkin cheesecake sits on top of delicious crushed gingersnaps! Perfect for the holidays!
Pumpkin Cheesecake for breakfast? Why yes, it's possible! These Pumpkin Cheesecake Crescent Rolls are the perfect breakfast on a chilly morning. Don't forget the cream cheese glaze!
Tips for Pumpkin desserts
Pumpkins come in a variety of sizes. If you're using FRESH pumpkin, be sure to choose the right pumpkin. For baking, look for sugar pumpkins rather than the larger ones used for jack-o'-lanterns. The smaller varieties are sweeter, fleshier, and less watery.
If using canned pumpkin, choose the PURE PUMPKIN PUREE. I find canned pumpkin purée is as good or better than fresh. Look for cans labeled "solid-pack" rather than "pumpkin pie filling" (which has other ingredients added). You want to be able to season it yourself!
Speaking of seasonings…pumpkin can be bland. So be sure to be generous with those aromatic spices. I love using cinnamon, nutmeg, cloves, cardamom, and allspice in my pumpkin recipes! There is nothing worse than taking a bite of Pumpkin Bread only to find it taste bland. SEASON!!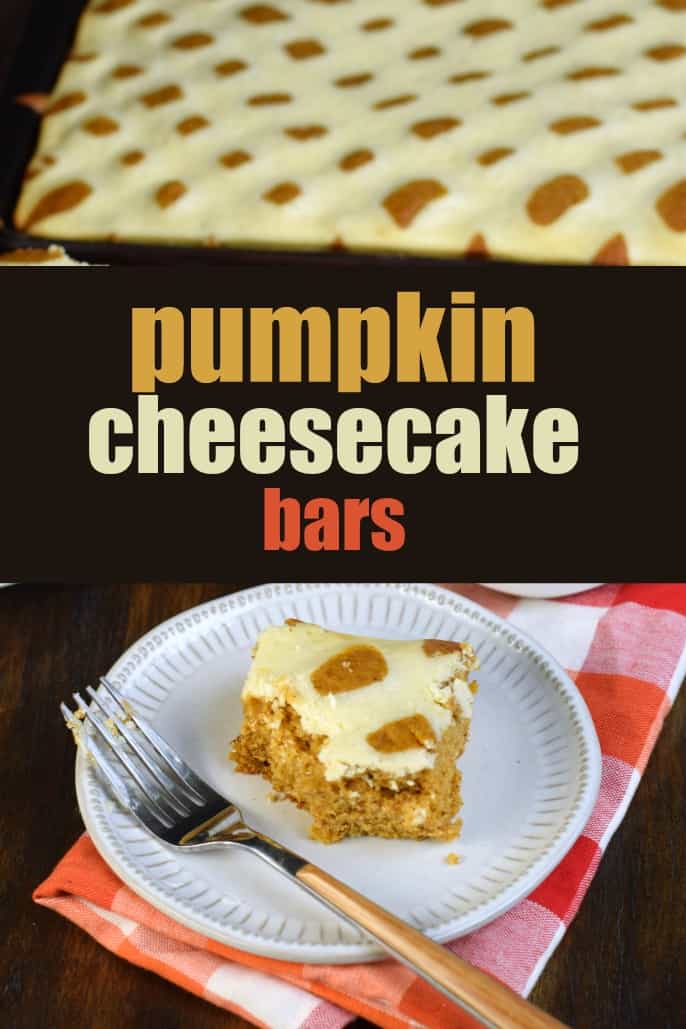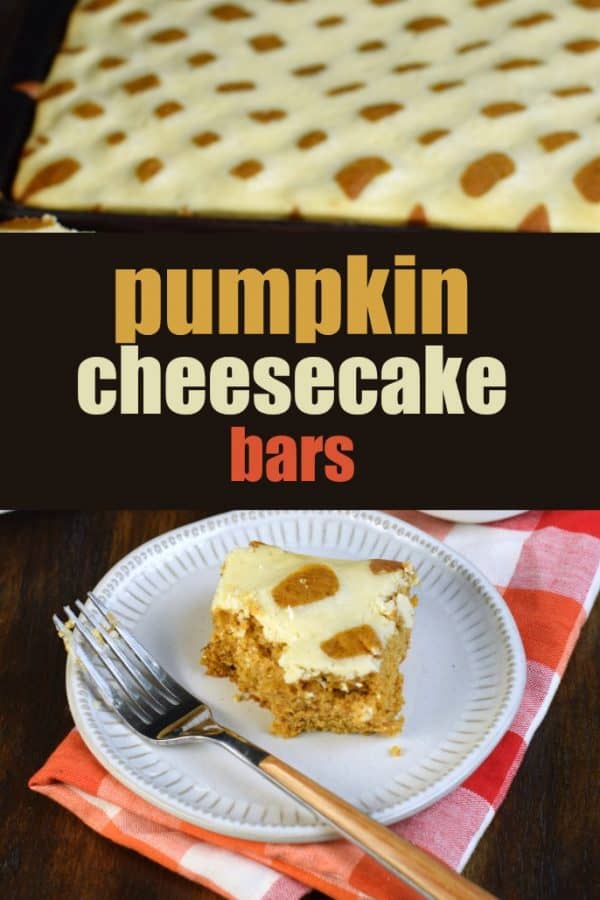 What do I need to make Pumpkin Cheesecake Bars recipe?
15x10x1-inch baking sheet. This makes a big delicious cake, but remember like I mentioned above, you can freeze some if it's too much!
Large mixing bowls
Pure pumpkin puree (not pumpkin pie filling)

Connect with Shugary Sweets!
Be sure to follow me on my social media, so you never miss a post!
Facebook | Twitter | Pinterest | instagram 
Sign up to receive an email in your inbox for each new recipe:
FREE EMAIL SUBSCRIPTION
If you LOVE this recipe, be sure to stop on over in my Pinterest Community to share a picture of YOUR dish! Or share it on Instagram and tag me #shugarysweets so I can see it!
I created a fun little group on facebook and I'd love for you to join in! It's a place where you can share YOUR favorite recipes, ask questions, and see what's new with Shugary Sweets (so that you never miss a new recipe)! If you'd like to check it out, you can request to join HERE.