Butter Pecan Frosted Pumpkin Bars
The most perfect Pumpkin Bars with a sweet Butter Pecan Frosting. These frosted pumpkin bars will seriously make you swoon! Share a pan with friends and family this holiday season!
***This post is sponsored by Fisher Nuts. I am excited to be a partner in creating delicious recipes, all opinions are 100% my own***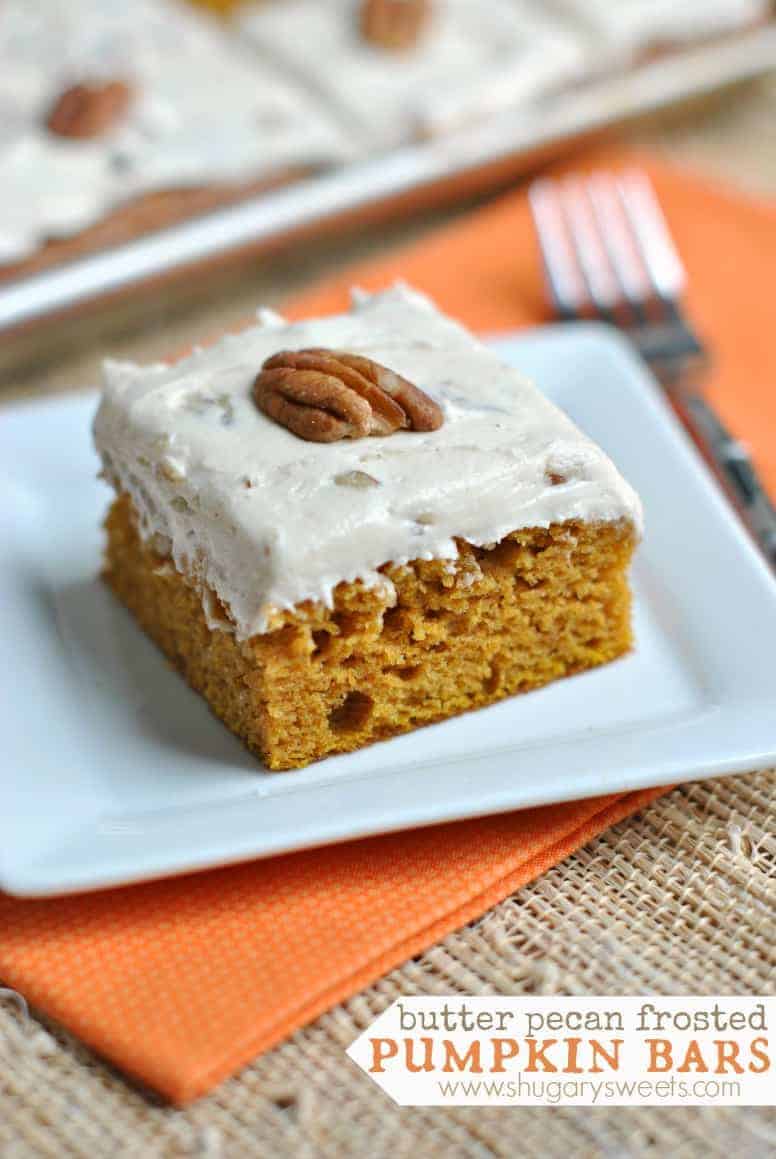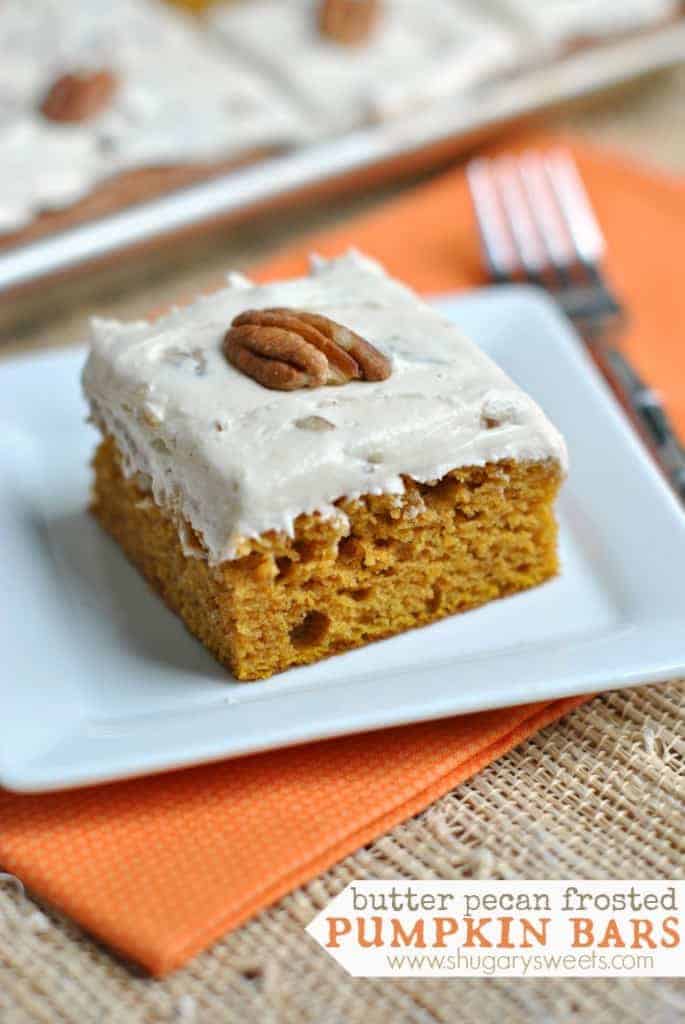 I warned you guys that I've got a lot of pumpkin recipes this year. Actually, I have a lot of pumpkin recipes EVERY year. But just when I think I've shared "the best" with you…I go back to my kitchen and create another masterpiece! (conceited much?)
Today's recipe will seriously leave you wanting more. These pumpkin bars are moist and delicious. And totally full of flavor. Because you don't want to bite into an unflavored pumpkin bar. I've done that. It's not good. It's boring and bland. Just like you need to adequately season meat…you also need to adequately season pumpkin desserts!
As you can see I went and topped these with some frosting. Butter Pecan frosting to be exact!
Butter Pecan is one of my favorite ice creams, so it seemed only fitting that as we say goodbye to summer, we make the transition smooth. My favorite ice cream flavor meets my favorite fall flavor!
This creamy butter pecan frosting is also chock full of chopped Fisher Nut pecans!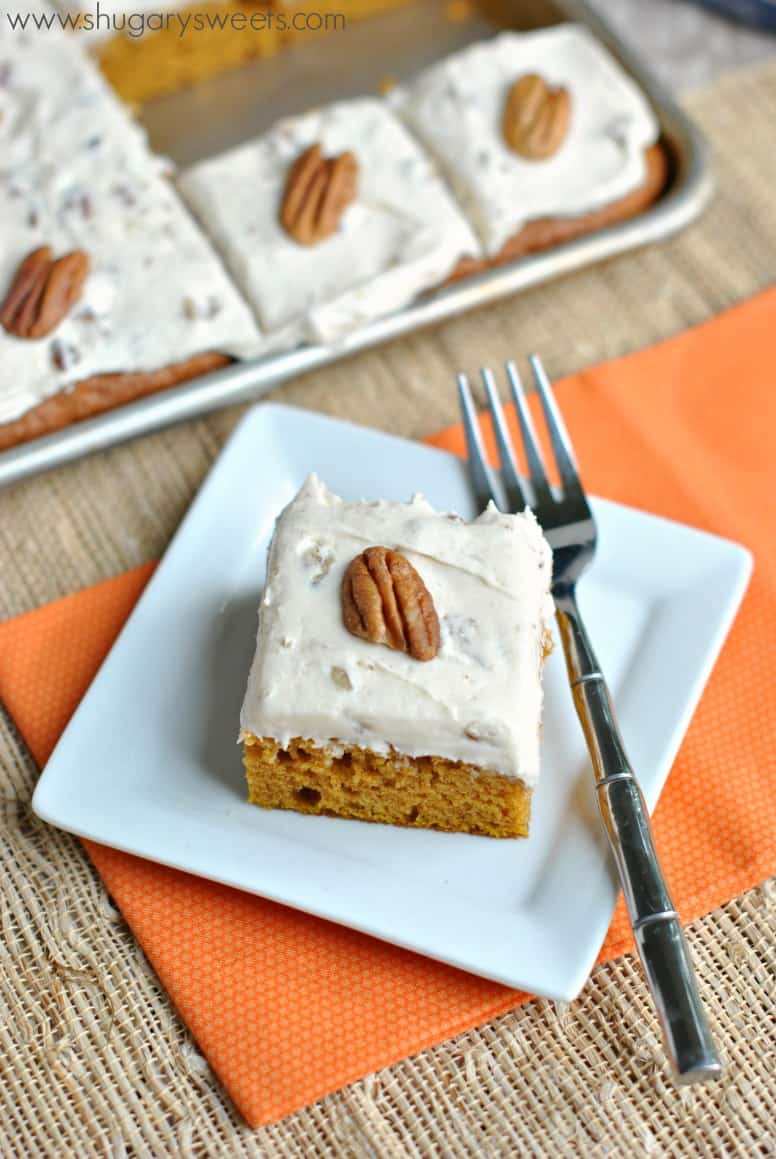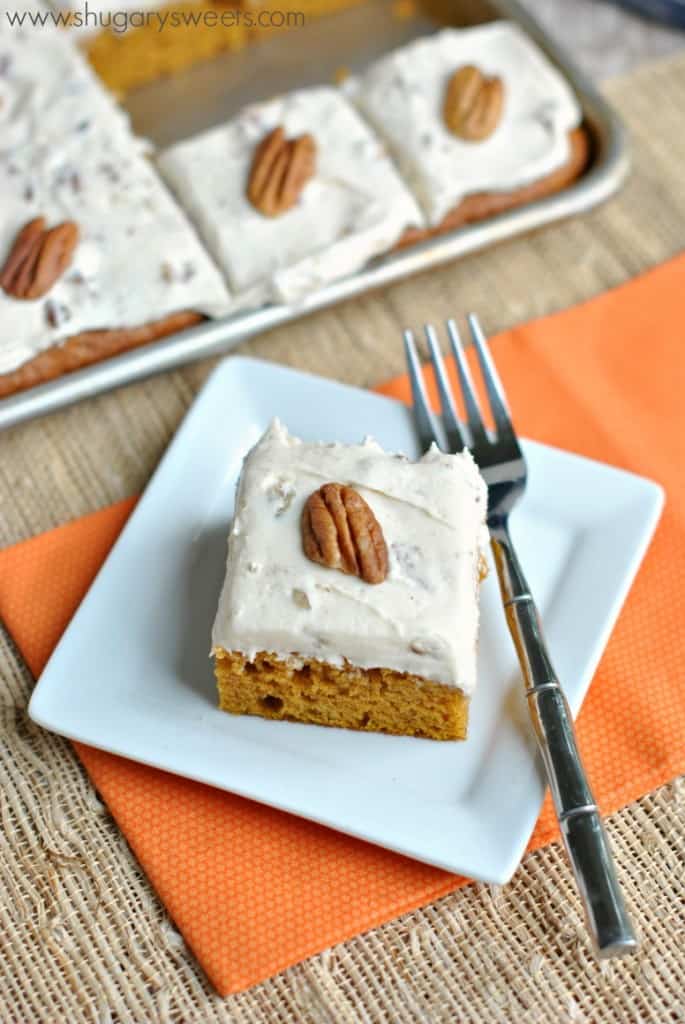 I'm back again this year sharing some of my favorite recipes with Fisher Nuts. When they asked me to create a recipe with fall flavors and seasonal ingredients…it was obvious in my mind I had to make a pumpkin treat.
This recipe makes a big pan of pumpkin bars. As in, a 15x10x1 inch pan. I know for some of you, unless you have a big family or a crowd to feed…that's a lot of pumpkin bars.
I'll have you know that I tested these after freezing them. I cut the bars into individual portions and placed them into an airtight freezer safe container (tupperware). The bars were already frosted at this point. When I was ready to serve them again, I took the container out of the freezer and allowed the bars to thaw at room temperature. Basically, by the time our dinner was done, the dessert was ready. You can also thaw these in your refrigerator overnight.
The frosting stayed perfectly set, and the bars remained moist! How easy is that? It's a great idea to keep on hand for unexpected guests over the holidays!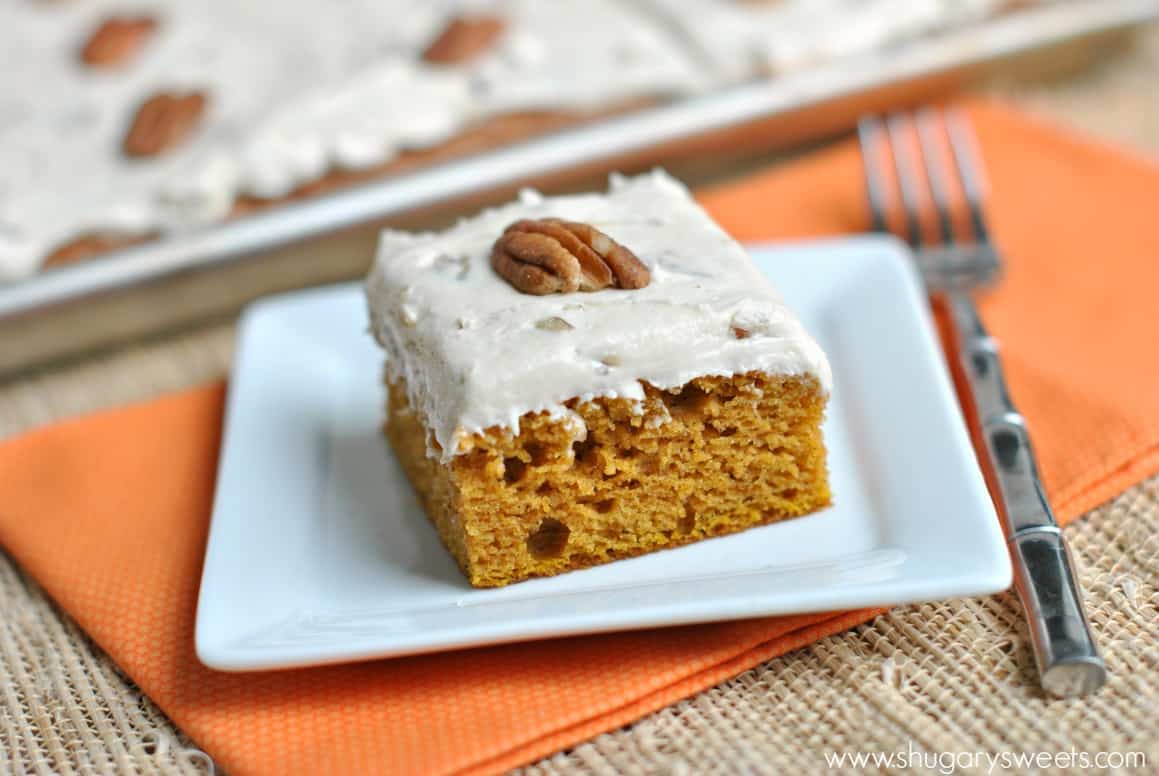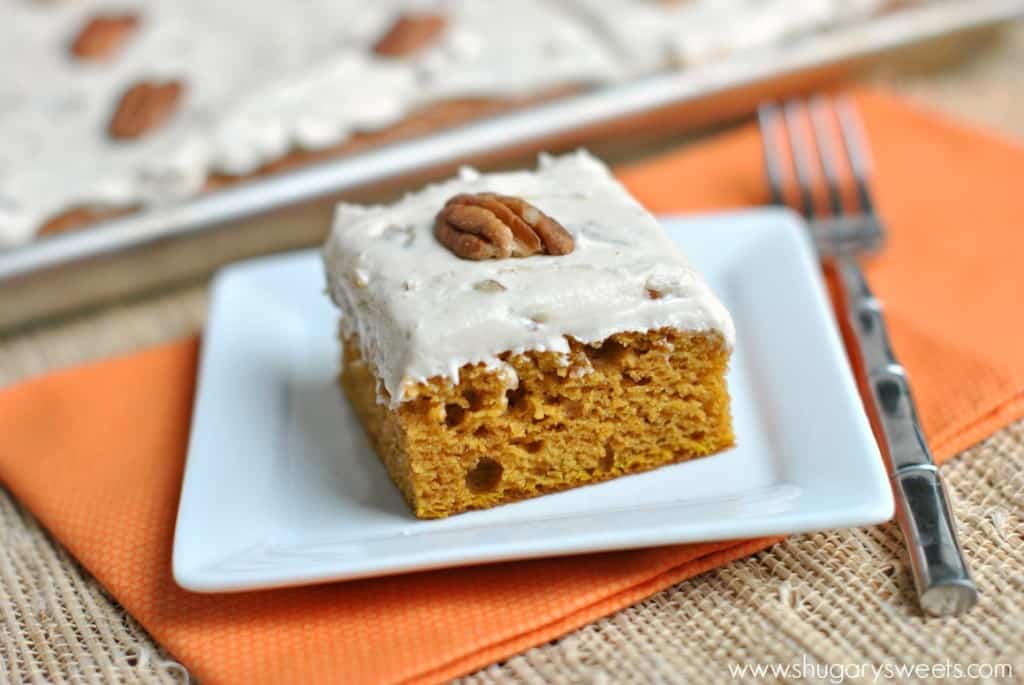 Connect with Fisher Nuts:
website | facebook | pinterest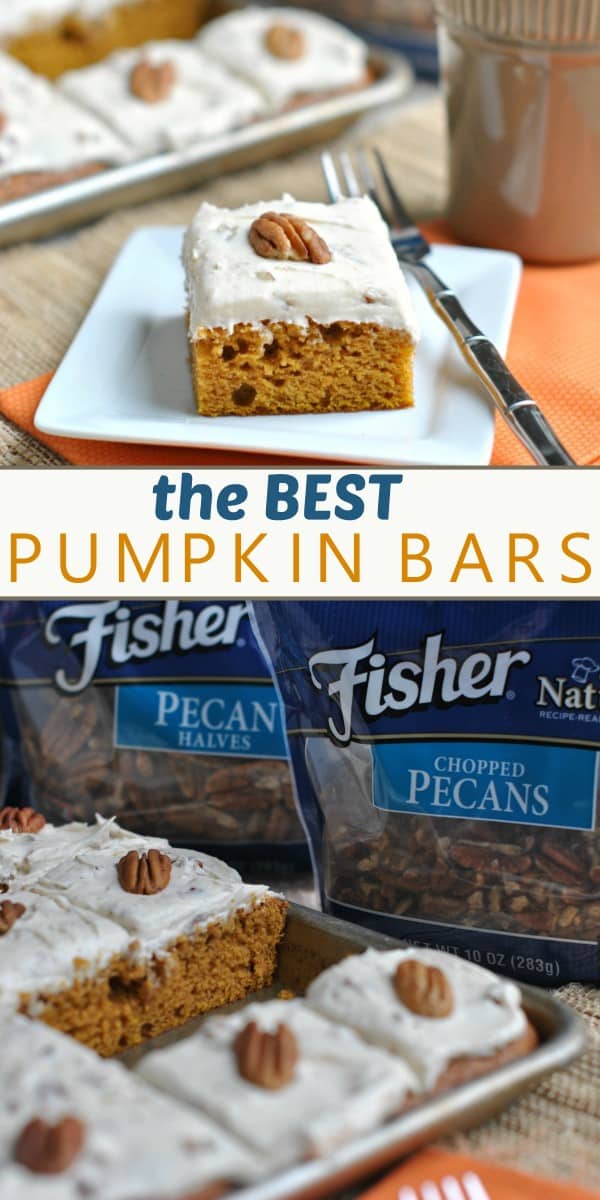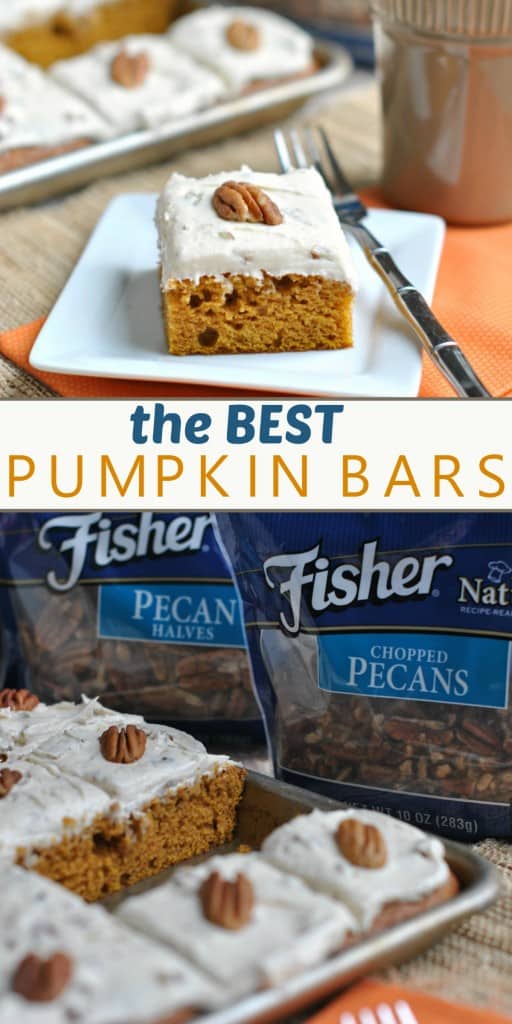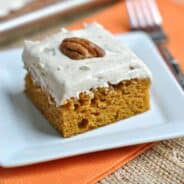 Butter Pecan Frosted Pumpkin Bars
Yield: 24 bars
Prep Time:15 minutes
Cook Time:30 minutes
Ingredients:
For the bars:
4 large eggs
2 cup granulated sugar
1 can (15oz) pumpkin
1/2 cup unsalted butter, melted
2 cup all-purpose flour
2 tsp baking powder
1 tsp baking soda
1/2 tsp ground cloves
1/4 tsp ground nutmeg
2 tsp ground cinnamon
For the frosting:
1/2 cup light brown sugar, packed
2 Tbsp unsalted butter
1/4 cup milk
1/2 cup unsalted butter, softened
3 cup powdered sugar
1/2 cup Fisher Nut chopped pecans
24 Fisher Nut pecan halves
Directions:
In a large mixing bowl, beat eggs, sugar, pumpkin and melted butter until smooth. Add remaining ingredients for the pumpkin bars and beat for 2-3 minutes until fully combined.
Pour batter into a lightly greased 15x10x1inch baking sheet. Bake in a 350 degree oven for 25-30 minutes.
Remove and cool completely before frosting.
For the frosting, combined brown sugar, 2 Tbsp butter and milk in a small saucepan over low heat. Whisk until sugar is dissolved. Remove from heat and cool completely.
In a large mixing bowl, beat 1/2 cup softened butter with powdered sugar. Pour in COOLED brown sugar mixture. Beat for 3-4 minutes until light and fluffy. Fold in chopped pecans.
Spread over cooled pumpkin bars. Press pecan halves gently into top of bars. Cut and store in airtight container in refrigerator.  Or, freeze until ready to use.
MAKING THIS RECIPE? Share it with me on Instagram using the hashtag #ShugarySweets so I can see what you're cooking up in the kitchen!
Here are a few of my favorite FISHER NUT recipes on the blog: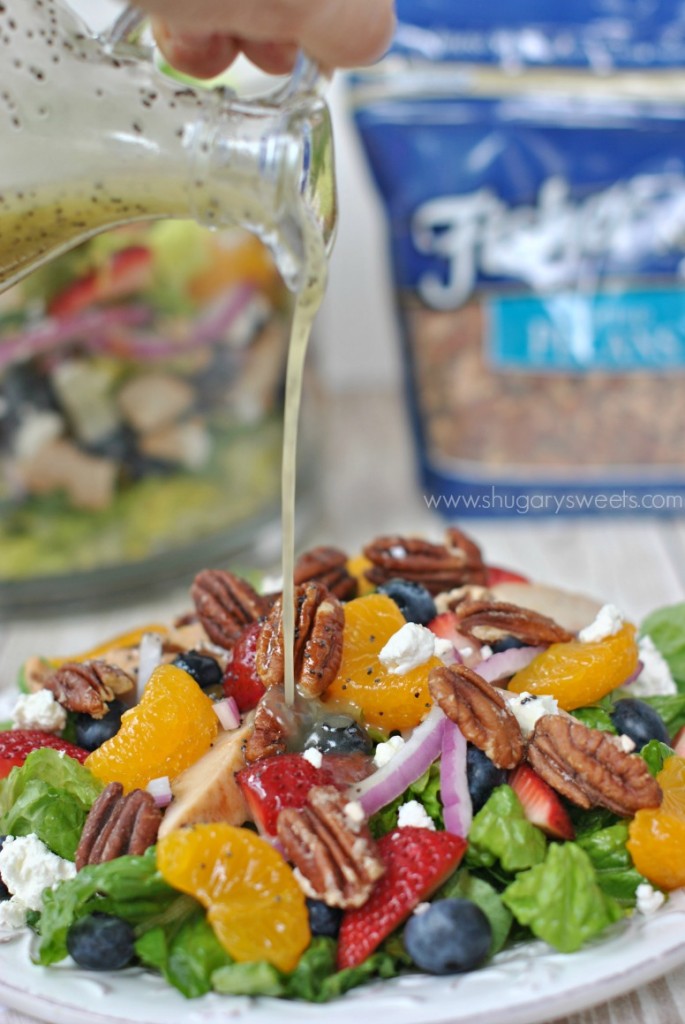 Strawberry Pecan Salad with a Poppyseed dressing. So light and refreshing!!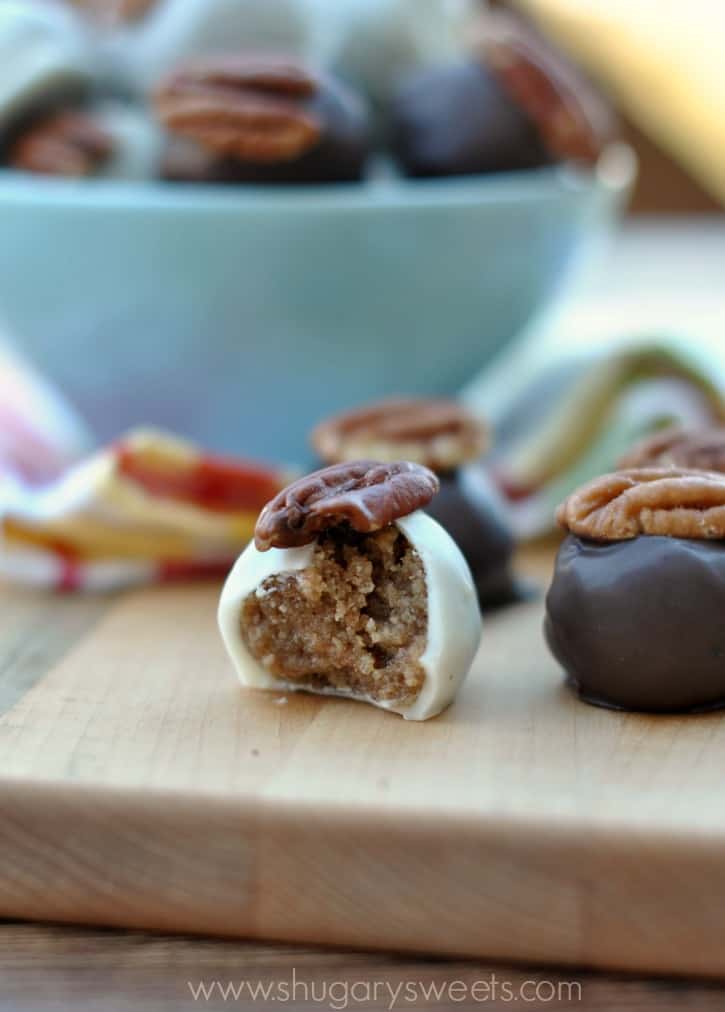 Pecan Pie Truffles: one bite and you will understand why you need this on your holiday dessert table. A fun twist on a classic pie recipe!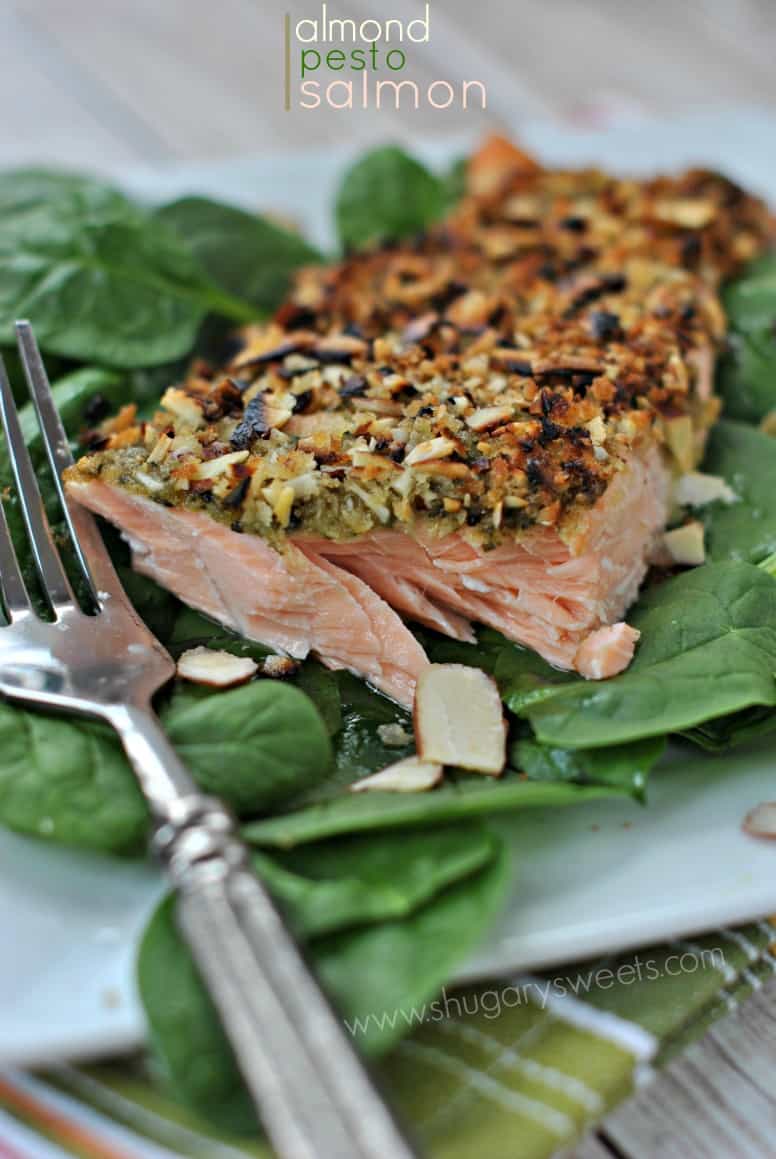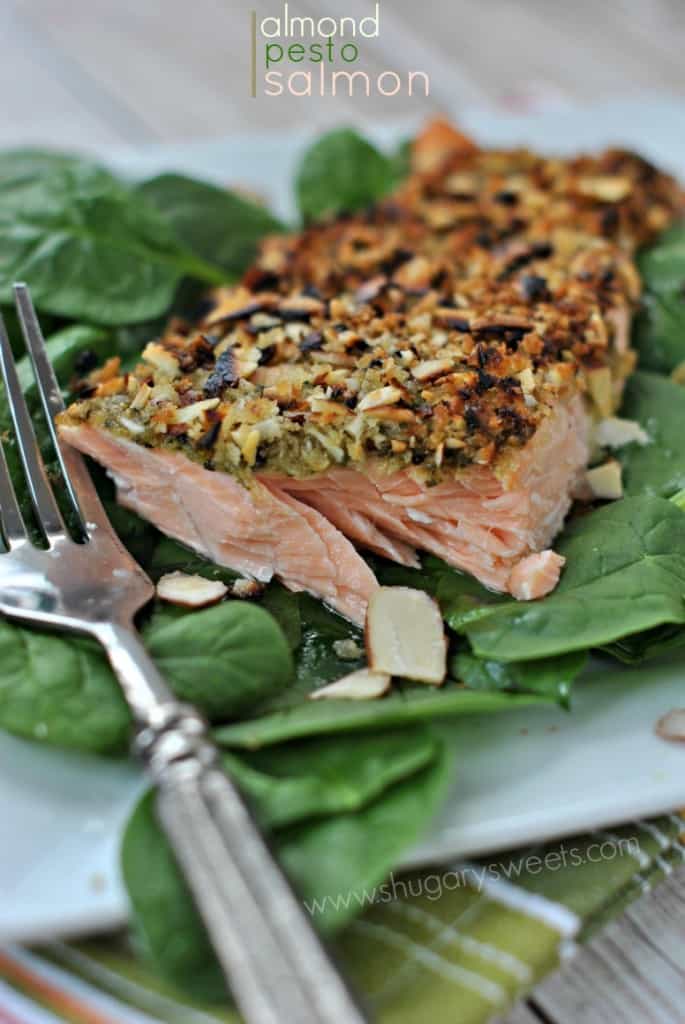 Almond Pesto Salmon. Make this perfect, flaky salmon at home with my easy recipe!
**This is a sponsored post on behalf of Fisher Nuts. I'm a part of the Fishers Fresh Thinkers. I was compensated for my time, however all opinions expressed are 100% my own!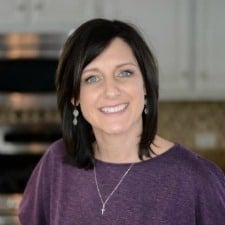 Aimee is a dessert lover (specifically rice krispie treats), workout enthusiast, self-taught foodie, and recipe creator. Her recipes have been featured in over 15 magazines, and her passion is to share her love of cooking with the everyday home cook! Learn more about Aimee.