Sweet and Salty, you'll love this Pumpkin Dump Cake recipe. With layers of pumpkin pie filling, yellow cake mix, and pecans, this crunchy cake is a tried and true crowd pleaser!
Pumpkin and holidays go hand in hand! Some of my favorite pumpkin recipes include this easy Pumpkin Waffles recipe, as well as my Pumpkin Crumb Cake!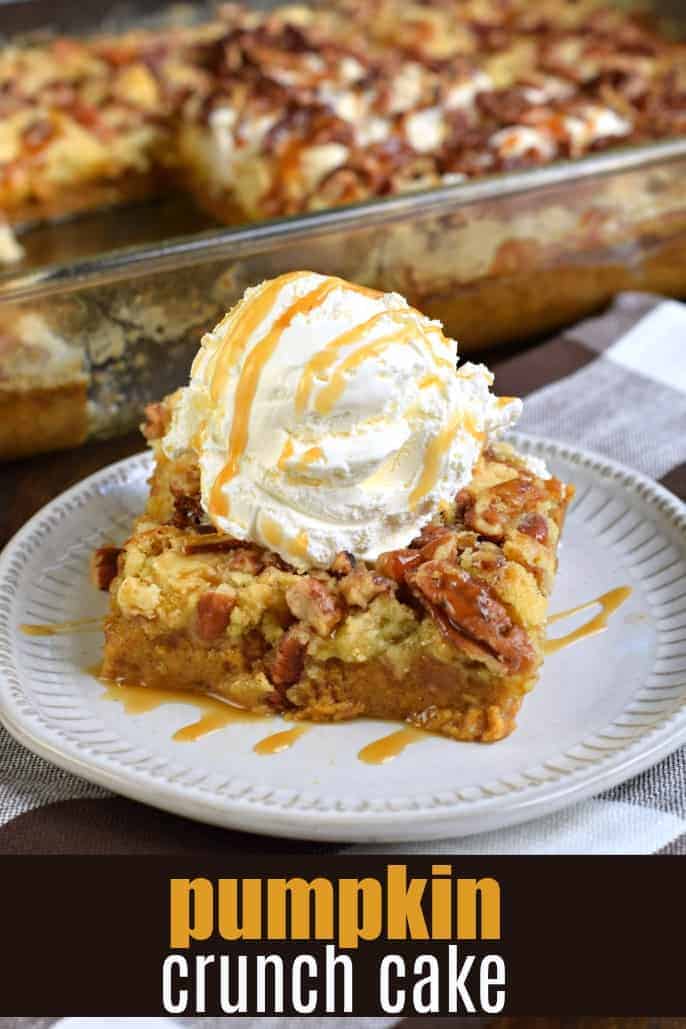 The perfect Thanksgiving dessert
It's almost Thanksgiving and I have one last pumpkin recipe to share this season.
If you're like me, you bake pumpkin treats year round. From pumpkin scones to pumpkin cheesecake, you'll love the sweet and salty flavor of today's recipe.
I love that cozy, fall feeling with the sweet aroma of cinnamon and cloves in the air.
Today's Pumpkin Crunch Cake recipe would be a perfect addition to your Thanksgiving celebration. Whether you enjoy it after your turkey dinner, or bake one up for weekend enjoyment, this cake will be loved by all.
If you've never had a dump cake, it's seriously the easiest thing ever. And nobody will ever know that this recipe uses a dry cake mix!
You may remember seeing this Lemon Blueberry Skillet Dump Cake on my blog years ago. Today, we'll be adding a pumpkin pie base! Much like our favorite apple dump cake!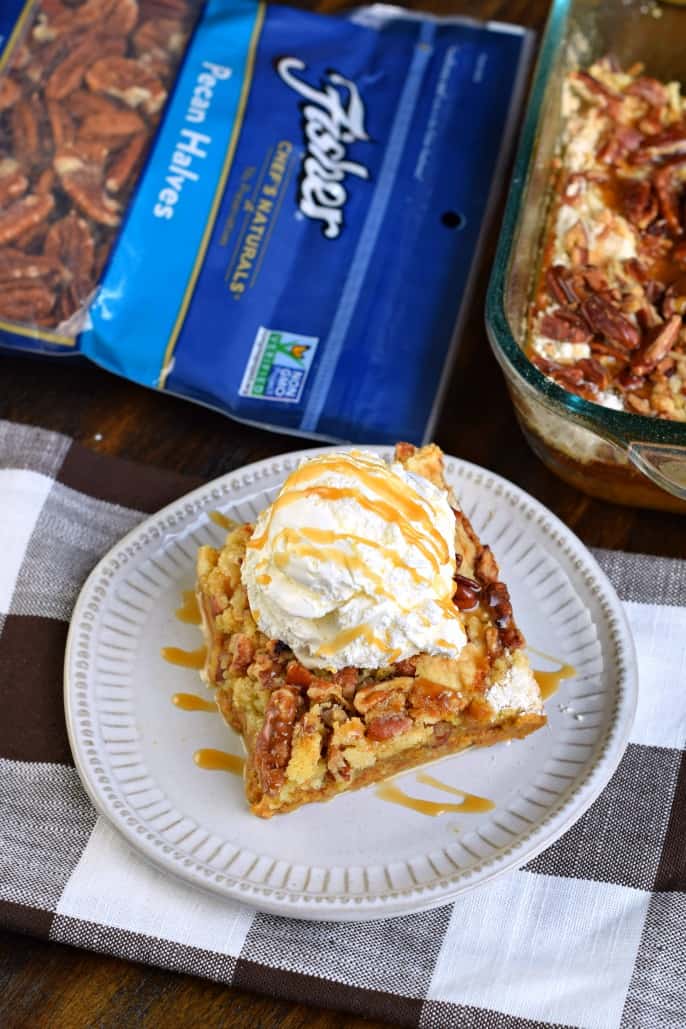 Step by Step Instructions
Prepare the pan.
Preheat oven to 350 degrees F. You'll need a greased and floured 13×9 baking dish. You can also use my homemade cake release if you prefer.
Make the cake.
To make the pumpkin base, in a large bowl, combine canned pumpkin, evaporated milk, spices, sugar, and eggs. Mix until well blended. Pour the pumpkin mixture into your prepared baking dish.
Next up, sprinkle a dry yellow cake mix over the top, spreading evenly. Top with chopped pecans and drizzle with melted butter. You can also skip melting the butter and just place cubes of butter on top.
Bake.
Bake for about 45-50 minutes. You can serve this cake warm with whipped cream or vanilla ice cream.
However, I love enjoying this cake cold with a little whipped topping and caramel sauce drizzled over the top!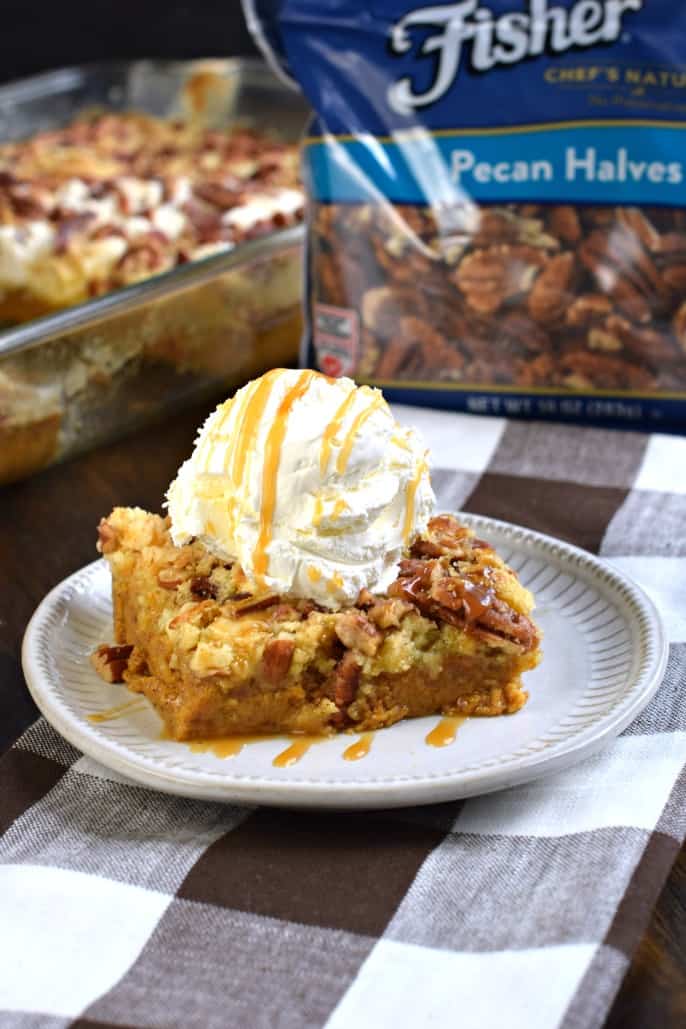 Ingredient Notes
Pumpkin– choose pumpkin puree, not pumpkin pie filling!
Spices- my recipe calls for ginger, cloves, nutmeg and cinnamon, but you can swap these out for pumpkin pie spice if needed.
Yellow Cake Mix– just the dry mix, not the ingredients needed to make it.
More Fall Recipes
The best Pumpkin Cheesecake Bars recipe is here, packed with flavor and easy to make! You'll love the moist pumpkin cake with sweet cheesecake piped throughout! The perfect fall dessert.
A new fall favorite, the Mini Pumpkin Butterscotch Muffins may be small, but they are big with flavor! This recipe is freezer friendly too!
The classic Chocolate Chip Cookie Dough Truffle just got a touch of Pumpkin! 'Tis the season, friends!! You'll want to add these Easy Pumpkin Chocolate Chip Cookie Dough Truffles to your holiday menu!
Bake (yes bake!) up a batch of these Pumpkin Streusel Donuts for Thanksgiving day breakfast! All the delicious flavors of fall in one breakfast treat!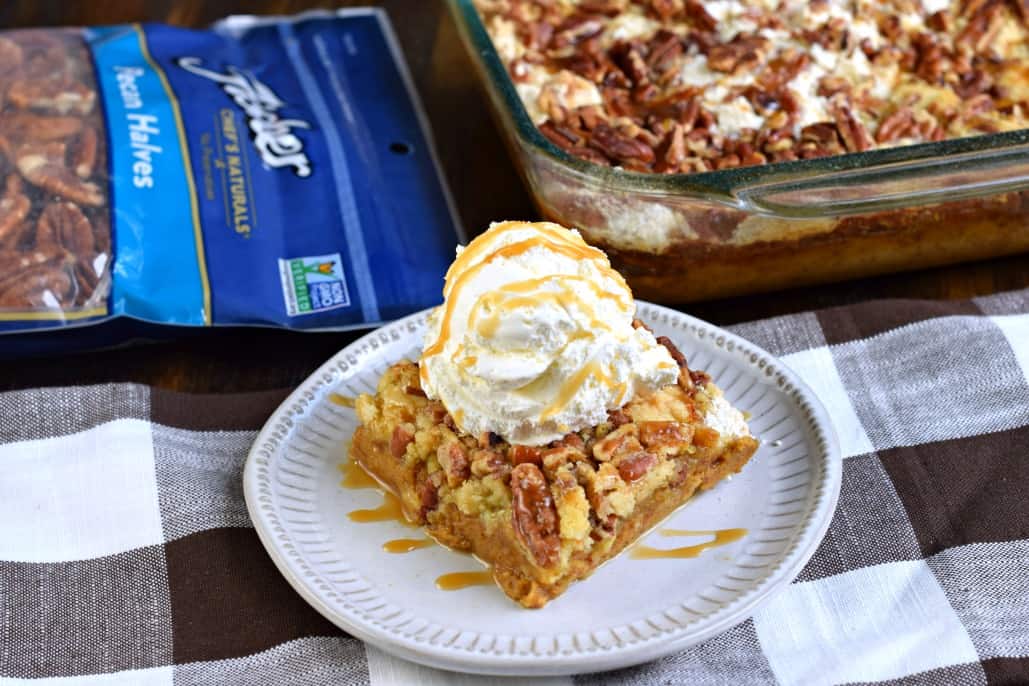 Recipe FAQs
Can this dump cake be made in advance?
YES! I love to serve this cake cold, so making it the night before works out perfectly. You can also heat up slices of cake in the microwave for people who prefer this warm.
Can you freeze pumpkin dump cake?
Yes! I prefer to cover this cake with foil then freeze the entire cake after baking. To thaw, refrigerate overnight and serve chilled. You can also microwave slices of cake if you prefer them warmed up.
Does Pumpkin Crunch Cake need to be refrigerated?
Yes. Once you've baked this cake you'll either serve it warm immediately, or store it in the refrigerator for up to 3 days.