Pumpkin Crumb Cake – All the classic taste of pumpkin cake topped with cinnamon crumb and a sweet cream cheese glaze. Nothing says "fall" like a slice of this pumpkin coffee cake.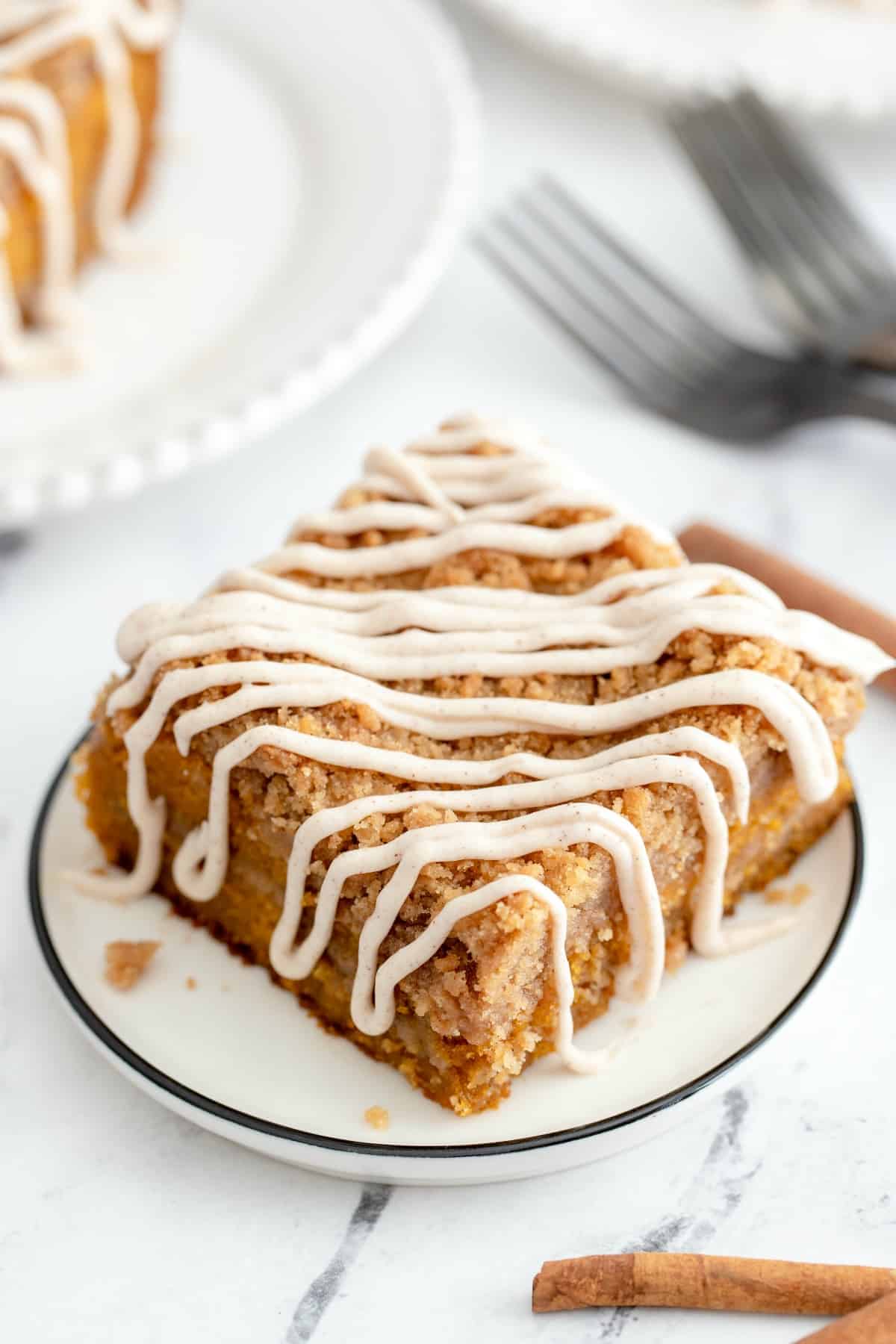 Pumpkin Crumb Cake
Some call it fall. Some call it autumn. I call it . . . PUMPKIN SEASON!
Basically from labor day on, I'm obsessed with getting as much pumpkin in my life as possible.
The best days start with Pumpkin Cream Cold Brew and end with some kind of delicious pumpkin cake.
This Pumpkin Crumb Cake is the latest in a long line of pumpkin recipes I've shared on the blog. Similar to my beloved Pumpkin Coffee Cake recipe, this one has a few tweaks to make it richer.
This Pumpkin Crumb Cake has a true crumb topping rather than a struesel.
The difference is that instead of being scattered (the literal translation of streusel) over the cake, this crumb is spread to cover as much of the top of the cake as possible.
Since I couldn't get enough of the crumb topping, I decided to add a layer of it in the center as well. No regrets whatsoever–and it looks so pretty when it's sliced.
I also use both sour cream and heavy cream in the batter to give it a moist, rich consistency. Heavy cream in a dessert is never a bad thing, right?
To top things off, I made a cream cheese glaze to drizzle over the crumb cake. Every bite of this dessert has the perfect balance of cinnamon crumb, moist pumpkin cake and creamy frosting.
It's like Pumpkin Crumble and combining it with Crumb Cake. With a hint of cinnamon and tons of real pumpkin flavor, there's no better way to welcome the new season.
Just try to say no to a slice of this pumpkin cake!
Step by Step Instructions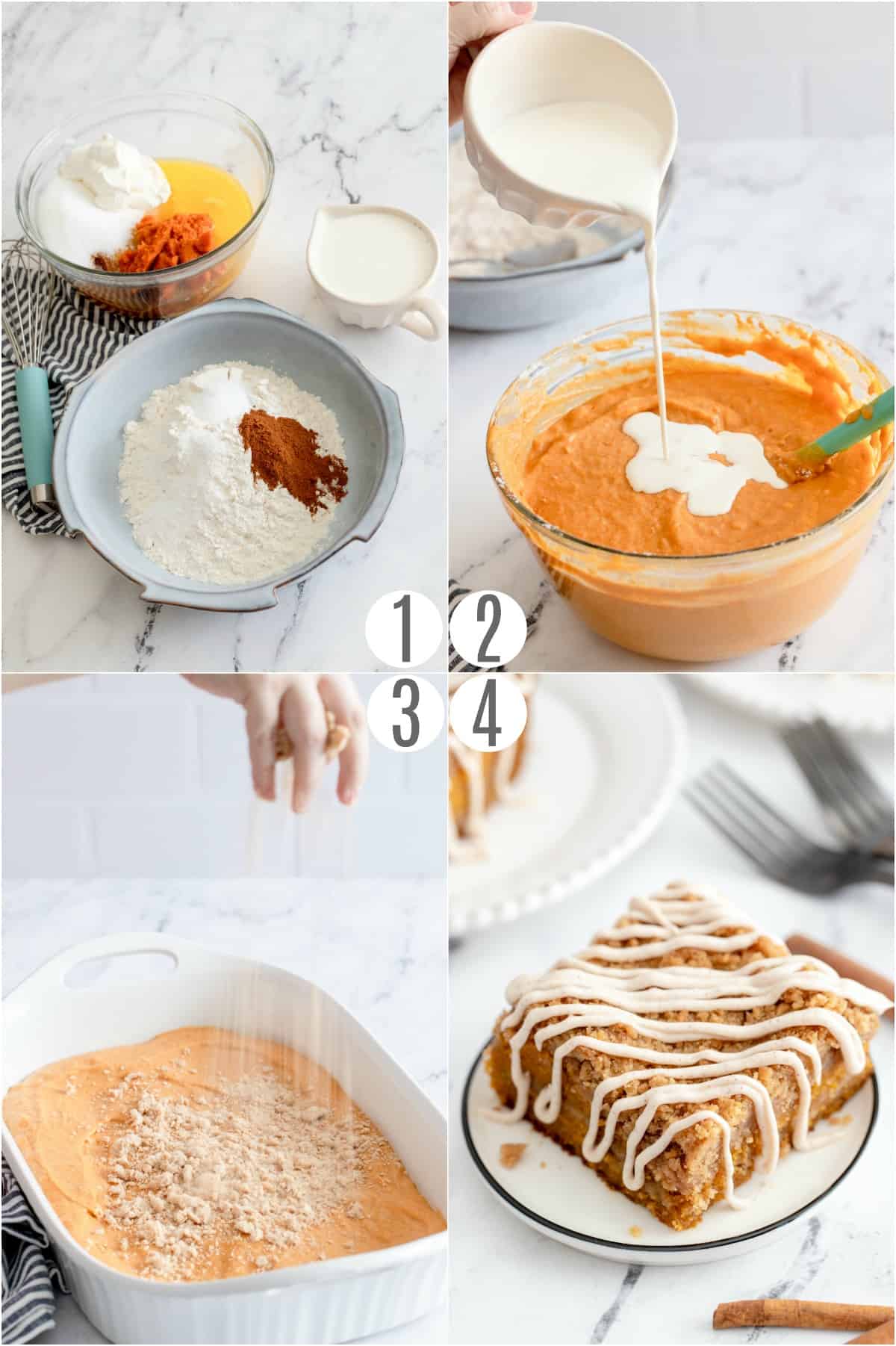 STEP 1. Make the batter
For this cake, mix the dry ingredients and wet ingredients (except the heavy cream) in separate bowls first. Then, add the dry mix to the wet in batches, alternating with the heavy cream. Stir together until there are no clumps or dry patches.
STEP 2. Make the crumb
In a large bowl add all of the ingredients. Using your fingers, press and roll the cold butter with the other ingredients until the mixture resembles wet sand with some slightly bigger pieces of butter throughout. This may take a while, but it will come together!
STEP 3. Assemble and Bake
Pour half the pumpkin cake batter into a prepared 9 x 13 baking dish. Sprinkle a third of the crumb mixture on it, then spread the rest of the batter over that. Top with the remaining crumbs covering everything as evenly as possible.
Bake the Pumpkin Crumb Cake for 50 to 60 minutes, or until a toothpick inserted in the middle comes out clean. Let cool on a wire rack while you make the frosting.
STEP 4. Frosting
In a medium sized bowl, add the cream cheese and mix with a hand mixer until smooth. Add the cinnamon and powdered sugar, mix to combine.
Slowly add in the milk a little at a time until it is pourable or to the consistency you prefer.
Drizzle the cream cheese glaze over the cooled cake. Slice, serve and enjoy!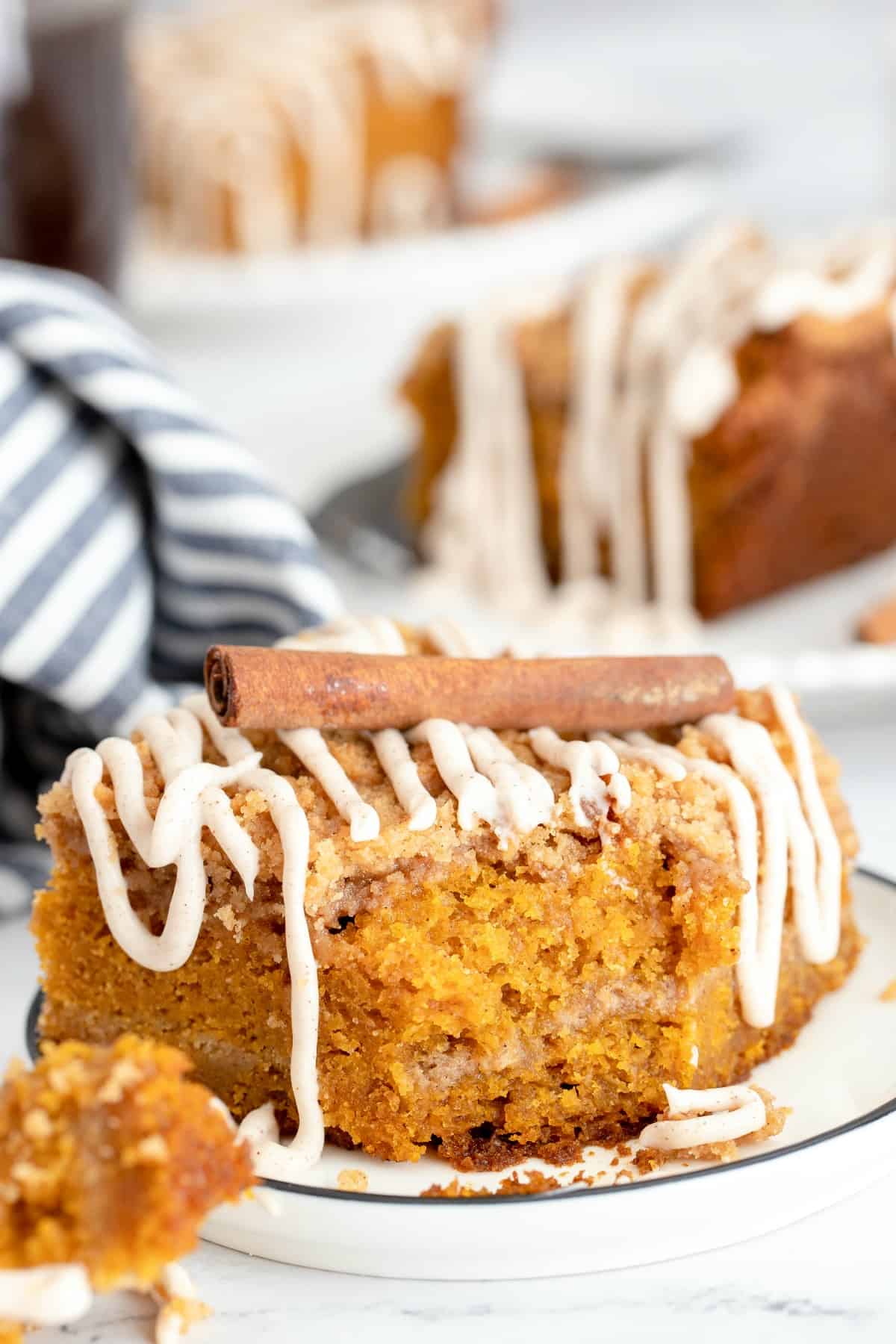 Recipe FAQs
How do you store leftover pumpkin cake?
Store leftover cake covered in the fridge to keep the cream cheese icing good. Cover with plastic wrap or tin foil tightly to keep it from drying out. Enjoy it within 3 days for best taste!
Why use cold butter?
If the butter is not cold, it will "melt" into the topping instead of creating the perfect crumb texture.
Why is my cake dry?
Crumb cakes tend to dry out if left uncovered too long. Make sure to keep this in an airtight container when not eating.
Tips and Tricks
Use COLD fingers to make the crumb topping if possible. This will keep the butter from softening and melting so it's forms the sand-like crumbs more easily.
Do not substitute milk or another kind of cream for the heavy cream. This cake is supposed to be rich! You won't regret it.
Slice and serve right from the pan for easy transportation and storage.
Make sure to use canned pure pumpkin (pumpkin puree) and no pumpkin pie filling in this recipe.
Enjoy this for dessert this fall or any time of year! I also love a slice of this Pumpkin Crumb Cake for breakfast with my morning coffee.
Happy fall!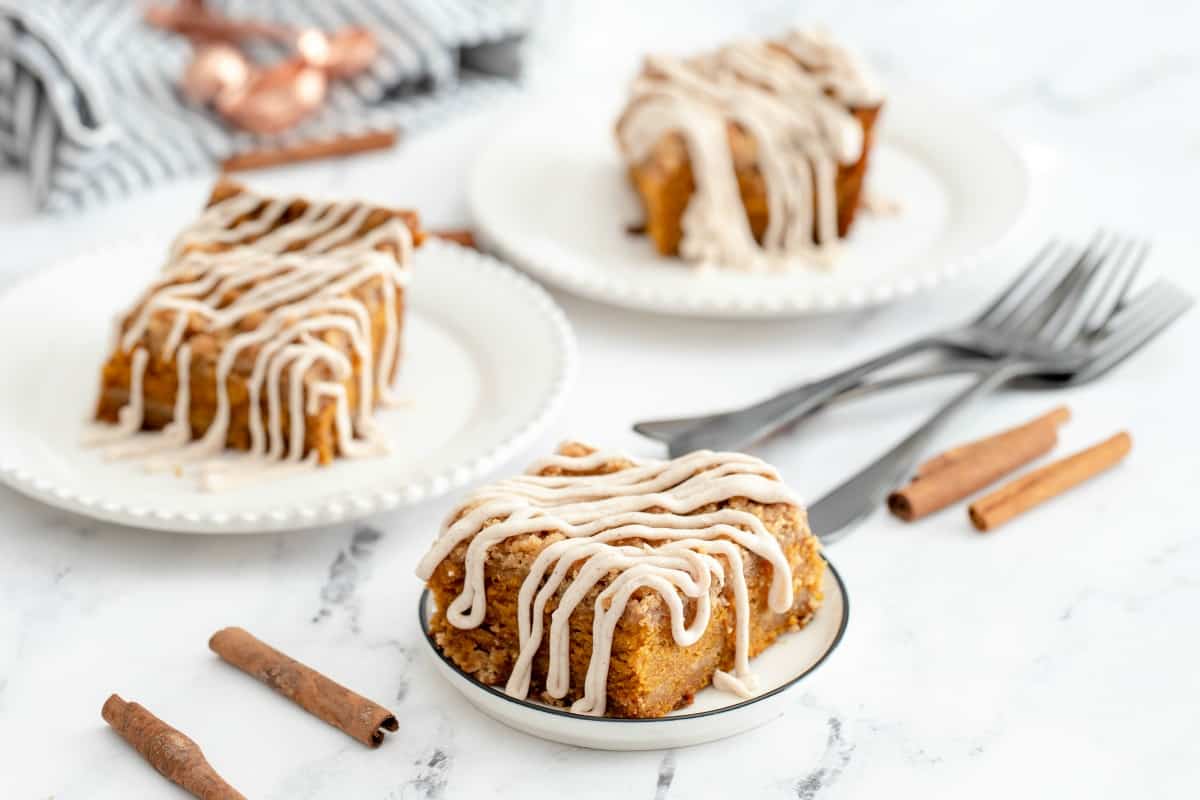 More Easy Fall Recipes