Tart granny smith apples laced with caramel and baked with a crunchy pecan topping. You'll love this easy Apple Crisp loaded with fall spices and brown sugar!
Tis the season for all apple desserts. We are in love with this easy Apple Crumble Recipe! Readers adore our delicious Apple Hand Pies. Which one do YOU love?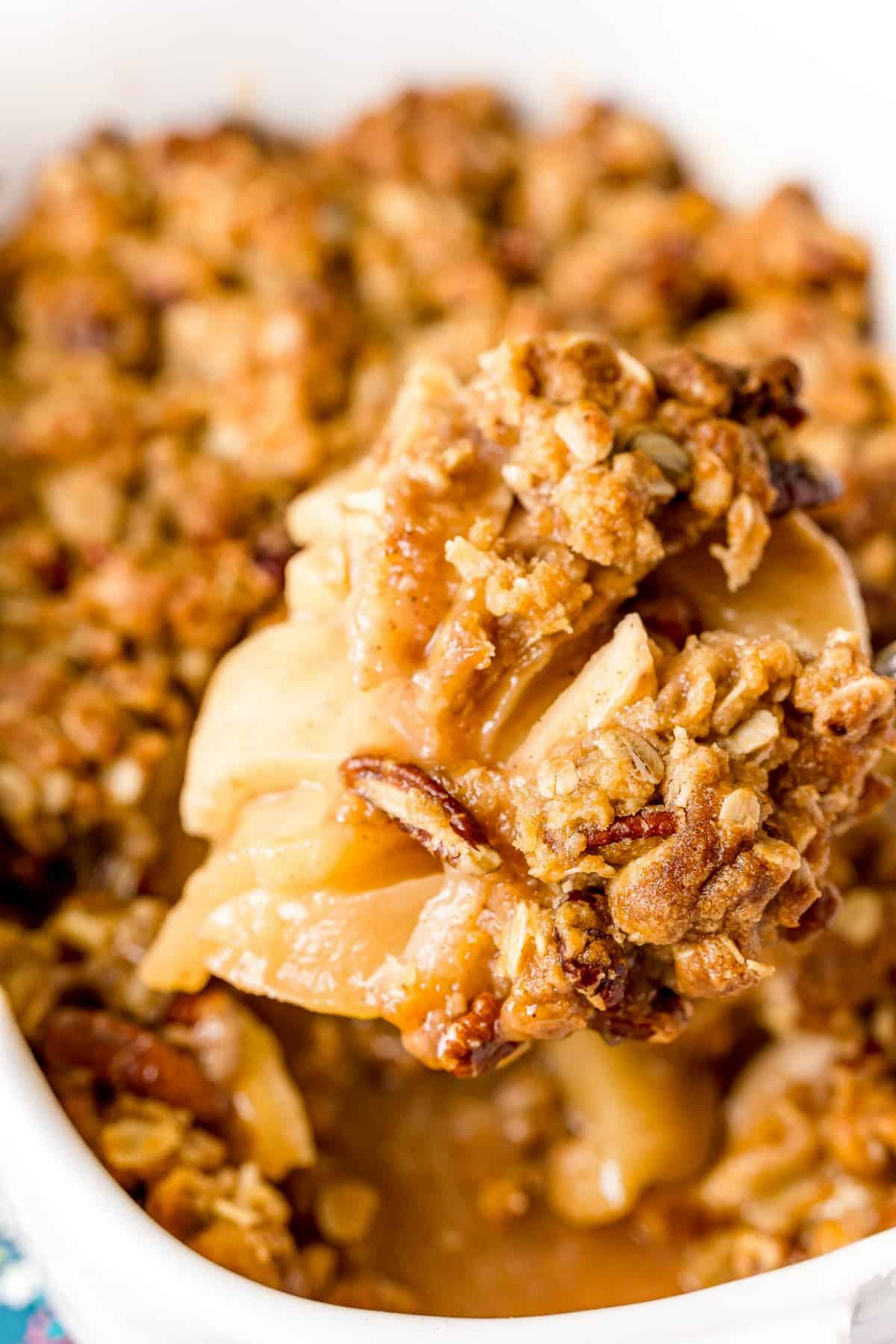 Why this Recipe is Best
Folks, I'm not kidding when I say this Apple Crisp knocks every other apple crisp recipe off the charts. I know, I know. Crisps are such basic desserts.
But THIS apple crisp? It takes the delicious and comforting taste of classic apple crisp and makes it even better with the addition of buttery caramel, plenty of crunchy pecans!
If you love caramel apples, this is bound to become your new favorite apple dessert.
You can serve this on its own but I (of course) love it best with a giant scoop of Homemade Vanilla Ice Cream. Don't forget the extra caramel drizzle on top!
Did I mention that this recipe is also super easy? Just mix the filling together, sprinkle on the topping, bake and dig in.
There is a time and place for Apple Pie and French Apple Pie, but if you're looking for an easy, throw it in a baking dish type of dessert, this is for you.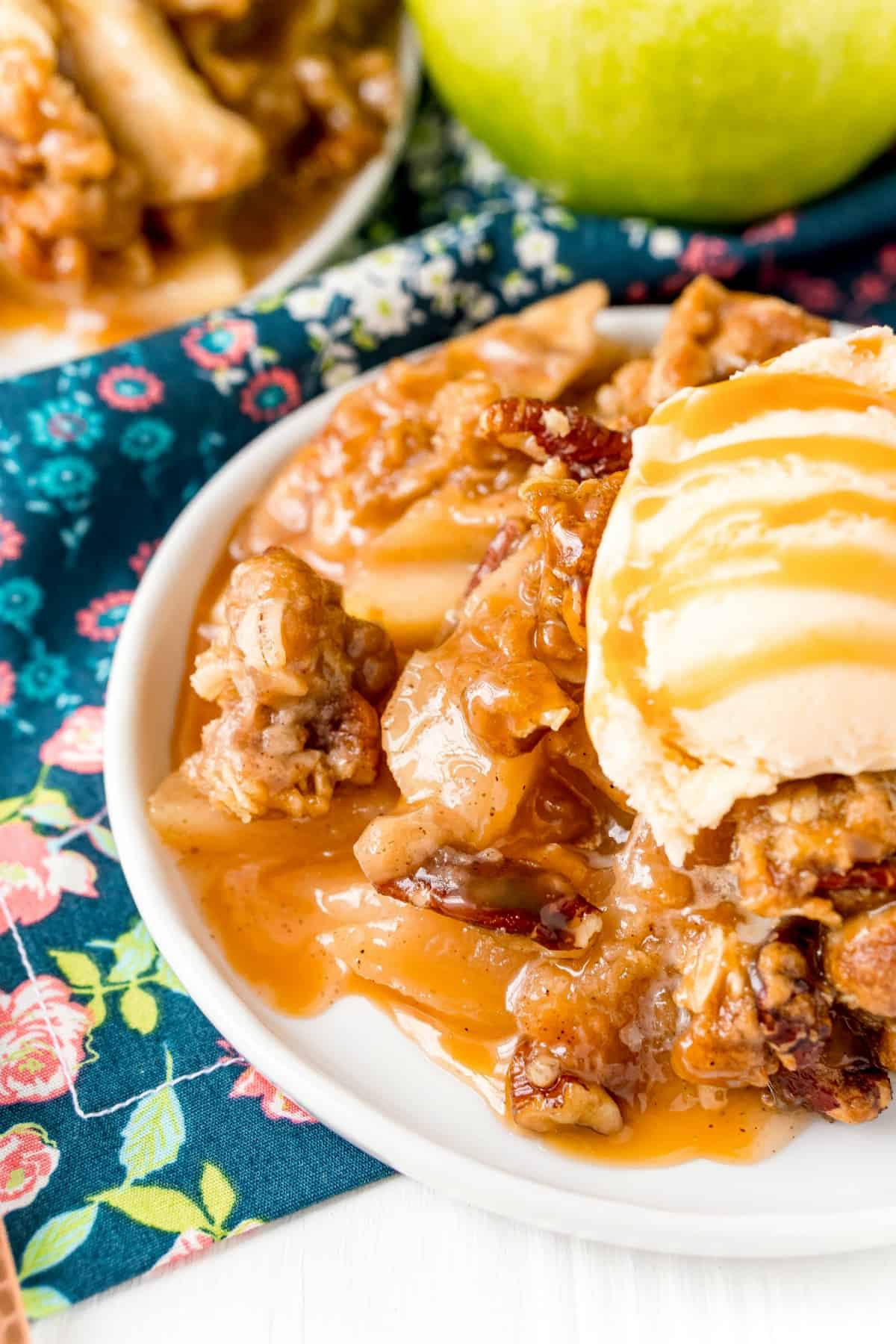 Crisp vs. Crumble
Wondering what the difference is between a fruit crisp and a fruit crumble? You're not alone.
The two terms are used interchangeably most of the time for any dessert that involves fruit baked with a crispy and crumbly topping. You work butter into flour with sugar and, sometimes spices.
Crisps, though, almost always involve oats to make them more crispy! In this variation on traditional Apple Crisp, I also added pecans for even more texture.
I love the combination of soft apples, swirled with caramel and finished with the crisp buttery pecans and oats. It's impossible not to.
Ingredient Notes
Granny Smith Apples – This variety of apple is extra tart and crisp making it perfect for baking. You can sub another tart variety of apple, but Granny Smiths are by far my favorite.
Unsalted Butter – If needed, you can use salted butter in the topping, just omit the added salt.
Old Fashioned Rolled Oats- Instant oats will be too small and soft and steel cut oats would be too hard. Be sure to check the labels to make sure you're using the correct oats!
Pecans – Walnuts works great as a substitute or you can leave the nuts out entirely.
Caramel – Caramel ice cream topping or jarred caramel sauce for both the filling and for drizzling on top.
Step by Step Instructions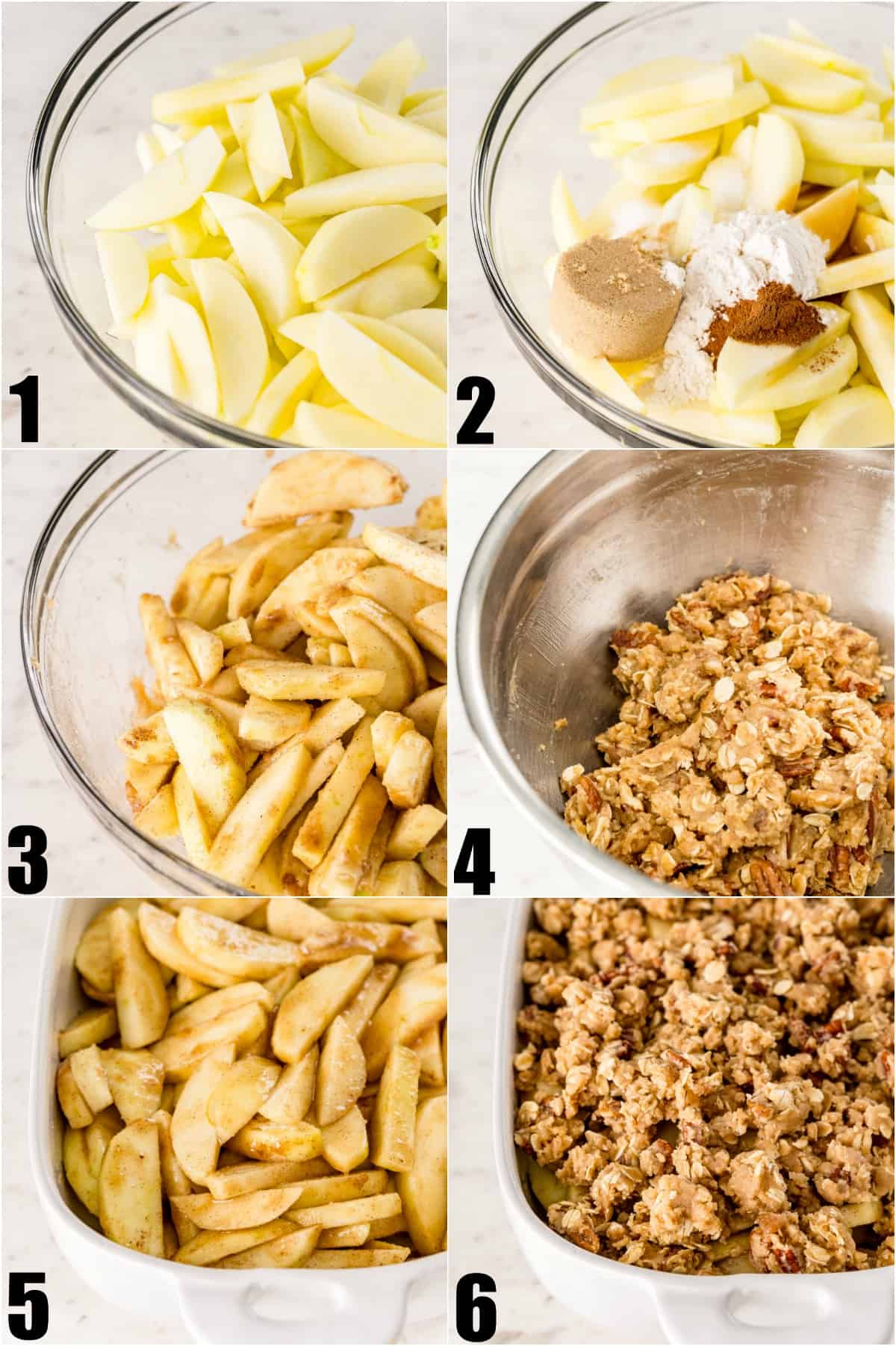 STEP 1. Apple filling
Add slices of apples to a large bowl and toss with the other filling ingredients to combine. Pour the apple mixture into a prepared casserole dish.
STEP 2. Topping
In another bowl, mix together all of the topping ingredients to combine. Sprinkle it over the apple mixture.
STEP 3. Bake
Bake the apple crisp uncovered for about 1 hour. When it's ready, the apples will be soft, the juices bubbling and the edges of the crisp lightly browned.
Drizzle the crisp with extra caramel sauce and serve in bowls with a ice cream or fresh Whipped Cream.
Does it get any better than the taste of warm apple crisp with a spoonful of cold ice cream melting through the layers? If you think of anything else that's quite so satisfying in the fall, let me know.
Recipe FAQs
Do I need to peel the apples first?
Up to you! I like the texture the apple skins add to the crisp. If you don't enjoy that, feel free to peel them.
What kind of pan do I need for the crisp?
I make this crisp in a standard sized 2 qt casserole pan. You could also use a glass square baking dish.
Can other apples be used besides Granny Smiths?
I LOVE the tartness that Granny Smiths give the crisp, but sure, other apples will work too. I recommend apples that are juicy and at least a little tart, like Honeycrisps or Pink Ladies.
Can this be served at room temperature?
The flavors will be good but I much prefer it when it's warm, especially alongside the cold ice cream.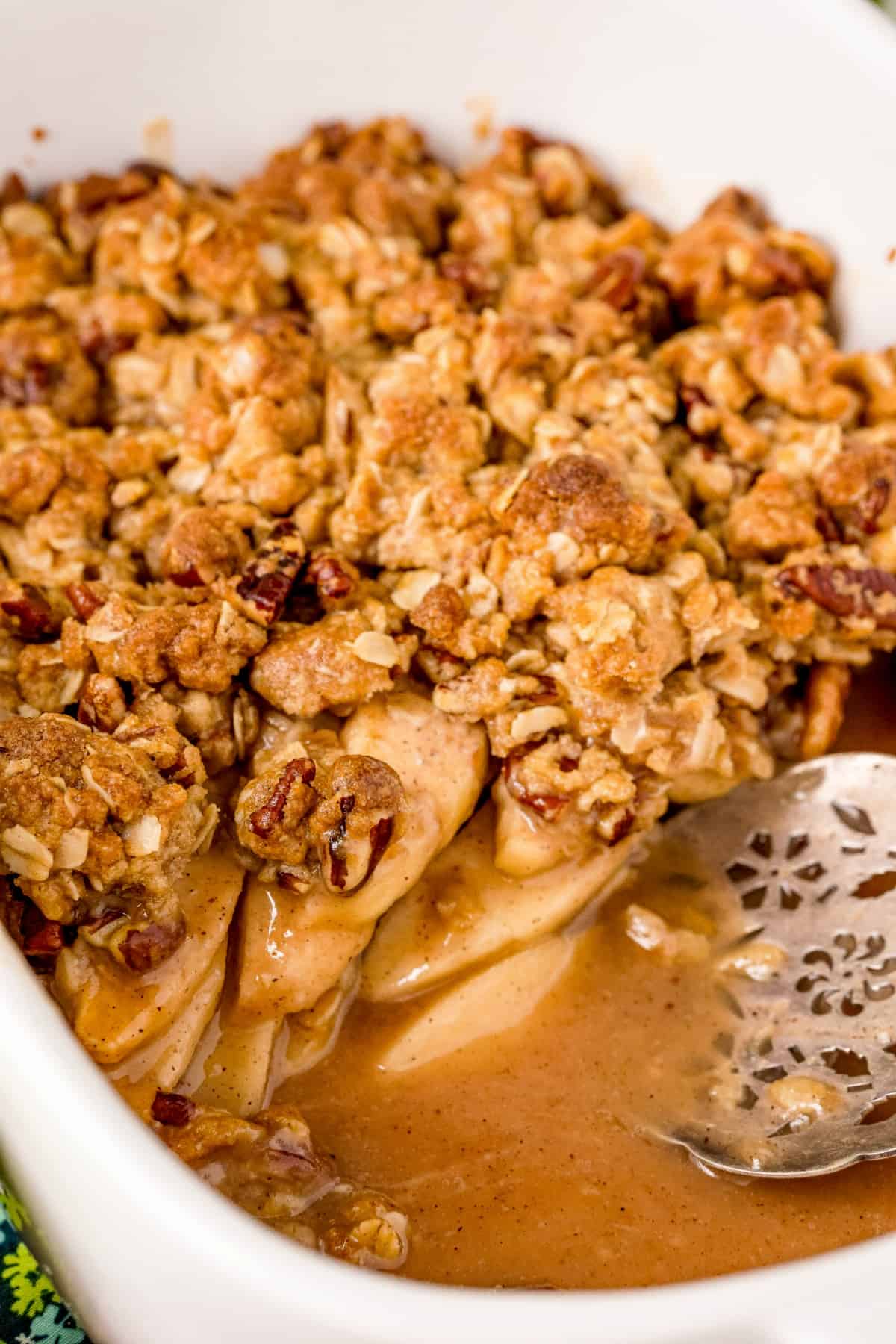 More Fall Baking Recipes
The best Apple Crisp recipe is also the easiest! Fill your kitchen with the intoxicating aroma of baking apples and spices, then sit back and dig into a bowl of warm, fresh Apple Crisp.