Pumpkin Coffee Cake with Cinnamon Struesel
I know I probably say this at least once a week. But this is the best thing I've made. 
No. Seriously. This pumpkin cake is amazing. And from the time you put it together to the time you are eating it with a fork is less than an hour. 
And did I mention it makes TWO?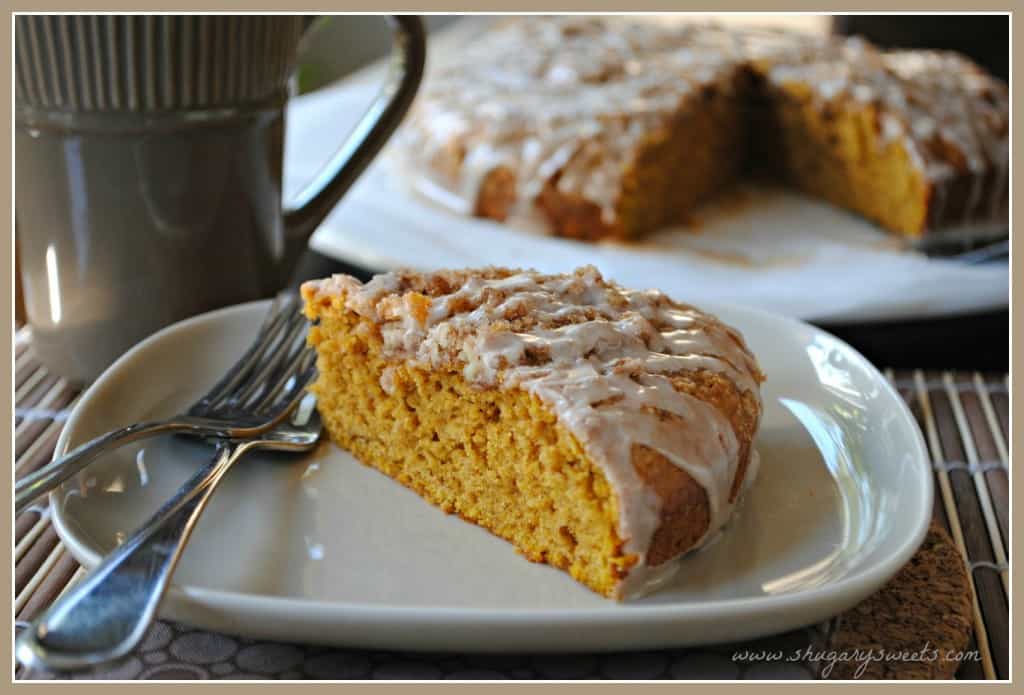 You can freeze one of them for later if you'd like. 
Or give it to a friend, neighbor, family member, FAVORITE BLOGGER???
When I freeze this, I don't put the drizzle on it. I just slide the cooled cake into a Ziploc Freezer Bag (gallon sized). Then, when ready to serve, thaw on the counter top (I usually pull it out the night before). Warm it up in a 225 degree oven for 10 minutes (or microwave on a microwave safe plate for 1 1/2 minutes). Prepare the icing, drizzle it and eat.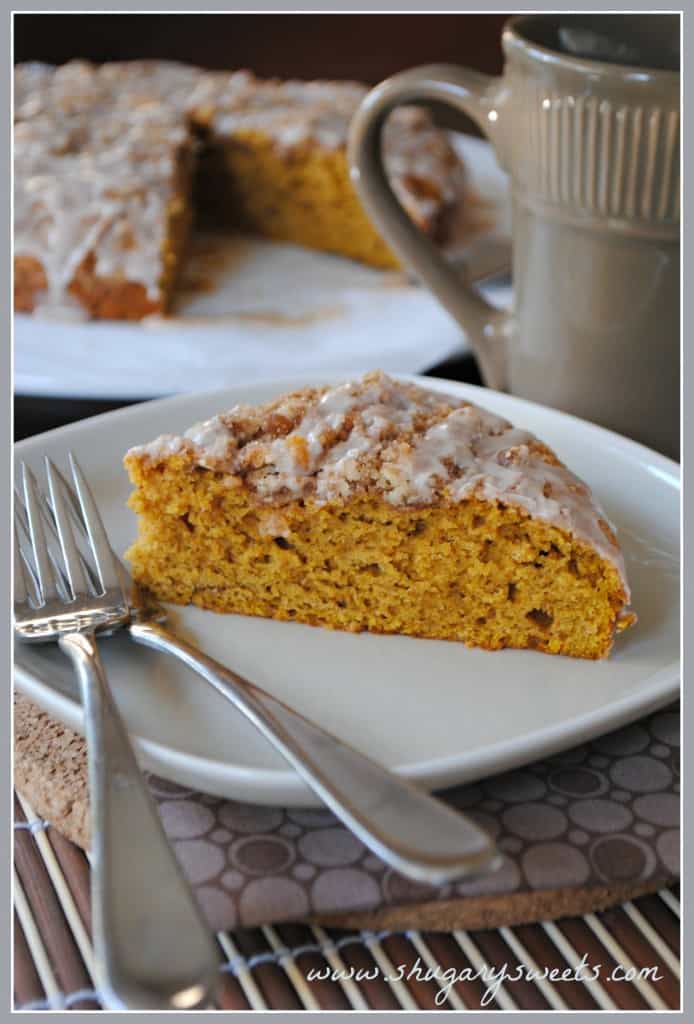 This is the perfect breakfast on Thanksgiving morning. Or the day after. Or to prepare for those holiday guests. ENJOY!
If you like this Pumpkin Coffee Cake you may also enjoy these recipes…
Swedish Almond Cake– a very easy, yet impressive coffee cake with a hint of lemon and a lovely almond flavor!
**I also made some Pumpkin Whoopie Pies with a Chocolate Cream Cheese Filling. 
Go check them out at Carrie's site Bakeaholic Mama. She is also having a Kitchen Aid Immersion Blender giveaway today too!!! Be sure to enter on her blog!
Yield: 2 cakes
Pumpkin Coffee Cake with Cinnamon Struesel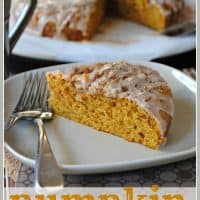 Ingredients
For the Cakes:
1/2 cup unsalted butter, softened
1 1/2 cup granulated sugar
1 can (15oz) pure pumpkin
3 eggs
2 1/2 cup all purpose flour
1/2 tsp baking soda
2 tsp baking powder
1 Tbsp ground cinnamon
1 tsp ground ginger
1/2 tsp ground nutmeg
1/2 tsp ground cloves
1/2 tsp kosher salt
For the Struesel:
1/4 cup all purpose flour
1/4 cup granulated sugar
1/4 cup light brown sugar
1 tsp ground cinnamon
2 Tbsp unsalted butter, melted
For the Drizzle:
1 1/2 cup powdered sugar
1 tsp ground cinnamon
3 Tbsp skim milk
Instructions
Preheat oven to 350 degrees. Grease and flour two 8inch round cake pans. Line the bottoms with parchment paper. Set aside.
In large mixing bowl, beat the butter and sugar until combined, about 2 minutes. Add pumpkin and eggs, beat until blended. Add the flour, baking soda, baking powder, cinnamon, ginger, nutmeg, cloves and salt. Pour batter evenly into two cake pans.
For the struesel, mix the ingredients together with a fork. Sprinkle over batter. Bake cakes in a 350 degree oven for 30-35 minutes, until toothpick comes out clean.
Remove from oven and cool 10 minutes in pan. Remove to a wire rack and cool completely.
For the drizzle, whisk ingredients together until smooth. Drizzle onto cooled cakes and allow to set, about 30 minutes. ENJOY!