If you love fall coffee house drinks, you've got to try making this easy, Homemade Pumpkin Coffee Creamer! Ready in minutes, and with a few easy to find ingredients, you can make your own coffee creamer flavor.
Love trendy coffee? Be sure to try my Pumpkin Cream Cold Brew recipe and Dalgona Coffee!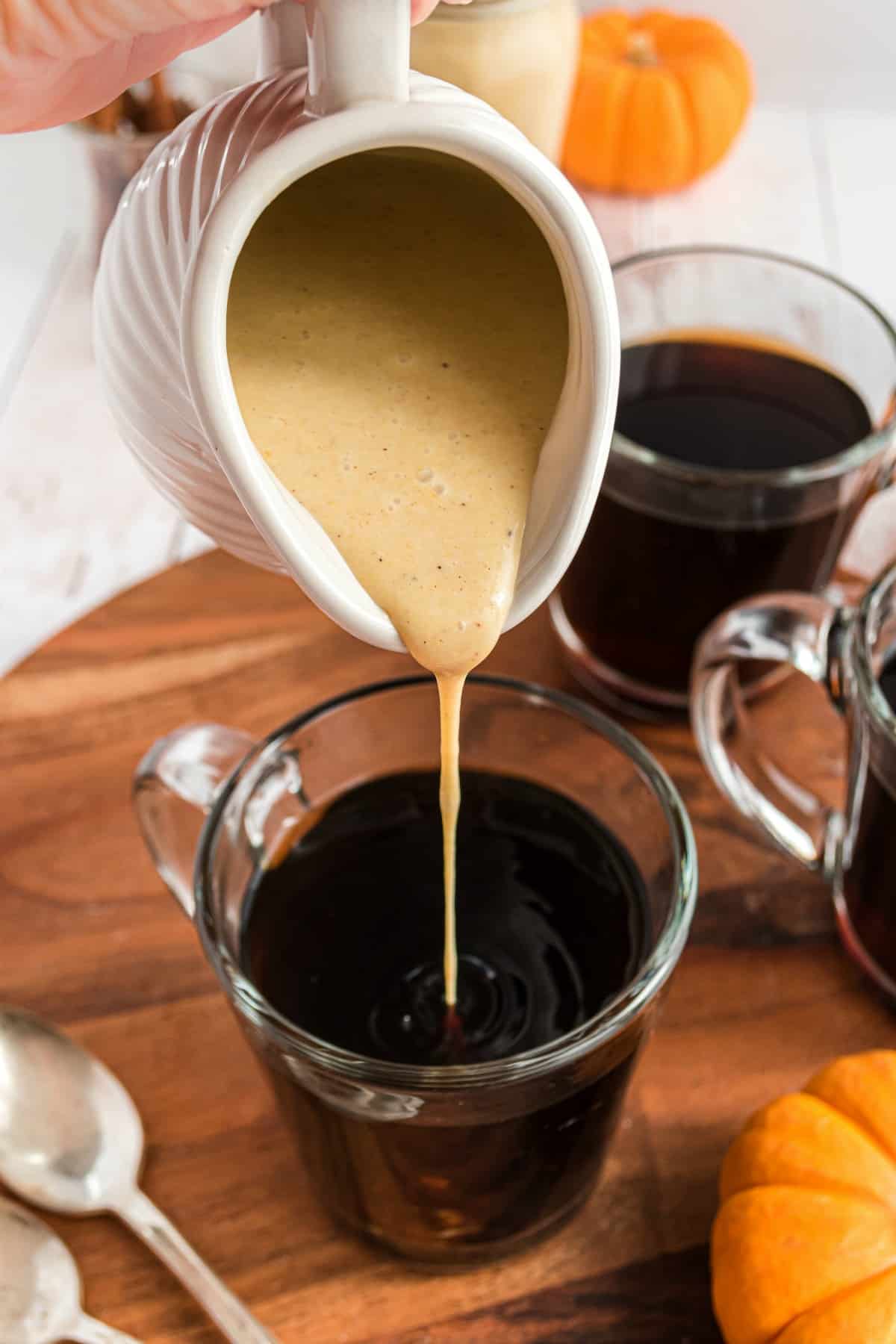 Why Make Your Own Creamer
Do you like creamer in your coffee? It's the easiest way to make a simple cup of brewed coffee taste like a special treat.
These days you can find every flavor of coffee creamer imaginable at the store, from cinnamon coffee creamer to creme brulee coffee creamer.
I often find that the store bought versions taste artificial or just generally unsatisfying compared to coffee house drinks.
I learned awhile ago how to make my own coffee creamer when I tried this French Vanilla Coffee Creamer recipe. It's not difficult at all and tastes so good!
With all the coffee drinking I do, I can't afford to NOT make my own creamer, considering both time and money spent.
Seriously it's two ingredients…plus whatever flavoring you want. Easy, inexpensive and you can mix up the flavors to replicate your favorite Starbucks coffees at home.
Today's recipe is my all time favorite homemade creamer. If you love pumpkin spice lattes, this is a coffee creamer recipe you need to try ASAP!
With real pumpkin and fall spices, it totally satisfies my cravings for a seasonal coffee treat, at a fraction of the cost and in less time than it takes to do a Starbucks run.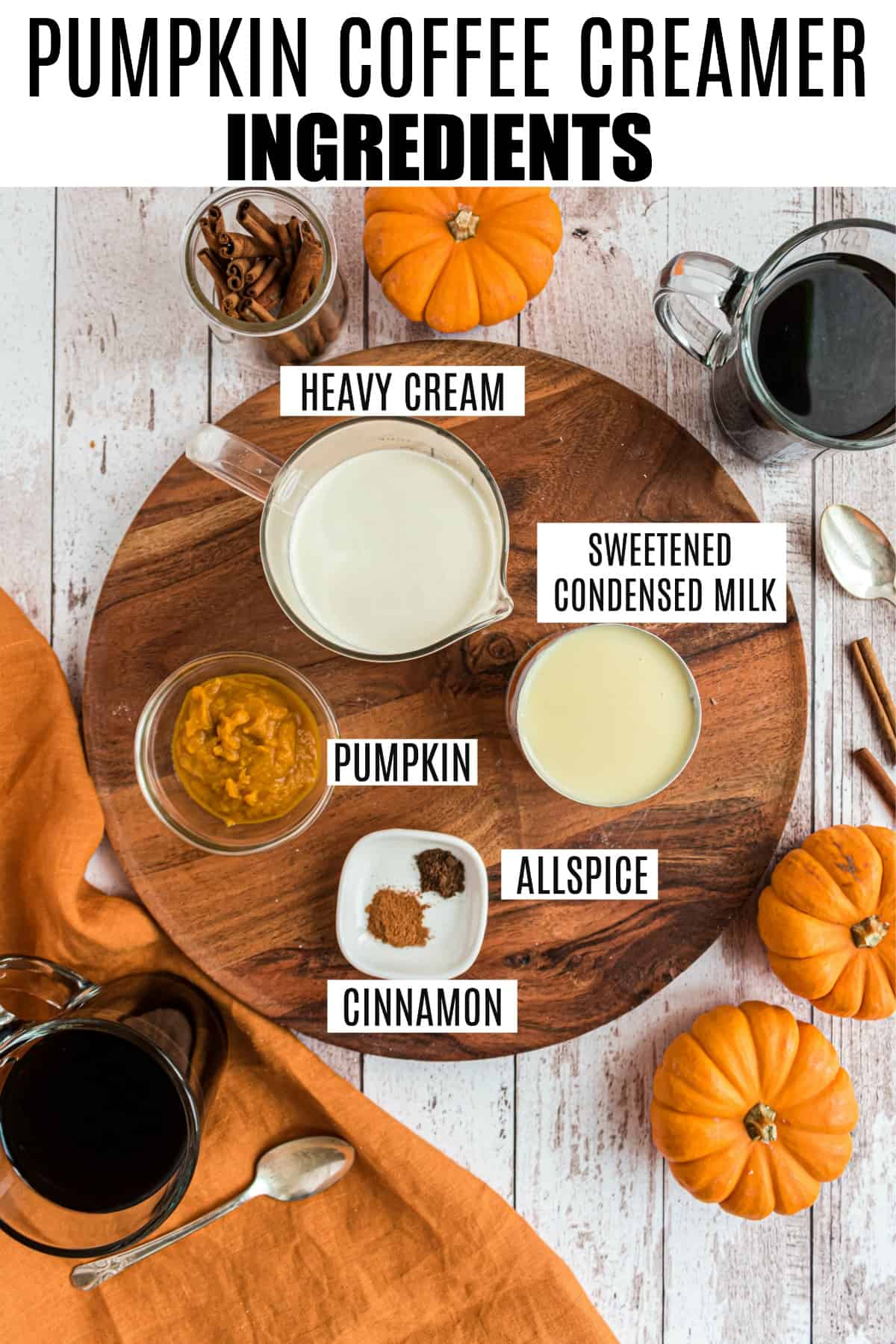 Ingredient Notes
Sweetened Condensed Milk– not to be confused with evaporated milk!
Heavy Whipping Cream– in a pinch, you can use whole milk or half and half instead.
Next, you need the flavoring.
All that wonderful fall flavor comes from pure pumpkin and spices. Cinnamon and allspice make this creamer smell like pumpkin pie!
If preferred, you could also substitute pumpkin pie spice.
Step by Step Instructions
Once you have all your ingredients, you're ready to make Pumpkin Spice Coffee Creamer!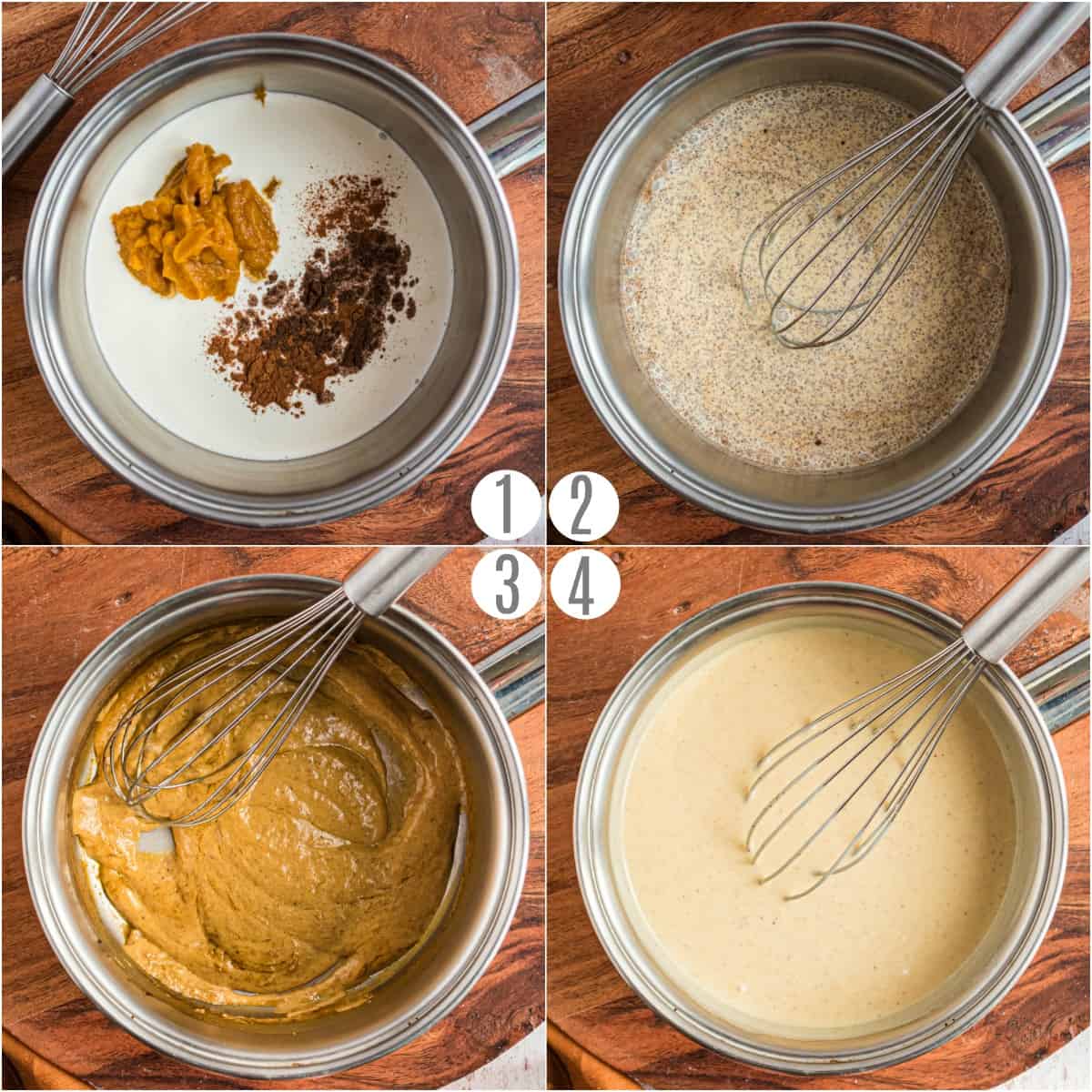 STEP 1. Whisk together half a cup heavy cream, cinnamon, allspice and pumpkin.
Simmer this mixture in a saucepan on low for about 15-20 minutes whisking occasionally. This is key for helping the spices dissolve into the cream so you don't get gritty residue in your coffee.
Remove the pan from heat and cool completely.
STEP 2. Whisk in the remaining heavy cream and sweetened condensed milk.
Pour the cooled mixture into a mason jar and store in the fridge until ready to use. When you're ready to add it to your coffee, give the mason jar a good shake to recombine and separated cream and spices.
Pumpkin Coffee Creamer tastes great in both hot and iced coffee!
Don't forget to top your mug of pumpkin spice coffee with some whipped cream and cinnamon!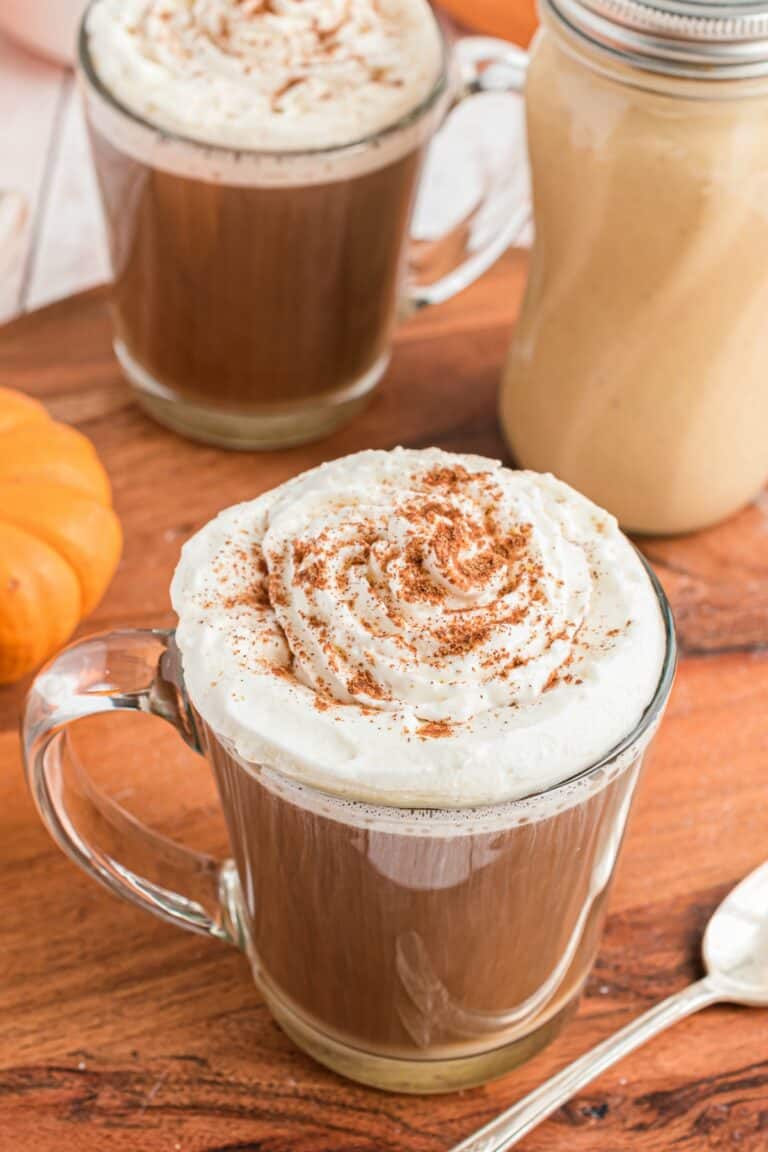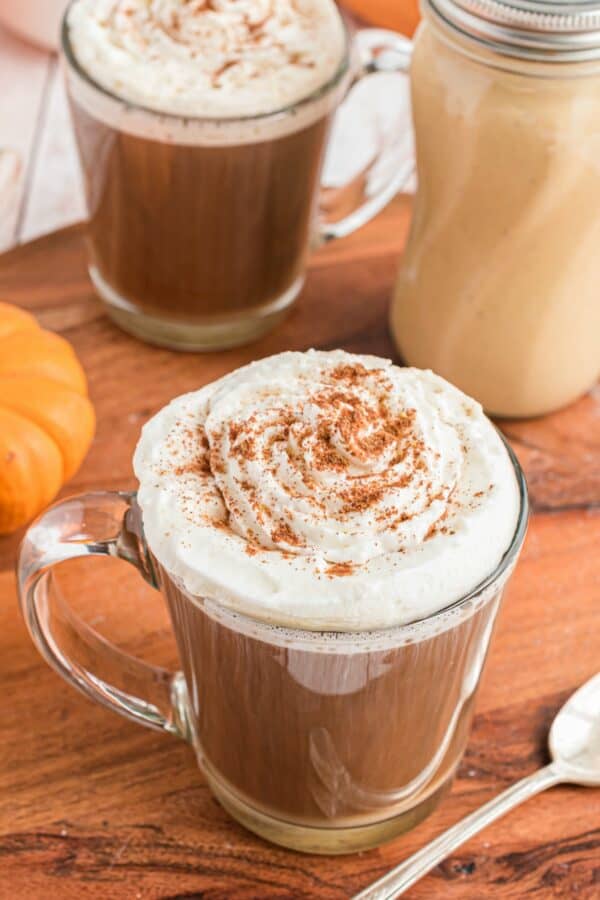 Recipe FAQs
Can I make this creamer fat free?
While it won't be completely fat free, you can use fat free condensed milk (look for it at supermarket) and fat free milk. However, the creamer will be thinner.
What else can I use coffee creamer for?
Add to hot chocolate, cereal, or pumpkin waffles for a delicious burst of flavor.
Can I replace the heavy cream with half and half?
Yes! While it will cut out some of the fat, it also won't be as rich.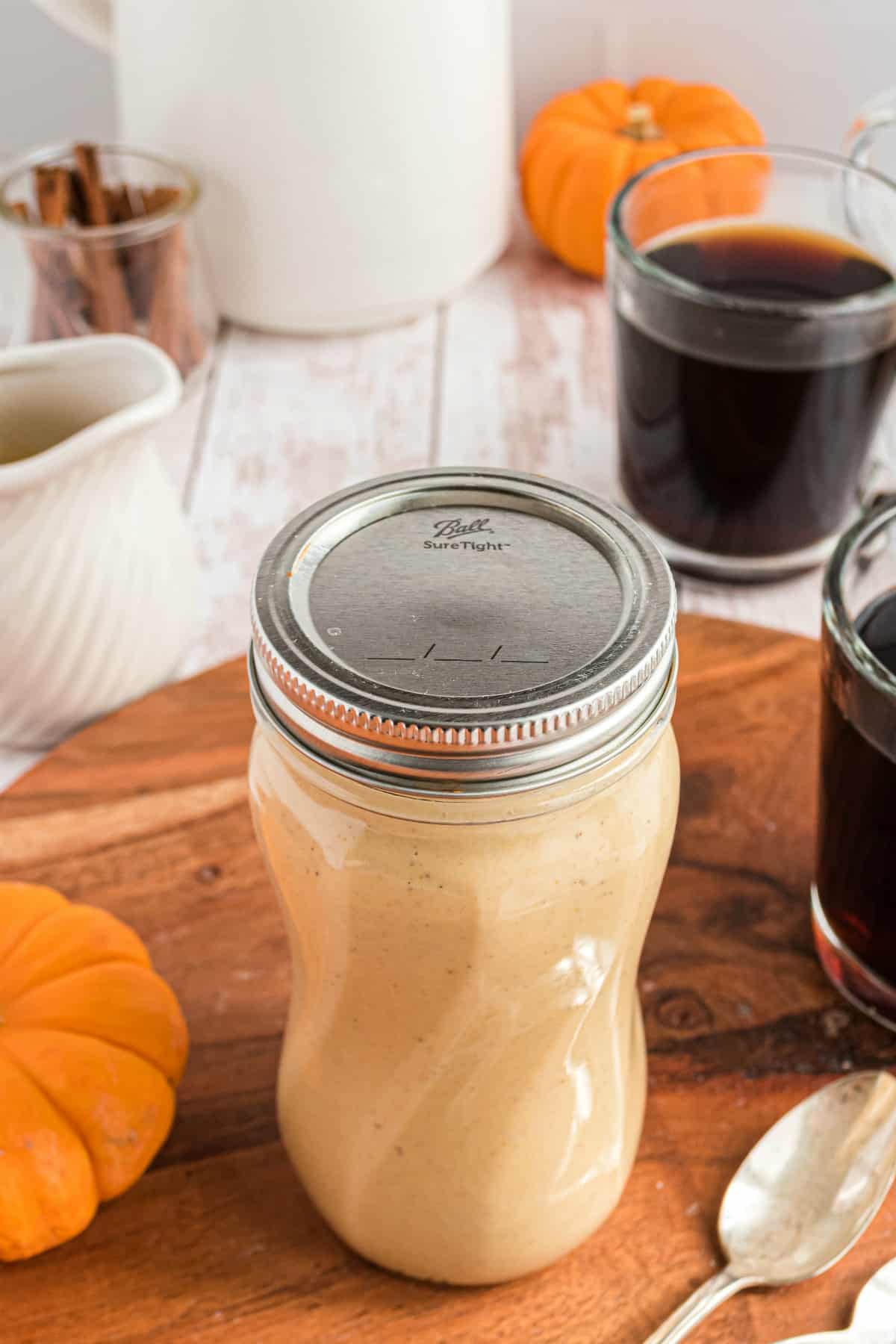 Tips and Tricks
Always keep coffee creamer in the fridge. It will stay good for about 1 week. I like to make the creamer on Sundays so it's ready for all my coffee needs throughout the week.
Be sure to shake your mason jar or stir your creamer before serving, as it may separate in the refrigerator.
Be sure to use real pumpkin puree, NOT pumpkin pie filling in this recipe.
Okay. So now you have this rich, creamy Pumpkin Spice coffee creamer. What now? I suggest you brew up a delicious pot of coffee asap!
More Breakfast Recipes
Starbucks Pumpkin Spice coffee lovers rejoice! No more breaking the bank to feed your fall coffee habit. This creamer is sweet , so pumpkin-y and has just the right hint of spice to get my morning off to a great start.