The Best Copycat Starbucks Pumpkin Scones Recipe
If you love Starbuck's Pumpkin Scones, you've got to give this copycat recipe a try! The double glaze gives them the sweetness they need!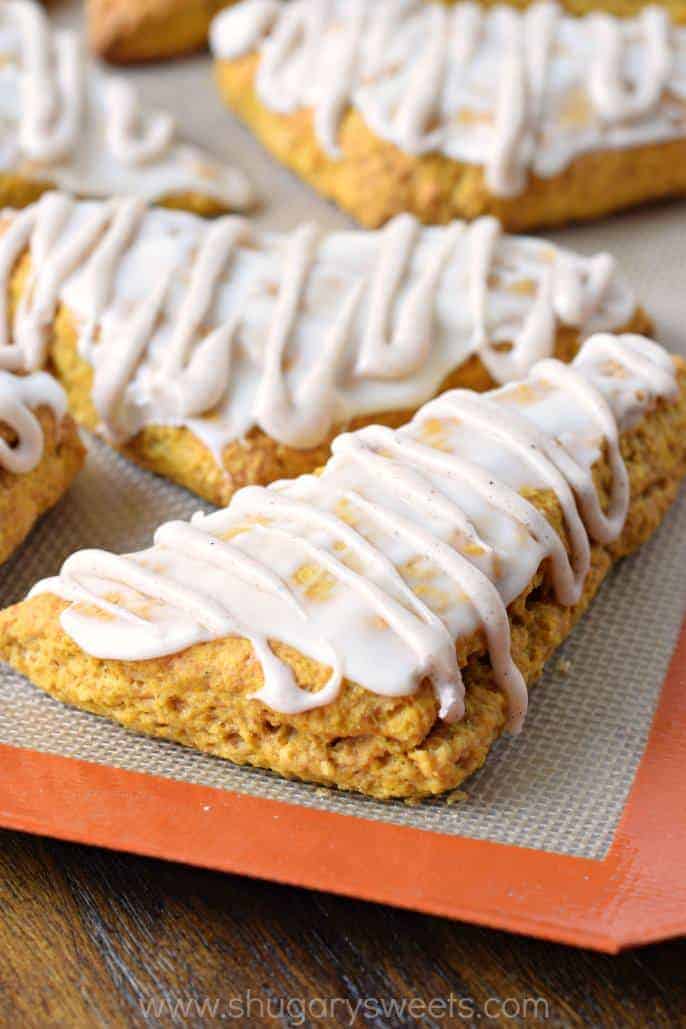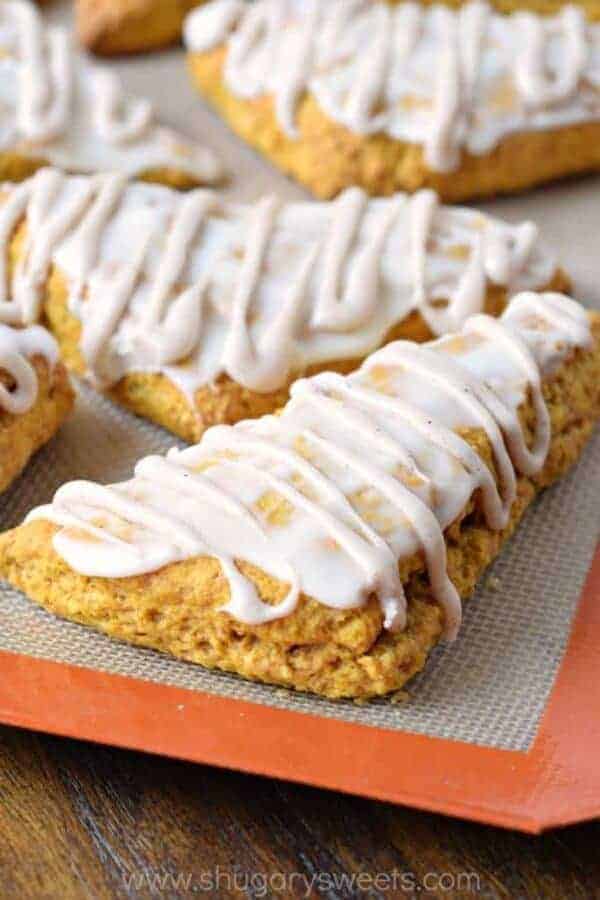 **photos updated August 2016**
I have never made scones before yesterday. I've eaten them, but never attempted to bake them before. Now that I have, my life will never be the same. Last week I bought a pumpkin scone from Starbucks, it was amazing. I knew I had to have these in my life, and soon.
The scone itself is so moist, not overly dry and crumbly like some I have eaten before. Then you brush on the vanilla glaze and it takes the sweetness up a notch. You go one step over the top by adding a second glaze, drizzled over the scone.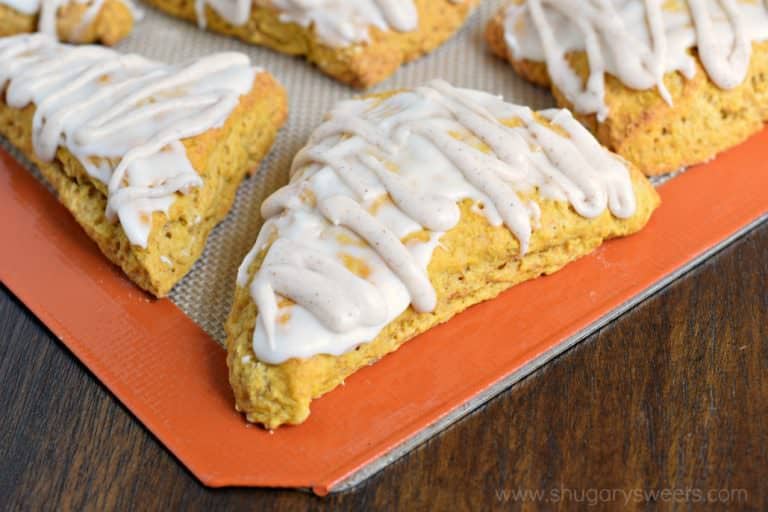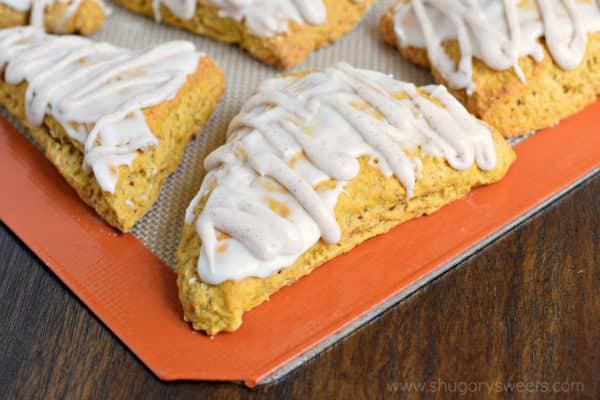 Oh my goodness, these are fantastic! I hope you enjoy them too!
Pumpkin Scones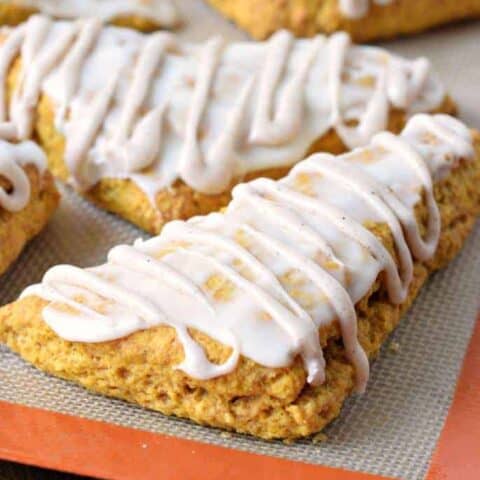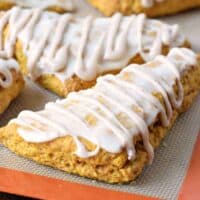 Ingredients
For the Scone:
4¼ cup flour
1 cup sugar
1 tsp salt
1 Tbsp baking powder
1 tsp baking soda
3/4 tsp ground ginger
3/4 tsp ground cloves
1 tsp nutmeg
1 Tbsp cinnamon
¾ cup butter, cold, cut in cubes
1 cup canned pumpkin puree
1/2 cup heavy cream
2 eggs
For the Vanilla Glaze:
1 1/2 cup powdered sugar
3-4 Tbsp heavy cream
For the Cinnamon Glaze:
1½ cup powdered sugar
½ tsp cinnamon
½ tsp allspice
3-4 Tbsp heavy cream
Instructions
In small bowl, mix the pumpkin, heavy cream and egg with a whisk. Set aside.
In mixer, using paddle attachment, mix flour, sugar, baking powder, baking soda, and spices. Add in cold butter cubes and mix until crumbly. Slowly add in pumpkin mixture and mix until thoroughly combined. Dough will be crumbly, so you'll need to mix with hands. if it's too sticky, add about 1/4 cup flour until you can manage it easily.
Divide dough in half, and form the dough into a 12x6 inch rectangle. If it's too sticky, using hands, mix in enough flour so it is easier to shape. I sprinkle my silpat (or counter) with about 1/4-1/2 cup flour).
Cut dough into triangles by making three vertical cuts (you should now have 3 rectangles. Cut each of the rectangles by making an X, I use a pizza cutter. Then make ONE horizontal cut across the center. You should have 18 triangles.
Place each triangle onto a cookie sheet lined with parchment paper. Bake in a 425 degree oven for about 13-15 minutes. Repeat with other half of dough.
Cool on rack. Make sugar glaze by whisking the sugar with heavy cream. Using a brush, paint the tops of each scone with the glaze.
To make the cinnamon glaze, whisk all the ingredients together until smooth. Pour into a ziploc bag and cut the corner. Drizzle the glaze over all the scones. Allow to dry (about 15 minutes). Eat and enjoy!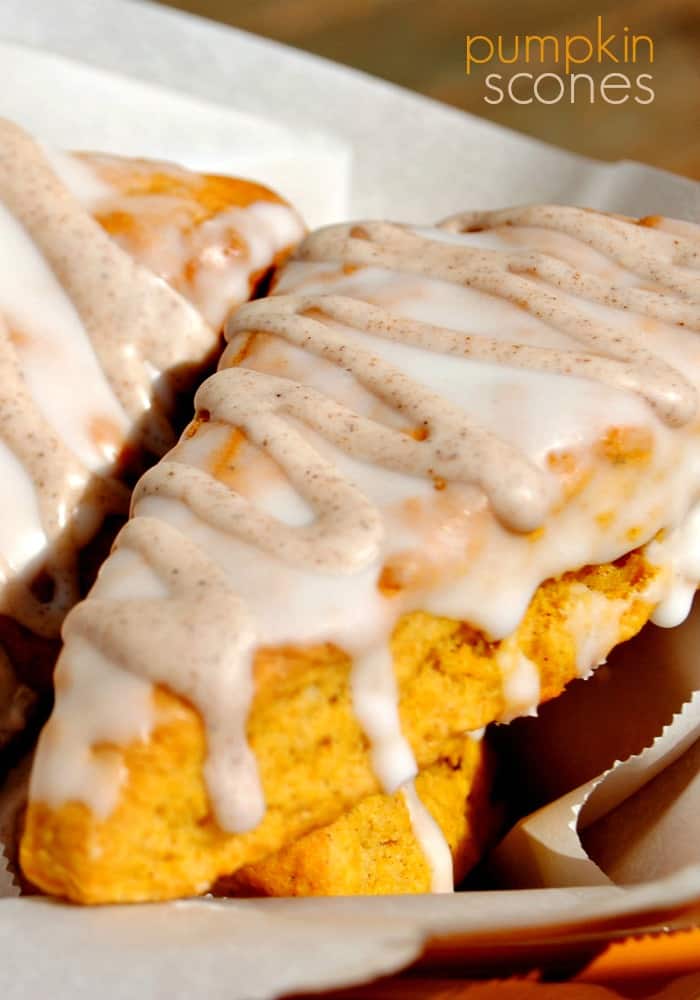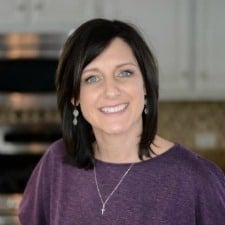 Aimee is a dessert lover (specifically rice krispie treats), workout enthusiast, self-taught foodie, and recipe creator. Her recipes have been featured in over 15 magazines, and her passion is to share her love of cooking with the everyday home cook! Learn more about Aimee.