If you love Starbuck's Pumpkin Scones, you've got to give this copycat recipe a try! The double cinnamon glaze on the scones gives them the sweetness they need!
For more pumpkin recipes, be sure to try this delicious, moist Chocolate Chip Pumpkin Bread. Better than Starbucks! Or give our pumpkin cream cheese muffins a try next!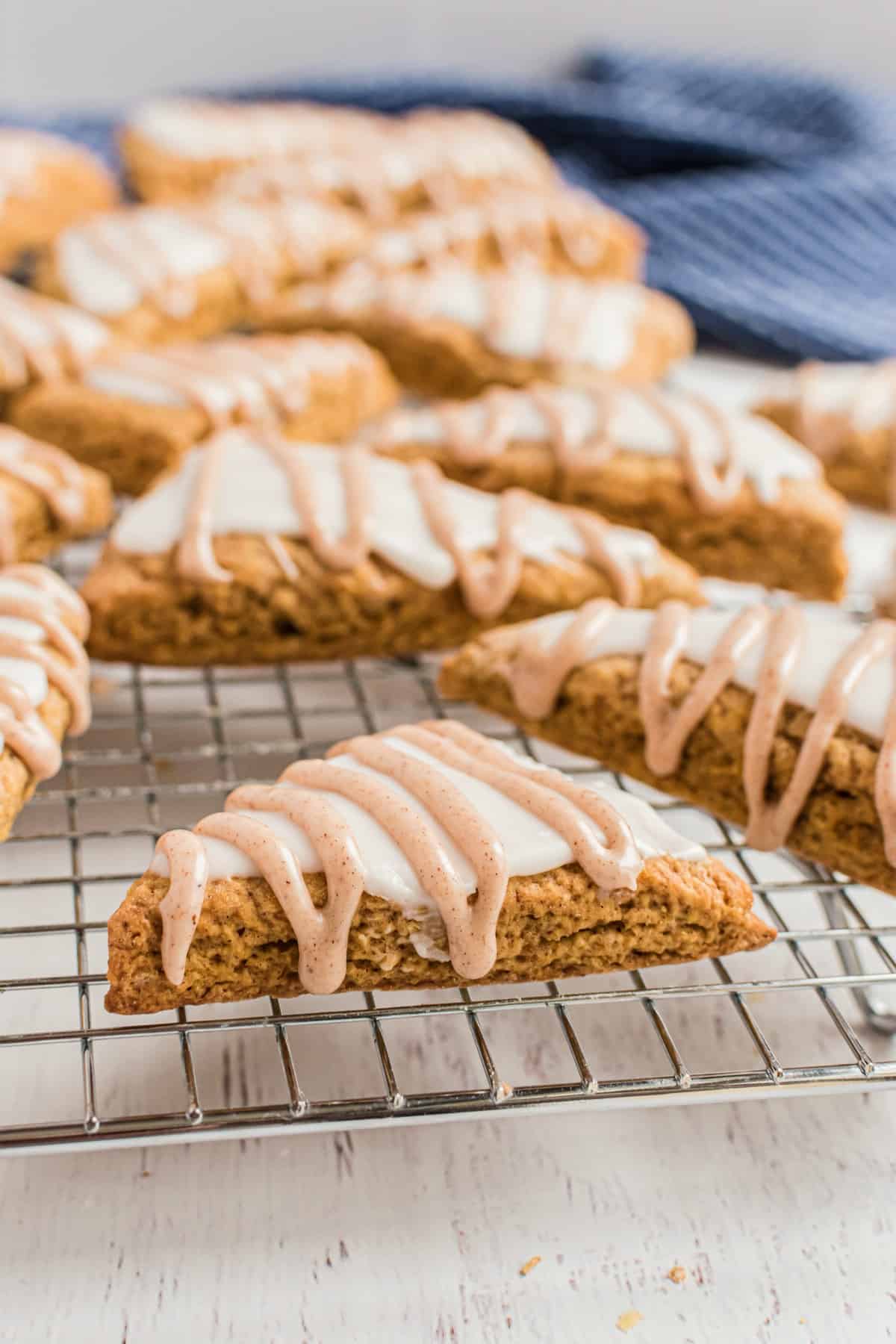 Starbucks Copycat Recipe
We're heading into fall now and pumpkin scones seem like a good way to welcome the season (I can't wait for the Cranberry Bliss Bars).
With a moist crumb and a sweet glaze, it was just the snack I needed with my cup of coffee. (Have you tried my Pumpkin Cream Cold Brew Coffee yet? DELISH).
These copycat starbuck's scones were every bit as good as the original!
The scone itself is so moist, not overly dry and crumbly like some I have eaten before. They're sweeter than your average scone, too, with lots of good pumpkin flavor.
Did I mention how amazing these pumpkin scones smelled while they were baking? All those autumn spices and the aroma of the pumpkin that filled my kitchen definitely got me in the mood for fall!
And, oh my goodness, that glaze. Most scones stop with just one layer of glaze but with these scones, you're going to amp the sweetness up a notch with two different kinds of glaze.
Pumpkin Scones make a great on-the-go breakfast or an afternoon pick-me-up. If you've been finding yourself making regular pit stops at Starbucks for one, making a batch of these can save you the time (and the cash).
Pumpkin Recipes: Pumpkin Dump Cake | Pumpkin Coffee Cake
How to Make Pumpkin Scones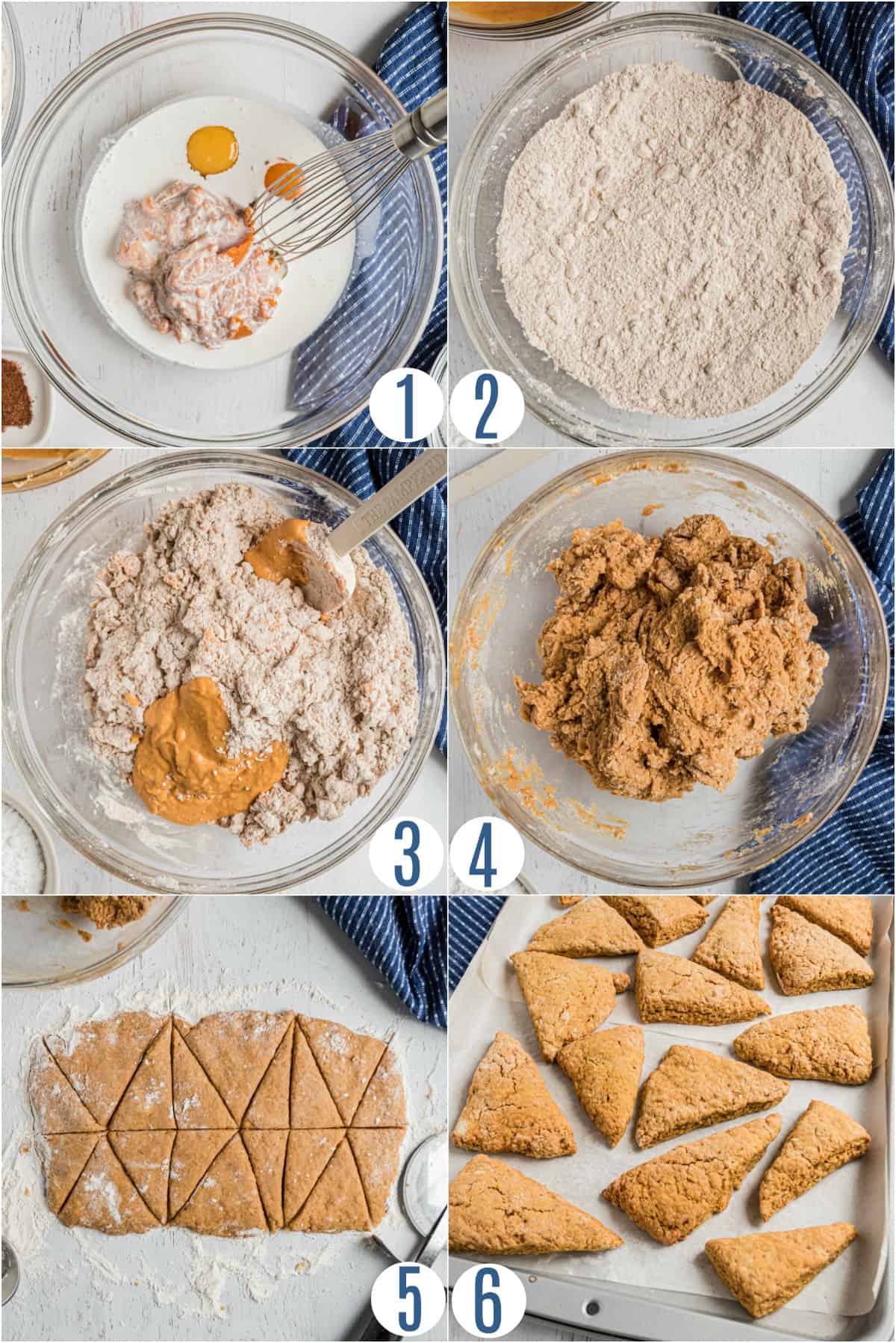 Mix Wet Ingredients. In small bowl, mix canned pumpkin, heavy cream and egg with a whisk. Set aside.
Add Dry Ingredients. Use the paddle attachment on your stand mixer to mix flour, sugar, baking powder, baking soda, and spices. Add in cold butter cubes and mix until crumbly. Slowly add in the pumpkin mixture and mix until thoroughly combined.
Note: The dough will be crumbly, so you'll need to mix with your hands at this step. if it's too sticky, add about 1/4 cup flour until you can manage it easily.
Form Rectangle. Divide dough in half, and form the dough into a 12×6 inch rectangle. If it's too sticky, use your hands to mix in enough flour so it is easier to shape. I sprinkle my silpat (or counter) with about 1/4-1/2 cup flour.
Cut Scones. Cut dough into 3 rectangles by making three vertical cuts. Cut each of the rectangles by making an X, I use a pizza cutter. Then make ONE horizontal cut across the center. You should now have 18 triangles.
Bake. Place each triangle onto a cookie sheet lined with parchment paper. Bake in a 425 degree oven for about 13-15 minutes. Repeat with other half of dough. Let the scones cool completely before glazing. 
Favorite Scones: Orange Scones | Blueberry Lemon Scones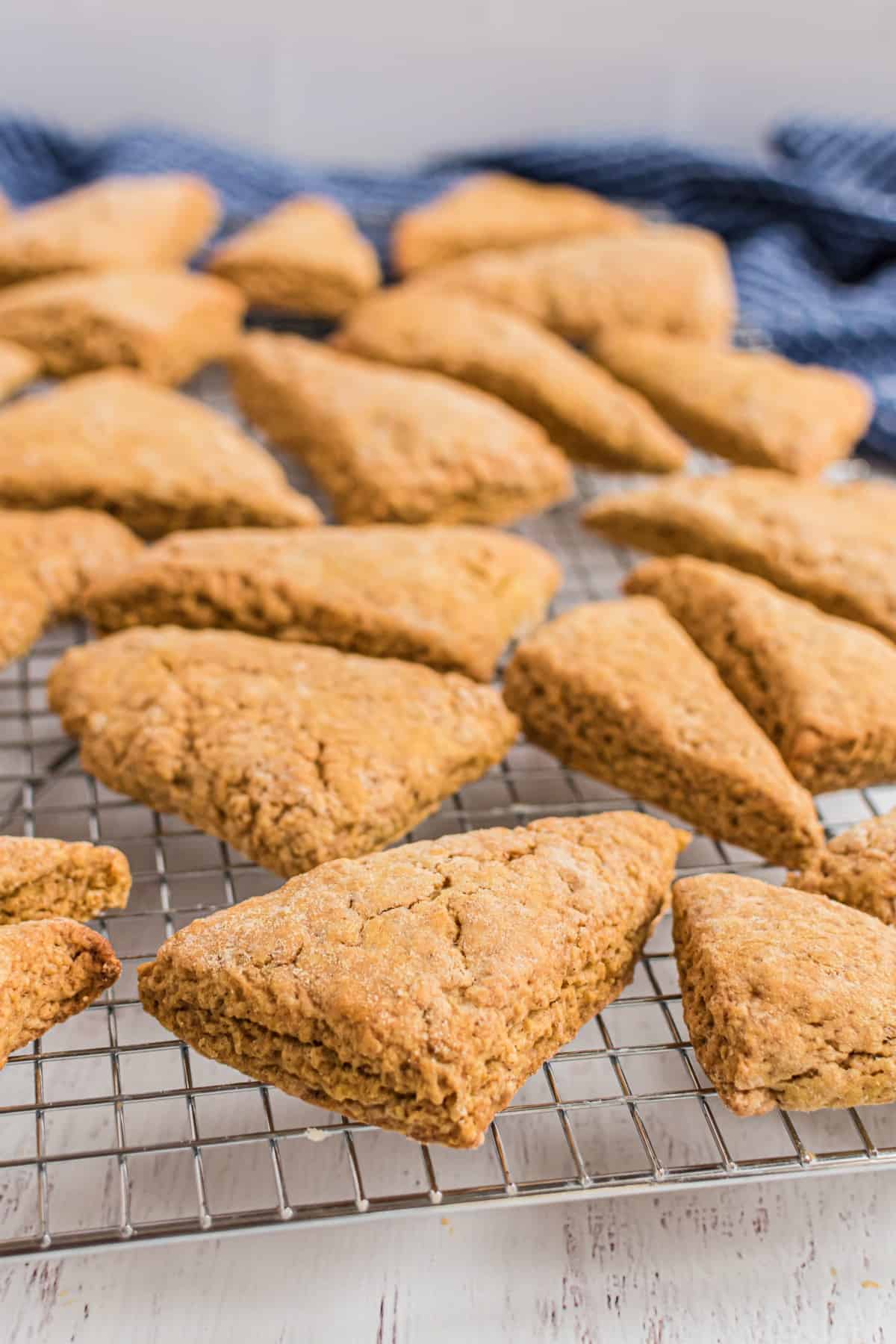 How to Make the Glaze
There are two different glazes used in this recipe, just like the scones from Starbucks.
To make the vanilla glaze: Whisk the powdered sugar with heavy cream. Using a pastry brush, paint the tops of each scone with the glaze.
To make the cinnamon glaze: Whisk the powdered sugar, cinnamon, all spice and heavy cream together until smooth. Pour into a ziploc bag and cut the corner. Drizzle the glaze over all the scones.
Allow to dry (about 15 minutes). Eat and enjoy!
Storage
These scones are best eaten within a couple of days of baking. Keep them covered in an airtight container or wrapped tightly with plastic wrap.
Scones can also be stored in the freezer then thawed before serving, if you need to make them further ahead of time.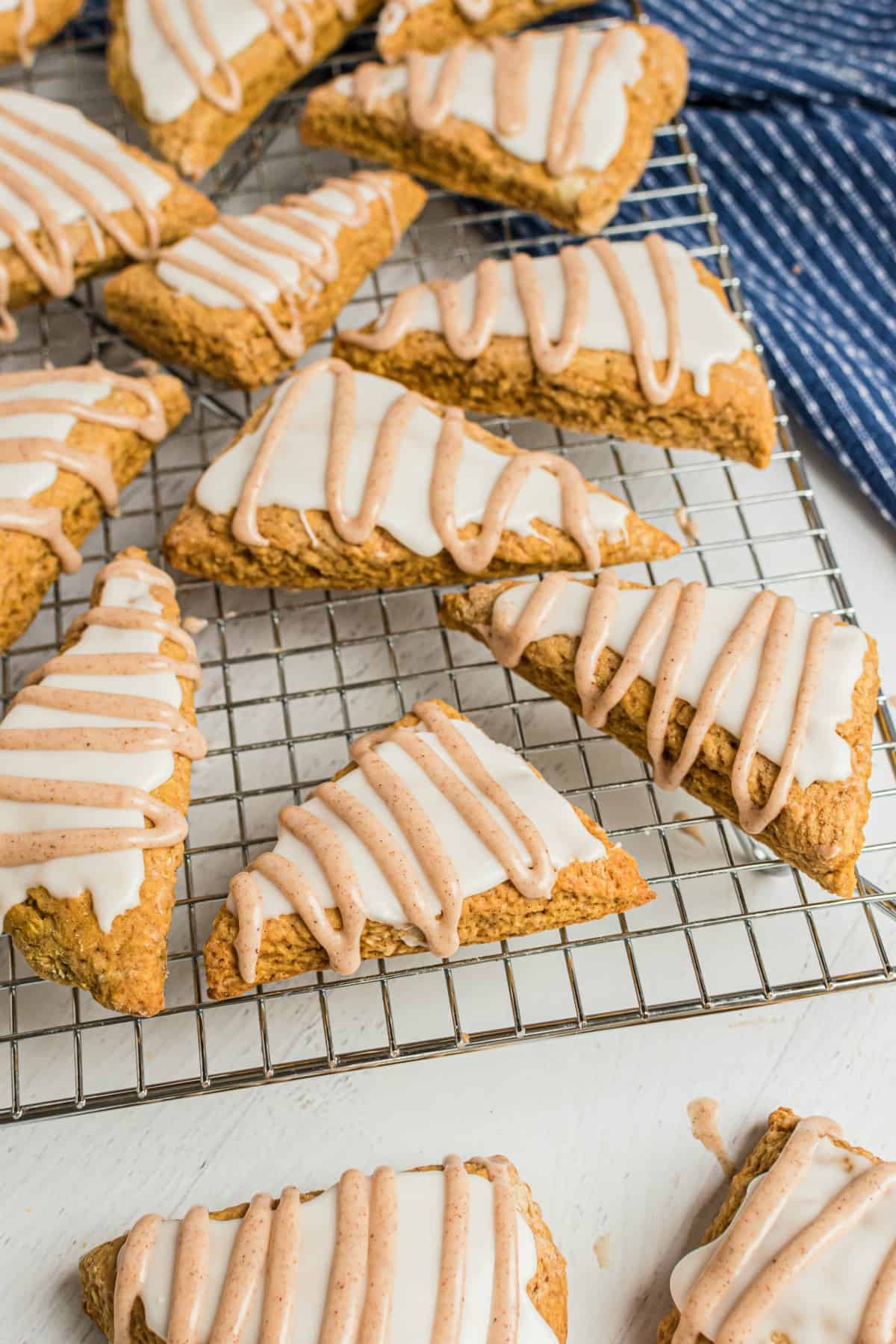 These copycat Starbucks pumpkin scones are full of pumpkin flavor and fall spices. Topped with two layers of glaze, you won't be able to resist this homemade pastry!