Light and fluffy, these big bakery style Blueberry Lemon Scones recipe are the perfect breakfast idea! Topped with a sweet lemon glaze, you won't be able to resist them!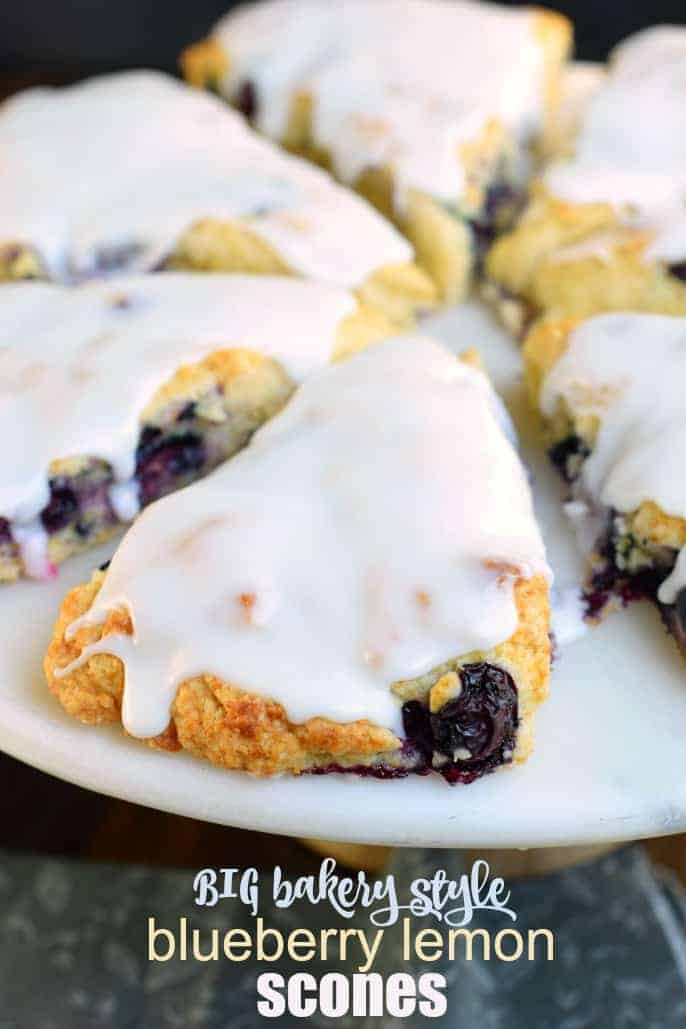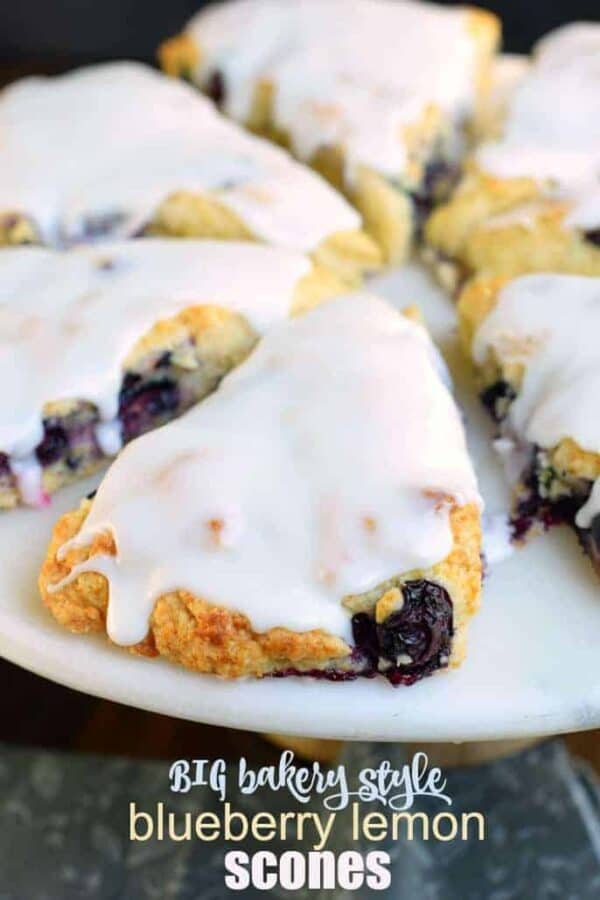 Having a sweet breakfast pastry with my morning cup of mocha latte coffee is LITERALLY one of my favorite parts of the day.
I don't have a pastry EVERY day…but this time of year I seem to have an abundance of scones, muffins, and sweet breads stocked up in my freezer!
If you follow me on instagram, you may have noticed we purchased a cottage on a lake this weekend. I'm so excited to sit outside with my morning coffee and blueberry lemon scone and watch the sunrise over the lake.
I'm not sure how life could be better? (especially with my family at my side)
So, have you made scones yet? They really are quite easy, and they taste amazing when paired with a hot cup of tea or coffee.
Although my kids prefer with hot cocoa or a cold glass of milk. Today's recipe came about because we had a friend give us a huge bag of fresh Michigan blueberries this summer. SO GOOD.
Favorite Berry Recipes: Lemon Blueberry Cake | Blueberry Muffins

How to make Scones
Preheat your oven to 400 degrees F. Line a large baking sheet with parchment paper or a silpat.
In a large mixing bowl, combine the dry ingredients with the lemon zest. Add in COLD butter and mix until crumbly. Slowly add in the egg and heavy whipping cream.
The mixture might still be crumbly, it's okay.
Add the blueberries and combine gently, it's okay if some burst open.
Remove the dough and drop it onto the parchment paper baking sheet. Using your hands, press dough into a large circle, about 1 inch thick. Cut into 8 triangles and gently separate them on the baking sheet.
Bake for 20 minutes. Remove and cool completely.
For the glaze, whisk together the powdered sugar, milk, and lemon juice until smooth. Drizzle or spread over the tops, depending on your desired consistency.
ENJOY!!

FAQ
Q: Can I use frozen blueberries instead of fresh?
A: Absolutely. I would just put them in a bowl with a little bit of flour to coat them (this will offset the extra moisture they provide).
Q: Can I freeze blueberry lemon scones?
A: Yes! I freeze them by sliding them into a ziploc freezer bag. They do slightly soften once frozen, but still taste amazing. To thaw, place on room temperature counter overnight (in ziploc bag).
Q: Can I make scones without the glaze?
A: Definitely! If you prefer without frosting, you can brush the tops with a little heavy whipping cream before baking, and sprinkle them with a coarse, turbinado sugar. Bake as directed and enjoy.
Q: How long do scones last?
A: That varies. In my house, one day, haha. But seriously, if kept in an airtight container, these blueberry lemon scones will stay fresh about 3 days. They really are best the first 24 hours.

Favorite breakfast pastry recipes