Light and fluffy, these big bakery style Blueberry Lemon Scones recipe are the perfect breakfast idea! Topped with a sweet lemon glaze, you won't be able to resist them!
We love easy blueberry recipes, including our favorite blueberry muffins! Our blueberry buckle recipe is top notch and a reader favorite.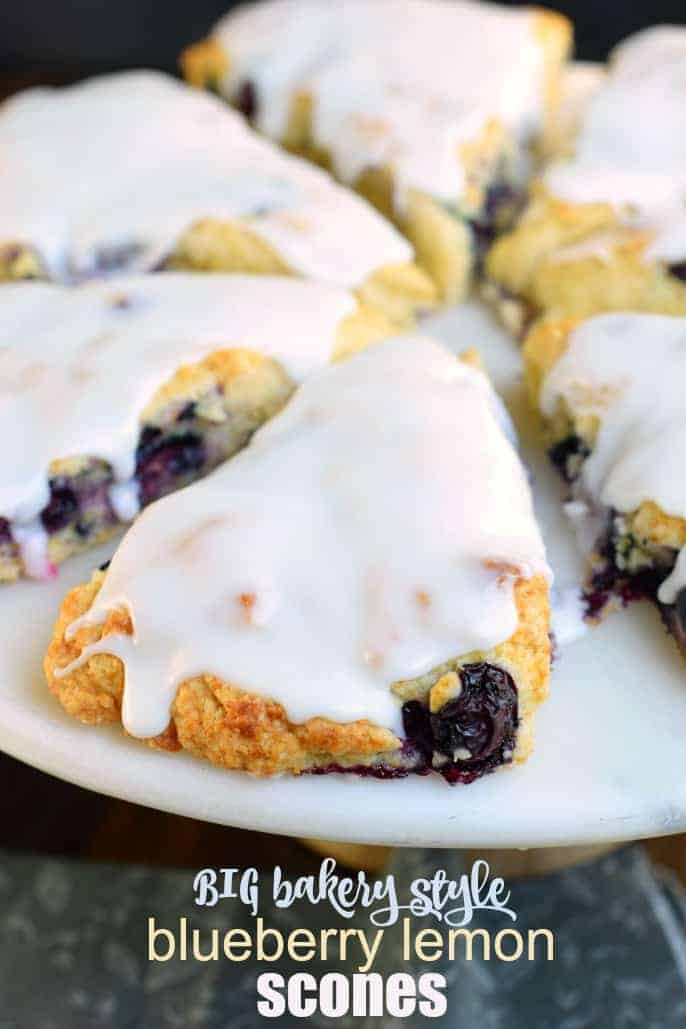 Why This Recipe Works
These bakery-style scones are so easy to make at home, they'll save you the trip and make you feel like a master baker!
Plus, they require pretty simple, on-hand baking ingredients.
These scones are so moist, not dry and crumbly like some you may have eaten before.
We've got a full cup of blueberries for pops of fresh berry flavor in every bite!
The sweet lemon glaze on top makes them extra special – and extra delicious!
Favorite Berry Recipes: Lemon Blueberry Cake | Blueberry Sweet Rolls
Ingredient Notes
Unsalted butter – Make sure your butter is COLD before adding it to the scones. I suggest putting it in the freezer for a few minutes to guarantee maximum coldness. If using salted butter, skip the kosher salt in the ingredients.
Lemon zest – You need a full tablespoon of lemon zest, from 1 large or 2 small or medium lemons, for the scone batter. Use our guide on how to zest a lemon for best tips and tricks.
Heavy cream – Be sure to choose heavy whipping cream as you'll want the high fat content for these scones.
Blueberries – I usually use fresh blueberries, but you can also substitute frozen. Just make sure they are fully thawed and toss them with a little bit of flour to coat them and offset the extra moisture they have.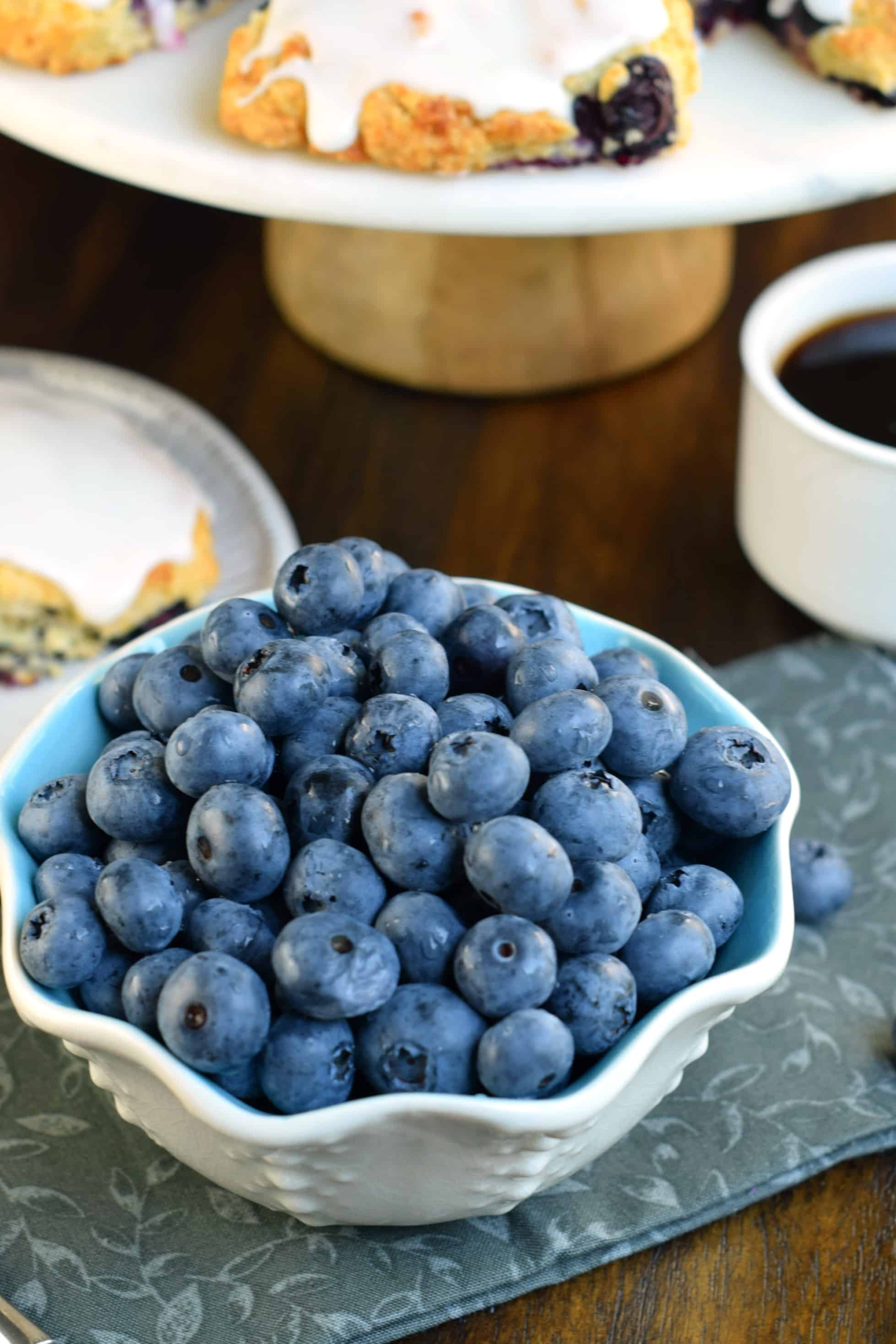 Easy Instructions
STEP 1. Make the dough. Combine the flour, sugar, baking powder and salt with the lemon zest. Add in COLD butter and mix until crumbly. Slowly add in the egg and heavy whipping cream. Gently fold in the blueberries.
STEP 2. Shape the dough. Place the dough on a parchment paper lined baking sheet. Shape into a large round disc shape about an inch thick. Cut the dough into 8 triangles (like a pizza) and gently separate them on the baking sheet.
STEP 3. Bake. Bake the scones at 400 degrees Fahrenheit for 20 minutes. Remove and cool completely.
STEP 4. Make the glaze. Whisk together the powdered sugar, whipping cream and lemon juice until smooth. Drizzle or spread over the tops of the cooled scones. Enjoy!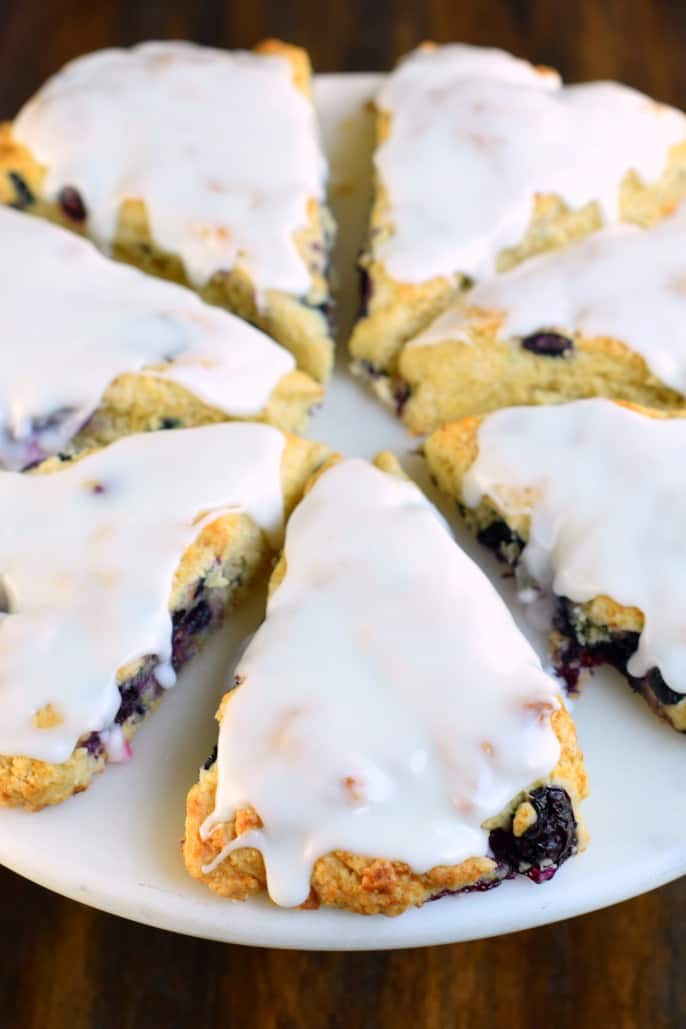 Tips and Tricks
The butter needs to be COLD before you mix it into the dough. I recommend putting it in the freezer for a few minutes to make sure it's really chilled.
The dough for the scones may be a little crumbly when fully mixed. That's OK!
Gently fold the blueberries into the batter, but don't worry if a few of the blueberries burst.
Line the baking sheet with parchment paper. This will help you shape the dough and also prevent the scones from sticking.
Make sure the scones are cooled completely before you add the glaze. Otherwise, it'll slide right off.
These scones are best enjoyed within the first 24 hours of baking, but they can be kept for up to 3 days. Keep them covered in an airtight container.
Recipe FAQs
Can I use frozen blueberries instead of fresh?
Absolutely. I would just put them in a bowl with a little bit of flour to coat them (this will offset the extra moisture they provide).
Can I make scones without the glaze?
Definitely! If you prefer without frosting, you can brush the tops with a little heavy whipping cream before baking, and sprinkle them with a coarse, turbinado sugar. Bake as directed and enjoy.
How long do scones last?
That varies. In my house, one day, haha. But seriously, if kept in an airtight container, these blueberry lemon scones will stay fresh about 3 days. They really are best the first 24 hours.
Can I freeze blueberry lemon scones?
Yes! I freeze them by sliding them into a ziploc freezer bag. They do slightly soften once frozen, but still taste amazing. To thaw, place on room temperature counter overnight (in ziploc bag).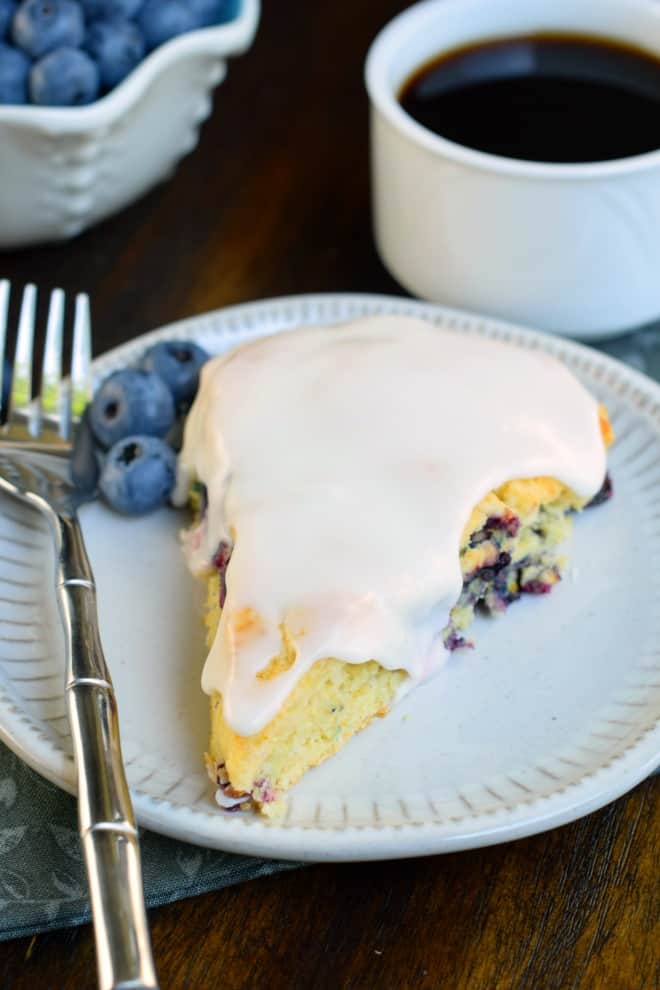 Favorite breakfast pastry recipes