Tender and moist, this Blueberry Buckle Breakfast Cake recipe is the perfect start to your day. Packed with fresh berries and topped with a thick cinnamon streusel, you'll love a slice for breakfast or dessert!
Give me ALL the blueberries all summer long. These Blueberry Muffins are on the list for this week too! And who can resist a fresh blueberry pie? Not me!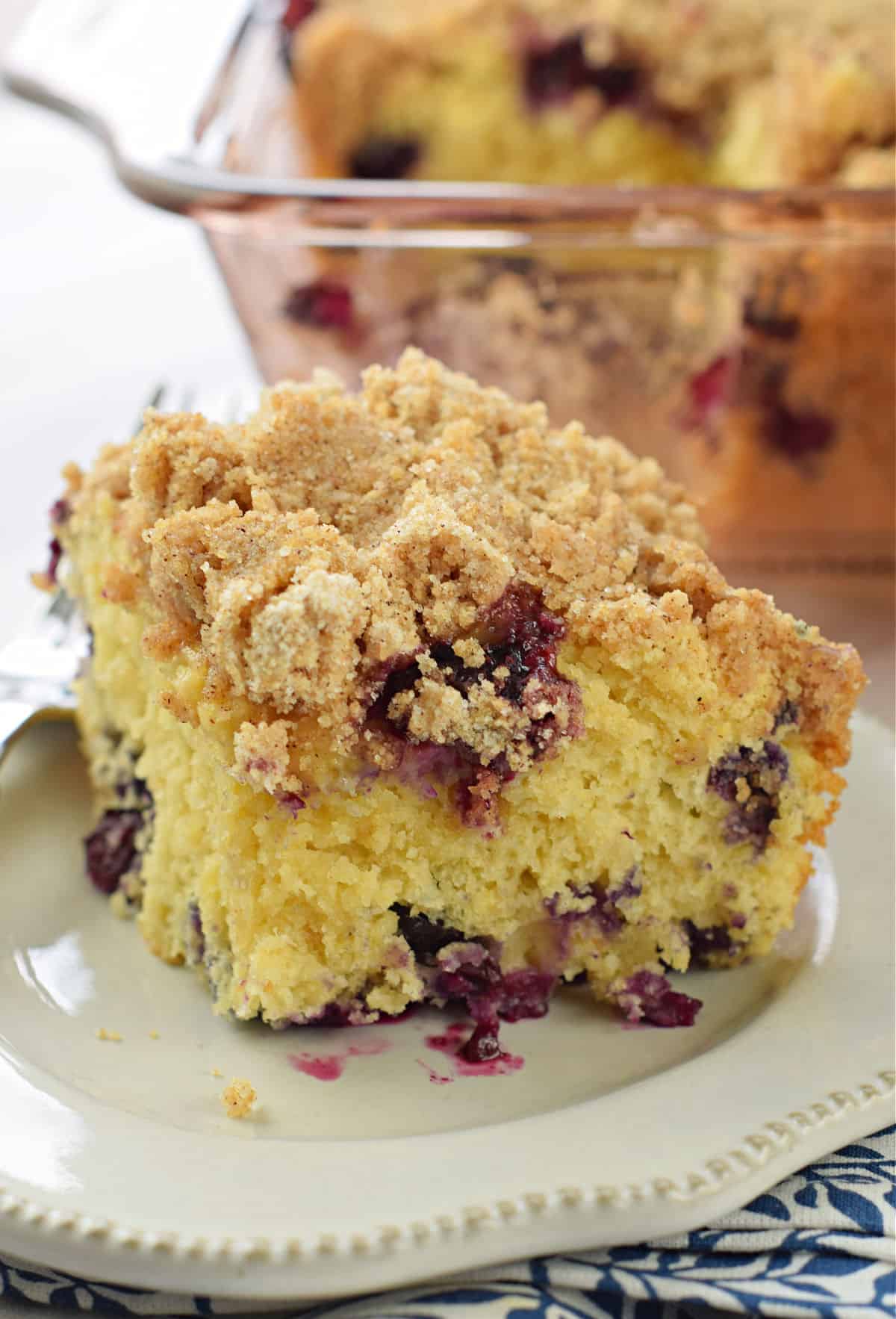 Why this Recipe Works
Blueberry Buckle. You've seen it in every church cookbook, but what is it exactly?
A classic buckle is a tender cake packed with fruit. As the cake bakes it "buckles" around the fruit. Many breakfast cakes are topped with a thick crumb topping too!
My favorite recipes are ones that can be enjoyed with a hot cup of coffee. What I love about today's recipe is it's not TOO sweet, making it the perfect breakfast treat!
Today's Blueberry Buckle recipe is from scratch, and kitchen tested to come out perfect every time!
I didn't skimp on the streusel topping either. The combination of fresh blueberry flavor and cinnamon sugar crumb is to die for.
Whether you call this Blueberry Coffee Cake or Blueberry Breakfast Cake, one thing is for certain. Cake for breakfast is a genius idea!
Ingredient Notes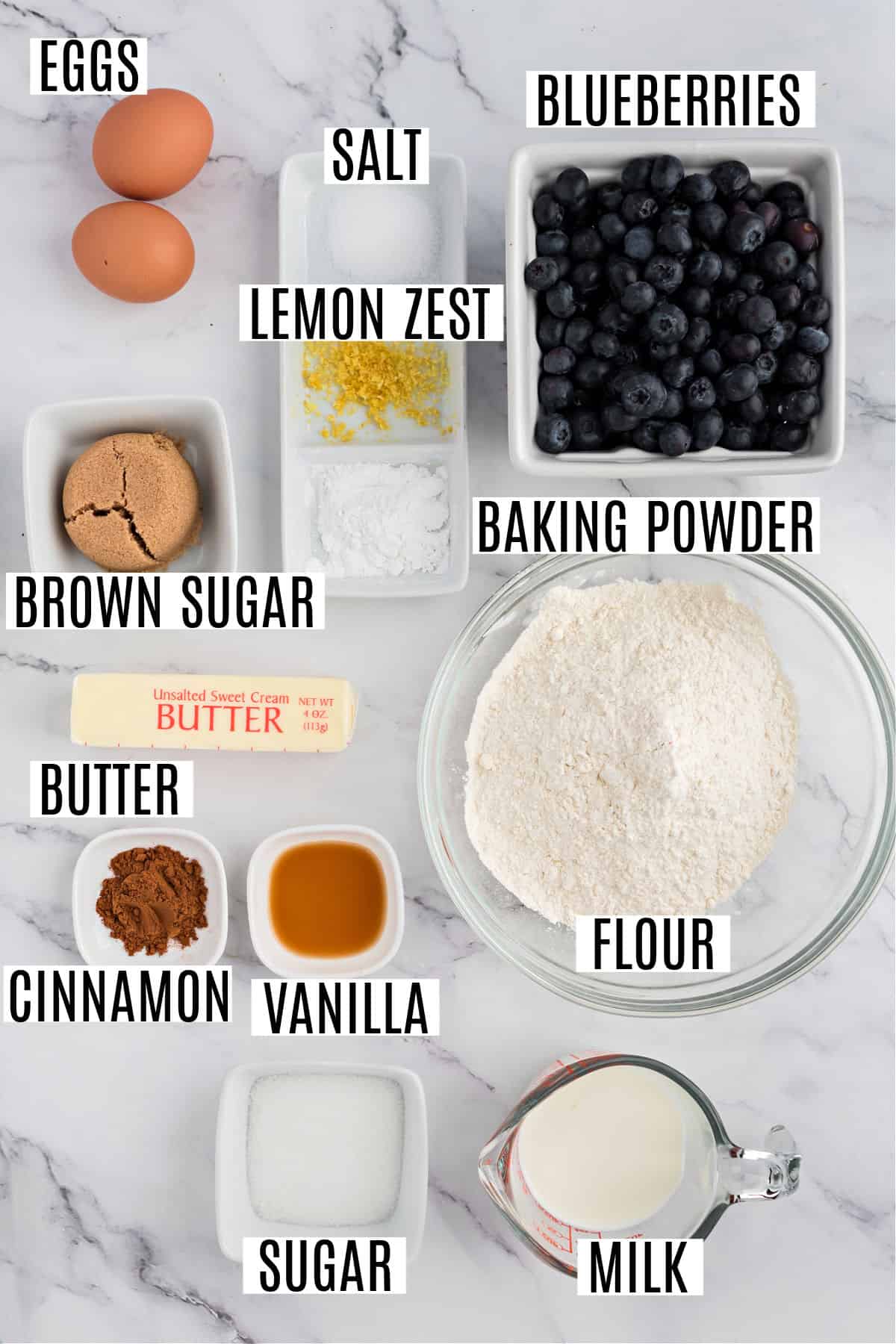 Fresh blueberries. The riper and juicier the better!
Lemon zest. Adding the outermost colorful layer from a lemon peel gives the blueberry buckle a hint of citrus aroma. It doesn't taste super lemony but it does enhance the flavor of the blueberries in a delicious way. Use our guide on how to zest a lemon for best practice.
Unsalted butter. If you only have salted, it works just fine in todays recipe, swap out some of the kosher salt.
PRO TIP- We love making our own homemade vanilla extract, but if using store bought, be sure it's pure extract, not imitation (for best flavor).
Easy Instructions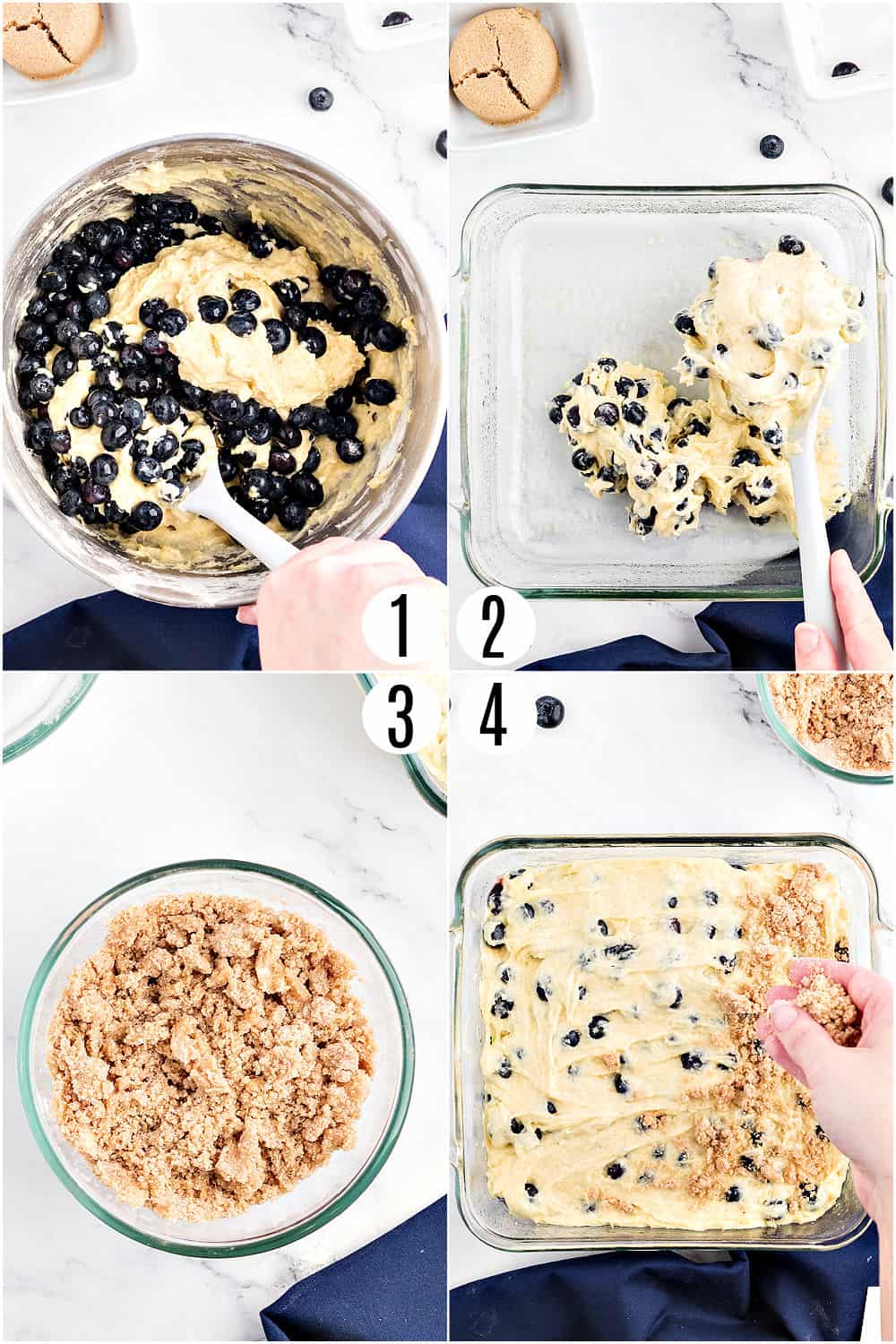 Make the cake batter. Combine the dry ingredients in the bowl of a stand mixer. Then, beat the butter into the dry ingredients using the paddle attachment.
Next, mix in the milk, eggs, vanilla and zest to create a thick batter. Fold in the blueberries.
Add streusel topping. Pour cake batter into a greased 9 inch cake pan. Combing the ingredients for the streusel in a small bowl. Sprinkle over the top of the cake batter.
Bake. Bake the cake in a preheated oven for about 1 hour. The cake topping should be slightly browned.
Let your fresh homemade blueberry buckle cool completely before serving.
Tips and Tricks
The batter will be VERY thick. Gently fold in your blueberries, it's okay if a few of them burst. The thick batter helps keep these berries floating in the cake and not sinking to the bottom.
Use your hands to mix the streusel. This helps break up the butter evenly into the crumb mixture.
Adding lemon is optional, but I love the way it brings out the flavor in blueberry recipes. Just like I added citrus to these Blueberry Lemon Hand Pies and lime to this Blueberry Lime Crumble recipe.
When zesting the lemon for today's buckle, I use this microplane grater. Be sure to only zest the outer skin, the yellow part. If you zest some of the white, it becomes too bitter, so don't go crazy with zesting!
Fresh blueberries work best in this recipe. Frozen berries will still work, but may bleed color into your cake, and may affect the cooking time. The added moisture from frozen berries is significant in today's recipe!
This cake can also be made without the streusel if desired. Sprinkle with about 2 Tablespoons of coarse sugar in place of the streusel. This gives the top of the cake a little texture and sweetness without the added layer of streusel. Drizzle a little vanilla icing on top!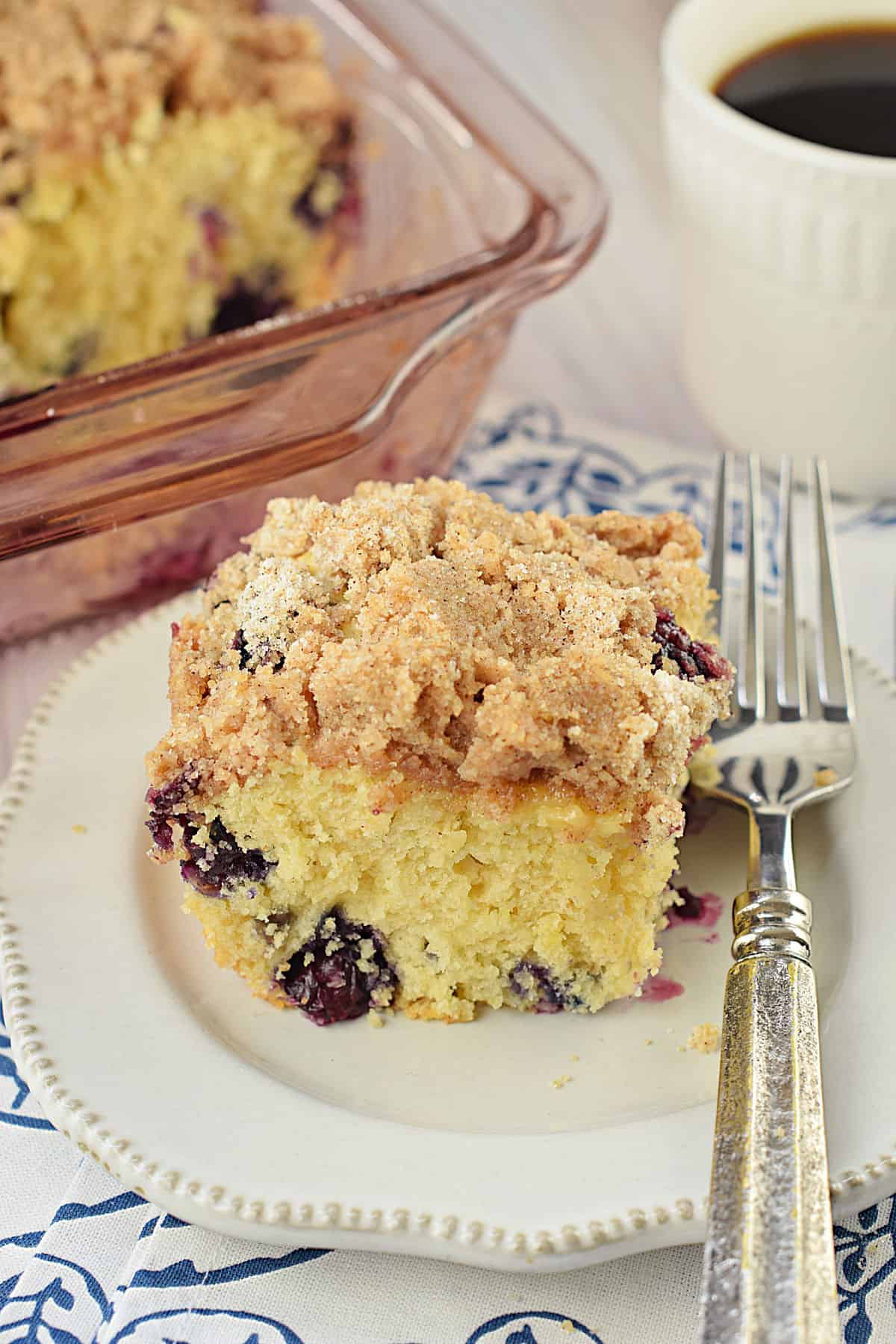 Recipe FAQs
Can I make this in a different size pan?
Yes, but the size of the pan will affect the bake time and the thickness of the finished cake. I like this in a 9 or 8 inch square dish for even baking and a wonderfully thick blueberry buckle cake!

How long does this cake stay good?
This cake is best enjoyed within 2 -3 days of baking.
What's the best way to store blueberry buckle?
Wrap leftovers tightly in plastic wrap or in an airtight plastic container. Store at room temperature.
If my batter is too thick, can I add more liquid?
This batter is supposed to be very, very thick before baking. It's not your typical cake batter! Do not add more milk or other liquid ingredients to thin it out. You'll affect the consistency and taste of the finished cake.
A slice of fresh coffee cake is my idea breakfast! Here are a few of my favorite breakfast cake recipes.
The best ever breakfast cake has arrived! Homemade with love, this Blueberry Buckle makes that first sip of coffee even better.