It's a classic for a reason–homemade Blueberry Pie with a lattice top never goes out of style! With juicy blueberries and an extra flaky crust, this is the only blueberry pie recipe you'll ever need.
Use the blueberry filling in these Blueberry Hand Pies, or swap the filling for a delicious Cherry Pie instead. Don't forget the homemade ice cream on top!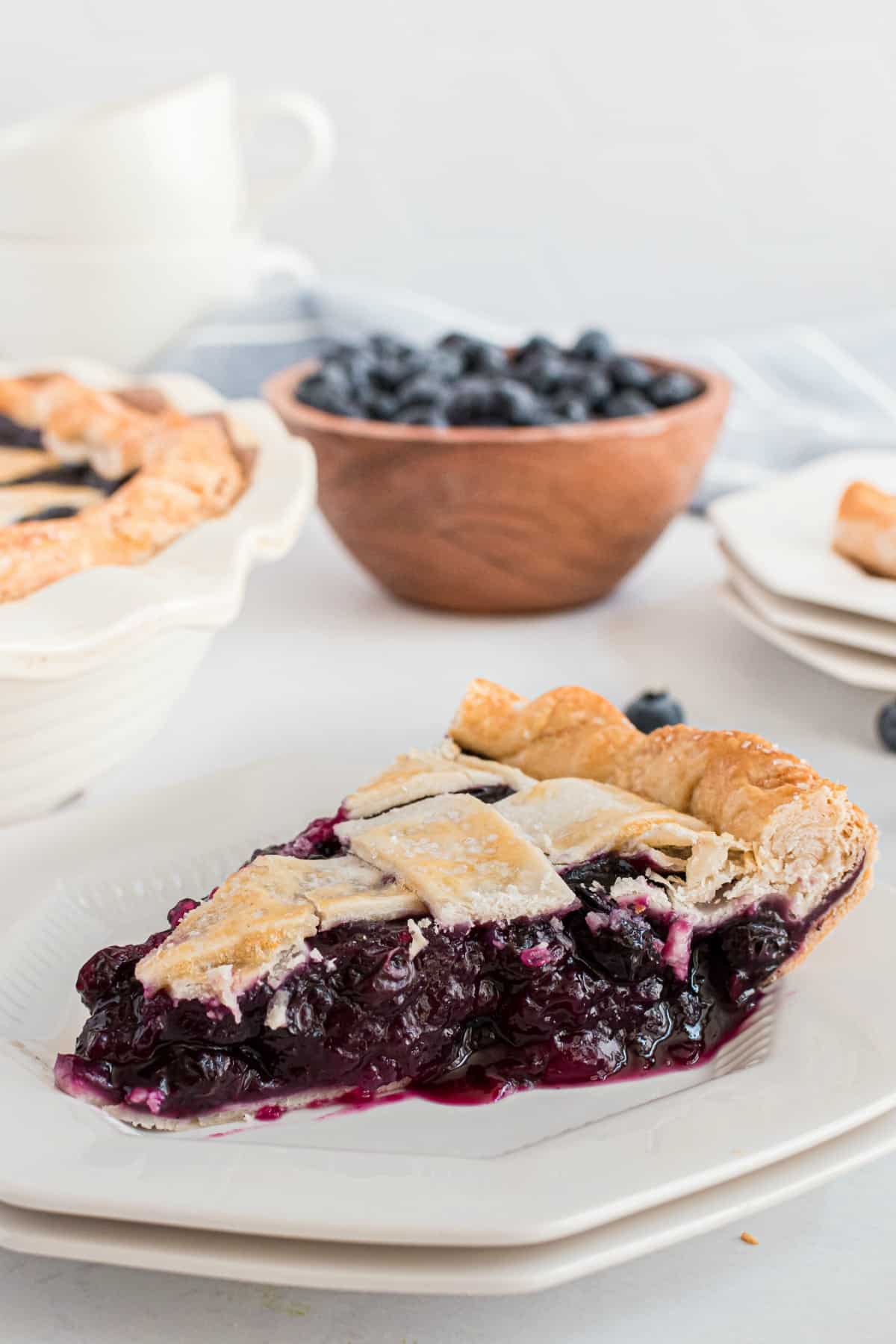 Why this Recipe Works
Summertime berries mean all kinds of good things: berry cobblers, muffins, scones and pancakes, not to mention handful after handful of fresh blueberries straight from the bowl.
If you can resist eating all of your fresh blueberries right out of the basket, it's well worth putting a few aside to make a pie.
Nothing is quite as nostalgic or comforting as a freshly baked Blueberry Pie, lattice top and all!
Pie Crust
For this blueberry pie recipe, I wanted to keep it simple and traditional. No frills or fancy additions. Just a syrupy blueberry filling, a buttery pie crust and, of course, a pretty lattice for the top.
To accomplish this, I used a double pie crust. I tried the recipe with both a doubled version of my Homemade Pie Crust and with a refrigerated pie crust from a box.
Both worked well! It's fun to make your own crust from scratch but in a pinch I always go with pre-made crust to save a little time and effort.
Favorite Pie Recipes: French Silk Pie | Dutch Apple Pie
If you love today's blueberry pie recipe, you've got to try our blueberry slab pie. Easy to make in a quarter sheet pan, making it perfect for a potluck or party.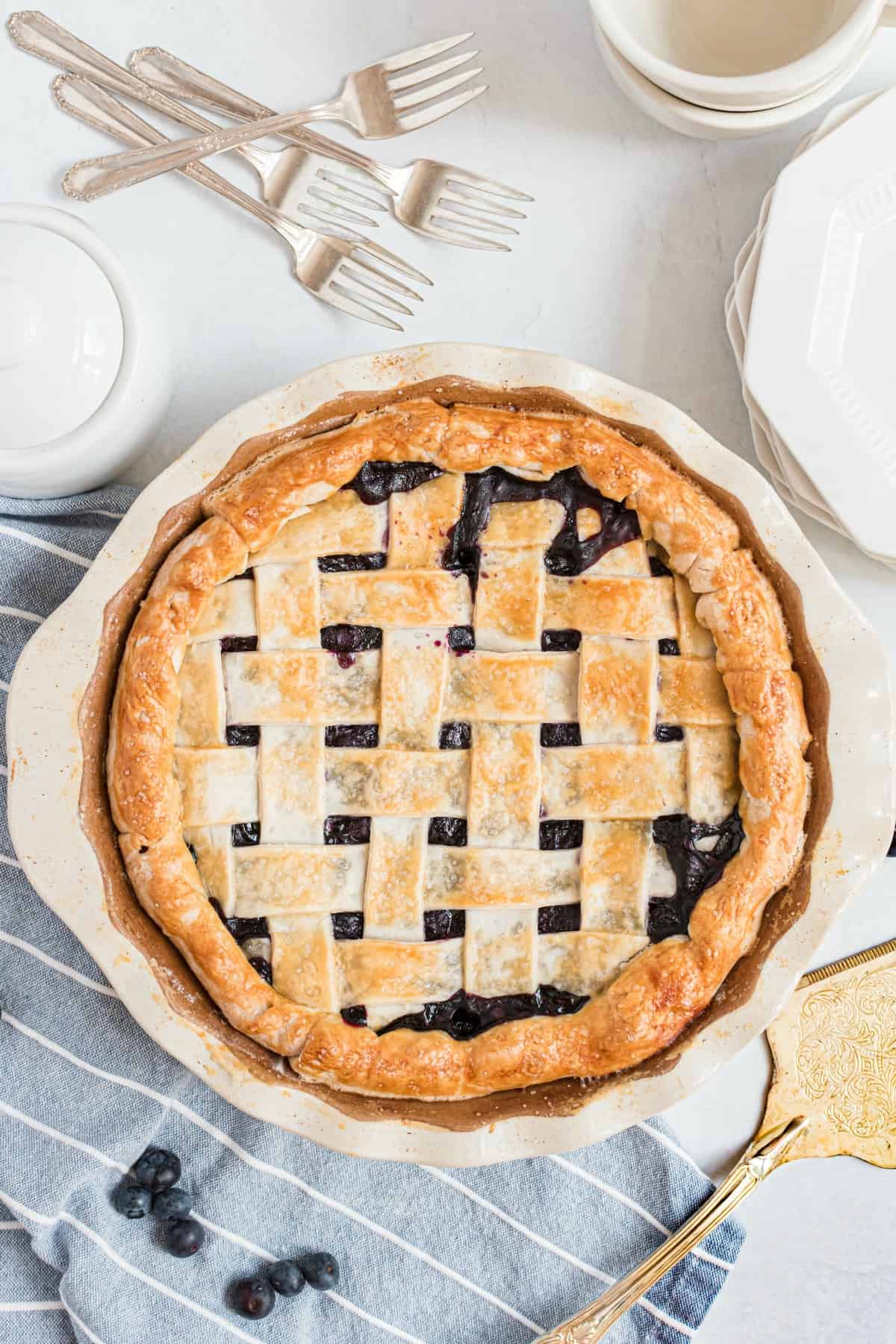 What pie plate to use
I opted to use a deep dish pie plate here, because the filling makes a LOT!
If you don't have a deep dish, you can make two regular sized pies instead. (you'll need FOUR crusts) PS. These pies freeze so well.
Find and shop my favorite products in my Amazon storefront here!
How to Make Blueberry Pie
STEP 1. Make the blueberry filling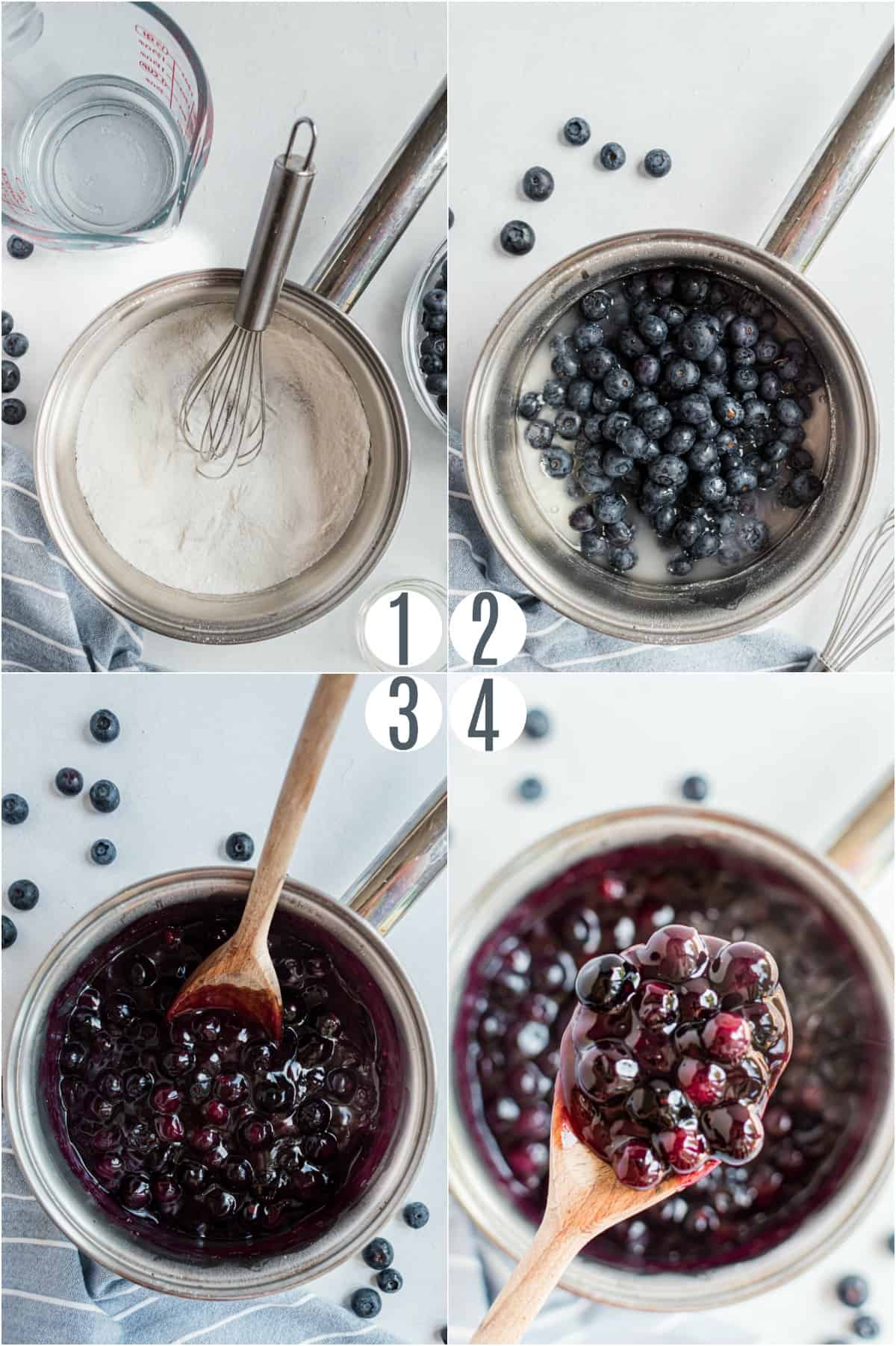 In a large saucepan NOT on heat, whisk cornstarch and sugar together until no lumps remain. Add fresh or frozen blueberries along with water and a squeeze of lemon juice.
Cook this mixture in the saucepan over medium heat, stirring frequently to prevent it from burning. It takes about 10 minutes to get the filling thick and translucent. At this point, remove the pan from heat and let the filling cool completely.
The cooling step is vital! Don't skip it.
STEP 2. Prepare the pie crust
Roll out one of the prepared pie crusts to about ⅛" thickness. It should hang over the edge of your deep pie plate by at least an inch. If you're making two pies instead of one deep dish pie, divide the dough in half before rolling it out.
Pour cooled blueberry filling into the pie plate over the bottom crust. Now it's time to make the lattice out of the second crust.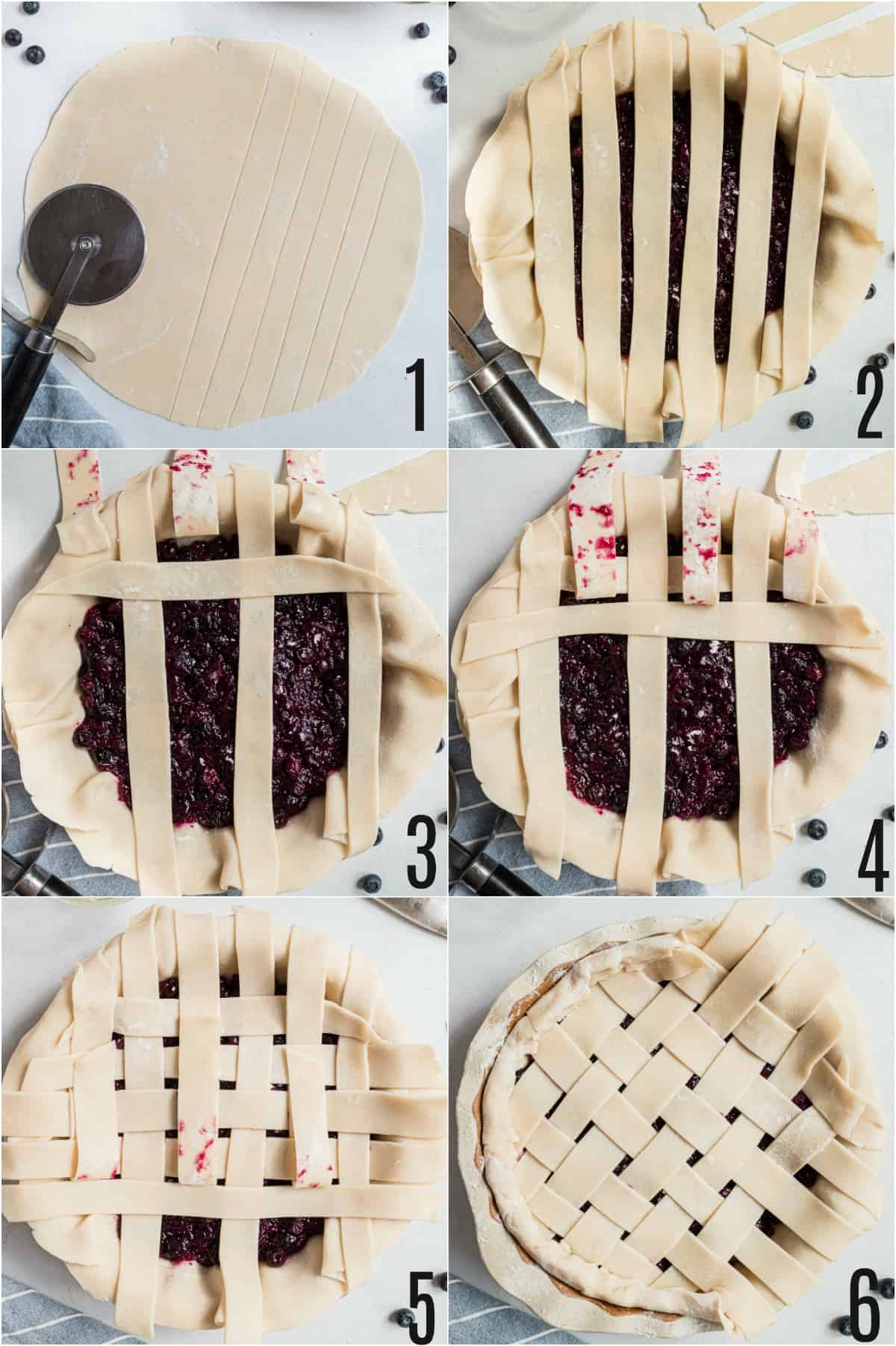 STEP 3. Lattice top
To make the lattice, first roll out the second prepared pie crust to ⅛" thickness. Using a pizza cutter, pastry cutter, or knife, cut 12 strips that are the same width.
Lay 6 strips vertically, across the pie plate, spaced evenly. The strips should be longer than the pie plate and drape over the edge on each side.
Fold back every other strip so that only the very top of each strip is still touching the edge of the pie plate. Lay one of the 6 remaining strips perpendicularly across the pie.
Unfold the 3 strips so that they now lay over the perpendicular strip. Next fold the other 3 strips back and place another strip perpendicular across the pie. Unfold the 3 strips so that they lay over the strip that was just added to. Continue until all the strips have been used and the pie has a beautiful woven lattice top.
Yes, you can stop to take a picture. It's pretty!
There will be a little excess crust hanging over the edge of the plate. Roll it toward the center of the pie to form a clean and even edge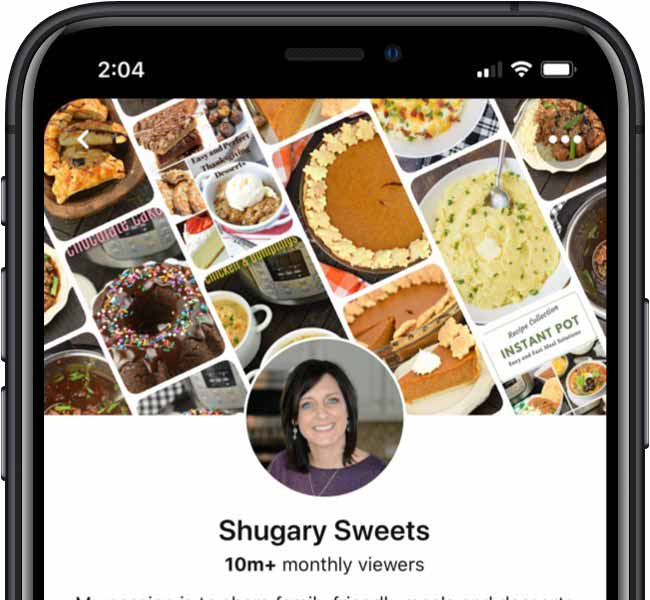 STEP 4. Bake
Before you put the pie in the oven, make an egg wash by beating one egg with a spoonful of water. Brush the wash over the top of the pie and then sprinkle it with coarse sanding sugar.
Bake the pie uncovered first for about 25 minutes. Then, cover the pie edges with foil or pie crust shield and reduce oven temp to 325℉. This step keeps the edges from over baking while the rest of the pie cooks. Bake an additional 35-45 minutes or until lattice top begins to brown.
Allow pie to cool for 3 hours at room temperature before you slice and serve it.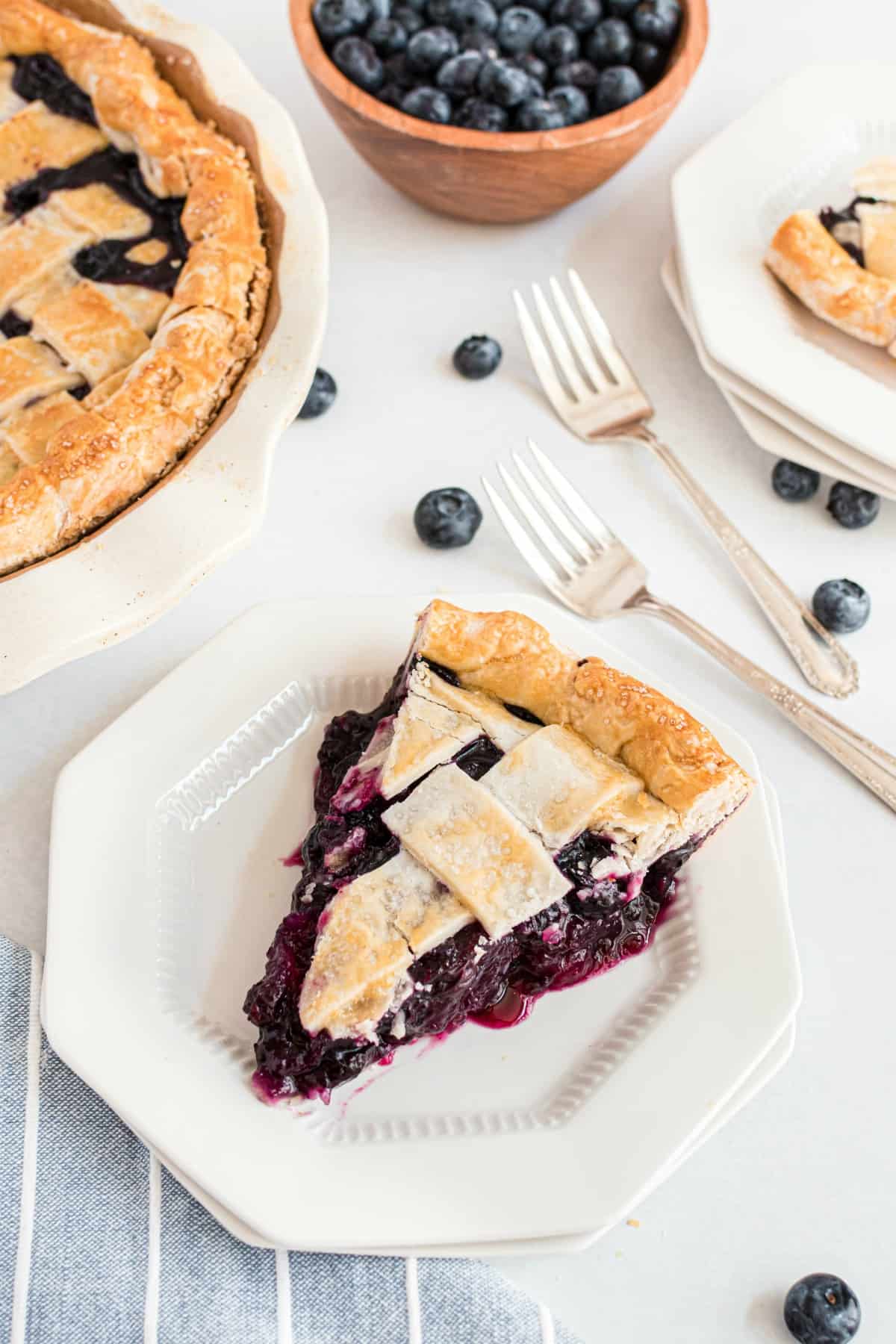 How to serve blueberry pie
Use a knife or pie cutter to cut the pie into even slices of your desired size.
You can serve this pie by itself on a plate or add a scoop of vanilla ice cream or homemade whipped cream on the side.
Don't forget to let everyone "ooh" and "ahhhh" over how beautiful your pie is first!
Storing Pie
You can store this pie, or its leftovers, in the fridge covered for about 5 days.
For a make-ahead option, prepare the blueberry filling in advance. Keep the filling in an airtight container in your fridge and it'll stay good for about 1 week. Then, when you're ready to bake your pie, just roll out your crust and go.
You can also freeze Blueberry Pie. There's a reason your local grocery stores have a freezer section FILLED with frozen berry pies.
To freeze, bake as directed and cool completely. Wrap in plastic wrap then completely in foil. Freeze for up to 60 days.
Thaw in refrigerator overnight and enjoy!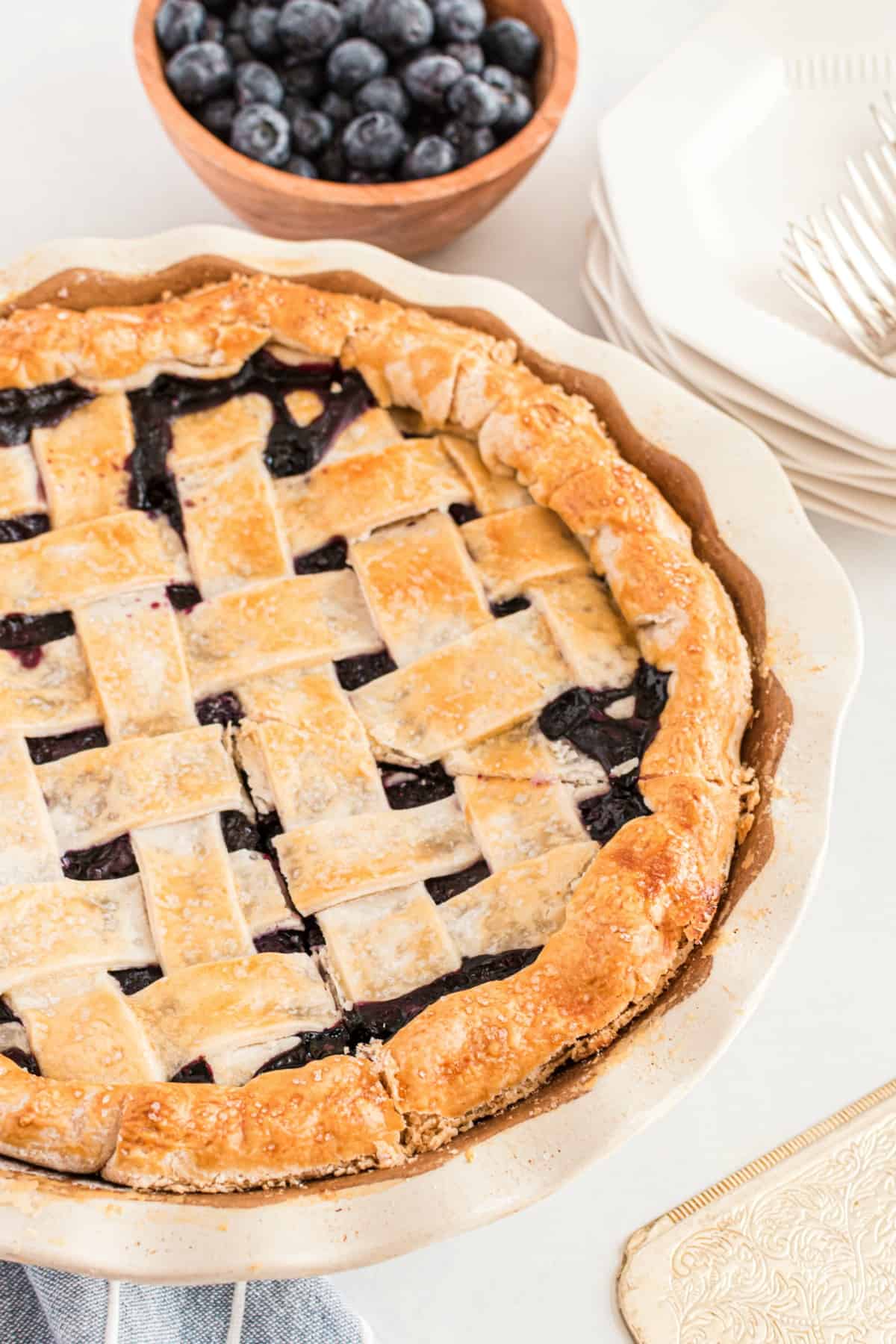 Recipe FAQs
Should I thaw frozen blueberries for pie?
Because you're cooking the filling, no need to thaw first.
Why is my blueberry pie runny?
The cornstarch in this recipe needs time to thicken. Allow the pie to bake fully, AND COOL fully to give this time to set up. You can always reheat a slice of pie if you like it warm.
Should blueberry pie be refrigerated.
I find fruit pies should stay refrigerated after cooling. Not only are they delicious COLD, but they last longer too and stay fresher tasting.
Bursting with juicy berries and finished with a lovely lattice top, this Blueberry Pie is the classic dessert everyone loves!