Classic Lemon Meringue Pie is the dessert of your dreams. With a tart lemon filling and sweet clouds of meringue, this pie is guaranteed to impress anyone lucky enough to get a slice.
For all my pie loving friends, be sure to give my homemade cherry pie and blueberry pie recipe a whirl. So good!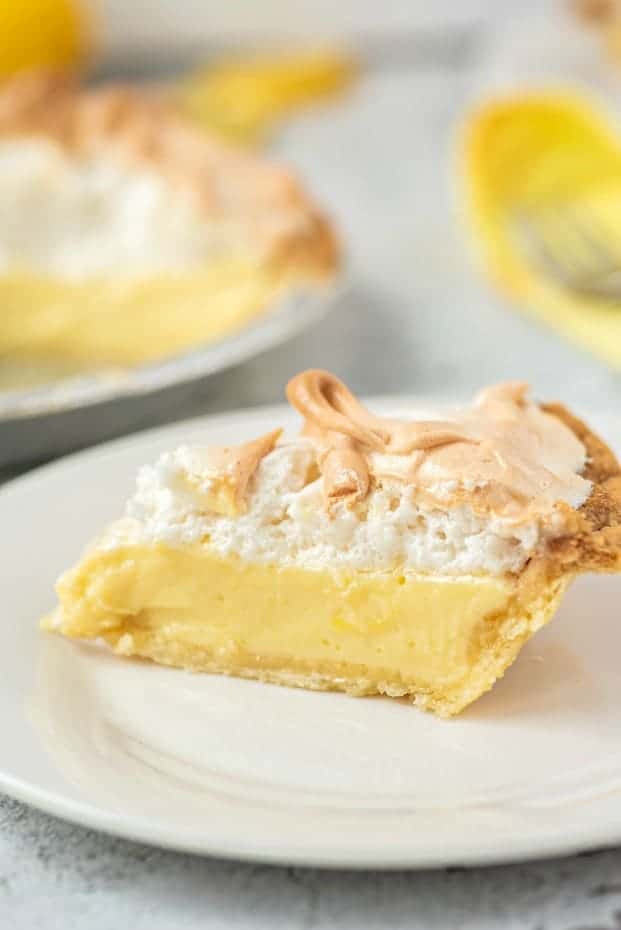 Lemon Desserts
When I think of summer time desserts, I can't help but thing of all things LEMON!
As soon as the spring flowers start to peek up and the temperatures gradually climb, I get ready to make all my lemony favorites like Lemon Cake Bars, Lemon Cheesecake and, of course, Lemon Whipped Cream Frosting!
But when it comes to lemon desserts, Lemon Meringue Pie is the classic. The standard that never goes out of style.
A pie bursting with bright citrus flavor with airy meringue is just what I needed to bring a little sunshine into my week.
If you could use a little sweetness in your life right now (and who couldn't), make this pie today!
A good lemon pie is light and airy with a lemon curd filling topped by sweet meringue.
You pour the lemon filling into a pre-baked crust, then top the whole thing with stiff peaks of homemade meringue, then bake until brown.
I'm always surprised to hear how many people are hesitant to try making homemade lemon meringue pie from scratch! It requires a few more steps than an average pie but isn't tough to get the hang of.
Using a premade crust makes this even easier, too! Although my homemade pie crust is quite flaky and delicious!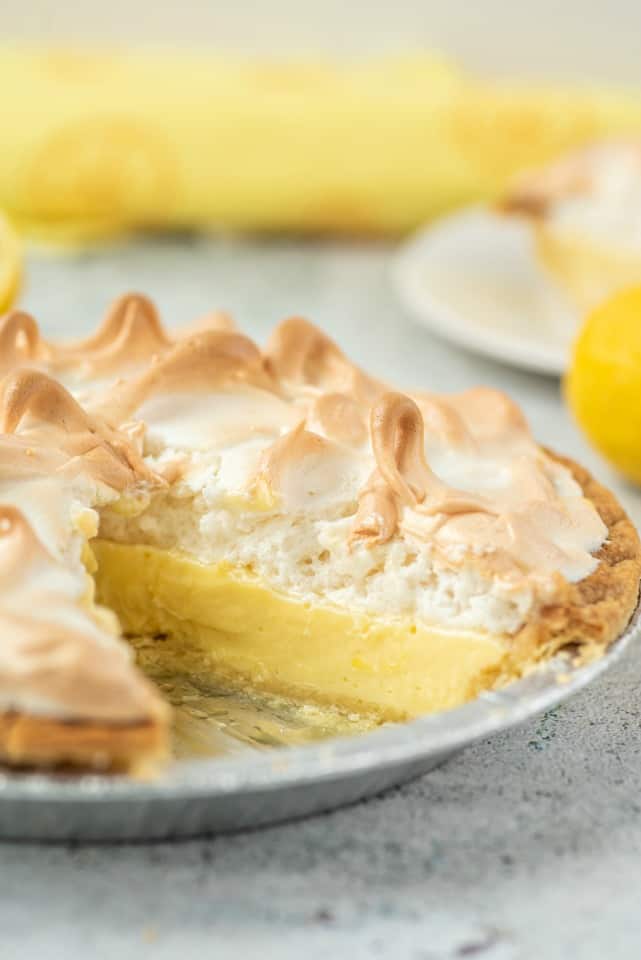 Ingredient Notes
To make a lemon meringue pie, you need three components:
Pie crust (homemade or store bought refrigerated crust)
Lemon filling
Meringue
To make the Lemon pie filling, you need:
Sweetened condensed milk
Egg yolks (separated from the whites)
Lemon juice and zest
For the meringues, you'll use:
Egg whites (the ones you already separated from the yolks!)
Cream of tartar
Cornstarch
Sugar
Step by Step Instructions
STEP 1. Blind bake the crust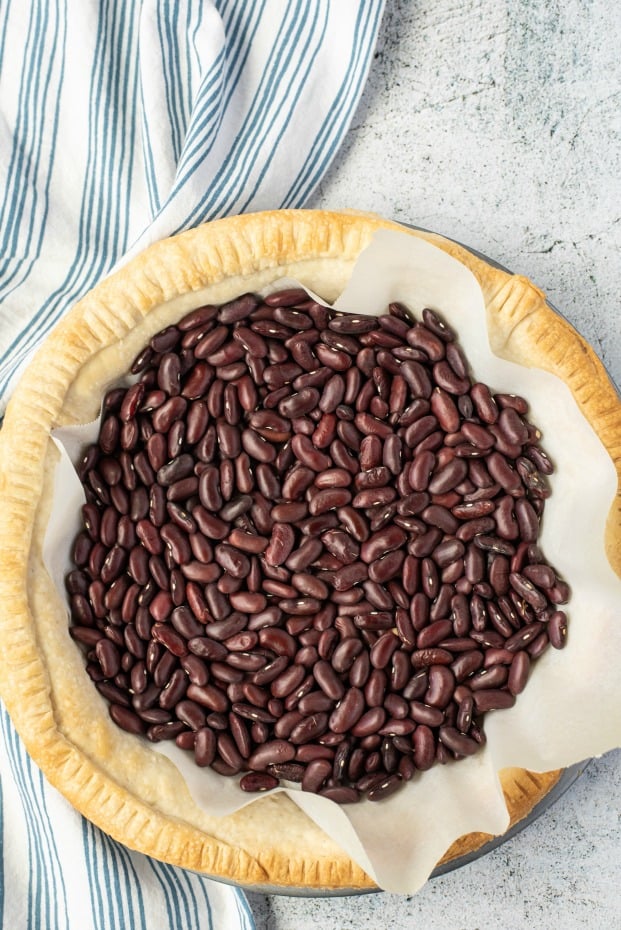 To keep the pie crust from getting soggy when you add the filling, start by pre-baking the rolled out crust for 10 – 12 minutes. Cover the pie pan with parchment paper and pie weights while baking so it doesn't puff up.
Remove from the oven and set aside while you make the filling.
STEP 3. Make the lemon filling
In a large mixing bowl whisk condensed milk with egg yolks. Then slowly stir in lemon juice and zest, until well combined. Pour lemon filling into pie crust and set aside.
STEP 4. Make a water bath for the meringue
Cover a large pot with 1/2 inch water (about 1 cup) and bring it to simmer. Once simmering, turn to low heat.
Making the meringue in the water bath helps the sugar dissolve and goes a long way to creating stable meringue that doesn't collapse while baking!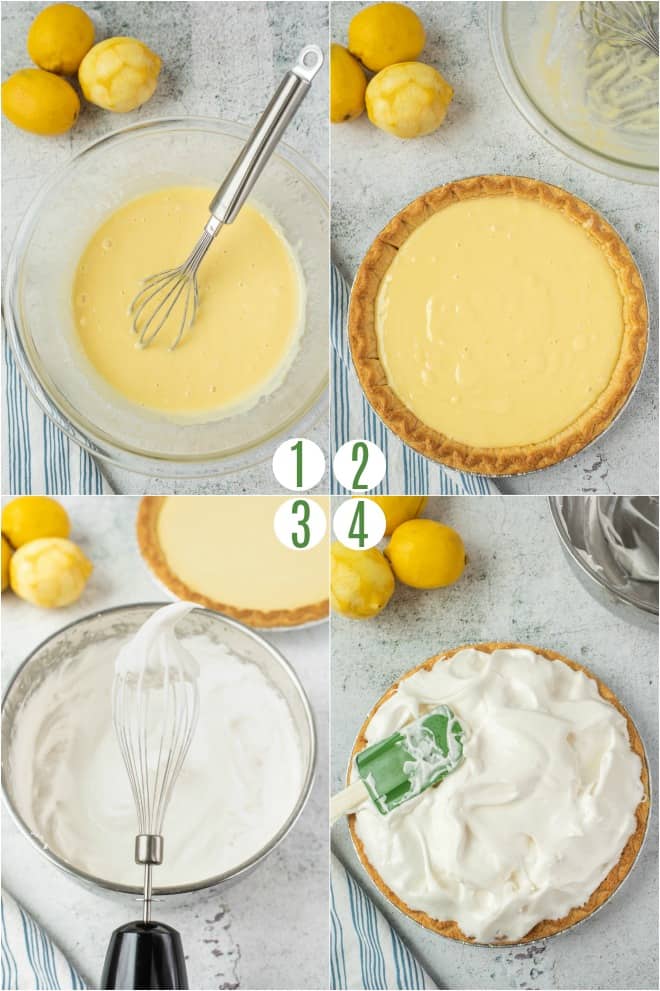 STEP 5. Make the meringue
In a clean mixing bowl, whisk egg whites and sugar just until frothy. Then place the bowl on top of the simmering pot.
Whisk gently, until the sugar is dissolved and the liquid is warm to touch, about 2 to 3 minutes. This will help stabilize the meringue.
Now, remove bowl from heat and use a stand mixer or hand-held beater with whisk attachment to whisk in cream of tartar and cornstarch. Beat on medium-high speed until thick, stiff peaks start to form. This will take about 4 to 5 minutes.
STEP 6. Bake!
Spread the meringue over the lemon filling, making sure to spread it all the way to the edge of the crust, to seal in the lemon layer. Use the back of a spoon to make swirls and peaks in the meringue.
Bake for about 20 minutes at 325 F or until the meringue starts to brown lightly.
Let Lemon Meringue Pie cool at room temperature for about an hour, then transfer to the fridge to chill.
I like to let mind chill for at least 3 hours before serving. Keep the pie chilled until ready to serve!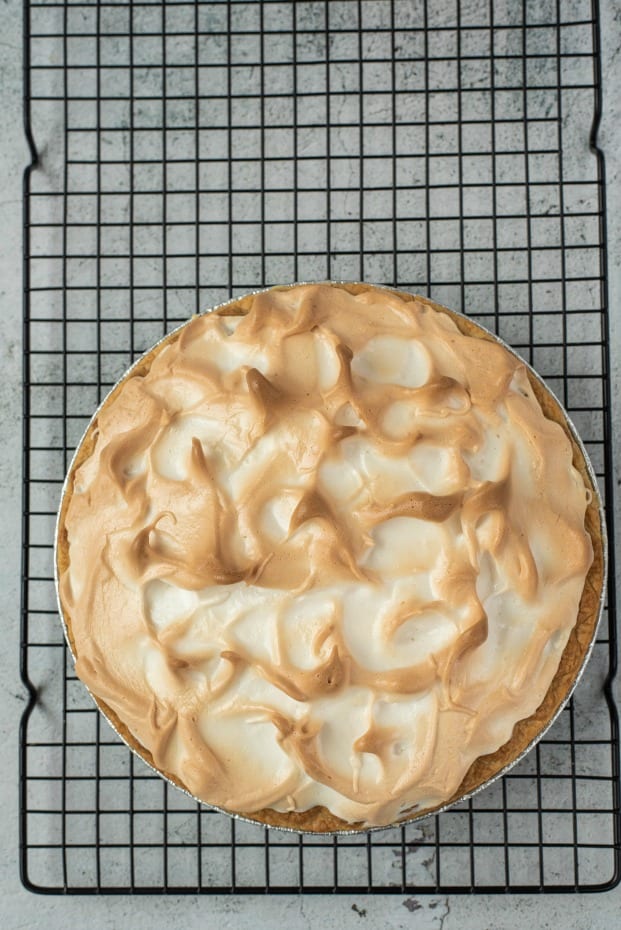 Tips and Tricks
Making a good lemon meringue pie isn't rocket science, but it does require a little care and attention!
Follow these tips for creating a heavenly lemon meringue pie from scratch every time:
Separating egg yolks and whites: It is easier to separate the eggs while they are still cold from the fridge. It is crucial to the meringue that no yolk at all finds it's way into the egg whites!
Whisk the yolks into the milk first. Doing this before adding the acidic lemon juice helps the lemon custard set up properly so you end up with a creamy thick pie filling instead of a soupy mess!
Spread that meringue: When spreading the meringue layer on the pie, make sure it goes all the way to the edge of the crust and seals in the lemon layer, so no steam will escape. This helps prevent "weeping" of the meringue, that undesirable watery layer that can form between the meringue and lemon layers.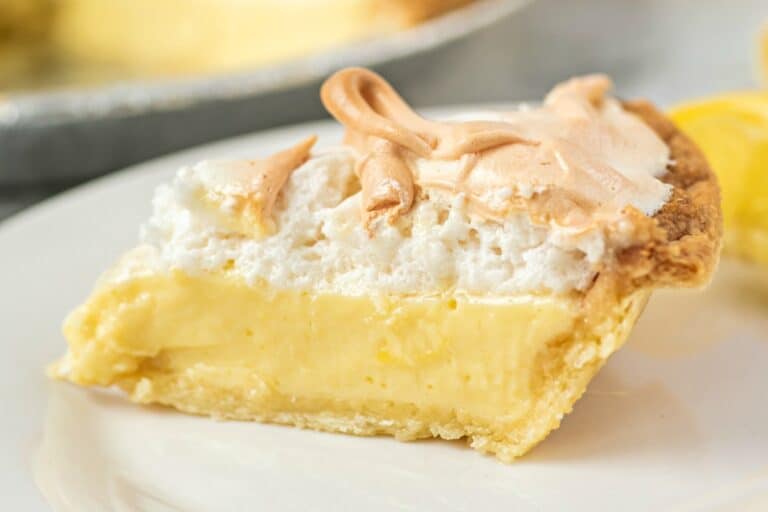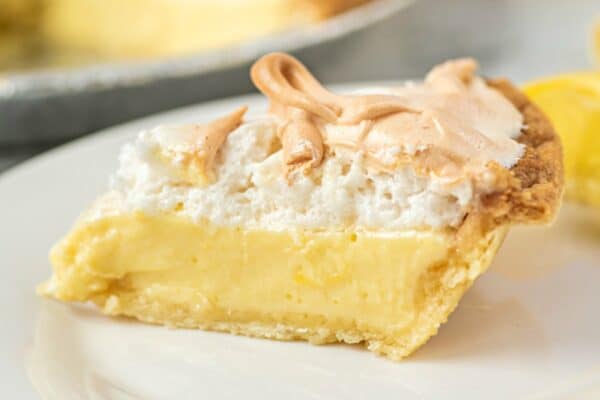 Recipe FAQs
How do you keep a lemon meringue pie from weeping?
Make your pie on low humidity days and be sure the sugar is dissolved completely.
Can Lemon meringue pie be made in advance?
You can make lemon meringue pie 24 hours in advance, and keep in the refrigerator until ready to serve (or up to 3 days).
Do you need cream of tartar for lemon meringue pie?
The cream of tartar helps make a sturdier meringue and prevents the weeping as described above. You could also use lemon juice instead.
If you're looking for the very best homemade Lemon Meringue Pie, I think you'll be more than satisfied by this recipe. Each and every bite is pure lemon divinity!