Peanut Butter Mousse Pie
Using a Pillsbury pie crust as the base, this rich and delicious Peanut Butter Mousse Pie will be gone in no time! Don't forget the Dark chocolate ganache drizzled on top!
Be sure to follow me on Bloglovin'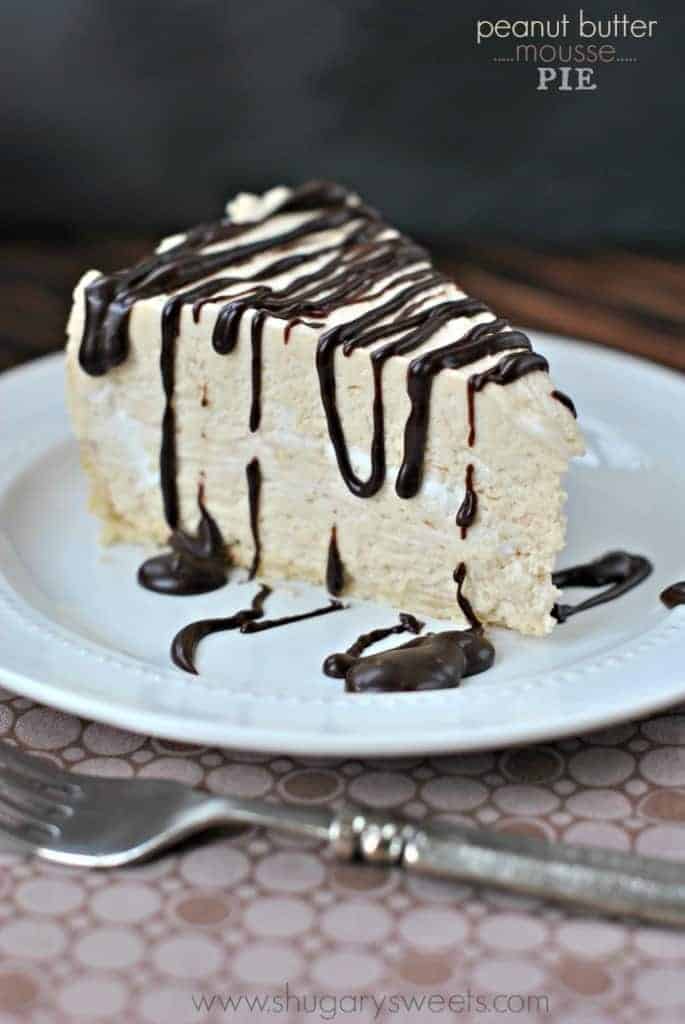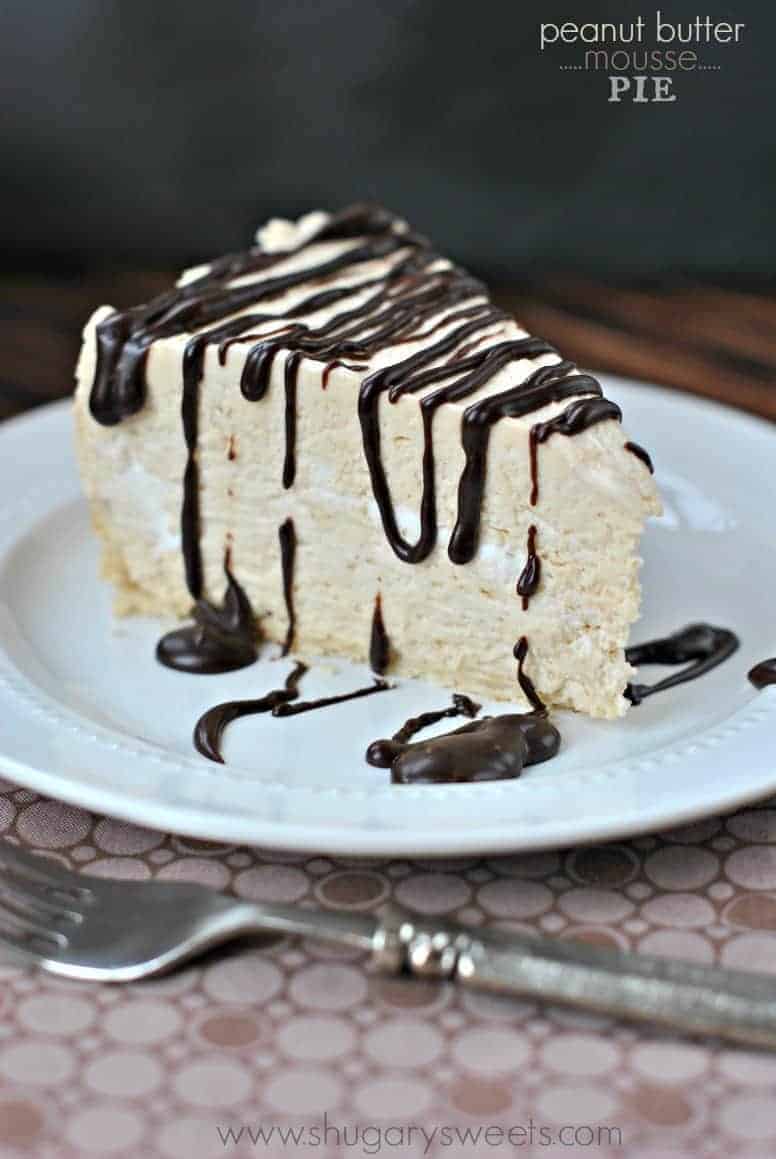 You guys. This Pie. This gorgeous Peanut Butter Mousse Pie has been on my mind since I made it.
Last year I made this Drunken Cherry Chocolate Torte, and the year before I made this Chocolate Hazelnut Mousse Pie. I have had this peanut butter version in my head for two years now. TWO years of dreaming about this very pie.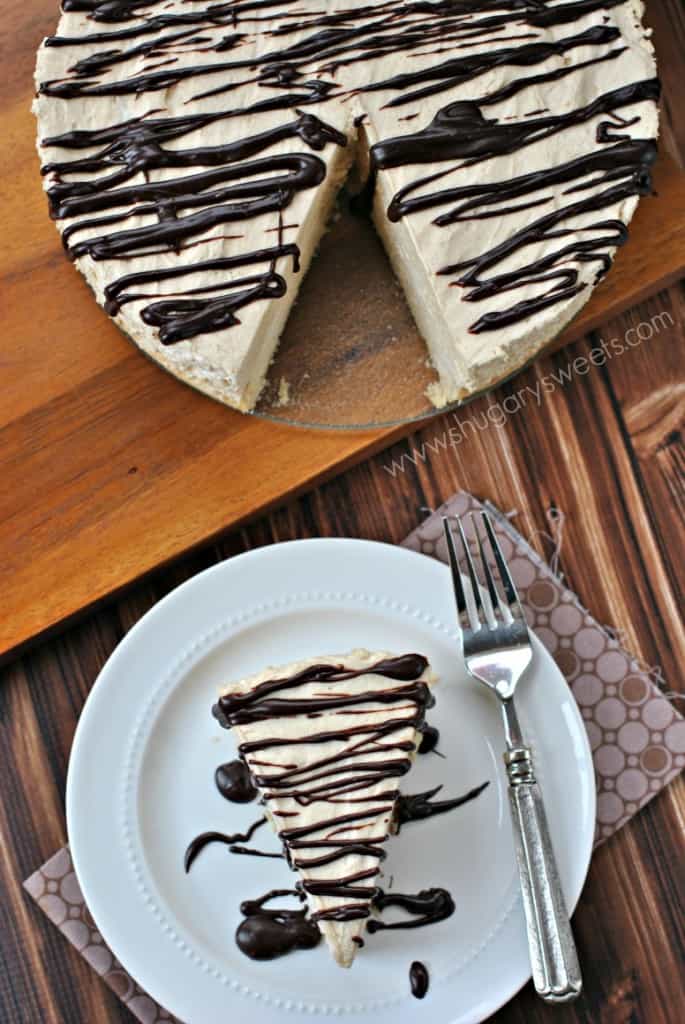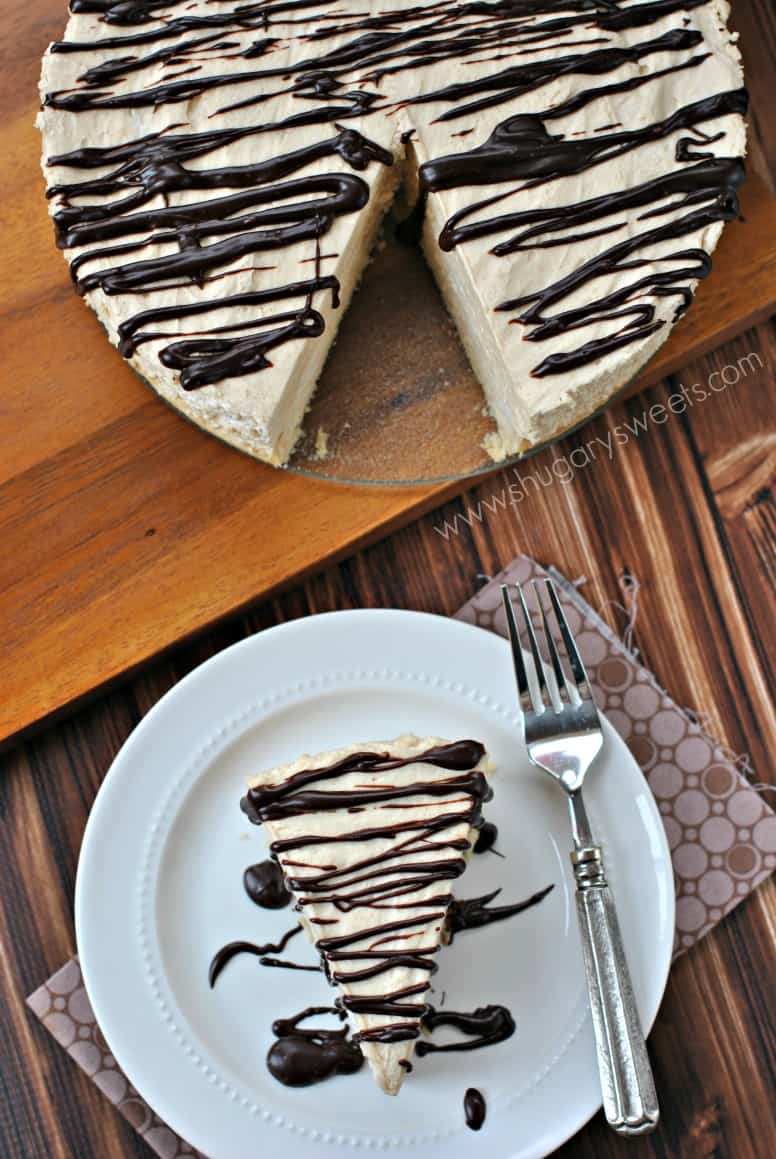 So for "pi day" (you know that math day on 3.14) I made this beautiful Peanut Butter Mousse Pie. I took these photos, ate my big slice (hey it's part of the benefit package to my job, eating my work), and put the pie in our refrigerator in the garage.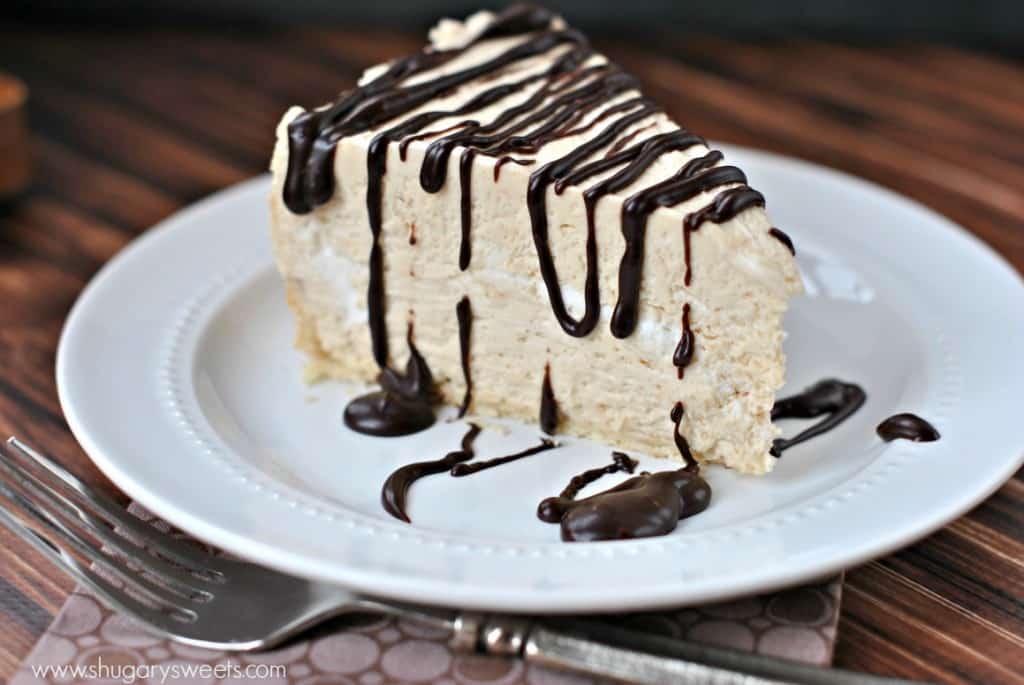 Then we had a busy evening. Which turned into a busy week. And 7 days later I went to put something in the refrigerator and I saw this pie. This sad little pie that now had to be thrown away because it was forgotten.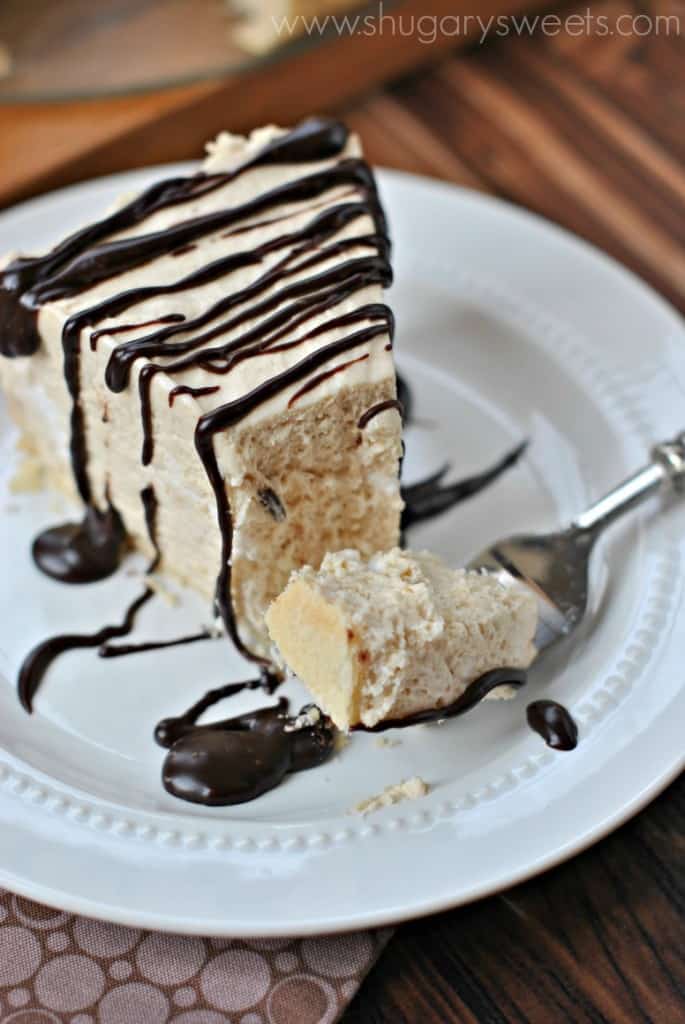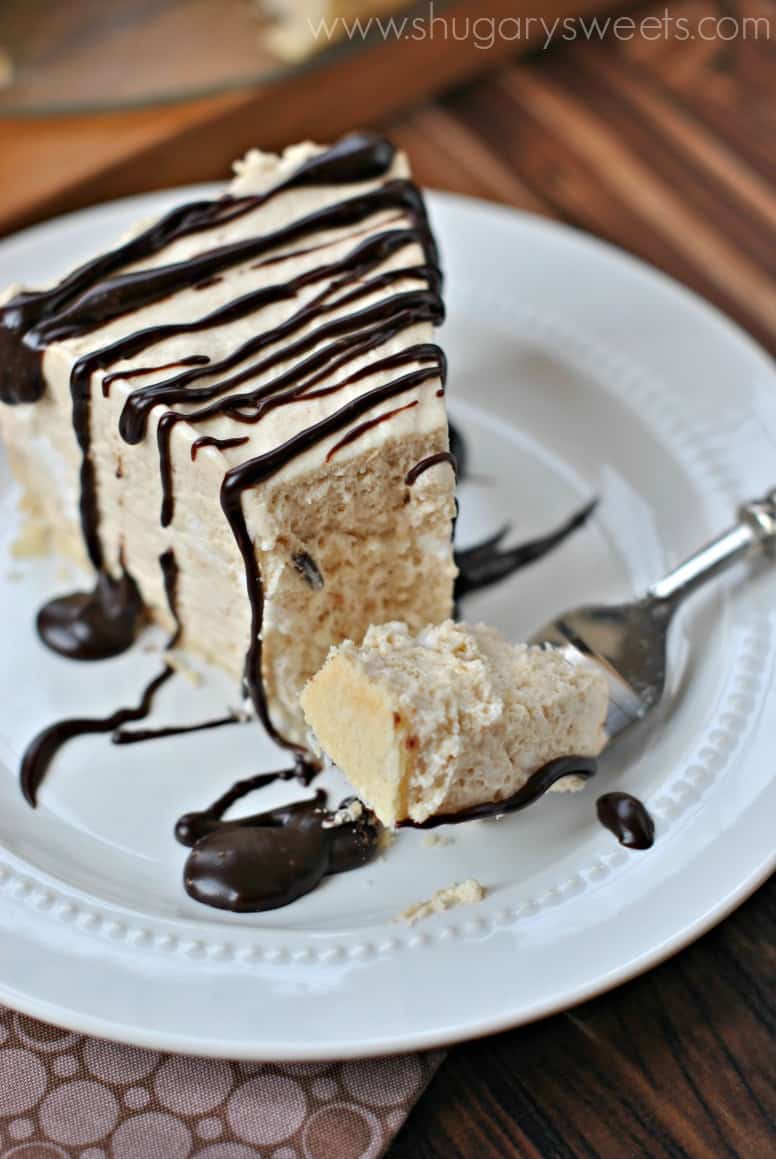 This is one of the problems with being a dessert blogger. There are always desserts in the house. And if it's not in the cake server on our counter, it gets forgotten.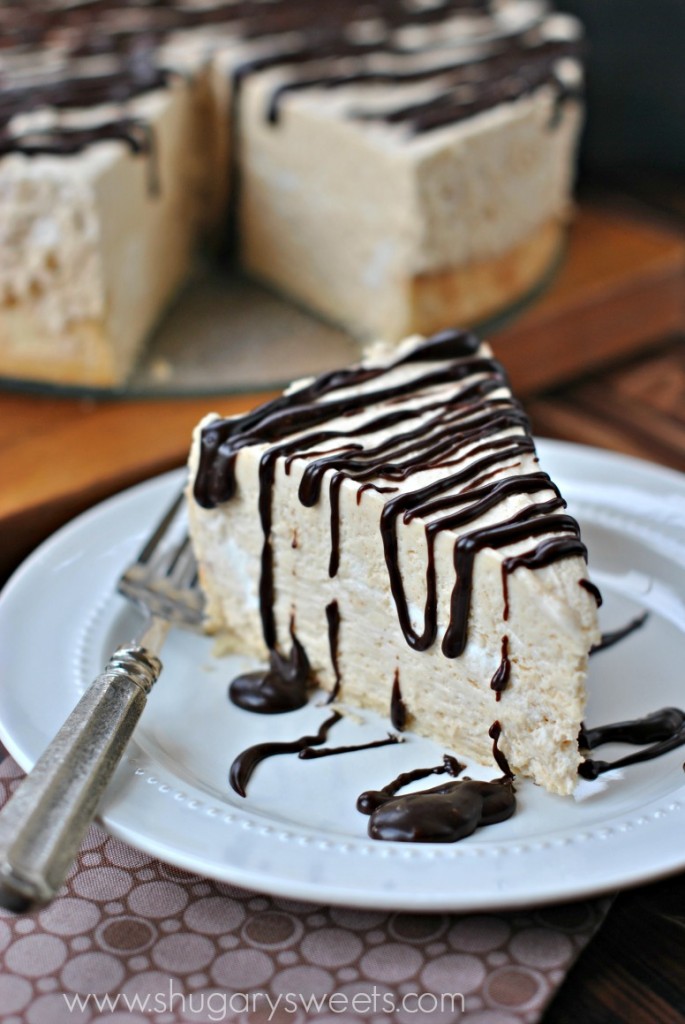 Now, weeks later, this pie haunts me. Because it needs to be made again soon. And eaten with friends. With steaming cups of coffee. It needs to be known that it's NOT a forgettable pie. It's WORTH being enjoyed, delicious bite after delicious bite.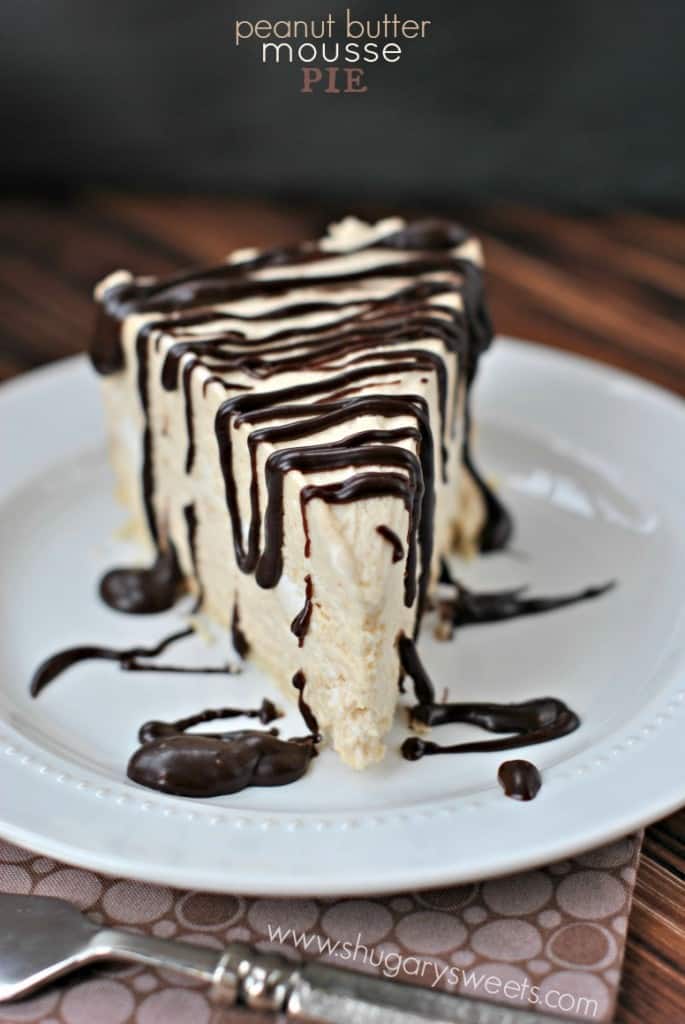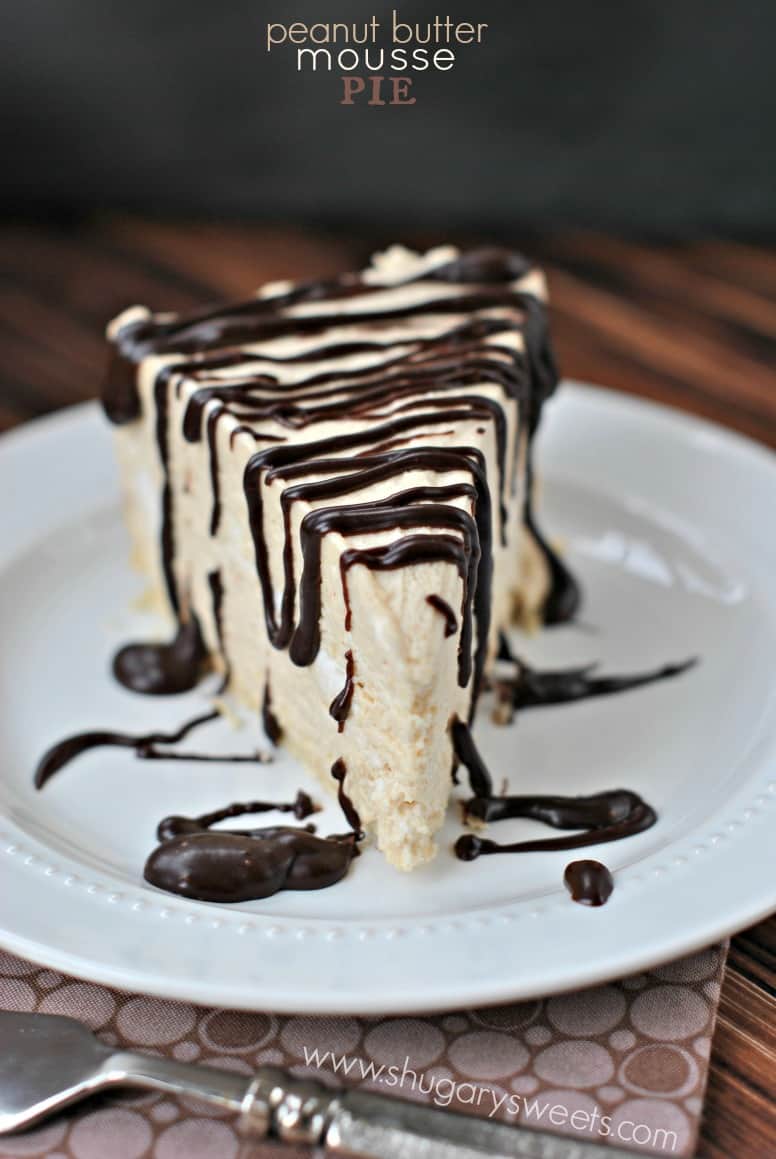 Yes. Sometimes I personify my food. And I assume it has feelings like a human. Which is why when I make a recipe fail (often!!) I feel bad for the ingredients. That somehow they didn't get along well with each other. (is this weird??)
The ingredients in today's Pie, they got along FABULOUSLY. I promise you. ENJOY!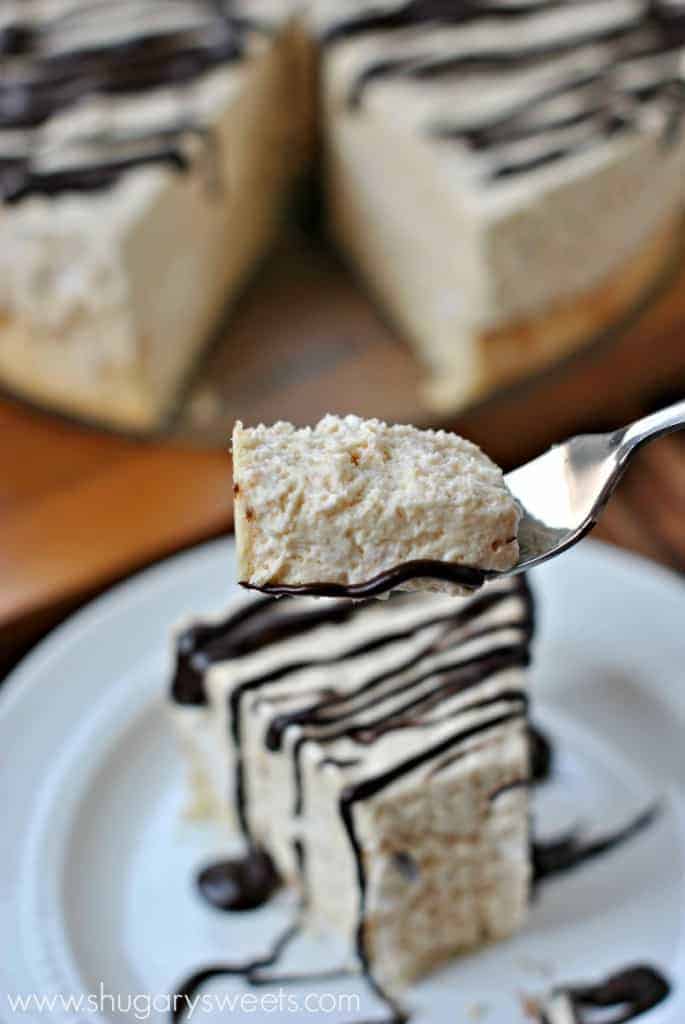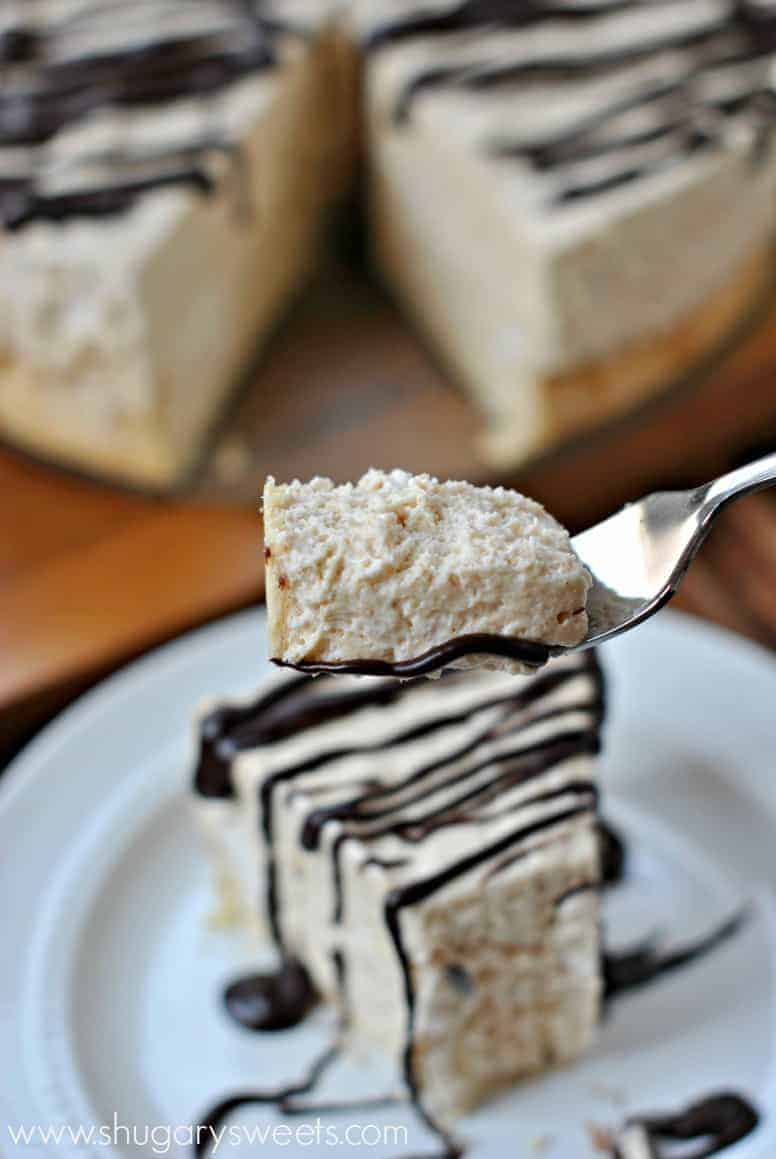 Connect with Shugary Sweets!
Pinterest | instagram | Bloglovin'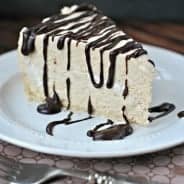 Peanut Butter Mousse Pie
Yield: Serves 10-12
Prep Time:4 hours
Cook Time:10 minutes
Ingredients:
For the crust:
1 Pillsbury pie crust (single pie crust only)
For the mousse:
1/2 cup cold water
1 envelope unflavored gelatin
1 cup creamy peanut butter
1 pkg (8oz) cream cheese, softened
3 cup heavy cream
1 cup granulated sugar
For the ganache:
1/2 cup dark chocolate
1/4 cup heavy cream
Directions:
Unroll pie crust and press into the bottom of a 9inch springform pan. Poke with a fork and bake according to package directions (for single crust recipe). Set aside to cool.
For the mousse, pour cold water into a small saucepan. Sprinkle with gelatin. Allow to bloom (absorb water) for two minutes. Heat saucepan on low and whisk gelatin water for several minutes until completely absorbed and dissolved. Remove from heat.
In a large mixing bowl, beat cream cheese with peanut butter. Add gelatin mixture and beat for about 2 minutes. Set aside.
In a clean and dry mixing bowl, beat heavy cream with sugar on high until soft peaks form (several minutes). Fold in peanut butter mixture and combine completely. Pour over cooled crust and refrigerate several hours (or overnight).
To remove springform pan, use a plastic knife and run it along the edges. Release spring and life up. Pie should be set up nicely on the insert.
For the ganache, combine the chocolate with the heavy cream in a microwave safe bowl.
Heat for 30 seconds. Stir and heat an additional 30 seconds. Stir until smooth. Drizzle over pie. Serve immediately or return to refrigerator until ready to serve. Best eaten within 3 days. ENJOY.
MAKING THIS RECIPE? Share it with me on Instagram using the hashtag #ShugarySweets so I can see what you're cooking up in the kitchen!
Love Peanut Butter? Here are some of my favorite recipes….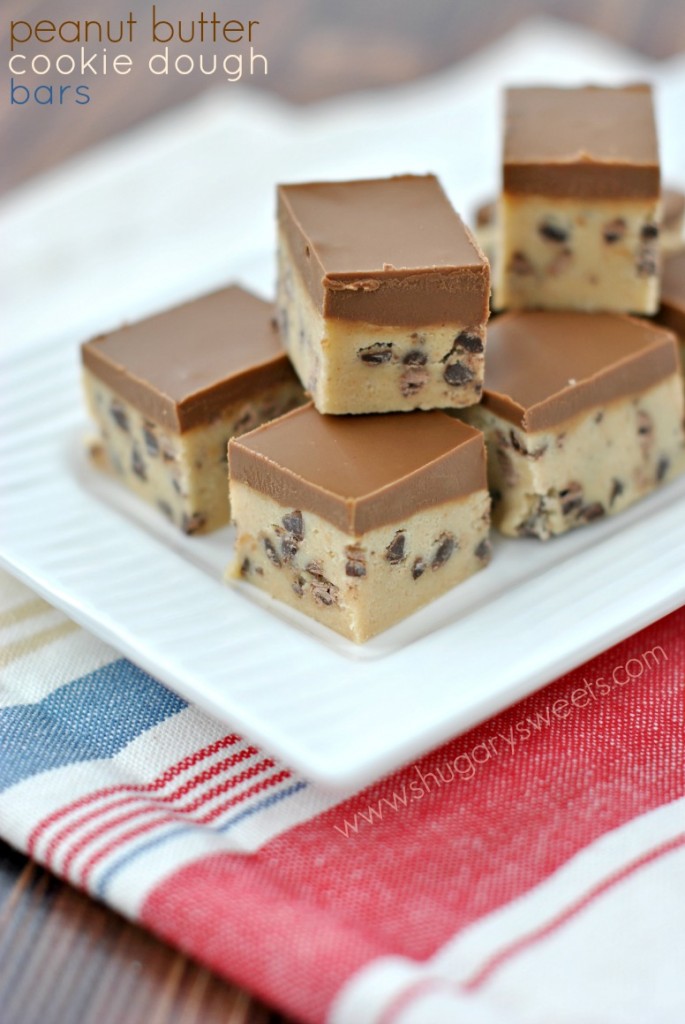 No Bake Peanut Butter Cookie Dough Bars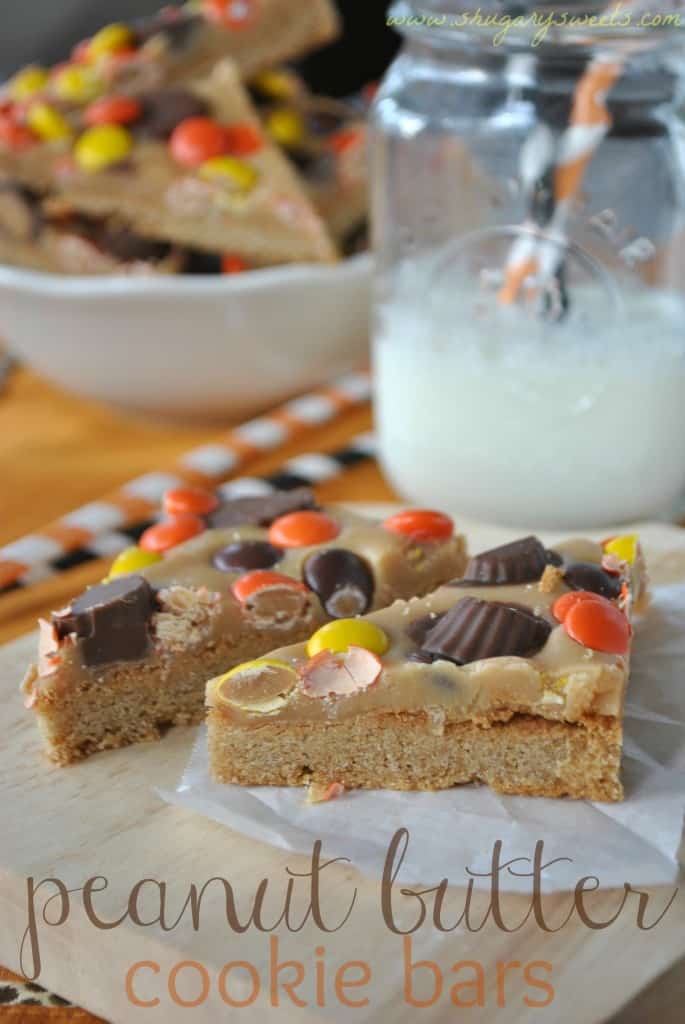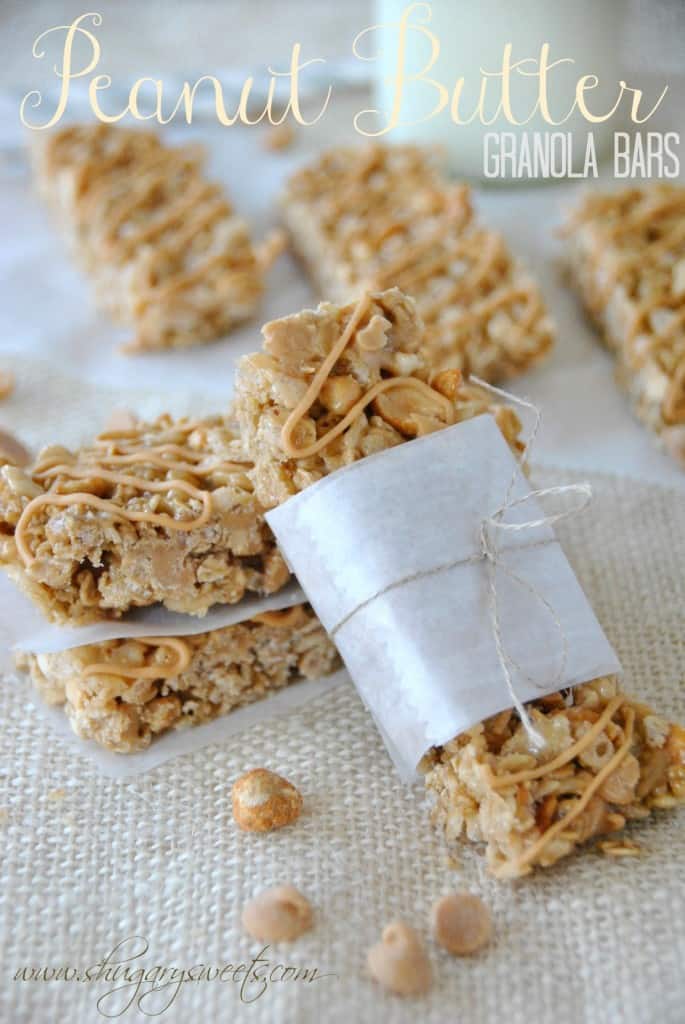 More Peanut Butter recipes from some of my favorite blogs….