If you're looking for the best Lemon Bars with Shortbread Crust, this one is it. Easy cookie crust with a sweet and tangy lemon filling and lemon glaze, topped with powdered sugar!
Love lemons? You've got to try our lemon coconut cake. Or give our easy lemon ricotta cookies a try soon.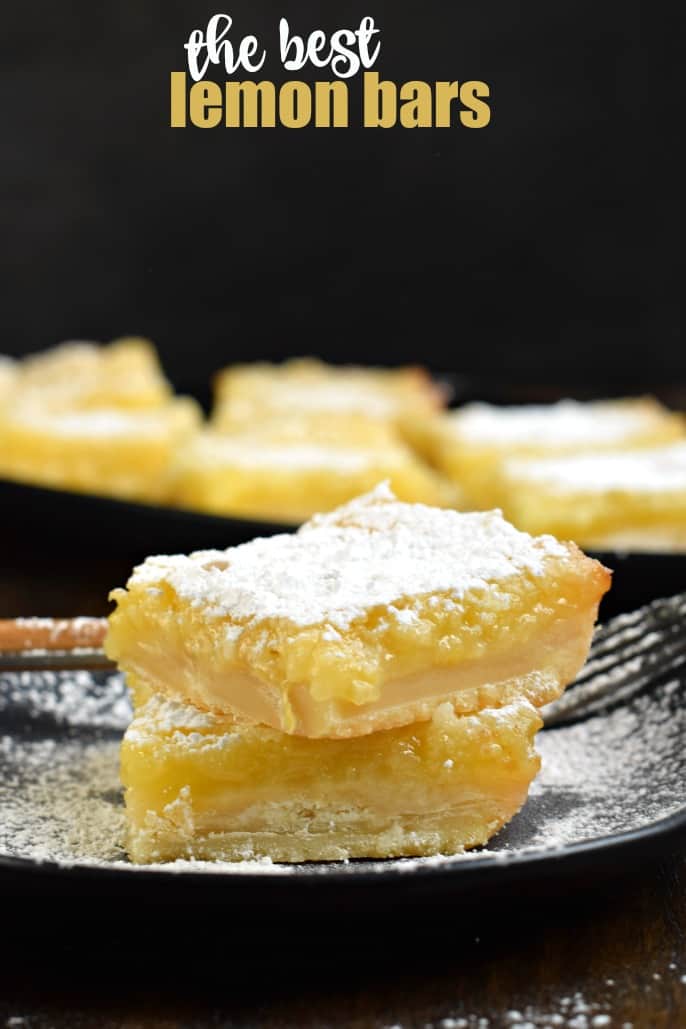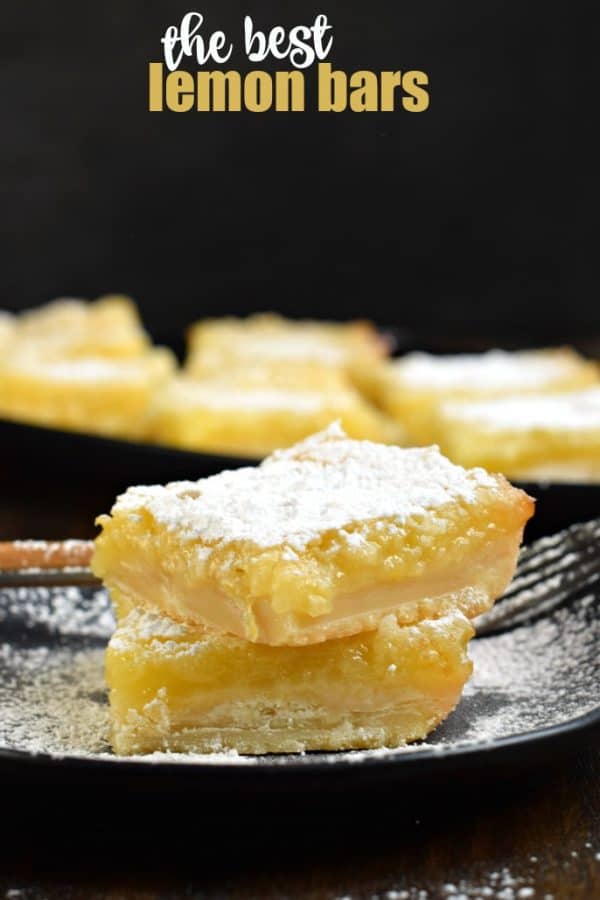 Why these Lemon Bars are Best
All lemon bars are NOT created equal. If you're here looking for the secret to the best lemon bars, you've come to the right place.
For years I have tried DOZENS of lemon bar recipes, and they all vary in consistency and taste, tart, sweetness, moisture and dryness.
What I love most about a lemon bar, is a buttery shortbread crust with a sweet, tart lemon topping. I'm open to glazes and powdered sugar.
Today's recipe has been made in my kitchen at least a dozen times over the past year.
Buttery shortbread crust
Sweet and tangy lemon topping
Powdered sugar for a touch of sweetness to finish
How to make Lemon Bars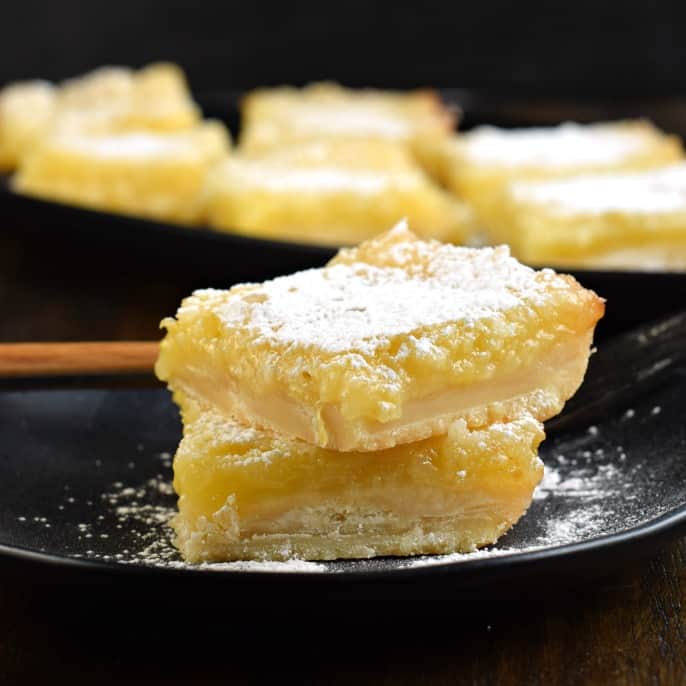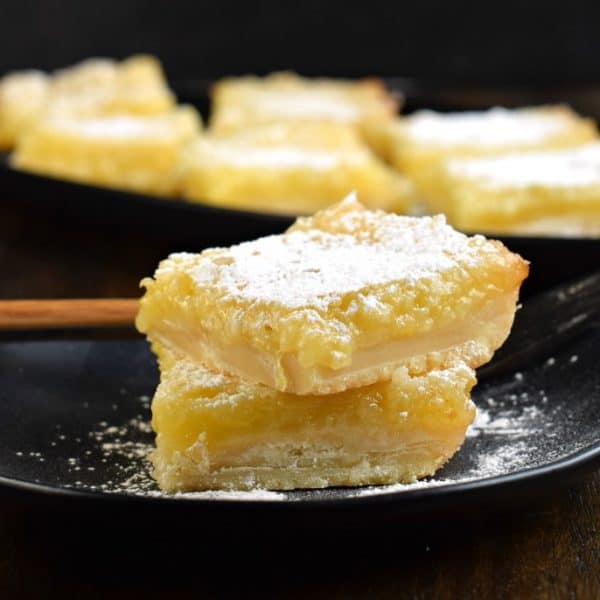 STEP 1: Make the crust. Mixture may be crumbly. Press into bottom of prepared baking dish.
PRO TIP: Use a glass pan if possible. I find the flavor is best, and the citrus doesn't interact with the metal pan!
STEP 2: While crust is baking, make the lemon filling. Use our guide on how to zest a lemon for best tips and tricks.
STEP 3: Bake until edges are golden brown. DO NOT overbake.
STEP 4: Top with icing and powdered sugar. the best of both worlds.
When chilled, remove from pan by lifting the foil (or parchment) and cut into squares. Sprinkle with powdered sugar and enjoy!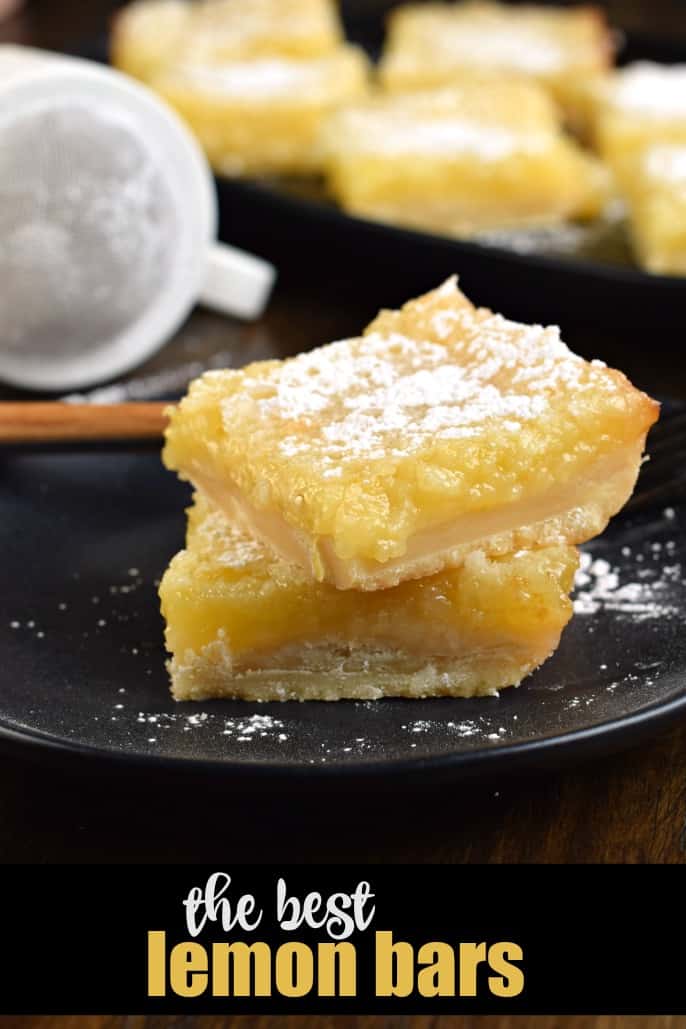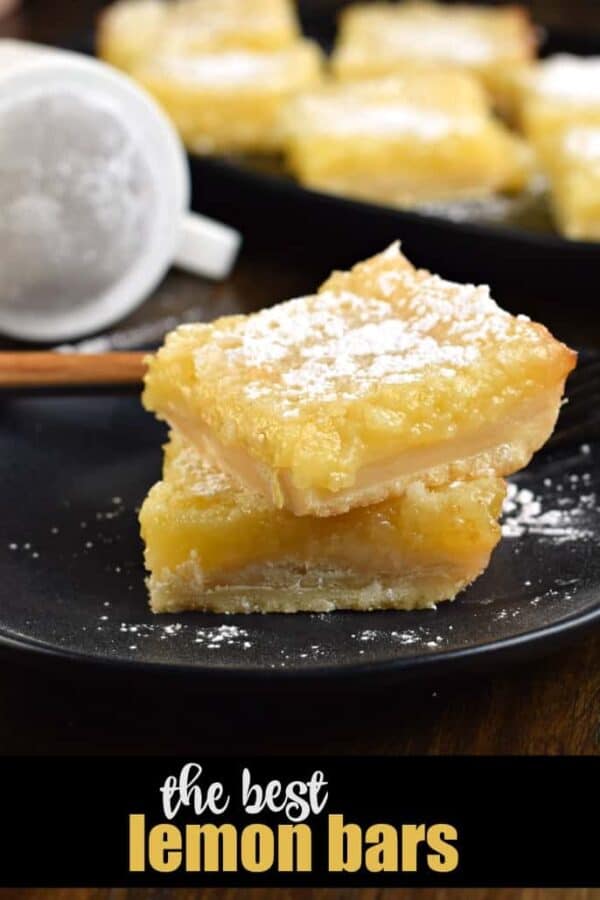 Lemon Dessert recipes
If you're looking for some of the best, flavorful, crowd-pleasing lemon desserts, I've got you covered.
Lemon Cheesecake Bars top the list of favorite lemon treats. With layers of cookie crust, lemon cheesecake and lemon cookie bars this is one of the most delicious desserts ever, you won't be able to stop eating these!
Creamy, delicious Lemon Cheesecake has the perfect consistency and is topped with a homemade Lemon Curd!
Imagine if a snickerdoodle cookie combined with a lemon. That's what these soft and chewy Lemon Crinkle Cookies taste like! The perfect flavor combination!
Lemon Hand Pies: flaky, baked hand pies with a sweet lemon filling! Don't forget the dusting of powdered sugar on top!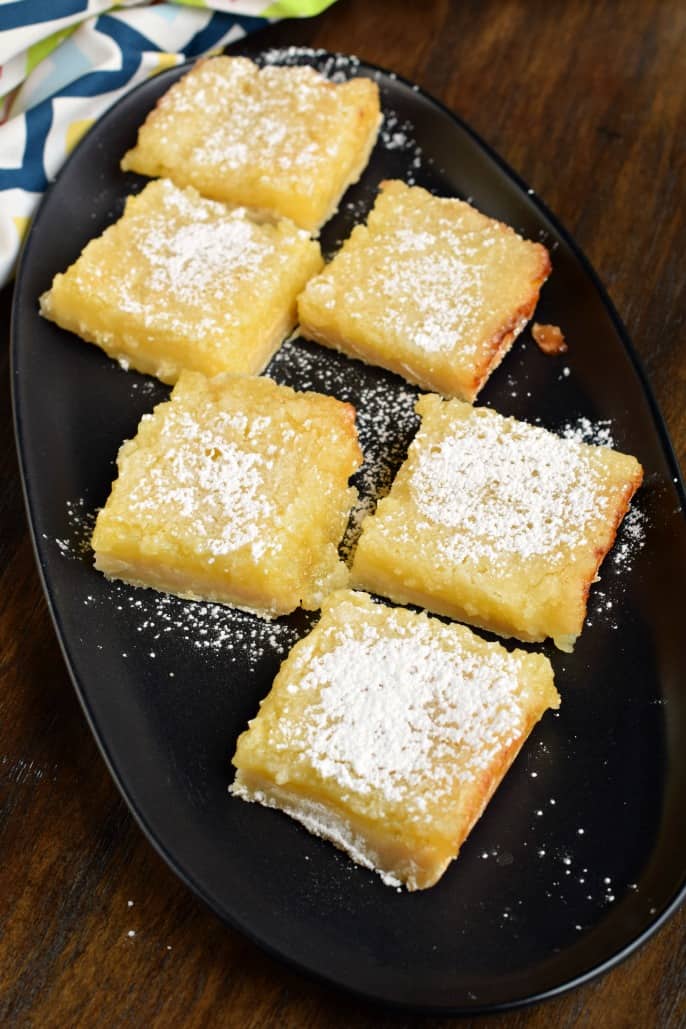 FAQ For Lemon Bars
Can you freeze lemon bars
YES! After cutting the lemon bars, separate slightly in an airtight container that is freezer safe
How long do lemon bars last
Keep lemon bars refrigerated in an airtight container. Best if eaten within 5 days.
How much lemon juice is in a lemon
On average, you can expect about 2 Tbsp of fresh lemon juice for one lemon.
How do you know when lemon bars are done
Much like jello, the filling of a lemon bar should jiggle slightly. Anything looser and you'll need to continue baking.
Tips and Tricks
Use real lemons for the lemon juice. Bottle lemon juice doesn't have the same fresh flavor!
Chill your lemon bars. For best results, lemon bars have an enhanced lemon flavor when chilled, plus it let's them firm up some so they are easier to cut.
Speaking of cutting, the filling in lemon bars can be a little finicky when cutting. If you want PERFECT lemon squares, pop the bars in the freezer for half an hour before slicing.
Help! My powdered sugar has absorbed into my lemon bars. No fear. This happens. First, wait until the bars have cooled and chilled before adding your powdered sugar. It's best to sprinkle generously right before serving. But, if it absorbs again, just add more powdered sugar, you can't go wrong!
The BEST Lemon Bars with a shortbread crust and tangy sweet lemon filling!