Perfect Italian Ricotta Cookies with a twist of lemon! Learn how to make Lemon Ricotta Cookies with a pillowy soft texture and a citrus icing on top.
If you love easy lemon desserts, be sure to give these Lemon Hand Pies a try. Just a couple of ingredients, including lemon curd, and baked in the oven, this sweet treat is the perfect dessert!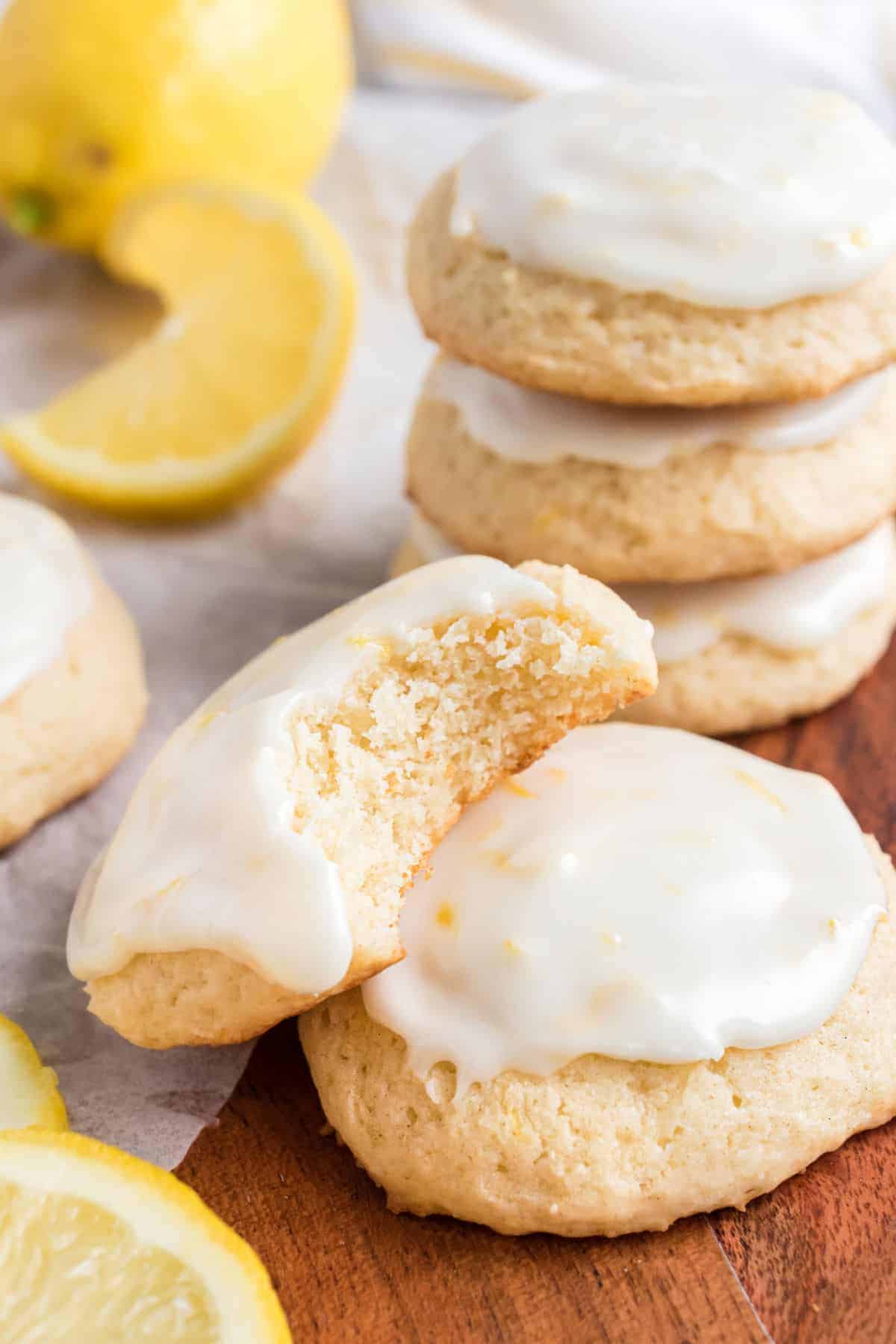 Why this Recipe Works
Ricotta Cookies are a classic Italian treat with a cake-like texture and buttery flavor. The ricotta cheese in the dough makes them soft and appealing–without adding even a hint of cheese taste.
Usually, I change up the flavor of my Ricotta cookies by using different extracts. Almond, anise or orange extract are delicious alternatives to the traditional vanilla.
For these Lemon Ricotta Cookies, I used vanilla extract along with fresh lemon zest and juice. The bright tangy lemon is the perfect counterpart to the smooth vanilla.
Then, there's the lemon icing. Thicker than a glaze but thinner than most cookie frostings. It sets on top of the cookies in a beautiful sugary layer and melts in your mouth when you take a bite.
For a twist on a soft cookie, try our copycat Lofthouse Cookies next!
If you love the combination of lemon and ricotta, be sure to add our lemon ricotta cake to your baking list!
Ingredient Notes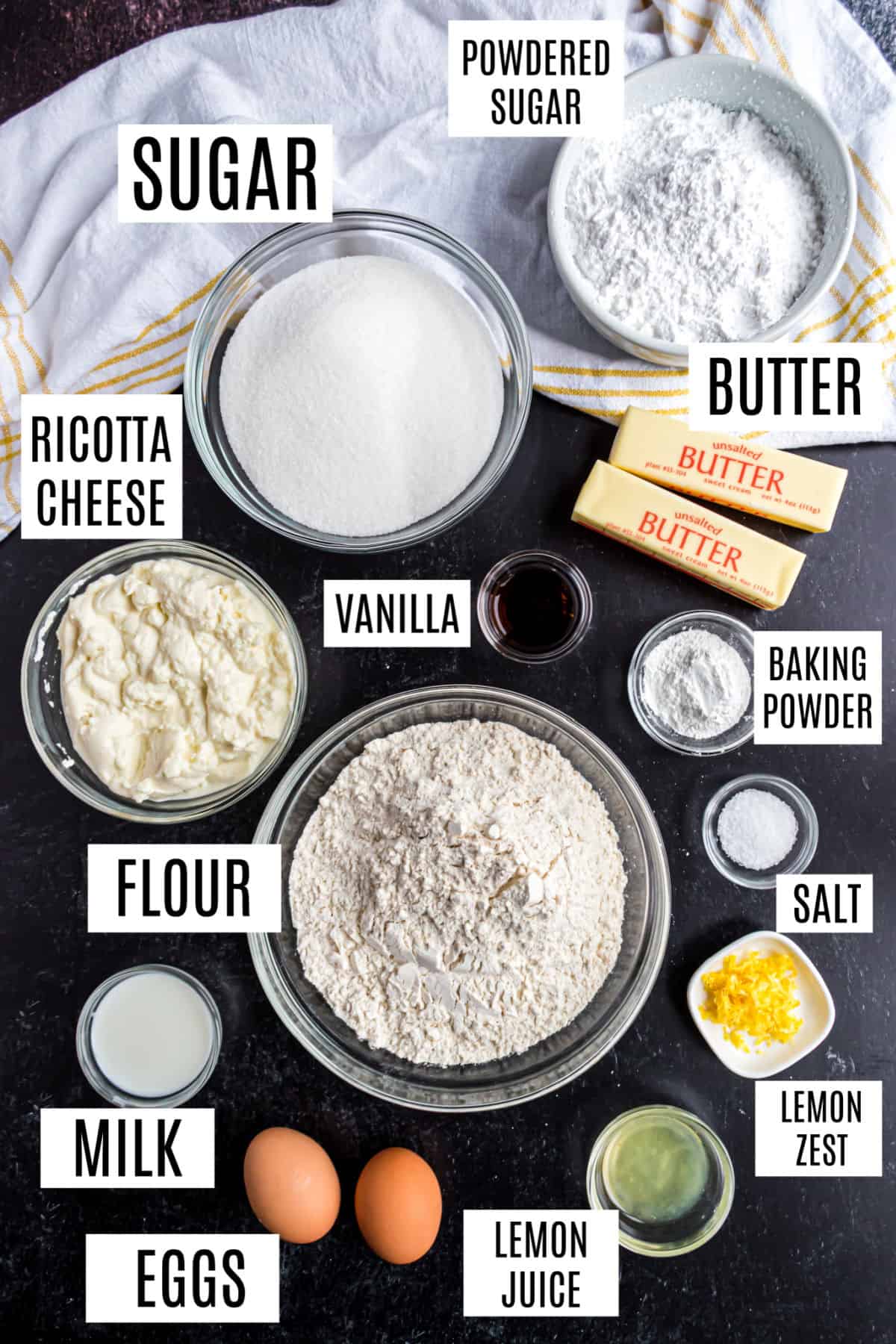 Ricotta cheese: You'll need a full 15 ounce container of fresh ricotta to make these.
Vanilla Extract: Make your own vanilla extract for cookies with the best vanilla flavor. Or use lemon extract for even more lemon zing. Orange and almond extracts can also be used.
Lemon: You'll need the juice and zest of two full lemons for this recipe.
How to Zest and Juice a Lemon
Zesting a lemon is the process of removing the zest (the outermost layer of skin) from the peel. The easiest way to do this is with a microplane grater or a zester.
Place the unpeeled whole lemon on a cutting board. Slide the sharp side of a grating tool across the surface of the lemon skin to remove the zest.
The zest should be very fine.
If you don't have a microplane grater or zesting tool, use a vegetable peeler to remove the zest. After peeling the zest off the fruit, use your knife to chop it into fine pieces.
If you accidentally include some of the white peel with the zest, you'll need to separate it from the zest before adding to the cookies! The white peel is bitter and will add a funky flavor to your baked goods.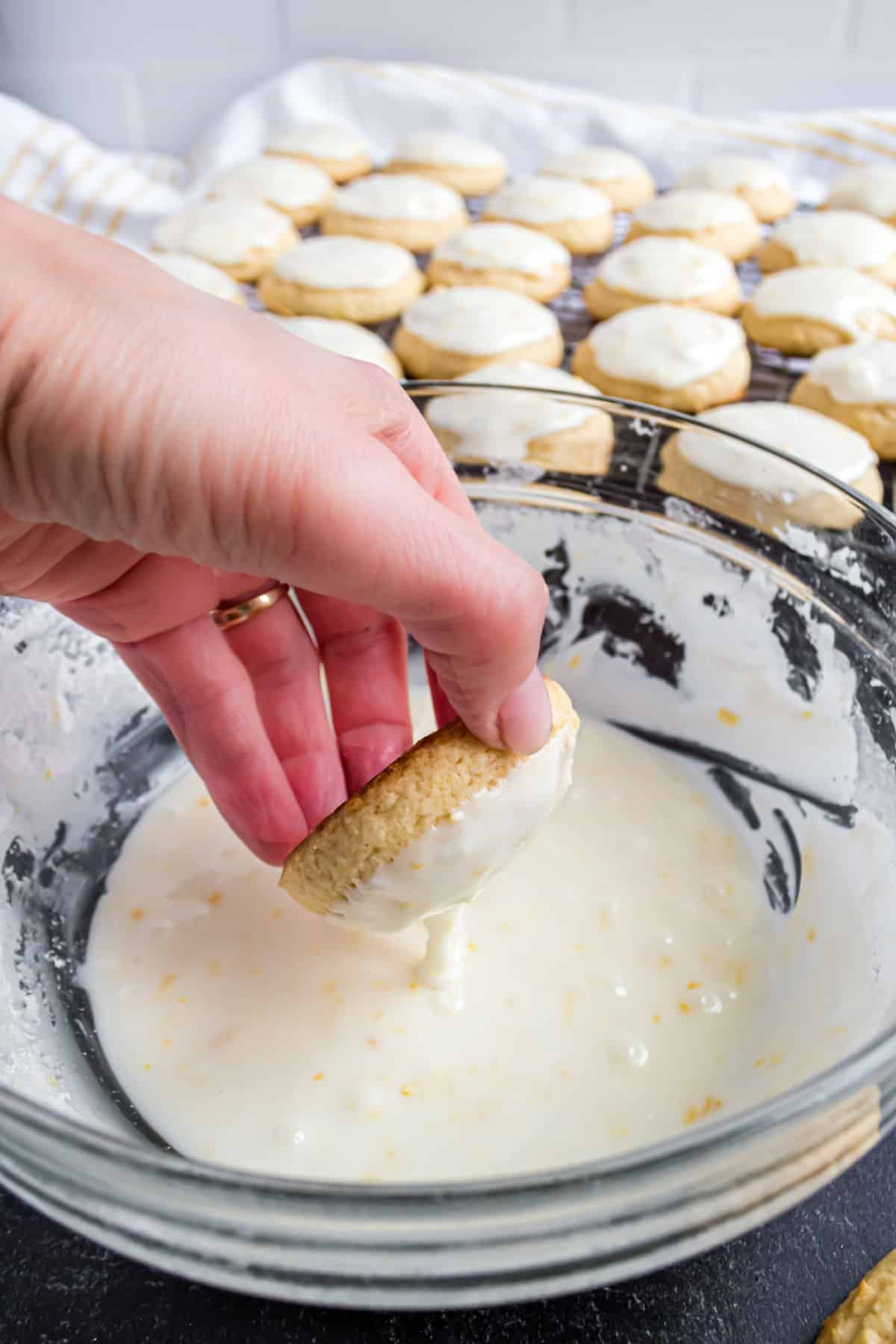 To juice a lemon: Hand held lemon squeezers work wonderfully for getting all the good juice out! You can also juice your lemon by hand.
Lemons are easiest to juice when at room temperature. If you keep your lemons in the fridge, microwave them for 10 to 15 seconds before juicing. This softens them up and helps you get as much juice as possible out of each one.
If you're juicing he lemons by hand, it's common for seeds to get squeezed out along with the juice. The easiest way to prevent this is by using a simple citrus reamer or a fork.
Cut the lemon in half and place the fork or reamer in the center, while holding over a bowl. Twist the lemon while pressing down on the center.
Check the juice and discard and stray seeds that wound up in the bowl.
Once your lemons have been zested and juiced, it's time to make Lemon Ricotta Cookies!
Fresh lemon juice and zest is an essential part of making homemade treats taste better, including these Lemon Cupcakes and my Lemon Tart!
How to Make Lemon Ricotta Cookies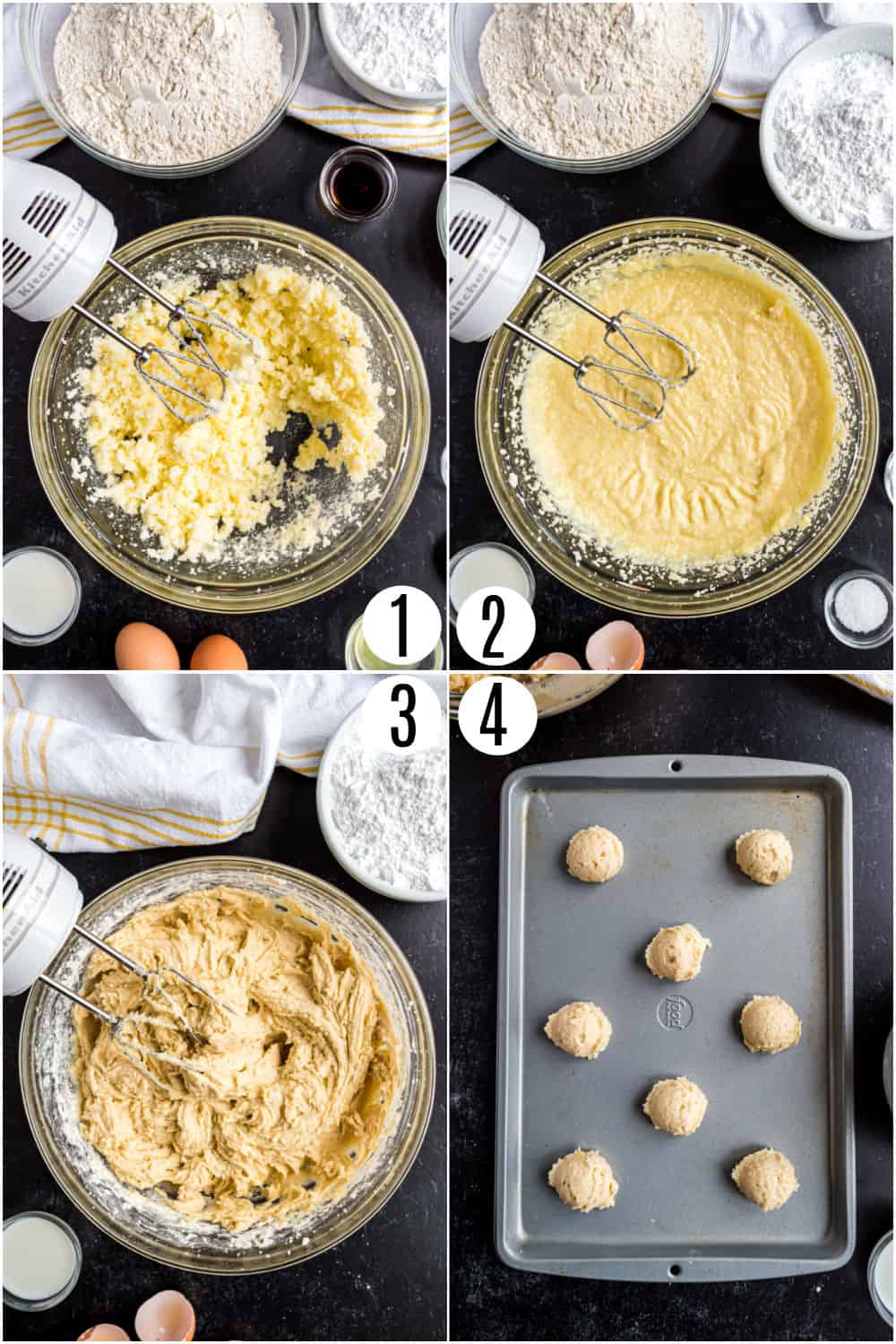 Make the cookie dough. Start by beating butter and sugar together until creamy. Beat in the ricotta, lemon juice, zest, extract and egg until well combined.
Gently mix in flour, baking powder and kosher salt until a dough forms.
Bake. Drop batter by the spoonful onto a cookie sheet. Bake for 15 minutes. The cookies should be a bit golden brown on the bottoms and edges.
Add Icing. Make the frosting by whisking together powdered sugar, lemon zest, lemon juice and a bit of milk.
Dip the top of each cooled ricotta cookie in to the frosting. Let set for about 1 hour to let the icing firm up a bit.
Store these Lemon Ricotta Cookies in an airtight container at room temperature. I put a layer of wax paper between them to keep them from sticking together.
These cookies stay good for up to 4 days. But in my house they usually disappear long before then!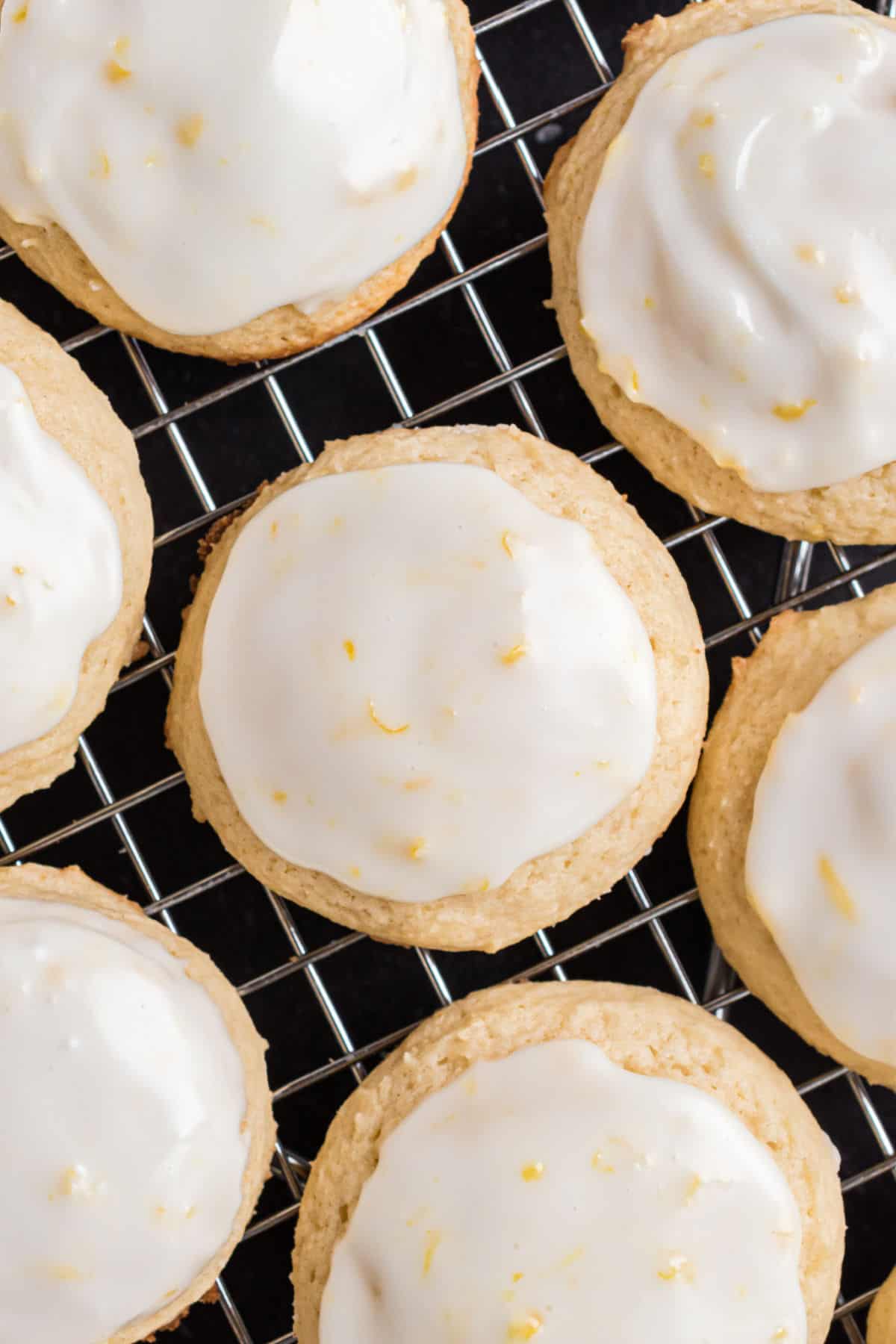 Tips and Tricks
Measuring flour: For best results, always spoon flour into a measuring cup and level off the top. Too much flour will make the cookies tough. See my guide for how to measure flour for more tips!
Adjust baking time for dark cookie sheet: On a darker baking pan, these brown more quickly–closer to 13 minutes. Using my shinier cookie sheet, they take 15 – 16 minutes. Use parchment paper if they stick.
Cook completely: Under baked ricotta cookies will fall apart when you try to dip them in the icing. Make sure the edges are golden brown before you remove them from the oven.
Best icing: The icing should be pour-able but not so runny it drips off the cookies. Use more or less milk in the icing to achieve the desired consistency.
Recipe FAQs
Can you freeze Lemon Ricotta Cookies?
Yes, you can freeze these cookies. Freeze the cooled ricotta cookies before dipping into the frosting. When ready to eat, thaw overnight and dip into frosting before serving.
Why did my Ricotta cookies burn?
This Ricotta cookie recipe bakes more quickly on a dark cookie sheet. If you're using a dark baking sheet, check the cookies after about 11 minutes for done-ness!
My cookies stuck to the wire rack as they cooled! Why?
If the cookies stick to the cooling rack, chances are good they were under baked. Use a spatula to remove stuck cookies from the rack.
Prevent sticking by being sure the cooked are golden brown at the bottom before removing from the oven. You can also place a sheet of parchment paper on top of your cooling rack to prevent accidental sticking.
Do ricotta cookies taste like cheese?
No, they don't taste anything like cheese! The ricotta makes the cookies so light and soft, but adds no cheesy flavor.
Can I use skim ricotta cheese for this recipe instead of full fat?
I would not recommend using skim or part skim ricotta. The fat in the cheese is essential for flavor and texture.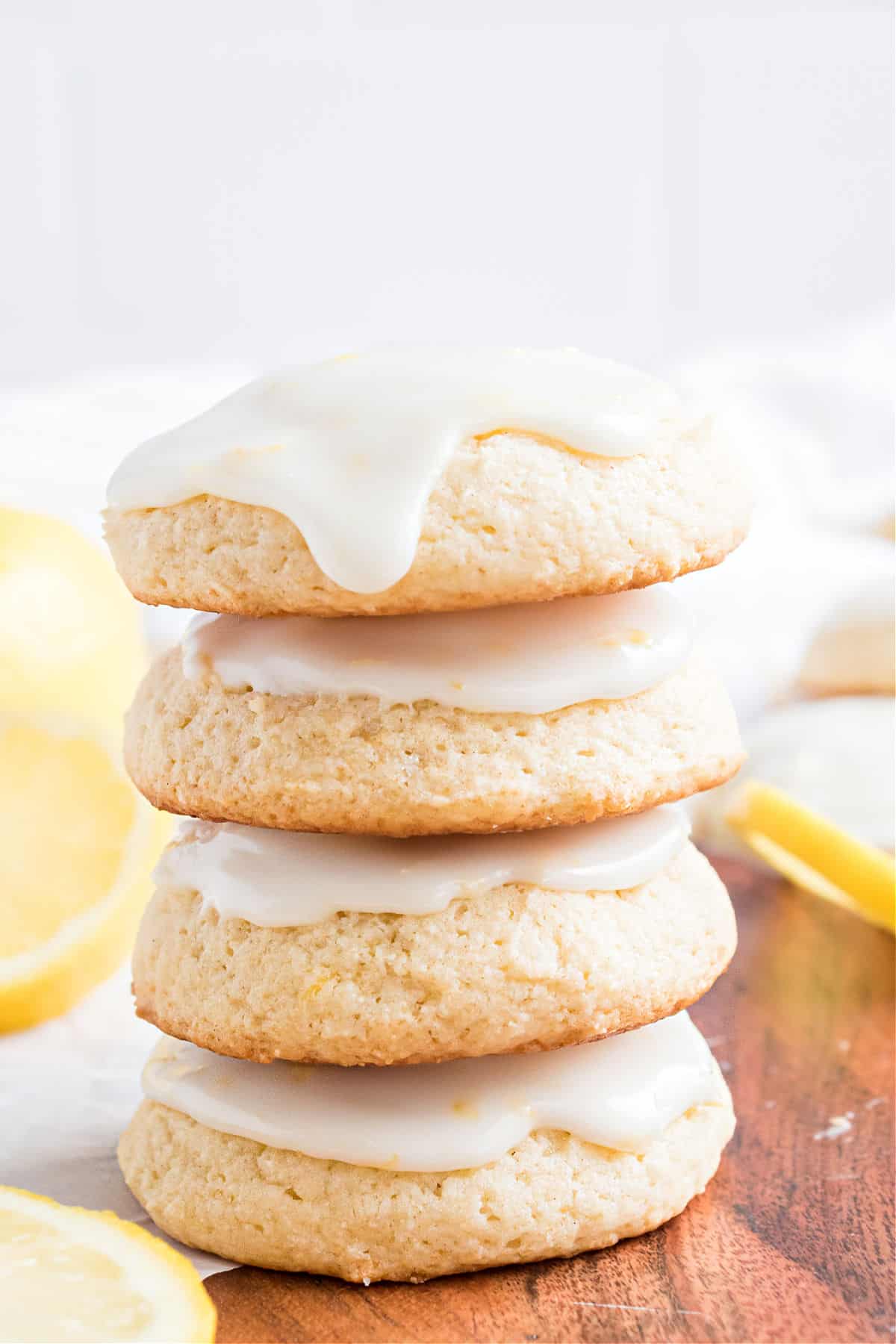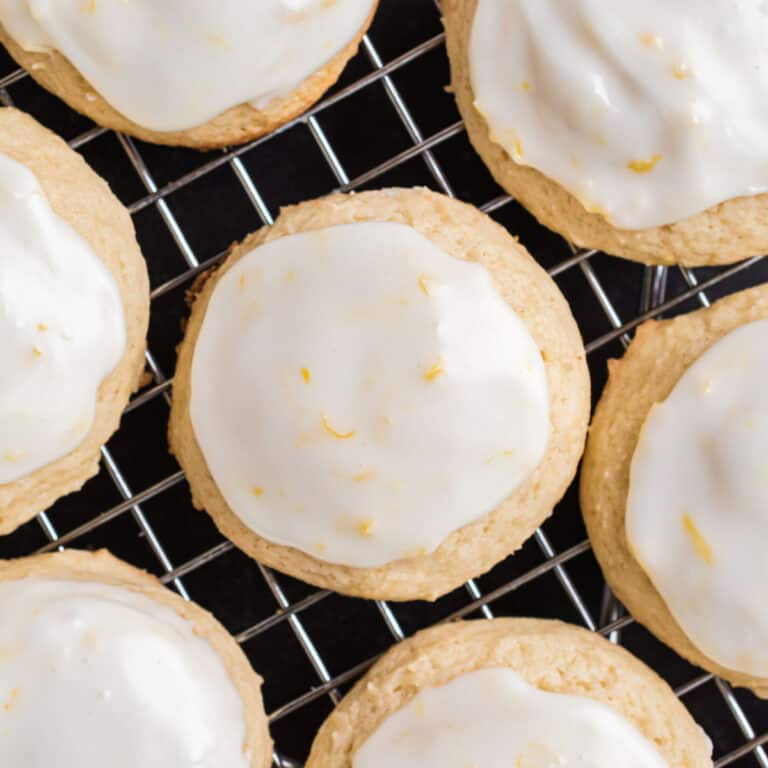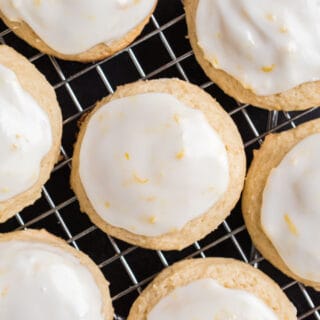 Lemon Ricotta Cookies Recipe
Perfect Italian Ricotta Cookies with a twist of lemon! Learn how to make Lemon Ricotta Cookies with a pillowy soft texture and a citrus icing on top.
Ingredients
2

cups

granulated sugar

1

cup

unsalted butter

room temperature

1

container

ricotta cheese

15 oz

1

lemon

zested and juiced

1

teaspoon

vanilla extract

2

large eggs

4

cups

all-purpose flour

2

Tablespoons

baking powder

1

teaspoon

kosher salt
For the Icing
2 ¼

cups

powdered sugar

1

lemon

zested and juiced

2

Tablespoon

whole milk
Instructions
For the Cookies
Preheat oven to 350 degrees F.

In a large mixing bowl, beat sugar and butter with a mixer until well blended. Beat on high for about 5 minutes or until light and fluffy.

Beat in ricotta, lemon juice (about 2 Tablespoons), lemon zest,

vanilla extract

and eggs on medium speed until combined.

Reduce speed to low and add flour, baking powder and salt. Continue to mix until the dough holds together. Don't overmix.

Drop by level Tablespoons (or use a small cookie scoop) onto an ungreased cookie sheet, leaving about 2 inches between cookies.

Bake 15 minutes or until cookies are slightly golden brown around the bottom edges. Cookies will remain soft. Carefully transfer cookies to a wire cooling rack.
For the Icing
In a small bowl, whisk together the powdered sugar, lemon zest, lemon juice, and 1-2 tablespoons of the milk, until you get desired consistency.

Dip the top of each cookies into the icing and place icing side up on a parchment paper lined wire rack. Set for up to one hour.

Notes
FLOUR- Be sure to spoon and level flour, following my easy tips on how to measure flour. This helps prevent tough cookies.
Icing Tips: The icing should be spreadable, but not so runny that it doesn't stay on the cookie. The icing will begin to harden fairly quickly.
STORAGE: Store cookies in an airtight container for up to 4 days. Use parchment or wax paper between the layers of cookies to prevent them from sticking together.
COOKIE SHEET: On a dark cookie sheet, these tend to brown quickly on the bottom. Cook time closer to 13 minutes. On a shiny cookie sheet, your cook time will be near 15-16 minutes. Use parchment paper if unsure.
Cook Completely. If the cookies are underdone, this can cause problems with dipping as they are easily broken. Icing can be spread on top if this happens.
FREEZE: After cooling, freeze unfrosted cookies in airtight container. Thaw overnight then frost.
FLAVOR: Change up the flavor and use almond, anise, or orange extracts. Replace 1 teaspoon of the vanilla extract with 1 teaspoon of flavor.
Nutrition
Serving:
1
cookie
,
Calories:
104
kcal
,
Carbohydrates:
17
g
,
Protein:
1
g
,
Fat:
3
g
,
Saturated Fat:
2
g
,
Polyunsaturated Fat:
1
g
,
Cholesterol:
15
mg
,
Sodium:
90
mg
,
Sugar:
11
g
Zesty lemon and soft ricotta come together in one heavenly cookie.With a sweet icing and delicate crumb, you'll want to make Lemon Ricotta Cookies all year long.