Our Lemon Coconut Cake recipe is light, fluffy and the perfect treat. You'll love the homemade lemon curd, rich cream cheese frosting, and white cake made from scratch.
Love cake? Be sure to try our award winning Carrot Cake recipe next. Or give our decadent Chocolate cake recipe a try, with creamy chocolate buttercream frosting.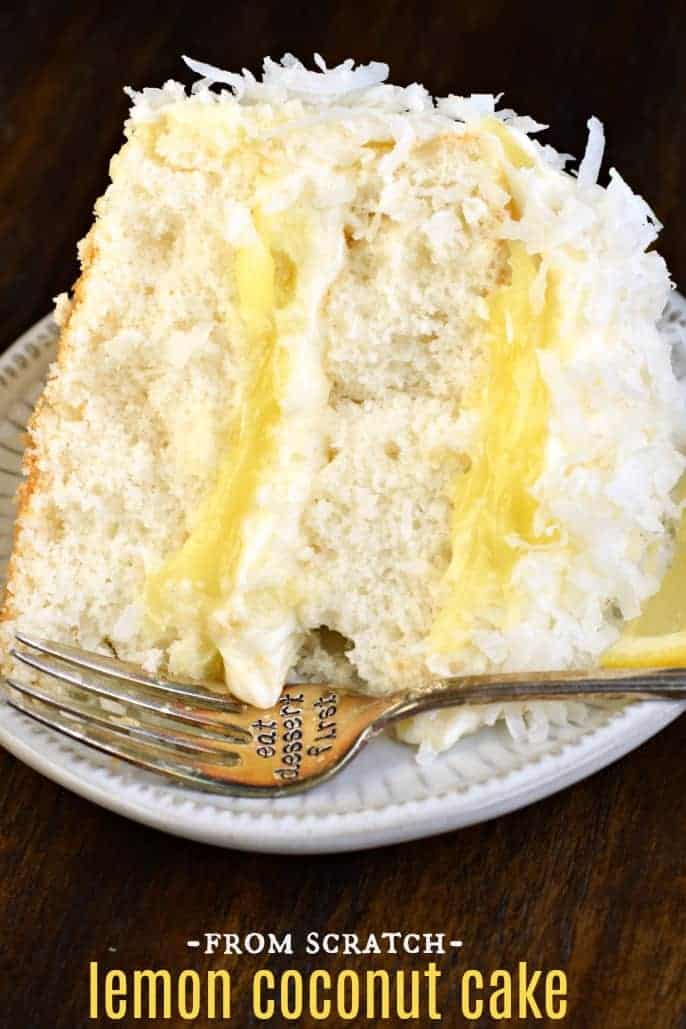 Why This Recipe Works
It's hard to beat lemon and coconut when you're craving something light and sweet. It's downright refreshing.
The secret is that everything is made from scratch, but don't worry. This cake is a lot easier than you might expect.
Here are a few reasons why it works.
The lemon curd is amazing. I won't be surprised if you repurpose it for lemon tarts, lemon meringue pie, or anything else. The zingy flavor of the lemons balances out the sweet coconut flavor perfectly. And it's easy to adjust by adding more lemon if you prefer a result that's slightly more tart.
The recipe provides an exceptional balance of textures. Soft coconut cake encases creamy lemon curd, fluffy cream cheese frosting, and shredded coconut. The combination of all those textures in each bite will keep your palate engaged and interested. It's quite pleasant.
Decorating the cake is foolproof, which is a blessing because that's not exactly my strongsuit. It's covered in shredded coconut, so you'll get a nice exterior look and texture with minimal effort.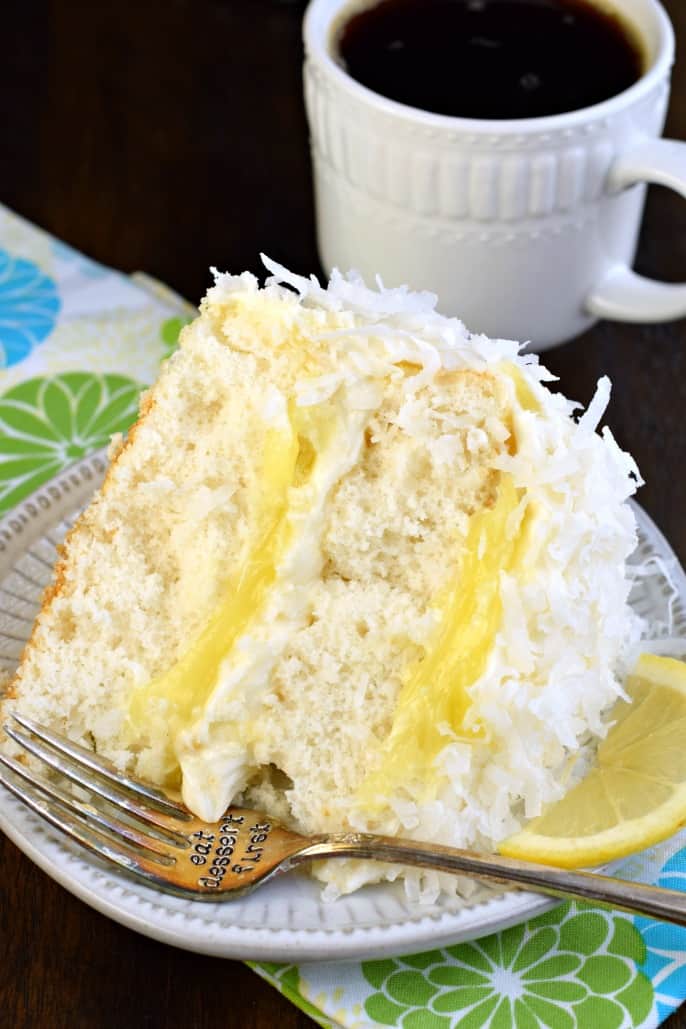 Ingredient Notes
Shredded sweetened coconut – Sweet, flaky coconut adds taste and texture to the outside and inside of this cake.
Lemon curd – Essential for the cake filling, you can buy your favorite store brand or make homemade lemon curd.
Cream cheese – Cream cheese creates a rich and tangy coconut frosting.
Unsalted butter – Soft butter adds richness and makes a light, fluffy frosting. Use our guide for tips on how to soften butter quickly.
Vanilla extract – Adds a warm, sweet aroma and flavor to the cake and frosting. Our homemade vanilla extract is perfect.
Almond extract – Adds even more flavor to the cake layers. If you can find coconut flavoring, you can swap that in for more coconut flavor.
Cake flour – This low-gluten flour allows for a lighter cake texture.
Egg whites – Lightens the cake's texture and binds the ingredients together.
Milk – Milk adds moisture and richness.
Granulated sugar
Baking powder
Kosher salt – Salt enhances the flavors and balances out the sweetness.
Powdered sugar – Sweetens and gives structure to the frosting.
Heavy cream – Creates the perfect frosting consistency.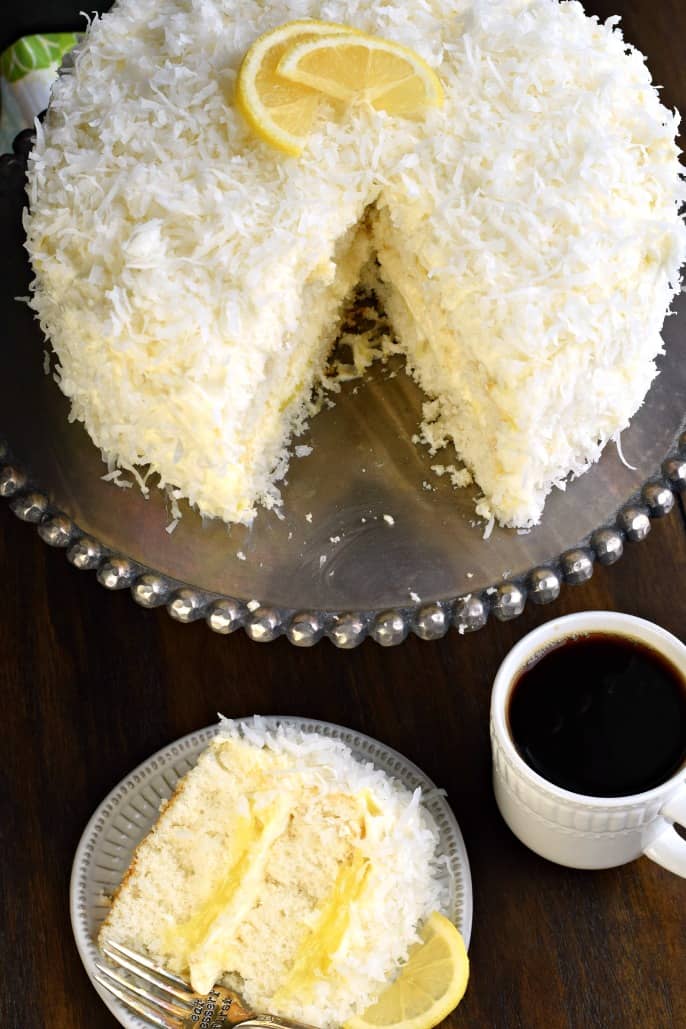 Easy Instructions
Mix the batter. Cream the butter and vanilla in a mixing bowl. Incorporate the dry ingredients and mix to combine. Now do the same with the wet ingredients. Mixing the batter should only take about 10 minutes, so don't forget to preheat your ofen to 350°F while you work.
Bake the cake. Divide the batter into two greased 9-inch cake pans. Once your oven comes to temperature, bake them for 26-28 minutes. Remove and cool completely on a wire rack.
Whip the frosting. Using an electric mixer, combine the butter and cream cheese first. Pause after 3-4 minutes and incorporate the powdered sugar, vanilla and heavy cream. Continue to whip the frosting mixture until it's fluffy and smooth.
Assemble first layer. Pipe a ring of frosting around the top edge of your first cake layer. Fill the frosting ring with a cup of lemon curd, starting at the center of the cake and spreading toward the edges. The frosing ring will act as a retaining wall so that curd doesn't squish out the sides of the cake. Cover the entire curd reservoir with frosting, smoothing the surface with an offset spatula.
Top and sprinkle. Gently place the second cake layer atop the first. We'll follow the same process for assembling it. Add a ring of frosting and fill it with curd. Then frost the top and sides of the cake. Sprinkle with shredded coconut, pressing it gently into the frosting.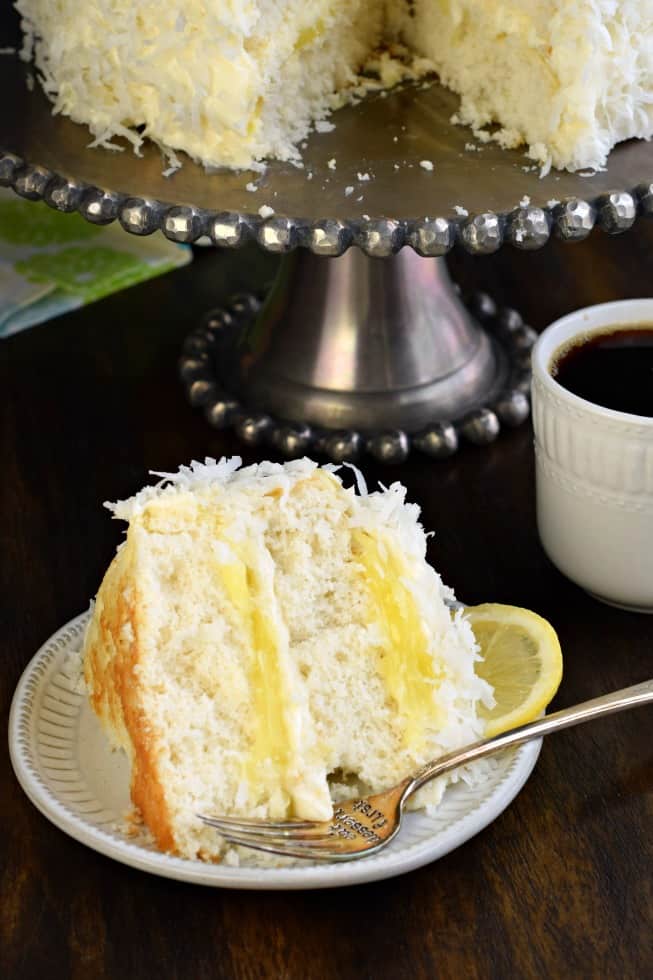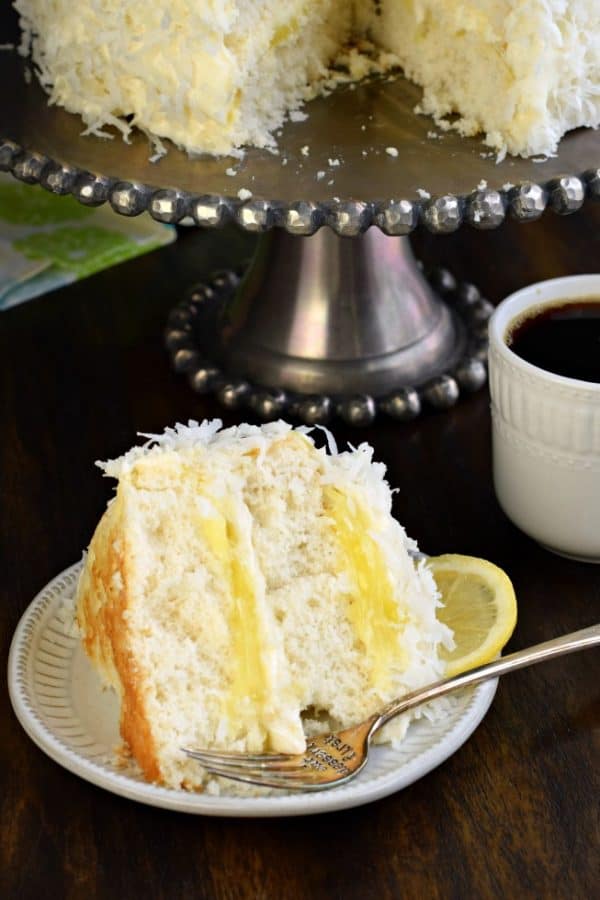 Serving Suggestions
A slice of cake is a perfect pair with a hot coffee drink. Try Lemon Coconut Cake with a Skinny Caramel Mocha for a decadent taste with fewer calories.
The light-as-air foam in Dalgona Coffee can be a delightful cake accompaniment and feels like a special treat. And for a sweeter option, my Brown Sugar Latte comes complete with whipped cream and a luscious caramel drizzle.
Recipe FAQs
Is it necessary to cream the butter and sugar together for the cake batter?
Creaming the butter and sugar together is important, ensuring a lighter, fluffier cake. Be sure to cream them until the mixture looks light and fluffy, around 2 minutes.
Can I add coconut extract to the cake batter?
To add more coconut flavor, substitute the almond extract for coconut extract.
Can I use coconut milk instead of milk?
Yes, you can use full-fat coconut milk instead of regular milk in the cake and frosting. However, you may want to use a little less in the frosting to avoid thinning it out too much.
Can I use unsweetened shredded coconut instead?
It's important to use sweetened coconut as directed in the recipe. It has a softer texture than unsweetened coconut and contributes to the overall sweetness and texture of the cake.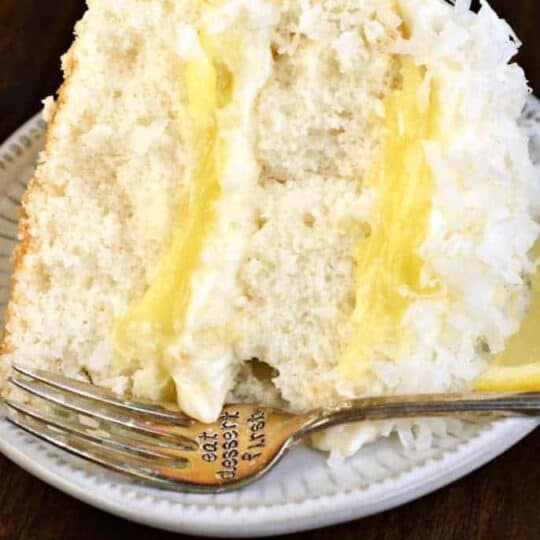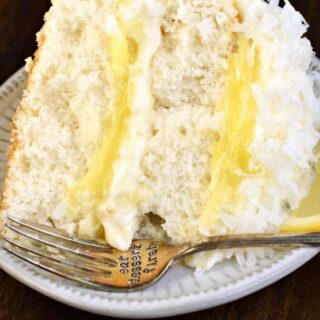 Lemon Coconut Cake
The very Best Lemon Coconut Cake recipe on the internet. Layers of coconut white cake (from scratch) with homemade lemon curd and cream cheese frosting. All topped with more coconut!
Ingredients
FOR THE CAKE:
5

large egg whites

room temperature

¾

cup

milk

¾

cup

unsalted butter

softened

1 ¾

cup

granulated sugar

1

teaspoon

vanilla extract

½

teaspoon

almond extract

2 ½

cup

cake flour

1

Tablespoon

baking powder

½

teaspoon

kosher salt

1

cup

shredded

sweetened coconut
FOR THE FROSTING:
½

cup

unsalted butter

softened

2

packages

8 ounce each cream cheese, softened

6

cups

powdered sugar

¼

cup

heavy cream

1

teaspoon

vanilla extract

2

cups

shredded

sweetened coconut

2

cups

lemon curd
Instructions
FOR THE CAKE:
Whisk together the egg whites and 1/4 cup of the milk in a small bowl until slightly combined. Set aside.

In a mixing bowl, beat butter, sugar, vanilla and almond extracts for 2 minutes on medium speed, scraping down the sides of the bowl as needed. Add in dry ingredients and mix until combined. Beat in egg white mixture until fully blended. Add in remaining milk and beat for 3-4 minutes, scraping down the sides of the bowl. Fold in coconut.

Spray two 9-inch cake pans with baking spray. Pour batter into pans and bake in a 350 degree oven for 26-28 minutes. Remove and cool completely on wire rack.
FOR THE FROSTING:
Beat butter and cream cheese for 3-4 minutes using whisk attachment on an electric mixer. Add in powdered sugar, vanilla and heavy cream. Beat an additional 4-5 minutes, scraping down the sides of the bowl as needed.

To assemble, place one layer of cake on a cake stand. Add 1 cup lemon curd and spread over the cake. Then add a large amount of frosting to top and smooth with an offset spatula. Top with second layer of cake. Apply the second cup of lemon curd over the top. Then add frosting to entire cake. To add the coconut to the top and sides of cake, place cake stand on a baking sheet (to help catch excess coconut). Fill hand with coconut and press gently into sides of cake. Repeat until desired amount of coconut applied. ENJOY!
Notes
Before assembling the cake, place your cake stand on a baking sheet or large cutting board. This is helpful to catch any spills, and is especially helpful to save falling coconut shreds so that you can re-apply.
Although it's simple enough to sprinkle shredded coconut on the top of the cake, it's easier to press handfuls of this coating gently into the sides of the cake. Toasted coconut would be delicious on top as well.
Always make sure your cake has cooled completely before frosting it. This small step will save you many messes! I've also found that an offset spatula is essential for spreading icing easily, smoothly, and without creating an undue mess.
Swap out the icing and use our vanilla sour cream frosting for a tangy sweet switch.
Cupcakes. Use our coconut cupcakes recipe as a guide on how to make this treat portable!
See blog post for more recipe tips and tricks.
Nutrition
Serving:
1
slice cake
,
Calories:
658
kcal
,
Carbohydrates:
102
g
,
Protein:
6
g
,
Fat:
26
g
,
Saturated Fat:
18
g
,
Polyunsaturated Fat:
7
g
,
Cholesterol:
88
mg
,
Sodium:
282
mg
,
Fiber:
2
g
,
Sugar:
82
g