This easy Reese's Peanut Butter Cake is so moist and delicious. The peanut butter frosting is fluffy and creamy. You can whip this up for the peanut butter lovers in your life and they will love you forever.
If you love peanut butter, try this delicious Peanut Butter Sheet Cake with it's creamy peanut butter frosting! Or whip up a batch of our reader favorite Peanut Butter Cookies!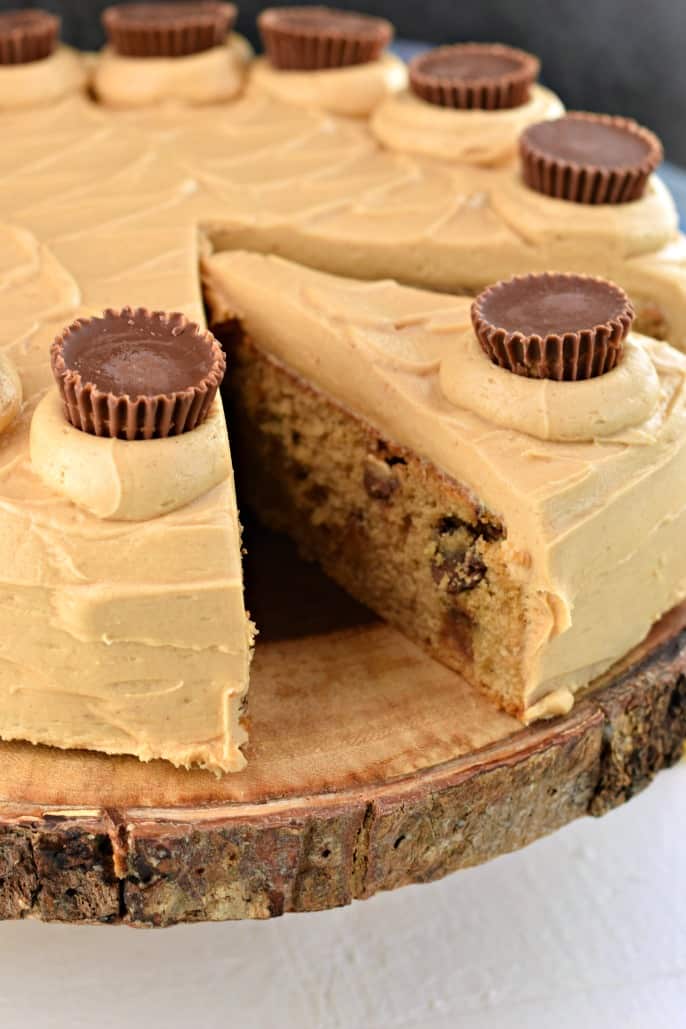 Why this Recipe is Best
Raise your hand if you have any peanut butter lovers in your life?
If the answer is yes, then you need to make this peanut butter cake ASAP! This is such a yummy peanut butter treat that you can make for your beloved peanut butter fans, or as a special birthday cake idea!
I also like to call it Reese's Peanut Butter Cake—It's packed full of chopped candy and topped with a few extra Reese's too!
My love for peanut butter dip and peanut butter fudge forced me into making this delicious cake recipe!
As you probably know, peanut butter tends to put a weight on baked goods. There's definitely a thin line between enjoying a light, moist cake and a heavy, dense, dry cake.
But no need to toe the line with this cake.
It is everything you want in a Reese's peanut butter cake. It's light and moist and every few bites you get bits of chopped up Reese's Peanut Butter Cups.
The peanut butter frosting is quite literally the icing on the cake. It's creamy, silky, and totally addictive. I highly recommend using heavy cream instead of milk to make the best frosting ever!
No need to mess with a layer cake here, just one perfect layer of Reese's packed peanut butter cake!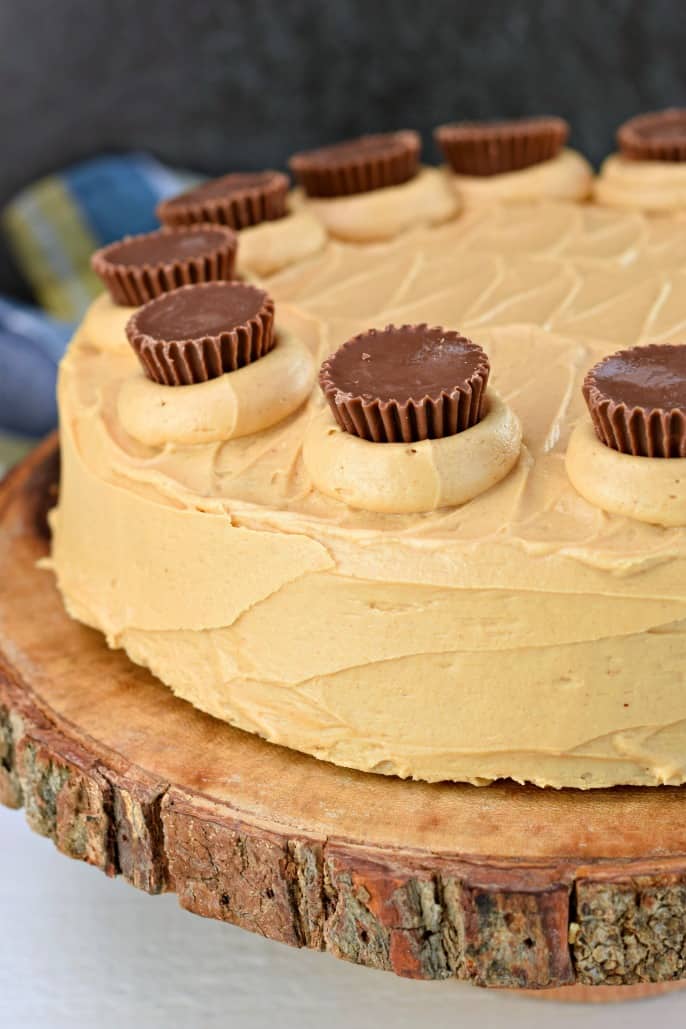 How to make Peanut Butter Cake
Step 1: Preheat oven to 350 degrees F. Grease one 9″ cake pan and line the bottom of the pan with parchment paper.
Step 2: Finely chop up the peanut butter cups and then mix them with 1 tbsp. flour. The candy tends to sink at the bottom if you don't mix it with a little bit of flour. Set aside.
Step 3: In a mixing bowl, cream your butter, peanut butter, and sugar until they are light and fluffy. Beat in the eggs, one at a time.
Step 4: In a separate bowl, sift together the flour, baking soda, and salt.
PRO TIP: I rarely sift my ingredients together, however, with this recipe, you want everything light and airy, it's very important to sift the dry ingredients.
Step 5: At low-speed, add the flour mixture alternately with the buttermilk.
Step 6: Add in the chopped peanut butter cups to the batter. Using a spatula, mix until well combined.
Step 7: Spoon the batter into the prepared pan and spread evenly. Bake your cake for 33-35 minutes or until a toothpick inserted in the center comes out clean.
Step 8: Let the cake cool for five minutes. Turn it out onto a rack, and peel off the parchment paper. Let your cake cool completely before frosting.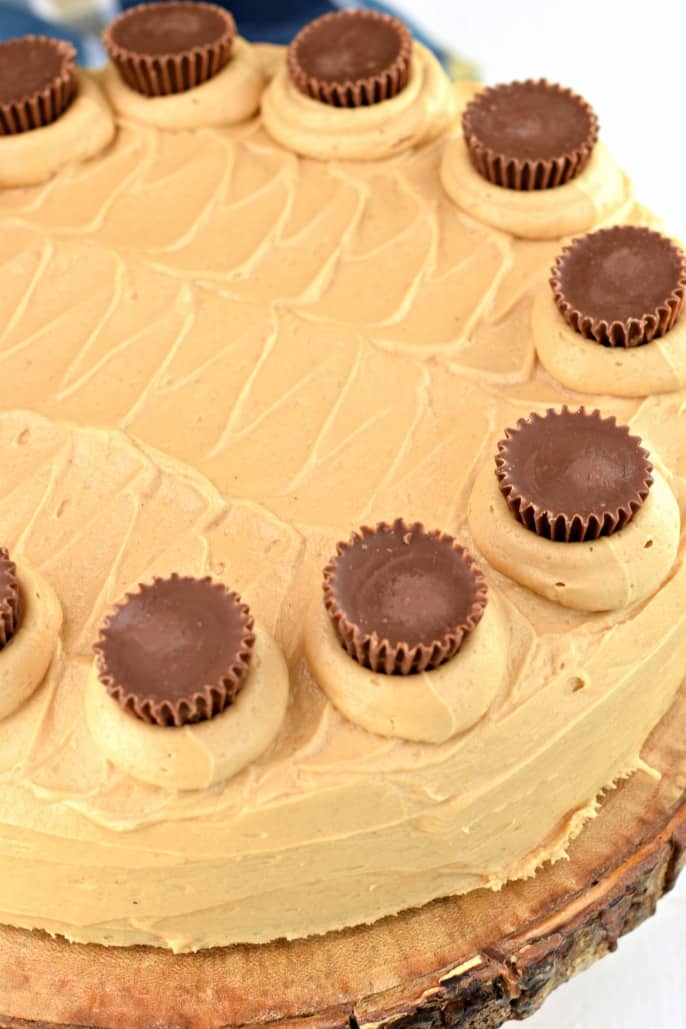 How to Make Peanut Butter Frosting
Step 1: In a mixing bowl add the butter, peanut butter and 1/3 cup heavy cream. Stir at low-speed until well combined.
Slowly add in the powdered sugar, 1/2 cup at a time, mixing well after each addition. When all the sugar has been added, increase your speed and mix for two more minutes. If needed, slowly add in a few more drops of heavy cream.
Step 2: Frost the cake completely. Decorate the top with peanut butter cups or Reese's pieces.
Step 3: Keep the cake covered until ready to serve. Serve at room temperature. Enjoy!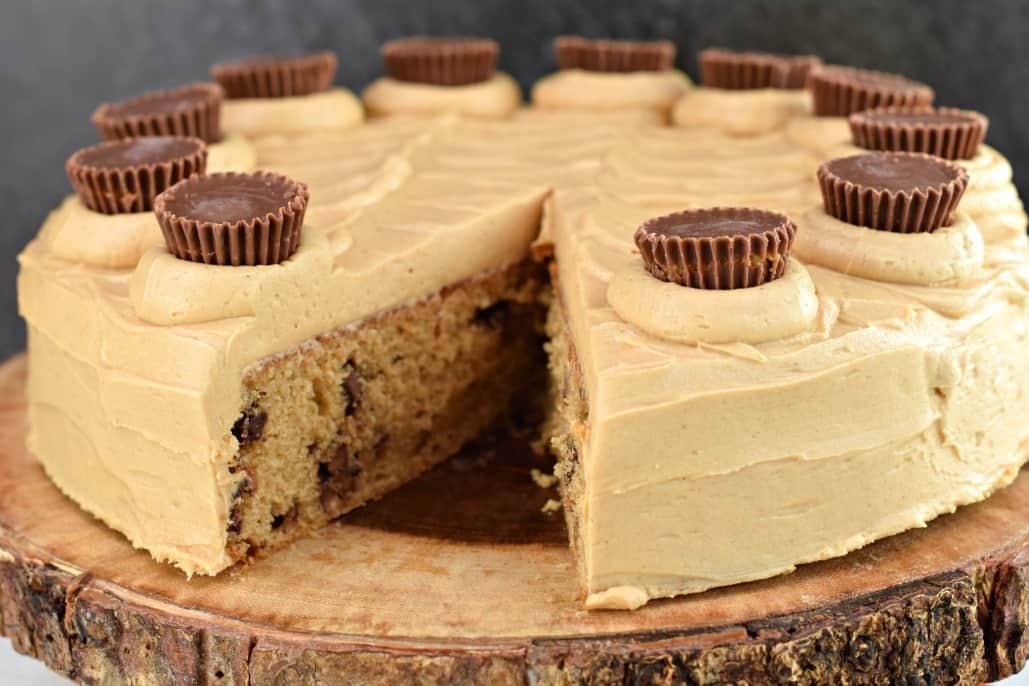 Tips and Tricks
Use parchment paper for the bottom of your cake pan. This helps it come out easily so you can frost it. Do NOT use wax paper.
Don't use the all-natural peanut butter. It tends to be too oily for this cake recipe.
Don't skip using the buttermilk. It makes this peanut butter cake extra delicious!
If you don't use buttermilk often, keeping a can of powdered buttermilk in your pantry will come in handy. It's so easy to use and has a longer shelf life than the refrigerated buttermilk.
Use my buttermilk substitute for a quick swap!
Try chilling the cake for a different texture and flavor. It tastes amazing, like frozen peanut butter cups!
Switch up the toppings you use. In addition to peanut butter cups (my personal favorite) you could use chocolate chips, sprinkles, or Reese's pieces to top this cake.
Beat the frosting for several minutes, until it's nice and fluffy.
You can also change up the frosting flavors if you want to try something different. Both my chocolate buttercream and Nutella frosting recipes would be delicious on this cake!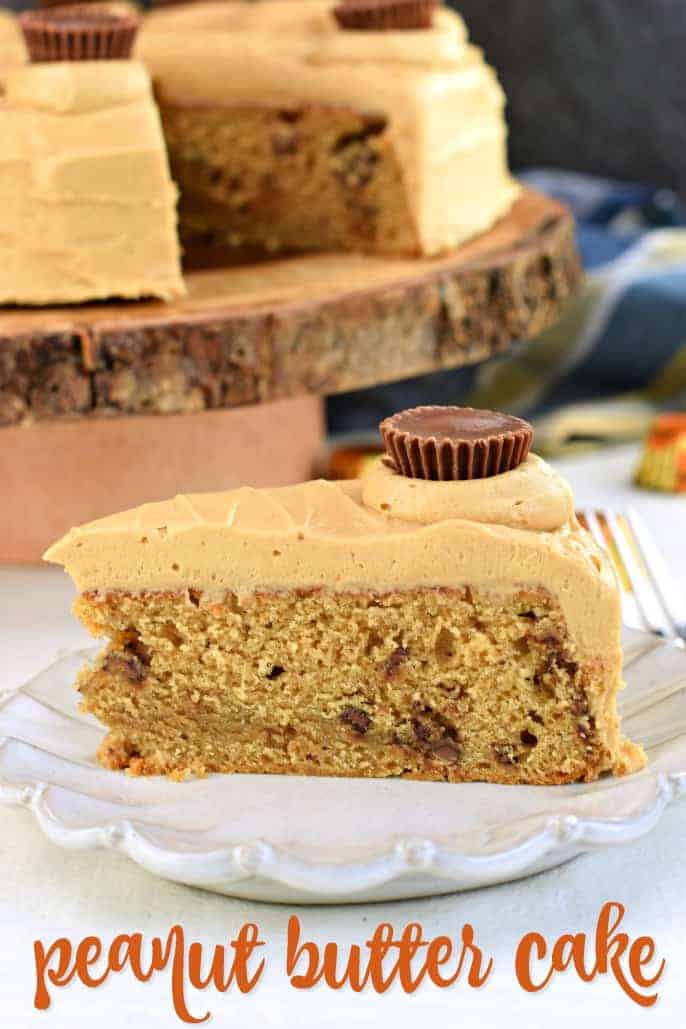 Can I Freeze Peanut Butter Cake?
Have you ever tried to freeze a cake? I have successfully frozen cakes and am here to tell you that yes, you can freeze this cake as well. If it lasts that long, that is! If you want to make it and then freeze it, you can do so a few different ways:
Bake the cake and allow it to cool completely. Wrap it in parchment paper, then wrap it in foil, and then freeze. When you're ready to enjoy it, thaw it at room temperature.
Bake the cake and let it cool completely. Frost as directed. Freeze the whole cake in an airtight container. Thaw at room temperature when you're ready to enjoy.
This is my favorite option. Make your cake and enjoy it for several days. Freeze the remaining cake by wrapping the leftover slices in parchment paper and then slide them into a ziploc bag. You can freeze it for up to 3 months. Thaw at room temperature when you're ready to enjoy.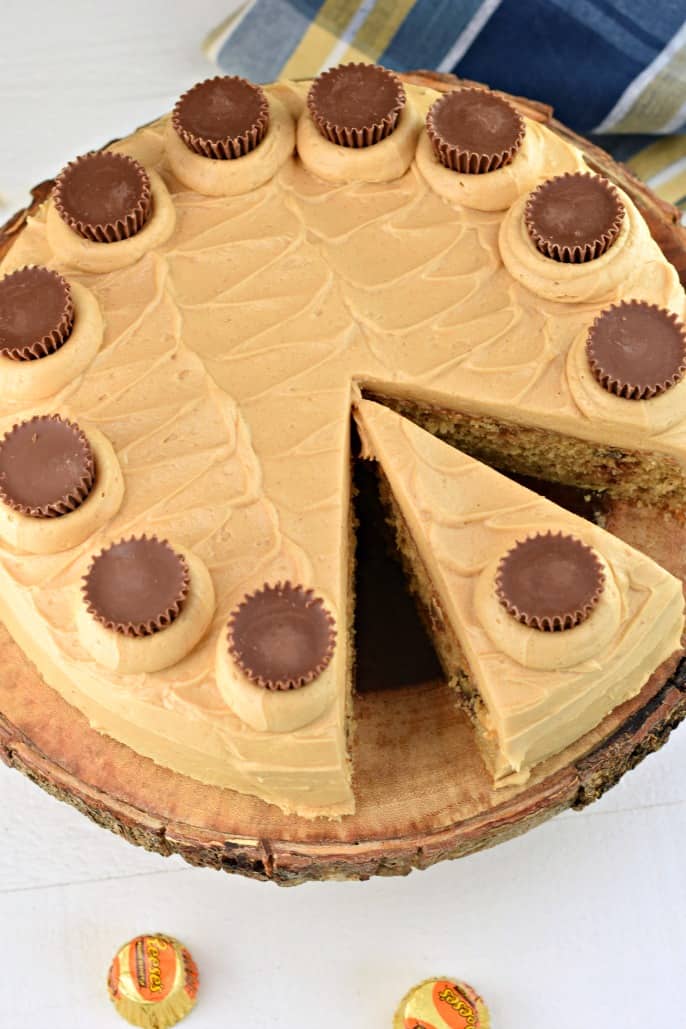 More Peanut Butter
The Best Peanut Butter Cake recipe topped with creamy Peanut Butter buttercream frosting and extra Reese's peanut butter cups!