This rich, moist Chocolate Pound cake recipe is the best bundt cake you'll taste. Easy to make and triple the chocolate!
Why Make This Cake
Once upon a time I was obsessed with cookbooks. Some people loved reading books, I loved buying new cookbooks.
Then blogs became popular and recipes were freely available online. But you know what hasn't changed? My love of cookbooks.
Just like some people love an actual hard cover book instead of an e-reader, I too love to turn pages of a cookbook.
In my business, I'm surrounded by some crazy talented friends. If you haven't been following Mary at Barefeet in the Kitchen…go do that right now. Then don't forget to come back here for this decadent Chocolate Pound Cake Recipe.
Mary is one of the kindest food bloggers I know, and also one of the most talented too. She has just released her third cookbook in a wonderful series…starting with The Weeknight Dinner, then The Weekday Lunches and Breakfasts, followed by the newest book, The Weeknight Dessert Cookbook.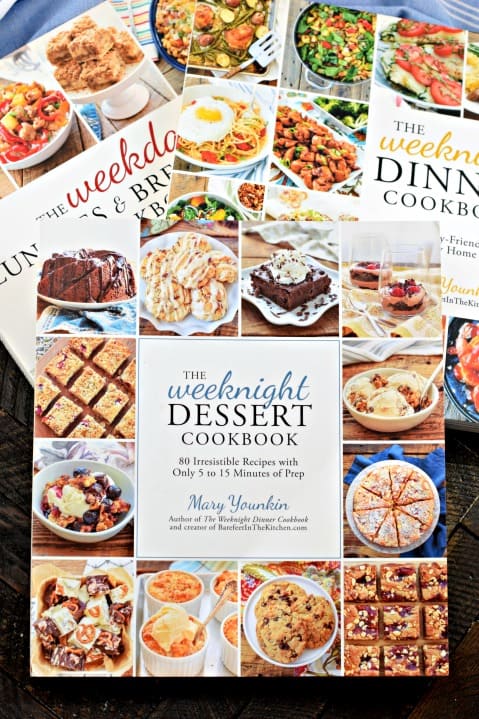 I've shared several of Mary's recipes here, for instance this Margherita Chicken recipe that takes 15 minutes is one of our family's favorite meals.
And this Sour Cream Coffee Cake is something I whip up often for family and friends for brunch! Along with a big batch of these Almond Bars.
Today though, it's as if this newest cookbook was written just for me and my family.
As I thumbed my way through the book, I couldn't decide what to share and where to start. So I literally chose the first recipe in the book.
Triple Chocolate Pound Cake. I hope you're excited to try it, then go purchase these cookbooks for yourself, you won't be disappointed!
How to Make Chocolate Pound Cake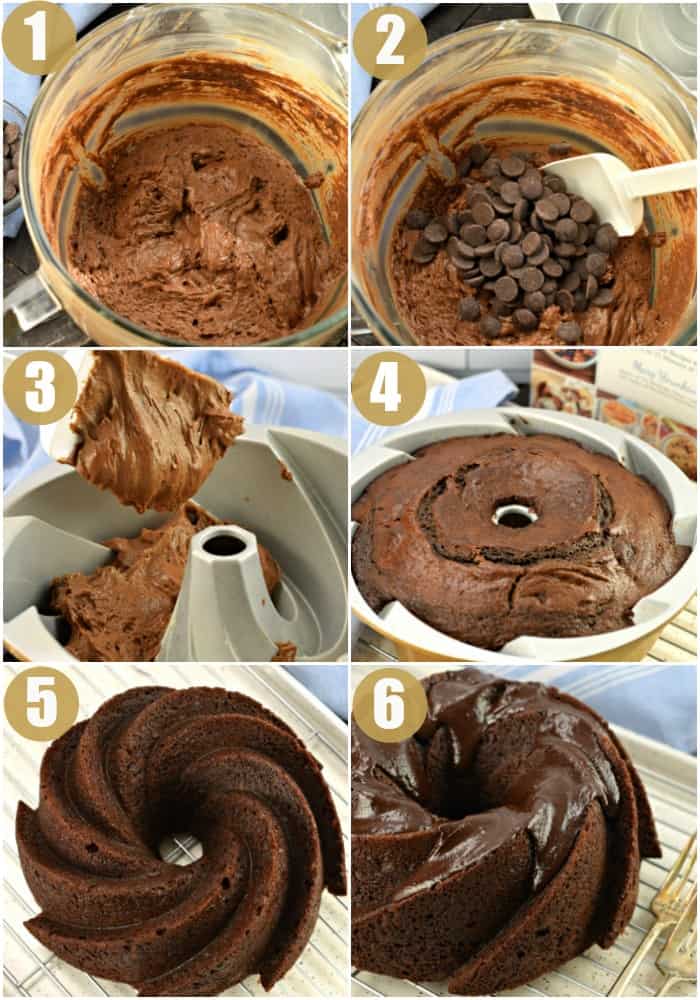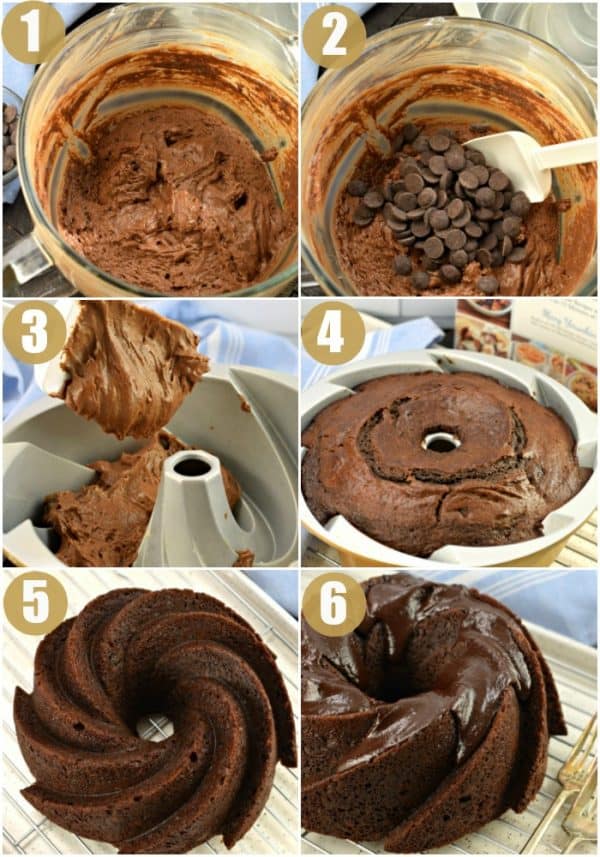 STEP 1: Preheat oven to 350 degrees F. Grease a 6-cup bundt pan or loaf pan with butter and cocoa powder (or using a generous amount of baking spray).
STEP 2: In a large mixing bowl, beat together the butter and brown sugar until smooth. Add eggs, Greek yogurt and beat until well blended.
Add in flour, cocoa powder, espresso powder, baking soda, baking powder, and salt. Beat until combined. Stir in chocolate chips.
STEP 3: Pour the batter into the prepared bundt pan. Bake for 40-45 minutes until a toothpick inserted into cake comes out clean or with a few crumbs.
STEP 4: Cool pan on wire rack for 10 minutes, then invert the pan onto a cake plate. Allow cake to cool completely.
STEP 5: Make the ganache by combining chocolate chips with heavy cream in a glass bowl. Microwave for 60 seconds. Stir and heat for an additional 15 seconds. Stir until smooth. Pour ganache over the cake and enjoy.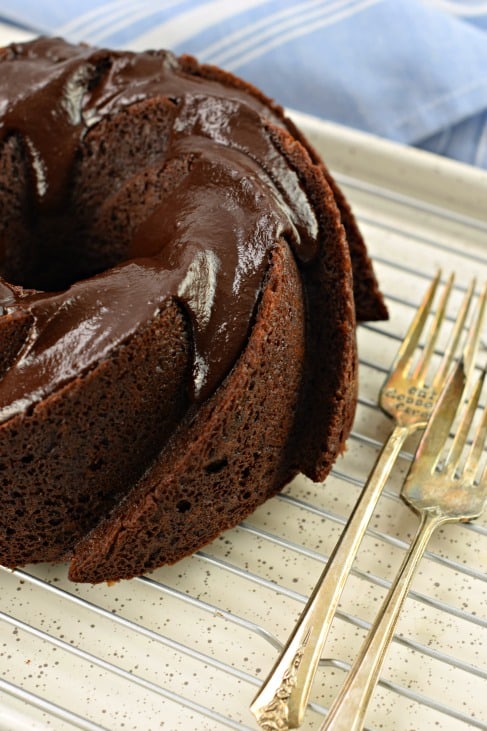 How to Prepare a Bundt Pan
One of the most nerve wracking moments when making a bundt cake is that moment when you are about to flip the cake out of the pan. Will it flip? Will it get stuck?
Don't fear. First, decide if you'll be using butter or baking spray.
If using butter, spread softened butter generously inside the pan, making sure to get into all the creases. For a chocolate bundt cake, you'll want to sprinkle unsweetened cocoa powder over the butter (don't use flour or you'll have a white ugly mess).
You can also use baking spray (which is my go-to choice). Generously spray your bundt pan right before filling it.
You could also use our homemade goop, which helps cakes release from the pan!
Don't forget to allow the cake to cool 10-15 minutes IN THE PAN. This is important!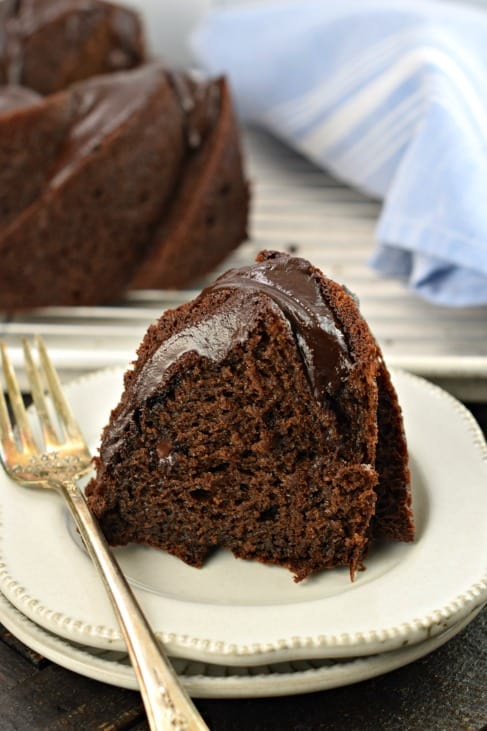 How to serve a Chocolate Pound Cake
Today's recipe from The Weeknight Dessert Cookbook calls for a rich, chocolate ganache.
But, if you wanted to skip the ganache, there are a few other great ways to serve this moist chocolate bundt cake.
Whipped Cream. Make a quick batch of homemade whipped cream or use the store bought variety.
Fresh Fruit. Along with the whipped cream or chocolate ganache, a pile of fresh berries is a great way to serve this decadent dessert.
Powdered Sugar. If chocolate is sweet enough for you, just add a quick sprinkle of powdered sugar to the top of this cake for a tasty twist.
Caramel Sauce. You can never go wrong with homemade caramel sauce.

What you'll need to make Triple Chocolate Bundt Cake
If you want a quick glance at what's needed for today's recipe, look no further. For the printable recipe with measurements, scroll all the way down!
Ingredients:
Unsalted Butter
Brown Sugar
Eggs
Greek Yogurt (or sour cream)
All-Purpose Flour
Unsweetened Cocoa Powder
Espresso Powder (or instant coffee)- buy on Amazon with my affiliate link!
Baking Soda and Baking Powder
Salt
Dark Chocolate Chips
Heavy Whipping Cream
Tools:

Tips for making Chocolate Bundt Cake
If you don't have plain greek yogurt you can substitute with sour cream. Either ingredients adds a whole level of moisture to this cake!
I buy my Espresso powder on Amazon. If you can't find it, use instant coffee. It doesn't make your cake taste like coffee, but instead brings out the rich chocolate flavor.
Add some extra chocolate chips on top of the chocolate ganache. There's no such things as "too much" in my vocabulary.
Dark Chocolate Chips are my favorite for today's pound cake. You'll love that deep, rich chocolate flavor!
If you love chocolate bundt cake, be sure to try my chocolate zucchini bundt cake recipe!!

Can you freeze Chocolate Pound Cake
Yes. After baking, and cooling the cake, freeze slices of chocolate pound cake in airtight container or ziploc freezer bag for up to 3 months.
Thaw at room temperature and enjoy.
Can I double the cake recipe?
Yes. If you have a larger bundt pan (12-cup) this recipe easily doubles. You may need to bake a little longer, so check it at 45 minutes, up to 60 minutes!
This rich, moist Chocolate Pound cake recipe is the best bundt cake you'll taste. Easy to make and triple the chocolate!