This is not your ordinary carrot cake recipe. Carrot Bundt Cake is wrapped around a cheesecake filling and covered with cream cheese frosting. It makes an impressive centerpiece for any dessert table!
Love carrot cake recipes? Be sure to try these amazing carrot cake cookies with our homemade cream cheese frosting on top!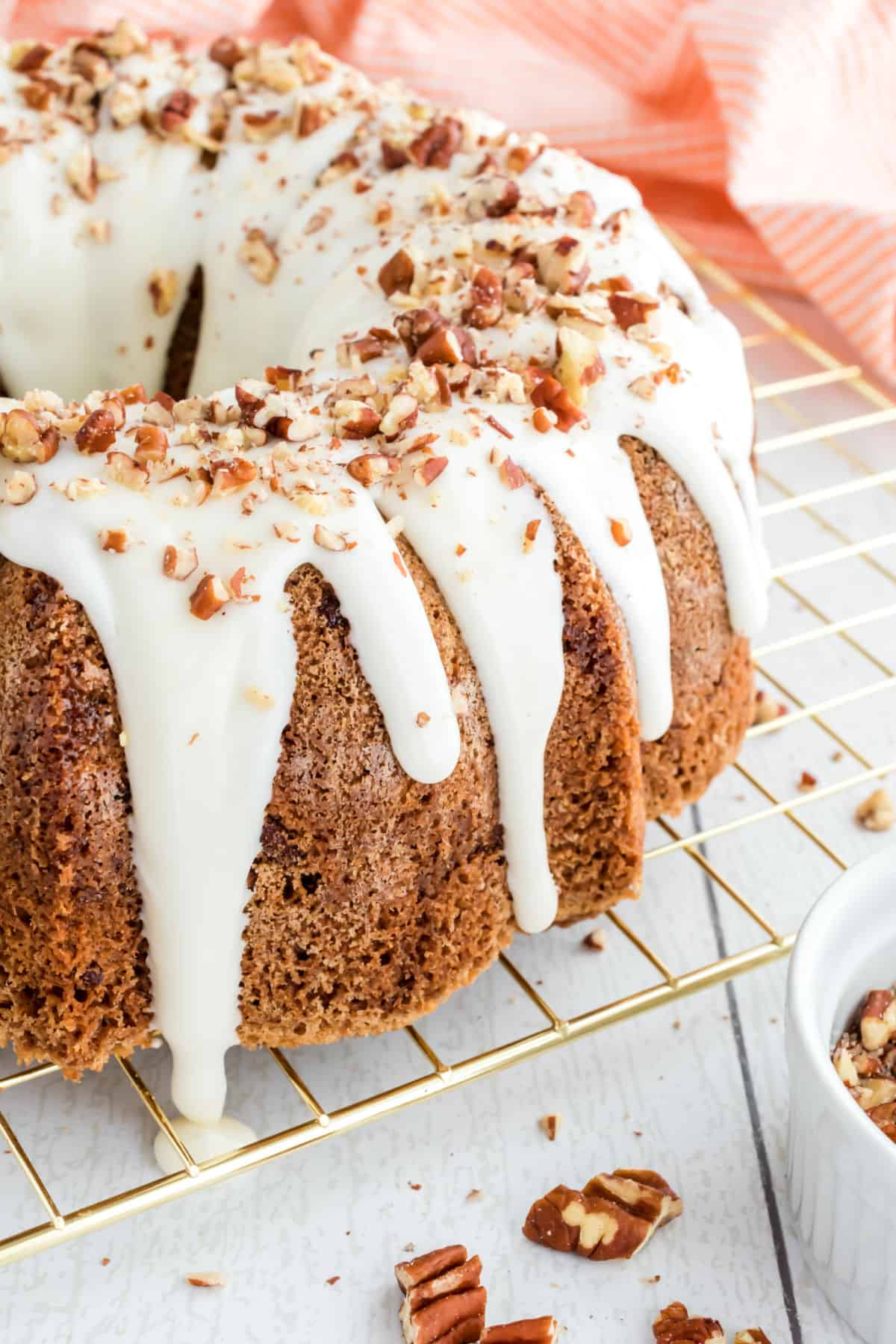 Why this Recipe Works
Today's recipe combines my favorite things: carrot cake, bundt cake and cheesecake!
Okay, FOUR of my favorite things. Frosting. We can't forget about frosting!
If you're looking for something a little different for Easter dessert this year, this Carrot Bundt Cake is just the ticket. I have a classic Carrot Cake recipe that's a family favorite!
I adapted it for a bundt pan and added nuts. Then I stepped up the WOW factor" by adding a ribbon of cheesecake. Who doesn't love a Cheesecake Cake, right?
Top it off with some homemade cream cheese frosting and this is the cake of your dreams.
Or my dreams. Or all our dreams.
I can't resist sneaking bite after bite of this Carrot Bundt Cake!
Ingredient Notes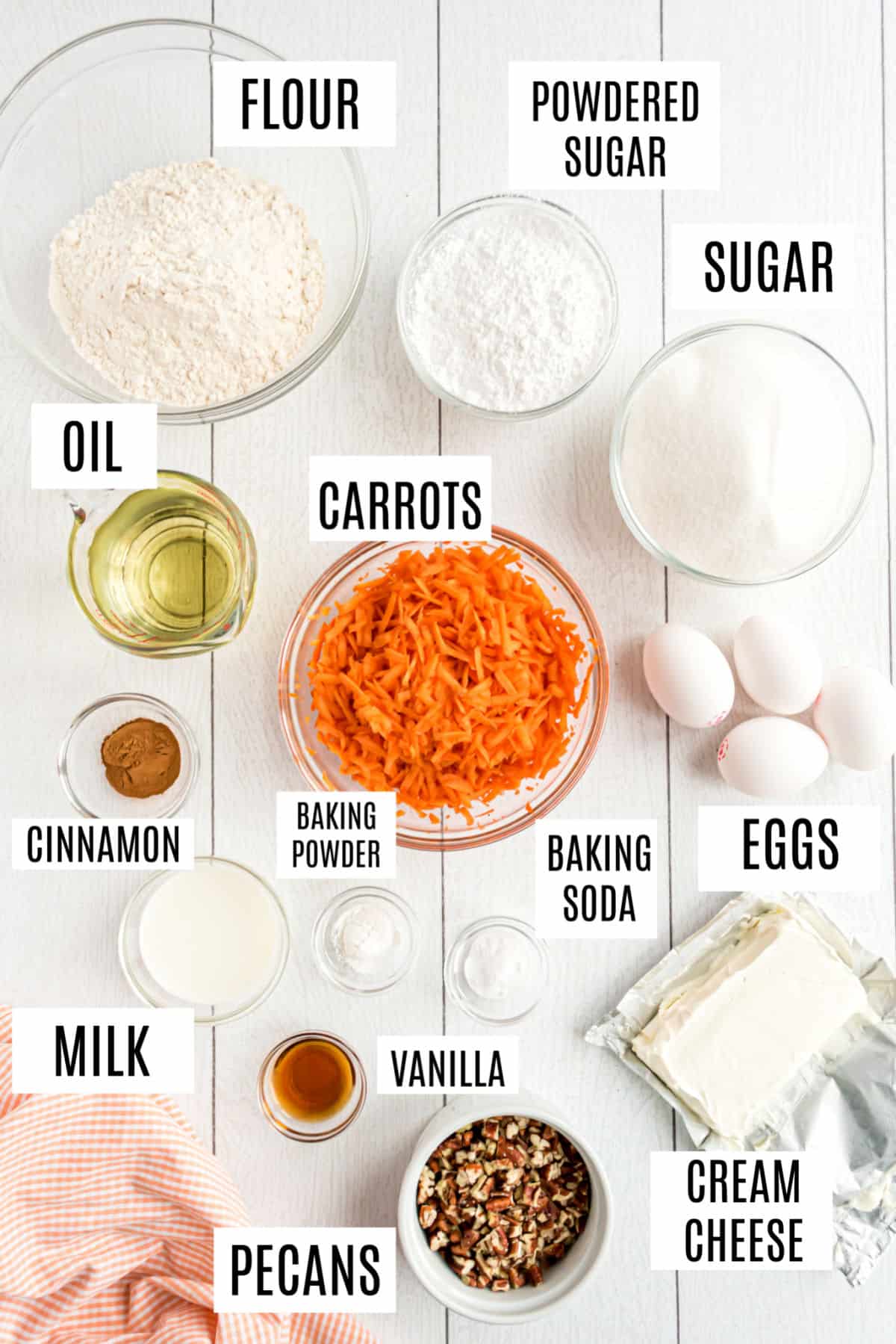 In addition to the usual suspects for cake: flour, sugar, and eggs…
Shredded carrots. Shred whole carrots at home for moistest carrot cake. You can shred them with a grater or the grating attachment of your food processor (do not puree).
Chopped pecans. You can swap these out for walnuts if you prefer. Or keep them out if you like your cake without nuts. Toast the pecans for best flavor!
Vanilla. My How to Make Vanilla Extract is perfect in this cake.
Easy Instructions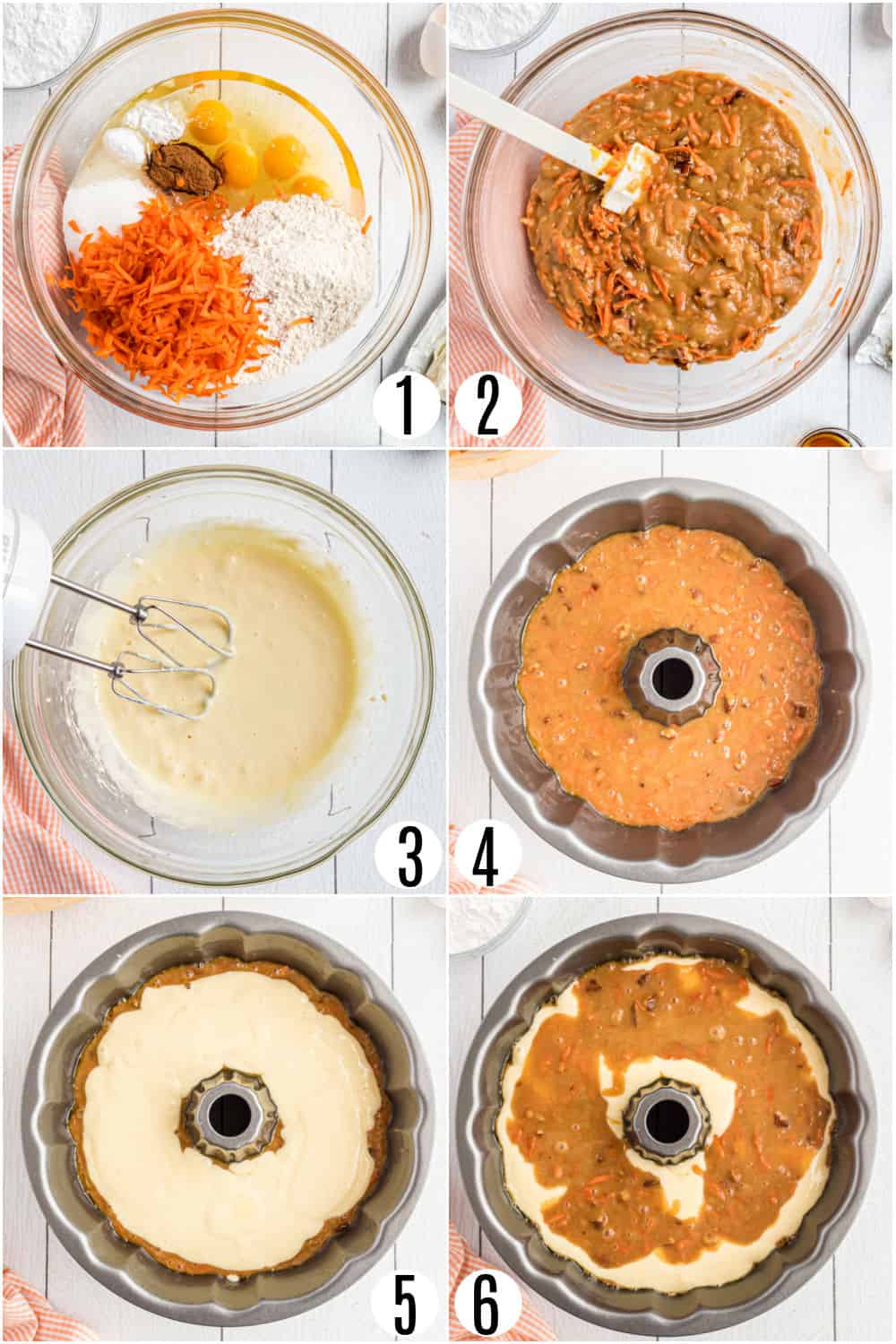 Make the cake batter. Set aside.
Make the cheesecake filling. Set aside.
Assemble the Carrot Bundt Cake by filling the bottom of a greased bundt pan with 3/4 of the cake batter. Spoon the cheesecake layer on top of that. Finally, add the rest of the cake batter over the cheesecake.
Bake for an hour. Let the carrot cake cool completely.
Frost. When the cake is cool, beat together the frosting ingredients. Pipe onto the cake and garnish with more chopped pecans. Slice and enjoy!
Tips and Tricks
Use a 12 cup bundt pan. I used this one from Amazon.
Don't forget to spray! Spray the inside of your bundt pan well with baking spray before adding the cake batter or use Homemade Cake Release.
Check for doneness. When done baking, the cake should easily pull away from the sides of the bundt pan.
Use freshly shredded carrots. Store bought shredded carrots tend to be much drier and will reduce the moistness in the cake.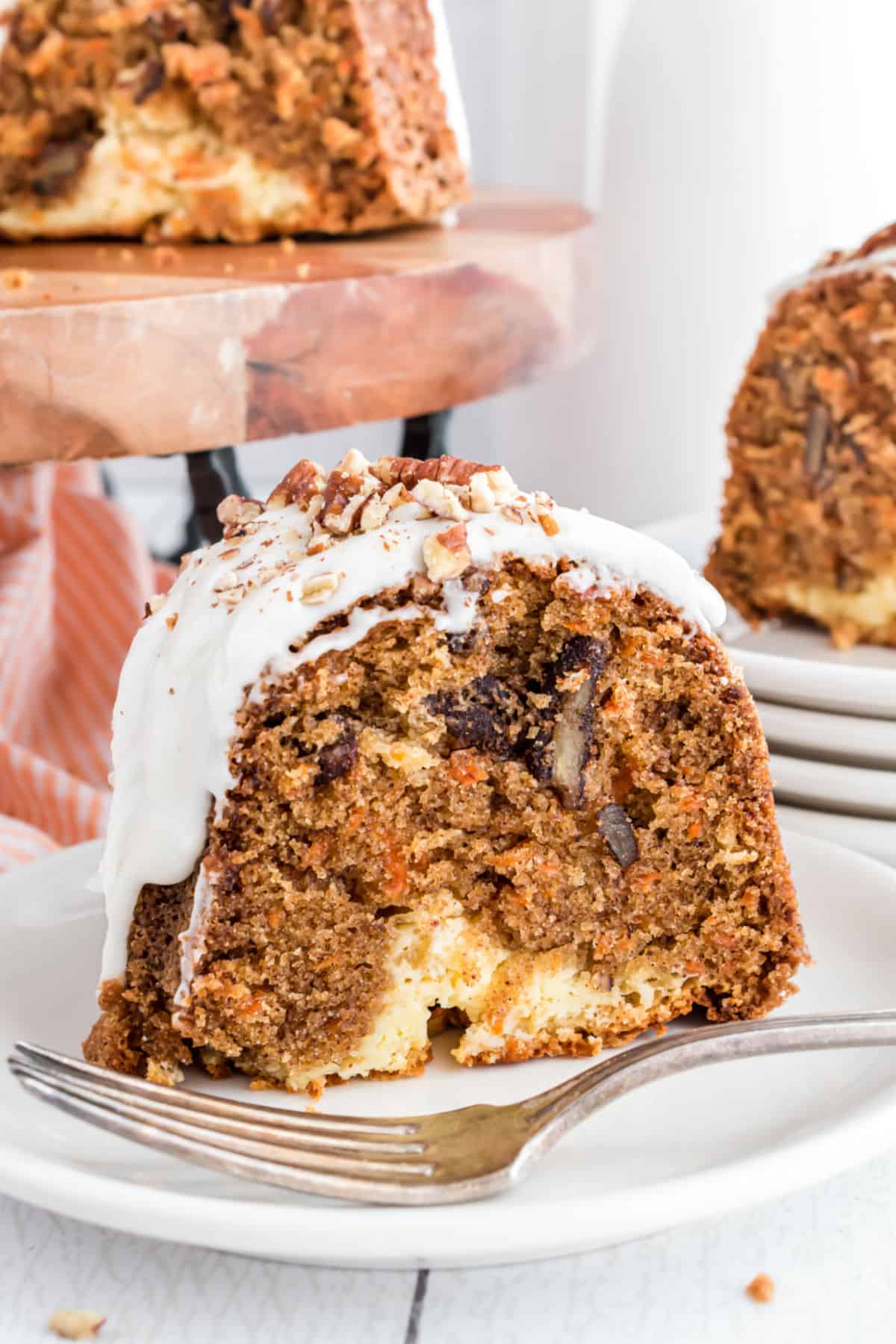 Recipe FAQs
Can you make Carrot Cake without nuts?
Yes, feel free to omit the nuts in this bundt cake recipe if you prefer a nut free carrot cake.
Will this recipe work in different cake pans?
This recipe was designed and tested to be baked in a 12 cup bundt pan. Try this classic Carrot Cake Recipe for a traditional cake version. Or check out my Carrot Cake Cupcakes!
Do you have to refrigerate carrot cake?
Once frosted, this cake (and all carrot cake with cream cheese frosting) should be stored in the refrigerator. Left at room temperature for more than a few hours, the cream cheese will soften and melt. Not to mention it has the potential to spoil! Take your Carrot Bundt Cake out of the fridge an hour or so before serving to bring it to room temperature. Or feel free to enjoy it chilled.

How long does carrot cake keep?
Stored in the fridge, this cake stays good for about 4 days. I can never resist eating it all up long before then!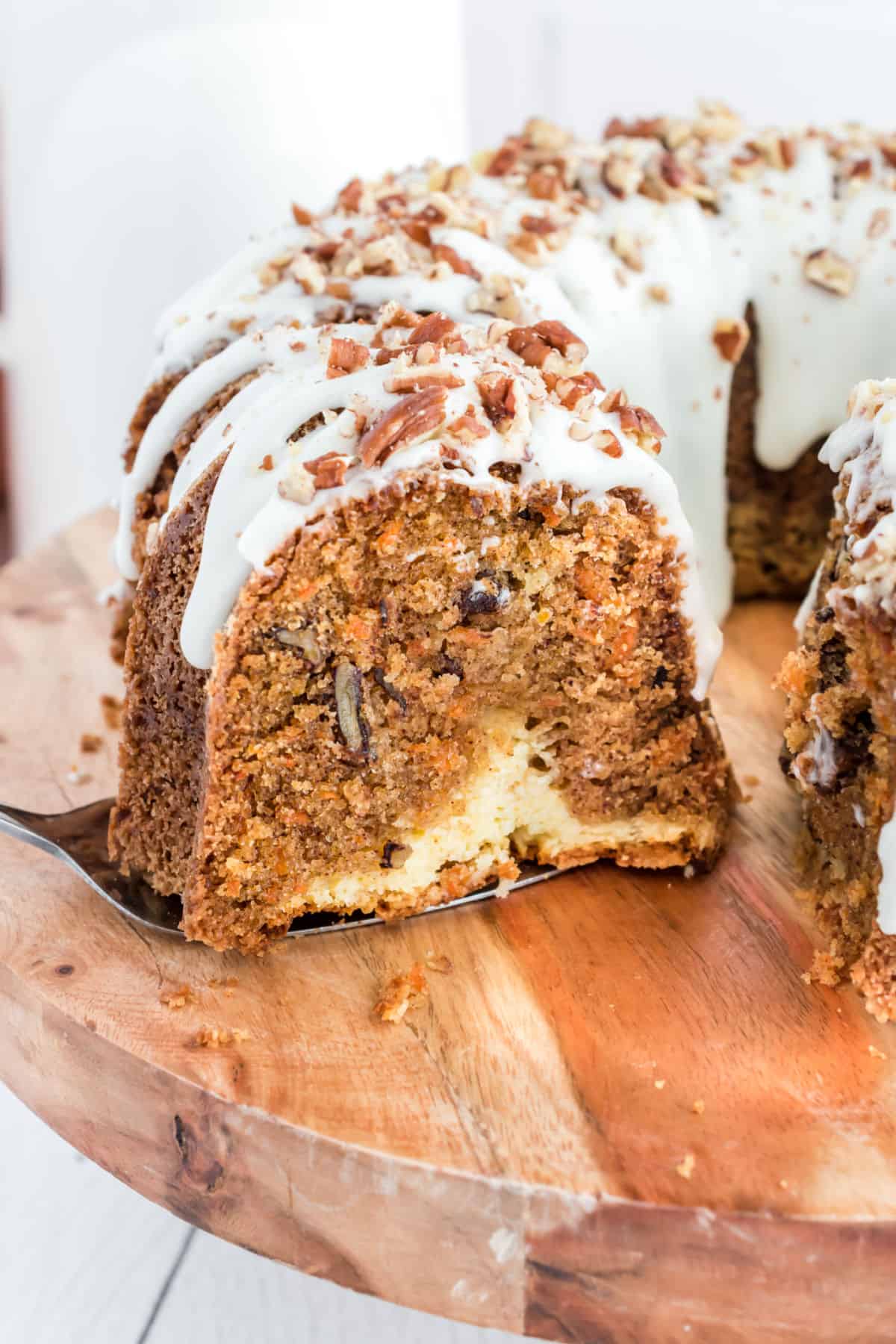 The perfect Easter dessert! This Carrot Bundt Cake with cheesecake filling is bound to turn a few heads at your holiday meal.