Sweet carrot cake meets oatmeal cookies! These chewy Carrot Cake Cookies have juicy raisins in every bite. Spread with cream cheese frosting and sprinkle with nuts for an irresistible hand held dessert.
If you love oatmeal cookies, be sure to try these Cranberry Oatmeal Cookies with white chocolate chips! So thick and chewy. Or give our classic Iced Oatmeal Cookie recipe a try next.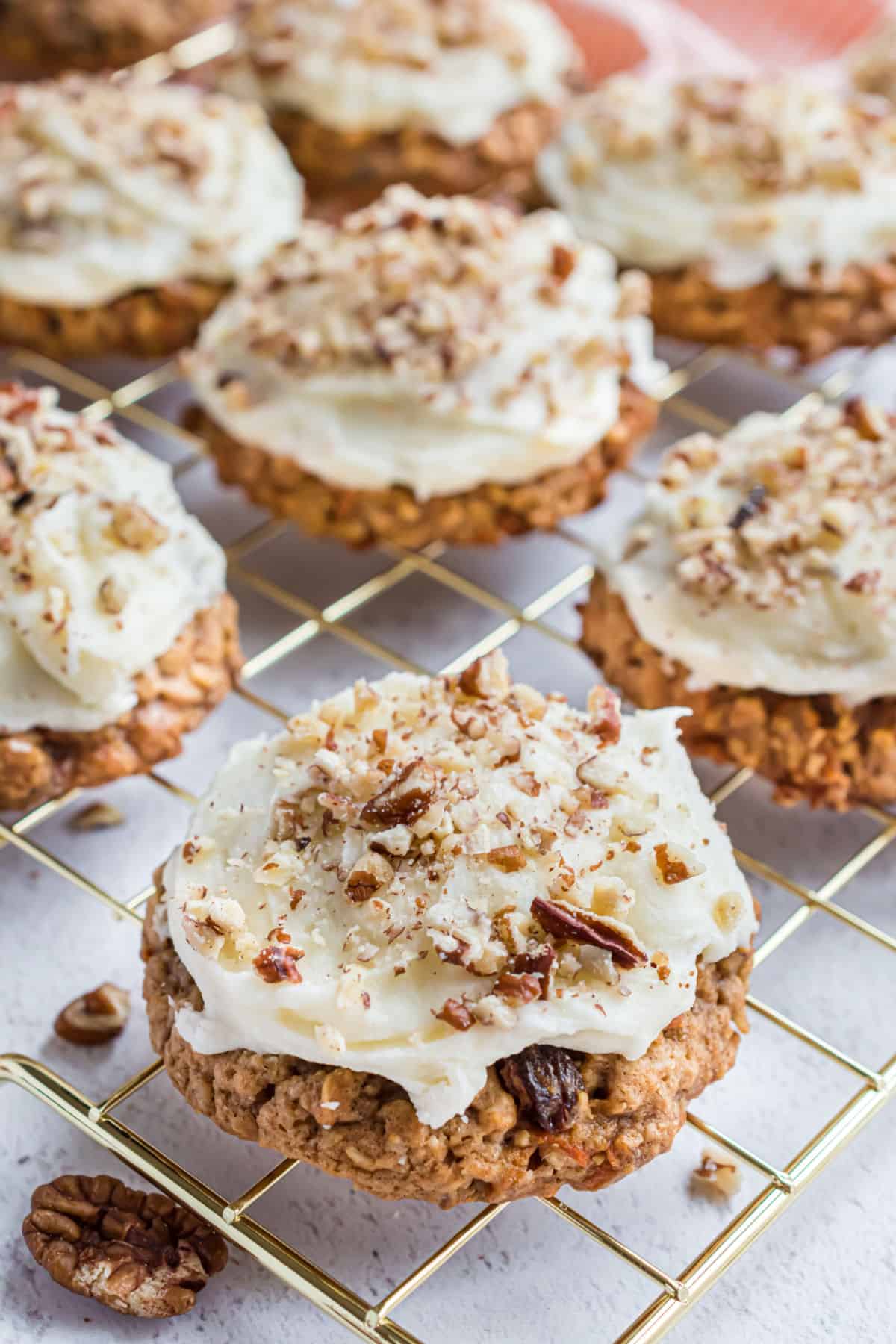 Why this Recipe Works
Put a plate of oatmeal cookies in front of me and I'm a happy girl. These Carrot Cake Cookies are based on my classic Oatmeal Scotchies, with a carrot cake twist.
I wanted a cookie that is packed with carrot cake flavor. Not just one that has specks of carrot in it.
Here's why you'll love them.
Thick and chewy. The texture of these cookies is unbelievable!
Moist sweetness thanks to real shredded carrots.
Serve with or without frosting. They're delicious both ways.
Nutty topping. Adding a few chopped and toasted nuts on top gives carrot cake cookies an amazing crunch.
Easy to make and serve. All the flavor of carrot cake, but even easier to share with a crowd!
We used the base of this recipe to create our delicious chocolate chip zucchini cookies too!
Ingredient Notes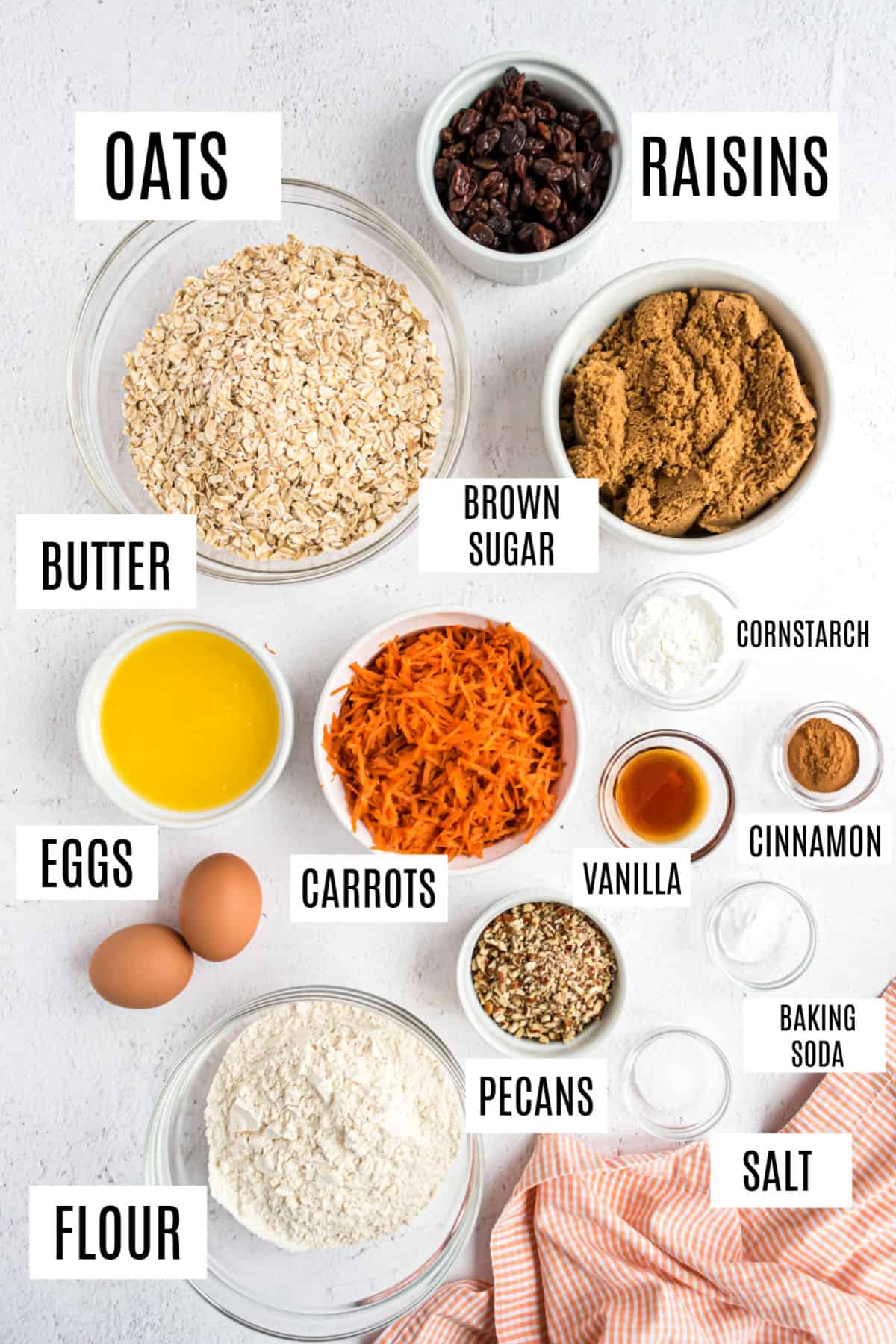 Old fashioned oats. Also labeled "rolled oats" these are the only kind of oats that work in these cookies. Do NOT sub quick oats or steel cut oats here.
Grated carrots. Buy whole carrots and shred them in a food processor at home for best results. Freshly shredded carrot has more moisture than store bought and gives these cookies a better carrot cake flavor.
Dark Brown Sugar. The dark brown sugar adds a rich molasses flavor giving these cookies a soft, sweet chewy texture.
Cream cheese frosting. You'll need half a batch of my Cream Cheese Frosting to ice these cookies. If preferred, feel free to substitute store bought. You can also omit the frosting altogether!
Easy Instructions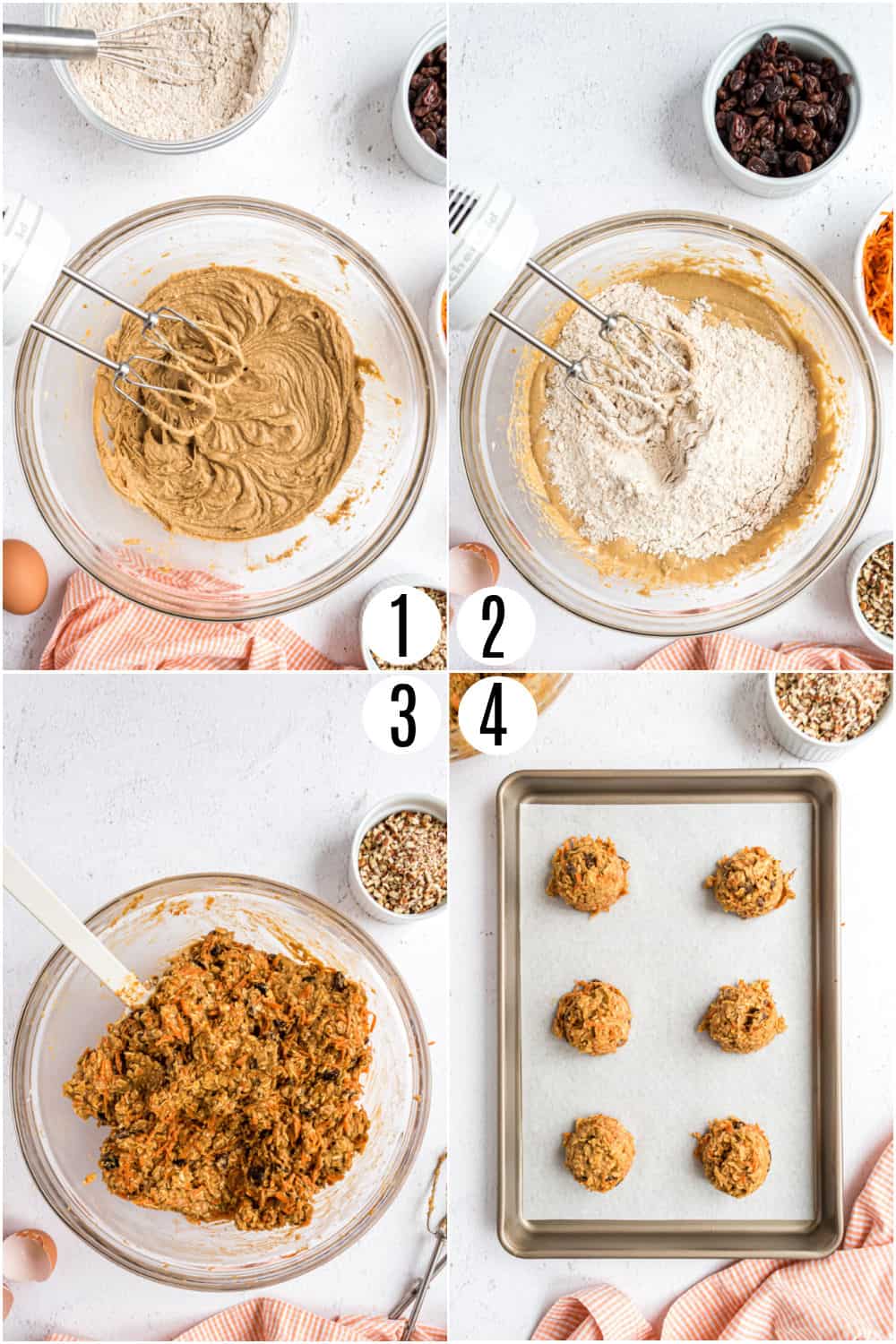 Mix dry ingredients. Whisk flour with cornstarch, baking soda, kosher salt and cinnamon in a mixing bowl. Set aside.
Beat wet ingredients. Use a hand mixer to combine butter and brown sugar. Mix in eggs and vanilla.
Combine wet and dry ingredients. Add flour mixture to the wet mixture. Mix until just combined. Fold in oats, carrots and raisins.
Bake. Drop large scoops of cookie dough onto a prepared baking sheet. Bake for 11 – 13 minutes.
Cool. Allow the cookies to sit on the baking sheet for about 5 minutes, then transfer to a wire rack to cool completely.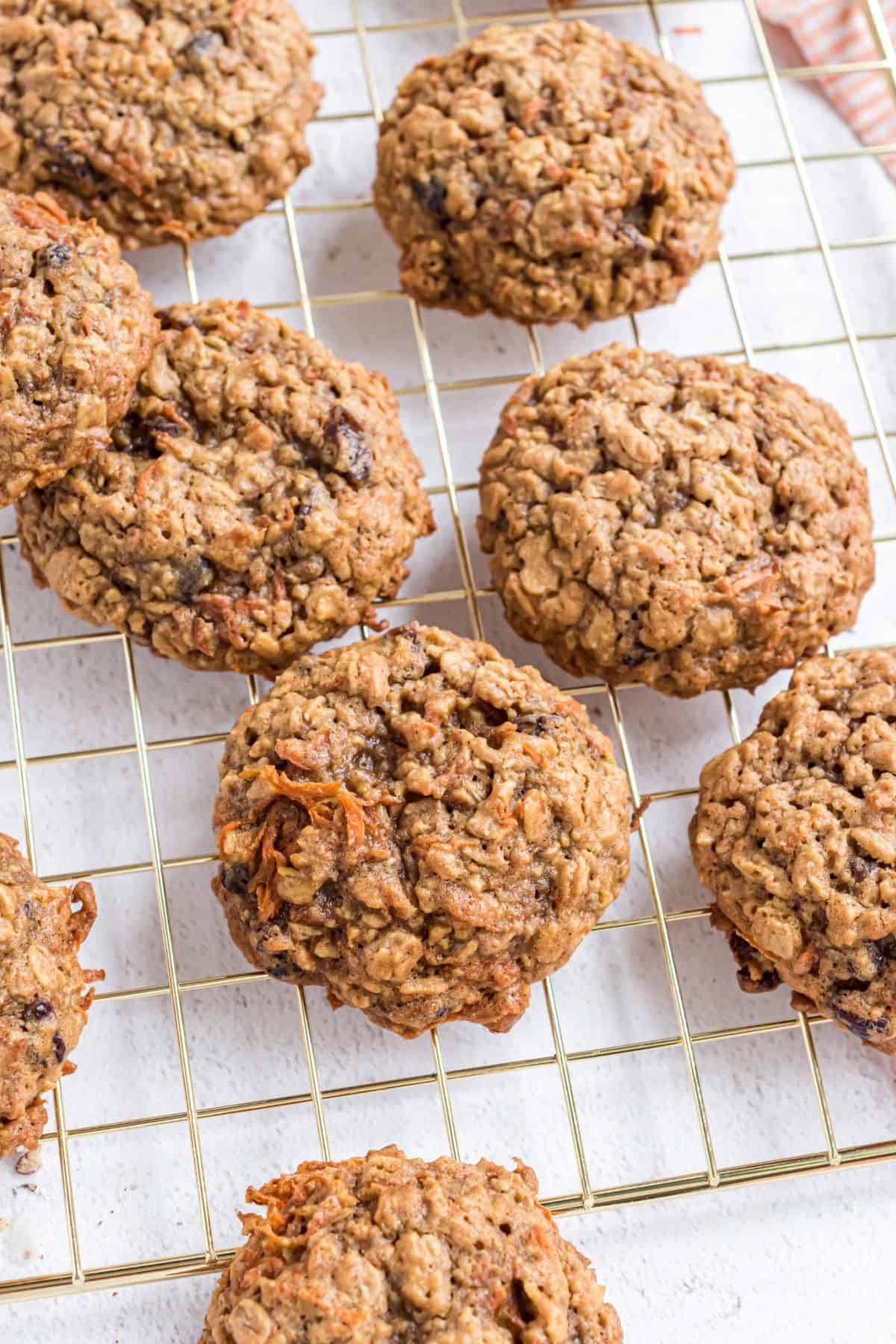 Cream Cheese Frosted (or not!)
My favorite Easter dessert is this Carrot Cake Cheesecake Cake. Covered in cream cheese frosting, it's the ultimate holiday dessert.
I can't get enough cream cheese frosting! Especially combined with carrot cake flavor.
Let the cookies cool completely, then slather the top of each one with a layer of cream cheese icing. Sprinkle with chopped walnuts or pecans for the perfect finishing touch to your carrot cake cookies.
If you're not a cream cheese frosting fan (or don't have the extra time), go ahead and enjoy these cookies unfrosted! They are plenty moist and sweet enough to hold up on their own.
When I make these for a group, I'll usually frost half and leave the other half plain. That way everyone can choose their favorite!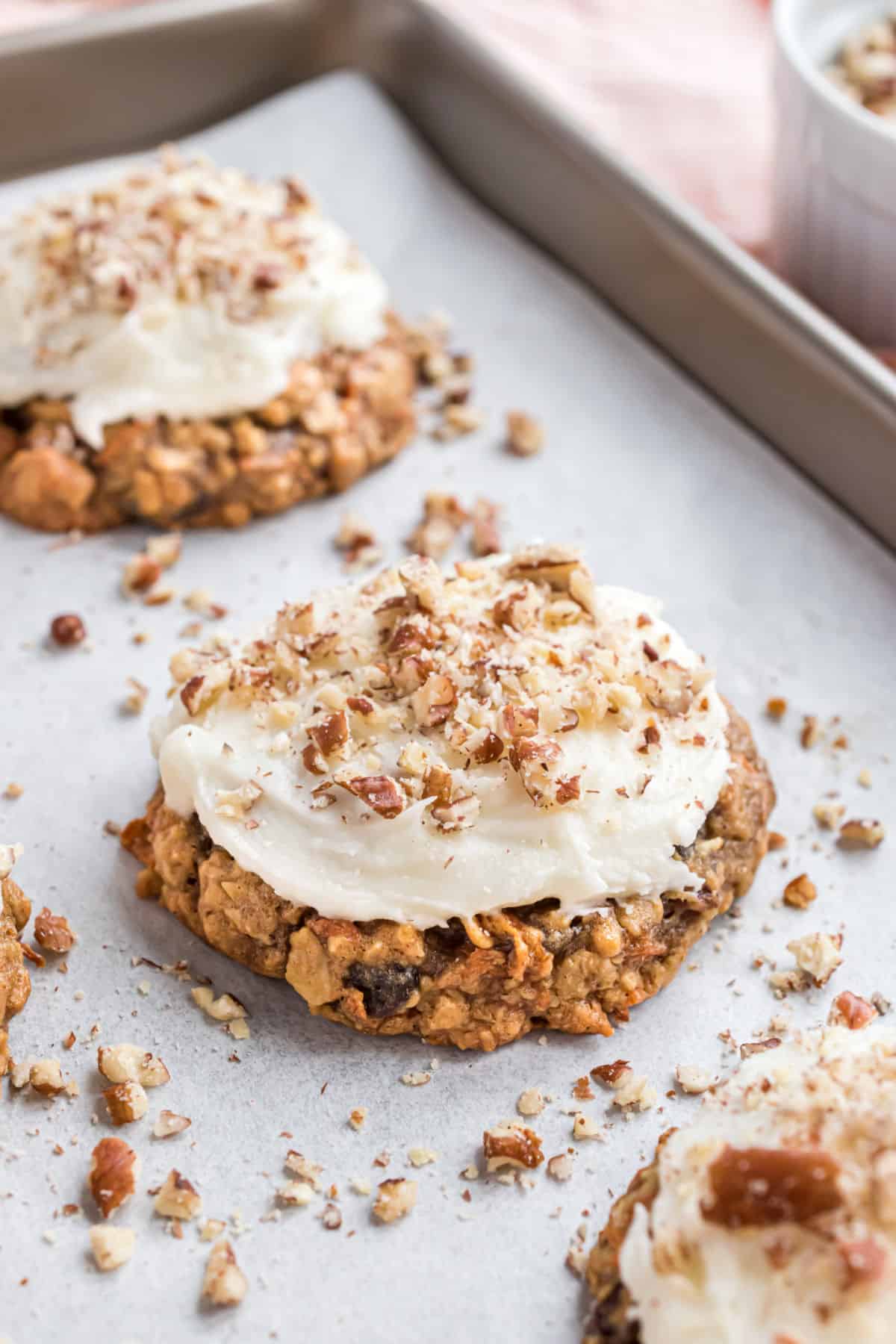 Tips and Tricks
How to make perfect round cookies. Use a cookie scoop to measure dough onto the baking sheet. When cookies come out of the oven, use the back of a spoon to move the edges to an even circle.
Storage. Keep frosted carrot cake cookies in an airtight container in the refrigerator for up to 1 week. Take them out 15 minutes before serving to let them come to room temperature. This keeps them fresh and flavorful, but not hard.
Do not over bake. When the cookies are ready to come out of the oven, the edges should look lightly browned. The insides will still look soft. They'll continue to bake through as the cookies cool on the baking sheet.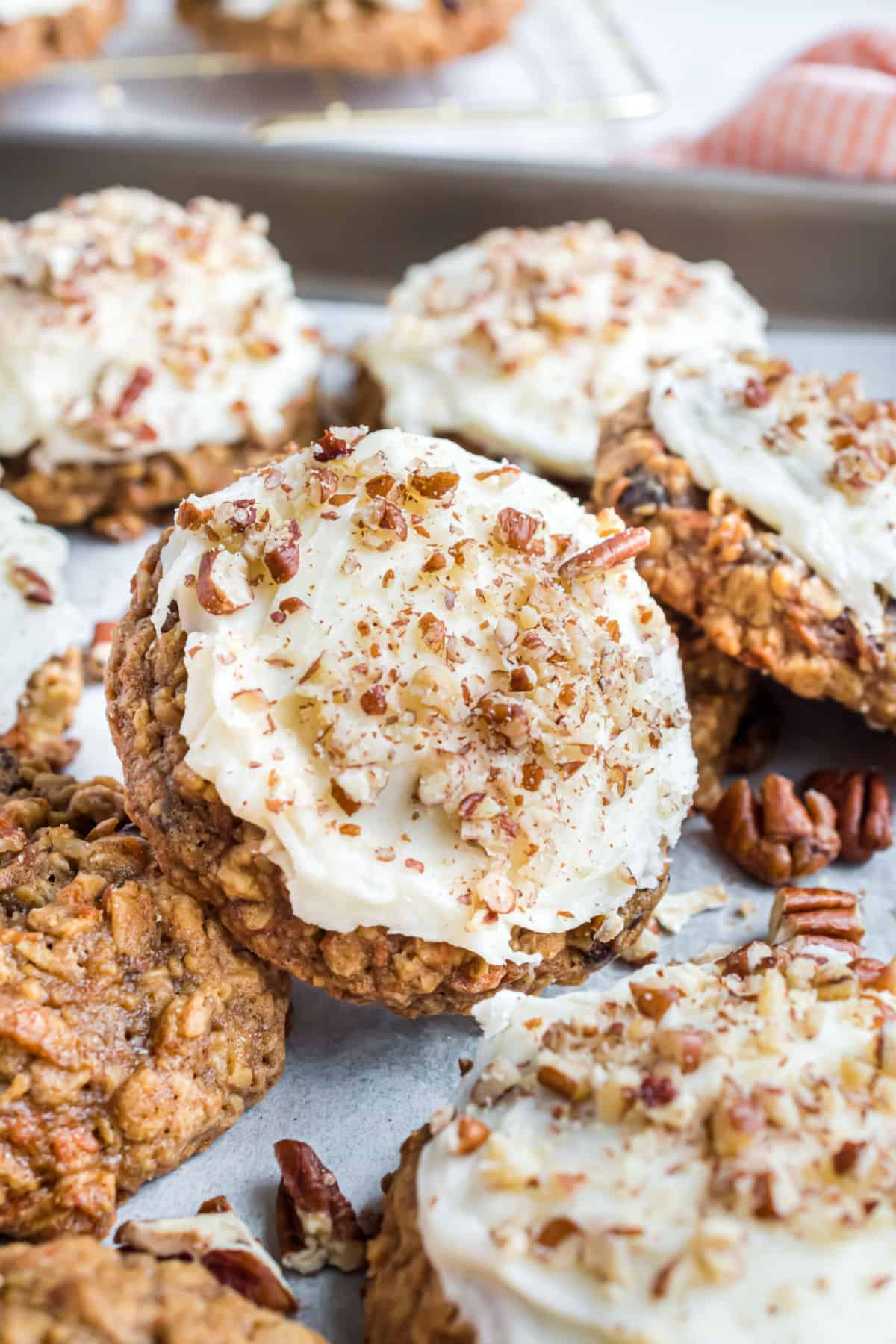 Recipe FAQs
Can you freeze Carrot Cake Cookies?
Yes, these freeze well after baking. You can store them frosted or unfrosted in the freezer for up to 3 months. Let thaw in the refrigerator before serving.
Can I freeze the dough before baking?
Yes, I love the bake the dough ahead of time and keep it in the freezer! Roll into balls before freezing and use within 3 months. No need to thaw before baking. Just place frozen dough balls on the cookie sheet and add a couple additional minutes of baking time.
Will quick oats work in this recipe?
No, quick oats should not be used in this oatmeal cookie. They absorb much more moisture and will make the cookies dry and crumbly.
Do Carrot Cake Cookies have to be refrigerated?
Yes, due to the cream cheese frosting, these cookies need to be kept chilled. If left unfrosted, you can store them at room temperature.
More Easy Cookie Recipes
For springtime, Easter or any occasion, Carrot Cake Cookies are a hit! Full of flavor and oh-so-chewy, these easy oatmeal treats are a must try.