Soft, chewy and bursting with butterscotch, Oatmeal Scotchies are oatmeal cookies at their best. Cinnamon sugar flavor and a lightly crisped exterior make these extra delicious!
A wholesome oatmeal cookie with butterscotch chips in every bite. After you try this classic Oatmeal Scotchies recipe, you'll want to give No Bake Oatmeal Scotchies a taste too.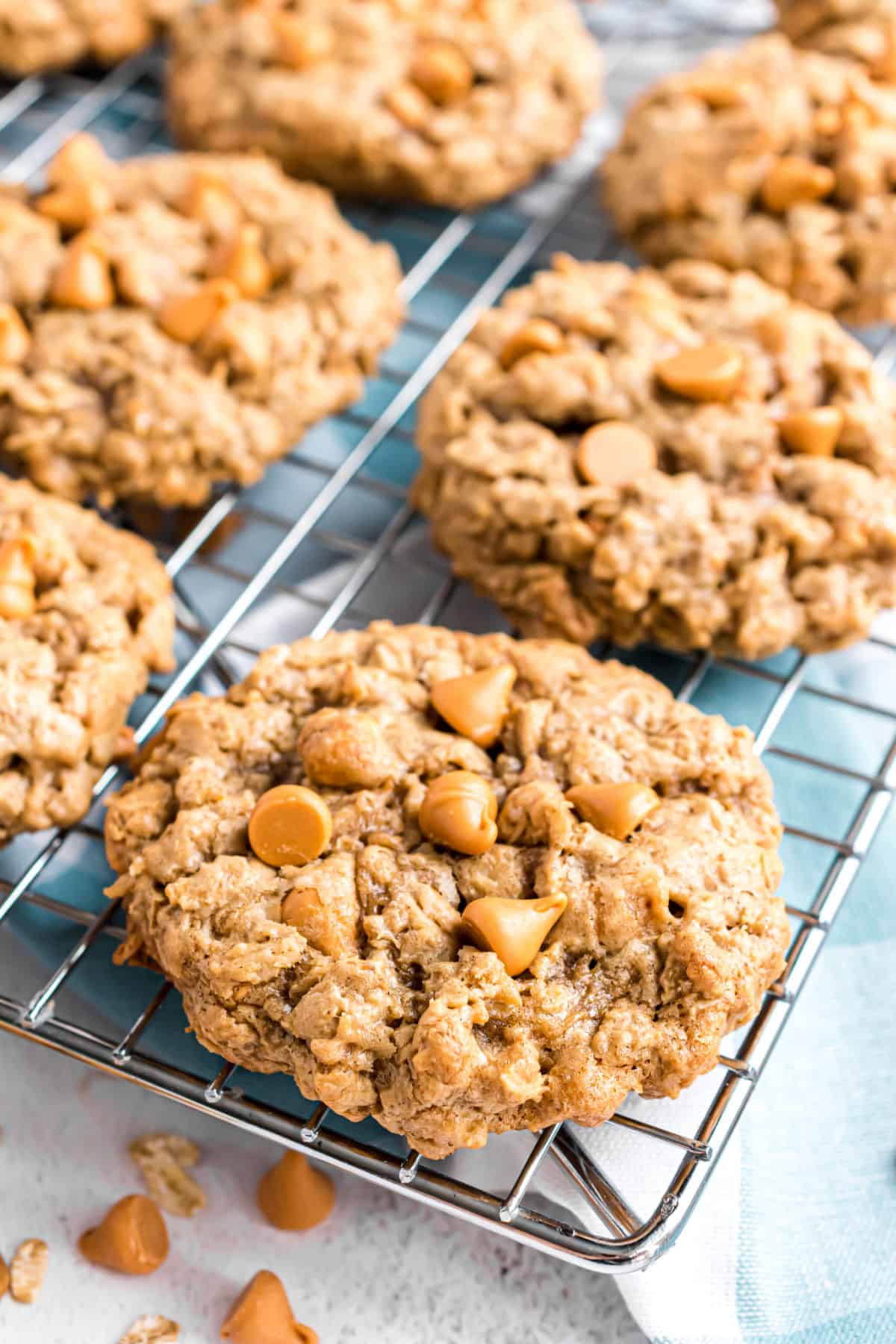 Why this Recipe is Best
Scotchies are oatmeal cookies made better with the addition of butterscotch. They bake up with an amazing chewy interior and a crunchy edge.
This Oatmeal Scotchies recipe is loaded with butterscotch morsels. When I say loaded, I mean loaded. I use two full bags of morsels in this recipe!
Most gets folded into the dough. The remaining cup gets pressed onto the baked cookies while they're still warm.
The result is a satisfying chewy cookie with tons of butterscotch in every bite. Hints of molasses and cinnamon add a depth of flavor that makes them out of this world.
You'll see this delicious cookie base again with our Oatmeal Chocolate Chip Cookies!
More Butterscotch Ideas: Butterscotch Blondies | Butterscotch Fudge
Ingredient Notes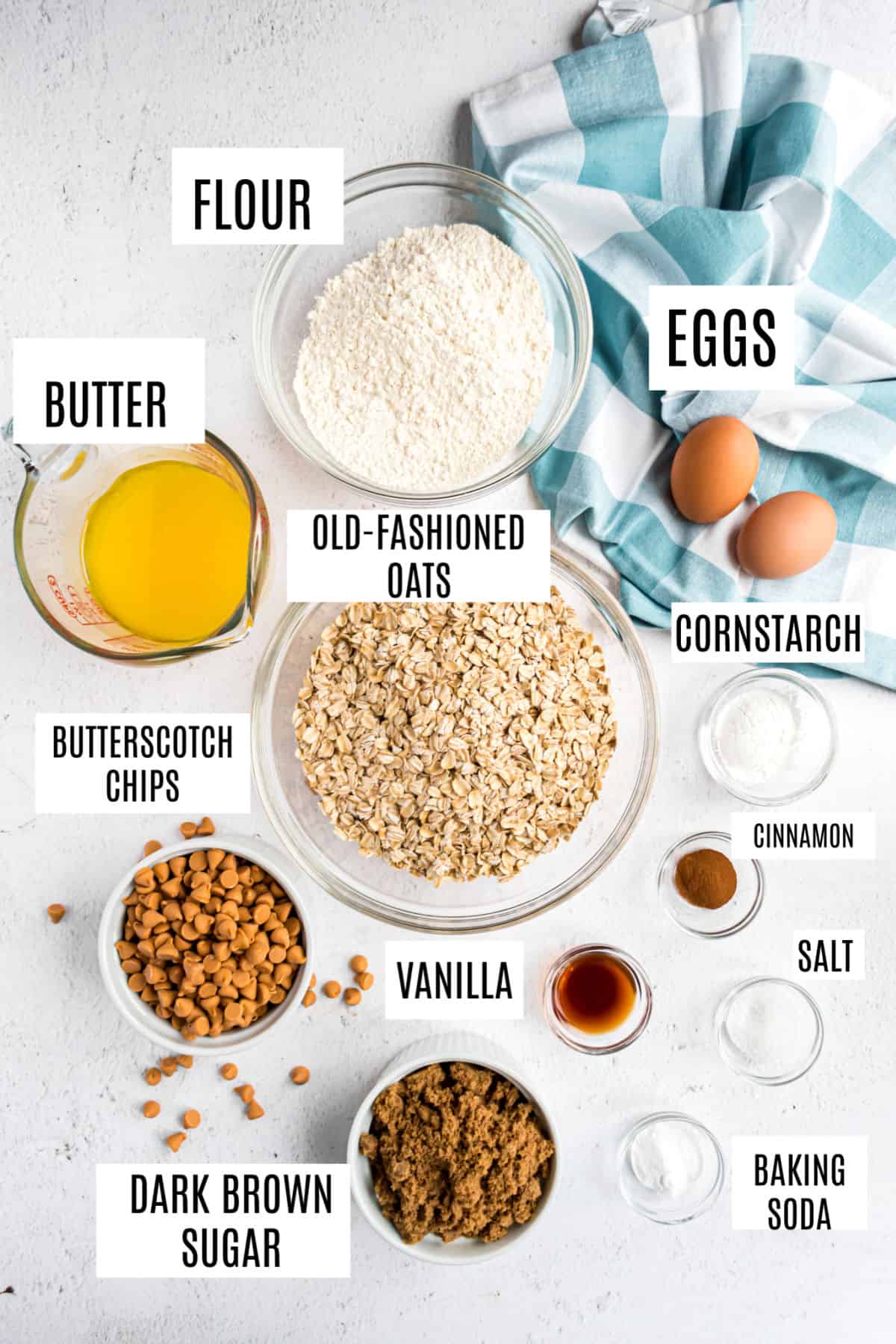 Unsalted butter. Melt the butter then let it cool before adding to the dough.
Dark brown sugar. The darker variety has a richer molasses flavor that I love here. True butterscotch is made with brown sugar and butter as the primary ingredients, so it works wonders with the butterscotch chips. If necessary, light brown sugar can be substituted.
Cornstarch. Adding this to the cookie results in a chewy texture that is soft and a cookie that is thicker than without it.
Vanilla extract. The vanilla flavor is prominent here so I love to use my Homemade Vanilla Extract. Store bought is just fine too!
Oatmeal. Use old fashioned rolled oats–not steel oats or quick oats.
Butterscotch chips. You'll need two full bags. Reserve 1 cup for topping the baked cookies.
Easy Instructions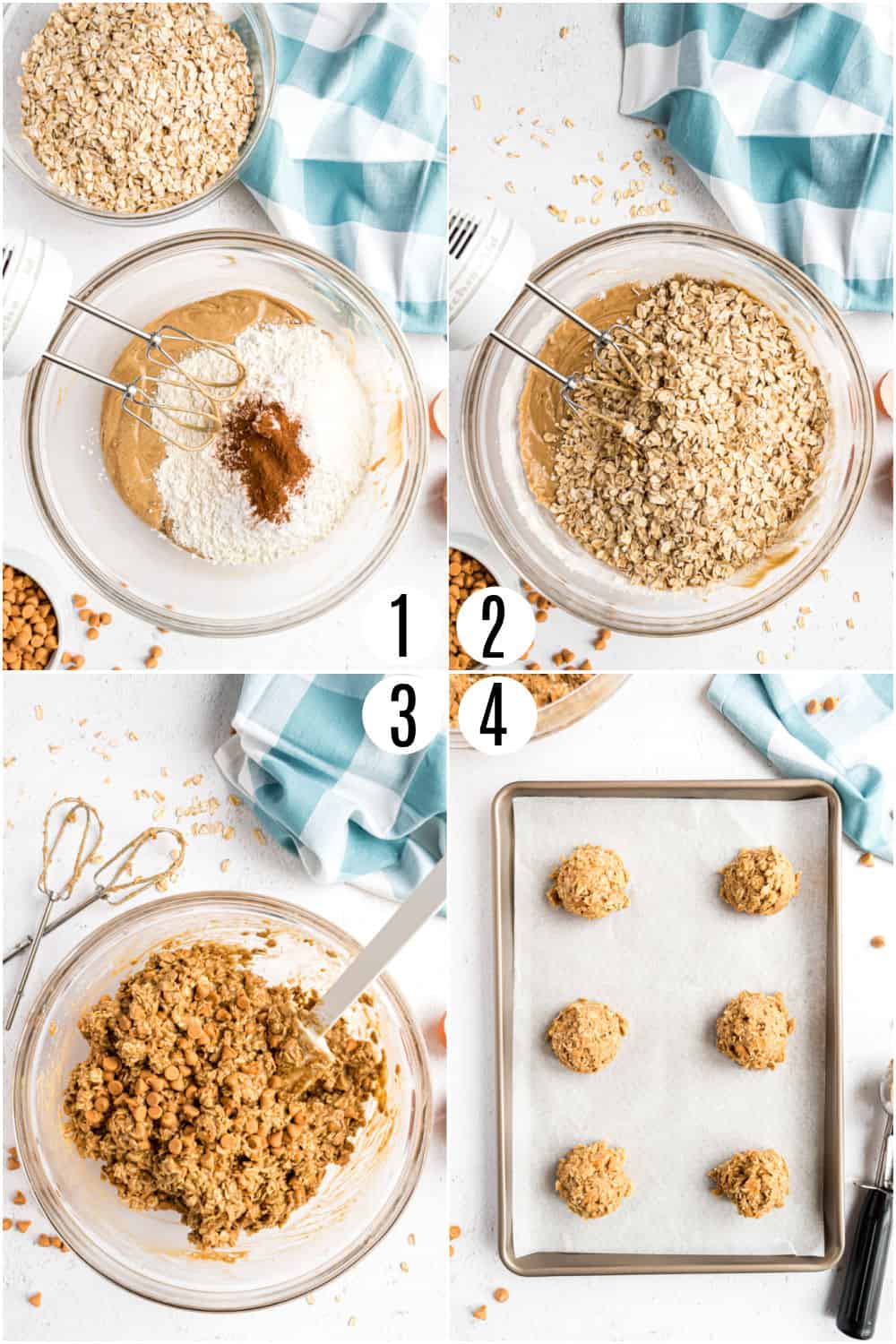 Make the cookie dough.
First, combine the dry ingredients in a large mixing bowl and set aside.
Use a hand mixer to cream together the melted butter and brown sugar. Beat in the eggs and vanilla.
Add the dry ingredients to the bowl with the wet ingredients. Beat until just combined, then fold in the oats and mix again.
Fold in butterscotch chips. Cover the bowl with plastic wrap and chill for at least 1 hour.
Bake. Drop the chilled dough onto a baking sheet by the spoonful. Bake at 350 for 10 to 12 minutes.
The edges will barely start to turn brown and the center will still look soft. This is normal. Be careful not to over bake!
Add more butterscotch. Remove the cookies from the oven and let the cool on the baking sheet for 5 minutes. While they're still warm, press several butterscotch chips into the top of each cookie.
Transfer them to a wire rack to finish cooling.
Tips and Tricks
Enjoy cool. Oatmeal Scotchies are best when fully cooled. They get chewier as they cool down and the insides firm up a bit.
Do not over bake. Oatmeal Scotchies will turn hard and crunchy if left in the oven for too long. Remember they will continue baking when you remove them from the oven. The cookies should look soft, but not runny, when ready to come out of the oven.
Use a cookie scoop. I use this one to get beautiful uniform cookies every time.
Substitutions. Swap out the butterscotch for white chocolate chips and craisins to make these delicious White Chocolate Oatmeal Cranberry Cookies.
Holiday Favorite. These Carrot Cake Cookies with cream cheese frosting are based off today's oatmeal cookie recipe. DELICIOUS.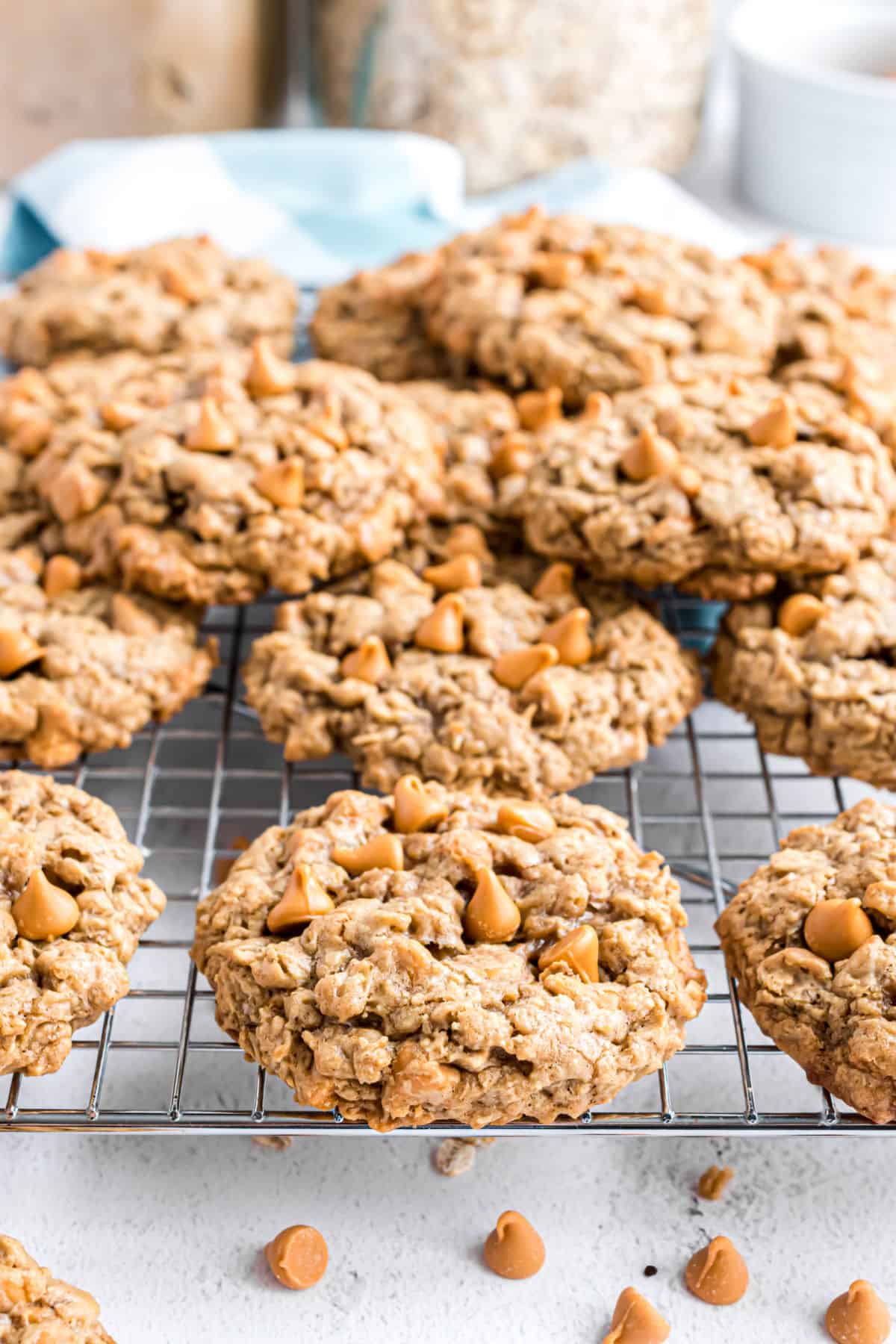 Recipe FAQs
Why do you use melted butter in Oatmeal Scotchies?
Melted butter makes the cookie chewier on the inside.
Why does the melted butter have to cool down?
The melted butter has to cool down first so it doesn't melt the sugar. Using hot butter results in a thin, oily cookie.
Can I make these with light brown sugar instead?
Yes, you can make oatmeal scotchies with light brown sugar. The flavor will be less rich than if you use dark brown.
You can also add a tablespoon of molasses to the light brown sugar to replicate the flavor.
What's the best way to store Oatmeal Scotchies?
You can store these cookies in an airtight container for up to one week at room temperature.
These cookies freeze well for up to 3 months, too!
Can you freeze this cookie dough?
Yes, you can freeze this dough before baking. Roll into balls before freezing and use within 3 months.
No need to thaw the froze cookies before baking. Just add a minute or two to the baking time.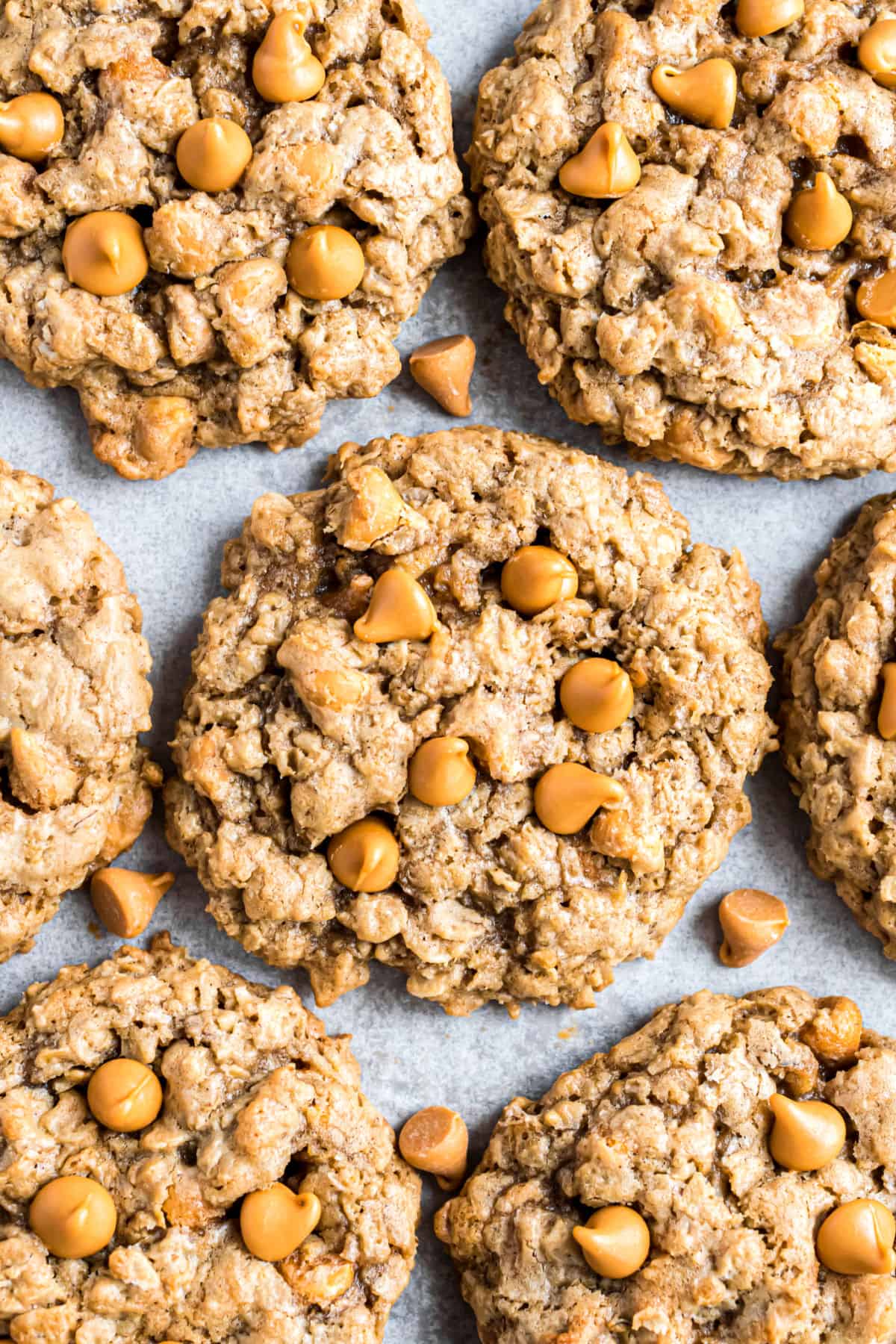 If you love butterscotch treats, stop what you're doing and make Oatmeal Scotchies right now! With buttery molasses flavor and the perfect chewy texture, these cookies are always a good idea.