Creamy, melt-in-your-mouth Butterscotch Fudge is an easy recipe to make any time of year! No candy thermometer needed to make this perfect homemade fudge recipe.
If you love homemade candy, our delicious Chocolate Fudge recipe is the best. Creamy, flavorful, and so easy to make!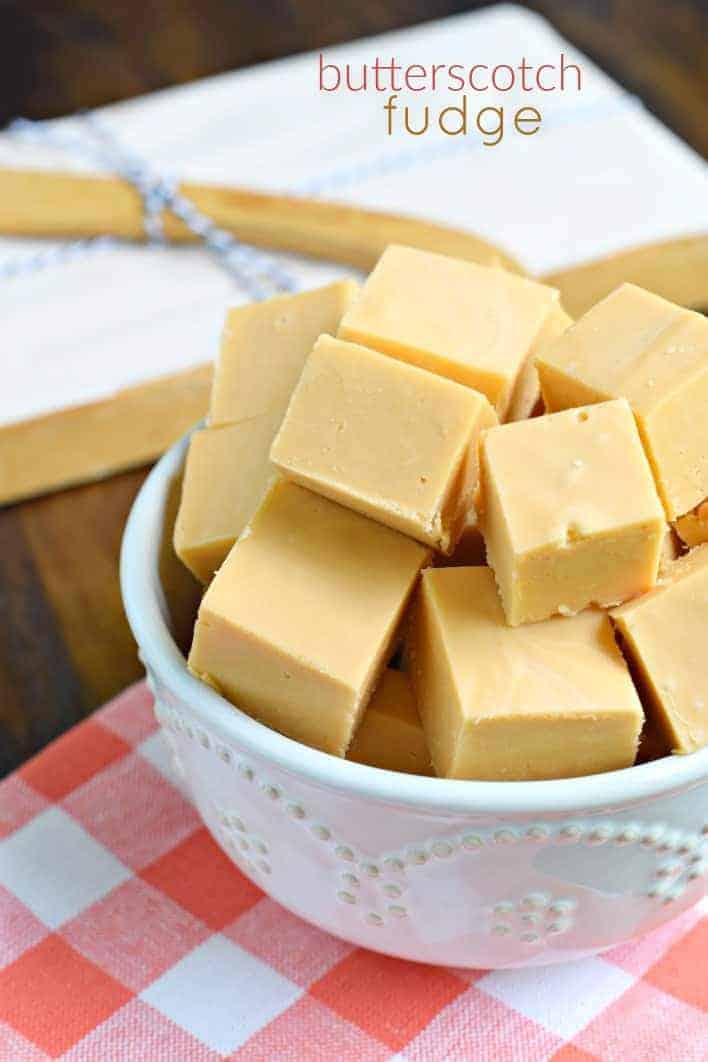 Why this Fudge Recipe Works
Sometimes it's the most simple of flavors that tempt our taste buds. For me, that flavor is BUTTERSCOTCH.
I don't bake nearly often enough with this flavor. That's probably a good thing considering I have zero self control when it comes to butterscotch flavored desserts.
As I was wracking my brain about what my next fudge recipe should be…BUTTERSCOTCH FUDGE just kept jumping out at me.
Knowing How to Make Fudge is a simple trick that will make you the hit of every party! Making fudge is easier than you think and it is so easy to personalize with your favorite ingredients and flavor combinations.
This fudge recipe works so well because it requires NO special equipment, not even a candy thermometer!
Using a combination of marshmallow cream, heavy cream and butterscotch chips creates fudge that holds up to slicing but melts in your mouth!
All you need is a little patience to wait while this sets in the fridge. The wait will be worth it when you bite into this creamy treat full of nostalgic butterscotch flavor.
Ingredient Notes
Heavy cream – Make sure to use real heavy cream, not milk or low fat substitutes!
Butterscotch chips – Find these in the baking aisle near the chocolate morsels.
Marshmallow cream – Also known as marshmallow fluff, this is my secret for creating soft, smooth fudge.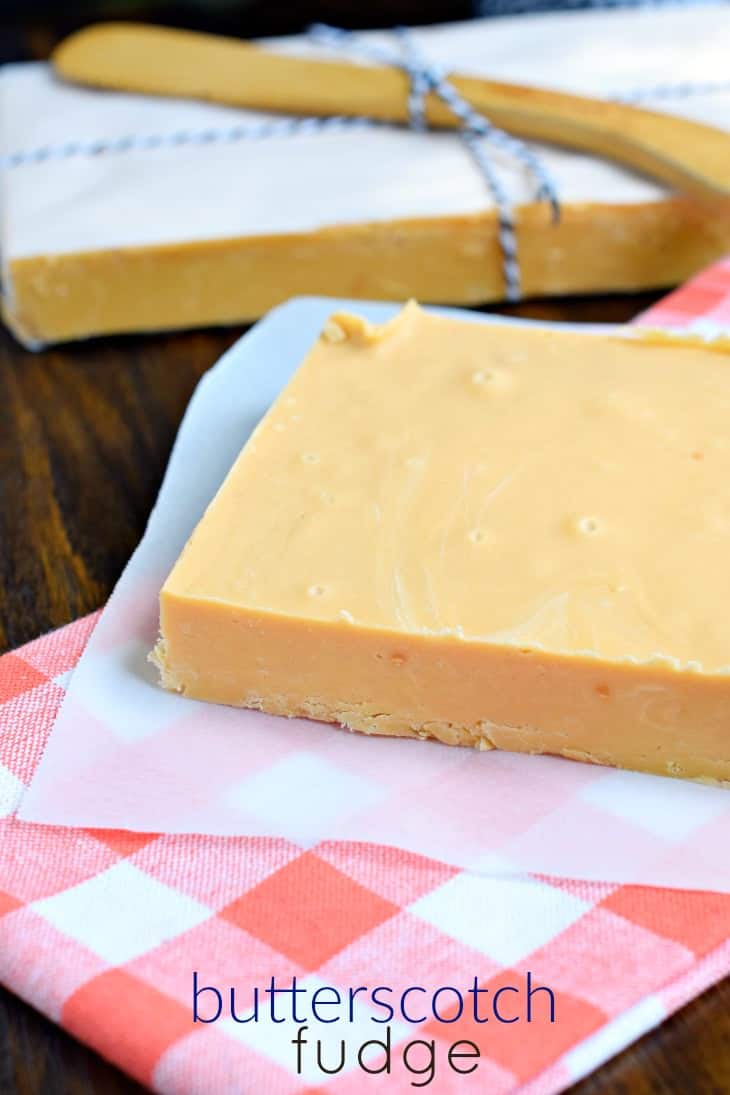 Step by Step Instructions
STEP 1. Combine marshmallow cream and butterscotch chips
Put both ingredients in a large mixing bowl and set aside.
STEP 2. Heat butter and cream
Combine butter, heavy cream, sugar and salt in a saucepan. Cook on medium heat, stirring constantly. Let the mixture come to a rolling boil for 4 minutes, then remove from heat.
STEP 3. Combine
Immediately pour the boiling cream mixture over the marshmallow and butterscotch chips. Use electric beaters or mixer to blend ingredients together until smooth.
STEP 4. Chill and set
Pour the butterscotch fudge mixture into a square baking pan lined with parchment paper. Refrigerate the fudge until firm. This takes about 3 to 4 hours.
Remove the parchment paper from the pan, cut into squares and enjoy!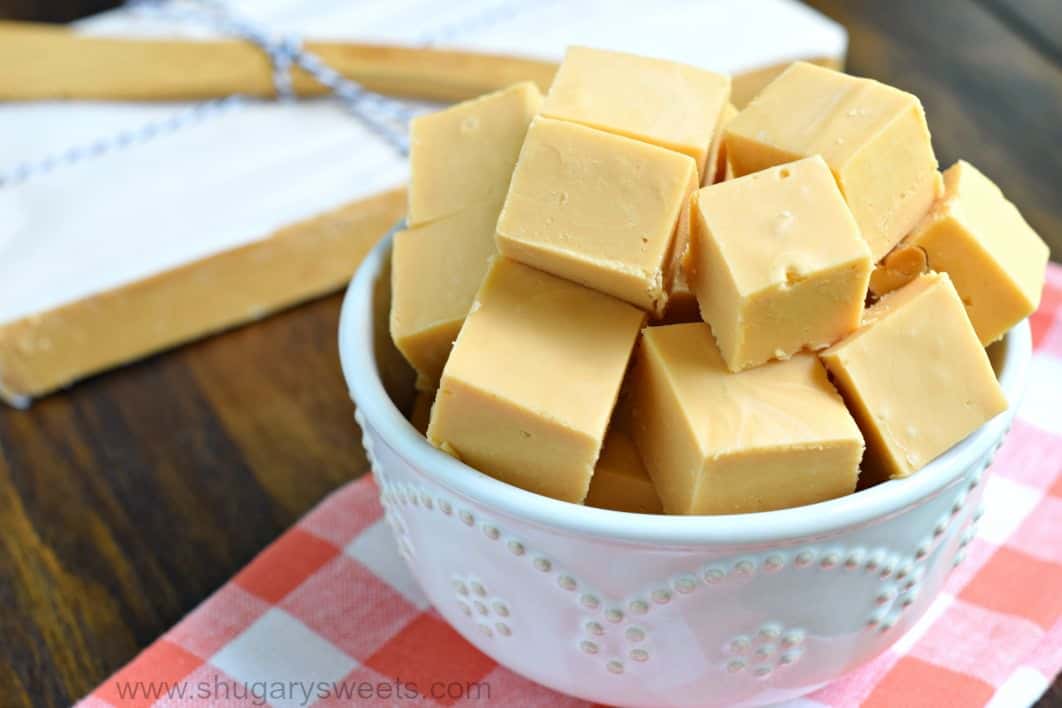 Recipe FAQs
Can you make fudge without an electric mixer?
You can fudge without a mixer, but you will need to have a strong arm! The fudge mixture will be very thick and you need to stir quickly and vigorously to make sure all the butterscotch chips get melted and combined with the other ingredients.
Do you have to store fudge in the refrigerator?
Nope. I keep butterscotch fudge in the fridge because I love the taste when it's chilled! However, it will keep just fine at room temperature.
How long does fudge last?
Butterscotch Fudge will stay good for 1 – 2 weeks, if kept in a tightly sealed container.
Do I need a candy thermometer to make fudge?
No candy thermometer needed to make homemade butterscotch fudge. Just let it boil for 4 minutes and you will be good to go.
More Christmas recipes
Make this easy fudge to treat yourself AND a little extra to give away! You don't need to be an expert candy maker to create the best ever Buttercotch Fudge right in your own kitchen.