Crunchy Biscotti with Cranberry, Pistachio and White Chocolate. I love keeping some biscotti on hand during the holiday season!
If you love cranberries this time of year, be sure to try our cranberry bliss bars! Or give our homemade cranberry sauce a try, readers love it!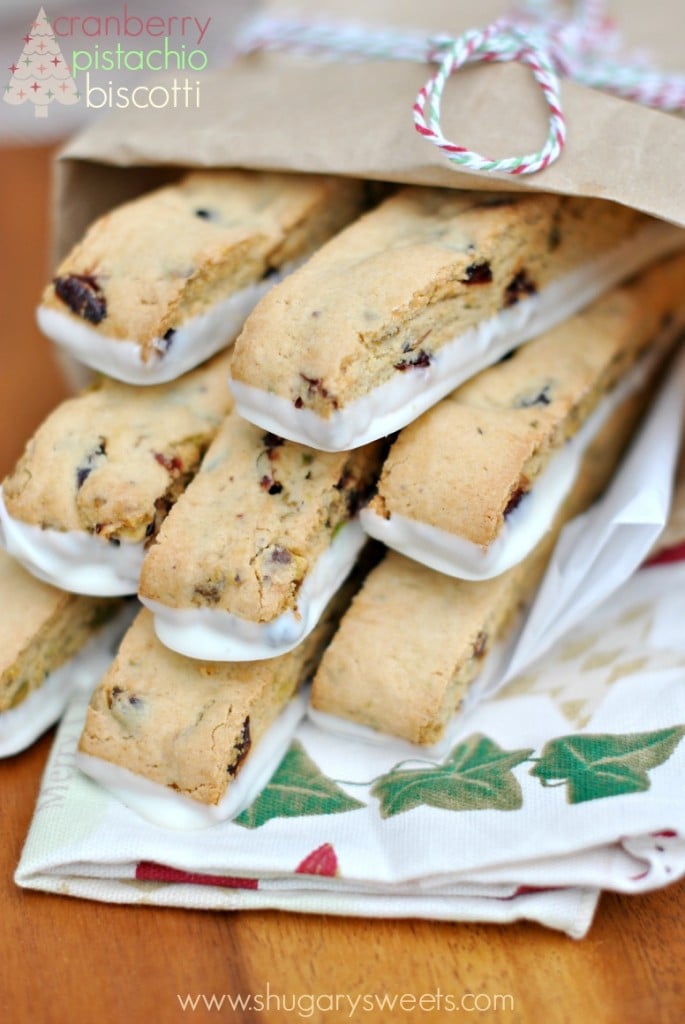 Why this Recipe Works
Have you ever made your own biscotti?
I started doing it a while ago and found out it's easier than I thought. This recipe creates a crispy toasted cookie that's perfect for dunking in your coffee!
Once you learn how to make biscotti you can mix it up with all kinds of different add ins and flavors. I love this Cranberry Orange Biscotti all year long and this time I added in some chopped pistachios too.
They add not only to the flavor of this biscotti, but I love the red/green color of the craisins and pistachios. Just right for the holiday season!
Packed with juicy cranberry flavor and even more crunch from the pistachios, Cranberry Pistachio Biscotti works as a breakfast treat, snack or after-dinner dessert.
You can even make a the dough ahead of time and store it in the freezer so you're never more than a few minutes away from fresh, homemade biscotti!
Be sure to try our Pumpkin Biscotti for fall baking!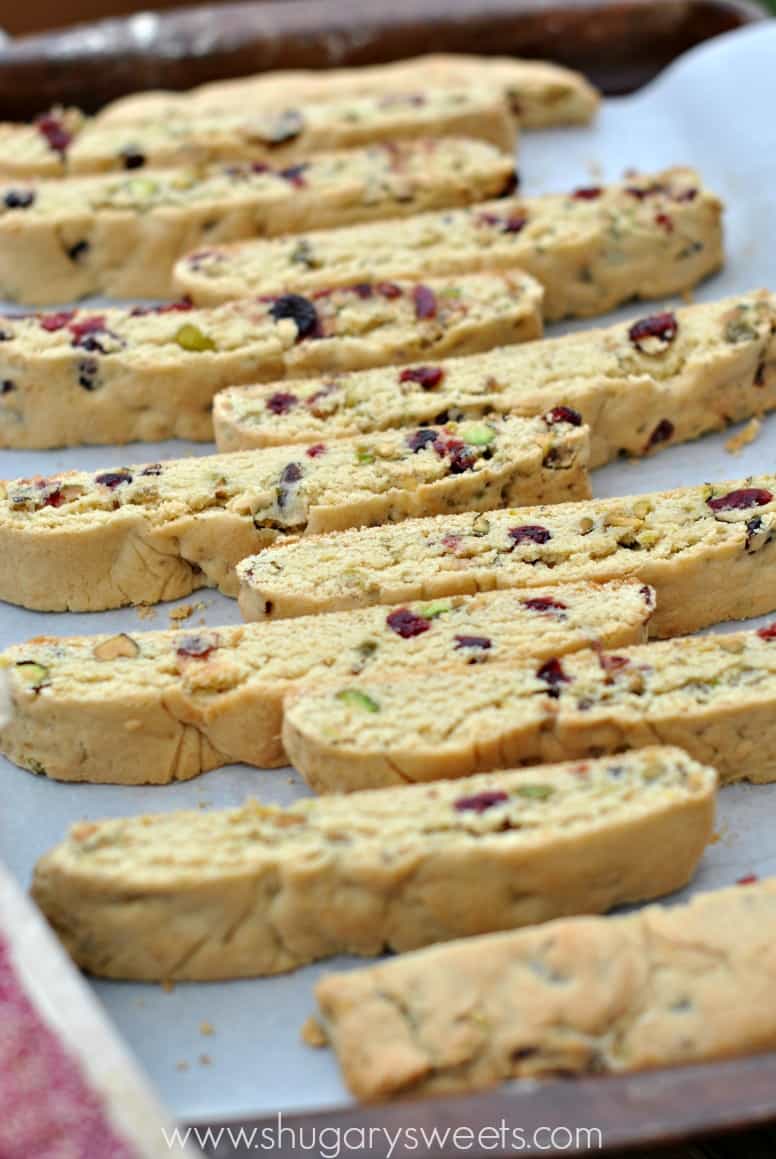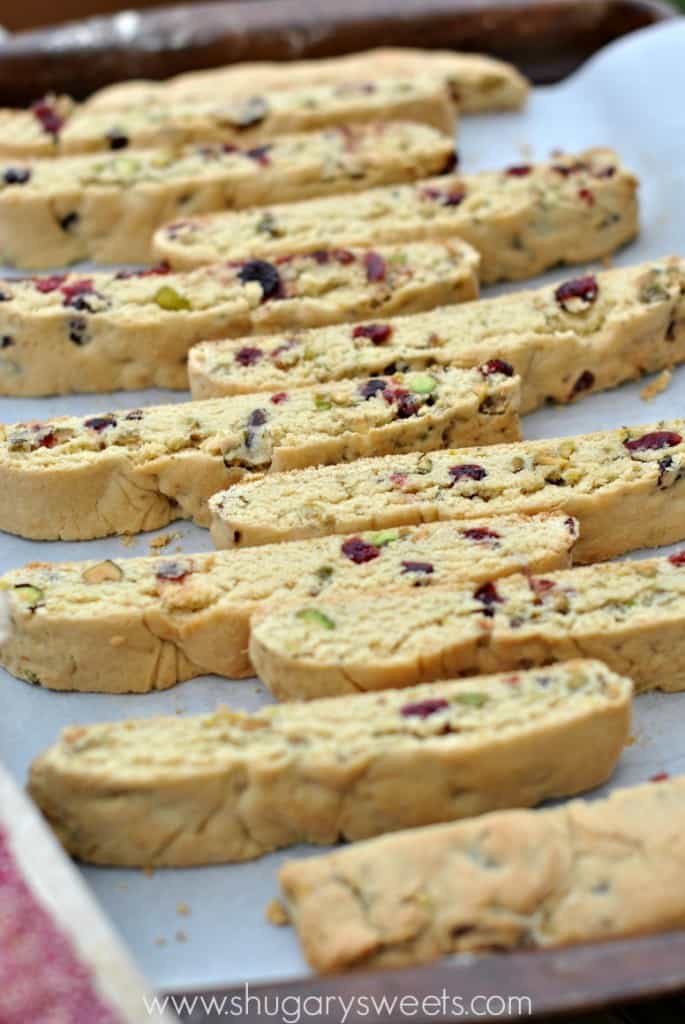 Ingredient Notes
Pistachios – Remove the shells (or buy pre-shelled) and chop finely.
Candy coating – For the topping, vanilla or white chocolate melting wafers like Candiquik work best.
Dried cranberries – I used Craisins in these biscotti.
Trust me when I say biscotti is easy to make. It also keeps really well in an airtight ziploc bag, so you can enjoy one every morning! You're welcome!
Easy Instructions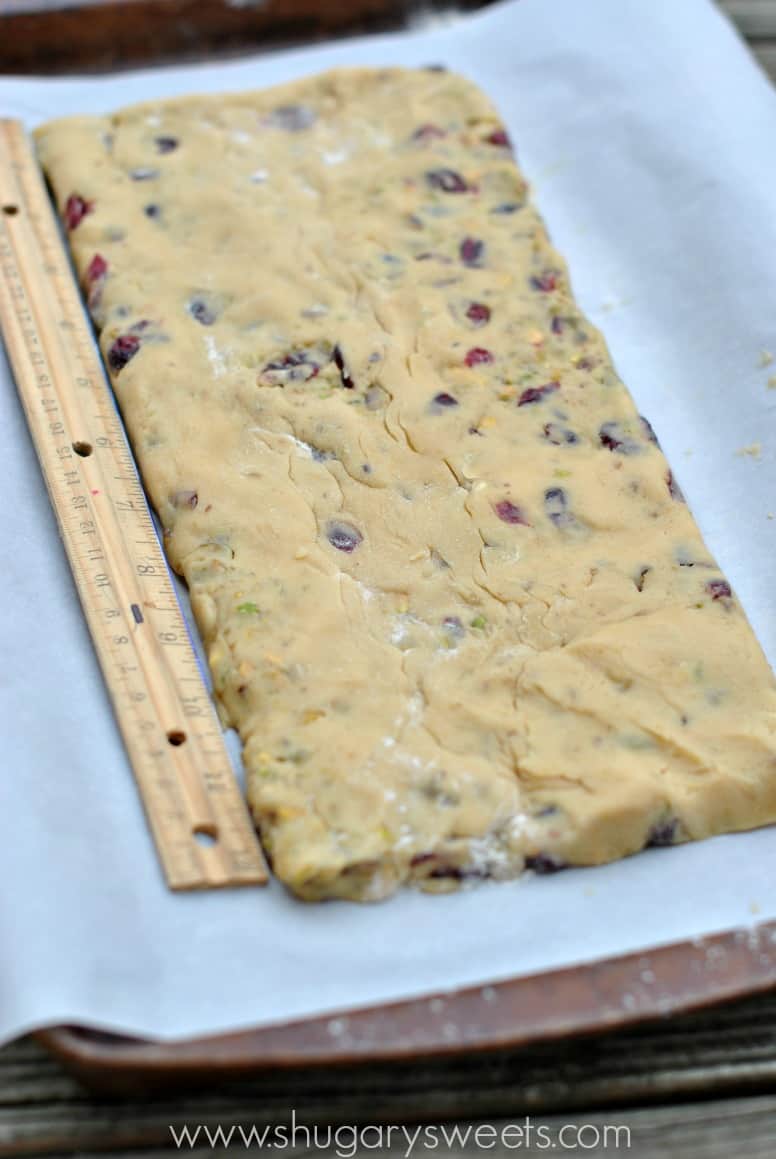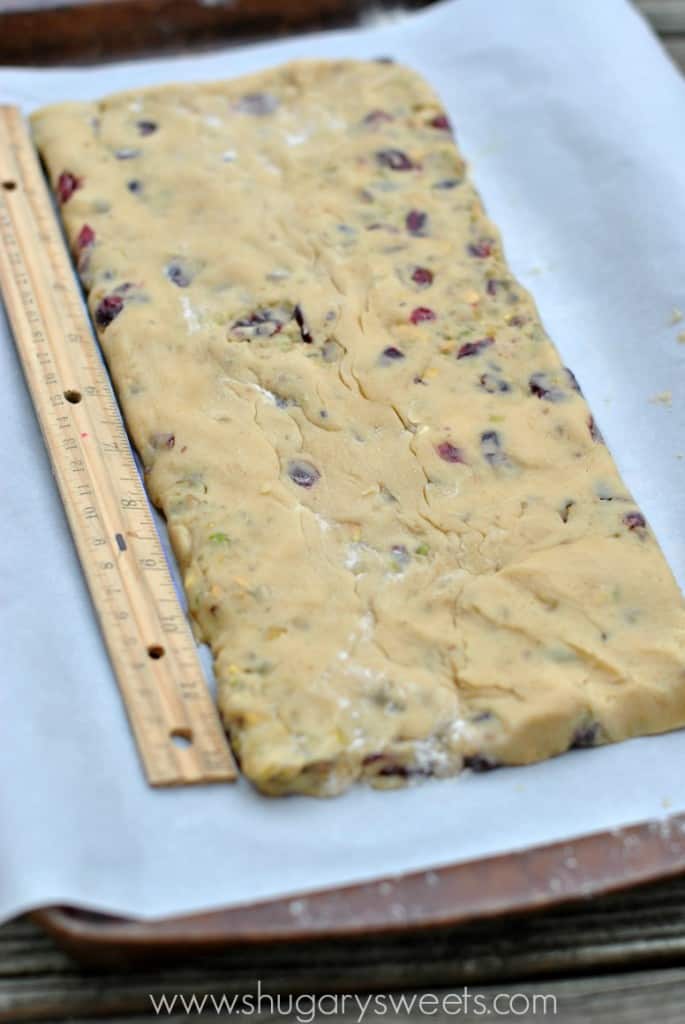 What sets biscotti apart from other cookies is that they are double baked! After making the dough, you shape it into a rectangular log and bake it.
Then, slice the baked dough with a pizza cutter, lay each piece on its side and bake again. Flip the biscotti and bake one more time to make sure the sides are evenly brown.
After the biscotti cool, dip one side into a bowl of melted white chocolate candy coating. Let the candy coating set, then serve and eat or store!
Recipe FAQs
How long does biscotti stay good?
Stored in an airtight container or ziploc bag, this biscotti should stay crunchy and fresh for up to 2 weeks.
Can you freeze biscotti?
Biscotti don't freeze well once baked because they lose their crispy crunchy texture once thawed. You CAN freeze the dough, though! Before baking, wrap the dough in plastic wrap and store in a freezer bag. Bake from frozen adding a few minutes of extra baking time. No need to thaw first!
How can I make these into smaller cookies for Christmas?
Cut the logs thinner in width but keep the same thickness so you don't have to adjust the baking time. You can make the biscotti as wide or thin as you like.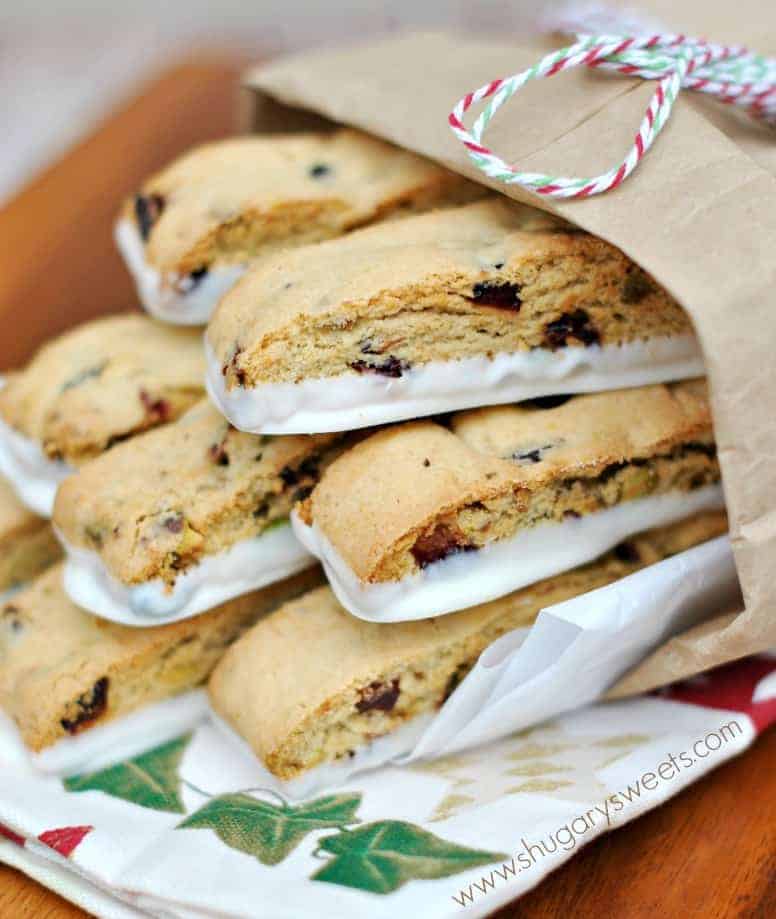 Fresh homemade biscotti beats the store bought cookies by a mile. With white chocolate coating and flecks of red and green for holiday flair, Cranberry Pistachio Biscotti make the perfect accompaniment for your coffee all season long–but don't wait for Christmas time to give them a try!