Cream Cheese Sugar Cookies
Looking for the BEST sugar cookie cut out recipe? These Cream Cheese Sugar Cookies are so flavorful and they always hold their shape. Don't forget to add the delicious Vanilla Bean Frosting too!
Be sure to sign up for my email…new recipes in your inbox!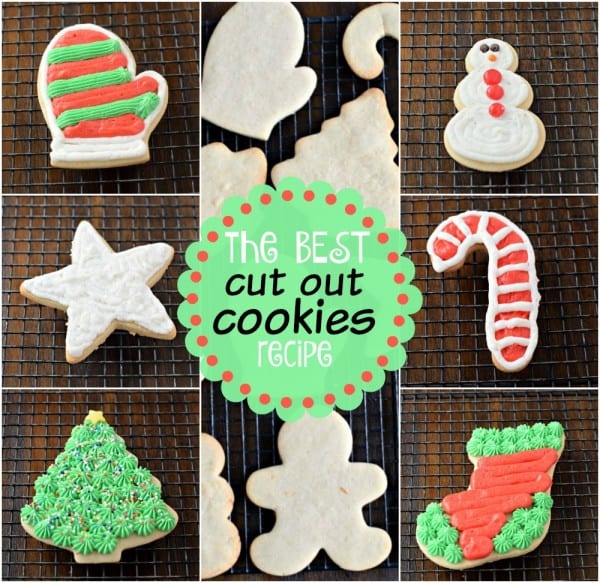 **This post is sponsored by Rodelle. I am excited to partner with them in creating delicious, family friendly recipes! All opinions are 100% my own**
Making Christmas cookies is one of our favorite family traditions. Especially when it involves frosted sugar cookies.
It occurred to me that I haven't ever shared my favorite sugar cookie here on the blog. I love these Cream Cheese Sugar Cookies. They are not only packed with flavor (no cardboard taste here), but they keep their shape after baking too.
I love the texture and flavor the combination of cream cheese and butter provides as a base to these cookies. I add in plenty of lemon zest and Rodelle Almond Extract to the cookie dough as well to give it more depth in flavor!
These cookies are great for freezing too.
I've rolled and cut them out and frozen the cut out shapes. When we're ready to bake cookies, I bake them directly from the freezer (adding a few minutes to the bake time). Since the decorating of the cookie is messy enough, it's nice to only deal with one part of the baking with the kids at a time!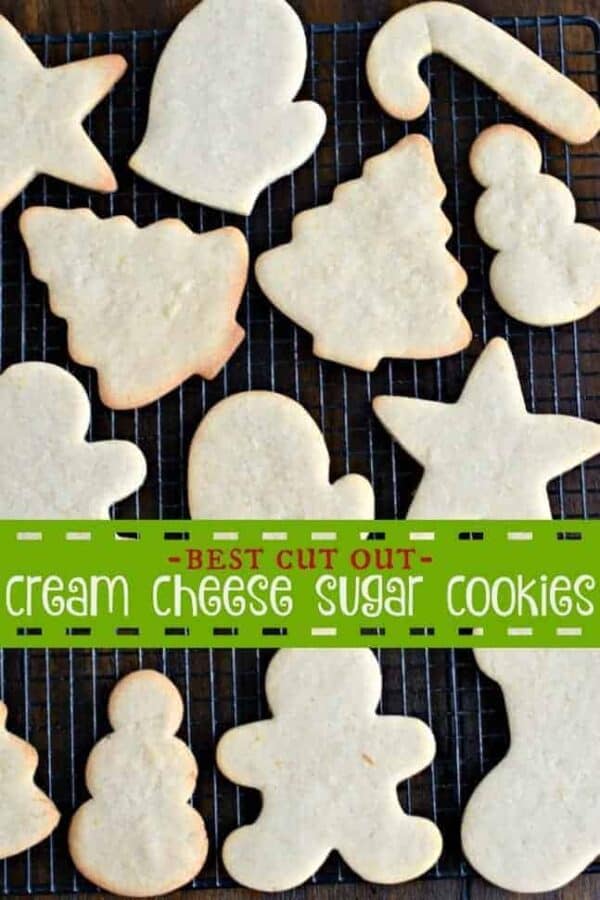 But let's talk about the frosting.
Because with my sugar cookies, it's the frosting that is the star of the show!
Much like with cupcakes and brownies, PLEASE don't be skimpy with your frosting. It makes a difference when you bite into these tasty cookies.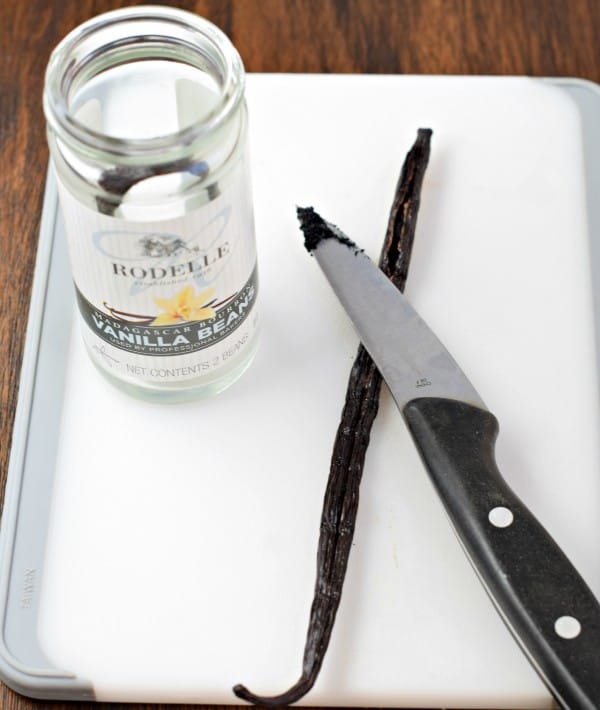 I use Rodelle vanilla beans in my frosting. Did you know you can buy them in bulk during the holidays at Costco under the Kirkland brand name (true story). Not only are they great to use for yourself, but they would make a fun gift too! Wrap up a package with the vanilla beans, some cute cookie cutters, sprinkles, and attach a copy of my recipe, of course! You can also enter to win a Baker's Bundle from Rodelle, which includes vanilla beans!
I know there are many recipes for royal icing. This is NOT it. However, you can still make adorable cupcakes with my fluffy vanilla bean frosting recipe!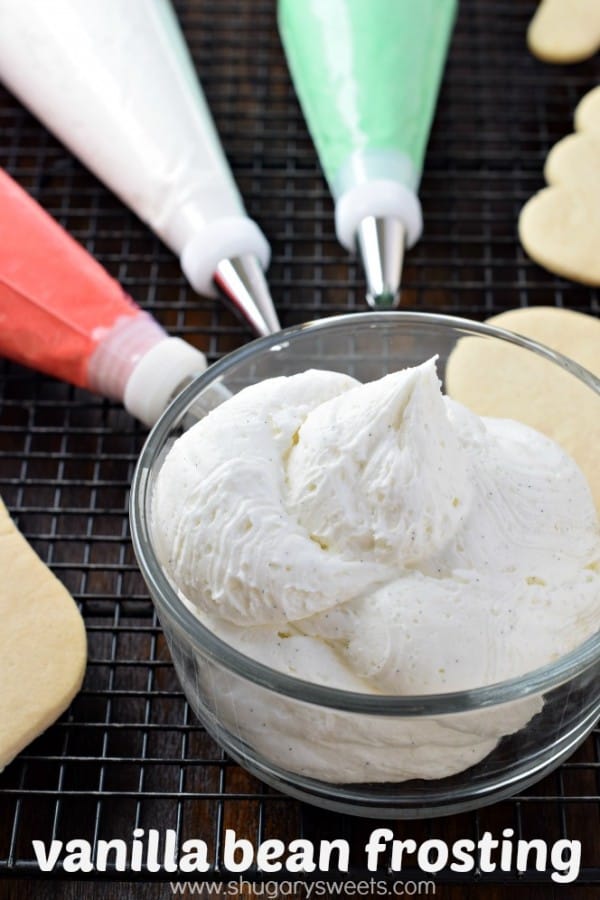 Normally when my kids decorate sugar cookies, they don't pipe on the frosting.
However, this frosting is soft enough that I was able to fill some disposable bags, attach some fun tips, and set my kids to work!
The texture of this Vanilla Bean Frosting is perfect, as once it's been piped (or spread) onto the cookies and the sprinkles have been added, it will harden slightly so that you can stack them up without ruining your designs! Fun, right?
A few tips and tricks about making sugar cookies:
Cream your butter and cream cheese together thoroughly before adding in any ingredients. I do this for about 2-3 minutes. I think it helps make these cookies more tender. Especially since once you add in the flour, you don't want to beat them like crazy.
Use plenty of flavoring. My personal winning combo for sugar cookies is almond extract with lemon zest. HOWEVER, these are fantastic if you want to change the flavoring to something YOU enjoy. Try lemon and orange extracts for an extra hint of citrus. Use vanilla beans in the cookie dough to deepen the flavor.
Add vanilla beans to your frosting. Don't skip this step. When you're done with the vanilla bean pod, don't throw it out. USE it for vanilla sugar (which is fantastic in coffee, baked goods, and more)!
When adding your food coloring, do so slowly. I prefer to use gel food coloring. I find there is no flavor and you don't need to use very much to get the color you desire!
Spread or pipe the frosting onto your cookies and add sprinkles after each cookie is done (so that the sprinkles stick well). The frosting will firm up in about an hour. You can then stack them gently (with wax paper between layers). Store in airtight container. ENJOY.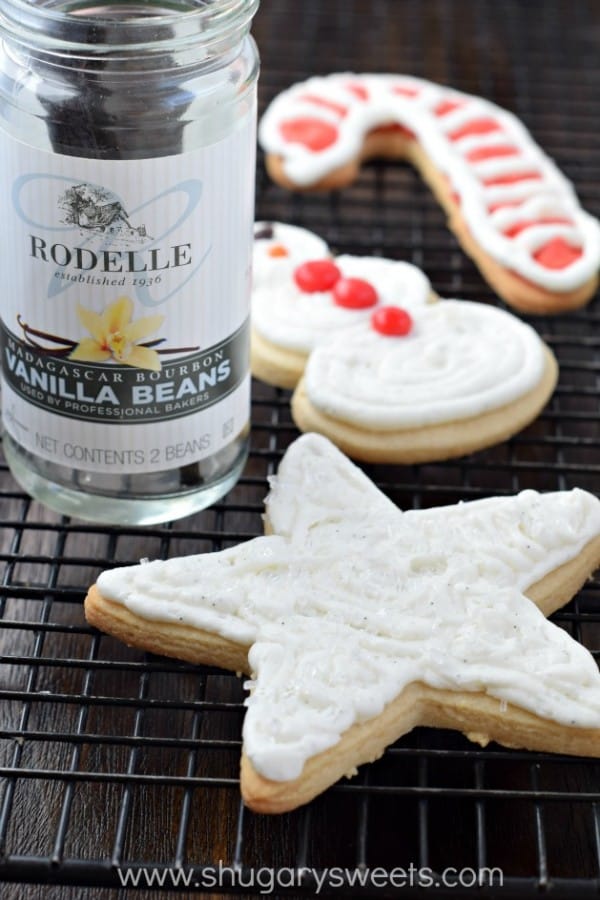 Be sure to stop by Rodelle's 21 Days of Cookies for more baking inspiration!
website | facebook | pinterest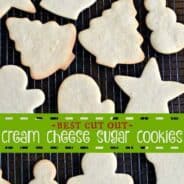 Cream Cheese Sugar Cookies
Yield: about 60 cookies (3-4 inch cut outs)
Prep Time:30 minutes
Cook Time:8-10 minutes
Looking for the BEST sugar cookie cut out recipe? These Cream Cheese Sugar Cookies are so flavorful and they always hold their shape. Don't forget to add the delicious Vanilla Bean Frosting too!
Ingredients:
For the Sugar Cookies:
1 1/2 cup unsalted butter, softened
4 oz cream cheese, softened
2 cup granulated sugar
2 tsp Rodelle almond extract
2 lemons, zested
1 tsp kosher salt
1 Tbsp baking powder
2 large eggs
6 cups all-purpose flour
For the Vanilla Bean frosting:
1 1/2 cup unsalted butter, softened
6 cups powdered sugar
1/4-1/2 cup milk
1 or 2 vanilla beans (scrape out seeds)
sprinkles, food coloring, for decoration
Directions:
For the cookies, cream butter, cream cheese and sugar together for several minutes, until well combined. Add in extracts, lemon zest, salt, baking powder and eggs. Beat until well blended.
Add in flour, mix until just combined.
Drop dough onto a lightly floured surface, knead with hands. Divide dough into four parts, making it easier to roll out. Wrap the dough you are not using in plastic wrap to keep it fresh.
Roll dough to about 1/4-inch thickness. Press cookie cutters into dough and transfer them to a parchment paper lined baking sheet (using a wide spatula).
Bake in preheated 350 degree F oven for about 8-10 minutes. Don't over bake. Repeat for remaining dough.
Cool completely before frosting.
For the frosting, beat butter for 3 minutes until pale in color. Add in powdered sugar, milk and vanilla beans. Beat for an additional 3 minutes until fluffy. Add food coloring if desired.
Add sprinkles immediately after frosting the cookies. ENJOY.
**If freezing the cookies for later, you can do one of several things:
wrap dough in plastic wrap and put in airtight freezer bag until ready to use
OR, make dough up to step 4, transfer those baking sheets to the freezer. Place frozen dough in freezer bags after an hour for long term storage.
OR, bake cookies and freeze them before frosting (MY FAVORITE OPTION)
MAKING THIS RECIPE? Share it with me on Instagram using the hashtag #ShugarySweets so I can see what you're cooking up in the kitchen!

**I've partnered with Rodelle Kitchens as a brand ambassador to create delicious recipes for you, my readers! I personally love their products, and all opinions are 100% my own. There may be affiliate links in this post! By clicking on them, or purchasing recommended items I may receive a small compensation. However, I only recommend products I love! Thank you for supporting Shugary Sweets! See my disclosure policy for more info**