There's truly nothing more festive and cheery than these melt-in-your-mouth Christmas Tree Sugar Cookies. Make it an occasion by decorating them with loved ones, and in under 2 hours, you're sure to become Santa's favorite stop!
Love holiday treats? Our christmas tree rice krispie treats are an easy no bake dessert that kids and adults love. Or give our holiday scotcheroos a try next!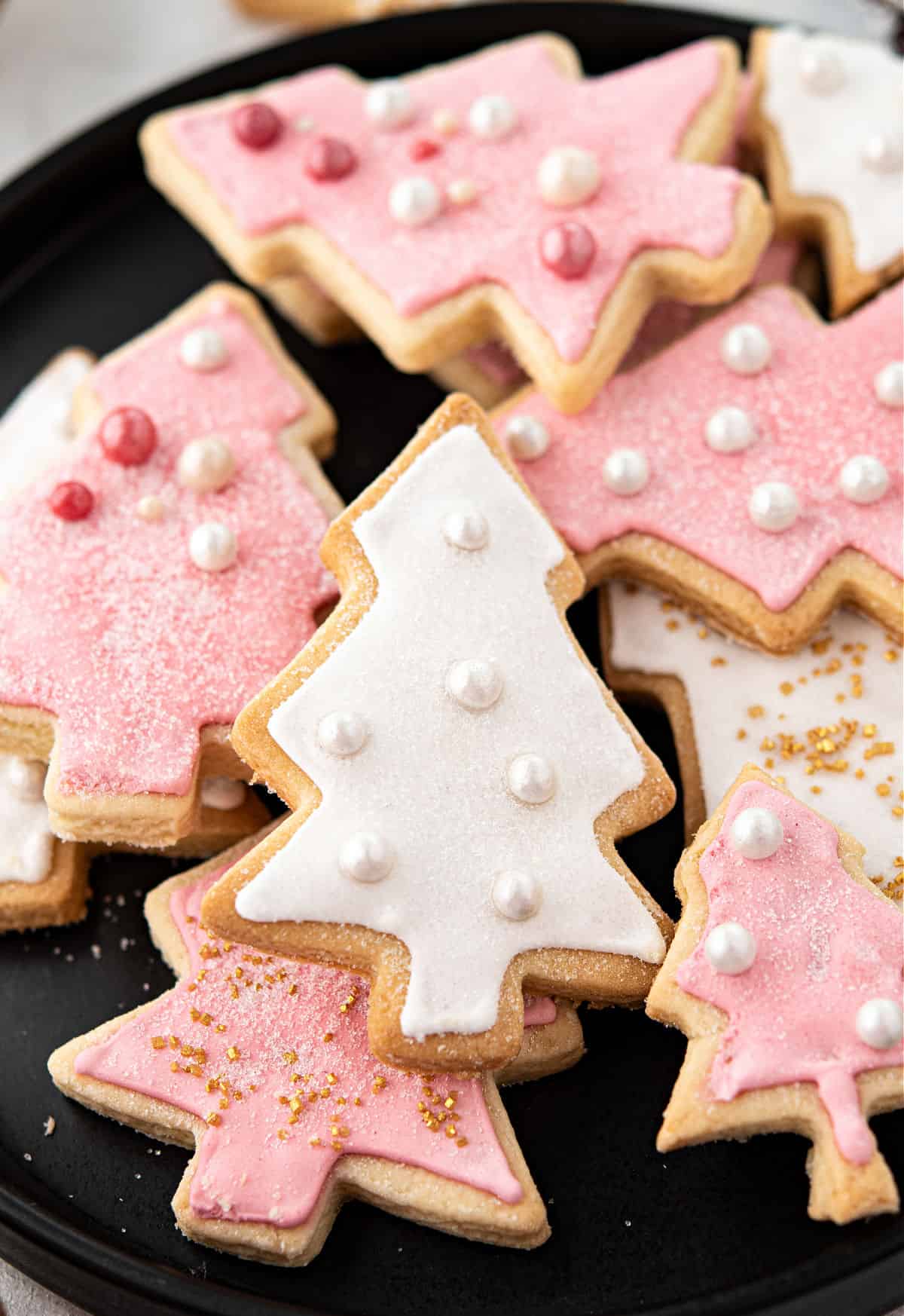 Why these Cookies are Best
These sugar cookies are a winner for any seasonal gathering. Here's why you'll love them,
If you love decorating cookies for holidays, you'll have to try our Halloween Monster Cookies. Or give our fun Jack O Lantern cookies a try next. And of course, our candy corn cookies are a delicious treat.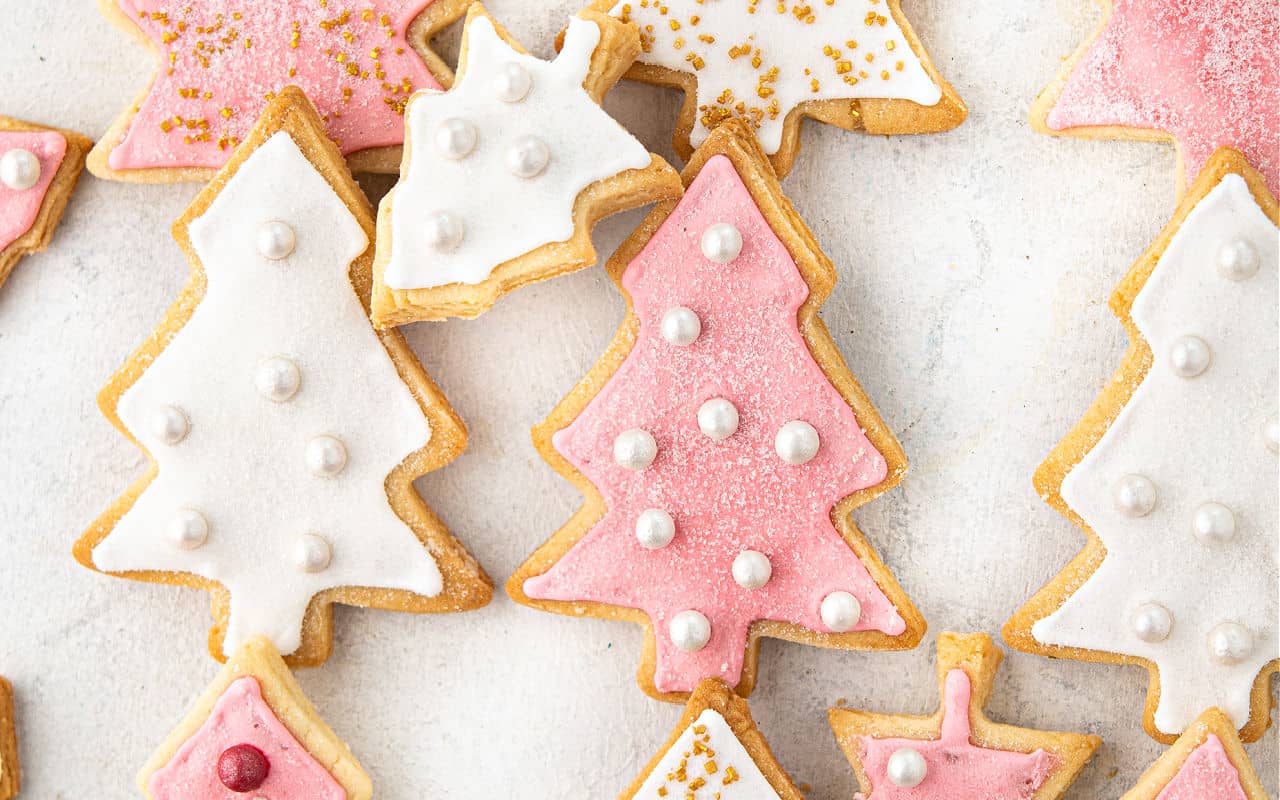 Ingredient Notes
For The Cookies:
For The Royal Icing:
Easy Instructions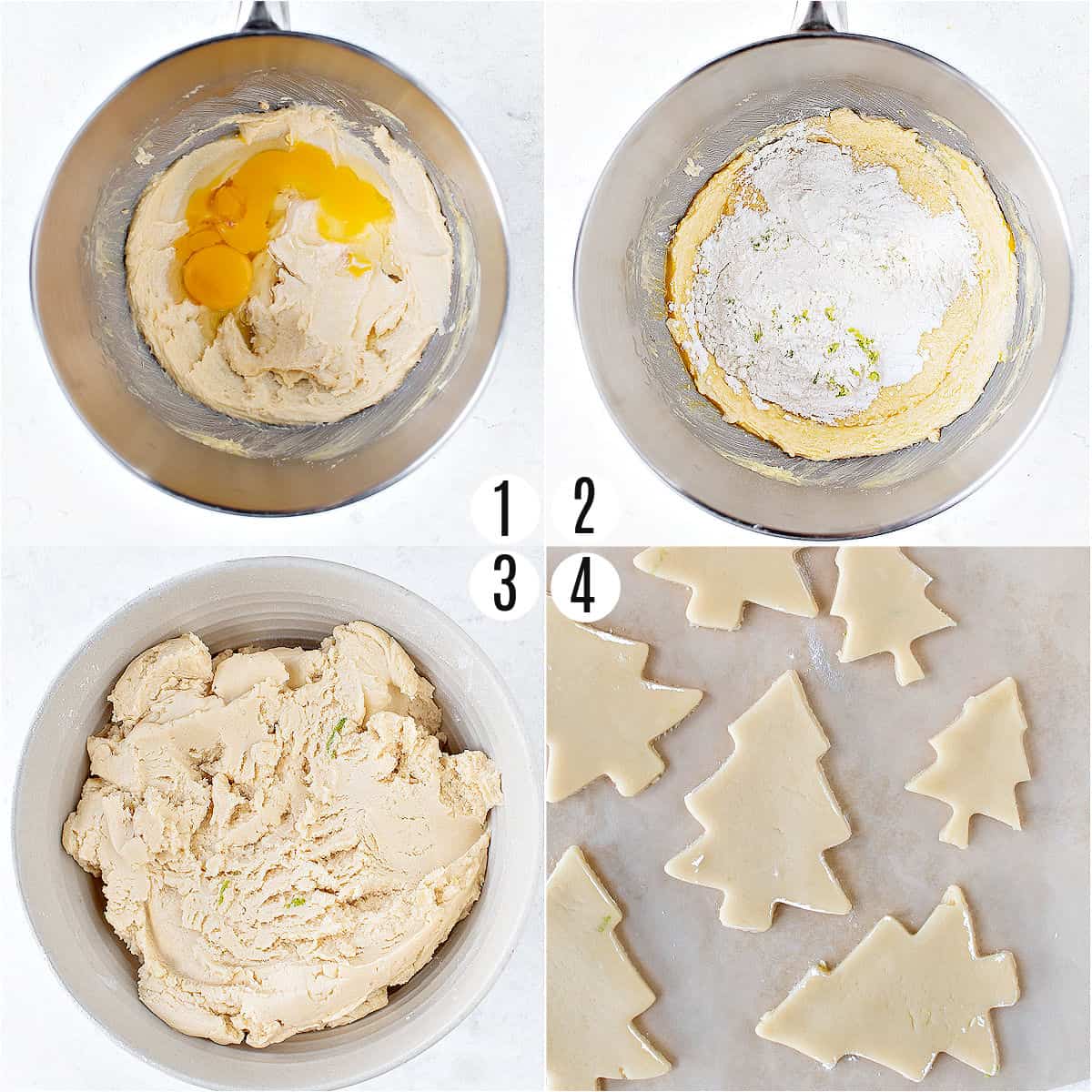 For The Cookies:
Combine Dry Ingredients
Beat Butter, Sugar, & Lime Juice – It doesn't need to be as fluffy as if you were making chocolate chip cookies because we are going for a less cakey consistency here, but it should be smooth, creamy, and glossy.
Incorporate The Eggs
Add Dry Ingredients In Batches – Once the flour mixture is incorporated into the butter, and the dough has formed and is pulling away from the sides of the bowl, you're ready to move on to the next step.
Chill – Scrape your dough into the center of a large sheet of plastic wrap. Form it into a flattened disc, so it will chill evenly and be easier to roll out once cold. Refrigerate the dough for at least an hour, or freeze it now and then thaw it whenever you're ready to get baking!
Cut – After chilling your dough, you can roll it out and cut it into shapes. Place it on a lightly floured surface, so the dough doesn't stick. Too much flour can alter the consistency of the cookies, so don't use too heavy of a hand here. You're looking to achieve about ¼ thickness for the dough. I've used a 3-inch Christmas Tree shaped cookie cutter for this recipe, but you can use any shape you'd like.
Bake – Move your cut-out cookies to a parchment-lined baking sheet and bake at 350 degrees F for 12-14 minutes. Let them cool completely before icing them.
PRO TIP: Any scraps can be smooshed back together and rolled out again to get more cookies, but you won't want to repeat this process more than once, or else the cookies will become tough.
How to Make Royal Icing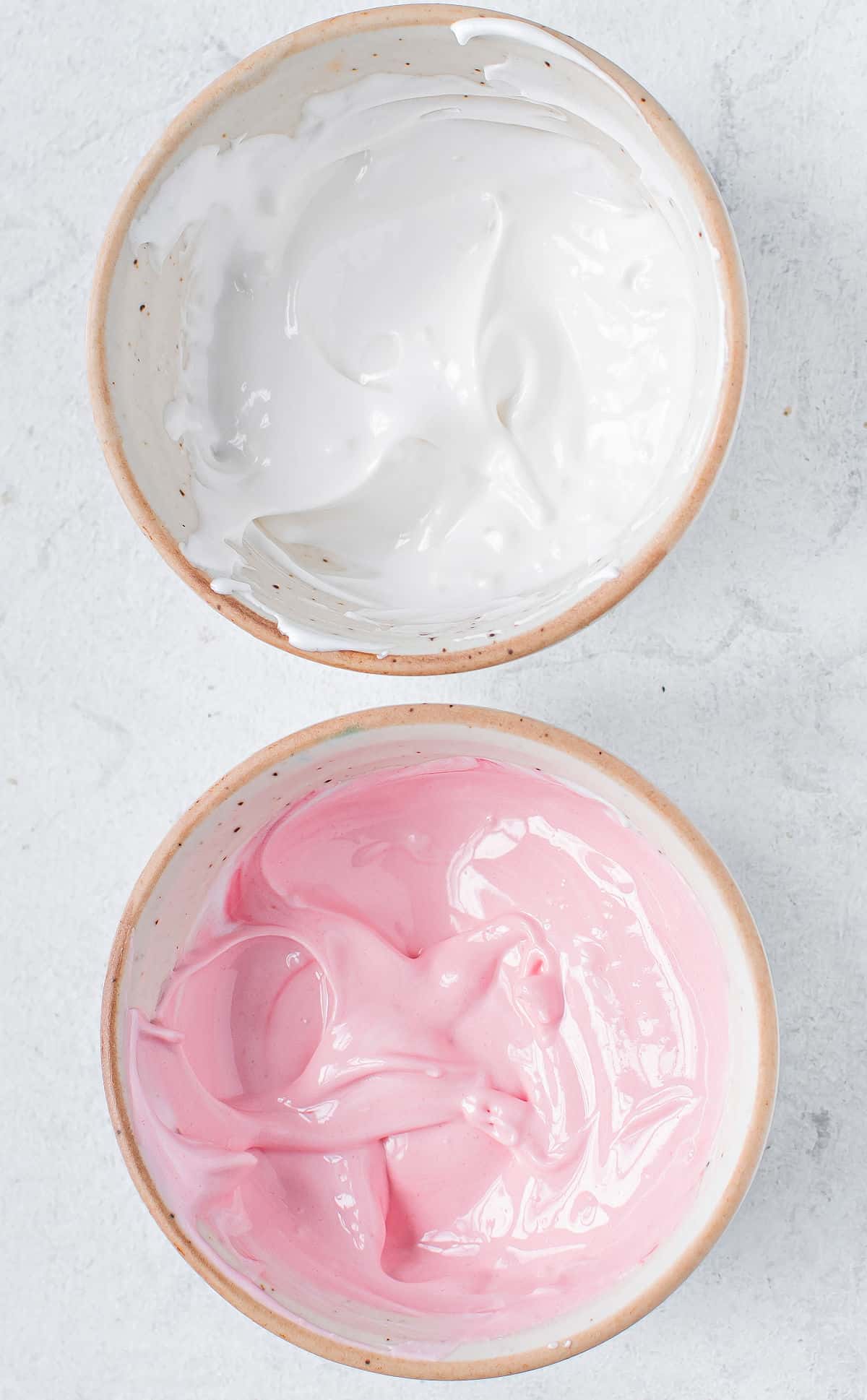 Beat Egg Whites – Begin by beating the egg whites in a stand mixer or with a hand mixer on high until foamy and frothy. You don't want to go as far as soft peaks, so keep a close eye on them during this step.
Incorporate The Sugar in Batches – At medium-low speed, add the powdered sugar to the egg whites in about ¾ cup batches. You'll beat the mixture until it just begins to form peaks.
Divide – Color the icing if you'd like and divide it evenly into two bowls. You'll be keeping one of the bowls of icing as-is. You will use this thick icing to pipe a border around the outside of the cookies.
Thin – Add 1-2 teaspoons of water to the other bowl of icing and mix well. This thinner icing is for flooding inside the border of the thicker piped icing to achieve a smooth, professional finish.
Decorate – Move your icings to separate piping bags and decorate! Use the thick icing to pipe a border, and then use the thin icing to fill in that outline. Use a toothpick to move the icing into pockets that didn't fill. If you want to add sprinkles, do that before the icing sets.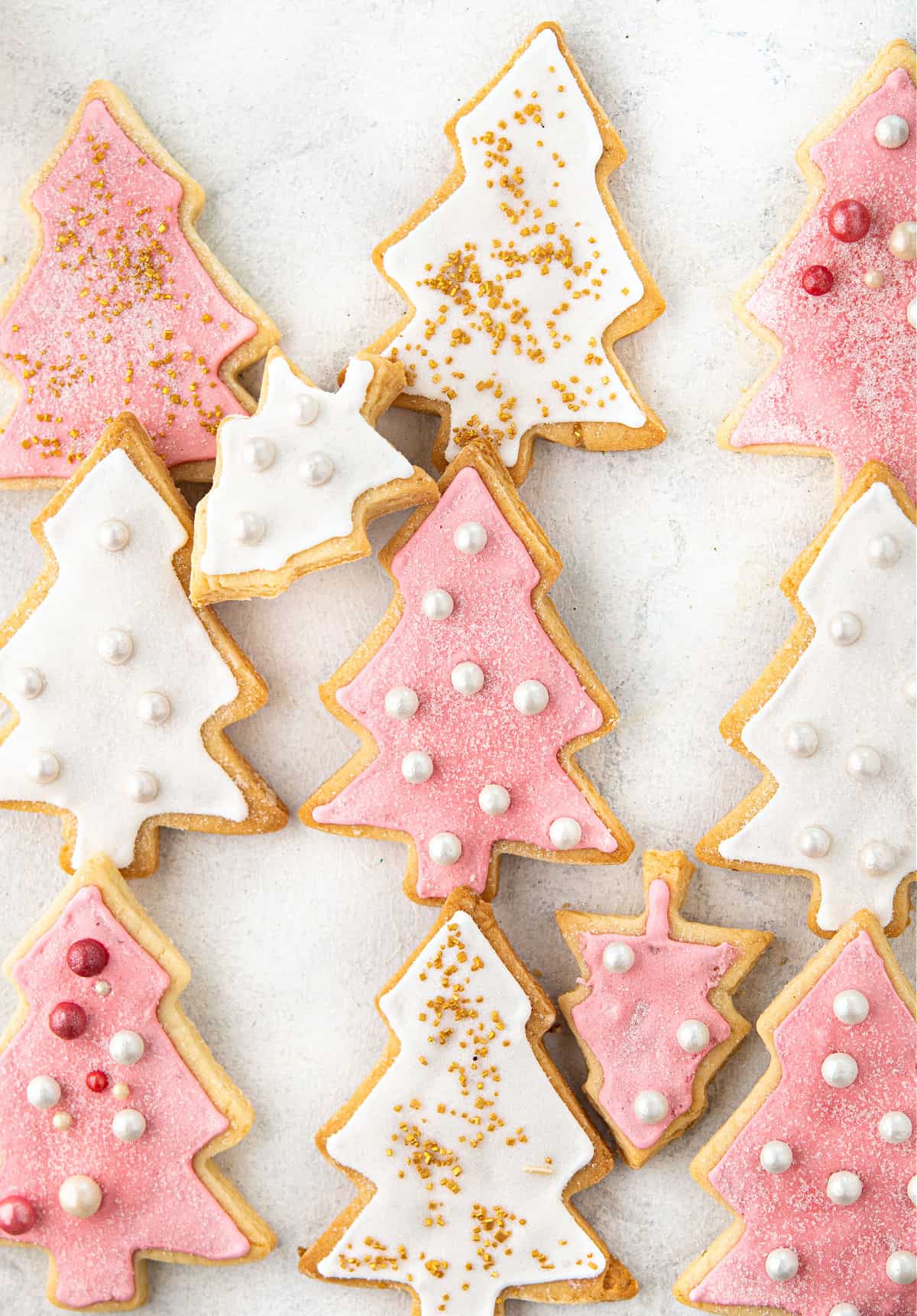 Tips and Tricks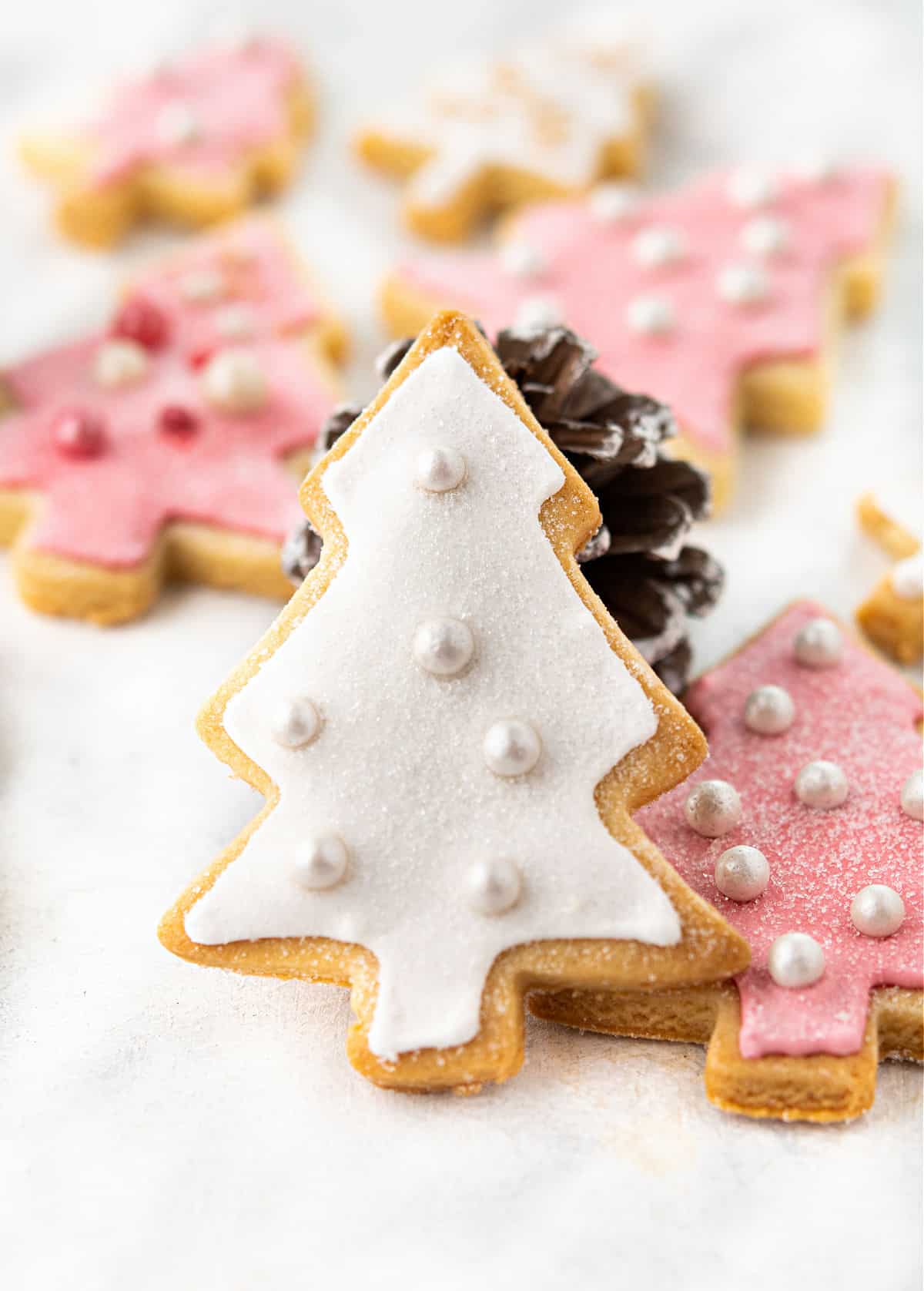 Recipe FAQs
Should I use parchment paper or silicone baking mats for this recipe?
Both parchment paper and silicone baking mats will work in this recipe. Silicone baking mats achieve flawless, even cooking on even the worst baking sheets, but if you only have parchment paper on hand, that will still work like a dream. 
Do I have to pre-chill the cookie dough before rolling out and cutting it?
Chilling the cookie dough before rolling out and cutting it is essential, so the dough isn't overly sticky. This way, you'll be able to get cleanly cut Christmas tree shapes with crisp edges and avoid a gluey mess of melted dough. 
Can I freeze the cookie dough?
The cookie dough can be frozen and then thawed (but kept chilled) before use. Or, you could freeze the already baked and undecorated cookies, then thaw and ice them when ready. 
More Holiday Desserts