Classic Rice Krispie Treats get a candy cane twist! Sticky and sweet with a cool minty kick, Peppermint Rice Krispie Treats taste even better when they're dipped in white chocolate.
Love peppermint treats? Our chocolate peppermint grahams are so easy to make, and look so festive on holiday platters. Give our peppermint toffee a try next, for a crispy, chewy treat.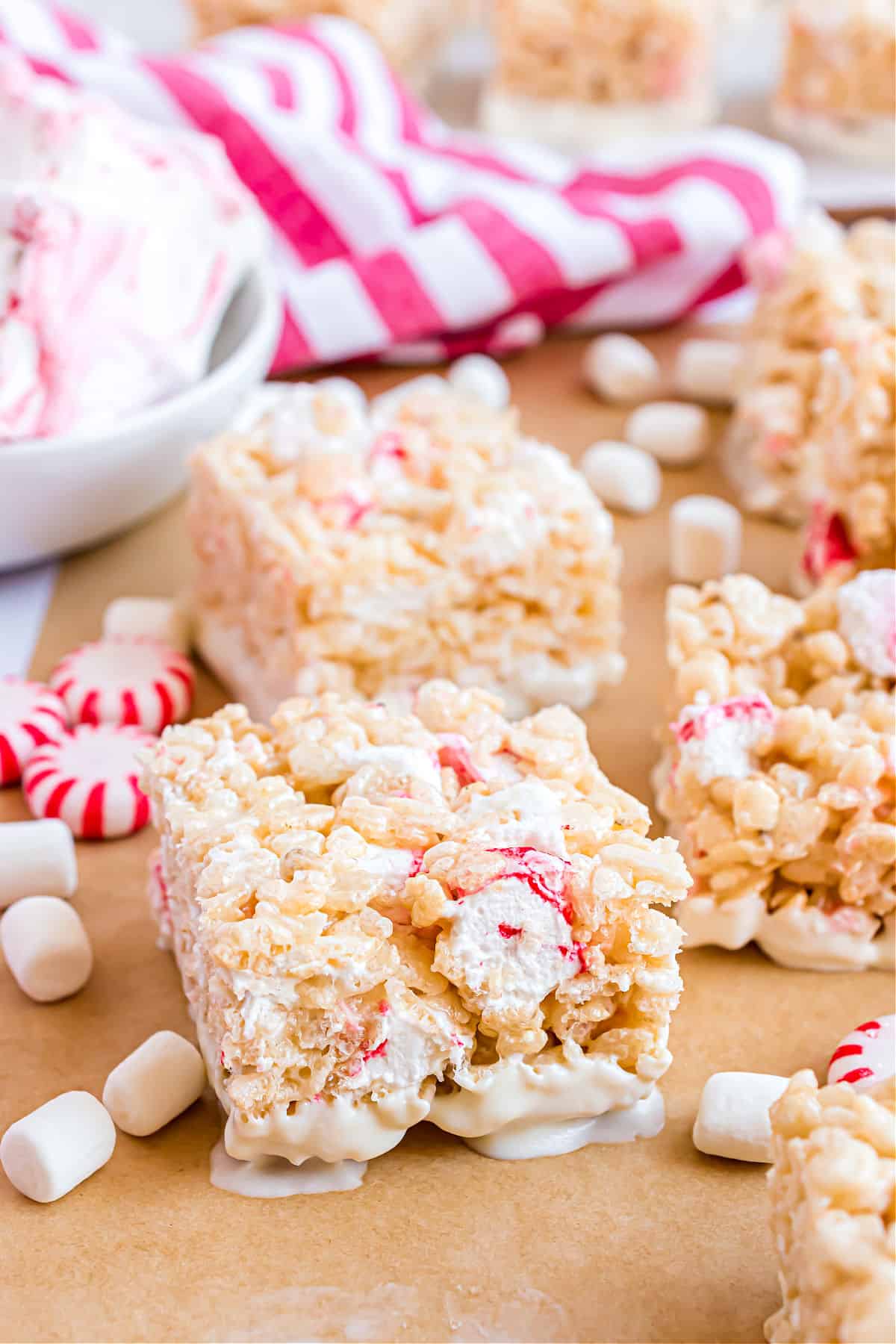 Why this Recipe Is Best
I have a serious love affair with Rice Krispie Treats. It all started in high school when my BFF and I would make a pan of plain krispie treats, cut the batch in half, and each eat a giant square!
But now that I'm all grown up (kinda), I like to make fancy treats and have perfected how to make rice krispie treats.
This peppermint version of the classic childhood dessert feels special enough to serve at any party or occasion.
Peppermint Krispie Treats make a delicious addition to your holiday celebrations!
Ingredient Notes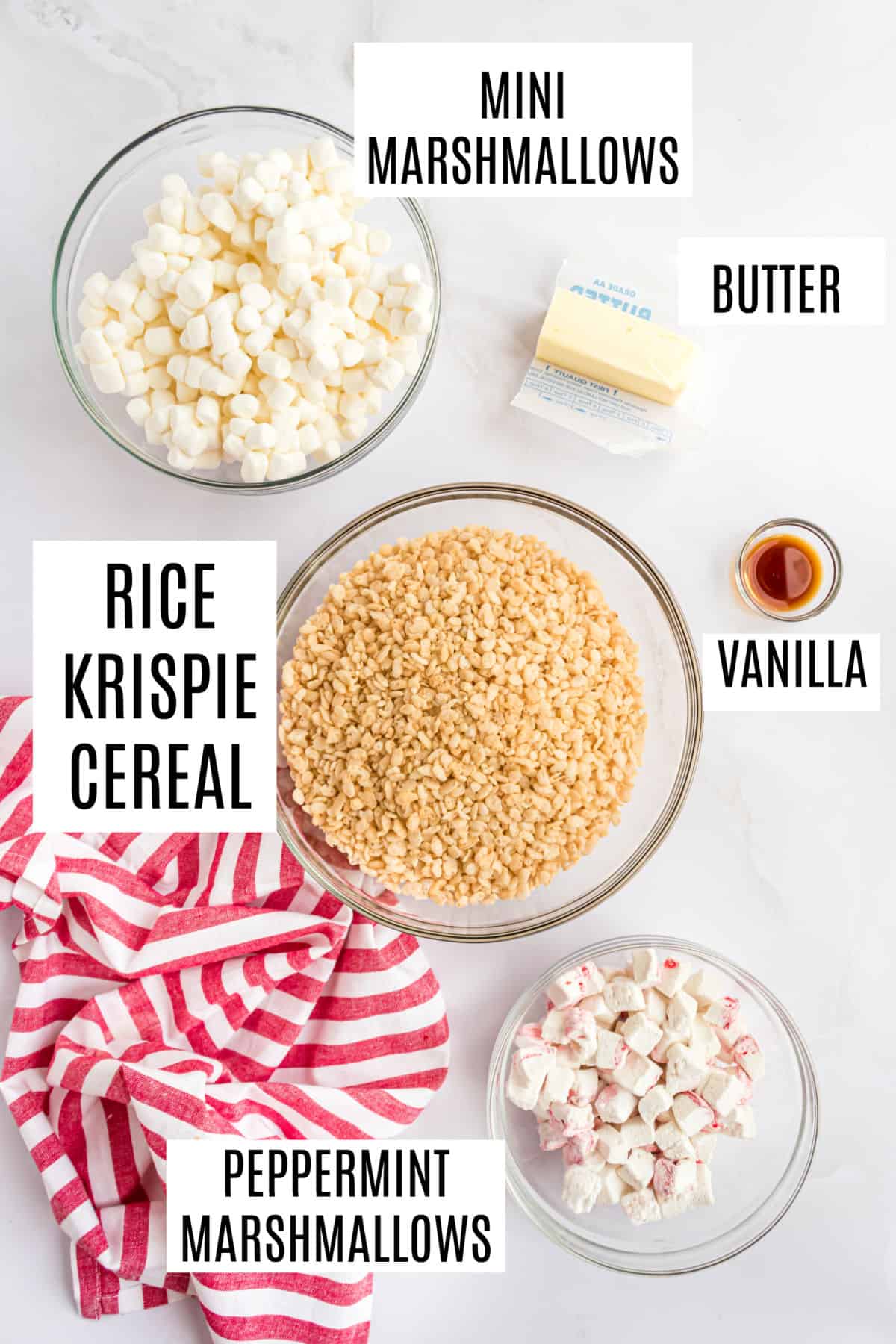 Peppermint Mini-Marshmallows – If you can't find peppermint marshmallows, use our homemade peppermint marshmallows or regular marshmallows and add a drop of peppermint extract for more flavor.
Mini Marshmallows– the combination of peppermint and regular marshmallows is perfect for these treats. You can also use our homemade marshmallows in this recipe.
White Chocolate – Ghirardelli white chocolate melting wafers work beautifully in this recipe, they taste amazing and melt smooth. Dipping in white chocolate is completely optional.
Rice cereal – Or try the recipe with other cereals. We love making krispie treats with Cheerios, corn chex or corn flakes to mix it up.
PRO TIP- We love making our own homemade vanilla extract, but if using store bought, be sure it's pure extract, not imitation (for best flavor).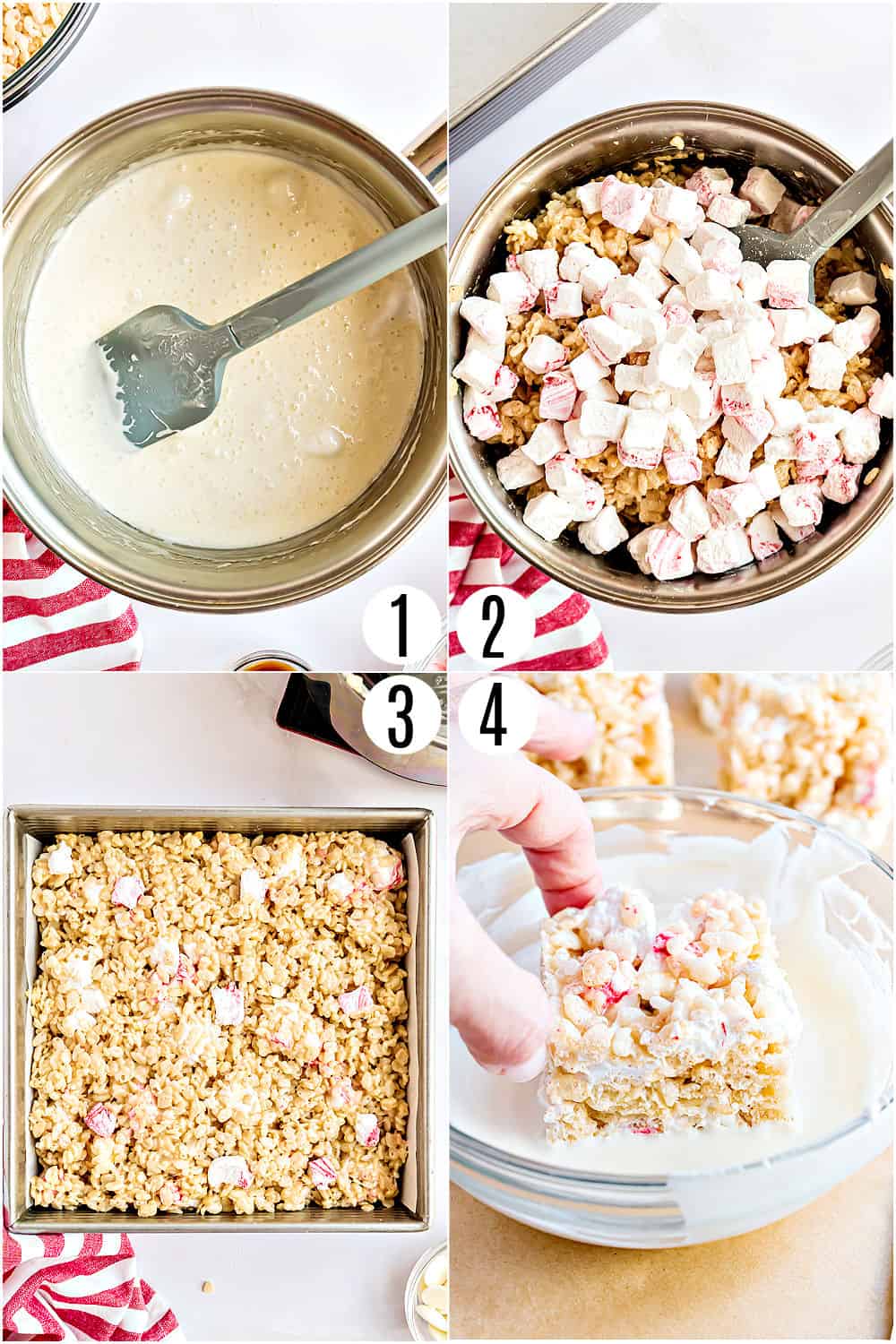 Tips & Tricks
Use a LIGHT touch when pressing treats into the pan. The firmer you press, the harder the finished treats will be. We want SOFT and chewy treats here, so use your finger tips to lightly spread the batter into the pan without pushing firmly.
Let the chocolate set for 15 minutes before enjoying. After dipping the treats into the chocolate, it'll need time to firm up a bit. If you're not patient, you'll end up with white chocolate everywhere when you try to eat your peppermint krispie treats. Not the worst thing in the world, but I promise those extra few minutes are worth it.
Use fresh ingredients. Wondering why your treats might be stale or hard? If you start with stale marshmallows and stale cereal, your result is, you guessed it, stale treats.
Store treats in an airtight container. Keep the lid closed when you're not enjoying your Rice Krispie Treats to ensure they stay soft and fresh. They taste best if eaten within 3 days.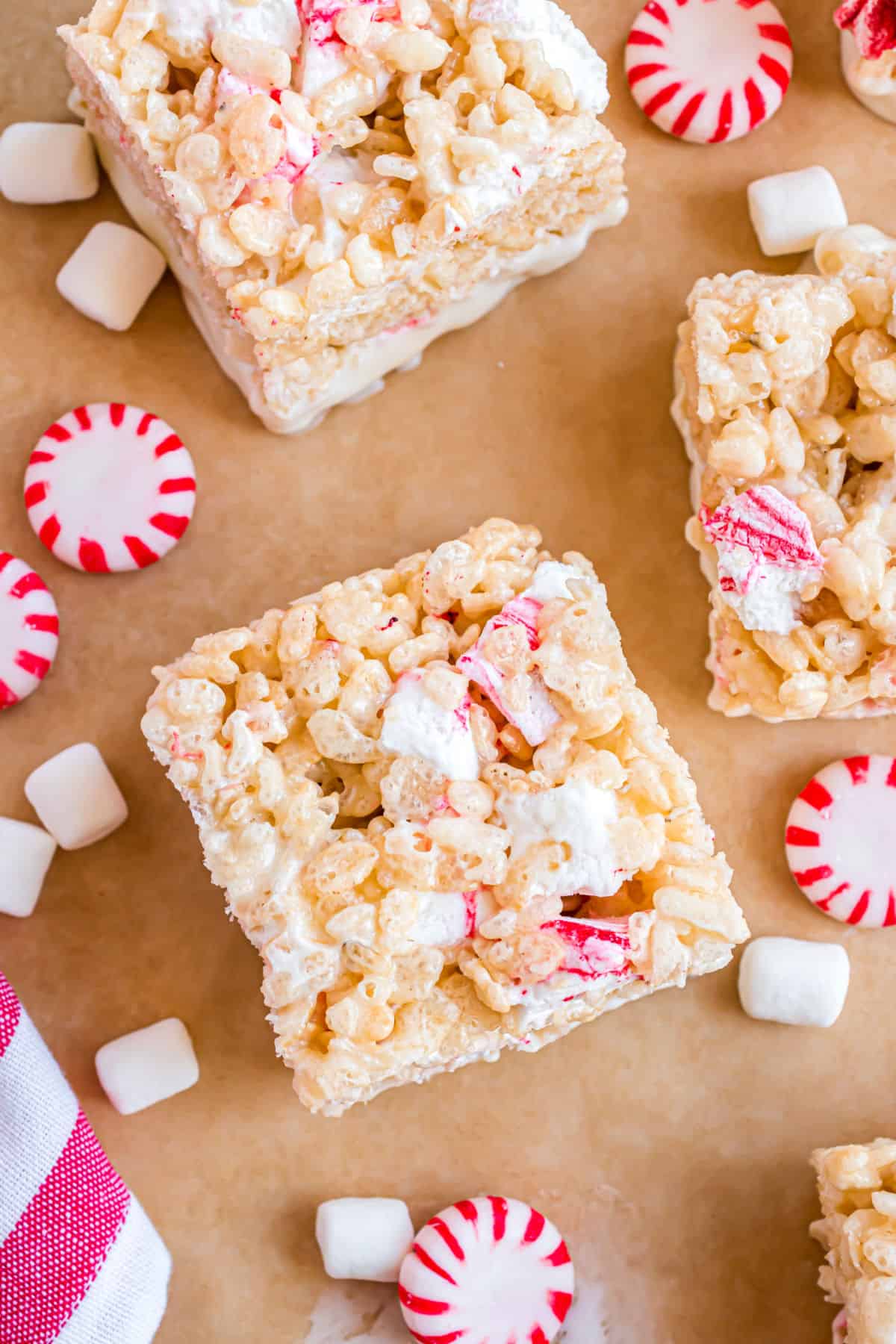 Recipe FAQs
Can you freeze rice krispie treats?
I find thawed krispie treats far less delicious than fresh, so I don't recommend freezing them. If you're going to eat a rice krispie treat it should be the BEST krispie treat possible, right?
Will full sized marshmallows work in this recipe instead of mini marshmallows?
Yes. They do take more time to melt but you can cut them into smaller pieces to make them melt easier into the batter. For the peppermint marshmallows, stick with the mini size so you get perfect little bites of marshmallow in each rice krispie treat!
Can this recipe be made in a 13×9 dish?
Yes. You can either double the recipe for the same thick treats, or use the recipe as is, and spread in a 13×9 dish. The treats will be thinner, but still delicious.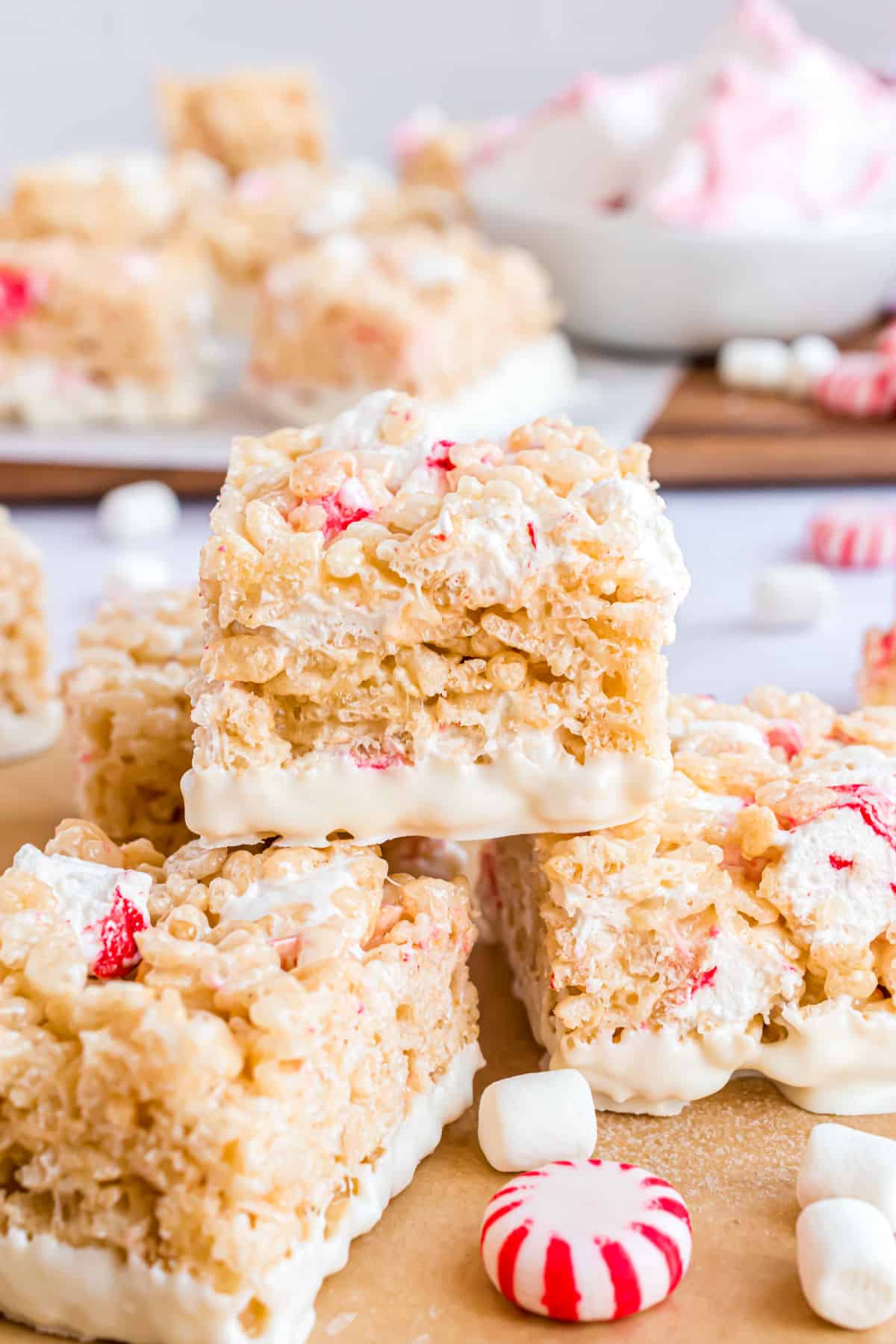 More Krispie Treat Flavors
Everything you love about Rice Krispie treats with extra holiday goodness! This Peppermint Krispie Treats recipe makes a delicious Christmas dessert that kids and adults alike can enjoy.